How to cook apricots for baby food
Apricot Baby Food
byAmy Palanjian
Updated
Jump to Recipe
This post may contain affiliate links. If you shop from one of our links, we may earn a commission.
Learn how to make easy homemade Apricot Baby Food, with both puree and BLW options. Find storage tips and baby food combinations, too.
Apricot Baby Food
Turning fresh apricots into baby food, whether as a puree or a baby-led weaning food, is easy with this simple method. You can use this as a Stage 1 baby food or as an option for a baby food combination. It's very versatile!
Follow along below for the full information on making this recipe, with tips, variations, and storage advice.
Ingredients You Need
To make this recipe, you'll need just a few ingredients. Here's what to have on hand before you start.
Apricots: Look for ripe, fresh apricots without blemishes. Apricots can be very, very tart, so the fresher, more local the better. (This is one circumstance where opting for local fruit, which is more likely to be picked when ripe versus underripe so it can withstand travel, makes a big flavor difference.)
Unsalted butter: This is used to cook the apricots in a pan, though you can use coconut or avocado oil if you prefer.
Step-by-Step Instructions
Here's a look at the process for making this baby food. Scroll down to the end of the post for the full information.
Cut the apricots in half and remove the pit. Cut into lengthwise pieces about 1/2-1 inch thick.
Warm the butter in a pan to melt. Add the fruit.
Cook until soft, stirring occasionally. Let cool and serve as a BLW fruit.
Or, transfer to a blender and blend smooth. Serve or store.
Frequently Asked Questions
Why is my apricot puree so tart?
Apricots are naturally tart, so you may need to add another less tart food, like apple, to balance it.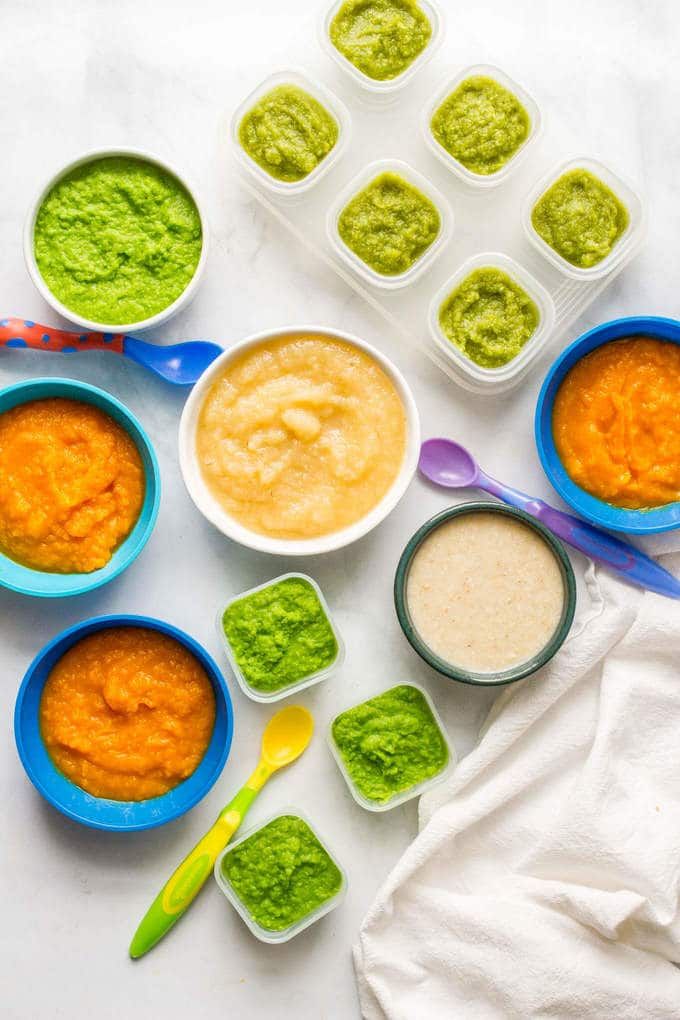 Can babies eat apricot?
Yes, after 6 months (or whenever baby starts solids), apricots are a nice option for a baby food.
Do you peel apricots for baby food?
No, you don't have to peel the apricots. The skins blend into the puree very easily.
How do you prepare apricots for baby food?
If your apricots are very ripe and very sweet, you can simply puree the fresh fruit after you remove the pits. If they are not very sweet, which is often the case, it is better to saute them in a pan to caramelize the sugars a little and help the fruit soften. Then you can serve it as a BLW food or blend into a puree.
How to Store Baby Food
You can put leftover or meal-prepped baby food into baby food storage containers or reusable pouches and store in the fridge for 3-5 days. Or, you can also freeze baby food. I prefer to freeze it in ice cube trays, then transfer the frozen cubes to a storage bag to freeze for longer-term storage.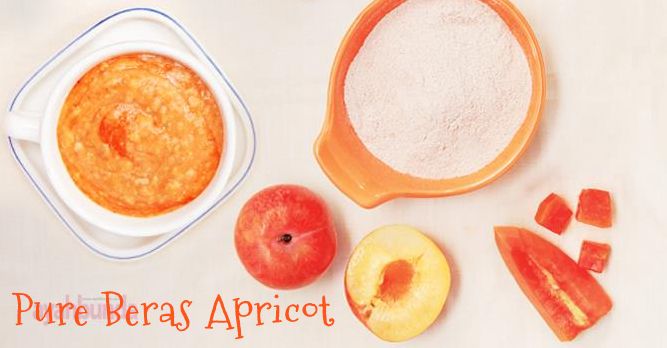 Favorite Baby Food Containers
I love the WeeSprout Jars, Beaba Clip Containers, and Squeasy Gear Pouches for baby food storage. You can find all of my favorite resources for baby food containers for more information.
How to Store
Store the puree or slices in an airtight container in the fridge for 3-5 days, or freeze the baby food for longer-term.
Best Tips for Success
If you have the option, choose local, very fresh apricots if possible.
Remove the pits and cut lengthwise so the fruit is ready for BLW.
If the puree is very tart after blending, add a ripe banana or 1 cup applesauce to help even out the flavors.
To make an Apricot Baby Food Combination, mix with Avocado Puree, Peach Puree, Mango Puree, Sweet Potato Baby Food, or Strawberry Puree.
Related Recipes
---
I'd love to hear your feedback on this recipe, so please rate and comment to share.
Prep Time 10 minutes
Cook Time 10 minutes
Total Time 20 minutes
Author Amy Palanjian
Cuisine American
Course Baby Food
Calories 80kcal
Servings 4 -6
▢ 1 pound apricots
▢ 1 tablespoon unsalted butter (or avocado or olive oil)
Halve the apricots and remove the pits. Slice into 1-inch slices.

Add the butter to a skillet over medium heat. When melted, add the apricot slices and stir gently to coat. Cook for 10-12 minutes, stirring occasionally, until the fruit is soft but still holding together. Remove from heat.

Let cool slightly and serve BLW-style.

Or, add fruit to a blender and blend until smooth, adding 1-2 tablespoons water, formula, or breastmilk until you reach the desired consistency.
Calphalon 5-Quart Pot

Vitamix Blender

Reusable Pouch
Store the puree or slices in an airtight container in the fridge for 3-5 days, or freeze the baby food for longer-term.
If you have the option, choose local, very fresh apricots. (They may be less likely to be underripe and should have better flavor.)
Remove the pits and cut lengthwise so the fruit is ready for BLW.
If the puree is very tart after blending, add a ripe banana or 1 cup applesauce to help even out the flavors.
To make an Apricot Baby Food Combination, mix with Avocado Puree, Peach Puree, Mango Puree, Sweet Potato Baby Food, or Strawberry Puree.
Calories: 80kcal, Carbohydrates: 13g, Protein: 2g, Fat: 3g, Saturated Fat: 2g, Polyunsaturated Fat: 0.2g, Monounsaturated Fat: 1g, Trans Fat: 0.1g, Cholesterol: 8mg, Sodium: 2mg, Potassium: 295mg, Fiber: 2g, Sugar: 10g, Vitamin A: 2272IU, Vitamin C: 11mg, Calcium: 16mg, Iron: 0.4mg
Tried this recipe?Rate in the comments and tag @yummytoddlerfood on IG!
Related Posts
Related Products
Happy Family Meals (Meal Plans)
Buy Now
Happy Family Meals (Vol 2)
Buy Now
Yummy Toddler Snacks
Buy Now
Yummy Baby Food
Buy Now
Share it with the world
FacebookTweetPin
Filed Under
Apricot Homemade Baby Food Recipes and Introducing Apricots to your baby with Homemade Apricot Baby Foods
Apricots for Baby Food – Learn About Feeding Your Baby Apricots and the Age to Introduce Apricots
Introduce Apricots to Baby between 6-8 Months Old
The Goodness of Apricots
Apricots are high in Beta Carotene (Vitamin A), Vitamin C and Lycopene.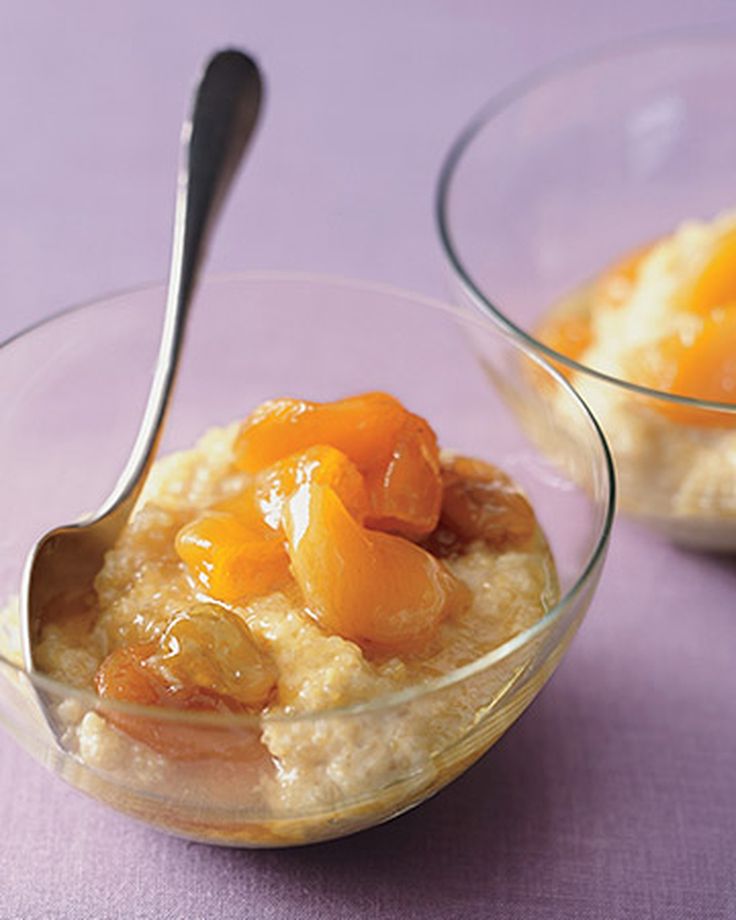 Just 3 apricots contain approximately 30 % of the USRDA for Vitamin A. This combination of nutrients is one of the best defenses against heart disease and some cancers.
Apricots for Baby Food – When can baby eat apricots?
Apricots are another great source of nutrition for baby. As with several other fruits, you may typically introduce them anywhere from 6 months old and older.
If you will be using Dried Apricots, try to find those that do not contain sulphurs such as sulphur dioxide. Some people are allergic to sulphurs and sulphurs tend to be high in sodium.
Nutrients in 1 cup of Apricots

VITAMINSVitamin A – 674 IU

Vitamin C – 3.5 mg

Vitamin B1 (thiamine) – .04 mg

Vitamin B2 (riboflavin) – .01 mg

Niacin – .21 mg

Folate – 3 mcg

Contains some other vitamins in small amounts.

MINERALS:Potassium – 91 mg

Phosphorus – 8 mg

Magnesium – 4 mg

Calcium – 5 mg

Sodium – 0 mg

Iron – .14 mg

Also contains small amounts of manganese, copper and zinc.
Your baby will love apricots served fresh and homemade. View some apricot baby food recipes and learn about the nutrients in apricots too.
How to select and store Apricots for baby food
 Hooray! According to the EWG, apricots are not one of the "dirty dozen" foods that are most highly contaminated with pesticides – purchasing organic apricots is a personal choice.
Look for plump, fairly firm apricots with an orange-yellow to orange color. Fully ripe apricots are soft to the touch but not squishy. Apricots tend to be juicy and should be eaten as soon as possible.
Keep apricots cool to prevent over ripening. Store ripe apricots in the refrigerator where they may keep for up to a week. You may place hard apricots in a paper bag and let ripen for a day or two but keep in mind that apricots have are a greenish color will not ripen.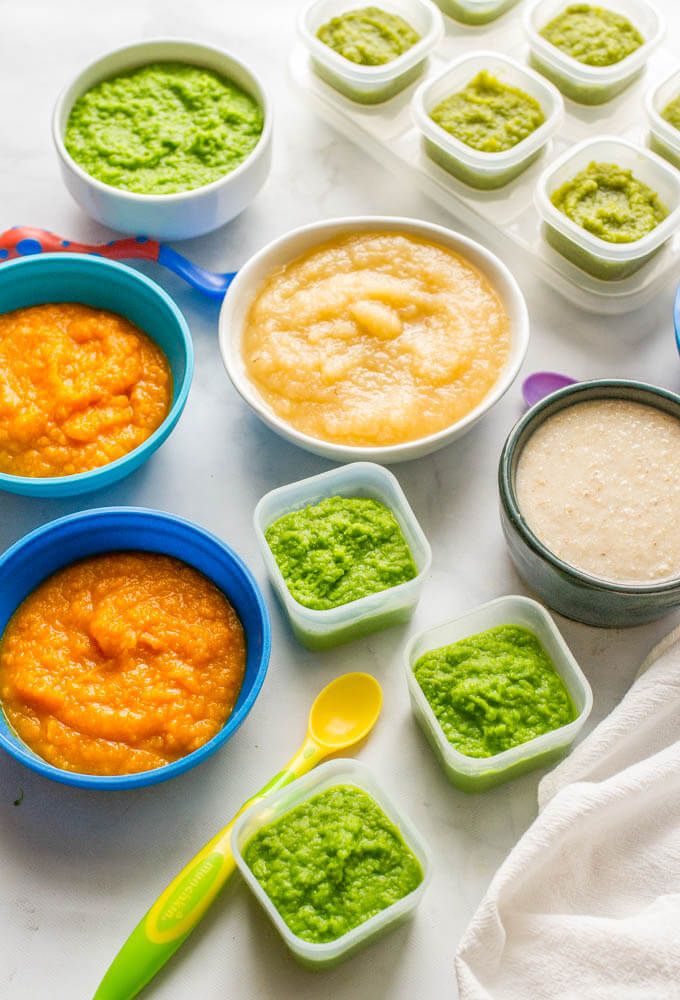 To freeze fresh apricots, simply half the fruit and place on baking sheet until frozen. Then pack in a plastic freezer bag.
The best way to cook Apricots for baby food
You may bake apricots by halving, pitting and then placing in a shallow baking dish with water. This method brings out their natural sweetness and also helps retain nutrients.
You may also steam or boil apricots using a blanching method – add apricots to boiling water for a few minutes then take them out, run cool water over them and slip the skins off; you will still need to pit them.
Tasty Apricot Baby Food Recipes
Apricot Baby Food Recipes – Apricot Puree (using dried apricots) for babies 6 – 8 months 
Ingredients:
1 pound dried apricots
2 c. white grape juice or apple juice
(plain water is ok but the puree may be a bit bitter-consider using ½ water or ½ juice is you disagree with the juices or if baby cannot have juice)
Directions:
Step 1: Bring juice (or water or the combo) and fruit to a boil and simmer for 15 minutes.
 Reserve any left over liquid to use for the puree
Step 2: Place into your choice of appliance for pureeing and begin pureeing.
Step 3: Add the reserved liquid as necessary to achieve a smooth, thin puree or
Step 4: Add cereal (if desired) to thicken up
 NOTE: puree will not freeze solid, but into slightly soft/slightly frozen cubes.
---
Apricot Puree for babies 6 – 8 months 
Using Fresh apricots (fresh apricots for baby food is best.)
Baking Halve the fruit and remove pit, place "open" side down in a pan filled with 1 inch of water, bake at 400F until soft and tender or puckering of the skin appears.
Steaming Halve the fruit, remove pit and steam in an open pan of water until soft and tender – remove skins
Blanching Drop whole, cleansed fruits into a pan of boiling water for 5-10 minutes, until fruits are soft
Place fruits into a bowl of cold water and slip off the skins then cut and pit the fruit
To puree, follow Steps 4 through 7 above
---
Apricots & Naners for babies 6 – 8 months 
Add pureed apricots to baby's mashed bananas – you can then add this mix to baby's cereal if you wish.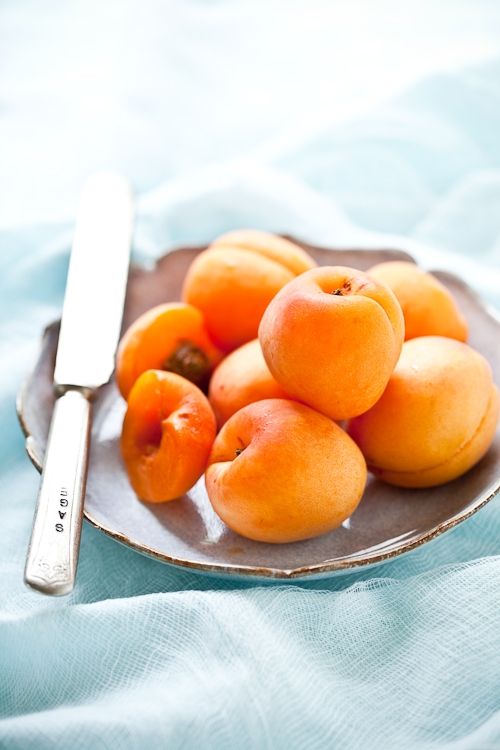 Try this with meats or yogurt too.(when age appropriate for your baby)
---
Apricot Cereal for babies 6 – 8 months 
Add pureed apricots to baby's homemade rice, oatmeal or barley cereal
Chicken and Rice with Apricots for babies 8-10 months 
Ingredients:
1/2 cup (Brown/or Jasmine) Rice
2 cups water
1/4 cup apricots – sliced into small dices or slivers
1 boneless chicken breast
Directions:
Step 1: Combine all of the above ingredients in a medium saucepan.
Cook over medium-low heat for 30 minutes or until rice is soft, fragrant and a bit soupy.
Step 2: Take out the chicken breast and cut into small pieces, transfer back to saucepan.
Step 3: Add more water if needed and stir frequently to stop sticking to the pot and add more milk or water if necessary. Cook an additional 15 minutes
Step 4: Once the mixture is fully cooked, allow to cool for 10 minutes and then transfer to a blender or food processor.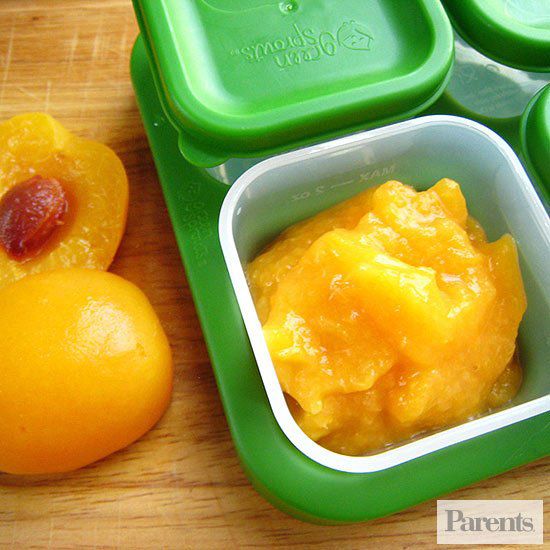 Puree or chop as needed for your baby's age and texture requirements.
This makes a great finger food meal for older babies and toddlers alike.
Apricot Purée – Substitute for Oil in Cooking
Apricot purée is on the rise as the new substitute for oil or
water in many high-calorie, high-fat recipes. Simply purée canned apricots in a blender or food processor until smooth. Unlike prunes (which can darken some baked goods) or applesauce (which may cause recipes to be watered down), apricot purée reduces the fat content and adds a touch of added flavor. From http://www.apricotproducers.com
Foods Good to Mix With Apricots:
Rice, Oatmeal, Barley and Mixed Grain Homemade Baby Cereals
Bananas
Avocado
Blueberries
Pears
Peaches
Sweet Potatoes
Carrots
Summer Squash – Zucchini, Yellow (Crooked Neck)
Chicken
Beef
Yogurt
Do Apricots need to be cooked or peeled for baby food?
Many doctors suggest cooking fruits for babies under 8 months old.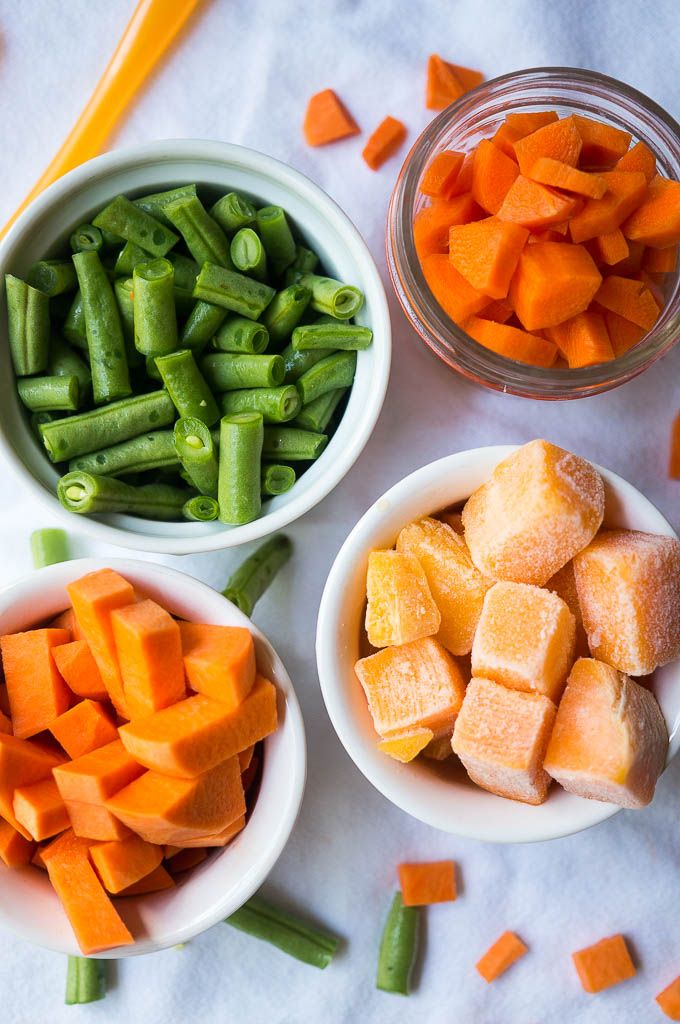 Apricots have skins that are relatively easy to digest and cooking and/or peeling them may not be necessary at all. If your baby has shown any signs of having tummy troubles with foods and is under 8 months of age, you may want to consider cooking and/or peeling apricots.
Visit our Combinations page to see more Homemade Baby Food Combination Ideas
Resources and Learning More:
California Apricot Council
Apricot – Horticultural Info. Southern Australian Research & Development Institute
apricotproducers.com
WholeHealthMD – Apricots
 Remember, always consult with your pediatrician regarding introducing solid foods to your baby and specifically discuss any foods that may pose allergy risks for your baby.
 This site complies with the HONcode standard for trustworthy health information: verify here.
SHARE ON FACEBOOK SHARE ON PINTEREST
90,000 puree from fresh apricots, step -by -step recipe for 132 kcal, photo, ingredients
Add recipe
Recipe
Advertising
Videraul on the topic
recipes
Greek meatballs with zucchini
The world's first culinary book was written in Greece even before our era.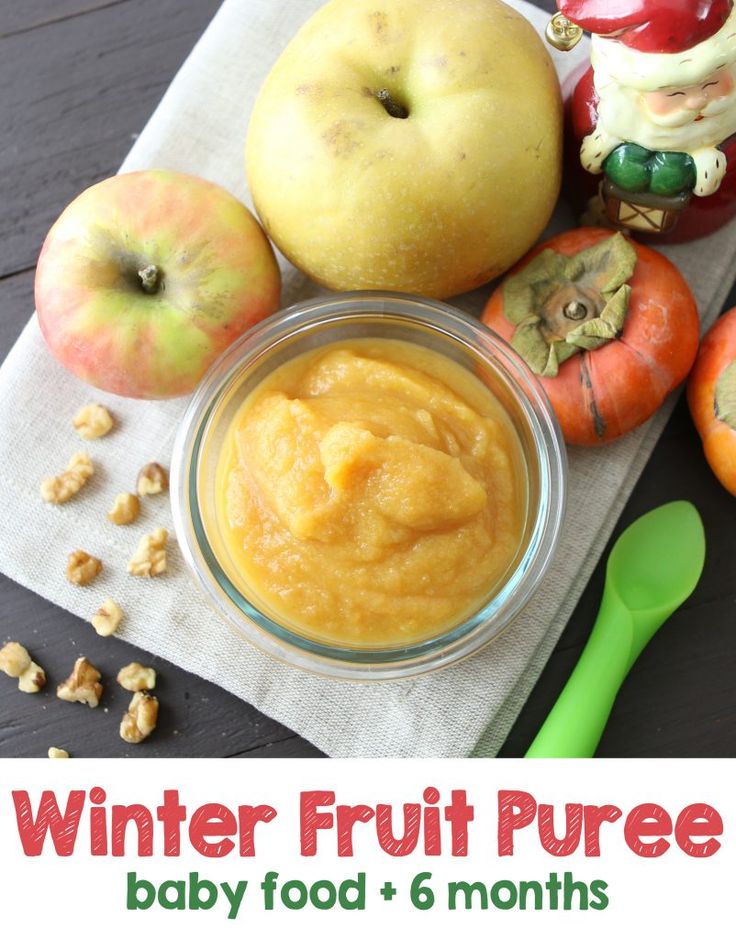 Greek cuisine itself is one of the oldest in the world. Therefore, if you are going on vacation to Greece, be sure to rate
KRKA Russia
Yulia Vysotskaya's recipe
Spring-style chicken thighs
It seems to me that much more can be cooked from chicken than from other meats. If you have large tomatoes, it is better to scald them and remove the skin, tomatoes from a jar are also suitable. Instead of broth
Julia Vysotskaya
Advertisement
Related video recipes
Recipe from Yulia Vysotskaya
Baked potato with cheese bacon and bacon0003
Leftover potato pulp can be used to make pancakes, pancakes or lazy potato dumplings. As a filling for baked potatoes, cottage cheese with garlic, and
Julia Vysotskaya
Recipe from Julia Vysotskaya
Pink spaghetti
Julia Vysotskaya