One year babies food recipes
Favorite Recipes for 1 Year Olds
Make it easier to feed your toddler with our favorite recipes for 1 year olds. With ideas for each meal of the day, breakfast through dinner, this will help take (some!) of the challenge out of feeding your one year old.
Recipes for 1 Year Olds
I know firsthand how hard it can be to figure out what to feed a one year old. They suddenly are more aware of the world around them and can handle more textures—but often, they aren't quite up to eating all of the crunchy or chewy or mixed textures of "kid food" yet.
That's not to say that we can't serve them much of the same food we eat, only that we need to pay attention to how easy things are for them to eat and allow time for them to continue learning to eat a range of textures.
This is often a very common time for parents to see changes in how the child eats as compared to when they were a baby. It is not unusual for a one year old to eat less food than they did as a baby—the rate of growth often slows during this year as compared to babyhood, so a child may naturally be less hungry.
One Year Old Feeding Tips
When a child does not eat every food we offer, this does not mean they are picky or that you need to take any drastic steps. But you may:
Start with smaller portions to limit food waste.
Look at the volume of milk (any kind) the child is drinking. If they aren't very hungry for food or they only want foods that are very easy for them to eat and they are drinking more than 24 ounces of milk a day, it may be time to consider moving much of that milk intake to meal time (rather than in separate bottle feedings). You can also play around with the timing of offering food and nursing or bottle feedings.
Remember that a 1-year-old is MUCH more aware of the world around them than a baby is, which manifests in all sorts of new opinions and preferences. This happens both away from the table and at the table. Food preferences are not necessarily a sign that anything is wrong, but could be a sign that your one-year-old is more in tune with their own power in their ever-evolving world. We shouldn't expect them to eat the same as they did as babies. Their understanding of their world is totally different.
Consider your emotional reaction to a meal that went differently than you expected and try not to project onto your child if possible. (An example would be trying not to label a small child "picky" as that will only scale up your anxiety and may build in a set of negative feeding connotations for a child who is simply a different eater than we expect.)
Try to avoid comparing one kid to another—either in real life or comparing your child with one you see on social media. The context of your life matters and the environment in which you're feeding your family is different than everyone else's.
Sit with the kids during meals as much as possible so you can model how to eat a range of foods.
Continue offering a range of foods even if they don't always want to try them. A small serving is an option here to limit food waste.
Consider trying the Division of Responsibility as a way to reduce mealtime pressure.
Know that there is a giant range of "normal" in how little kids eat.
Remember that there are no magic 1 year old recipe, but a lot of great options to feed our kids.
And maybe most importantly, always remember that feeding a family is a lot of work. You're not doing it wrong.
OK, now on to some easy-to-make and easy-to-eat recipes that are delicious options to make for and share with your one-year-old.
Breakfasts Recipes for 1 Year Olds
Below are some favorite, easy breakfast recipes for younger toddlers. All of these could be served at a different time of the day, of course, too.
Apple Cinnamon Oatmeal
Made with just a few wholesome ingredients, this Apple Cinnamon Oatmeal cooks up fast and easily—which is exactly what you want in a breakfast! (PS: I love it just as much as my kids do.)
Apple Cinnamon Oatmeal with Raisins
You can double this recipe to make a larger batch to warm up and serve throughout the week.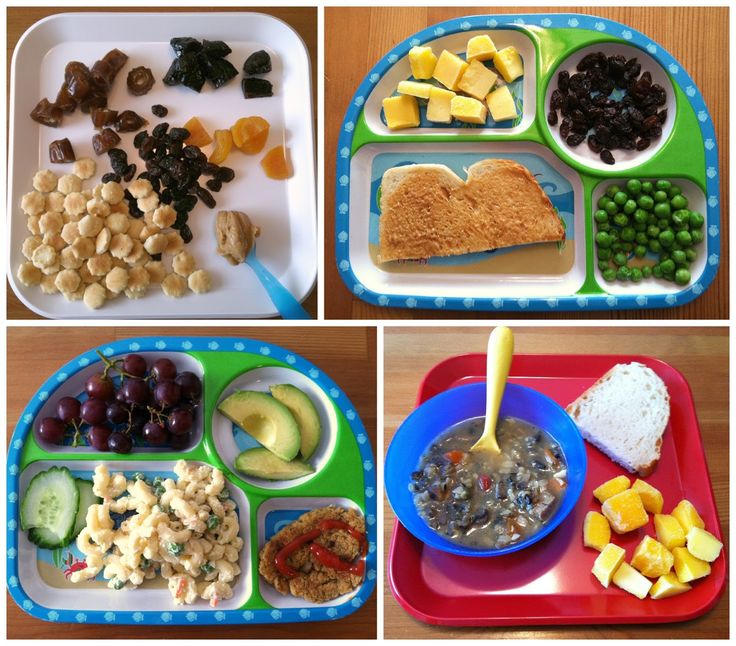 Get the recipe
Quick Scrambled Eggs
Learn how to make eggs in the microwave (so you don't even need to dirty a pan!) in less than 1 minute. These fluffy scrambled and soft-boiled eggs are perfect for busy mornings!
How to Make Eggs in the Microwave
You can season the cooked egg with a little salt, butter or cheese if you'd like, but it's very good as is. See the Note about the heat setting when cooking in a microwave.
Get the recipe
Egg and Cheese Mini Muffins
These Mini Egg Muffins with Cheese and Veggies are a go-to for quick and easy toddler breakfasts on busy mornings. These savory muffins are packed with nutritious ingredients and are so quick to bake up—and they work so well to make ahead!
Make-Ahead Egg and Cheese Mini Muffins
These soft breakfast egg cups are packed with protein and vitamins—and can be made ahead of time! Add any veggie you like, whether carrots, butternut squash, broccoli, or spinach.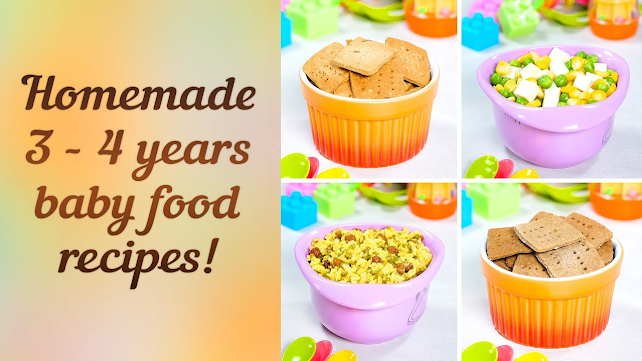 Get the recipe
2-Ingredient Pancakes
Blend up a fruit or veggie with an egg for the fluffiest, easiest, healthy pancakes for kids. These 2-Ingredient Pancakes use one simple method for all 4 flavors and are a perfect baby pancake or toddler pancake!
The Best 2-Ingredient Pancakes (Baby and Toddler Approved)
This recipe makes one small batch of super tender 2-Ingredient Pancakes. It usually makes 1-2 little-kid-size servings. To make more, simply double the recipe. These are delicate pancakes with a texture that's sort of custardy like French toast, so be gentle when flipping them. See the NOTES at the bottom for the flavor variations.
Get the recipe
Spinach Muffins with Banana
These Spinach Muffins with Banana are a super healthy and yummy toddler or big-kid breakfast or snack. Each bite is packed with nutrients from greens and fruit—and the interior is so moist that even babies can enjoy these easy blender muffins!
Sweet Spinach Muffins with Banana
These healthy muffins taste like a delicious banana muffin, but with the added nutrition of a big handful of spinach.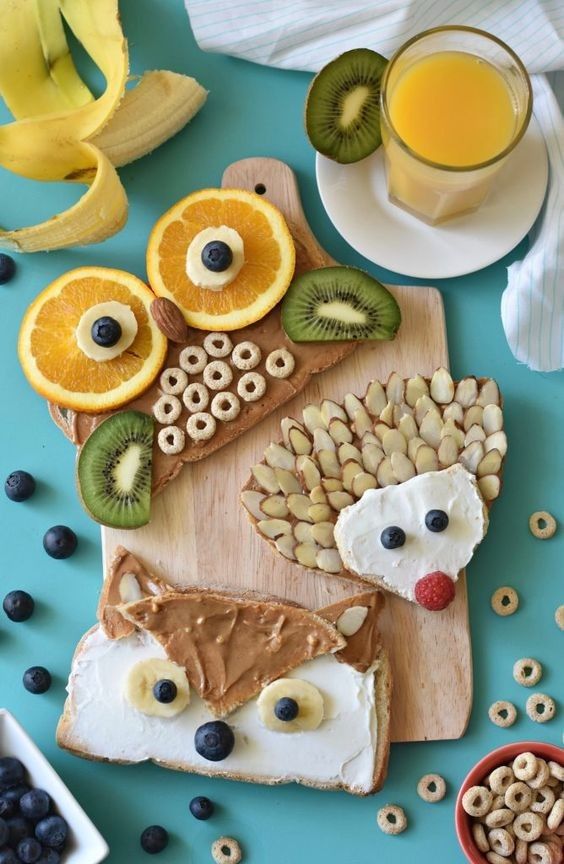 These store well, so you can make them ahead of time and pull them out of the fridge or freezer to serve.
Get the recipe
Yogurt Pancakes
You can make these on the stovetop or as sheet pan pancakes by baking them in the oven. These pancakes are fluffy and so versatile. And so yummy! You can make them in almost any flavor you like.
Favorite Yogurt Pancakes
With just a few ingredients and the option to make these on the stovetop or in the oven as a sheet pan pancakes, these Yogurt Pancakes are versatile and so yummy!
Get the recipe
Coconut Chia Pudding
Transform simple ingredients into nutrition-packed Coconut Chia Pudding. It's a perfect kids breakfast or snack that parents will enjoy, too!
Favorite Coconut Chia Pudding
I like to use canned full-fat coconut milk for the best flavor and creamy texture, though you can use "light" coconut milk if that's what you can find at your store.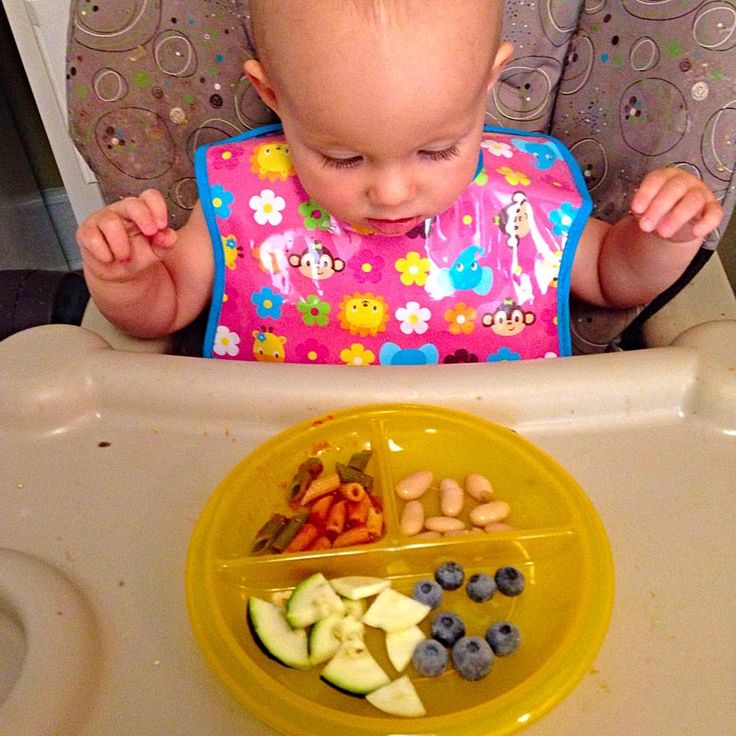 Get the recipe
Baked Oatmeal Cups
These easy Baked Oatmeal Cups are an ideal way to serve oatmeal to babies, baby-led weaning style, and to toddlers who like to feed themselves. Oatmeal as finger food with much less mess? Yes please!
Cinnamon Raisin Baked Oatmeal Cups
Transform plain oats into a yummy and easy to eat finger food with this baked oatmeal recipe. You can double the recipe to make more if desired.
Get the recipe
Cottage Cheese Pancakes
Made with simple ingredients, these nutritious Cottage Cheese Pancakes are a healthy breakfast for kids you can make in under 10 minutes! They're loaded with protein and healthy fats—and are also fluffy and delish.
Easy Cottage Cheese Pancakes (to Share with the Kids)
These 4 ingredient pancakes are packed with nutrients and are so yummy.
Double the ingredients to make a larger batch to feed a family of four as this recipe is on the smaller side.
Get the recipe
Snacks for 1 Year Old
Choosing, making, and packing snacks for a toddler can feel like a full-time job, so these options may help since each is easy to store and serve.
(You may also like my favorite Store-Bought Snacks for Kids, too.)
ABC Muffins
Made with a nutrient-packed ingredient list, these tender Baby Muffins are a perfect first muffin. They are easier to chew than a regular muffin, have three kinds of produce, are added sugar free, and they boast a solid dose of healthy fats—exactly what the littles need!
ABC Baby Muffins (Apple, Banana and Carrot!)
These are deliberately very moist (and moister than regular muffins) to ensure they are easy for baby to chew and swallow, so expect that from the interior. If you'd like to make them sweeter for older kiddos, add ¼ cup sugar to the batter.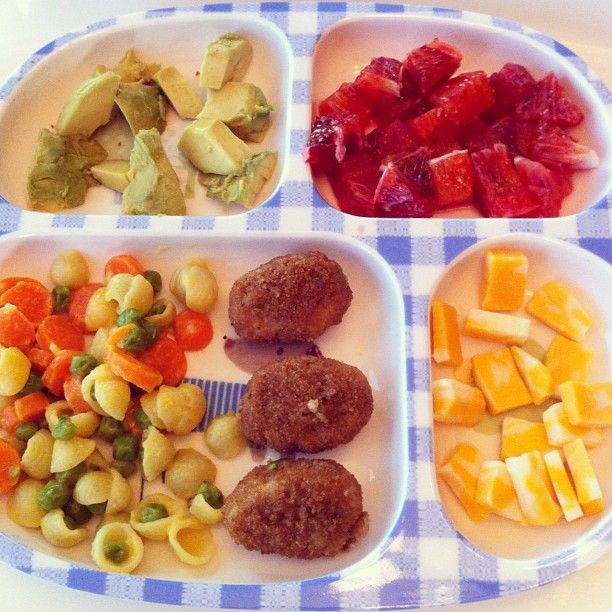 Get the recipe
Toddler Smoothie
This yummy toddler smoothie method is simple to blend up and even easier to customize for breakfast or snack time. It's a perfect smoothie for kids since it's naturally sweet, loaded with nutrition from fruit and veggies, and tastes great! Plus: The one master recipe can be varied in 10 easy ways.
Favorite Healthy Toddler Smoothie (with Veggies!)
Learn to customize yummy smoothies for your toddler by starting with one simple recipe, then adjusting based on which fruit and veggies you'd like to use.
Get the recipe
Granola Bars
Homemade Granola Bars are one of my go-to toddler snacks. They're super easy to make, require minimal added sweeteners, have a texture that even babies and younger toddlers can chew, and store SO well. And you can make them allergy-friendly as needed!
Easy Homemade Granola Bars
We like to have these granola bars as a snack or toddler breakfast with milk or a smoothie—and they're an excellent lunch box component too.
You can make them plain or choose a flavor to add!
Get the recipe
Soft-Roasted Cinnamon Chickpeas
This roasted chickpeas recipe is an easy and delicious way to add nutrition to your toddler's diet. These are soft roasted to ensure they're easy for the kids to chew, and they have a sweet-salty flavor that's super yummy. Yay for easy toddler snacks!
Soft Roasted Chickpeas with Cinnamon
If you start with dried beans in this salty-sweet snack, make sure to cook them until they are very tender. If making these for a kiddo under one, use maple syrup instead of honey or skip the sweetener all together.
Get the recipe
Sugar-Free Banana Muffins
Mix up a batch of these easy-to-make Sugar-Free Banana Muffins to share with your baby or toddler come breakfast or snack time. You don't need any special ingredients and they are super moist and flavorful.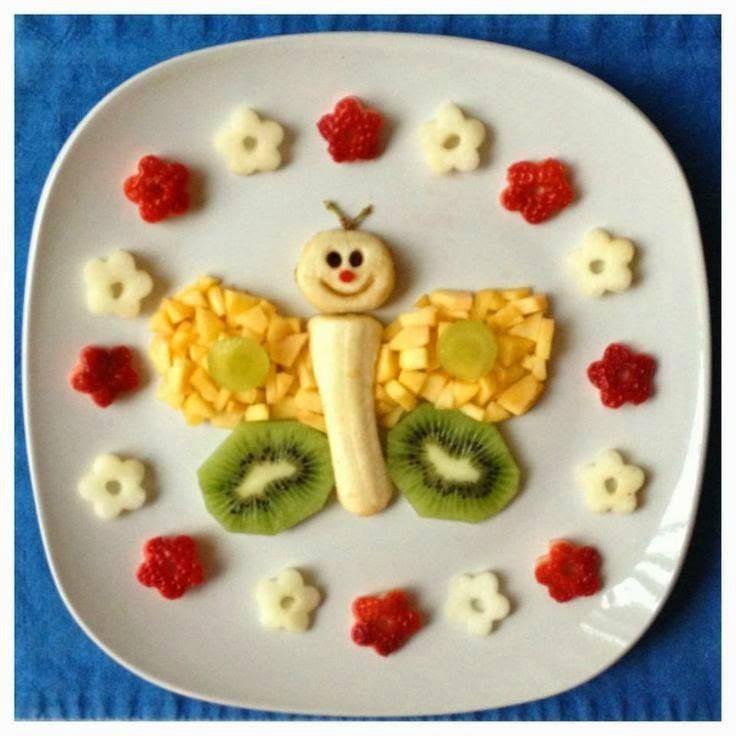 (There's a vegan option too.)
Sugar-Free Banana Muffins
Super moist and easy to mix up, this easy banana muffin is added-sugar free. They're really flavorful though, and are easy for one year olds to eat if diced up.
Get the recipe
Animal Crackers
With just a few simple ingredients and a crazy-easy method, this Animal Crackers recipe is a favorite kids snack to make and share. You can make them big or mini in whichever shapes you prefer!
Easiest Animal Crackers Recipe
If you use larger cookie cutters, you may need to bake on the longer end of the baking time—and mini cookie cutters on the shorter end. This makes a relatively small batch, so double it if you want extras to last all week!
Get the recipe
Easy Banana Cookies
With simple ingredients including ripe bananas for natural sweetness and rolled oats for fiber, these healthy Banana Cookies are a super yummy everyday treat to share with the family.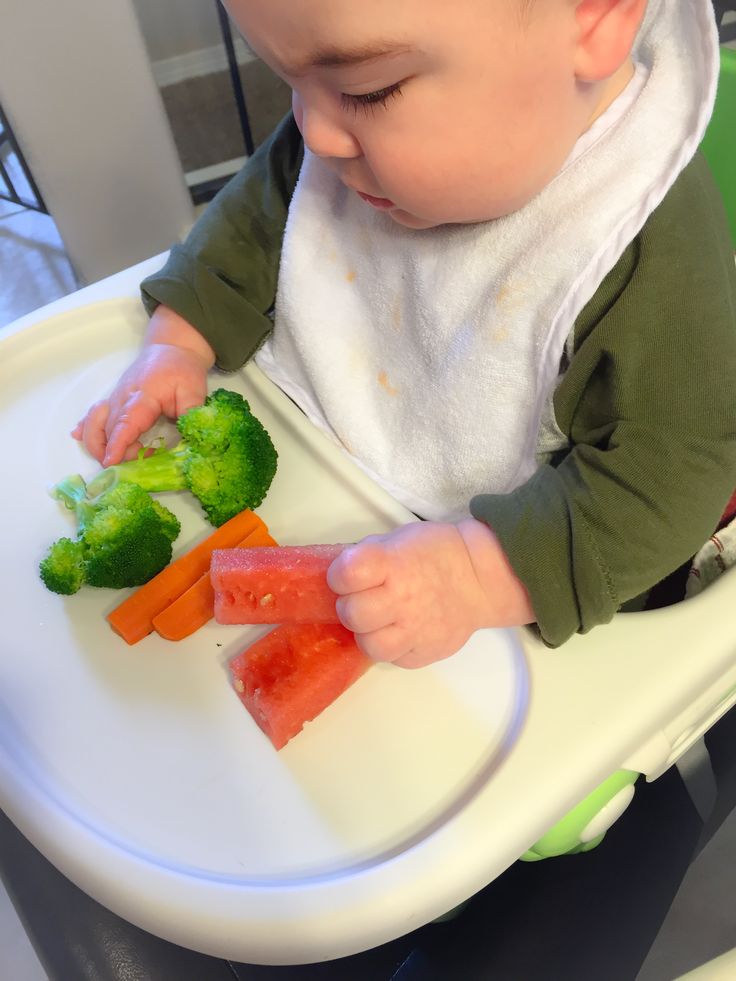 They're easy, delicious, and packed with nutrition. (Win, win, win!)
Healthy Banana Cookies (to Share with the Kids)
These are an easy whole grain cookie to share with the kids—they're a great baby cookie! Try them for snack, dessert, or as a breakfast cookie
Get the recipe
Dinner Recipes for 1 Year Olds
Dinner is often a struggle for this age group simply because they are tired—and you may have a kiddo who tapers their intake, with more earlier in the day and less at dinner. That is normal.
You can try adjusting the timing of dinner a little, offering some of the food that's ready as you finish cooking it (I often put a kiddo in their highchair right in the kitchen with me so they could eat as I finished making the meal), and remember that this age is fleeting.
Here are some of our favorite dinners for one-year-olds.
Baked Chicken Meatballs
With simple ingredients and the option to add shredded carrots (which I recommend!), these are an easy meal component that stores so well.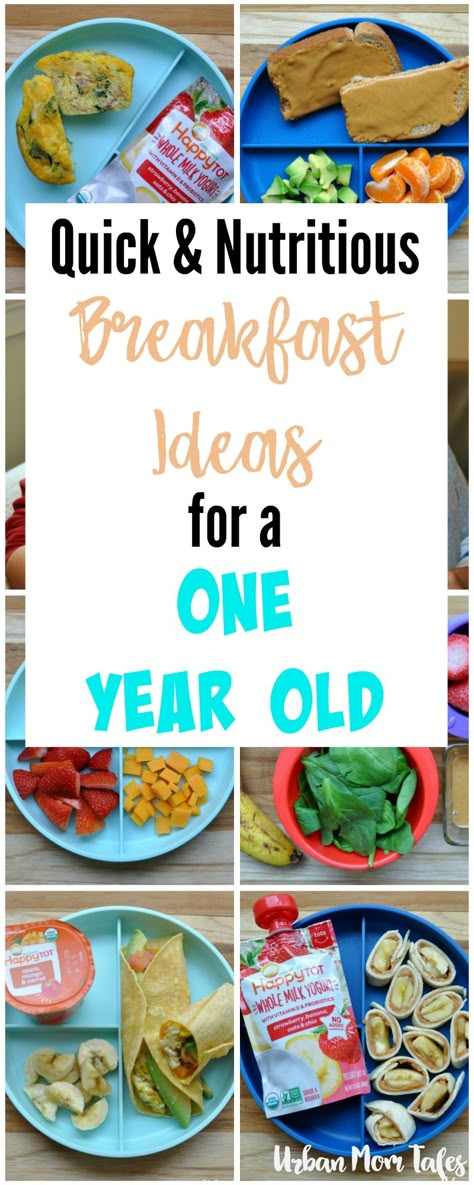 4-Ingredient Baked Chicken Meatballs
Serve with Marinara sauce, Pesto, Cheese Sauce, or with a side of ketchup or any other favorite dip. We like to have these on hand to use an easy lunch component or have them with pasta.
Get the recipe
Healthy Meatballs with Veggies
With three kinds of veggies and the texture and flavor that your kids expect, this Healthy Meatball recipe is a perfect family dinner option. And since the baked meatballs taste so good, the kids will be happy to see them on their plates. (Bonus: They freeze well, too.)
Healthy Meatballs (with Hidden Vegetables)
With the texture you expect from a traditional meatball, but added nutrition from three types of veggies, your whole family will love these.
Get the recipe
Instant Pot Butter Chicken
Shredded chicken thighs made incredibly tender in a rich tomato sauce with hints of Indian spices…oh yes! This Instant Pot Butter Chicken is an easy family dinner that everyone at the table (babies on up) can enjoy.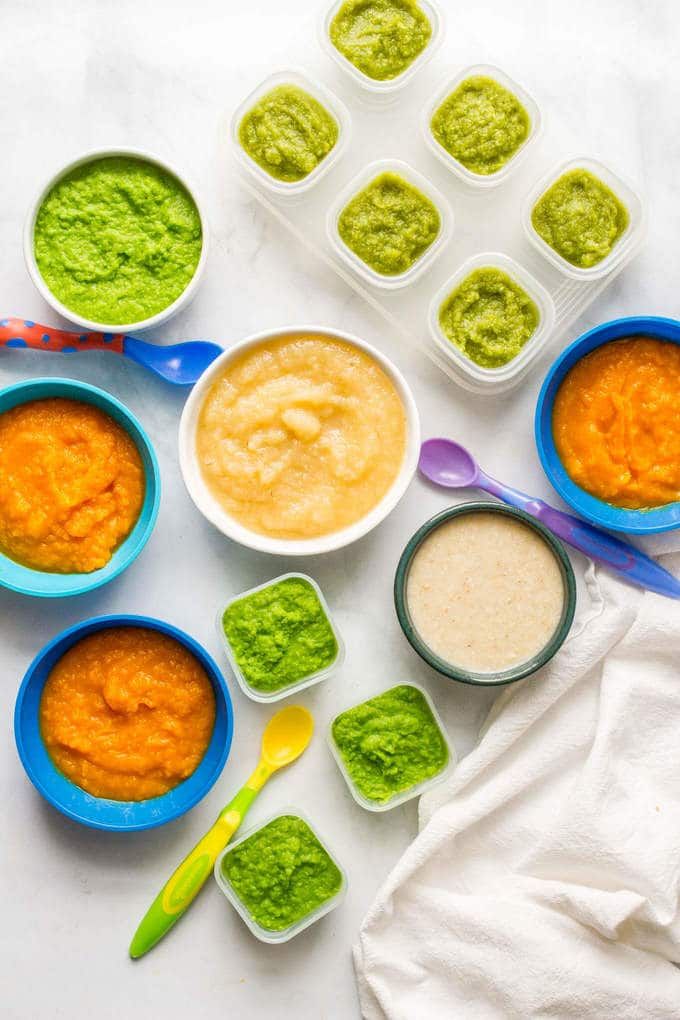 Easy Instant Pot Butter Chicken
Forget takeout—deliver this popular Indian dish to your table instead. Shredded chicken thighs are coated in a rich, buttery sauce with hints of tomatoes, ginger, and garam masala—a messy but very flavorful finger food. Posted with Permission from The Multi-Cooker Baby Food Cookbook
Get the recipe
Extra-Veggie Baby Pasta (with Iron)
Serve up a filling, yummy baby meal with this easy Baby Pasta. It includes a tomato-based sauce with extra veggies and beans blended in for an iron-rich meal perfect for lunch or dinner. Plus: The sauce freezes so well so you can have a stash of future meals ready and waiting!
Extra-Veggie Baby Pasta (with Iron)
Adding beans and extra veggies helps make this easy baby pasta satisfying, nutritious, and yummy. Serve it more or less saucy as you like. (You can even freeze the sauce for easy future meals.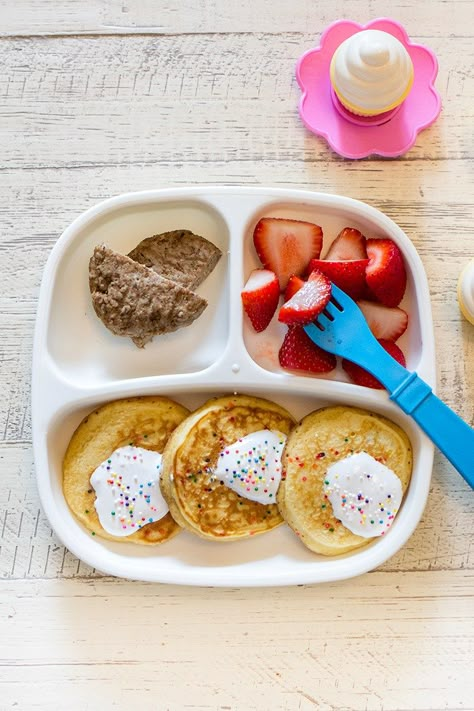 )
Get the recipe
Alphabet Soup
Cook up this cozy Alphabet Soup recipe the next time you want an easy meal that's also fun! ABC pasta is a perfect addition to this kid-friendly soup—and you can tailor the veggies to the likes (or dislikes!) of your own kiddos. It's so versatile!
Favorite Alphabet Soup
You can use ABC pasta, orzo, pastina, or ditalini—or any other very small pasta shape in this Alphabet Soup recipe. And you can start with fresh or frozen veggies. See below for options.
Get the recipe
Extra-Veggie Minestrone
With an easy cooking method—minimal chopping and less than 30 minutes start to finish—this Minestrone is a favorite comfort food meal to share. It's easy to adjust as needed for allergies and it is packed with yummy flavor.
Extra-Veggie Minestrone Baby Soup (for Big Kids too!)
With a streamlined method and a quick cooking time, this veggie-packed baby soup (that big kids and parents will also enjoy!) is filled with vegetarian protein and super yummy Italian flavors.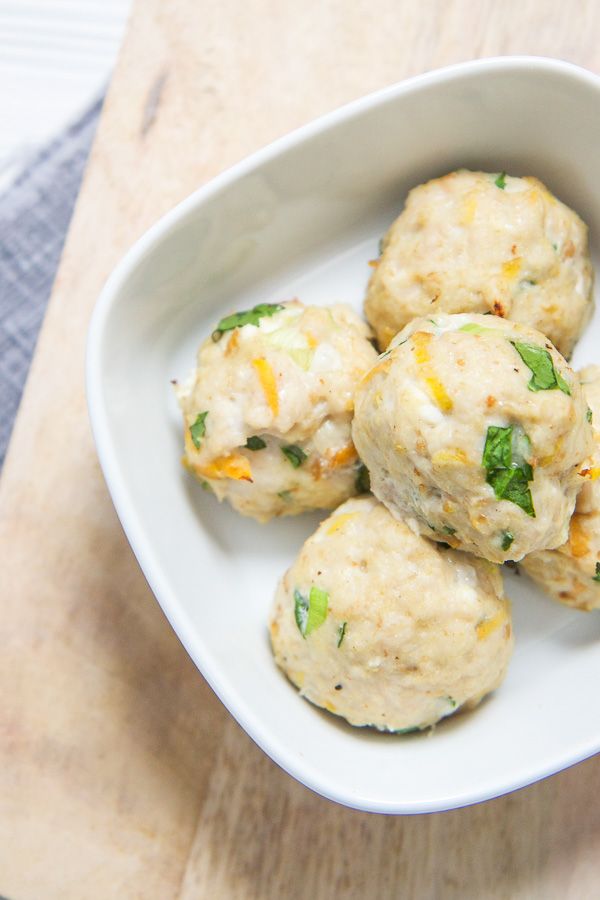 Get the recipe
Chicken Noodle Soup
There's nothing like a bowl of cozy, comforting Chicken Noodle Soup—especially when it's one that's easy to make in about 30 minutes. This version is quick to make and one of our very favorite family dinners to share.
Easy Chicken Noodle Soup for Kids
This easy recipe makes a big pot of comforting soup to feed the whole family—babies, toddlers, and big kids included. The leftovers store nicely so you can enjoy it for a few days!
Get the recipe
One-Pot Broccoli Mac and Cheese
With a super easy method that only requires one pot, you can have this easy Broccoli Mac and Cheese ready for family dinner—or a kids meal. It cooks in about 20 minutes and has a solid dose of nutrients and deliciousness.
One-Pot Broccoli Mac and Cheese
The method on this recipe is streamlined to cut down on dish washing.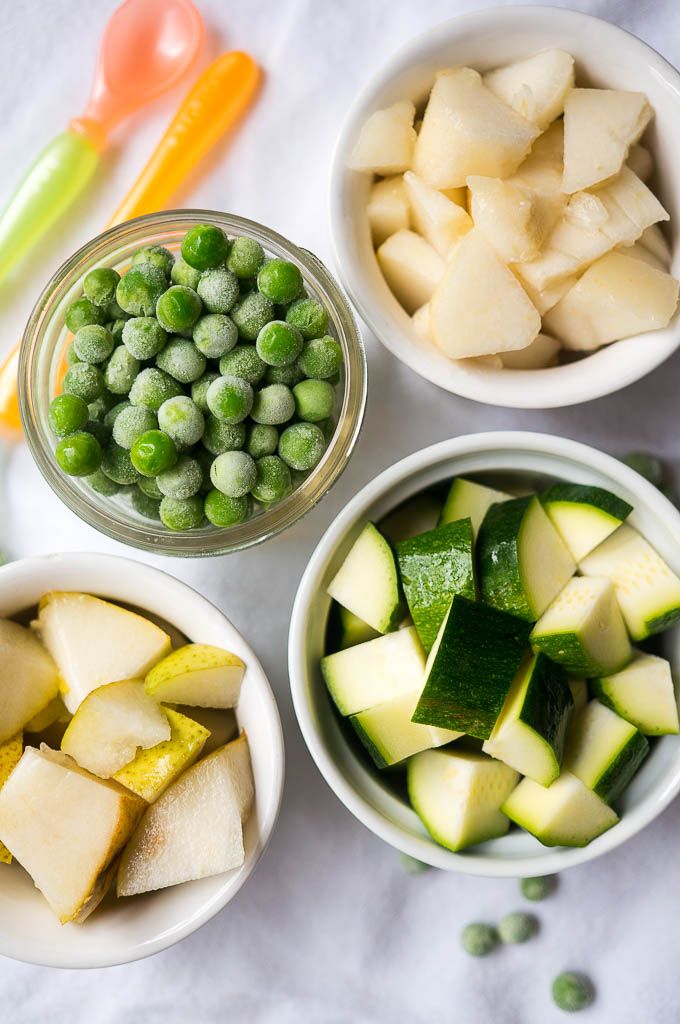 Add the optional spices for more flavor if you like! Double it to make more.
Get the recipe
Stuffed Peppers Skillet
With the classic flavors of easy stuffed peppers, but much less work, this skillet version cooks up in just 20 minutes for a healthy family dinner. And it has the added kid-friendly benefit of being served deconstructed to let the kids clearly see what's in their bowls!
Easy Stuffed Peppers Skillet
You can use whichever type of rice your family likes best. We rotate through short grain brown rice, basmati, and jasmine. Adults may want to top their portions with shredded fresh basil and/or crushed red pepper.
Get the recipe
Easy Cheesy Rice
This Cheesy Rice recipe has four options to add in veggies and has been a staple of my youngest kiddo's diet for the past year. It's SO easy, versatile, and stores wonderfully in the fridge.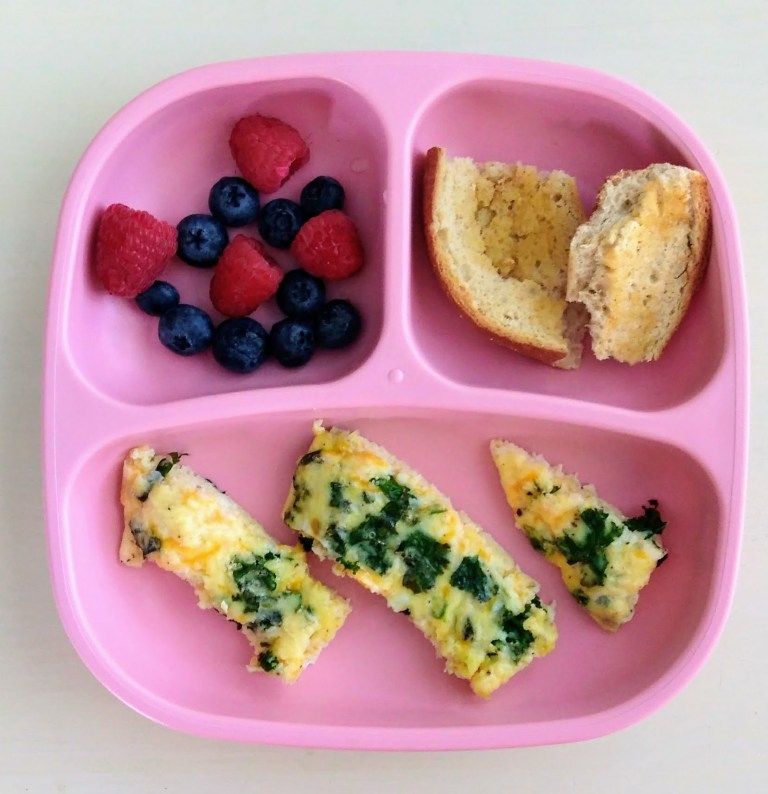 And it's downright delish!
Easy Cheesy Rice (with Veggies!)
Choose one veggie to add from the flavor options below according to what you have on hand or what your family likes best.
Get the recipe
Baked Zucchini Fritters
Whenever we wind up with a pile of zucchini from the store or the garden, it's time for all things zucchini. And this Baked Zucchini Fritters recipe is such an easy way to serve it up to the kids!
Easy Zucchini Fritters Recipe
We bake these Zucchini Fritters since they are easier to cook and easier to clean up. If you have a lot of zucchini, you can double the recipe to make a full muffin tin's worth!
Get the recipe
You May Also Like
Easy Lunches for 1-Year-Olds
Master List of Baby Food
Easy Baby Snacks
Favorite Smash Cake
1-Year-Old Feeding Schedule
I'd love to hear your feedback on this post, so please comment below to share!
15 Easy Lunch Ideas for 1 Year Olds (For Home or to Pack!)
These lunch ideas for 1 year olds will give you inspiration the next time you want to pack a healthy toddler lunch at home or to pack for daycare or preschool.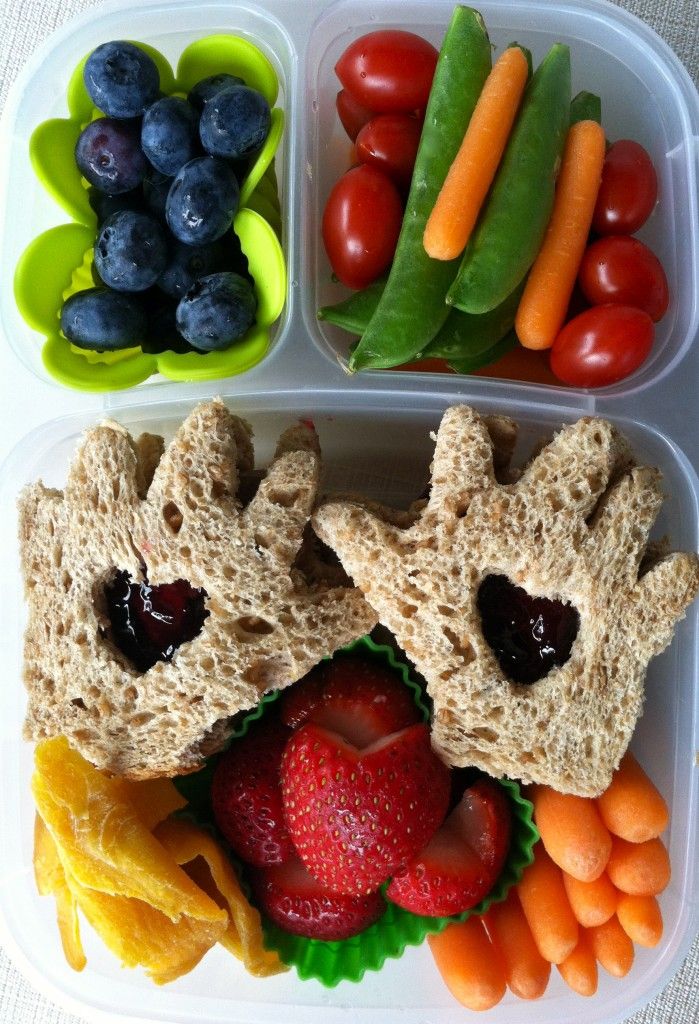 So whether your baby just turned one or you have a more experienced eater, need ideas for at home or to pack, these toddler lunch box ideas will help!
Lunch Ideas for 1 Year Olds
Coming up with toddler lunch ideas for 1 year olds is a challenge, to put it lightly! It's so hard to know how hungry they'll be, what food they'll actually want to eat, how they'll do with textures—and simply to come up with the ideas. To help, this list has easy ideas that you can serve at home or pack for daycare or preschool.
Food for 1 Year Old
One year olds are in a very specific phase of being able to eat more than they did as babies, but are still not able to chew everything that older toddlers and kids can. They are also notorious for having appetites that can range widely from day to day, so these ideas take both of those into accounts. The options here are easy to pack, but are also nutritious and filled with a range of textures and flavors.
Lunchbox Ideas for  One Year Olds at Daycare
Any of these lunches can be packed to send to daycare or preschool.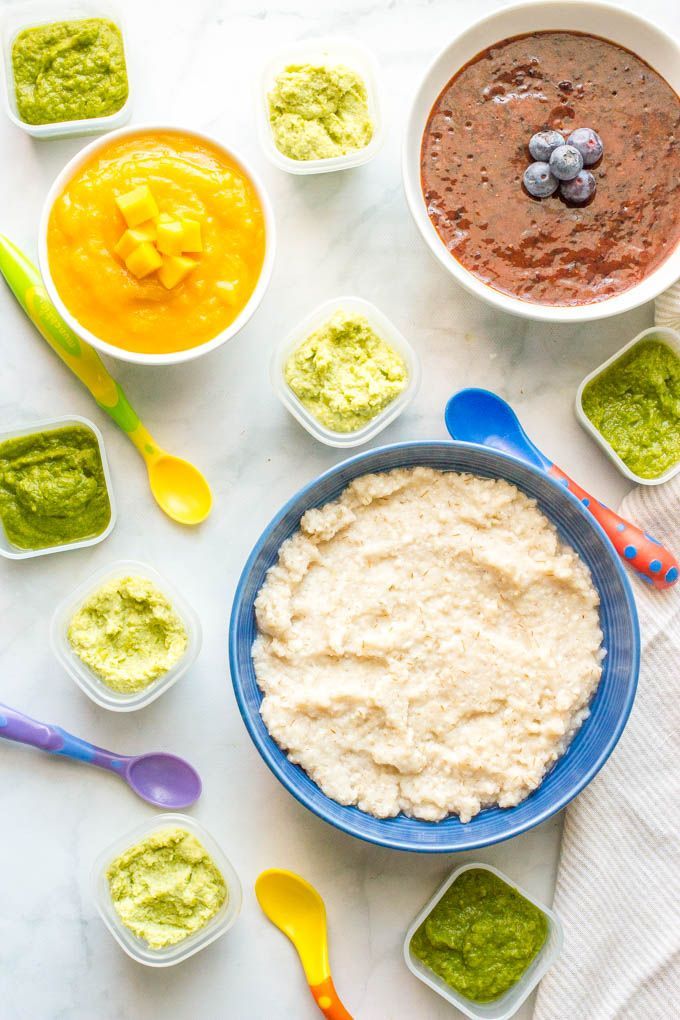 Or just to take on the go. I have a few lunchboxes and thermoses that I love, so see which might work best for you in your circumstances.
TIP: As always, adjust these toddler lunch ideas based on your one year old's chewing ability, preferences, and allergies. Which is to say: Iff you see something that isn't cut or prepared the way you know your toddler would need it to be cut or served, you of course have full permission to change it. I did my best here to visually show you suggested serving options, but you may need to adjust.
1. Easy Snack Box
I love muffin lunches since they allow me to make the main component ahead and then add in simple sides. This one has fresh blackberries, freeze-dried strawberries, O cereal, and Vegan Banana Muffins. (Not every lunch has to have every single food group…do your best with what you have!)
2. Pesto Pasta and Peas with Grapes and Fruit Leather
Having store bought pesto or homemade pesto on hand is an easy pasta sauce that's flavorful and packed with nutrition—especially when paired with peas—but also kid friendly! Served with halved grapes and fruit leather, this is an easy and fun lunch.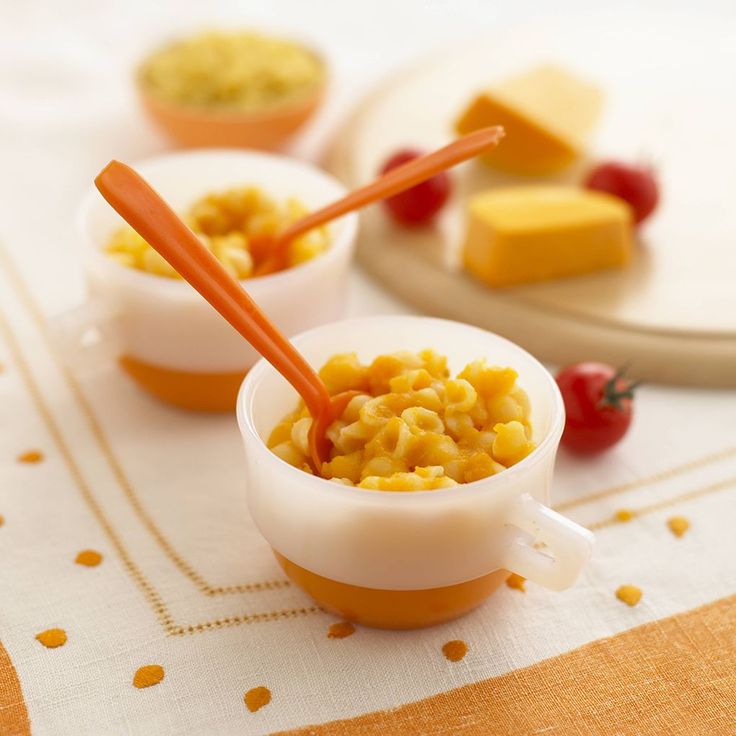 3. Carrot Cake Muffins with Cottage Cheese
Muffins like my Carrot Cake Muffins are a great lunch option, as are Roasted Carrot Fries. We love both cold or slightly warm, so you have options when serving them at home or packed in a lunchbox. Pack a spoon for the cottage cheese if sending to daycare!
4. Easy Breakfast for Lunch
Pair Veggie Muffins with hard-cooked eggs and berries for a super easy and fully make-ahead kids lunch idea.
This super simple idea pairs quickly cooked chicken with roasted sweet potatoes and zucchini for a super easy make-ahead lunch. I love this one since it's easy to adjust for an adult's lunch too!
6. Veggie Grilled Cheese, Corn and Applesauce
Adding spinach to grilled cheese is a simple way to increase nutrition in a kid staple. (Just use the filling from my Spinach Quesadillas spread on bread and prepare like any other grilled cheese.) Pair with warmed frozen corn and an applesauce pouch.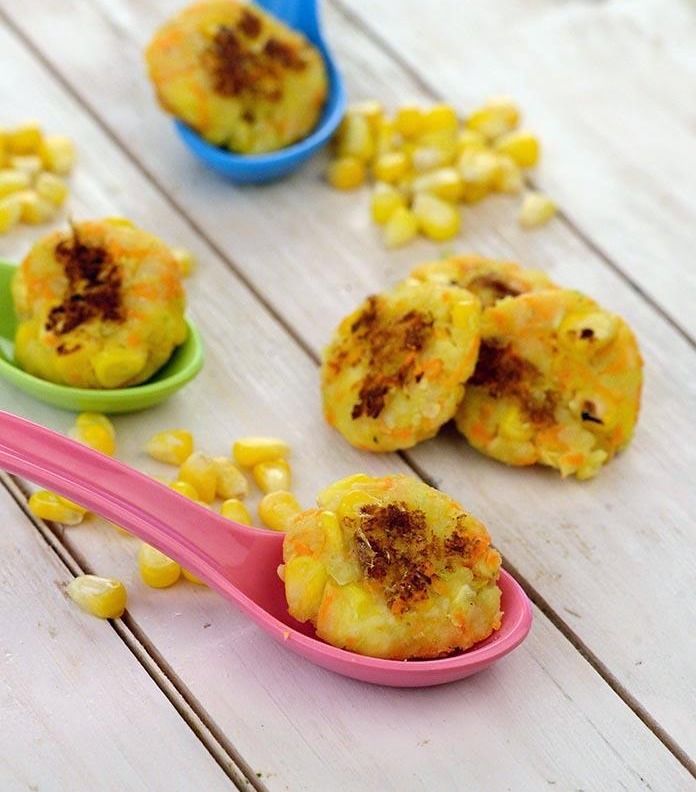 TIP: See below for the recipe!
Incorporating broccoli right into the pasta sauce is a simple way to serve it up to one year olds. Try it with a fun pasta shape like stars and paired with simple sides like puffs, berries, and thawed frozen veggies.
8. Easy Finger Foods Lunch
Eggs, Roasted Butternut Squash, fruit and avocado is a super simple lunch idea. I often make the squash and eggs ahead and then warm very briefly to serve or pack. You can lightly rub a little lime or lemon juice on avocado to keep it from turning brown if packing in a lunch box.
9. Meatballs, Pasta and Fruit
My Chicken Meatballs with Sweet Potato are an easy make-ahead protein option that are super yummy and easy for one year olds to chew. Pair with pasta or a grain and fruit to round out the lunch.
10. Soft Roasted Chickpea Lunch
Pair Salty-Sweet Cinnamon Roasted Chickpeas with diced cheese, kiwi, and crackers for a super simple finger foods lunch for a one year old.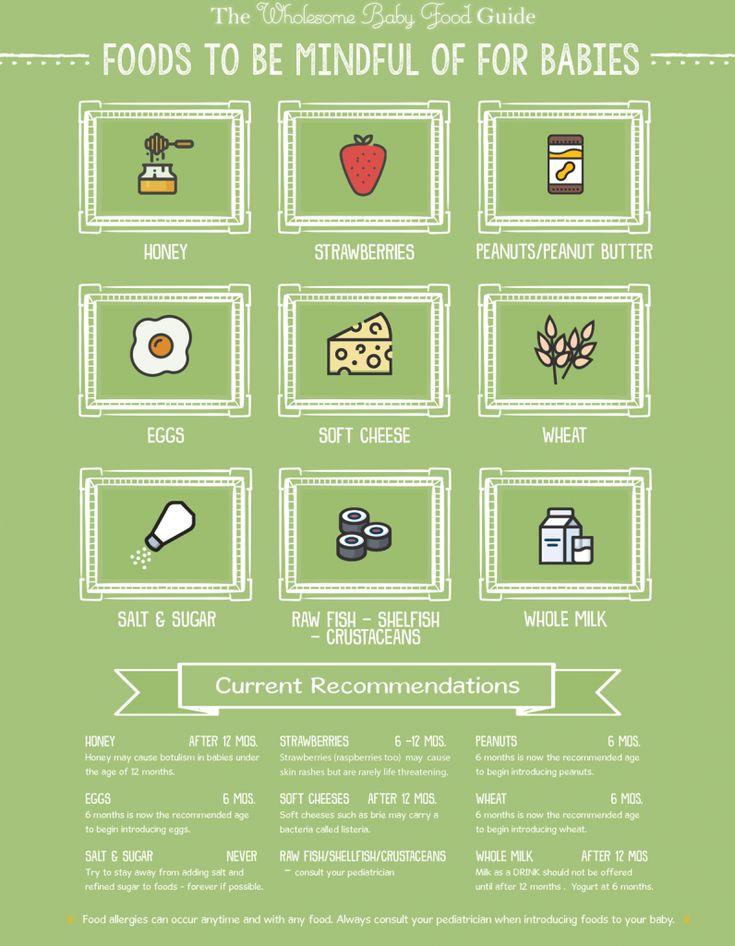 Make pizza for lunch a whole lot easier by starting with a tortilla. These are soft and easy to chew (use tortillas labeled "soft" for the best texture for little ones) and yummy—and boast a veggie punch from the pizza sauce.
12. Easy Hummus Lunch Box
I love using dips to help the kids get more interested in foods they may not love and this one year old lunch is a good example. Here, I paired hummus with bread strips, thinly sliced pepperoni, and sauteed green beans. Plus mini animal crackers and fruit.
I never thought I'd find it necessary to make simple sandwiches ahead, but these freezable PB&Js are so handy to have on hand! They thaw in a lunchbox and just streamline packing. You can use sunflower seed butter if needed to make them allergy-free.
These baked fritters are so good in the summer when there's too much zucchini, or really any time of the year when you want a make-ahead lunch option with a veggie in the mix. I like to serve them diced with a dip like ranch, ketchup, salsa, or even bbq sauce.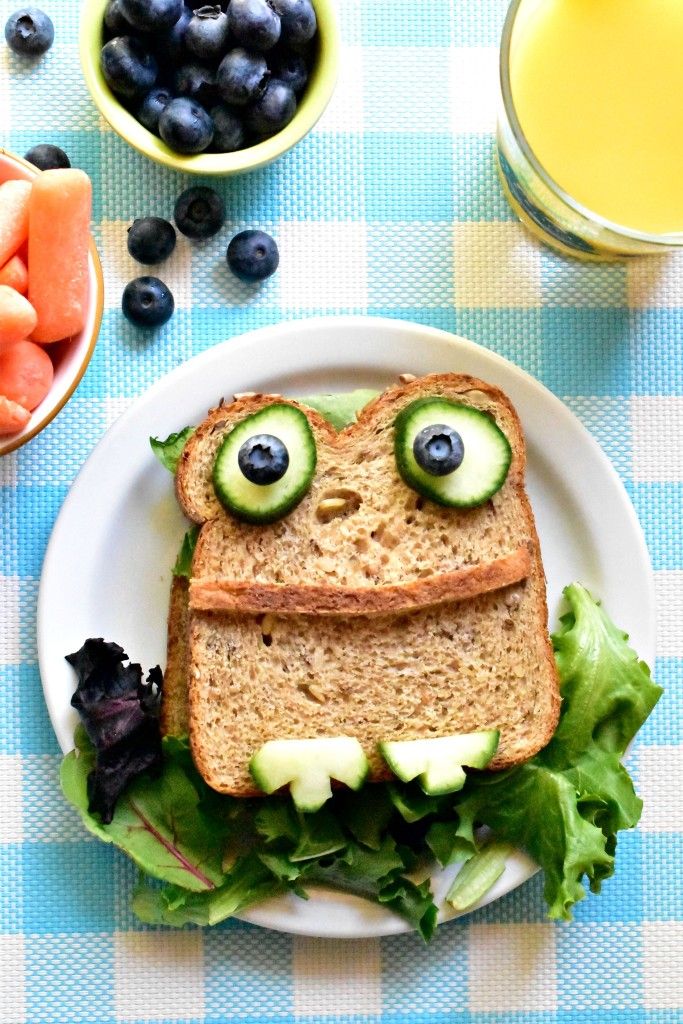 You can make this with store bought dough or homemade and it only requires two other ingredients. It's a fun lunch to make at home or to send in a lunchbox. I like to cut it into strips or cubes to ensure it's easy for a one year old to chew. Here I paired it with matchstick cut apples and sliced cucumbers.
Healthy Sides for Lunches
If you need some ideas for what to pack with a lunch, these healthy snack options from the store are super easy options.
Best Lunch Boxes for Kids
All of the lunchboxes shown here are in my guide to lunchboxes here.
If you have any questions about food for one year old's or any of the lunches shown here, please comment below. I appreciate all feedback and hearing from you all—it always helps to make my content so much better!
Prep Time 10 minutes
Cook Time 6 minutes
Total Time 16 minutes
Author Amy Palanjian
Cuisine American
Course lunch
Calories 157kcal
Servings 2
Spinach Grilled Cheese
▢ 2 cups baby spinach (loosely packed)
▢ 1/2 cup shredded cheddar cheese
▢ 1 tablespoon cream cheese
▢ 1/4 teaspoon cumin
▢ 4 pieces whole grain bread
▢ 1 tablespoon butter
Place the spinach, cheese, cream cheese, and cumin in a food processor or blender. Blend until smooth, stopping to scrape down the sides of the bowl as needed.

Spread a thin layer of the spinach mixture onto 2 of the slices of bread. (You may have leftovers.) Add the second bread slices on top to make a sandwich. Add a thin coat of butter to the outside of each sandwich.

Warm a skillet over medium heat. When warm, cook each sandwich for 2-3 minutes per side or until warmed through and melty.

Serve warm in slices or cubes.

You can store any leftover spinach mixture in an airtight container in the fridge for 3-5 days to make additional sandwiches.
Here are other simple toddler lunch ideas to try too:
Easy Snack Box with mini muffins, diced fruit, freeze-dried fruit, and dry cereal
Pesto pasta with peas, fruit, and fruit leather
Carrot Cake Muffins, Roasted Carrots, cottage cheese, halved grapes
Veggie Muffins, hard-cooked eggs, raspberries
Chicken and Sweet Potato Bowl with diced pineapple
Broccoli Pesto Pasta with puffs and fruit
Finger food lunch of scrambled eggs, roasted squash, avocado, berries
Pasta and peas with butter, Chicken Sweet Potato Meatballs, and clementine
Soft Roasted Chickpeas, cheese, kiwi, cheddar bunny crackers
Pizza Quesadilla with berries
Hummus Lunch with hummus, bread, pepperoni, animal crackers, and fruit
Make-Ahead PB&J
Baked Zucchini Fritters and tomatoes
Pesto Pizza with sliced cucumbers
Calories: 157kcal, Carbohydrates: 4g, Protein: 9g, Fat: 12g, Saturated Fat: 8g, Polyunsaturated Fat: 1g, Monounsaturated Fat: 3g, Cholesterol: 38mg, Sodium: 241mg, Potassium: 220mg, Fiber: 1g, Sugar: 1g, Vitamin A: 3209IU, Vitamin C: 9mg, Calcium: 251mg, Iron: 1mg
Tried this recipe?Rate in the comments and tag @yummytoddlerfood on IG!
recipes for 1-year-old children
Diet (menu) for a 1-year-old child
So many foods, but so little for a child! The norm of the amount of food for a one-year-old child per day is some 1-1.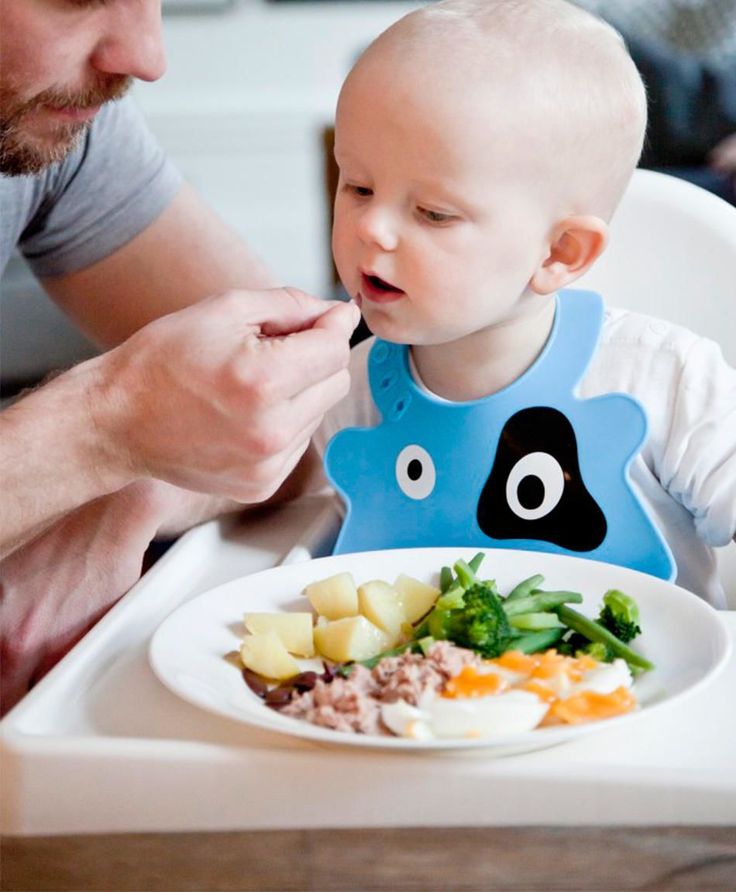 2 kg. Products have a calorie content, and a baby needs only 100-102 kilocalories per day for every kilogram of his weight.
A 1 year old baby should be fed 4-5 times a day, preferably every 4 hours. Based on these data, it is not difficult to create a diet for a child of 1 year, a year and 2-3 months and an approximate menu for a week.
And here is the approximate nutrition menu for a one-year-old child, if he is already weaned:
It is important to consider that breakfast, lunch, afternoon tea and dinner for a child of 1 year old should be related as a percentage of the total food volume as 25: 35:15:25%, recipes should not contain a lot of seasonings and salt. The volume of the finished dish should correspond to 1 serving, since it is unacceptable to heat food for a baby - it loses all its useful properties.
Important! Remember that prepared food should be "too tough" for the child. If the baby has few of them, it is better to knead it with a fork, if the child is "biting", it is advisable not to grind the food when cutting. It's not worth turning all the dishes into a soufflé - it's time for the baby to actively learn to bite and chew food.
What can a child eat at 1 year old
For full development, the baby needs a balanced diet, and you need to know what the baby can and what not. How and what you can feed a child at 1 year old, we will now find out.
Cereals and pasta
Cereals should be the basis of the baby's diet, you need to alternate different types of them during the week.
Buckwheat. Takes a leading position. Important for the nervous system and a good level of hemoglobin in the blood.
Rice. A lot of useful substances, this is a prolonged action energy drink. There is a side effect - strengthens.
Corn. Rich in sugars, good for the nervous system, skin and vision. However, it is contraindicated in children with metabolic disorders.
Oatmeal. It contains the most B vitamins, which is why oatmeal is called the "breakfast for the brain."
Wheat. Even in the form of pearl barley, even in the form of Artek, it is easily digested and benefits the nervous system and vision.
Semolina. It is made from wheat, but it is better absorbed by grinding.
Pasta. Also derivatives of wheat. High carb product. You can give them no more than 2 times a week.
Vegetables
Vegetables are healthy, especially fresh ones. They remove toxins from the body, and bring a lot of useful substances into the body:
Potato. A lot of carbohydrates, starch, adjusts digestion.
Carrot. It is good for the eyes, and for the brain, and it regulates the condition of the skin, and it contains vitamin D.
Beets. Almost like a carrot, but with more sugars. There is one minus - it weakens.
Bow. Good for the digestive system, has an antibacterial effect.
Garlic. You can eat it, but only as a seasoning, and then, quite a bit.
Cabbage (any). Beneficial for the brain, skin and hair. Minus - after it swells.
Pumpkin. More carotene than carrots, rich in vitamin D.
Courgettes and squash. Everything is good in them, and there are vitamins and a lot of minerals. But they provoke the excretion of calcium from the body, they should be eaten in moderation.
Cucumbers. Almost like zucchini, but calcium is not washed out of the body. They are especially good because they do not need to be heat treated.
Tomatoes. Delicious, healthy. It is necessary to give children prone to allergies with caution, to start with yellow varieties. The only vegetable that contains the hormone of happiness.
Fruits and berries
Storehouses of vitamins. First, let's in a processed form, but in a year you can slowly transfer to fresh ones - both tasty and much more useful.
Protein products
A child needs essential amino acids for growth and development. They are found in products of animal origin:
Meat. The norm of meat for a child is 80-100 g per day. Choose lean: chicken, turkey, rabbit, beef. Occasionally, you can give both pork and duck, the main thing is not to get carried away.
Meat offal. Of these, the baby can only beef liver. It is rich in iron and B vitamins.
Milk and dairy products. In addition to a large amount of proteins, they contain a lot of calcium, which is important for the formation of the skeleton.
Eggs. Baby can have chicken or quail. Naturally, ready-made. Allergy sufferers up to 2 years old can only be given the yolk.
Fish. It is very necessary for the child's body, but the sea is not always sold in the right quality, and in the river there are a lot of parasites. Some doctors recommend to wait with it up to 2 or even 3 years.
In addition to proteins, the above products contain vitamin E, vitamin A, trace elements, carbohydrates, but their amount is much lower than in vegetables and fruits. Dairy products also contain lactobacilli, which are designed to improve the intestinal microflora.
Liquid
The child must drink. The body's need for liquid can be met by:
purified water;
weak black tea;
chamomile, mint or chicory tea;
fruit or berry juices;
compotes from fresh berries and dried fruits.
What not to feed a one-year-old child
Sausage and frankfurters - you won't find meat in them anyway, but E-nis, dyes and stabilizers are more than enough.
Smoked products - they are processed with liquid smoke, but there is nothing useful in this.
Fried - it is harmful to adults, and doubly harmful to a child with his fragile stomach.
Pickles - there are no vitamins in such vegetables, one taste and irritation of the stomach.
Canned food - they contain a lot of preservatives, which is not very good for the baby.
Sweets and sodas - all the same E-s and dyes. Especially gummies and colored sweets.
Citrus fruits are highly allergenic products.
Nuts - they are useful, but the body of a one-year-old child does not absorb them well.
Mushrooms - accumulate radiation, difficult to digest, high probability of eating "wrong" mushrooms.
Key recommendations
The baby's diet contains foods that he was offered before.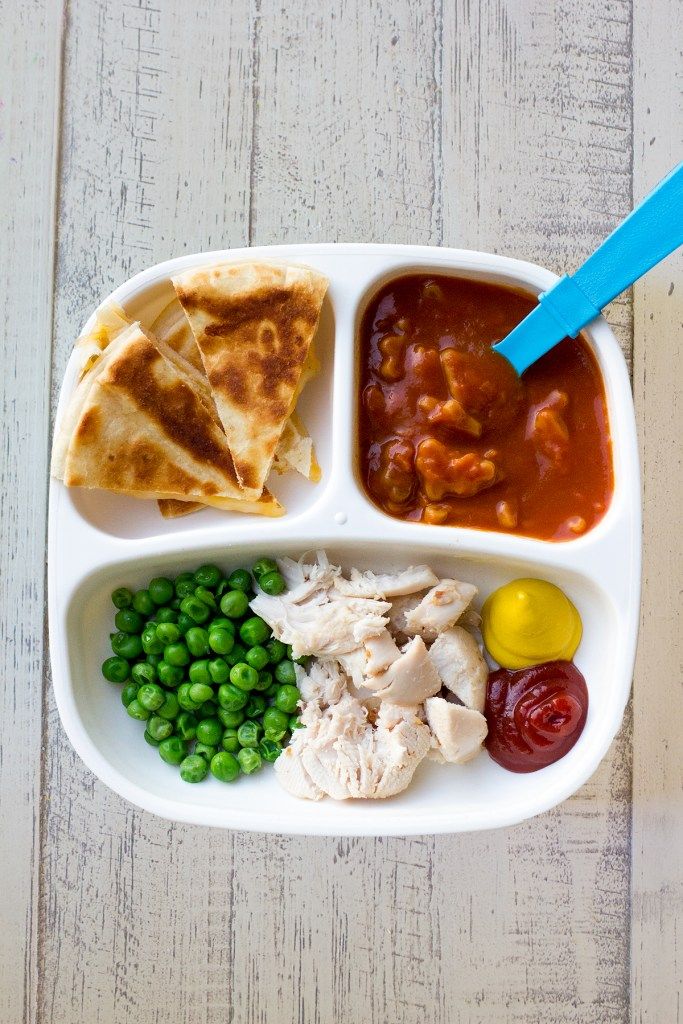 These are vegetables and fruits, cereals, kefir and cottage cheese, fish and meat. The menu includes previously used products. It will also contain combinations of several dishes at once, thanks to which the menu of a one-year-old child will expand significantly.
Baby continues to receive formula and breast milk as needed. But feeding is gradually replaced by a full meal. At the beginning of the second year of life, the volume of portions increases, the consistency of the food is more like "adult" dishes.
Vegetable stir-fry is not prepared for soups. Onions and carrots are laid fresh. The first broth obtained by cooking meat must be drained.
The basis of nutrition is boiled, baked or stewed foods, which contain a minimum of sugars and salt.
Feeding mode is changing. A child aged 1 - 1.5 years should be seated at the table at least 6 times a day. If in the morning he can still be offered breasts, then in the evening it is advisable to drink kefir.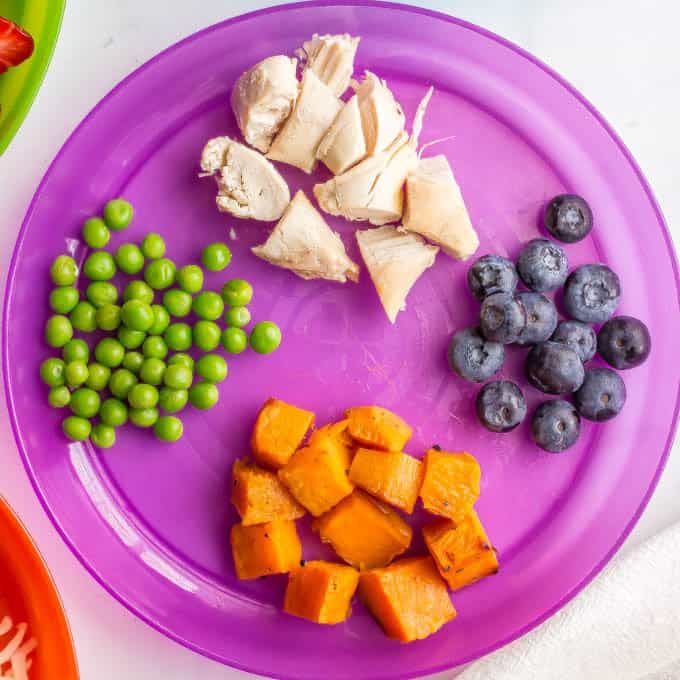 Breakfast
What should I feed my baby for breakfast? These will be cereals boiled in cow or goat milk diluted with water. The mixture is used if the baby has lactose, protein or milk intolerance.
You can have different cereals for breakfast. It can be:
Greek;
rice;
oatmeal;
millet.
The recipe is simple. For 200 ml of a mixture of milk and water, 2 tablespoons are taken. cereals. Porridge is cooked for 15 minutes with a slight boil. It is allowed to decorate the dish with grated fruit.
Lightly brewed tea or compote can be used as a drink.
The children's menu should include a steam omelet from 1 chicken egg twice a week. It is allowed to add a little dill to it to improve the functioning of the digestive tract.
Second breakfast
Second breakfast is obligatory at this age. The child can be offered:
yogurt with fruit;
fruit puree;
baked green apple;
baby biscuits.
Alternatively, you can offer your child commercially produced purees packed in airtight jars.
Lunch: what can be prepared
One-year-old baby can have both the first and the second course for lunch. When preparing meat soup, the first broth must be drained. Pieces of chopped meat and cubes of vegetables are added to the second and boiled until tender.
If you plan to cook vegetable soup, then at the end of cooking, add 1 tbsp. olive or sunflower oil. Bouillon on the bones is prohibited, as it stimulates the pancreas.
Second courses may vary. A child can be offered:
unsweetened cereals;
vegetable puree;
meat, fish;
liver;
vegetable salad - served in summer.
When introducing a new product, it is necessary to monitor the reaction of the child's body.
Afternoon snack
As a rule, dairy products are served for a one-year-old child's afternoon snack.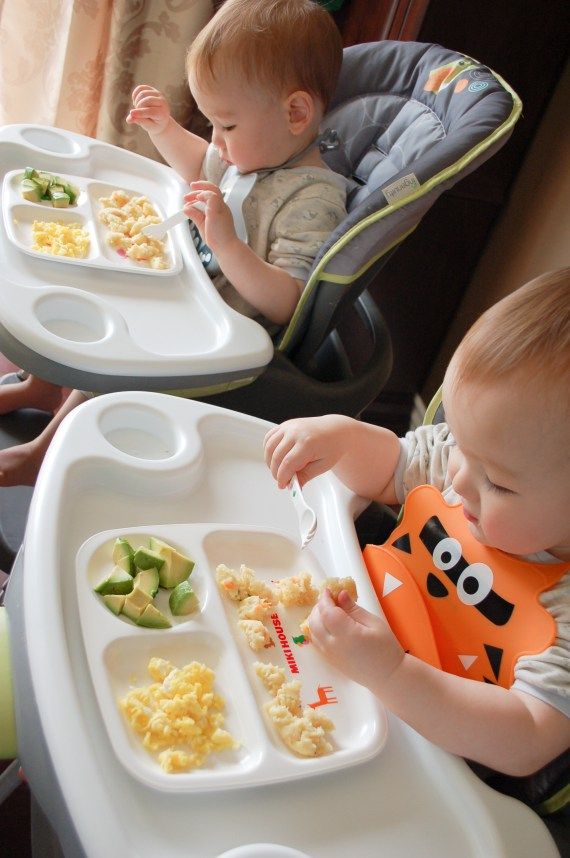 These are:
porridge with milk;
cottage cheese with pieces of fruit;
cottage cheese casserole;
syrniki;
baby biscuits.
Possible drinks - compote and milk. Whole milk must first be diluted with water to prevent the development of colic.
Dinner options
At this time, you can repeat the main courses that were served to the child for lunch. You can also offer:
vegetable stew;
meatballs or a piece of meat, fish, garnished with dairy-free porridge.
Be sure to add a little vegetable oil to the stew. This will prevent the development of constipation.
Breastfeeding is used as a late supper, if the baby has still not given up. If the child receives a mixture, then it is better to replace it with kefir.
The menu of a one-year-old child includes many products, so the dishes offered to him are distinguished by a variety of tastes. As a rule, at this age, breast milk is replaced by a full meal.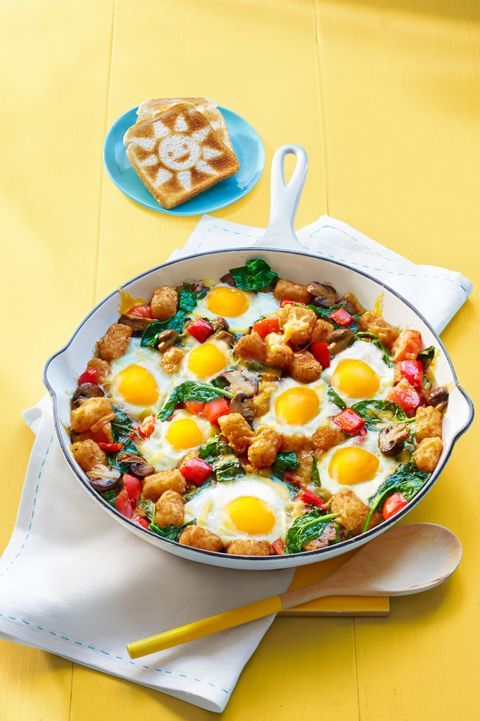 Child's menu at 1 year old
The baby more and more confidently eats not only pureed dishes, but also dishes with small pieces of food, his diet at 1 year old gradually expands, the menu becomes more diverse, and as a result, the mother has a lot of opportunities for culinary experiments.
It is possible and necessary to experiment, because it is at an early age that a child develops eating habits . You don't want him to turn his nose away from a plate of food in the future because it contains fried onions or baked broccoli, do you? Then start introducing him to a variety of products and how to cook them now!
MONDAY
Breakfast: Wheat porridge
Lunch: T pumpkin puree soup with chicken
Dinner: Zucchini and carrot casserole Tuesday
Breakfast: Porridge made of oatmeal with caramel apples
lunch: soup puree from broccoli, fish meatballs
Dinner: Casserole of zucchini and carrots
PUPPLE
BID cottage cheese
Lunch:
Broccoli soup, fish meatballs
Dinner:
buckwheat porridge
Thursday
Breakfast: Omlet
Lunch: Puree Buckwheat porridge
Friday
Breakfast: wheat porridge
lunch: soup puree from different vegetables, cutlets
Dinner: zucchini stew in sour cream
Saturday
Breakfast: Porridge made of oatmeal with caramel apples
lunch: soup pures made of cauliflower, stomach from the liver
Dinner: zucchini stew in sour cream
Sunday
9000
,0004,0004,0004,0004,0004,0004,0004,0004,0004000 apples with cottage cheese
Lunch : Cauliflower puree soup, liver sauté
Dinner: Mashed potatoes , Carrot and dried apricot salad
the whole family.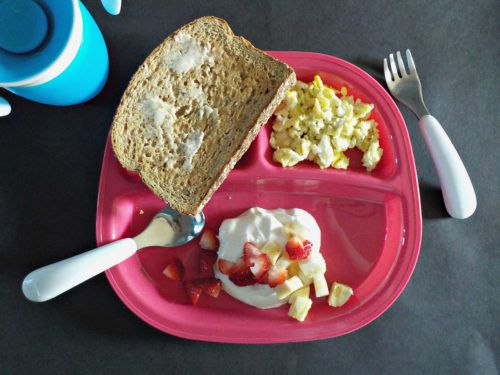 Let me just remind you that for children, you need to replace mayonnaise with sour cream, and hot spices (pepper, garlic) can be added to adults in ready-made portions.
Recipes for children from 1 year old
Vegetable puree, vegetable soup. Thoroughly wash, clean and finely chop vegetables (zucchini (seeds pre-cut), potatoes (soaked in advance), cauliflower, carrots, peas), cook for 30-40 minutes. Beat with a blender or just knead with a fork - you get mashed potatoes. We leave a little broth, add pureed meat - you get soup. Pieces of vegetables in the soup should be very soft (carrots and potatoes are cooked for a long time!), so that the child does not choke.
Soup with meatballs. For 2 servings: minced turkey 200 gr, carrots 150 gr, small pasta 50 gr, quail eggs 4 pcs, greens. We make small balls from the minced meat, boil them for 20 minutes, drain the broth and pour clean water, add the grated carrots, after 10 minutes pasta, 5 minutes before the end of the greens, and break the raw eggs into a saucepan and mix quickly or boil in advance, cut and add.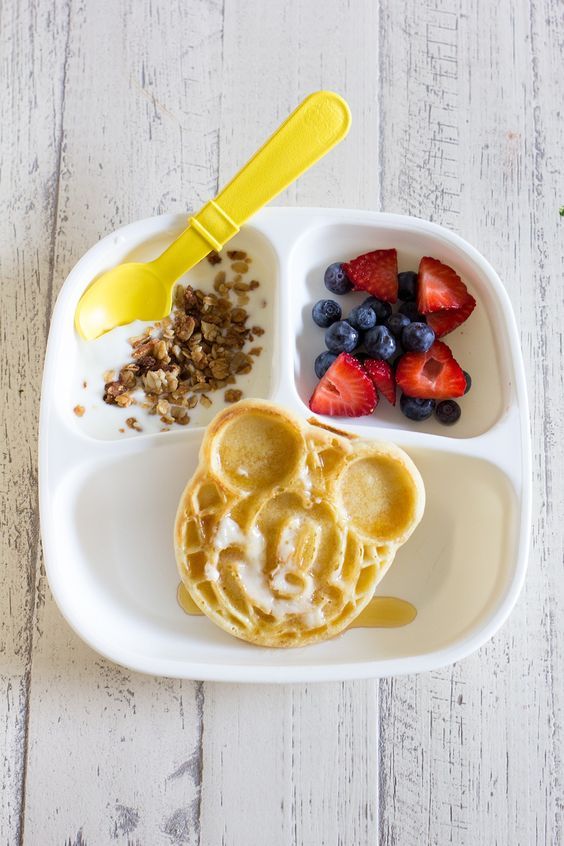 If desired, you can boil the soup and add broccoli or cauliflower.
Steamed meatballs. Meatballs can be prepared from minced fish or chicken. Mix minced meat with a small amount of raw rice, add a little salt and an egg. Roll into small balls and place in a steamer. Cooking time is about 40 minutes.


Steam omelet. Beat one egg with a small amount of milk, pour into a container, put in a double boiler for 30 minutes. Divinely tender omelet for the baby is ready!
Curd. Boil milk (200 gr). Pour kefir (200 gr) into boiling milk. Keep on low heat until the whey begins to separate. Turn off, cool, recline on gauze. It turns out very tender, not sour cottage cheese.
Banana pudding. Banana cut into pieces, add crushed cookies, pour a glass of warm milk. Beat with a blender.
Cottage cheese casserole. Mix cottage cheese, some sugar, egg, semolina, vegetable oil, raisins and a pinch of salt.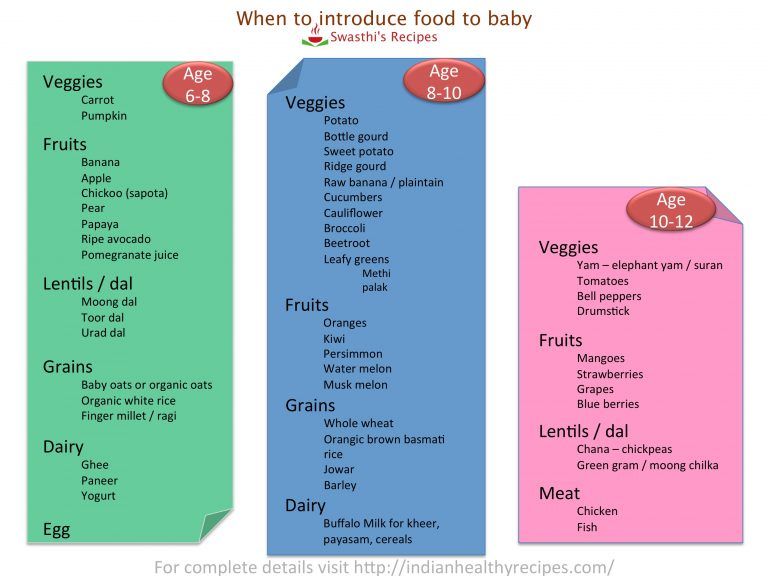 Put the resulting mass on a baking sheet, add sour cream on top. Bake in the oven for about 25-30 minutes.
Liver pate with potatoes. Rinse chicken liver, simmer for 15 minutes. Rub, add a little milk or cream and mix with mashed potatoes.
Vegetable salad. Wash the tomatoes and cucumbers, remove the peel, grate, add a little sunflower oil.
Steam or oven fish. We buy lean fish: hake, pollock, cod, haddock, telapia. For a child, it is better to buy fillets without bones. You can cook in a double boiler, boil or bake in the oven "under a fur coat." For a fur coat, three carrots, a little onion, mix with sour cream and spread on top of the fish. Bake in the oven for about 60 minutes.
Potato p jure with fish cake. Fish (preferably cod fillet and the like) we scroll in a meat grinder along with a long loaf soaked in milk or water in advance, add an egg, a little onion, salt and herbs.
We mix everything well and sculpt. You can roll in semolina, flour or crackers (optional!). And in a double boiler for 25-30 minutes. These meatballs can also be frozen.
So the menu of a child at 1 year old can be diversified and come up with new recipes. Bon appetit to you and the kids!
Menu options for a 1 year old
Breakfast

Lunch

Snack

Dinner

Before bed

milk porridge (200g) + biscuits

pumpkin rice porridge (200g)

vegetable soup (180 - 200g) + meat (50g)

chicken puree soup (200g)

vegetable puree 200g + egg yolk

mashed potatoes + boiled fish 60g (cod, hake, pollock)

thin vermicelli + steamed chicken, fish or turkey meatballs

cottage cheese (50g) + fruit puree (100g)

seasonal fruits or berries + biscuits

buckwheat porridge (150 gr) + meat (30 gr)

vegetable salad (grated cucumber + some tomato + sunflower oil)
boiled rice + fish (low-fat varieties) steamed or baked with carrots

adapted milk or mixture (200 gr)

breast milk
fermented milk products (kefir, bifidok, etc. ) 200 gr

What you can drink
Water, milk, compotes, fruit drinks, diluted natural juices. Teas and herbal decoctions should not be given in large quantities , as they significantly reduce the absorption of iron from the intestines.
What to feed a one year old baby?
The menu of a 1-year-old child has changed significantly. Now it is not only milk and various mixtures, but also other products.
Let's take a closer look at the menu of a child at 1 year old.

Breakfast.
For breakfast, the baby can be offered porridge and half an egg yolk. Fruit puree or fruit, they can be added to the porridge.
What kind of cereal can a one year old child have?
These can be gluten-free cereals (corn, buckwheat, rice), as well as gluten-containing cereals (wheat, oatmeal, semolina).
The volume of porridge should be approximately 150-200 ml.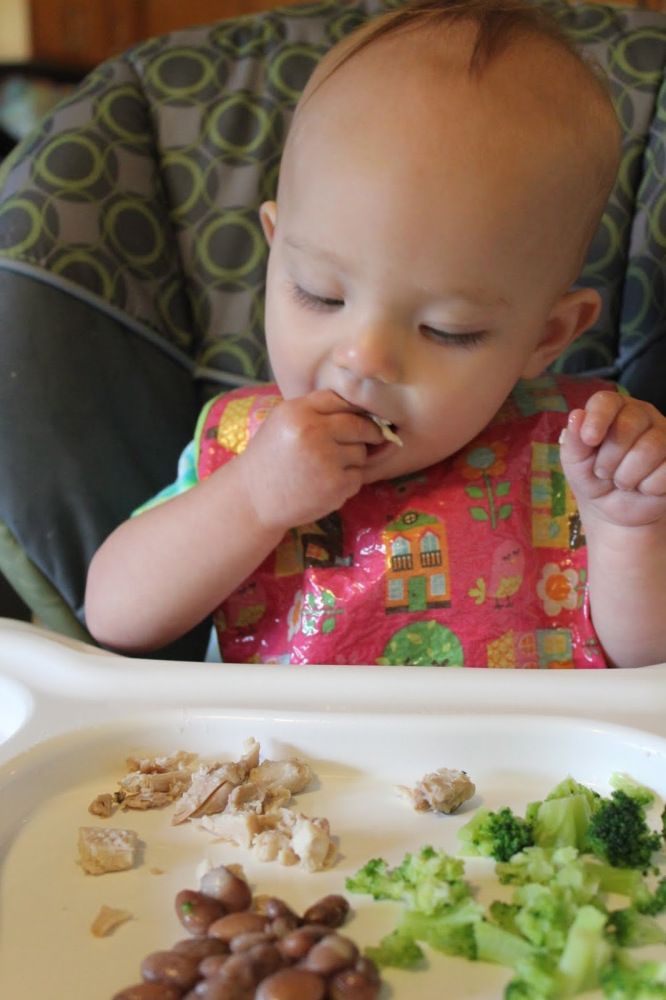 Add 5g butter to the porridge.
Drinks.
Tea, fruit infusion, juice.
Another option for breakfast.
Steamed omelet. To the omelette, a piece of bread, spread with butter or cheese. A baby from a year to a year and a half can receive up to 15-20 g of oil per day. For a child of this age, it is better to choose white bread, it is easier to digest (up to 40g per day)
Drinks.
Kissel or compote.
Dinners.
You can start your meal with a vegetable salad. For example, cucumbers or tomatoes, or carrots, grated and seasoned with vegetable oil (5-7g) or sour cream (5-10g).
Soups.
Dairy with pasta. Remember: pasta is often not recommended for a baby, about once a week and in small quantities (30-35g).
Vegetable (from cauliflower, cabbage soup, borscht, etc., including mashed soups).
For the second.
Vegetable puree. By the age of one, you can already add vegetables such as beets, turnips, green peas, radishes, beans.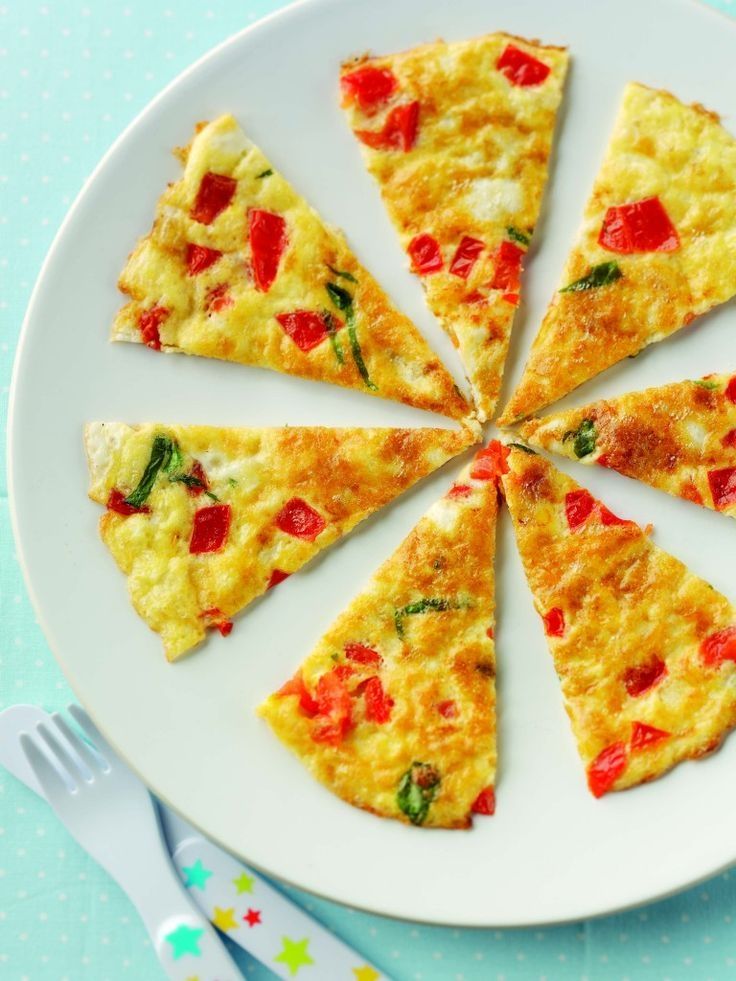 Meat dish. Remember that the meat is cooked separately. Meat puree, meatballs or soufflé. Do not abuse potatoes, they are high in starch.
Once or twice a week, instead of meat, the baby can be given river or sea fish. Definitely not fatty varieties.
Drinks.
Compote or jelly, you can fruit tea or juice.
Afternoons.
For an afternoon snack, you can cook soufflé, cottage cheese with sour cream, from the usual cottage cheese and kefir, closer to 1.5 years you can give pancakes with cottage cheese, if the child has erupted enough teeth. Not often, of course, once a week. In addition, give fruit puree, you can low-fat varieties of cookies, not every day.
Drinks.
Juice, also fruit tea.

Dinners.
For dinner, you can offer a vegetable-cereal or vegetable-meat dish. For example: zucchini soufflé with meat puree, oatmeal porridge with pumpkin, stewed beets with apples, vegetable stew with meat puree.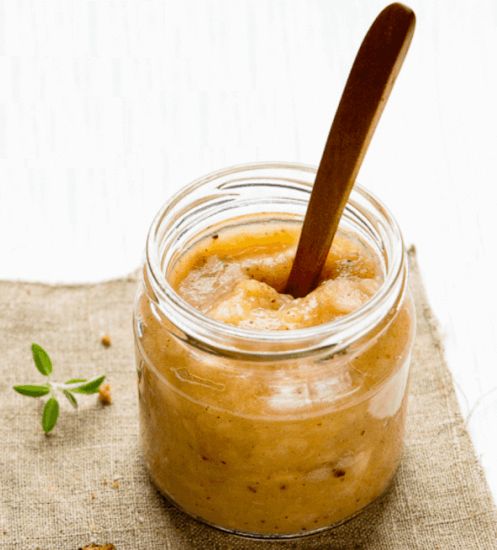 Plus fruit puree or juice. A child is offered no more than 100 g of fruit puree and no more than 100 ml of juice per day.
Before bed.
If you continue to breastfeed your baby, in this case, breast milk. Or a fermented milk drink (baby yogurt).
At this age, the baby's diet should not include: cakes, pastries, chocolates, no matter how much you want to pamper your little one. This does not mean that you can pamper your child, choose from sweets: marshmallow, jams, marmalade, jam (if they are on fructose).

It is important to remember.
There is a basic rule that a child from a year to a year and a half should eat four to five meals a day, with intervals between feedings of 4 hours. Observe a fairly strict diet, the baby should develop a conditioned reflex.
The amount of food should be 1000 - 1200 ml, not including liquid, per day. These recommendations should be followed for up to a year and a half.
Moms, follow the rules for the introduction of new products, keep the products clean and fresh.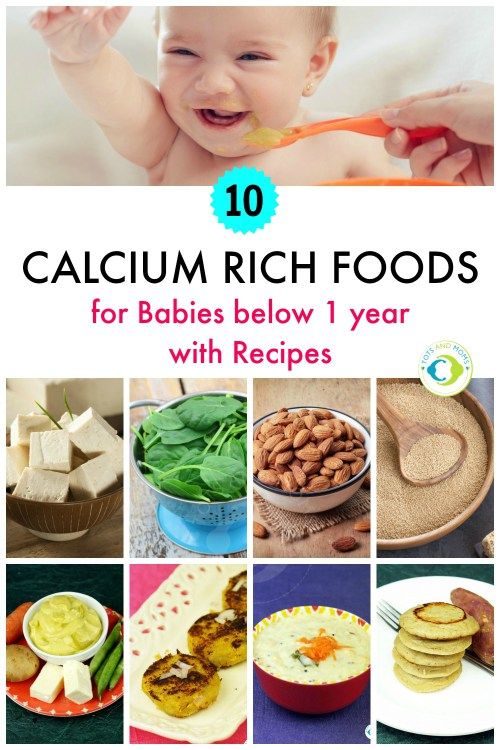 also keep your hands and the baby's hands clean, as well as the cleanliness of the child's dishes in order to avoid intestinal infection.
Bon appetit to you and your baby!
Sources
https://www.beremennost-po-nedeliam.com/deti/recepty/do-polutora-let/menyu-v-1-god.html
https://www.baby.ru/community/view/22622/forum/post/50094329/
https://menunedeli.ru/2013/06/kakim-dolzhno-byt-menyu-rebenka-v-1-god/
https://womensec.ru/articles/kids/kids_food/menu-child-1-year.html
[hide]
From 1 to 3 years old
A balanced diet is the key to a healthy baby from 1 to 3 years of age. At this age, the menu should be varied, and recipes for a one-year-old child, a 1.5-year-old child and 2-year-old children should include foods such as poultry, eggs, fish, cottage cheese, bread, fruits, and vegetables. Based on all the above products in this section, recipes for a delicious and complete children's menu are proposed.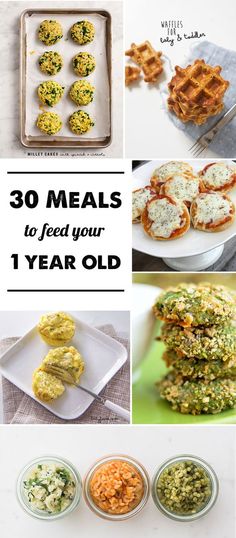 Clear step-by-step instructions and colorful photos in each of the recipes for kids will give you the opportunity to realize many ideas, diversifying baby food with high-quality, beautiful and mouth-watering food. Let your little one take every meal as a fun adventure filled with magical flavors.
The best recipes in the catalog
54 recipes for children from 1 to 3 years old
By dateMost popularBy the number of likesBy adding to favoritesBy name
Curds for ryazhenka in the oven
Catalogue: From 1 to 3 years 9004 14455 45 min. 12 1 4
With Grandfather at Dinner✅
May 02, 2019, 18:03
STEAM OMELET IN MULTICOOKER
Catalog: From 1 year to 3 years
0748 10 min. 2 0 11
Marina Petrushenko
07 November 2018, 20:43
Yogurt "Cheerful for daughter" (FM)
Catalog: from 1 year to 3 years old
18012 25 min. 2 4 5
Prince
16 October 2015, 10:59
Birthday cake for my daughter's birthday
Catalog: From 1 to 3 years
1 min 10 16 16
krisenok
February 10, 2015, 23:47
Colored dumplings
Catalogue: From 1 to 3 years old
20152 1 min.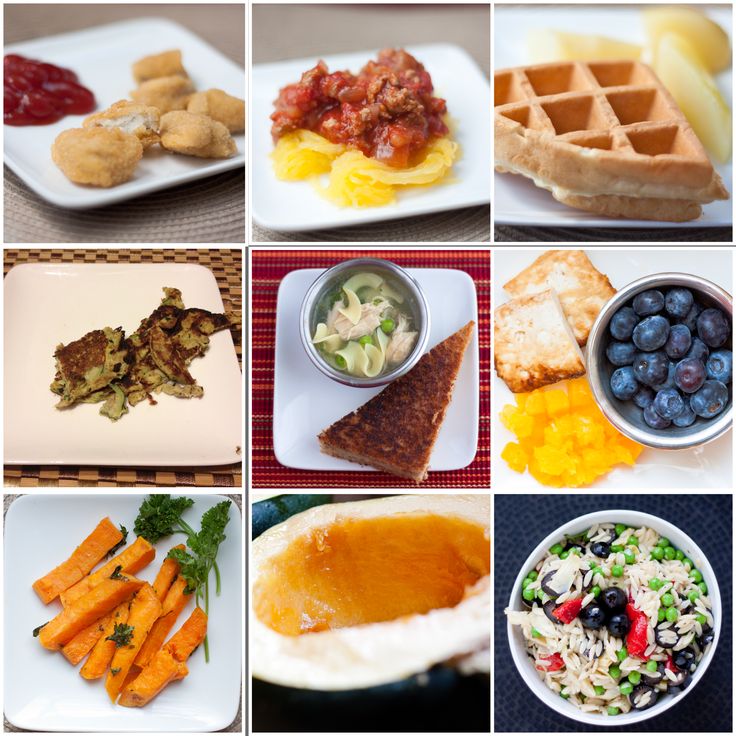 25 2 5
Evgeniya
November 01, 2014, 11:24
Omelette in pepper
Catalog: From 1 to 3 years
244 1 5 3
Evgeniya
October 07, 2014, 00:50
Oatmeal with orange
Catalog: From 1 to 3 years
207 min. 2 5 3
Evgenia
07 October 2014, 00:30
Curler with rice and home chickens (children's menu, multicooker)
Catalog: from 1 year to 3 years old
49798 6 7 9000 9000 Tatyana m .
September 12, 2014, 13:58
Follower soup with veal (children's menu, multicooker)
Catalog: from 1 year to 3 years old
30658 4 8
Tatyana M.
06 September 06 2014, 11:11
Fish soup with cauliflower and noodles (children's menu, slow cooker)
Catalog: From 1 to 3 years
40402 40 min. 7 8
Tatyana M.
04 September 2014, 12:22
Gorosov soup with liver and broccoli (children's menu, multicooker)
Catalog: from 1 year to 3 years old
28125 3 6
Tatiana М.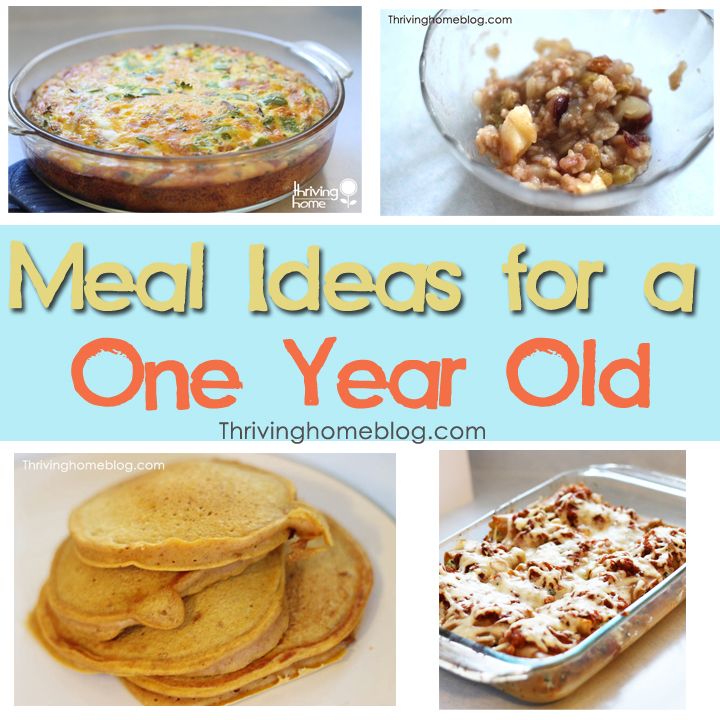 3 10 8
Tatyana M.
August 23, 2014, 11:57
Curd "Hedgehogs" for breakfast and just
Catalog: from 1 year to 3 years
33377 15 12
krolya
June 03, 2014, 14:31
"omelette-soufflé" in a jar
Catalog: From 1 to 3 years
59461 20 min. 1 10 12
Elena Tyufekchi
April 27, 2014, 14:01
Soup with perch and cauliflower (children's menu, slow cooker)
Catalogue: From 1 to 3 years
16229 30 min. 2 6 7
Tatyana M.
April 24, 2014, 11:19
Sosisks children's white poultry
Catalog: from 1 year to 3 years old
68524 25 25 9000
Tatiana М. 2 31 26
Krolya
05 February 2014, 13:51
Children's steam sausages
Catalog: from 1 year to 3 years old
39857 7 15
Tatyana M. 31
Spinach soup, fish meatballs, plum, baked with cottage cheese. perfect lunch in 60 min.
Catalog: From 1 to 3 years old lunch in 60 min.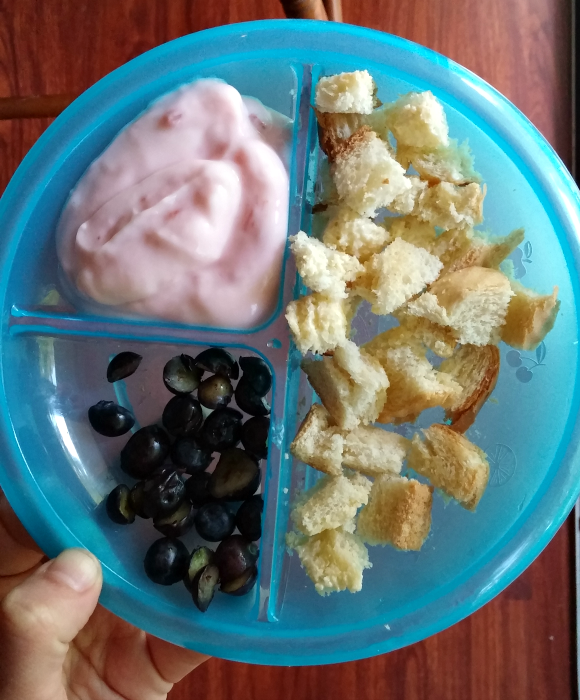 )
Catalogue: From 1 to 3 years
80190 60 min. 7 13
Persona
October 31, 2013, 23:44
Millet porridge with pumpkin. test-drive
Catalogue: From 1 to 3 years old
28287 17 13
GalinaN
October 17, 2013, 20:36
Vegetable menu with rice and ragum, vegetable ragum for children
Catalog: 1 to 3 years
67256 20 min. 2 4 8
Tatyana M.
July 29, 2013, 20:33
Greek Pump with cream and raspberries
Catalog: from 1 year to 3 years old
24313 36 25
Persona
000
000 9000 July 08, 2013, 20:27
Semolina porridge (without lumps) with strawberries
Catalogue: From 1 to 3 years old
17960 12 min. 1 8 8
Olga♥Ch
July 03, 2013, 10:09
Curd with cherries
Catalog: From 1 year to 3 years
67753 75 min. 12 24 27
Olga ♥ h
02 July 2013, 10:48
Chicken souffle for children
Catalog: from 1 year to 3 years old
75552 7 15 9000 9000 Natalya 9000
July 01, 2013, 14:57
Vitamin dessert for the smallest
Catalog: from 1 year to 3 years old
32044 4
Tatyana M.