Wild harvest organic baby food reviews
The Best Organic Baby Foods of 2022
The American Academy of Pediatrics (AAP) recommends starting solid foods at around 6 months of age.
A baby's first food will be a relatively bland porridge, such as oatmeal or rice cereal. They will then slowly transition to pureed and mashed fruits and vegetables, with increasing complexity in taste and texture.
According to the AAP, here are some clues to help you know when your baby is ready to start solid foods:
✔️  Sits with minimal support.
✔️  Has good head and neck control.
✔️  Has doubled their birth weight.
✔️  Weighs at least 13 pounds.
✔️  Turns head away when full.
✔️  Puts things in mouth.
✔️  Is interested in your food.
These are rough rules of thumb that will not necessarily apply to all babies, so always check with your child's pediatrician first. For example, a premature baby may double their birth weight long before 6 months, and may not show any interest in your food at that point!
In this article we review Oatmeal and Rice Cereals, and then Fruit and Vegetable Purees.
Of course, you can complement these ready-made baby foods with homemade options by preparing your favorite fruits and veggies in a baby food maker.
Table of Contents [show/hide]

Best Organic Baby Cereals
    1. Best Cereal: Happy Baby Organic
    2. Earth's Best Organic
    3. Gerber Organic Oatmeal
    4. Holle Organic Oatmeal Cereal
    5. WutsupBaby Organic Quinoa
Best Organic Baby Food Purees
    1. Best Puree: Once Upon a Farm
    2. Serenity Baby Foods
    3. Brainiac Apple Purees
    4. Mama Bear Organic
    5. Earth's Best
    6. Happy Baby
    7. Amara Organic
    8. Peter Rabbit Organics
    9. Gerber Organic Baby Food
    10. Plum Organics
    11. Sprout Organic
Conclusions
Full disclosure: Some of these baby foods, including the Brainiac, Holle, Once Upon a Farm, Happy Baby, Amara, and Plum options, were sent to us as free test samples by the manufacturer.
To find the best rice and oatmeal cereals of the year, we've tested 26 different brands. We checked for certifications from USDA Organic, the Clean Label Project, and Oregon Tilth.
We checked the cereal's consistency, ease of feeding, and taste. With the babies, we tested acceptance and how it affected their gastrointestinal system: reflux, spit-up, diarrhea, and constipation.
Overall, we found some excellent options that are not only certified organic but also accepted by infants and well-tolerated by their guts!
The Best Baby Food: Cereals and Porridges1. Happy Baby: The Best Organic Baby Cereal.
The Clean Label Project conducted a comprehensive study to quantify levels of industrial and environmental contaminants in baby cereals and purees. Happy Baby passed their tests with flying colors, showing some of the lowest levels of potentially harmful contaminants out of the 30 different baby cereals tested.
The Happy Baby oatmeal and oats and quinoa cereals are USDA certified and CCOF certified, and Happy Baby itself is a Certified B Corporation that balances purposes and profit. This oatmeal cereal consists of milled organic whole grain oats, vitamin C (5mg/serving), and iron (5mg/serving). The oats add some protein (2g/serving), fiber (1g/serving), calcium (7mg/serving), and potassium (40mg/serving). There is no sodium or cholesterol, and only 1g of sugar per serving.
All of that looks great in terms of nutritional composition; in case you were wondering, research shows that iron-supplemented foods do not cause or worsen constipation in babies. In our testing, the cereal mixed very easily with breastmilk or water, and developed a silky smooth consistency that is perfect as a first food. No issues with acceptance or tolerance, which was nice, and two of our test parents ended up switching to Happy Baby. That's one of the best signs we can see in our tests! Coming in at only about 50 cents per ounce, this organic baby cereal is a fantastic deal, and we like the BPA-free resealable pouch.
A bonus is that the company partners with great organizations like Autism Speaks, Allergy Kids Foundation, and Feeding America. Who else loves Happy Baby cereals? Our friends at Babylist and WhatToExpect call it a top pick! Interested? Check out the Happy Baby Organic Baby Cereal here.
2. Earth's Best Organic Baby Cereal - Oatmeal.
Earth's Best baby cereals come in several varieties including Oatmeal, Brown Rice (what they call "whole grain rice"), Oatmeal with Banana, and Whole Grain. The Oatmeal variety says it may contain traces of wheat/gluten, but the Brown Rice version is gluten-free. The great thing about Earth's Best is that they genuinely take a lot of pride in the foods they produce. They're a smaller company (owned by the Hain Celestial Group) that takes genetically modified ingredients very seriously (check out their mission at Earth's Best). Other than the oatmeal and bananas variety, we found the Earth's Best options a bit blander to the taste than others on this list.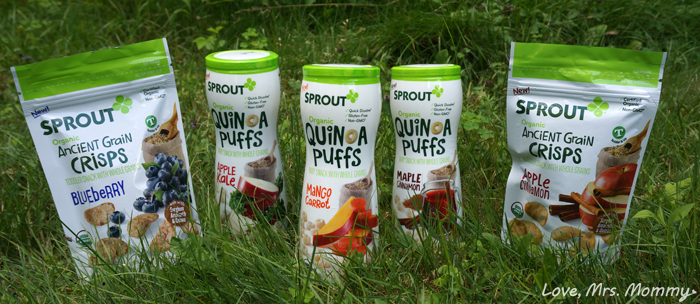 It could be because they contain 0 grams of sugar, but our test babies definitely didn't seem to mind once it was mixed with breastmilk!
The Earth's Best oatmeal has a very simple set of ingredients: the main ingredient (whole grain oats or rice) and a bunch of vitamins/minerals, including iron. Like most other baby cereals, each serving contains 5mg iron content, and 1 gram of fat. Nice and simple, which we like. Our test babies liked it too, and tolerated it very well, without any signs of gastrointestinal distress. Interested? Check out the Earth's Best Organic Baby Cereal here. Note that the Clean Label Project found very high levels of contaminants in the Earth's Best *rice* cereal, which we do not recommend.
3. Gerber Organic Baby Cereal - Oatmeal.
The Gerber organic baby cereals come in Oatmeal, Brown Rice, and Oatmeal with Peach and Apple flavors. You'll want to start with the Oatmeal, and then move on to the Oatmeal with Peach and Apple flavor.
We found the oatmeal to be the perfect consistency for a first food. It also wasn't quite as sweet tasting as the brown rice, and the oatmeal with peach and apple was the sweetest tasting of the three. We mixed it with breast milk and the babies seemed to like it quite a bit! All varieties have just about the same nutritional composition, with 5mg iron content per serving, 2 grams of sugar, and under 1 gram of fat. Note that the Oatmeal versions are not gluten-free, but the brown rice version is. Gerber oatmeals contain a pretty simple set of ingredients: oatmeal, two organic sources of choline to support brain and eye development (soy lecithin and choline bitartrate), and vitamins and minerals. We personally don't appreciate the addition of soy lecithin. We also want to point out that while we recommend the Gerber organic oatmeal variety, we do not recommend their rice cereal based on the Clean Label Project findings. Overall, a great first oatmeal that we have found to be well-accepted when mixed with breastmilk or formula, and very well-tolerated by infants.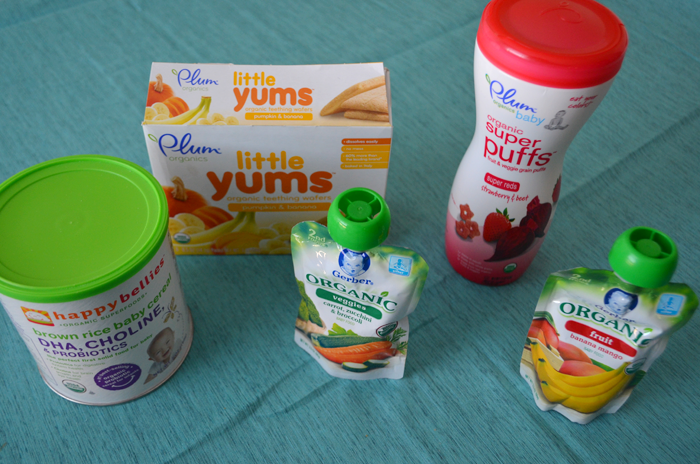 Interested? Check out the Gerber Organic Baby Cereal here.
4. Holle Organic Baby Cereal: Safe European Baby Food.
If you don't know about Holle, you're missing out! Very popular in Europe, Holle is a Swiss company that conforms to the relatively strict European organic and Demeter farming regulations, making some of the best organic baby formulas and foods on the European market. Parents rave about their products, and for good reason - they are uncompromising in their ingredient sourcing and quality control. Thanks to companies like Formuland that import European baby formulas and foods to the USA, you can get this porridge delivered to your doorstep within a couple days. The Holle oatmeal cereal contains only two ingredients: organic whole grain oats, and vitamin B1 (thiamine). For parents who are certain their baby is getting sufficient iron from other sources, this is the most basic oatmeal cereal you will find (unless you grind it yourself!). We fed Holle oatmeal cereal to our children from about 5 months onward, and all of them accepted it (mixed with breastmilk) and showed very high tolerance.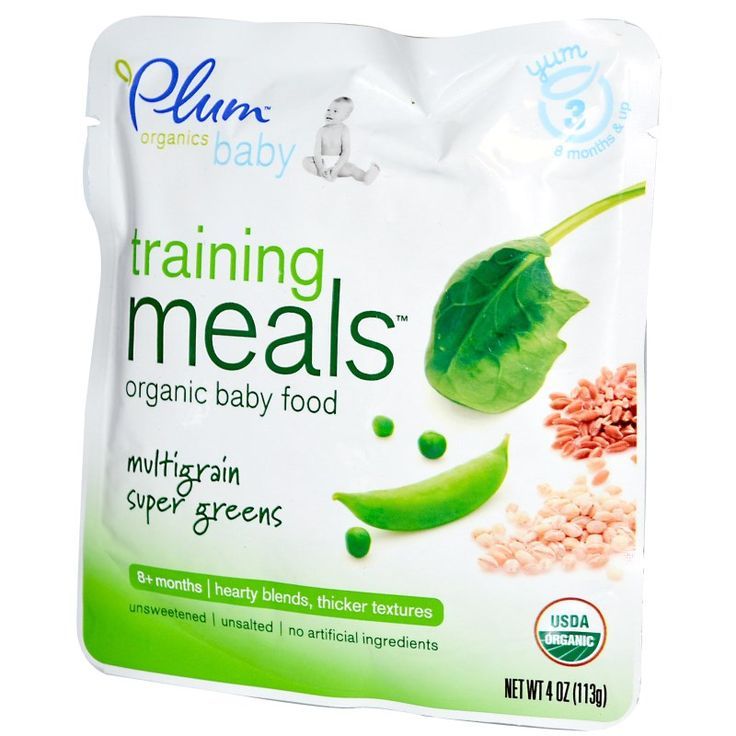 It's as simple as you can get, so this isn't surprising. It is bland and tasteless? Yes! Will your baby love it when mixed with breastmilk or their familiar formula? The odds are in your favor! Expensive? Yes, this baby cereal is about $1.50 per ounce, but for parents seeking an excellent option, we highly recommend it. Interested? Check out the Happy Baby Organic Baby Cereal here.
5. WutsupBaby Organic Quinoa Baby Cereal.
Many parents have become so concerned about herbicide, pesticide, and heavy metal run-off into farms that they are turning away from oatmeal and rice cereals. This is at least partly due to a report showing high levels of glyphosate in nearly all tested oatmeals, with organic varieties not necessarily being any better than non-organic. Not to mention the high levels of arsenic that have been found in rice cereals. What about quinoa? In comparison to oatmeal, quinoa provides higher protein and more comprehensive amino acid composition, similar fiber levels, less fat, and less iron.
This quinoa first cereal is not fortified with any vitamins or minerals, so the iron content is very low. In fact, the only ingredient here is organic quinoa, making it the simplest baby cereal on our list. But quinoa offers a lot of nutritional value on its own, including Omega-3 and Omega-6 content, protein, and prebiotic fiber. What doesn't it have? It's non-GMO like all organic products, contains no preservatives (not even ascorbic acid), or anything artificial, and it is allergen free: no milk, eggs, fish, shellfish, tree nuts, peanuts, wheat, gluten, or soy. Taste test? Super bland! Just about as bland as you can imagine with a baby cereal. On the one hand, we think this is a testament to just how simple this baby cereal actually is, but on the other hand we think it's best to mix with a bit of breast milk and/or fruit puree to get a little flavor out of it. The primary negative with this cereal is that quinoa is a relatively complex first food in terms of texture and consistency.
You will likely need to dilute it quite a bit to make it acceptable and easily digestible. WutsupBaby also makes several flavored varieties of this organic baby cereal, including Apple and Banana, Beet, Carrot, and Kale and Sweet Potato. Our favorites are the Apple and Banana, and Carrot. Both of those offer a bit of all-natural and organic flavor that we think your baby will love! Coming in at around $3 per ounce, this is one of the most expensive baby cereals you can buy! Interested? Check out the WutsupBaby Organic Baby Cereal here.
---
Once you move on from breastfeeding or infant formulas and conquer infant cereal eating, you'll be ready to introduce some baby food purees!
To find the best baby foods of the year, we purchased 14 different brands of fruit and vegetable purees, with at least 3 varieties per brand, and put them to the test.
We read the labels, checked organic certifications, read the HBBF and congressional reports, and checked the Clean Label Project for any test results.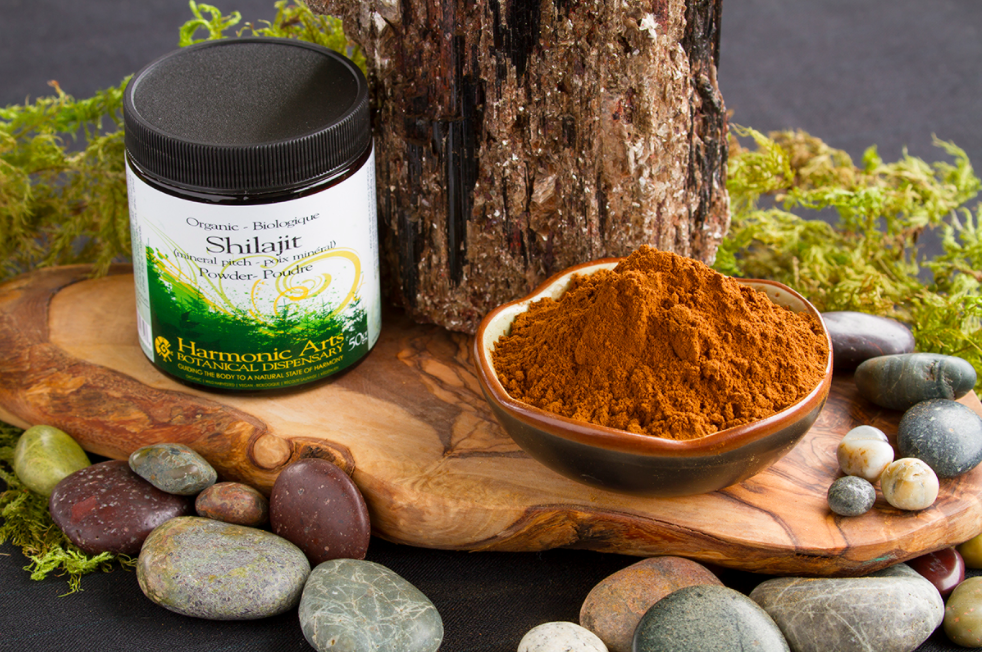 Yes, we tasted them ourselves (don't judge us!), and fed them to three babies ranging in age from 6 to 10 months.
Judging by their facial expressions, fits of rage, requests for more, and gastrointestinal responses, we narrowed it down to just a small handful of varieties that we thought tasted the best and were most accepted and tolerated.
The Best Baby Food: Purees and Blends1. Once Upon a Farm Baby Foods: Safe and Delicious.
This is a new addition for this year and we were lucky enough to get our hands on several varieties of flavors and textures. This is different from the others on this list, as it requires refrigeration to stay fresh. This is for a few reasons. First, Once Upon a Farm doesn't use any preservatives in their formulation, not even citric acid or any other natural additive. Second, while the others on this list use high heat to pasteurize their purees, Once Upon a Farm uses the Cold Pressure process.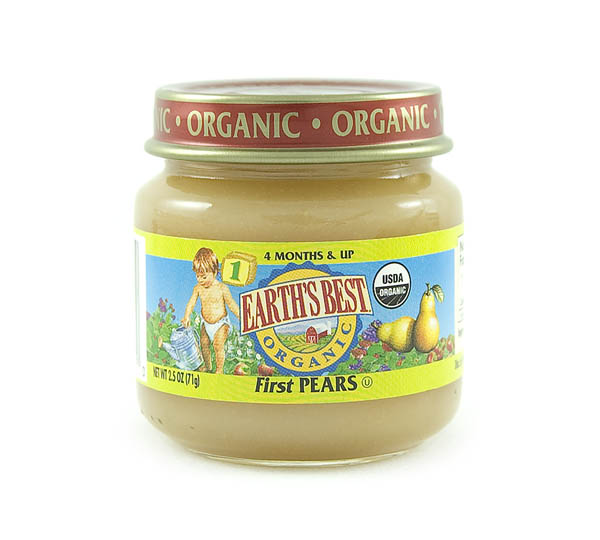 Cold Pressure has similar effectiveness for ensuring food safety, but also allows foods to sustain more nutrients and flavor. The upside is that these very well might be the best-tasting, and freshest tasting baby food pouches on the market. The downside is that the pouches require refrigeration. The Once Upon a Farm purees come in a ton of varieties, increasing in the complexity of ingredients and textures. They start simple and smooth for 5+ month babies, for example the Fairest of Pears and Magic Velvet Mango are delicious and simple. They then get a bit more complex in ingredients as you increase in age, for instance going up to 9 months to the Strawberry Patch option which has amazing taste, but also a more complex texture with the inclusion of small bits of shredded coconut and chia seed. Going even older, they make some truly delicious options for toddlers 18+ months, such as the amazing Chocolate Ever After, which is basically a dessert puree of banana, raspberries, and cacao. There is a lot to love about this company as well.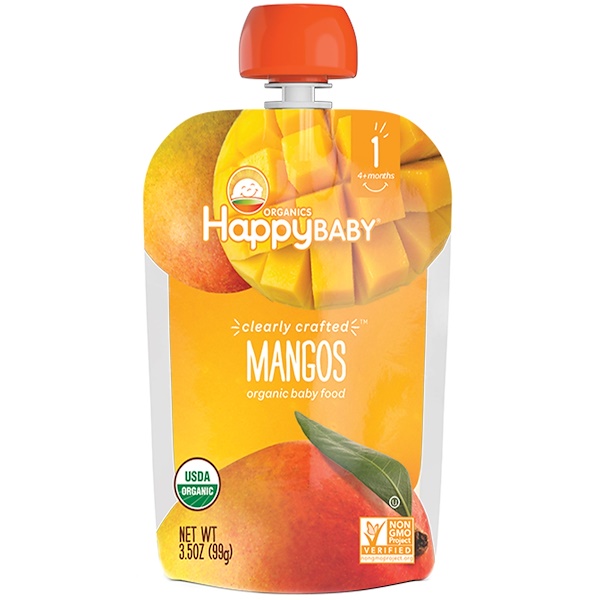 Fruits and veggies are sourced from California and Washington state, ingredients are organic, kosher, gluten-free, vegan, and non-GMO (like all organic products). The puree pouches (the packaging) are also recyclable and BPA free. A lot of great things here, and the flavor and quality to back it all up! All of our test babies and toddlers absolutely loved the Once Upon a Farm purees. Yes, they had different preferences, and some were turned off by the more complex textures, but overall they accepted them in very age-appropriate ways. And we're going to be honest, we loved the Chocolate Ever After ourselves! Other than a slighly higher price than most others, the only other drawback is that the pouches need to be refrigerated. We did transport pouches for a few hours in our testing (in 60 deg weather and without an ice pack) and then feed them, which seemed fine. Any longer than that, and you'll need to keep them in the fridge or bring along an ice pack in your bag. Who else loves the Once Upon a Farm purees? The Clean Label Project gives them their prestigious Purity Award, and they are also recommended by our friends at Babylist.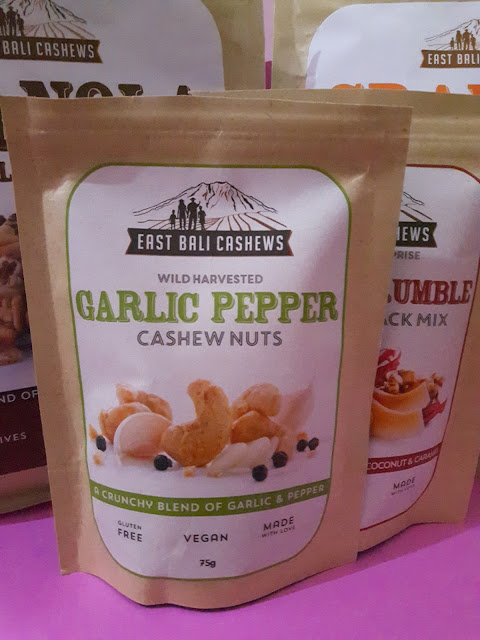 Impressed? Check out the Once Upon a Farm Baby Foods here.
2. Serenity Kids Organic Baby Foods: Vegetables and Meats.
This is new to the organic baby food market and parents are absolutely loving it! Made right here in the USA (Austin, TX) by a family-owned business and certified organic by Oregon Tilth, this is the only Paleo baby food option on our list. That means you can be confident that it doesn't contain any wheat or grains, processed sugars, dairy, or other processed ingredients. It is also free of gluten, nuts, eggs, and any fillers. Instead, it uses a simple set of organic ingredients, with a touch of organic olive or avocado oil to provide some of the fatty acids present in breast milk. We tried out several awesome 6+ month varieties, highly suitable for developing a sophisticated baby palate! First, their organic squashes (squash, butternut, and pumpkin), organic butternut & spinach (with avocado oil), and organic roots (sweet potato, carrot, beet).
All of these early baby foods were delicious and had a high (5 grams) fat content that you want in a baby puree. For the carnivores, we also tried out the wild-caught salmon (squash, salmon, beets), the uncured bacon (squash, kale, and nitrate/nitrite free pork bacon), the free-range chicken (peas, carrot, chicken), and the grass-fed beef (sweet potato, beef, kale). Most of these were delicious and had excellent fat (5-7 grams) and protein (4-5 grams) content. When we tasted everything ourselves, we thought the veggie purees were very good, and our favorite was the organic squashes; we felt good about giving our baby a nice variety of textures, colors, and flavors. The meat-based baby food purees were a slightly different story. The chicken was pretty good, and the beef was decent, but we thought the salmon and bacon left something to be desired in the taste department. Of course, that's subjective and you should definitely give them a shot! Most varieties contain very low sugar, which is great, but some contain relatively high sodium levels, which is not ideal.
For example, the bacon flavor has 110mg of sodium. Outside of that small criticism, we think this is a great addition to the baby food market and worthy of this position on our list! Note that you need to refrigerate these pouches after opening, and they should never be placed in the microwave (like all baby food pouches). Who else loves the Serenity purees? The Clean Label Project awarded them with the prestigious Purity Award for having some of the lowest levels of industrial or environmental contaminants! Impressed? Check out the Serenity Kids Baby Foods here.
3. Braniac Apple Purees Baby (and beyond!) Food.
Brainiac sent us samples of their new applesauce blends for testing late last year (thanks, Brainiac!), and we loved the taste, texture, ingredients, and nutritional content. Unlike other purees on this list, Braniac adds Omega-3 in DHA and EPA forms, as well as Choline, all of which are associated with healthy brain development and function.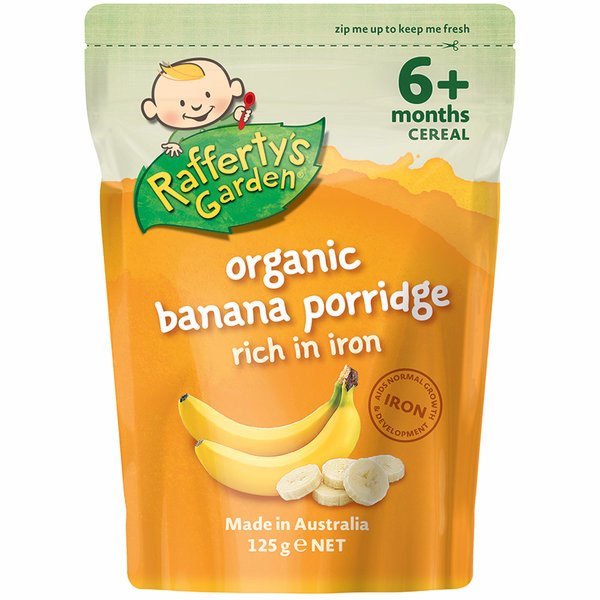 These Brainiac applesauce blends take the fatty acid nutrition found in your favorite baby formula (or breast milk) and put it in the puree in the form of fish oil and choline chloride. In fact, each pouch contains about the same amount of brain-boosting Omega-3s as a kid's serving of salmon (about 130mg DHA, 30mg EPA), and as much Choline as 2 cups of broccoli! The purees also contain some vitamin C, potassium, and calcium. Brainiac purees come in three flavors: apple apple, apple strawberry, and apple cinnamon. Note that these are the only non-organic option on our list, but they are non-GMO Project Verified, gluten-free, kosher, and free of added sugars and artificial flavors and colors. The pouches are 90g and do not require refrigeration, owing to the inclusion of Vitamin C in the form of ascorbic acid, which is a natural preservative. The ingredient and nutritional profiles are excellent, and we were excited to give it a shot!
In our testing, we tried out all three flavors.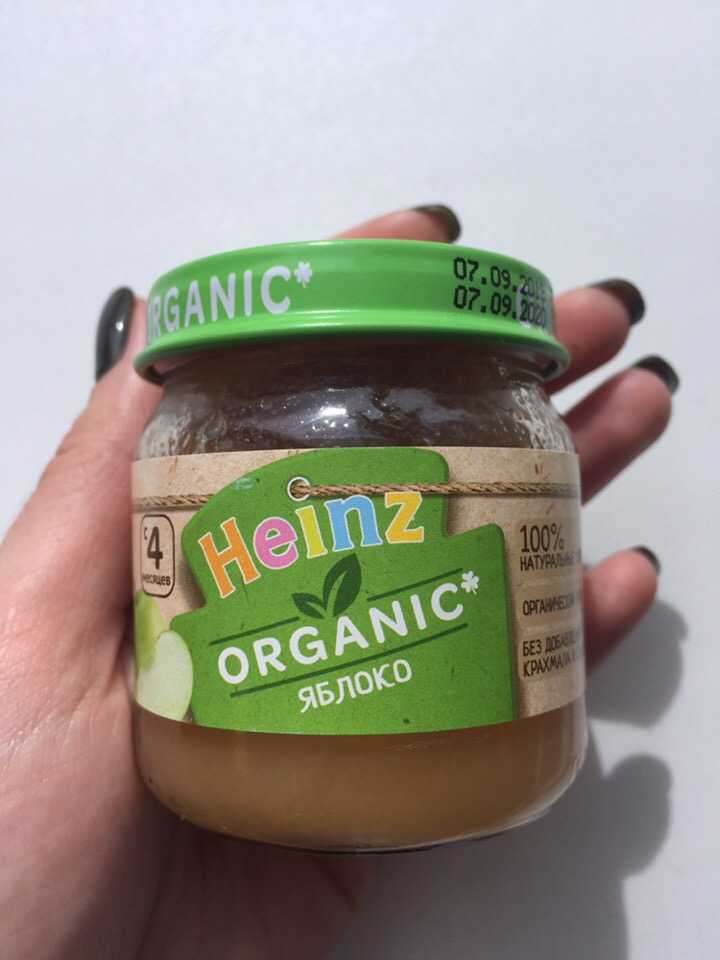 We tested on ourselves, one toddler (10 months) and one preschooler (3 years). We all loved apple apple and apple cinnamon versions, both of which had a great smooth texture and excellent flavor. Neither child really loved the apple strawberry, but it's important to note that neither really likes strawberry flavor in the first place! The grown-ups throught it tasted perfectly fine, if not a little sweet for our liking. Within about 10 minutes all of the samples were completely gone, and both kids went back for seconds and were interested in trying more! For a first puree, the apple apple is a good choice and the texture is perfect, followed by the blends once they get a bit more adventurous. Some other small points worth nothing are that the packaging is BPA-free, and the pricing is reasonable at about $1.20 each. Brainiac also makes some great energy bars and nut butters, so be sure to check those out. Overall, we really enjoyed trying out this new brand, and we think it's a great way to sneak some nutritional value into a delicious puree that babies, toddlers, and preschoolers alike are sure to enjoy! Who else loves it? Our friends at Good Housekeeping gave it their Parenting Award! Interested? Check out the Brainiac Baby Purees here.
4. Mama Bear Organic Baby Food.
Available through Amazon and at Whole Foods, this is an excellent option for parents looking for that perfect combination of delicious, nutritious, certified organic, kosher, and non-GMO baby food that is sold at a super reasonable price of around $1.15 per pouch. Like the Plum Organics option, these 4-ounce pouches do not need to be refrigerated and come in several delicious varieties of fruit and veggies. There are stage 1 and stage 2 options, for babies over 4 months and 6 months, respectively. Basically, the distinction is whether your baby can sit with minimal support (stage 1), or sit unsupported (stage 2), but see our basic guide below if you're wondering if your baby is ready to transition to various stages of baby food. Mama Bear baby food is certified organic by OEFFA, certified Kosher by Orthodox Union, and made right here in the USA. They do not use any added sugars, added salt, or artificial preservatives (this one uses ascorbic acid/vitamin C and organic lemon juice to preserve color and flavor).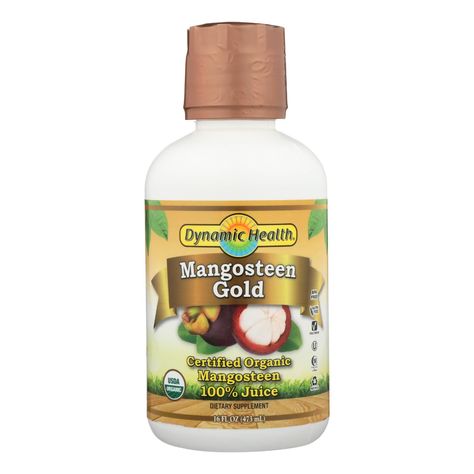 Also, we called Mama Bear - Amazon Private Brands at (877)485-0385, and after a two-week inquiry process they confirmed that the pouches themselves are BPA-free. There's a lot to love here, but how does it taste!? We tested 5 different flavors: Pear (stage 1), Apple (stage 1), Apple Banana (stage 2), Apple Banana Yogurt Strawberry (stage 2), and Apple Pear Spinach (stage 2). We were really surprised by the fresh taste, the consistency of the purees, and the fact that you can actually taste all of the ingredients - even the spinach! Our favorites were the Apple Banana and the Apple Pear Spinach, and the Apple Banana Yogurt Strawberry was a close runner-up. The stage 1 Pear and Apple varieties were exactly as expected - simple and straight-forward in their taste, and very smooth in texture. Just what you want from a stage 1 baby food. The pouches themselves were simple to open and reseal (refrigerate after opening), and while the pouch isn't recyclable, the cap is (so that's a good start).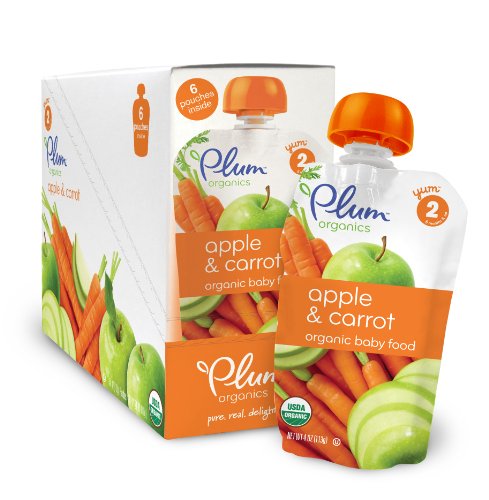 The only issue we ran into was that one of our boxes had an expiration date that was only 2 weeks away, which we felt was cutting it a bit too close for comfort. Outside of that, we think this is an awesome new baby food that is worthy of this spot on our list, and definitely worth considering for your baby! Who else loves it? Our friends at Babylist also chose Mama Bear organic baby foods as a top pick! Interested? Check out the Mama Bear Organic Baby Food here.
5. Earths Best Stages 1-3 Organic Baby Food.
Earth's Best has put together an awesome lineup of organic baby foods spanning stages 1, 2, and 3. They have a vast range of fruits and vegetables to suit even a very picky baby, with Stage 1 options like sweet potatoes, peas, carrots, apples, bananas, and prunes. Stage 2 options are even more diverse, including even some exotic fruits and vegetables, fruit and veggie blends, and fruit and grain blends. Finally, at Stage 3 they introduce several new chunky blends of fruits, vegetables, and even some soups.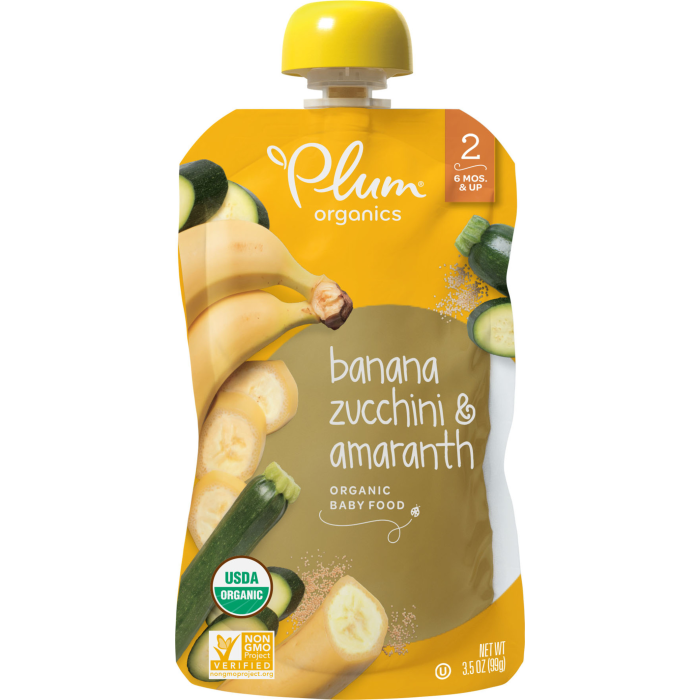 Everything we tasted was quite good, and we were impressed by the consistent quality across the varieties. The older baby really loved the chunky vegetable beef pilaf, and even the adults thought it was a reasonable take on something they all thought would taste disgusting! In stage 2, we really loved the Apple, Peach and Oatmeal flavor, These Earth's Best products are all organic, so that means no additives, no preservatives, and even no added salt or sugar. These are some of the best on the market and we have been consistently impressed with the quality and taste. Nothing fancy, and the new BPA-free pouch containers are a little easier to deal with than the glass jars and lids, though you can still find that type of container on Amazon Fresh. Highly recommended organic baby food from one of the few baby food brands that have been doing this for a while (since 1985!) and doing it well! Interested? Check out the Earth's Best Baby Food here.
6. Happy Baby Organic Baby Food.
This is just about tied with the Earth's Best for the best baby food of the year. The biggest difference we found between the Earth's Best and Happy Baby is that the Happy Baby comes in some more unique varieties that tend to appeal to some adults, like mangos as a Stage 1 fruit. They also tend to focus more on fruits than vegetables and come in a nice flexible pouch that more readily slips into a diaper bag than a fragile jar. But as a negative we found that some of the Happy Baby varieties were a bit more watery than the Earth's Best, especially the mangos and pears. In some cases, this made it more difficult to keep on the spoon and get into the baby's mouth. Our 3-year-old has taken to drinking the remaining mango pouches with a straw if that gives you some indication! Other than that, we believe the Happy Baby line of baby foods is a great addition to the market, and we highly recommend them for their quality ingredients, rigid manufacturing practices, and great flavors.
Note that while some parents have expressed concern that the packaging might contain BPA, rest assured it does not: we contacted the company and they let us know that the packaging is 100% BPA free. It's one of the best on the market right now, so we suggest giving it a shot! Interested? Check out the Happy Baby Organic Baby Food here.
7. Amara Organic Baby Foods.
This is a completely new addition to our list as of a few months ago, and we're really excited about this new option. These baby foods come as a dry powder, which is a great option for parents who want flexibility in selecting whether to add breast milk, formula, water, or any other liquid ingredient of their choice. It's a fantastic way of increasing acceptance of the food by adding a familiar ingredient, and also a great way to ensure baby is getting the nutrients you want at mealtime. To be honest, we were a little put off by the dry powder at first, but were surprised at how truly amazing it was! We tried 3 different varieties, including Oats & Berries, Tropical Mango, and Apple-Maqui Berry.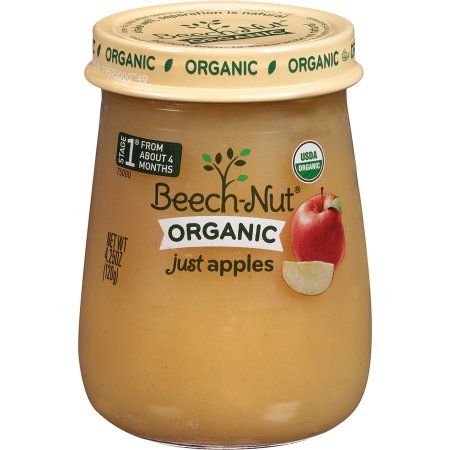 Just like with baby cereal, you take a measured amount of the powder and mix in the liquid of your choice. The resulting texture is surprisingly similar to the traditional jarred baby foods, and the taste is truly excellent. We were really impressed by the fact that each variety only includes raw ingredients, without any fillers (like water) or additives (like lemon juice as a preservative). For instance, the Oats & Berries version only includes organic oats, apple, banana, and blueberries. Because it's a dry powder, no preservatives are required to maintain freshness; however, we are a bit concerned about the loss of nutritional attributes from the dehydration process. A great way to introduce first fruits and veggies, the varieties are available in stages starting at 6+ months, and going up to 8+ months, slowly introducing more complex flavors. Each pouch makes a good-sized bowl of baby food, though it does end up quite a bit more expensive than jarred baby food. The Amara pouches average about $2.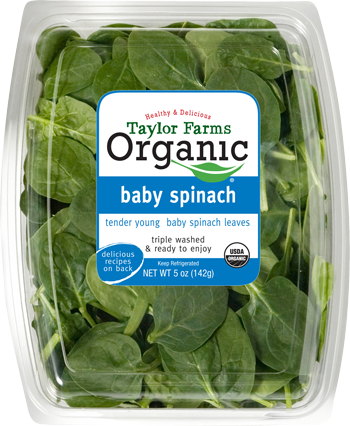 50 per large serving, and the jars are usually around $1.00 per serving. But for a great-tasting, organic, non-GMO, baby food without additives or preservatives, and allowing you to mix with your preferred liquid... maybe worth the cost! Interested? Check out the Amara Baby Foods here.
8. Peter Rabbit Organics Baby Purees.
The Peter Rabbit line of baby foods is a newcomer to the baby food market and is making a huge splash! They feature some delicious varieties, like strawberry banana, and carrot, squash, and apple puree. The adults raved about how delicious they were, and the babies really enjoyed them as well. One of the babies couldn't get enough of the strawberry and banana puree! My personal favorite was the raspberry, banana, and blueberry organic puree, which I ended up putting in the freezer for 10 minutes to make it taste like a smoothie! Made in Oregon, these are certified organic by Oregon Tilth, and are never diluted and never contain any added salt or sugar.
The packaging is also BPA free, which is comforting given the stories about some other squeeze packages. The only negative is that they do not have staged varieties, so these are best positioned as a Stage 2 option, after your baby has tried a few simpler single-ingredient purees. We didn't have any issues with watery purees, and thought the flavors were true to life. And you can't deny that the packaging is pretty darn cute, which counts for at least a few points! Overall, we believe this is a fantastic option for babies that are ready to move along to Stage 2 eating. Interested? You can check out the Peter Rabbit Organics baby food pouches here.
9. Gerber Organic Baby Foods.
Organic baby food is getting so popular that even the big brands like Gerber are starting to produce organic offerings, driving down prices but also pushing out some of the smaller brands in the process. Gerber is well-known for making reliably high-quality baby foods at fair prices, and their new line of organic purees is no exception! Gerber makes these organic purees available in both 1st and 2nd food varieties, with the first foods being jarred and the second foods being in squeeze pouches (pictured).
For our testing, we purchased a combo pack of 18 pouches with three flavors: apple, blueberry & spinach, carrot, apple & mango, and pear, peach & strawberry. They were packaged in three separate boxes, one for each flavor. The ingredients were simple: just fruits and vitamin C. No added sugars, thickeners, salts, or anything else. The vitamin C is used as a preservative, which is very common for baby purees that don't need refrigeration. The purees are certified organic by Oregon Tilth, are USDA Certified Organic, and are Non-GMO Project verified. And the pouches are BPA-free, which is awesome to see explicitly mentioned. The screw caps were super easy to remove, and we appreciated the smart flow spouts that don't allow too much to be squirted out too quickly, helping to avoid messes on spoons or in mouths. Taste? Delicious. The pear, peach and strawberry was our favorite, followed by the apple, blueberry and spinach. They also make one with avocado for the more adventurous, but we haven't tried that flavor yet.
Gerber deals directly with the farms, harvests at the peak of ripeness, and uses sustainable agriculture practices for their organic products. Cons? Not much! The smart flow spouts are a bit too slow for most toddlers, and the carrot/apple/mango flavor left something to be desired. Overall, a great new addition to our list! Interested? Check out the Gerber Organic Baby Purees here.
10. Plum Organics Baby Purees.
This certified organic line of baby foods is making a splash, with delicious flavor options, smooth textures, and responsible & sustainable ingredient sourcing and manufacturing processes. We got our hands on two of their most popular flavors: Pear, Purple Carrot, & Blueberry, and the delicious Banana Pumpkin. Both baby food flavors were excellent, so we went back for more and tried out the Apple & Carrot, and Pear & Mango flavors. We were not disappointed! They all tasted very fresh and high quality, and our baby testers all loved them, especially the Banana Pumpkin and the Apple & Carrot options! The Plum Organics baby foods are certified organic, non-GMO like all organic products, and they use whole and simple organic fruit and vegetable ingredients as much as possible.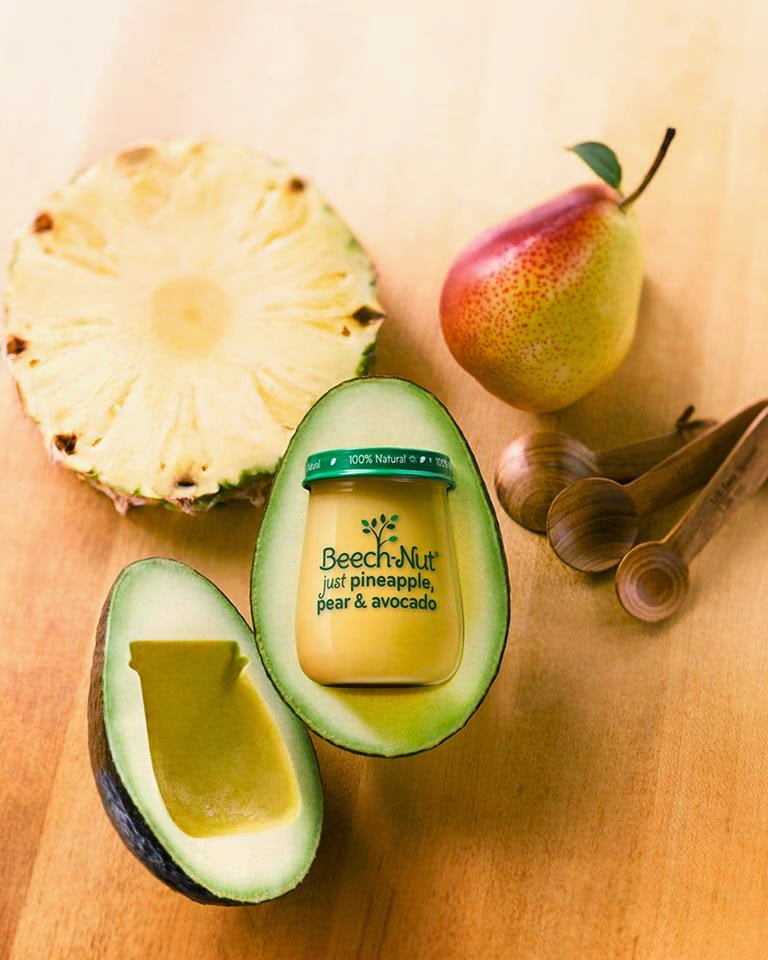 There are no added salts or sugars, and there are of course no harmful preservatives, additives, or artificial colors or flavors. The packaging is non-BPA and uses a child-proof and recyclable cap. Though we only are writing here about the Stage 2 blend varieties, Plum Organics also makes an excellent line of first foods, such as the Stage 1 JUST Veggies and JUST Fruits, which are highly recommended for babies just starting to try pureed foods. One of the concerns moms have asked about in the past is: without any artificial preservatives, how does the food stay fresh!? You will notice that most of our organic baby food options contain lemon juice, vitamin C, and/or citric acid, these ingredients add nutrition and taste while also serving as a mild preservative to prevent spoiling (and not requiring refrigeration). Cons? A recent Congressional report revealed that Plum Organics baby foods are among the biggest offenders for heavy metal contents. That's not to say that some others on this list aren't as bad, but of the ones they tested, Plum Organics came out among the worst of the pack.
These Stage 2 Plum Organics baby foods come in 4-ounce pouches. A large variety pack of 12 pouches with varieties of flavors usually comes in at around $13, which means they are just about $1.10 each. Overall, we really like the Plum Organics options, but do not like the recent reports of high heavy metal content. Who else likes Plum Organics? Our friends at Babylist and WhatToExpect also call these a top pick! Interested? Check out the Plum Organics Baby Food here.
11. Sprout Organic Baby Food.
This is another line of delicious certified organic baby food, also coming in pouches that do not need to refrigerated, just like the Plum Organics option above. Sprout uses only whole food ingredients, which means that there are no food-based derivatives or concentrated ingredients. They are also certified organic by QAI, and use no preservatives. The pouches are also BPA-free and the twist-off plastic cap is recyclable (the pouch is not). We got our hands on 10 different flavors, ranging from Stage 1 to Toddler (12+ months), and we were pleasantly surprised by how delicious and smooth these baby purees were.
Our tester babies and toddlers kept coming back for certain favorites: the Stage 1 Sweet Potatoes, the Toddler Stage Banana, Buckwheat, and Blackberry (which was really delicious!), and the Stage 3 Pumpkin, Apple, Red Lentil, and Cinnamon. We were really impressed by how fresh and high quality these baby food purees tasted, which in most cases were better than the fresh ones we make at home! One of the things we also loved about this baby food option is that the pouches do not need to be refrigerated, but also don't contain the usual preservatives that others contain, such as lemon juice, vitamin C, and/or citric acid. Just the whole ingredients, nothing added. And most of the ones we tested had expiration dates at least 6-10 months out. Once opened, however, you need to keep the pouch refrigerated and eat within 24 hours, since there are no preservatives in there to keep things fresh after being opened. Like all pouches, never try to heat or microwave; first, empty the pouch into a microwave-safe bowl and then go for it.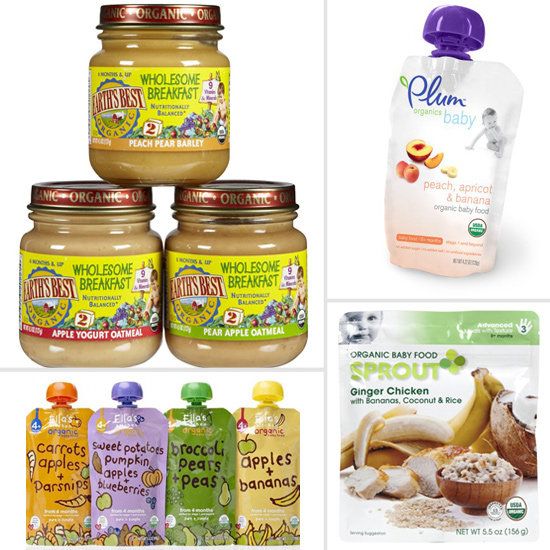 Overall, these are truly excellent and definitely one of this year's best options! Cons? A recent Congressional report revealed that Sprout Organic baby foods are among the biggest offenders for heavy metal contents. That's not to say that some others on this list aren't as bad, but of the ones they tested, Sprout came out among the worst of the pack. The only other downfall relative to other options is that they are a bit more expensive, coming in at just over $1.25 per pouch. We also want to point out that Sprout has an awesome and diverse line of baby snacks, such as the delicious Curlz, Quinoa Puffs, and Crispy Chews. Interested? Check out the Sprout Organic Baby Food here.
Conclusions
Note that Pure Spoon baby foods were new to the market back in 2016-2017, but were recently discontinued. At this point, remaining supplies of this excellent baby food are sold out, so we've removed it from our list entirely.
Check out our quick guide on how to start solid foods, which gives an overview of the cues to help you figure out if your baby is ready to try solid foods.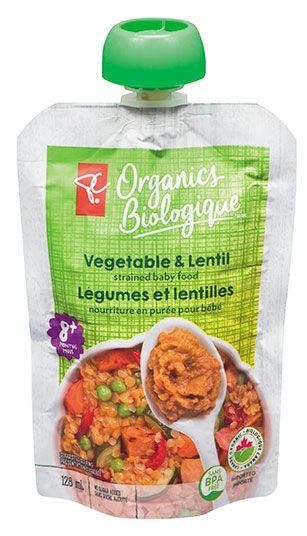 If you're ever uncertain, always consult your pediatrician before starting, and make sure you have one of the best high chairs to achieve a good feeding posture and support!
First Solid Baby Foods
Baby Cereals are usually the first recommended solid food for babies 4 to 6 months of age. This is for a few reasons. First, it gets your baby used to a unique food texture in the mouth without any new strong flavors and gets them used to coordinating and swallowing something thicker than milk. Second, around 6 months of age your baby's iron needs usually exceed what is available in breast milk or infant formulas, so iron-fortified baby cereal is a great way to supplement.
And no, research shows that iron-fortified baby cereals do not cause or exacerbate constipation.
Third, cereal is unique because you mix it with breast milk or baby formula to make it a more familiar flavor for your baby and reduce the likelihood that your baby outright rejects it - this is especially important if you're dealing with a picky eater.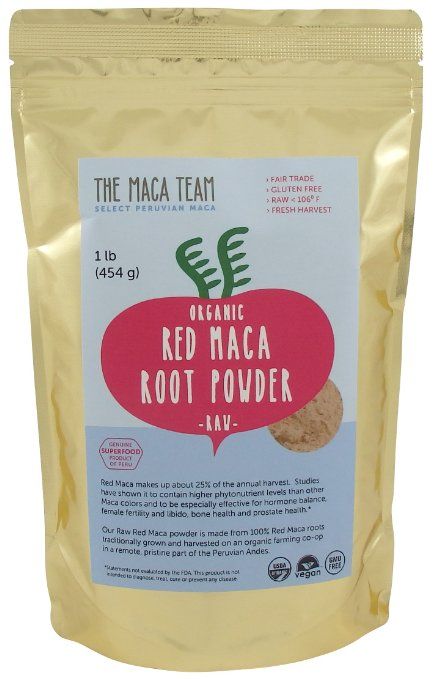 Speaking of picky eaters, be sure to check out our reviews of the best organic baby formulas.
Second Solid Baby Foods
Fruit and Veggie Purees are the next step after your baby has graduated from baby cereal, usually around 6 to 8 months of age. Experimenting with fruit and veggie purees can be a real adventure! Don't be surprised if your baby spits out everything the first time, or even the second and third time you try it! Sometimes it can take 5-10 times for your baby to get used to a new flavor or texture, and this process is a really great developmental learning experience for your baby. So, don't give up on them! Our advice is to start by slowly mixing some relatively bland fruit and veggie purees into the baby cereal. Maybe some banana puree mixed into the baby cereal and breastmilk (or formula), or some prune puree mixed in to keep things going in the diaper region when the cereal starts to stop things up!
When finding the perfect baby food puree, one of the most important criteria that we realized is when the fruit or vegetable puree tasted more like the real thing to the adults, the babies also tended to like it more.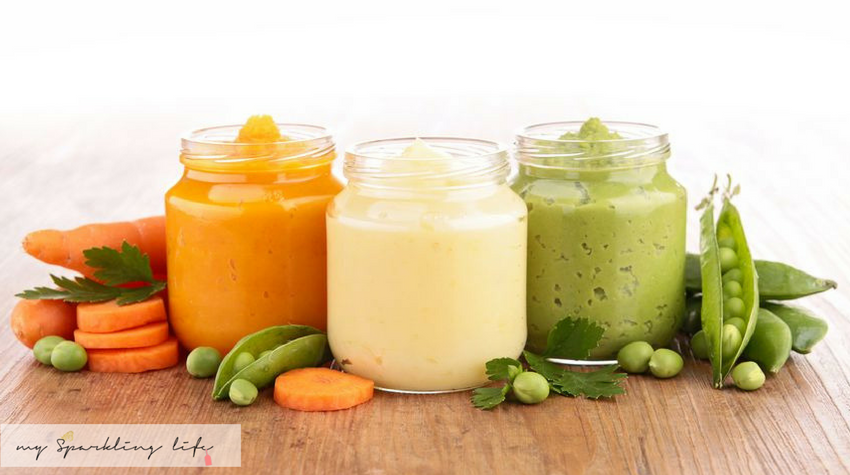 When it was too tart they tended to shy away, as they did also when it had generally stronger unfamiliar flavors. We also restricted our search to eating organically, so you don't need to worry about herbicide or pesticide residues, or any questionable ingredients. We care a lot about our little ones and want to make sure that at least the first year of life is kept as safe as possible by eating real food made with carefully selected and sourced ingredients. If you're interested in making your own baby food purees, check out our reviews of the best baby food makers.
Note that unlike infant cereal, baby foods typically are labeled with stages. Stage 1 is where you'll start immediately after baby cereal (usually from 6 to 7 months), with only a single ingredient (like peas, sweet potatoes, prunes, or bananas). Stage 2 is where you start to introduce some new textures and two or more ingredients (like apples and cinnamon, or strawberry banana), usually from about 7 to 9 months old. Finally, stage 3 is when you get multiple combined ingredients and also some soft chunks of fruits or vegetables, usually around 9 to 11 months old.
You are about to embark on an amazing journey that can be both fun and nutritious, and we wish you many happy and healthy feedings to come!
12 Best Organic Baby Food Brands to Buy 2022
Getty Images
As a busy parent, time isn't always on your side. Making baby food from scratch can be stressful and time consuming, especially when it comes to appeasing picky eaters. Luckily, there are several pre-made organic baby food options that take the guesswork out of feeding your child.
Since the National Organic Program of the USDA has developed strict rules and regulations that govern USDA certified organic foods, those carrying the USDA organic seal cannot contain GMOs or any artificial preservatives, colors or flavors. And certain studies show that organic fruits and vegetables have significantly more antioxidant polyphenols than conventionally grown produce. Encouraging an abundance and variety of fruits and vegetables at all ages is key, but organically grown produce can provide some additional benefits without the GMOs or preservatives.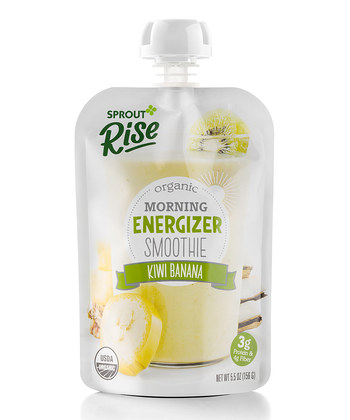 And speaking of ages, our nutrition experts point out that baby food stages aren't standardized but there are general guidelines that many brands utilize. Keep in mind that every baby develops differently, and some babies are ready for stage 2 before they are 7 months old, while others may not be ready until they are closer to 10 months old. Talk to your pediatrician to help guide you throughout the process, and remember that it's important for babies to advance through the stages on their own time.
As a general rule of thumb, Stage 1 foods generally consist of a single ingredient purees and are ideal for babies ages 4-6 months. Stage 2 foods are best for babies ages 6-9 months and start to incorporate more than one ingredient. Stage 3 foods are for babies 9-12 months, and they feature a lot of different textures and new flavors. Stage 4 foods are for babies at least one year of age and typically indicate that table food can be introduced.
A note on heavy metals in baby food: If you've heard about concerns regarding heavy metals in baby food, it's important to know that they are naturally occurring and enter the food supply from natural sources like soil, water and air.
It is nearly impossible to completely avoid these metals, but parents can minimize the risk by feeding their baby a variety of foods. Opt for grain-based cereals and snacks instead of rice-based options and be sure to limit fruit juices. Our experts say you can and should keep giving carrots and sweet potatoes because they contain important nutrients, but given that they grow in the ground, they may naturally contain higher levels of heavy metals so be sure to serve them along with other fruits and vegetables.
To make sure you're giving your child the very best, we put several brands to the test through a panel of kids, moms and editors to see which organic baby food products are the best for your baby. We've also included information on what measures each brand is taking regarding minimizing heavy metals in their products. Here are the best organic baby foods of 2022:
Once Upon a Farm
Organic Fruit & Veggie Blend Baby Sampler
Once Upon A Farm
SHOP AT AMAZON
Cerebelly
Organic Baby Puree Pouches
Cerebelly
SHOP AT AMAZON
Holle USA
Organic Fruit Puree
Holle USA
SHOP AT AMAZON
Happy Family Organics
Pouches & Jars
SHOP AT AMAZON
Plum
Organics Pouches
SHOP AT AMAZON
Serenity Kids
Organic Savory Veggies and Ethically Sourced Meats Variety Pack
Serenity Kids
$34 AT AMAZON
ALDI
Little Journey Pouches
SHOP AT ALDI
Amara
Organic Baby Food Pouches
Amara
SHOP AT AMAZON
Gerber
Organic Pouches & Freshful Start
SHOP AT AMAZON
Little Spoon
Little Spoon
This subscription-based baby food service brings a unique twist to the traditional baby food we see on the market.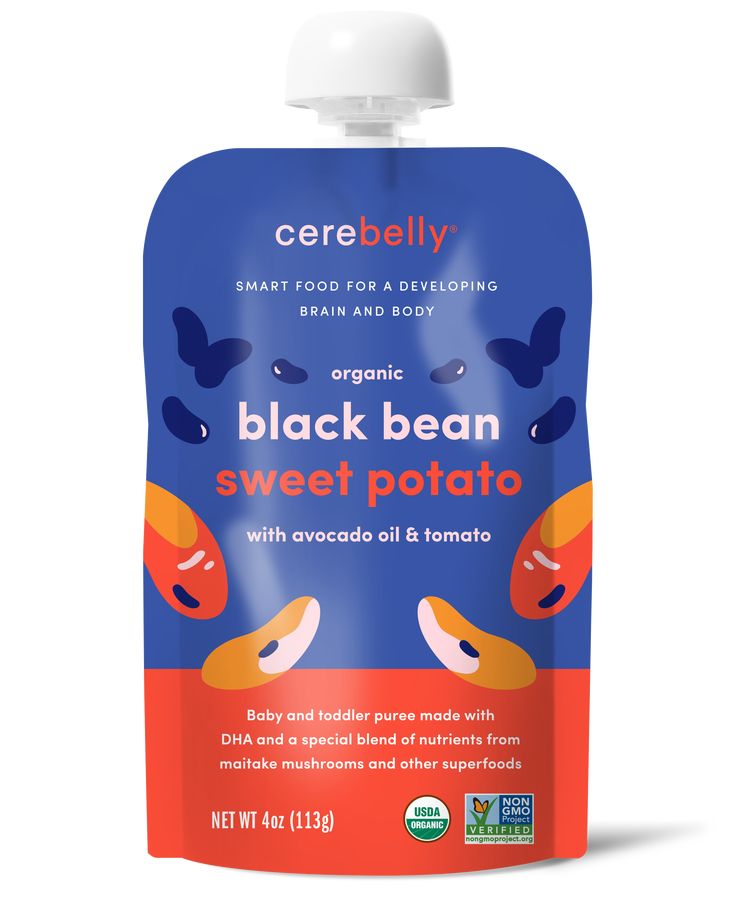 Our nutrition pros appreciate that the organic baby blends feature nutritious ingredient combinations including chia seeds, buckwheat, pumpkin seed and hemp seeds. Plus, they offer a line of small packs called boosters that act as nutritional supplements to mix into your baby's food that our mommy testers loved. You can select from four different types of boosters that are carefully sourced with vitamins, minerals, probiotics and organic produce.
Their line of Babyblends purees are now Clean Label Project verified, which tests for over 400 industrial environmental contaminants including heavy metals and more.
SUBSCRIBE NOW
Yumi
Blends
Yumi
SHOP AT HELLOYUMI.COM
Tiny Organics
Tiny Organics
These organic baby and toddler meals are conveniently delivered to your door and are packed with super nutrients. Our nutrition pros and testers both love that Tiny products are free from the big 8 allergens.
Curated by a team of chef and neonatal nutritionists, the meals are made fresh and shipped frozen. Their new Tiny Beginnings product line has six different plant-based baby meal options to choose from and is created for 4-8-month-olds.
When sourcing ingredients, Tiny's team shared with GH that they require the farmers to provide heavy metal tests on the lots from the year prior and when they harvest the new lot. The team also does internal lab tests on specific ingredients to make sure it is within the brand's specifications. All ingredients are all sustainably sourced within the US from local farms to reduce carbon footprint and are USDA-certified organic.
SUBSCRIBE NOW
How we tested
Registered dietitians in the Good Housekeeping Institute Nutrition Lab evaluated dozens of baby food products, specifically analyzing ingredient lists and nutrition labels. Our nutrition experts prioritized USDA Certified Organic options made with wholesome ingredients and free of artificial preservatives, colors or flavors.
We also investigated efforts that the brands are making to minimize heavy metal exposure in their products. In addition to expert analysis, we recruited a panel of parents and little ones to provide real-life feedback on quality, variety, portion sizes, convenience, packaging and more. We're confident that our top picks are the best organic baby food options to provide exceptional nourishment and quality.
Why trust Good Housekeeping?
As deputy director of the Good Housekeeping Institute Nutrition Lab for the past two years, Stefani Sassos, MS, RDN, CSO, CDN, NASM-CPT handles all nutrition content, product testing and evaluation. She stays up to date on the latest research to provide evidence-based reporting on all things diet and nutrition, and she also runs large-scale tests and analysis for products ranging from protein bars to supplements. She has a master's degree in clinical nutrition from New York University and has been a registered dietitian for six years, working in the clinical setting prior to Good Housekeeping and obtaining advanced credentials and board certifications in the nutrition field.
As a new mom to a 6-month-old baby girl, Stefani is personally invested in thoroughly vetting and testing baby food products for her family and yours.
Stefani Sassos, M.S., R.D.N., C.S.O., C.D.N., NASM-CPT Nutrition Lab Deputy Director Stefani (she/her) is a registered dietitian, a NASM-certified personal trainer and the deputy director of the Good Housekeeping Institute Nutrition Lab, where she handles all nutrition- and fitness-related content, testing and evaluation.
Why is it better to choose organic products in the first year of life?
The best food for a newborn is breast milk, but from the age of six months, doctors recommend introducing complementary foods. No matter how we feel about the timing of the introduction of new products, but sooner or later the baby will eat the same as the whole family. With the introduction of complementary foods, the question arises before the mother: buy jars or make mashed potatoes on their own. Grandmothers insist on a "home" version.
We clarify the situation so that you can make a decision.
Pediatricians "program" correctly
Let's start with the fact that there is a National program to optimize the nutrition of children in the first year of life. Pediatricians in our country believe that nutrition in the first year of life "programs" the process of digestion or metabolism. At the same time, certain eating disorders can increase the risk of developing diseases such as allergies, obesity, metabolic syndrome, osteoporosis, and some others. All these diseases, the authors of the National Program note, are currently called the "epidemic" of civilization. According to statistics, the frequency of cases of such diseases, their severity and possible adverse consequences are increasing.
In the light of such a pediatric "horror story", you want to feed your child with quality products so as not to run into trouble. Perhaps, meat, poultry, fruits and vegetables bought at the market could have been a quality product before, but now the situation has changed.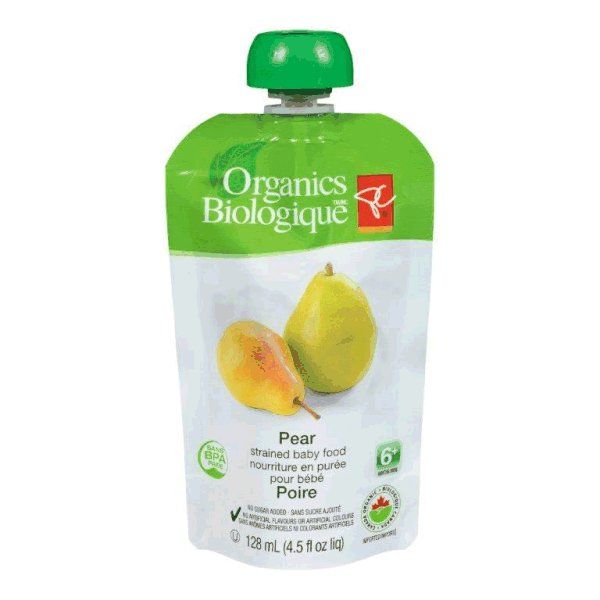 The market does not guarantee
According to Yulia Gracheva, director of the St. Petersburg Ecological Union, markets are required to test vegetables and fruits for heavy metals and pesticides. However, in reality, there may not be their own control of products, and drivers have bundles of certificates of conformity and permissions for any request from the market administration. Needless to say, these papers are worth nothing, although a whole class of people profit from them very well.
Meanwhile, the administrations of the Ecomarket in Konkovo ​​and Danilovsky Market claim that checks are underway. But doubt breeds danger - the baby can get products that were grown with pesticides and other pesticides, and there may be nitrates in the products. And they are there. The question is quantity.
Fears for the quality of products will not dispel even the assertion that the products are from the grandmother's garden. As previously noted by LavkaLavka project expert David Yavruyan, the grandmother may have Chinese seeds contaminated with GMOs, and the water in the well does not meet strict sanitary standards.
In addition, the expert recalls that in Russia villages were built along roads, which means that the soil can be contaminated with heavy metals and toxins from car exhaust. Even the cleanest grandmother will not be able to defeat this "infection".
If you do buy food at the market, be sure to wash it properly. About this in our article.
And yet - you can only buy verified healthy and organic, I focus on the certificate. It is issued by an independent body that, with its name, is responsible for the quality of products from seed to counter.
What does organic baby food mean?
It's clear that LookBio is a fan of organic certifications and an organic approach to food production. But we turned to the baby food manufacturer Hipp for an explanation of what the "organic" mark on their products means. HiPP, in turn, gave information with reference to a large-scale study within the framework of the Quality Low Input Food (QLIF) project, conducted in the EU over four years:
Organic meat:
Safer
no hormones
without antibiotics
contains significantly less harmful substances
Less fat
Contains on average 10-20% less fat
Healthier
contains twice the amount of omega-3 unsaturated fatty acids
Organic vegetables
Contains more:
vitamins,
minerals, antioxidants and other secondary plant substances,
polyunsaturated fatty acids, essential amino acids
Contains less:
heavy metals,
mycotoxins,
pesticide residues,
nitrates
If we talk about the use of protective equipment in the process of growing crops, then about 20 substances of animal and vegetable origin are allowed in organic farming.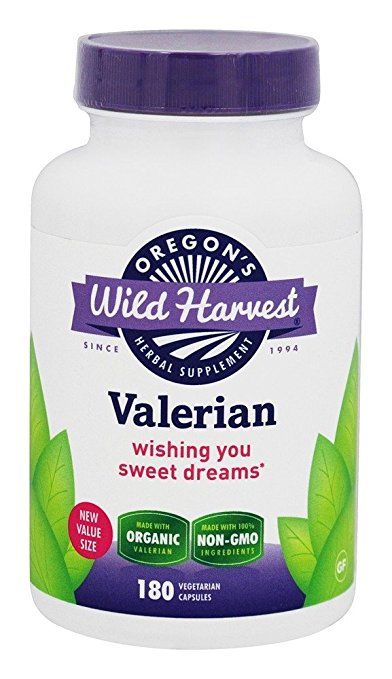 Yulia Gracheva, a representative of the St. Petersburg Ecological Union, recalls that the list of permitted pesticides in organic farming can fit on two pages, while the state register of permitted pesticides contains a list of 700 pages. And, returning to the previous point, the usual SanPin check only checks for a few pesticides.
Looking for certificates
Only an organic certificate can guarantee that you have bought an organic product. The most famous certificates: "Eurolist" for the EU countries, USDA for the USA. Russian private organic standards also exist, but they have not yet reached baby food, so it makes sense to focus on international signs. Previously, LookBio reviewed organic baby food. What we found can be seen here.
Experiments also speak in favor of organic baby food, when families were transferred from ordinary products to "pure organic". The decrease in the level of pesticides and heavy metals in the organisms of the subjects was noticeable after a couple of weeks.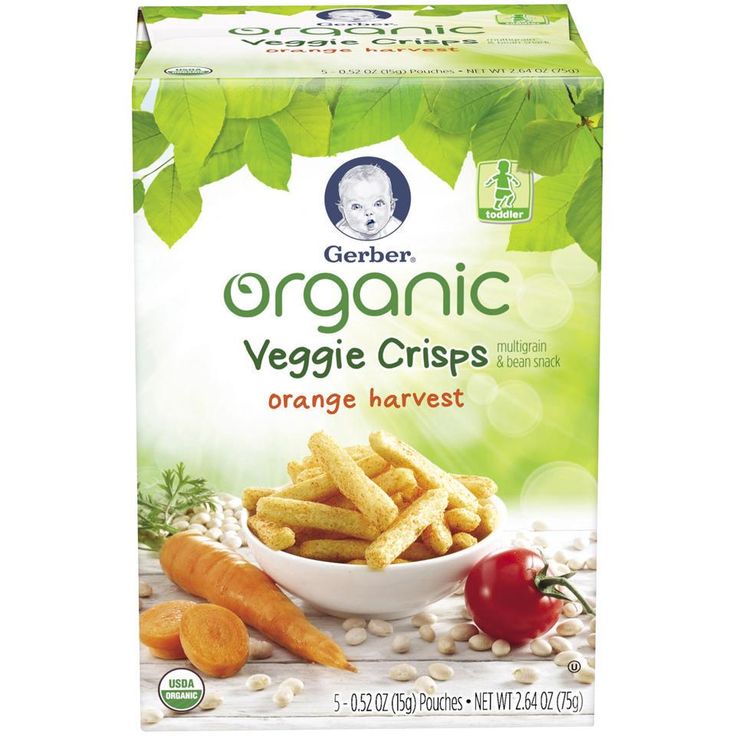 Particularly revealing were the changes for the better in blood and urine samples in children. More about it here.
Summing up, we can say that products from trusted manufacturers like grandma are better than others, but if you don't have a farmer grandmother, then it's safer to feed your baby in the first year of life with certified organic baby food.
May the power of their nutrients be with you!
Are there any risks of a shortage of baby food
Despite the fact that several large Western companies have announced the suspension of investments or a reduction in the range, the baby food segment has not been directly affected so far. It's one thing to stop spilling soda, and another thing is cereal or, even worse, breast milk substitutes (BMS).
Production of baby food in the country continues to grow, assured "RG" in the Ministry of Agriculture. According to Rosstat, in January-July 2022, the production of milk powder and milk formulas for young children increased by 24.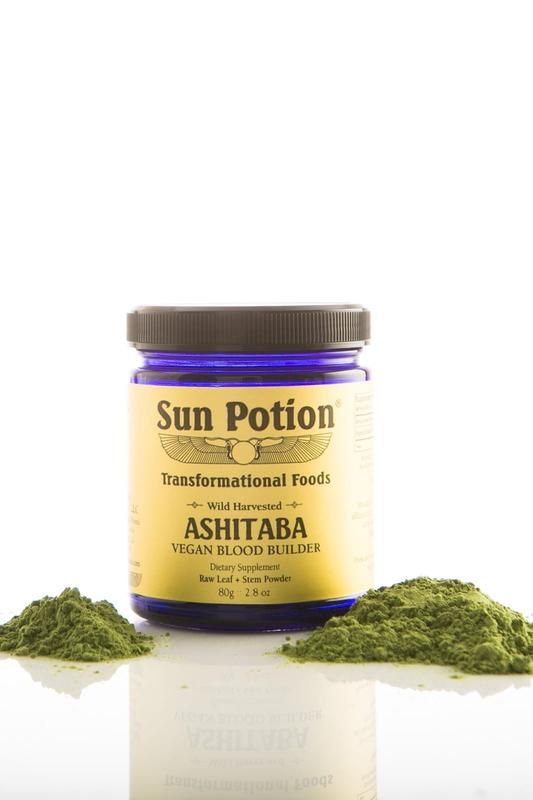 2%, canned meat (meat-containing) - by 6.5%, bakery products for baby food - by 12.6 %. In the production of baby food, both domestic and imported ingredients are used. But primarily fruit and berry purees and concentrates are imported from products that do not grow in Russia due to the climate, the department notes. At the beginning of 2021, domestic producers really faced logistical problems, including the supply of certain imported ingredients. "Nevertheless, the companies were able to establish alternative channels and ensure the uninterrupted release of products to the market," the ministry said.
Infographics "RG" / Leonid Kuleshov / Tatyana Karabut
Now, indeed, we have partially managed to build new supply chains for baby food ingredients. There are no acute problems with imports, said Antonina Tsitsulina, president of the Association of Children's Goods Industry Enterprises. There are none, for example, in the segment of vegetable purees and juices. However, the issue of providing BMS, especially those related to clinical nutrition, still requires special attention.
There was no direct ban on the supply of such products. In addition, retailers and consumers made sufficient stocks of BMS ahead of time in the spring. However, now it is necessary to replace these products with imports.
Previously, the Ministry of Agriculture reported that 80% of the needs for BMS on the Russian market are covered on their own. In 2021, the government approved a project for the production of components for powdered milk formulas. Since there is not enough capacity in the Russian Federation to manufacture special whey used in BGM, the implementation of this project will reduce the dependence of Russian producers on foreign components, the Cabinet explained earlier. Companies, including the availability of concessional loans, subsidies for milk processing and reimbursement of part of the direct costs incurred for the construction of capacities for the production of BMS, the Ministry of Agriculture adds. The possibility of increasing the production of the necessary ingredients is being explored.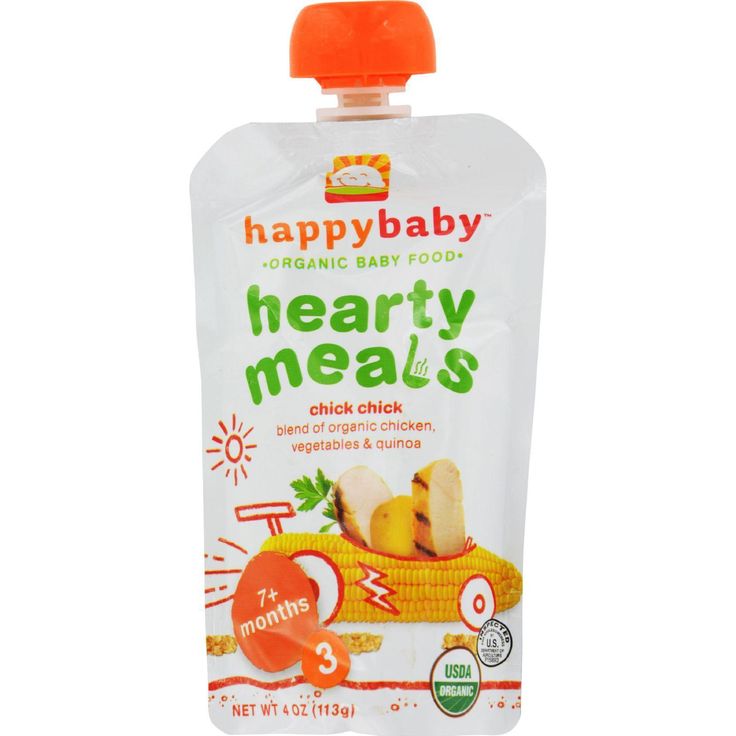 Raw materials for the production of BGM continue to be supplied, General Director of Soyuzmolok Artem Belov confirmed. The Union previously submitted an application for zeroing duties on the import of this raw material, which was accepted, and today part of the raw material for BMS is imported under a special regime. "Some items were not included in the preferential list, including some types of premixes for the production of baby food, as well as some ready-made products - dry and high-protein formulas, specialized nutrition. We are seeking preferential treatment for these categories as well," Belov said.
However, the producers of fruit purees and condensed milk also faced difficulties due to the sanctions. According to Soyuzmoloko, EU lids and tinplate for their manufacture are under sanctions, and local lid manufacturers do not have raw materials to produce goods of the required quality. "The business is looking for alternative suppliers, but the price of such raw materials and caps is higher than the previous level, and therefore companies are currently asking for the zeroing of duties in order to at least slightly reduce the cost of Chinese raw materials," Belov explained.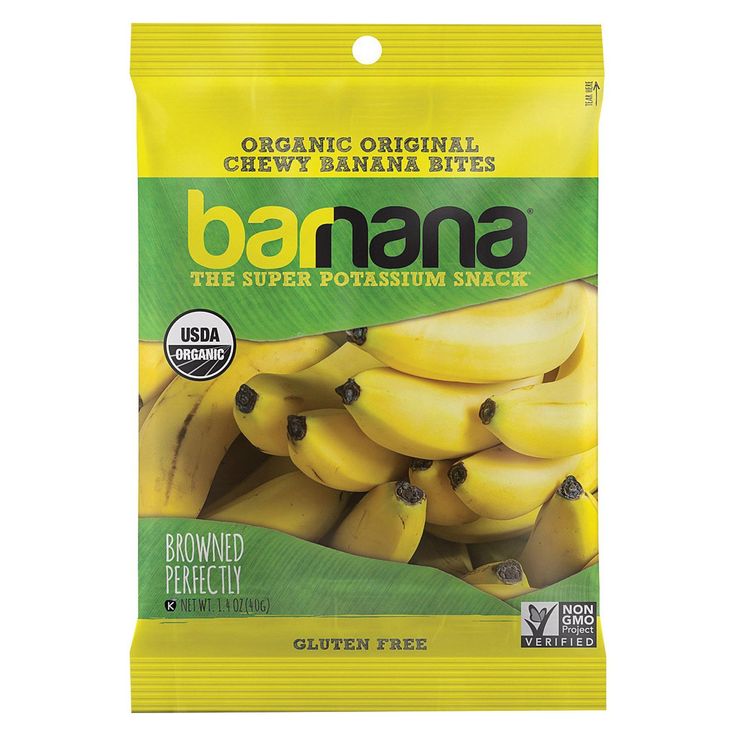 However, earlier the Ministry of Industry and Trade assured that tinplate is also produced in Russia, part of the demand is covered by supplies from friendly countries.
"Today, almost all food tin and paint and varnish coatings used in the manufacture of meat-based canned food for children are produced abroad, and the domestic industry is not ready to meet the needs of baby food manufacturers," confirms the head of the functional and specialized nutrition department of the FNTs of food systems named after. V.M. Gorbatov RAS Andrey Dydykin. And the search for alternative suppliers in other regions complicates logistics, which can affect the cost.
Manufacturers are looking for partners in the supply of raw materials, including for the production of caps
According to the expert, it is possible to provide the industry with packaging for children's products only with state support. The highest quality packaging is used for the production of baby food packaging. Domestic metallurgists need to develop this direction.