Porridge oats baby food
How to Make Baby Oatmeal {Different Types}
How to make oatmeal for babies, from oatmeal cereal for early eaters to steel cut oats, plus the peanut butter banana oatmeal recipe I make for my babe almost every day.
As an oatmeal lover myself I had a feeling that my little one, Olivia, was going to like it as well and turns out I was right… she's a big fan!
That said, when I first thought about giving her oatmeal I wasn't sure what type was best and how to prepare it. I had so many questions… What type of oats are best? Are rolled oats too thick for babies? Do you cook the oats in breast milk or add it after?
If you're a new mama/papa, you might be wondering the same things. Luckily I've done all the research and I'm here to help.
For starters, oatmeal is a great food for babies. Many pediatricians suggest some sort of baby cereal (like oatmeal) as a first food because it's mild, easy to digest and has a low risk for causing an allergic reaction.
Store-bought baby oatmeal is available, but it's basically just oat flour (or ground up rolled oats) and it's super easy to make yourself at home! One thing to note is that packaged baby cereals are typically fortified with iron and if you make oatmeal cereal at home the iron content won't be as high.
When starting solids with Olivia, we skipped the baby cereal all together and went with veggies and fruits. The first food I gave her was steamed and pureed sweet potatoes, thinned with breast milk. After introducing several pureed fruits and veggies, we started giving her oatmeal. It was probably around 7 1/2 months so we went straight to quick oats and rolled oats, cooked the way I'm sharing in the recipe below. In the beginning I thinned the oatmeal with breast milk, but now I make her oats the same way I like mine, without needing to add any additional liquid.
How to Make Oatmeal for Babies
Here I'm covering the basic method for cooking different types of oatmeal for your baby.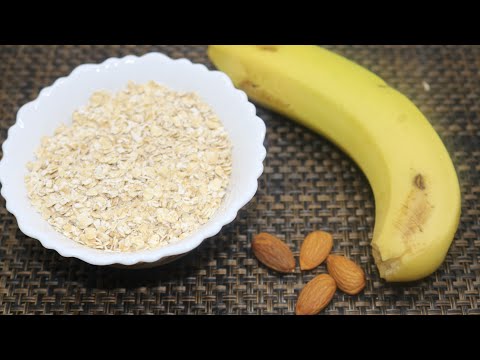 Of course, feel free to add mix-ins and toppings to give the oats more flavor and variety when your baby is ready.
Oatmeal Cereal // 5+ months
Grind old fashioned oats in a food processor or high-powered blender until finely ground like a flour.
Boil 1/2 cup of water and sprinkle in 2 tablespoons of ground oats. Whisk continuously for 30 seconds and then stir occasionally while it cooks for the remainder of the cooking time, typically 3-5 minutes. The oats are done when they are thick and creamy.
Remove oats from heat and let cool. Add breast milk or formula to thin. You'll want the cereal quite thin for new eaters.
Note: you can grind up a larger batch of oats to make the process super quick in the morning. Store the ground oats in an airtight container in a cool dark place or in your refrigerator.
Quick Oats for Babies // 6+ months
Quick (or instant oats) are the most processed of all the oat varieties. They are pre-cooked, dried, and rolled and pressed slightly thinner than rolled oats.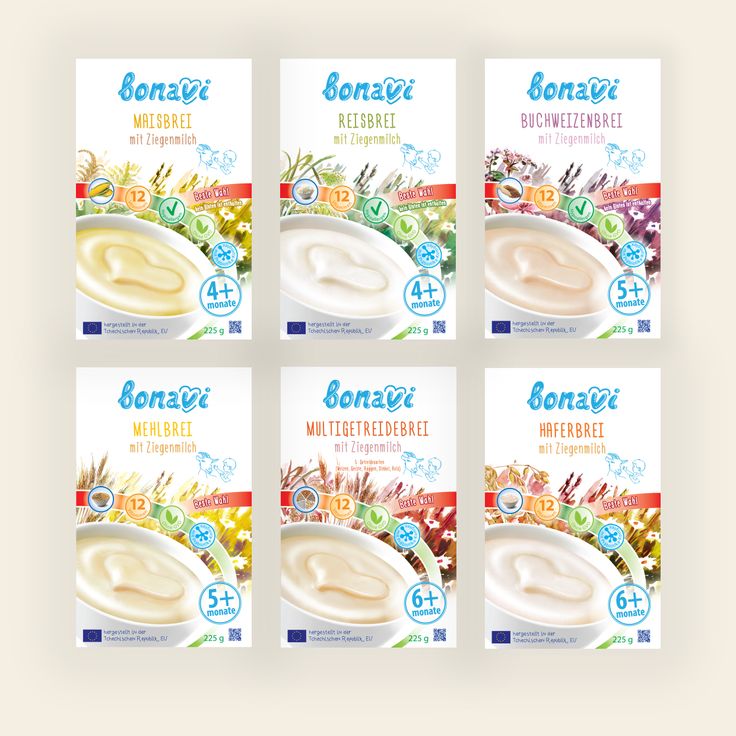 They cook faster than steel cut or rolled oats, but they also lose a bit of texture in the cooking process so they tend to be mushy.
Bring 1/2 cup of water to boil, add in 1/4 cup of quick oats and stir to combine. Reduce heat to medium and cook for 1 minute, stirring occasionally.
Remove from the heat and let cool. Add breast milk, formula or water, if needed to get the oats to the desired consistency. Add mix-ins and toppings of choice.
Old Fashioned Rolled Oats for Babies // 6+ months
Old fashioned rolled oats are oat groats that have been steamed and then rolled which speeds up the cooking process for all of us at home.
Add 1/4 cup of old fashioned oats and 3/4 cup water into a pot over medium high heat and stir to combine. Heat over medium-high heat for 5-7 minutes or until all the liquid has been absorbed.
Remove from the heat and let cool. Add breast milk, formula or water, if needed to get the oats to the desired consistency. Add mix-ins and toppings of choice.
Steel Cut Oats for Babies // 6+ months
Steel cut oats are the least processed oats. The oat groat (the full oat "grain") is cut into two or three parts to get to steel cut oats. That said, they're also the most dense and chewiest oatmeal option so they're good for older babies. I still don't make steel cut oats for Olivia and she's 12 months old!
Bring 3/4 cup of water to boil, add in 1/4 cup of steel cut oats and stir to combine. Return mixture to a boil and then reduce to a simmer for 20-30 minutes or until most of the water is absorbed. Stir occasionally during cooking.
Remove from the heat and let cool. Add breast milk, formula or water, if needed to get the oats to the desired consistency. Add mix-ins and toppings of choice.
Health Benefits of Eating Oatmeal for Babies
Oatmeal is a wonderful food for babies for a variety of reasons. It's gentle on their tummies and packed with fiber, magnesium, iron and zinc.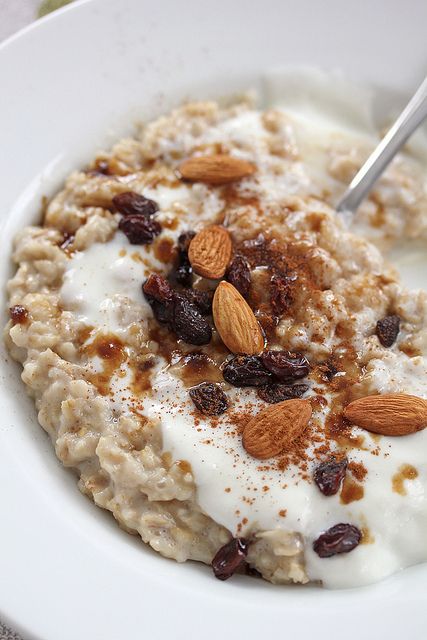 Little ones often experience constipation as they introduce solid foods into their diet, so oatmeal is a great intro food as it acts as a natural laxative.
How to Flavor and Season Oatmeal For Babies
When making oatmeal for babies it's fun to switch up the flavors and toppings instead of feeding them plain, boring oats.
Olivia eats just about anything and I attribute that to offering her a variety of foods and seasoning things early on. In the beginning I seasoned her purees with aromatic spices like cinnamon and nutmeg and now she loves food with flavor. Her latest favorite is this tofu pumpkin curry.
I have given Olivia a variety of oatmeal flavors, but typically I make her oatmeal the same way I make my favorite peanut butter banana chia oatmeal. I cook it with additional water (so it's voluminous and extra creamy), cinnamon and I also add banana slices in with oats. As it cooks, I mash the banana slices so they soften and mix throughout, adding a subtle sweetness (without adding any actual sugar).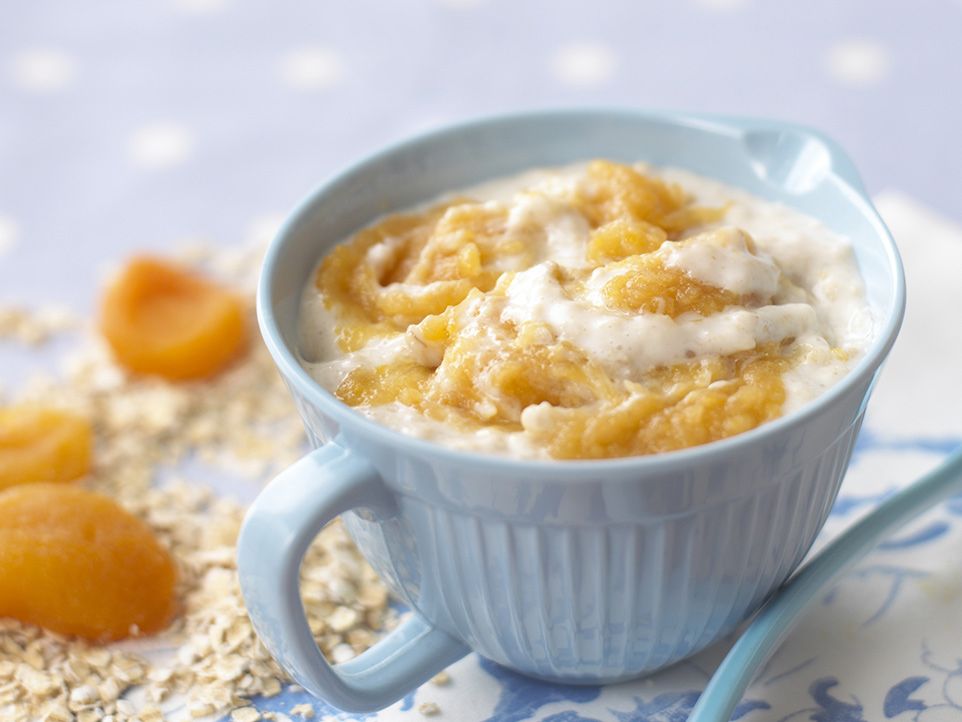 After cooking, I stir in ground flaxseed or chia seeds and peanut butter.
Adding Peanut Butter to Oatmeal
I like mixing the peanut butter in with the oatmeal for some healthy fat and protein. I also like that it gives her a good amount of exposure to peanuts, which is now said to be key for avoiding food allergies. Of course, be sure to talk to your pediatrician about introducing peanuts to your little one and make sure they tolerate it before adding it to their oatmeal. I also recommend using peanut butter that has only one ingredient (peanuts) so there's no added oil, salt or sugar. Peanut butter is my g0-to choice, but you can use other nut butter like almond, cashew and sunflower seed butter if you want to switch it up!
Use Leftover Oatmeal as a Thickener
You can also use leftover cooked oatmeal for babies to make combination purees or to thicken purees that are too thin! Just toss the cooked (and cooled) oatmeal into a blender with the fruit or veggies you want to combine it with.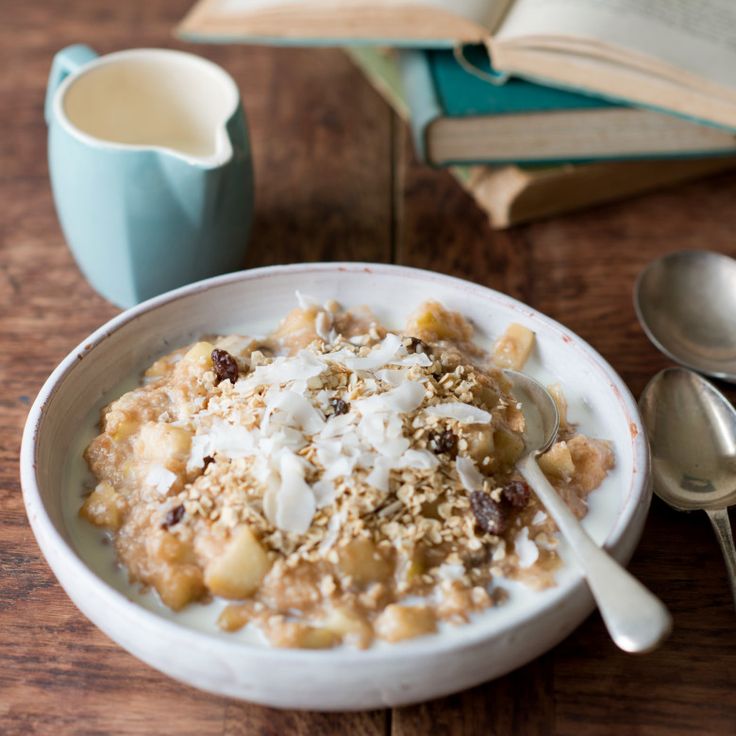 Puree until it's reached the desired consistency and serve.
How to Turn Oatmeal into a Finger Food for Babies
One cool thing I realized after refrigerating some of Olivia's oatmeal is that cold oats sort of congeal and stick together. When this happens, I just break apart the oats and serve them to Olivia cold as finger food. It can get a bit messy but she LOVES it so I give it to her all the time!
Of course there are some additional ways to prepare oatmeal as a finger food for babies/toddlers including baked oatmeal cups, regular baked oatmeal (readers have told me their babies love this blueberry baked oatmeal recipe), oatmeal baby pancakes and even porridge fingers!
How to Store Leftover Oats
Store leftover oats in an air-tight container in the fridge for up to 4 days. If the leftover oats have breast milk or formula added to the oats, you should follow the storage guidelines for the milk in terms of how many days you can keep it. I personally like using fresh breast milk to thin the oats because it stays fresh for about 3 days, whereas previously frozen breastmilk usually needs to be used within 24 hours.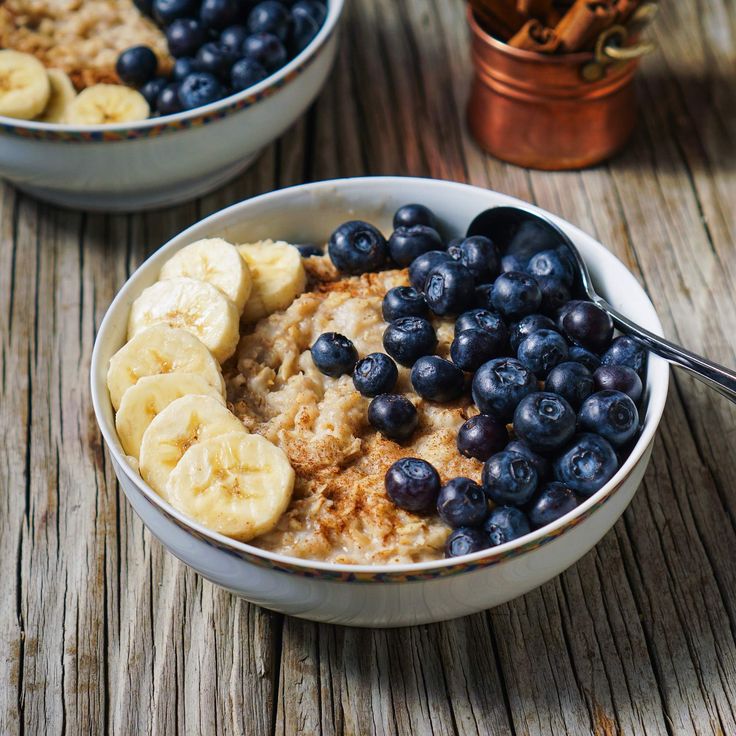 The oatmeal will thicken as it sits so you can serve it in mushy finger foods chunks like I mentioned above (if your baby is good with finger foods) or you can add water, breast milk or formula to thin it out before serving. I give it to Olivia cold and she gobbles it up, but you can warm it up a bit before serving if you want.
More Baby Recipes to Try
10 Baby Food Purees (Stage 1)
6 Baby Food Combinations
Banana Pancakes for Babies
Introducing Solids to Baby
Baby (+ Toddler) French Toast
Peach Baby Food
Carrot Baby Food
Banana Puree
Healthy Smash Cake
Baby Yogurt Melts
More Oatmeal Recipes to Try
Apple Baked Steel Cut Oatmeal
Baked Blueberry Oatmeal Cups
Creamy Steel Cut Oats
Berry Baked Oatmeal Bars
Be sure to check out my full collection of oatmeal recipes as well as all of the baby food recipes here on EBF.
Baby Oatmeal
4 from 82 votes
Here's the recipe for oatmeal that I make for Olivia almost daily.
I cook the bananas in with the oats so they soften and add a nice hint of sweetness without added sugar and then stir in ground flaxseed (or chia seeds) and peanut butter for extra nutrition and flavor!
Print Recipe Pin Recipe
Prep Time 5 minutes
Cook Time 7 minutes
Total Time 12 minutes
Servings 1
1/4 cup old fashioned rolled oats
3/4 cup water
1/4 banana, sliced
pinch of cinnamon
1 teaspoon ground flax or chia seeds, optional
1-2 teaspoons peanut butter
breastmilk, formula or water to thin, if needed
toppings of choice: fresh berries, more peanut butter, more bananas
Add oats, banana slices and cinnamon into a pot. Add water and stir to combine. Heat over medium-high heat for 5-7 minutes or until all the liquid has been absorbed. Be sure to stir the oats several times while cooking to make sure the banana slices melt into the oats. You'll know the oatmeal is done when all the water has been absorbed and the oats are creamy and fluffy.

Remove pot from heat and stir in ground flax and peanut butter, if using.

Portion oats into a bowl and let cool before serving. Oats can be warm, but you don't want them to be too hot. If the oats are too thick (sometimes this happens as the oats cool) add a splash of breast milk, formula or water to thin. Feel free to add toppings like fresh berries, more peanut butter or banana chunks.
Serving: 1 Calories: 150kcal Carbohydrates: 22g Protein: 5g Fat: 5g Saturated Fat: 1g Sodium: 47mg Potassium: 231mg Fiber: 3g Sugar: 5g Vitamin A: 19IU Vitamin C: 3mg Calcium: 21mg Iron: 1mg
DID YOU MAKE THIS RECIPE?
Please leave a comment and star rating on this post and share on social media using the hashtag #eatingbirdfood. I love seeing your recipe shares!
Homemade Baby Porridge - Easy, Quick, & Nutritious
Published: · Modified: by My Kids Lick The Bowl · This post may contain affiliate links.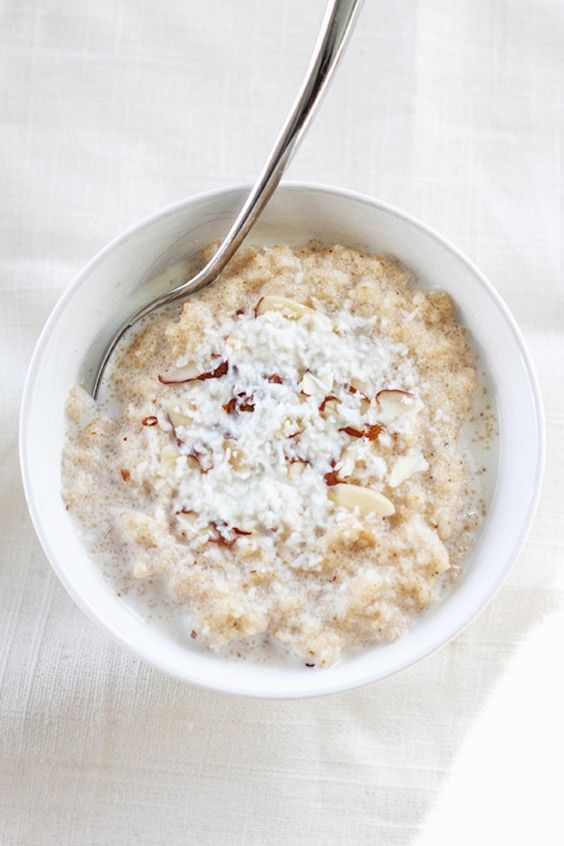 Sharing is caring!
2105 shares
Jump to Recipe
I've shared my baby Esme having baby porridge over on my Instagram stories many many times.  Finally, I am going to record how I make homemade baby oatmeal on my website.
Porridge in the microwave
Ok, so I want to get this out of the way right up-front. I cook my baby porridge in the microwave. You can, of course, cook it on the stovetop, but for small batches when I'm feeding a bub I find the microwave fine.
Some people don't like microwaves and that is ok. I'm quite happy to use the microwave when preparing my babies food so I do 🙂
The best milk for making baby porridge
Right, so clearly breast milk is the best milk for babies, with formula when breast milk isn't being used. BUT the rules can change a little when babies have started solids.
Breast milk and formula remain the appropriate milk for babies under six months as a beverage.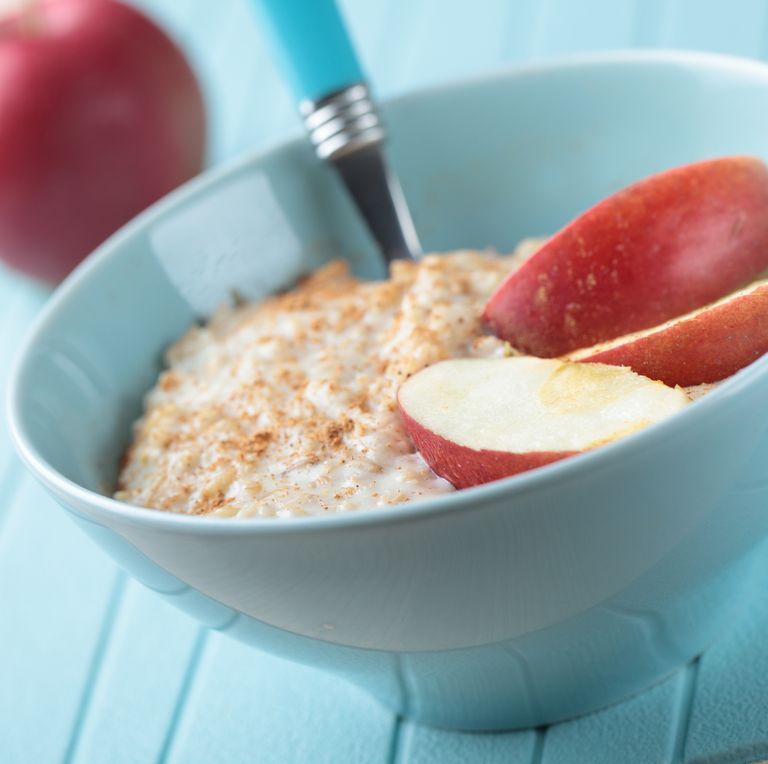 However, once your baby has started solids you can use other milks in their foods.  It is ok to introduce cows milk or dairy-free alternative milks to babies when preparing their meals. It's not ok to replace one of their milk feeds  (breastfeed or formulated) with cows milk under 1 year of age, but in their meals and snacks it is fine from a nutrition perspective.
Cows milk and soy milks and nut milks are potential allergens, but the latest guidelines from allergy professional bodies around the world suggest delaying their introduction is not protective against the development of a food allergy. 
If you want to you can make this baby porridge with expressed milk or infant formula.  For my first 2  babies I did a lot of expressing so I had a great stash for adding to meals. I didn't do as much expressing for my third and fourth babies so when making baby porridge I just used a full-fat cows milk.
Oats for babies
Oats are typically fine for most babies. I personally prefer oatmeal as a single-grain cereal for babies over rice cereal.
I have always found rice cereal to be quite constipating for babies.
Oats are naturally more nutrient-dense than ground white rice, which is why I choose it as a starter cereal over traditional rice cereal.  An oat allergy is rare but can present in some babies. So as with any new food watch for any symptoms of allergy when it is introduced to their diet.
I am a big fan of oats which is why many  of my baby-led weaning recipes contain oats, my porridge fingers, baby pancakes, spinach baby muffins, baby cookies and my baby teething biscuits are popular oat-based recipes for babies
Essentially the basis of making baby porridge is simply to take traditional rolled oats and cut them finer using a food processor. This means the baby oatmeal you make using the fine oats will have a smoother texture for young babies and it will cook more quickly.
Traditional Rolled Oats
Oats I blitzed to a fine texture for baby porridge
Oatmeal, Rolled Oats or Porridge
These 3 things are all the same.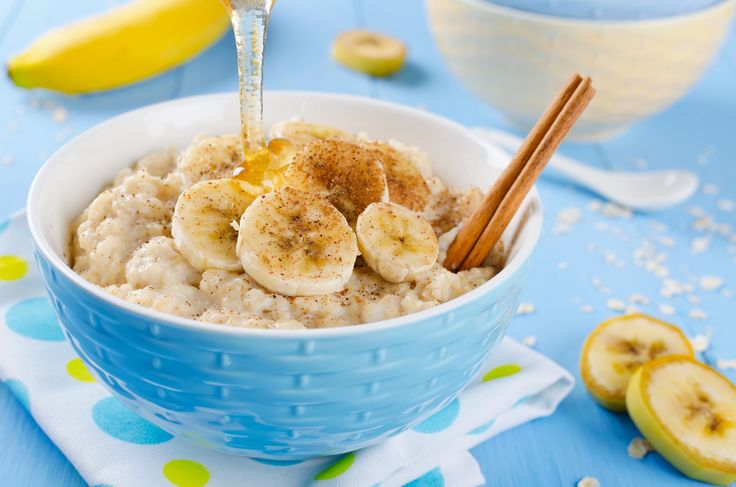 For me, in New Zealand I would say I use Rolled Oats to make a bowl of porridge. The same bowl of porridge in another country might be called oatmeal. 
Ingredients
1 tablespoon Rolled Oats
3 tablespoon Milk
Instructions
I prep my rolled oats for making baby porridge in bulk. I blitz approximately 1 cup of oats in my food processor until fine and store it in an airtight container in the pantry. (This makes around 20 small servings)
To make 1 small serving, Take 1 tablespoon of the baby porridge oats, and mix with 3 tablespoon of milk in a microwave-proof bowl
Microwave on high for 20 seconds, stir, microwave for a further 20 seconds and stir, allow to cool before serving
Notes
You can make up the baby porridge in any quantity. Just keep the ratio of 1 portion of oats to 3 portions of milk (1:3)
You can add any fruit purée you like to the cooked baby porridge or serve it plain, below are some ideas for flavoring the baby porridge
Mashed or purée banana
Apple purée or grated apple (for older babies managing textures)
Pear
Blueberry
Cinnamon
Vanilla
Nutrition Information:
Yield: 1 Serving Size: 1
Amount Per Serving:
Calories: 43Total Fat: 1gSaturated Fat: 1gTrans Fat: 0gUnsaturated Fat: 1gCholesterol: 4mgSodium: 24mgCarbohydrates: 6gFiber: 1gSugar: 0gProtein: 2g
Please know this nutrition analysis is based on the ingredients only, this recipe has not been sent to a laboratory for independent testing
Sharing is caring!
2105 shares
Subscribe! MY Recipes in YOUR in-box
Reader Interactions
Oatmeal.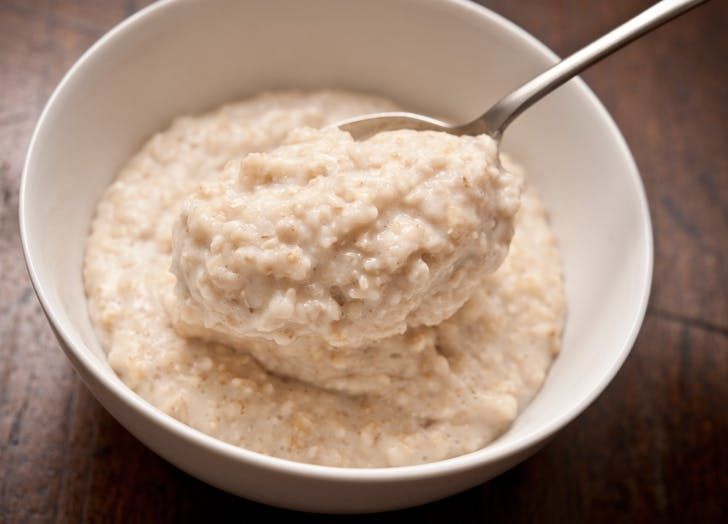 Children food. Rules, tips, recipes Oatmeal. Children food. Rules, tips, recipes
WikiReading
Children food. Rules, tips, recipes
Lagutina Tatyana Vladimirovna
Contents
Oatmeal
Oat flakes "Hercules" - 1 tbsp. l.
Water - 0.5 cup
Milk - 0.5 cup
Butter - 1 tsp.
Sugar syrup - 2 tsp.
Salt solution - 0.5 tsp.
Carefully sort out the groats, pour boiling water over them and simmer for 5 minutes. Then wipe hot porridge through a sieve, dilute with hot milk and mix well, then add salt solution and sugar syrup, put on fire and bring to a boil.
Season the finished porridge with softened butter.
This text is an introductory fragment.
Oatmeal porridge
oatmeal porridge Ingredients: water - 1 cup, milk - 1 cup, oatmeal - 0.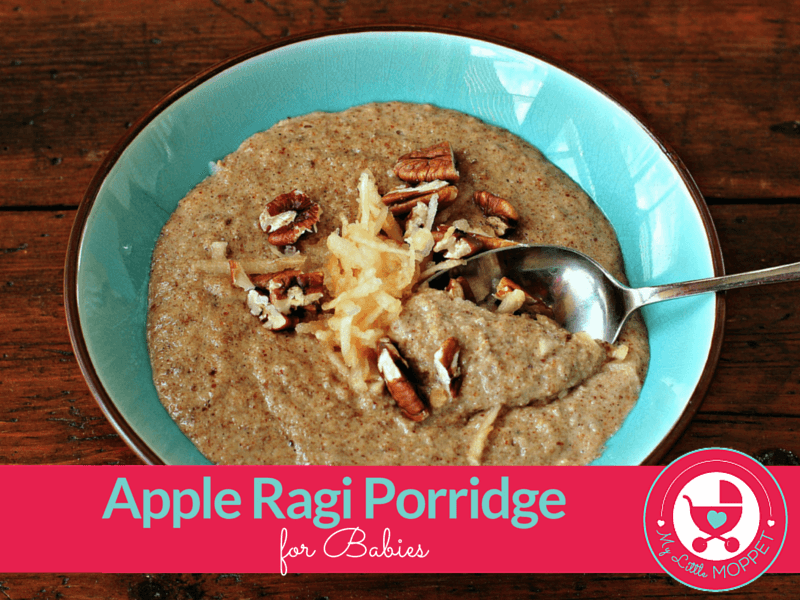 5 cups, butter - 2 tbsp. spoons, sugar or salt to taste. Cooking method A glass of water and a glass of milk are brought to a boil, salt or sugar is added, oatmeal is poured in and boiled on low
Oatmeal porridge
oatmeal porridge Ingredients: oatmeal - 0.5 cups, milk - 3 cups, butter and honey to taste. Cooking method The grits are sorted, washed well, poured with hot milk, put in the oven and cooked over medium heat. As it boils, add milk. When
Oatmeal porridge
oatmeal porridge 200 g of oatmeal or oatmeal; 600 ml of water; 0.5 teaspoon salt. Pour hot water into a 2-liter heat-resistant saucepan and add salt. The pan should be large, as the porridge will increase significantly in volume. Heat without closing, 4-5 minutes at 100% to
Oatmeal porridge
oatmeal porridge 3 art.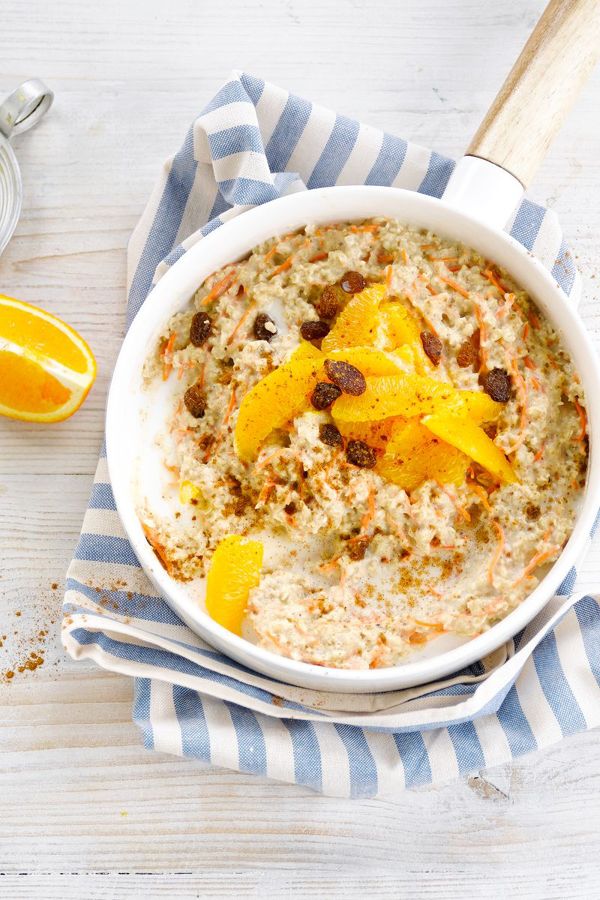 ready-made oatmeal, liver, heart, lungs (or other offal) - 100 g of each type, 1 onion, 50 g of butter, salt to taste. Boil the heart and lung in salted water and mince. Liver fried with chopped onion and
Oatmeal
Oatmeal Ingredients: 65 g of oatmeal, 30 g of butter, 500 ml of milk, 2 tablespoons of sugar, salt. Method of preparation: Place oatmeal in a slow cooker, add sugar and salt. Then pour in the milk. Turn on the "Milk porridge" mode. Then add to porridge
Oatmeal porridge
oatmeal porridge Components Oatmeal - 1 cup Water - 1.5 cups Vegetable broth - 1 cup Butter - 2-3 tablespoons Salt - to taste Method of preparation Rinse the groats well, soak in hot water for 11.5 hours and boil in the same water until the water evaporates. Then
Oatmeal porridge
oatmeal porridge Pour cereal into boiling milk in a thin stream and cook, stirring, for 10-15 minutes over low heat.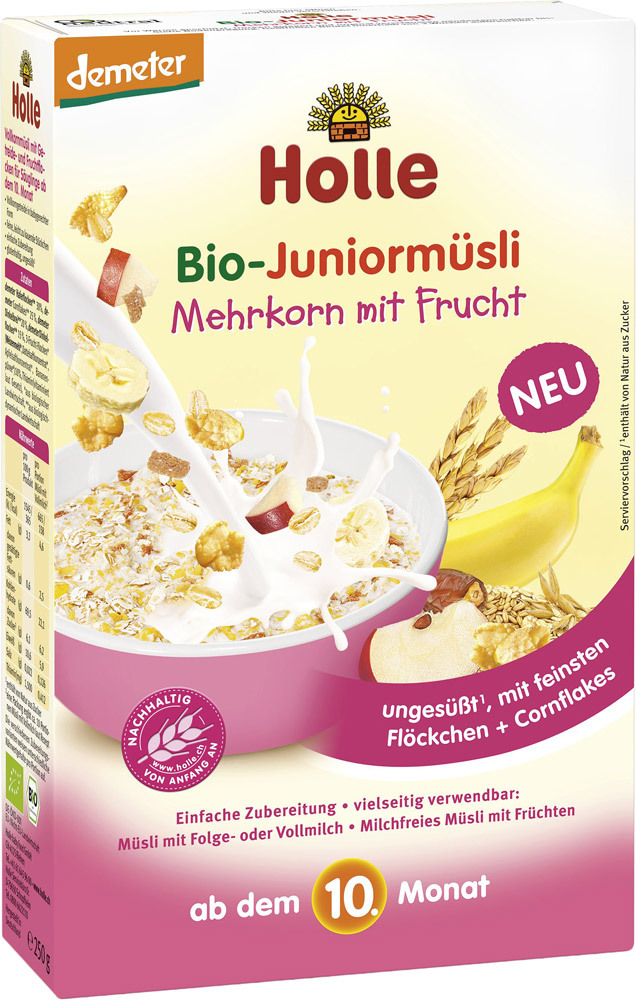 Then salt, stir, add oil. 1 glass of cereal, 5 glasses of milk, salt 9 each0003
Oatmeal porridge
oatmeal porridge Pour the cereal into boiling water, then remove the pan from the heat, close the lid and leave for 2-3 hours to swell the cereal. Then we throw the cereal into a colander. As soon as the water drains, we shift the cereal into boiling milk, add salt and cook for 20–30 minutes at
Oatmeal porridge
oatmeal porridge You will need: Oatmeal?—?1 cup Pumpkin seeds?—?2 tbsp. l., raisins? -? 1 tbsp. l., banana? - 1 piece, fresh figs? -? 50 g, almond milk? - 1 cup. Preparation: Mix oatmeal with cinnamon, add raisins and seeds. Pour in almond milk and
Oatmeal porridge
oatmeal porridge Cooking time: 10 minutes Servings: 3-4 Ingredients: 2 cups oatmeal, 1 liter of water, 1 teaspoon of salt.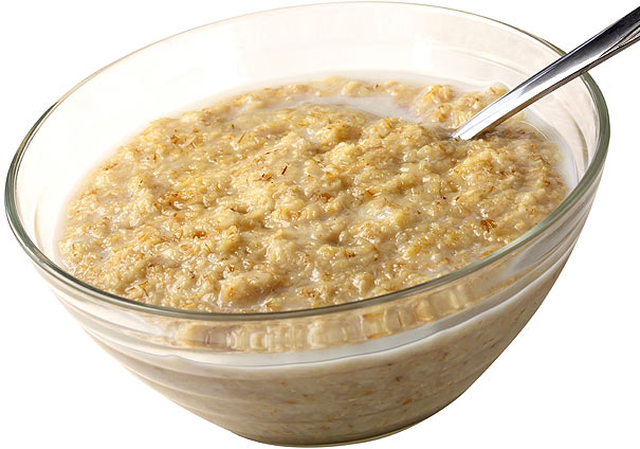 Method of preparation Bring water to a boil, add salt, then add oatmeal and cook porridge for
Oatmeal
Oatmeal 70 g of oatmeal, 20 g of butter, 550 ml of water, salt. Pour oatmeal into a slow cooker, cover with water, salt. Turn on the multicooker in the "Milk porridge" mode. Put butter into the prepared porridge,
Oatmeal
Oatmeal Oat flakes "Hercules" - 1 tbsp. l. Water - 0.5 cups Milk - 0.5 cups Butter - 1 tsp. Sugar syrup - 2 tsp. Salt solution - 0.5 tsp. Carefully sort out the cereal, pour boiling water and cook over low heat in within 5 minutes. Then wipe the hot porridge
Oatmeal
Oatmeal Ingredients: 100 g of oatmeal, 2 cups of water, 30 g of raisins, 100 g of prunes, salt. In the evening, pour boiling water over the groats in a colander and put in an enamel pot with water.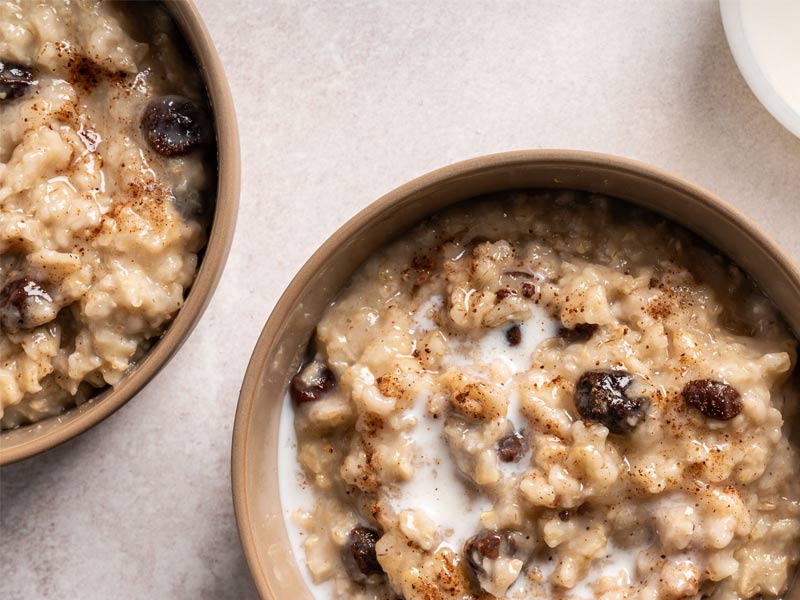 Bring to a boil in the morning and simmer over low heat until tender. Salt, rub through a sieve.
Oatmeal porridge
oatmeal porridge Oatmeal is sorted out, washed and boiled in boiling salted water until the consistency of steep porridge. Then 2/3 of the amount of melted pork, beef or lamb fat is poured into the porridge, mixed and boiled at a gentle boil, and then combined with
Oatmeal porridge
oatmeal porridge Ingredients: 100 g oat flakes, 0.6 l of milk, 4 tablespoons of butter, salt. Cooking method: bring the milk to a boil over medium heat, add flakes little by little and cook, stirring constantly, until tender. Then put butter,
Calories Baby food, Porridge, oatmeal, with banana, dry. Chemical composition and nutritional value.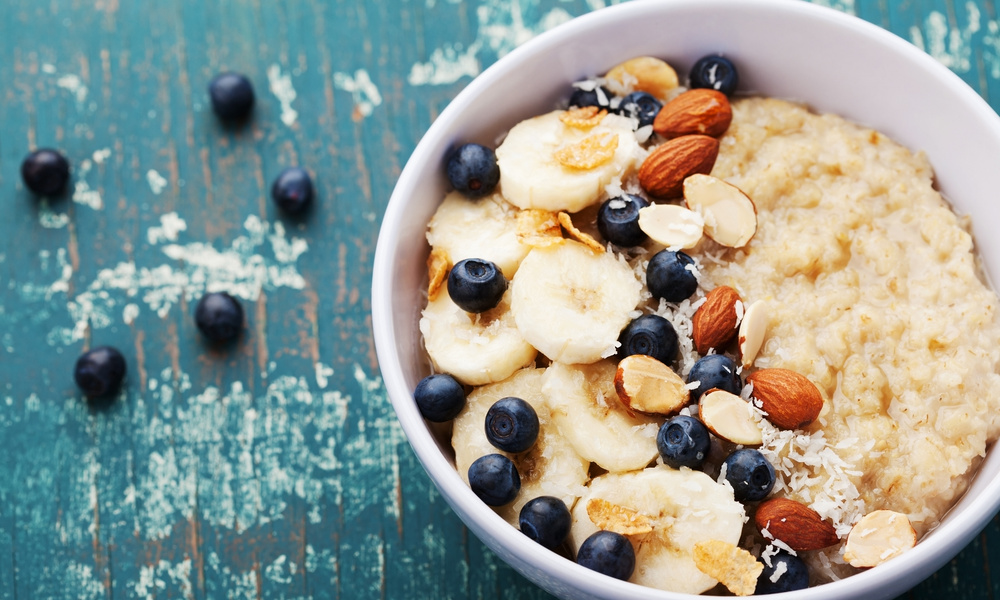 Chemical composition and nutritional analysis
Nutritional value and chemical composition
"Baby food, Porridge, oatmeal, with banana, dry"
.
The table shows the content of nutrients (calories, proteins, fats, carbohydrates, vitamins and minerals) per 100 grams of the edible part.
| | | | | | |
| --- | --- | --- | --- | --- | --- |
| Nutrient | Quantity | Norm** | % of the norm in 100 g | % of the norm in 100 kcal | 100% normal |
| Calories | 399 kcal | 1684 kcal | 23.7% | 5.9% | 422 g |
| Proteins | 6. 67 g | 76 g | 8.8% | 2.2% | 1139 g |
| Fats | 6.67 g | 56 g | 11.9% | 3% | 840 g |
| Carbohydrates | 72.87 g | 219 g | 33.3% | 8.3% | 301 g |
| Dietary fiber | 5.2 g | 20 g | 26% | 6. 5% | 385 g |
| Water | 4.7 g | 2273 g | 0.2% | 0.1% | 48362 g |
| Ash | 3.9 g | ~ | | | |
| Vitamins | | | | | |
| Lutein + Zeaxanthin | 157 mcg | ~ | | | |
| Vitamin B1, thiamine | 0. 833 mg | 1.5 mg | 55.5% | 13.9% | 180 g |
| Vitamin B2, riboflavin | 1 mg | 1.8 mg | 55.6% | 13.9% | 180 g |
| Vitamin B4, choline | 28.7 mg | 500 mg | 5.7% | 1.4% | 1742 |
| Vitamin B6, pyridoxine | 0.66 mg | 2 mg | 33% | 8. 3% | 303 g |
| Vitamin B9, folates | 259 mcg | 400 mcg | 64.8% | 16.2% | 154 g |
| Vitamin B12, cobalamin | 3.33 mcg | 3 mcg | 111% | 27.8% | 90 g |
| Vitamin B12 added | 3.11 mcg | ~ | | | |
| Vitamin C, ascorbic | 58. 3 mg | 90 mg | 64.8% | 16.2% | 154 g |
| Vitamin E, alpha tocopherol, TE | 5 mg | 15 mg | 33.3% | 8.3% | 300 g |
| Vitamin E added | 4.55 mg | ~ | | | |
| Vitamin K, phylloquinone | 3 mcg | 120 mcg | 2. 5% | 0.6% | 4000 g |
| Vitamin PP, NE | 13 mg | 20 mg | 65% | 16.3% | 154 g |
| Macronutrients | | | | | |
| Potassium K | 600 mg | 2500 mg | 24% | 6% | 417 g |
| Calcium Ca | 800 mg | 1000 mg | 80% | 20. 1% | 125 g |
| Magnesium, Mg | 118 mg | 400 mg | 29.5% | 7.4% | 339 g |
| Sodium, Na | 33 mg | 1300 mg | 2.5% | 0.6% | 3939 g |
| Sulfur, S | 66.7 mg | 1000 mg | 6.7% | 1.7% | 1499 g |
| Phosphorus, P | 267 mg | 800 mg | 33. 4% | 8.4% | 300 g |
| Trace elements | | | | | |
| Iron, Fe | 45 mg | 18 mg | 250% | 62.7% | 40 g |
| Copper, Cu | 391 mcg | 1000 mcg | 39.1% | 9.8% | 256 g |
| Selenium, Se | 20. 5 mcg | 55 mcg | 37.3% | 9.3% | 268 g |
| Zinc, Zn | 1.9 mg | 12 mg | 15.8% | 4% | 632 g |
| Digestible carbohydrates | | | | | |
| Mono- and disaccharides (sugars) | 26.66 g | ~ | | | |
| Essential amino acids | | | | | |
| Arginine* | 0. 711 g | ~ | | | |
| Valine | 0.699 g | ~ | | | |
| Histidine* | 0.362 g | ~ | | | |
| Isoleucine | 0.501 g | ~ | | | |
| Leucine | 0. 978 g | ~ | | | |
| Lysine | 0.558 g | ~ | | | |
| Methionine | 0.266 g | ~ | | | |
| Threonine | 0.417 g | ~ | | | |
| Tryptophan | 0. 157 g | ~ | | | |
| Phenylalanine | 0.624 g | ~ | | | |
| Non-essential amino acids | | | | | |
| Alanine | 0.491 g | ~ | | | |
| Aspartic acid | 0. 986 g | ~ | | | |
| Glycine | 0.505 g | ~ | | | |
| Glutamic acid | 2.603 g | ~ | | | |
| Proline | 0.807 g | ~ | | | |
| Serine | 0. 582 g | ~ | | | |
| Tyrosine | 0.497 g | ~ | | | |
| Cysteine ​​ | 0.272 g | ~ | | | |
| Saturated fatty acids | | | | | |
| Saturated fatty acids | 1. 267 g | max 18.7 g | | | |
| 4:0 Oil | 0.001 g | ~ | | | |
| 6:0 Nylon | 0.001 g | ~ | | | |
| 8:0 Caprylic | 0.001 g | ~ | | | |
| 10:0 Capric | 0. 004 g | ~ | | | |
| 12:0 Lauric | 0.015 g | ~ | | | |
| 14:0 Myristic | 0.018 g | ~ | | | |
| 16:0 Palmitic | 0.972 g | ~ | | | |
| 18:0 Stearic | 0. 097 g | ~ | | | |
| Monounsaturated fatty acids | 1.429 g | min 16.8 g | 8.5% | 2.1% | |
| 16:1 Palmitoleic | 0.039g | ~ | | | |
| 18:1 Oleic (omega-9) | 1.384 g | ~ | | | |
| 20:1 Gadoleic (omega-9) | 0. 001 g | ~ | | | |
| Polyunsaturated fatty acids | 2.186 g | 11.2 to 20.6 g | 19.5% | 4.9% | |
| 18:2 Linoleic | 1.97 g | ~ | | | |
| 18:3 Linolenic | 0.166 g | ~ | | | |
| Omega-3 fatty acids | 0. 166 g | 0.9 to 3.7 g | 18.4% | 4.6% | |
| Omega-6 fatty acids | 1.97 g | 4.7 to 16.8 g | 41.9% | 10.5% | |
Energy value Baby food, Porridge, oatmeal, with banana, dry is 399 kcal
tbsp = 2.5 g (10 kcal)
0.5 oz = 15 g (59.9 kcal)
Main source: USDA National Nutrient Database for Standard Reference. More.
** This table shows the average norms of vitamins and minerals for an adult. If you want to know the norms taking into account your gender, age and other factors, then use the application "My Healthy Diet"
Product Calculator
Nutritional value per 100 g
Content per serving
% of RSP
Calories
399 kcal
-%
Proteins
6. 67 g
-%
Fats
6.67 g
-%
Carbohydrates
72.87 g
-%
Dietary fiber
5.2 g
-%
Water
4.7 g
-%
Go to the food diary
Vitamins and minerals
Most foods cannot contain the full range of vitamins and minerals. Therefore, it is important to eat a variety of foods to meet the body's needs for vitamins and minerals.
Find out the content of vitamins and minerals in your menu
Analysis of the calorie content of the product
The ratio of proteins, fats and carbohydrates:
Find out your energy balance for the whole day
Knowing the contribution of proteins, fats and carbohydrates to caloric content, you can understand how a product or diet meets the standards of a healthy diet or the requirements of a particular diet. For example, the US and Russian Departments of Health recommend 10-12% of calories from protein, 30% from fat, and 58-60% from carbohydrates. The Atkins diet recommends low carbohydrate intake, although other diets focus on low fat intake.
Calculate your norms
If more energy is expended than is supplied, then the body begins to use fat reserves, and body weight decreases.
Get recommendations
Get more information and make it happen with our free online course.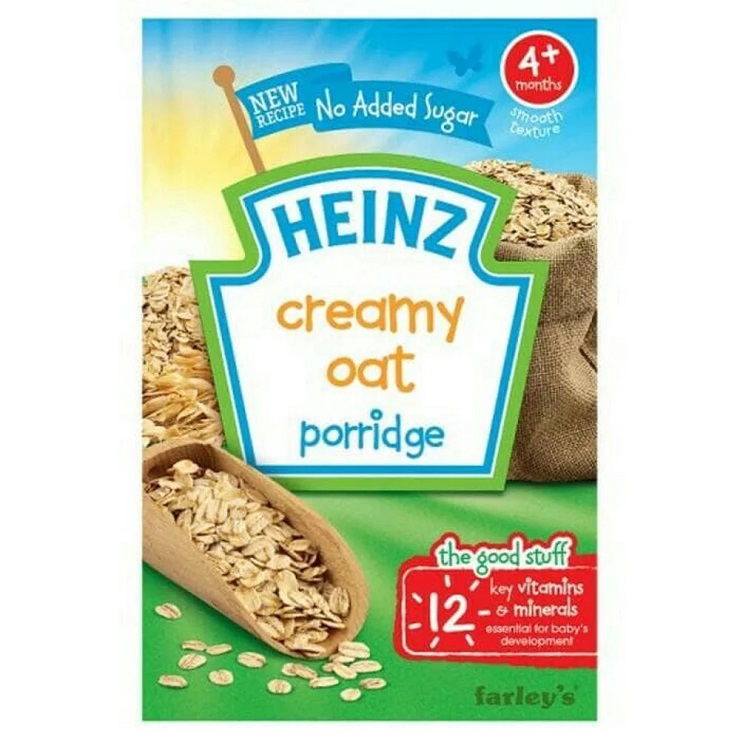 Learn online weight loss course
Try filling out a food diary right now without registering.
Complete the food diary
Find out your additional calorie expenditure for training and get detailed recommendations absolutely free.
Fill in the training diary
Deadline for achieving the goal
Baby food, Porridge, oatmeal, with banana, dry is rich in vitamins and minerals such as: vitamin B1 - 55.5%, vitamin B2 - 55.6%, vitamin B6 - 33%, vitamin B9 - 64.8%, vitamin B12 - 111%, vitamin C - 64.8%, vitamin E - 33.3 %, vitamin PP - 65%, potassium - 24%, calcium - 80%, magnesium - 29.5%, phosphorus - 33.4%, iron - 250%, copper - 39.1%, selenium - 37.3% , zinc - 15.8%
Vitamin B1 is part of the most important enzymes of carbohydrate and energy metabolism, providing the body with energy and plastic substances, as well as the metabolism of branched amino acids. The lack of this vitamin leads to serious disorders of the nervous, digestive and cardiovascular systems.
Vitamin B2 is involved in redox reactions, enhances color susceptibility of the visual analyzer and dark adaptation. Inadequate intake of vitamin B2 is accompanied by a violation of the condition of the skin, mucous membranes, impaired light and twilight vision.
Vitamin B6 is involved in maintaining the immune response, the processes of inhibition and excitation in the central nervous system, in the transformation of amino acids, the metabolism of tryptophan, lipids and nucleic acids, contributes to the normal formation of red blood cells, maintaining a normal level of homocysteine ​​in the blood. Insufficient intake of vitamin B6 is accompanied by a decrease in appetite, a violation of the condition of the skin, the development of homocysteinemia, anemia.
Vitamin B9 as a coenzyme involved in the metabolism of nucleic and amino acids. Folate deficiency leads to disruption of the synthesis of nucleic acids and protein, resulting in inhibition of cell growth and division, especially in rapidly proliferating tissues: bone marrow, intestinal epithelium, etc. Insufficient folate intake during pregnancy is one of the causes of prematurity, malnutrition, congenital deformities and developmental disorders of the child. A strong relationship was shown between the level of folate, homocysteine ​​and the risk of cardiovascular disease.
Vitamin B12 plays an important role in the metabolism and conversion of amino acids. Folate and vitamin B12 are interrelated vitamins involved in hematopoiesis. A lack of vitamin B12 leads to the development of partial or secondary folate deficiency, as well as anemia, leukopenia, and thrombocytopenia.
Vitamin C is involved in redox reactions, the functioning of the immune system, promotes the absorption of iron. Deficiency leads to friable and bleeding gums, nosebleeds due to increased permeability and fragility of blood capillaries.
Vitamin E has antioxidant properties, is necessary for the functioning of the gonads, the heart muscle, and is a universal stabilizer of cell membranes. With a deficiency of vitamin E, hemolysis of erythrocytes and neurological disorders are observed.
Vitamin PP is involved in redox reactions of energy metabolism. Inadequate vitamin intake is accompanied by a violation of the normal state of the skin, gastrointestinal tract and nervous system.
Potassium is the main intracellular ion involved in the regulation of water, acid and electrolyte balance, participates in the processes of nerve impulses, pressure regulation.
Calcium is the main component of our bones, acts as a regulator of the nervous system, and is involved in muscle contraction. Calcium deficiency leads to demineralization of the spine, pelvic bones and lower extremities, increases the risk of osteoporosis.
Magnesium is involved in energy metabolism, synthesis of proteins, nucleic acids, has a stabilizing effect on membranes, and is necessary to maintain homeostasis of calcium, potassium and sodium. Magnesium deficiency leads to hypomagnesemia, an increased risk of developing hypertension, and heart disease.
Phosphorus takes part in many physiological processes, including energy metabolism, regulates acid-base balance, is part of phospholipids, nucleotides and nucleic acids, and is necessary for the mineralization of bones and teeth. Deficiency leads to anorexia, anemia, rickets.
Iron is part of various proteins, including enzymes. Participates in the transport of electrons, oxygen, ensures the occurrence of redox reactions and activation of peroxidation. Insufficient consumption leads to hypochromic anemia, myoglobin deficiency atony of skeletal muscles, increased fatigue, myocardiopathy, atrophic gastritis.
Copper is part of the enzymes with redox activity and involved in the metabolism of iron, stimulates the absorption of proteins and carbohydrates. Participates in the processes of providing tissues of the human body with oxygen. Deficiency is manifested by violations of the formation of the cardiovascular system and skeleton, the development of connective tissue dysplasia.
Selenium - an essential element of the antioxidant defense system of the human body, has an immunomodulatory effect, participates in the regulation of the action of thyroid hormones. Deficiency leads to Kashin-Bek's disease (osteoarthritis with multiple deformities of the joints, spine and limbs), Keshan's disease (endemic myocardiopathy), and hereditary thrombasthenia.
Zinc is part of more than 300 enzymes, is involved in the synthesis and breakdown of carbohydrates, proteins, fats, nucleic acids and in the regulation of the expression of a number of genes. Insufficient intake leads to anemia, secondary immunodeficiency, liver cirrhosis, sexual dysfunction, and fetal malformations. Recent studies have revealed the ability of high doses of zinc to disrupt the absorption of copper and thereby contribute to the development of anemia.
You can find a complete guide to the healthiest foods in the My Healthy Diet app.
Calorie content and chemical composition of other products
Baby food, Porridge, oatmeal, applesauce with bananas, puree
Baby food, Porridge, oatmeal, with honey, dry
Baby food, Porridge, rice, dry
Baby food, porridge, rice, apple puree with bananas, puree
Baby food, Porridge, with egg yolks, puree