Stainless steel ice cube trays for baby food
This Stainless Steel Ice Cube Tray with a lever handle is a durable non plastic product. Just fill, freeze, and pull the lever to cleanly cut your ice cubes.
USD $30.00
Reviews (15)
Description
Reviews
Additional Info
Description
Description
Welcome back to the fifties - but with stainless steel instead of aluminum! This ice cube tray will remind you of the one your parents or grandparents used to have and is perfect for freezing small portions of food -- chopped herbs, crushed garlic, pesto, baby food, and of course ice cubes! Just fill, freeze, and pull the lever to cut your cubes. For easier opening, allow the tray to sit a minute on the counter to warm up before pulling the lever. This ice cube tray is completely plastic-free and is made of high quality 18-8 (304) food grade stainless steel.
We suggest not using other similar looking aluminum ice cube trays available on E-bay or at a garage sale as tiny particles of toxic aluminum could end up in your ice.
Additional information:
Dimensions: Length x Width x Height: 29.21 x 12.7 x 5.7 cm / 11.5" x 5" x 2.2"
Materials: 18-8 (304) food grade stainless steel.
Care Instructions: Dishwasher safe. Clean before first use. If food or dirt gets caught in the mechanism, we suggest cleaning it with vinegar or baking soda in warm water.
Country of Manufacture: Ethically made in China.
Health and Environment: BPA-free, phthalate-free, PVC-free and lead-free. Recyclable.
Packaging: Recyclable cardboard box. 
Reviews
Leslie 2022 Aug 9th
Ice Tray
This ice tray is great! Its a bit more trouble getting the ice out but i'd much rather have this than a plastic tray. Now that I am moving out from home I will have to get another one so my parents can keep this one.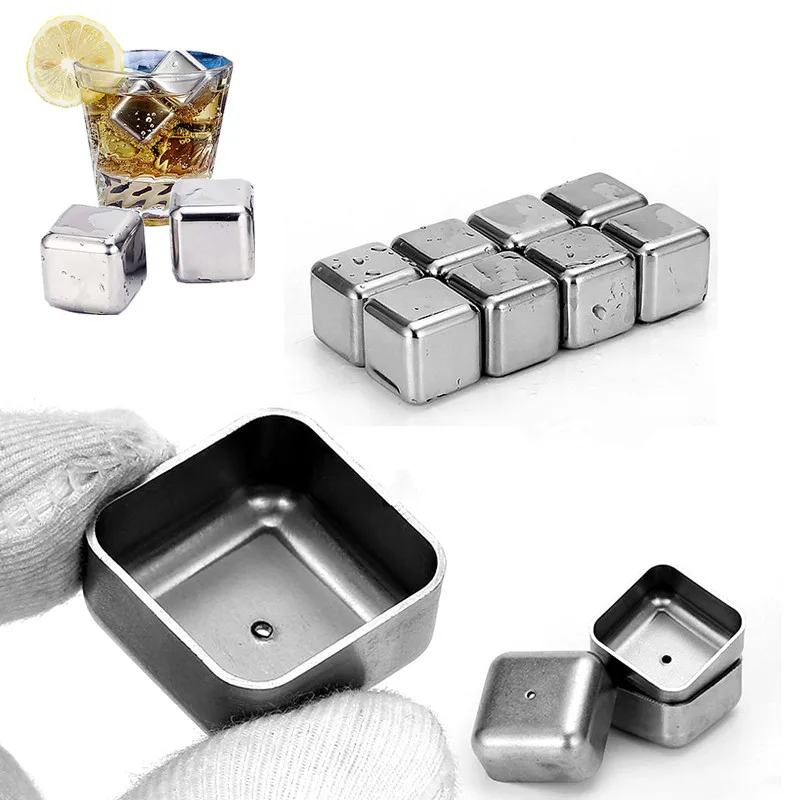 :)
Margret 2022 Jun 7th
Works Great!
Love it! I was a little apprehensive to how it would work, but the ice freezes faster and it's pretty easy to get the ice out.
Dale 2022 Jan 24th
I'm in love!
just so perfect. does the job well and sturdy enough to maybe be the last ice trays I ever need to buy.
Kiki 2021 Nov 1st
stainless steel ice tray
I LOVE this ice cube tray. The water seems to freeze in a different way--clearer, more glass-like,. And I really like the little shards of ice that happen when the lever is pulled and the whole tray of ice cracks. I've been wanting this for a while now and I'm so glad I finally bought it (+ one for my daughter.) Definitely worth it for me.
Kathryn 2021 Jun 4th
Stainless steel ice tray
Love it! Like most who grew up remembering these, I wondered if the arm would be easy or hard to pull up.
It's VERY easy. And water freezes so quickly in this. I'll never want plastic ice trays again. These are fantastic !
Antonietta 2021 May 17th
Stainless Steel ice cube tray
Love this! I was afraid it would be the same as the very old one where it was torture to get ice out of pockets. With this one, truly easy and smooth. So happy with it!! And it is not plastic!!
GMB 2021 May 12th
Perfect
Finally got rid of the plastic ice cube tray. Love this one. Somehow, the ice seems colder, certainly there's more in a tray despite it being relatively narrow. Recommended.
Kayla 2020 Dec 8th
Ice tray
Bought one to see if it'd work, and it works very well! My dad said metal crank ice trays he had growing up would often warp and break, but these seem sturdy! Bought a second.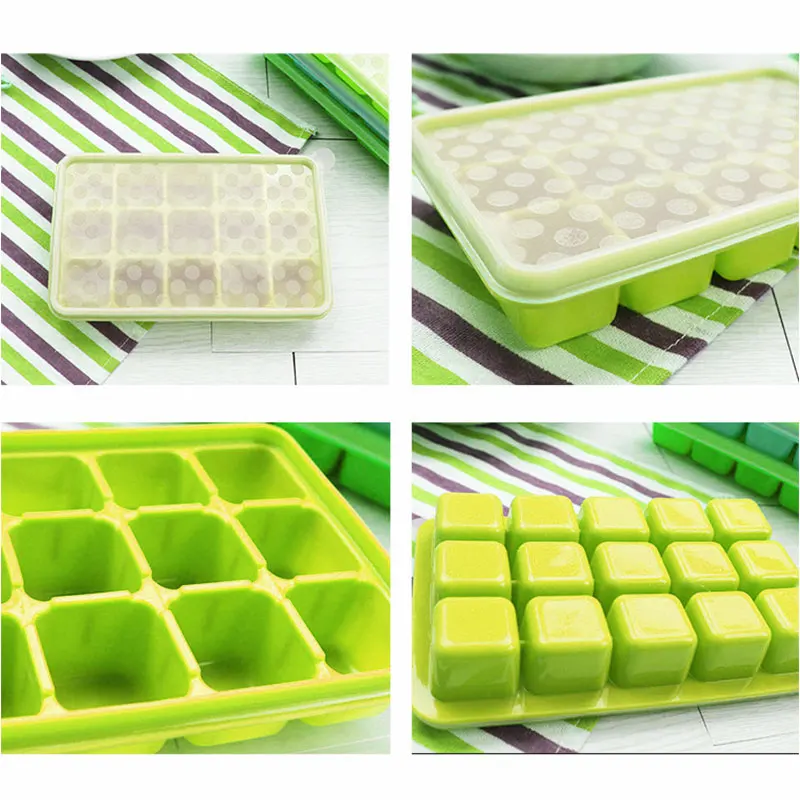 Karen Joslin 2020 Jul 16th
Sturdy and works well
I got this primarily for freezing sauces, pestos, etc. It works excellently for that purpose and also works well for ice-making. I haven't had any problems with the mechanism - works easily for me and cubes come out cleanly. The only reason I gave it 4 stars instead of 5 is because I have the smallest bottom-drawer freezer on the market, so it's challenging to find a good space in my freezer to put the tray in when I want to use it. The main reason it's hard to fit is because the mechanism sticks up a little too far to close the drawer. Most people probably won't have this issue, though.
dot bonnenfant 2020 Jul 11th
ice cube tray... used lots during this hot spell!
The ice cube tray is great! have used it continuously during this hot spell... has made some days bearable because I have ice cold drinks to help me thruout the day.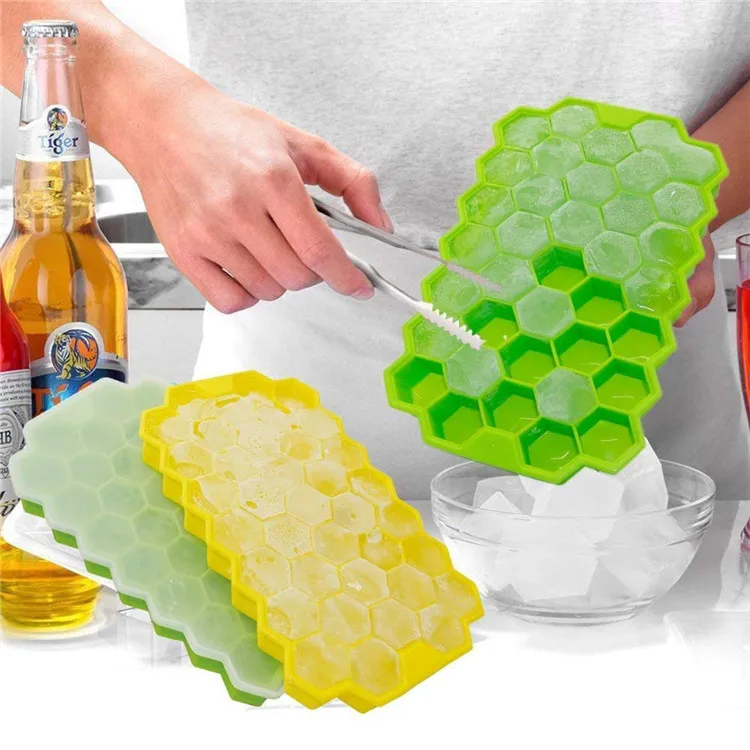 It's well designed! I love the lever to loosen the ice cubes.... to dump into my ice storage bin.... and then I fill it up again!!! it is great
Show more
Write a Review
Additional Info
Share:
Related Products
Metal Ice Cube Tray Made with Stainless Steel
In the Spotlight:
Stainless steel ice cube tray, available from Amazon.
If you're on the lookout for a non-plastic ice cube tray, you should definitely check out Onyx' 18/8 stainless steel ice cube tray (pictured on the right). Manufactured by Onyx Containers, this old-fashioned metal ice cube tray might remind you of the one your parents or grandparents used to freeze water with back in the fifties – but it is made of stainless steel instead of aluminum.
Disclosure: This page contains affiliate links.
By making purchases through these links, you are supporting HealWithFood.org.
Onyx' Stainless Steel Ice Cube Tray
Not only is this beautiful tray perfect for a retro kitchen, it also offers a number of benefits over the cheap plastic molds you can now find everywhere as well as the old-fashioned aluminum ice cube trays that were popular in the fifties:
First, it is made of 18/8 stainless steel, the same metal that is used to make pans and other sturdy kitchen tools and that is considered one of the safest materials for kitchenware that come in contact with food. Like other products made of food-grade stainless steel, this ice cube tray does not contain BPA (bisphenol-A), phthalates, PTFE (polytetrafluoroethylene), or PFOA (perfluorooctanoic acid). BPA and phthalates are controversial chemicals that may leach into foods and liquids from plastic containers, while PTFA and PFOA – which are often used to manufacture traditional Teflon cookware – have raised concerns over the safety of non-stick cookware when not handled properly.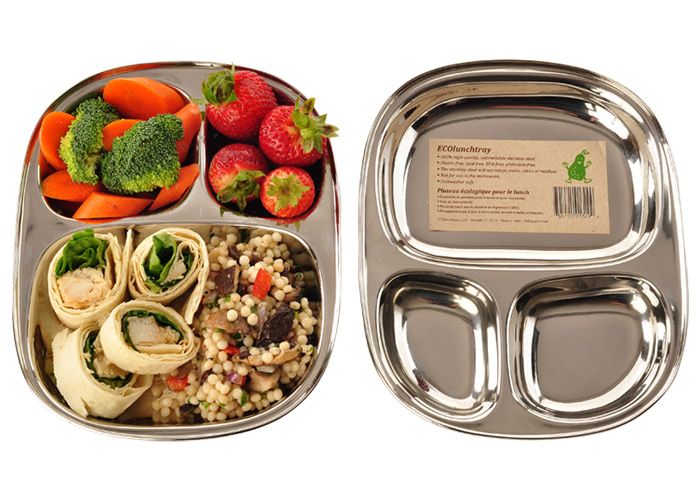 Note: In 2012, the U.S. Food and Drug Administration (FDA) banned the use of BPA in baby bottles and children's cups, but the ban was not extended to other products.
Products made of food grade stainless steel are also considered safer than traditional aluminum kitchenware. Aluminum cookware has been around for a long time, but in the sixties, experts began questioning the safety of cookware made with this silvery-white metal. Today, you may still be able to find old-school aluminum pots and pans, especially in vintage and second-hand stores and even in regular stores (depending on where you live), but if you want to be on the safer side, choose a product made with stainless steel.
How to Get the Most Out of Your Metal Ice Cube Tray
As with all kitchen tools, a stainless steel ice cube tray does not come without its share of disadvantages. For one thing, stainless steel is not exactly the cheapest metal, which means that an ice cube tray made with it may carry significantly higher price tag than a similar product made with plastic.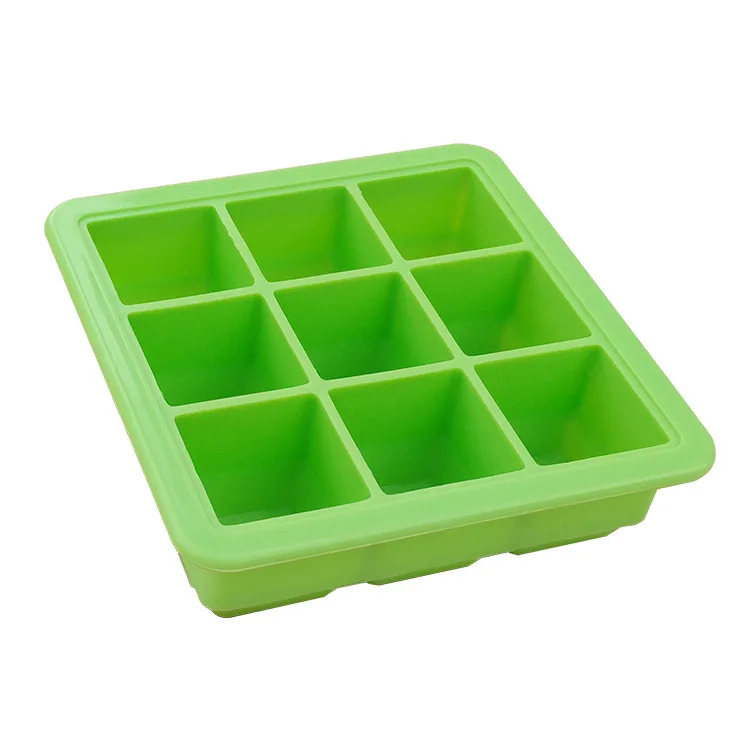 What's more, metal ice cube trays are rather rigid compared with silicon ice cube molds, and getting the cubes out of the tray make require some effort. Here are a few tips that should help you get the ice cubes out of your Onyx stainless steel ice cube tray with minimal effort:
Don't overfill the tray (keep the water level below the rivets that hold the lever in place).
After taking it out of the freezer, let the tray sit at room temperature for a couple of minutes before releasing the cubes
Pull the lever that comes with your Onyx' stainless steel ice cube tray to free the cubes
Where to Buy One in the US, Canada or the UK
Ice cube trays made with food grade stainless steel are perfect for freezing small portions of food – homemade baby food, chopped herbs, coffee (perfect for keeping iced coffee cold), leftover eggs, cooking wine, soup stock, and of course ice cubes! If you live in the US, Canada or the UK, you can order a stainless steel ice cube tray conveniently here through Amazon and have it shipped directly to your home.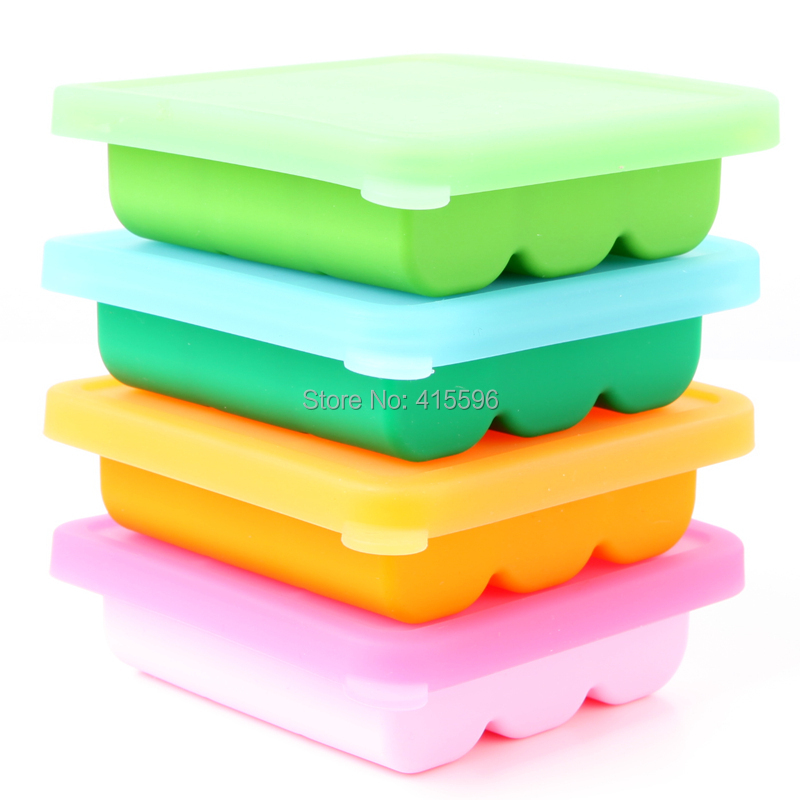 How to freeze baby food - Encyclopedia Baby food
Levchuk Victoria©
Knowing how to freeze baby food, you can cook and store whole batches of homemade food for a child, because this is a real find for busy parents.
Table of Contents:
There are several ways to freeze baby food - they all work equally well - but may take up varying amounts of freezer space.
All ways …
…you should make homemade baby food and then refrigerate it as quickly as possible to prevent bacterial growth. Any food left at room temperature for more than two hours is not safe for a child to consume and should be thrown away.
To cool cooked food quickly, you can try putting it in a shallow container - you can even dip the container in a pot of cold water to help speed up the process.
How to freeze baby food - Method 1
Thoroughly clean the ice mold and the spoon that will be used in filling each section.
An ice tin with a resealable lid is ideal as it protects food from frostbite or picking up any odors from the freezer. If there is no mold with a lid, you can cover with food-safe plastic wrap. Some people use foil, although we don't recommend it as some of the foil will remain in the food!
Place the filled ice cube tray in the freezer, and - once completely frozen - place them in ZIP bags that take up less space in the freezer.
This method produces small portions of baby food that are ideally sized - typically around 30 grams or so. One cube per meal may be enough for a child to start with, but as they grow, you may need to increase the number of cubes at a time or increase the ice cube tray.
You can also make many different flavors of baby food by mixing and matching different fruit and vegetable cubes, for example, the combination of cubed apple puree with cubed carrot puree, delicious!
Which ice mold should I choose?
Some ice cube trays are specifically made for baby food and do not contain potentially harmful chemicals - but you can use a regular ice cube tray, or you might be advised to try a silicone mold, or even stainless steel trays, although the regular plastic version will do.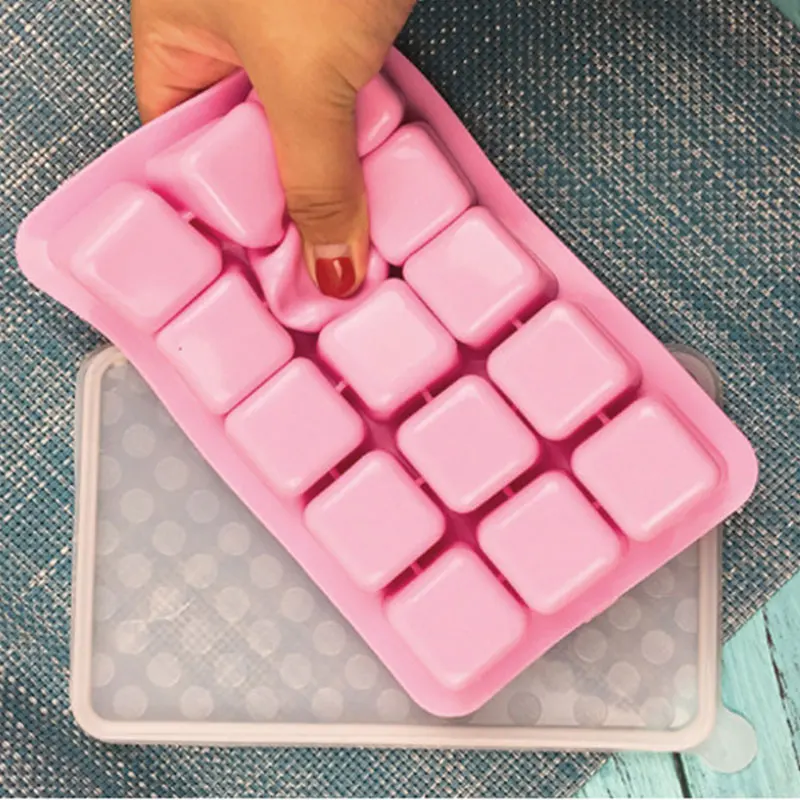 if there is confidence in the quality of the workmanship.
How to freeze baby food - Method 2
Same as method 1, since the process of freezing baby food is the same, only silicone cake molds are used instead of an ice mold! Their flexibility makes it easy to remove food portions - plus, of course, their use is beneficial when the baby starts to eat more baby food!
How to Freeze Baby Food - Method 3
If no suitable freezer containers are available for baby food, baking paper can be used (although a little more freezer space will be needed initially).
Simply spoon the cooked baby puree onto the baking sheet to form small mounds (though note that this will not work if the puree is too thin). We cover the baking paper with cling film, freeze, and then mix the servings of food into bags, as before.
How to Freeze Baby Food - Method 4
Another good way to freeze homemade baby food is to divide the puree into freezer-safe glass jars and place them in the freezer.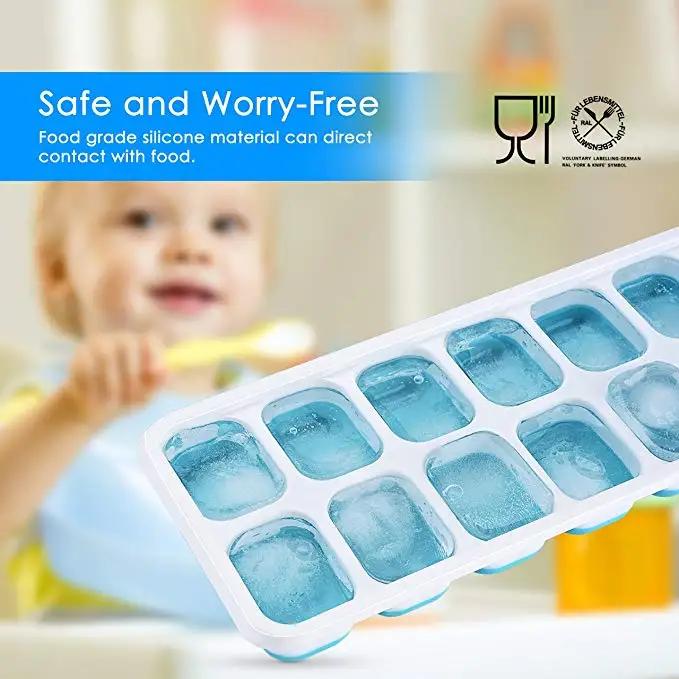 However, please note that you should never freeze baby food in glass jars unless the jar manufacturer has specifically stated that freezing is safe and possible.
Jars that are freezer safe must be properly labeled and distinguished from other tins (including commercial baby food tins) that are not strong enough to withstand the expansion of food that occurs during the freezing process.
This means that the jar may burst or, even worse, there may be small microcracks that cannot be seen with the eyes, but which will allow tiny pieces of glass to get into the baby's food.
How to Freeze Baby Food Method 5
Probably the most popular way to freeze homemade baby food is to use freezer trays or jars for baby food, there are so many options to choose from!
Manufacturers, recognizing the growing trend of parents to freeze baby puree, offer special forms of baby food that make life easier, well, because there is a lid! What's more, these molds are free of potentially harmful chemicals, which is something some plastic trays for general consumption are guilty of.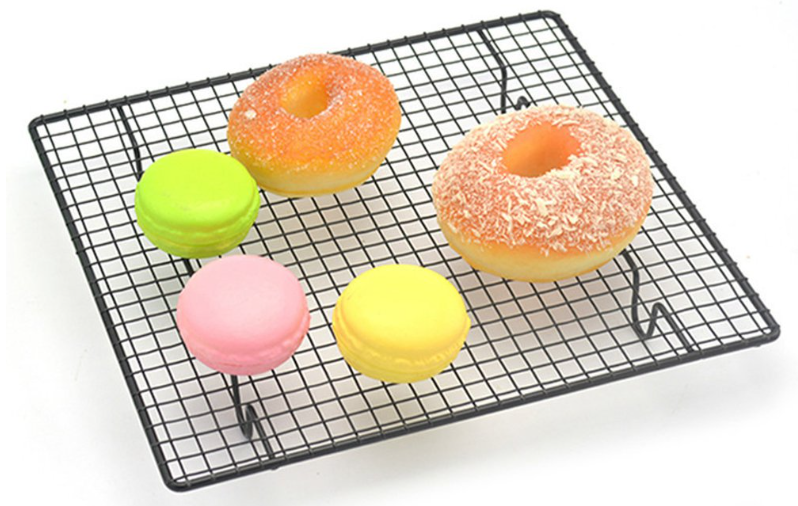 Tracking the finished product
Most types of baby food - especially puree - freeze perfectly. Sometimes you will have to experiment with texture, since the freezing process itself consists in the fact that the water in the product expands when it freezes, destroying the cell walls. This is especially noticeable when the whole food is frozen, for example a frozen banana will be very soft when thawed.
To reduce the hassle of freezing baby food here are some helpful tips...
- Do not puree too thin before freezing. Keep in mind that many foods become watery when thawed (especially fruits and vegetables), adding extra liquid before freezing will then add too much cereal to thicken!
- Herbs and spices tend to lose their flavor in the freezer. If a baby food recipe calls for them, it is best to add them after after the food is defrosted, just before heating.
- Baked foods - like homemade nuggets or fish fingers - are best frozen when almost cooked but not fully done.
This is because the structure of the food when frozen and thawed can behave negatively.
— When freezing yogurt, remember that it may be too thin when defrosted. Sometimes stirring it well is enough to solve this problem - but in some cases, the resulting yogurt is too thin to eat with a spoon, so such yogurt can be used in a smoothie!
- A good result is obtained from freezing rice and oatmeal, which is good if the morning is like a nightmare and there is no time to organize a full breakfast. Only cereals should not be made too thin before they are frozen .
- Many fruits - especially apples and pears - can look very brown when frozen and thawed. This discoloration is a natural and harmless result of the fruit being exposed to air, but if it's a concern, mixing lemon juice and fruit puree before freezing can solve the problem. Please note that citrus fruits can cause an allergic reaction in babies, so you can use it with a changed color!
- If you want to make your own stock of vegetable or meat broth, which is convenient, you just need to prepare a large batch at a time and freeze.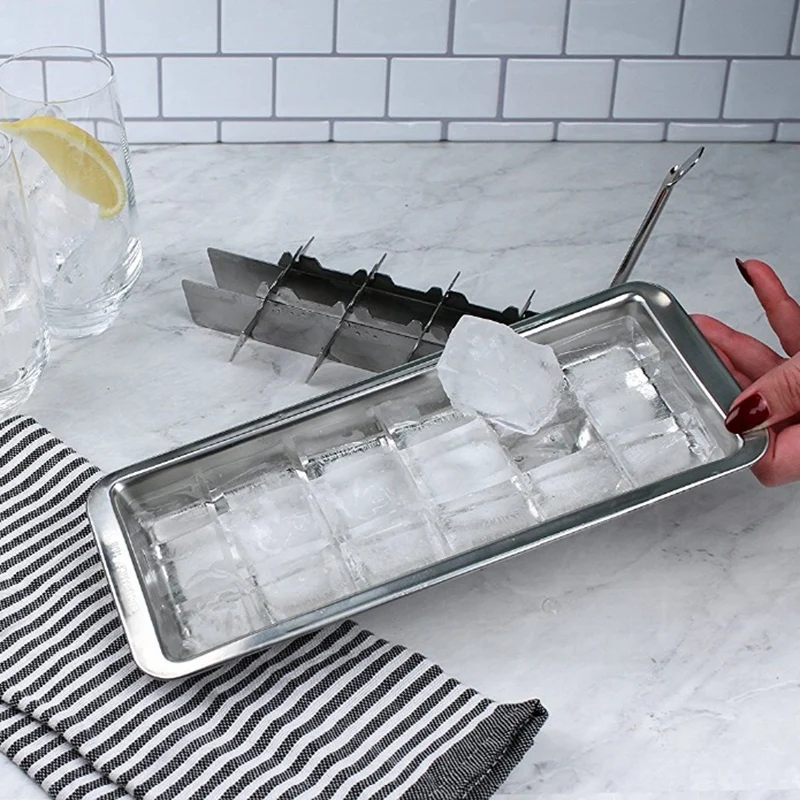 It's worth trying freezing in ice cube trays or baby food trays, as discussed above - then the ideal size of small portions will be in the freezer to use as needed.
- If baby food has been frostbitten, fortunately food safety is not affected - just thaw and then cut or spoon away the affected areas.
How to defrost baby food
The safest and easiest way to defrost baby food is to put it in the refrigerator overnight before feeding. Frozen baby food cubes take 8-12 hours to thaw in most refrigerators. Thawed baby food should be used within 24 hours.
Never, never re-freeze defrosted baby food as this creates a risk of food poisoning for the baby.
Global Online Shopping for Dresses, Home & Garden, Electronics, Wedding Apparel
Looking for something?
We're sorry. The Web address you entered is not a functioning page on our site.
Go to LightInTheBox.com's Home Page.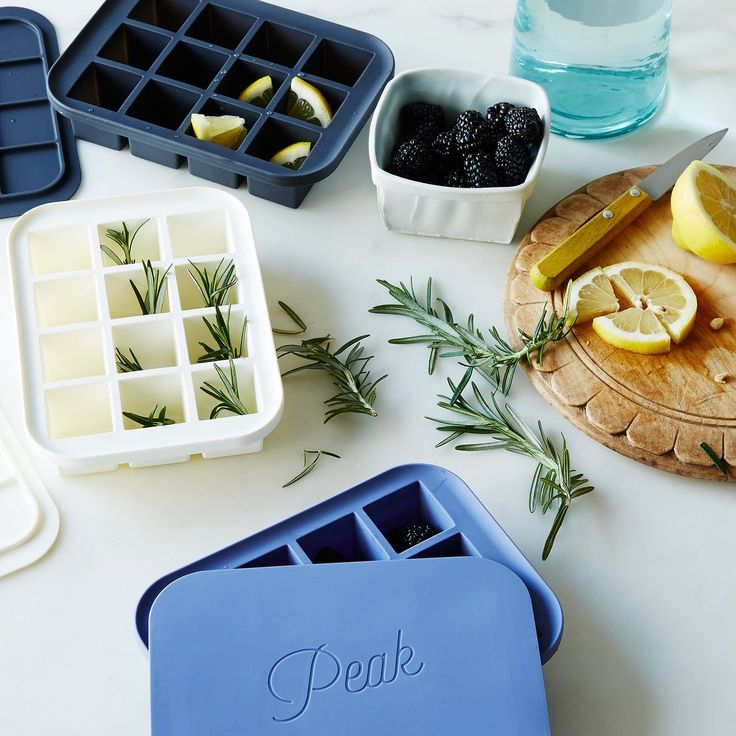 Vous cherchez quelque chose?
Nous sommes desolés. L'adresse que vous avez entrée n'est pas une page fonctionnant sur notre site.
Allez sur la page d'Accueil de LightInTheBox.com.
¿Buscas Algo?
Lo sentimos. La dirección web que ingresó no es una página funcional de nuestro sitio.
Vaya a la Página Principal de LightInTheBox.com.
Suchen Sie etwas?
Die von Ihnen eingegebene Webadresse funktioniert nicht auf unserer Seite.
Gehen Sie zur Homepage von LightInTheBox.com.
Cosa stai cercando?
Siamo spiacenti, l'indirizzo web insertito non corrisponde ad una pagina funzionante sul nostro sito.
Vai alla Homepage di LightInTheBox.
Procurando algo?
Lamentamos, o endereço Web que introduziu não é uma página do nosso website.
Ir para a Página Principal da LightInTheBox.com
Are you looking for something?
Unfortunately, the address you entered does not exist on our site.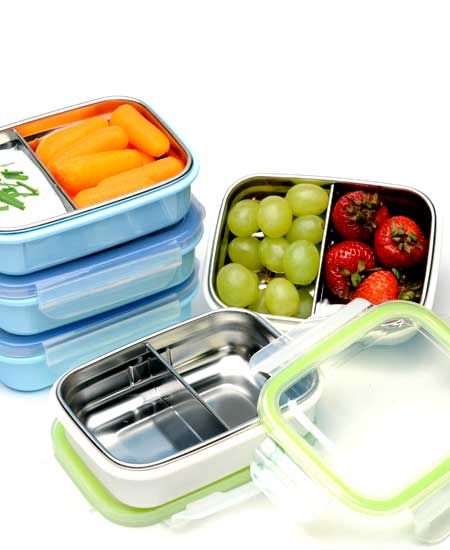 Go to LightInTheBox.com homepage
Ergens naar op zoek?
Sorry, het webadres dat u hebt ingetypt is geen functionele pagina op onze website.
Ga naar de homepage van LightInTheBox
تبحث عن شيء ما؟?
آسفين جدا. ليس من صفحة مشتغلة في موقعنا.
LightInTheBox.com
מחפש משהו?
אנו מצטערים. . . . . . . . . . . . . . . . . . . . .
LightInTheBox.com.
Szukasz czegoś?
Przepraszamy. Address strony, ktory wprowadziłeś jest błędny.
Przejdź do Strony Głównej LightInTheBox.com.
Etsitkö jotain?
Pahoittelemme. Kirjoittamann nettiosoite ei kuulu sivustoomme.
Siirry LightInTheBox.com in kotisivulle.
Letar du efter något?
Viär ledsna. A dressen du angivit leder inte till en fungerande sida.
Gå till LightInTheBox Startsida.
것을 찾고 계세요?
죄송합니다. 들어오신 웹주소는 저희사이트에서
LightInTheBox.com
何かを探していま?
0005
LightInTheBox.