The best organic baby food
The Best Organic Baby Foods of 2022
Feeding
written by JACLYN VORAN
The Everymom's product selections are curated by the editorial team. If you buy something through our links, we may earn an affiliate commission, at no cost to you. We only recommend products we genuinely love.
It's time to start your baby on solid foods—congrats! You and your baby have reached a big milestone.
If you're anything like us, you may feel overwhelmed at where to start. It seems that everyone has an opinion on what's best for babies when it comes to, well, just about everything—and starting solid foods is no exception.
Whether you're taking the puree approach, diving straight into baby-led weaning, or some combination of the two, the most important thing is starting your baby off with a healthy and balanced diet. This means a wide variety of fruits and vegetables, whole grains, and low-fat dairy products (that don't include milk since the American Academy of Pediatrics recommends breastmilk or formula until 12 months before offering them whole milk).
With so many baby food options out there today, it's easy to get confused and to wonder what's best or if there's really any difference.
Is Organic Baby Food Actually Better?
Nutritionally, no. When it comes to chemicals and pesticides, yes.
Research does not suggest that organic food provides major nutritional benefits over non-organic food, according to the American Academy of Pediatrics (AAP). However, organic baby foods may have lower levels of certain pesticides and other chemicals, the AAP says.
The one thing all experts agree on is that offering your baby a wide variety of healthy options, whether they're organic or not, is what matters most.
When Should I Start Giving My Baby Solids?
Most experts recommend waiting until your baby is 6 months old to start solids.
The AAP advises that you make sure your baby is physically ready for solids—they should be able to hold their head up and sit in a high chair or infant seat with good head control.
Another sign of readiness? They open their mouth when food comes their way or when they watch you eating. They may even reach for your food.
What Kind of Food Should I Give My Baby First?
To prevent choking, it's best to start babies on soft or pureed food. Initially, you may want to limit foods to a single ingredient at a time for a few days to watch for any reactions before introducing a new one. After a couple months, your baby's diet should include lots of different types of food, including breastmilk and/or formula, fruits, vegetables, meat, cereal, eggs, and fish.
Our Favorite Organic Baby Food Brands
Best Organic Baby Food Overall
Best Organic Baby Food Subscription
Best Personalized Organic Baby Food
Best Budget Organic Baby Food
Best Big Name Brand Organic Baby Food
12 Best Organic Baby Food Brands to Buy 2022
Getty Images
As a busy parent, time isn't always on your side.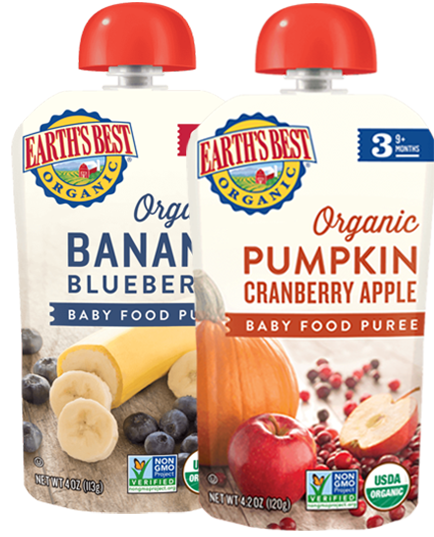 Making baby food from scratch can be stressful and time consuming, especially when it comes to appeasing picky eaters. Luckily, there are several pre-made organic baby food options that take the guesswork out of feeding your child.
Since the National Organic Program of the USDA has developed strict rules and regulations that govern USDA certified organic foods, those carrying the USDA organic seal cannot contain GMOs or any artificial preservatives, colors or flavors. And certain studies show that organic fruits and vegetables have significantly more antioxidant polyphenols than conventionally grown produce. Encouraging an abundance and variety of fruits and vegetables at all ages is key, but organically grown produce can provide some additional benefits without the GMOs or preservatives.
And speaking of ages, our nutrition experts point out that baby food stages aren't standardized but there are general guidelines that many brands utilize. Keep in mind that every baby develops differently, and some babies are ready for stage 2 before they are 7 months old, while others may not be ready until they are closer to 10 months old.
Talk to your pediatrician to help guide you throughout the process, and remember that it's important for babies to advance through the stages on their own time.
As a general rule of thumb, Stage 1 foods generally consist of a single ingredient purees and are ideal for babies ages 4-6 months. Stage 2 foods are best for babies ages 6-9 months and start to incorporate more than one ingredient. Stage 3 foods are for babies 9-12 months, and they feature a lot of different textures and new flavors. Stage 4 foods are for babies at least one year of age and typically indicate that table food can be introduced.
A note on heavy metals in baby food: If you've heard about concerns regarding heavy metals in baby food, it's important to know that they are naturally occurring and enter the food supply from natural sources like soil, water and air. It is nearly impossible to completely avoid these metals, but parents can minimize the risk by feeding their baby a variety of foods.
Opt for grain-based cereals and snacks instead of rice-based options and be sure to limit fruit juices. Our experts say you can and should keep giving carrots and sweet potatoes because they contain important nutrients, but given that they grow in the ground, they may naturally contain higher levels of heavy metals so be sure to serve them along with other fruits and vegetables.
To make sure you're giving your child the very best, we put several brands to the test through a panel of kids, moms and editors to see which organic baby food products are the best for your baby. We've also included information on what measures each brand is taking regarding minimizing heavy metals in their products. Here are the best organic baby foods of 2022:
Once Upon a Farm
Organic Fruit & Veggie Blend Baby Sampler
Once Upon A Farm
SHOP AT AMAZON
Cerebelly
Organic Baby Puree Pouches
Cerebelly
SHOP AT AMAZON
Holle USA
Organic Fruit Puree
Holle USA
SHOP AT AMAZON
Happy Family Organics
Pouches & Jars
SHOP AT AMAZON
Plum
Organics Pouches
SHOP AT AMAZON
Serenity Kids
Organic Savory Veggies and Ethically Sourced Meats Variety Pack
Serenity Kids
$34 AT AMAZON
ALDI
Little Journey Pouches
SHOP AT ALDI
Amara
Organic Baby Food Pouches
Amara
SHOP AT AMAZON
Gerber
Organic Pouches & Freshful Start
SHOP AT AMAZON
Little Spoon
Little Spoon
This subscription-based baby food service brings a unique twist to the traditional baby food we see on the market.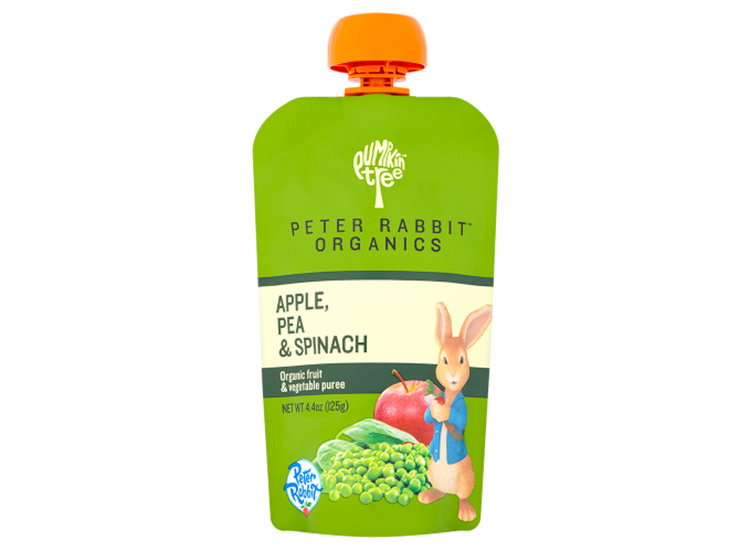 Our nutrition pros appreciate that the organic baby blends feature nutritious ingredient combinations including chia seeds, buckwheat, pumpkin seed and hemp seeds. Plus, they offer a line of small packs called boosters that act as nutritional supplements to mix into your baby's food that our mommy testers loved. You can select from four different types of boosters that are carefully sourced with vitamins, minerals, probiotics and organic produce.
Their line of Babyblends purees are now Clean Label Project verified, which tests for over 400 industrial environmental contaminants including heavy metals and more.
SUBSCRIBE NOW
Yumi
Blends
Yumi
SHOP AT HELLOYUMI.COM
Tiny Organics
Tiny Organics
These organic baby and toddler meals are conveniently delivered to your door and are packed with super nutrients. Our nutrition pros and testers both love that Tiny products are free from the big 8 allergens.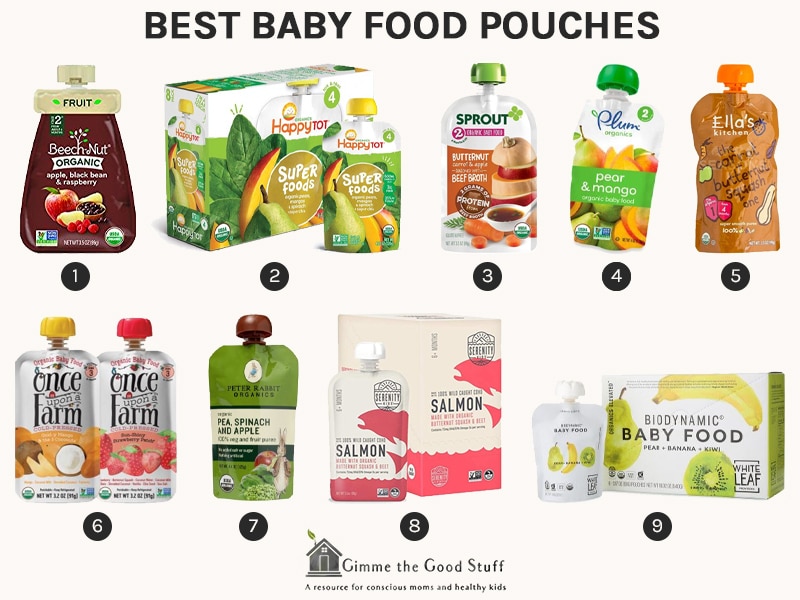 Curated by a team of chef and neonatal nutritionists, the meals are made fresh and shipped frozen. Their new Tiny Beginnings product line has six different plant-based baby meal options to choose from and is created for 4-8-month-olds.
When sourcing ingredients, Tiny's team shared with GH that they require the farmers to provide heavy metal tests on the lots from the year prior and when they harvest the new lot. The team also does internal lab tests on specific ingredients to make sure it is within the brand's specifications. All ingredients are all sustainably sourced within the US from local farms to reduce carbon footprint and are USDA-certified organic.
SUBSCRIBE NOW
How we tested
Registered dietitians in the Good Housekeeping Institute Nutrition Lab evaluated dozens of baby food products, specifically analyzing ingredient lists and nutrition labels. Our nutrition experts prioritized USDA Certified Organic options made with wholesome ingredients and free of artificial preservatives, colors or flavors.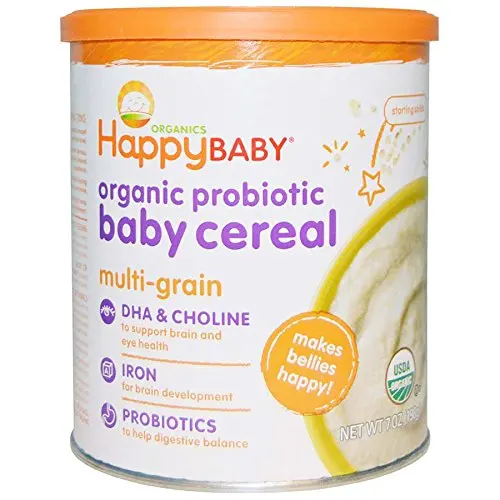 We also investigated efforts that the brands are making to minimize heavy metal exposure in their products. In addition to expert analysis, we recruited a panel of parents and little ones to provide real-life feedback on quality, variety, portion sizes, convenience, packaging and more. We're confident that our top picks are the best organic baby food options to provide exceptional nourishment and quality.
Why trust Good Housekeeping?
As deputy director of the Good Housekeeping Institute Nutrition Lab for the past two years, Stefani Sassos, MS, RDN, CSO, CDN, NASM-CPT handles all nutrition content, product testing and evaluation. She stays up to date on the latest research to provide evidence-based reporting on all things diet and nutrition, and she also runs large-scale tests and analysis for products ranging from protein bars to supplements. She has a master's degree in clinical nutrition from New York University and has been a registered dietitian for six years, working in the clinical setting prior to Good Housekeeping and obtaining advanced credentials and board certifications in the nutrition field.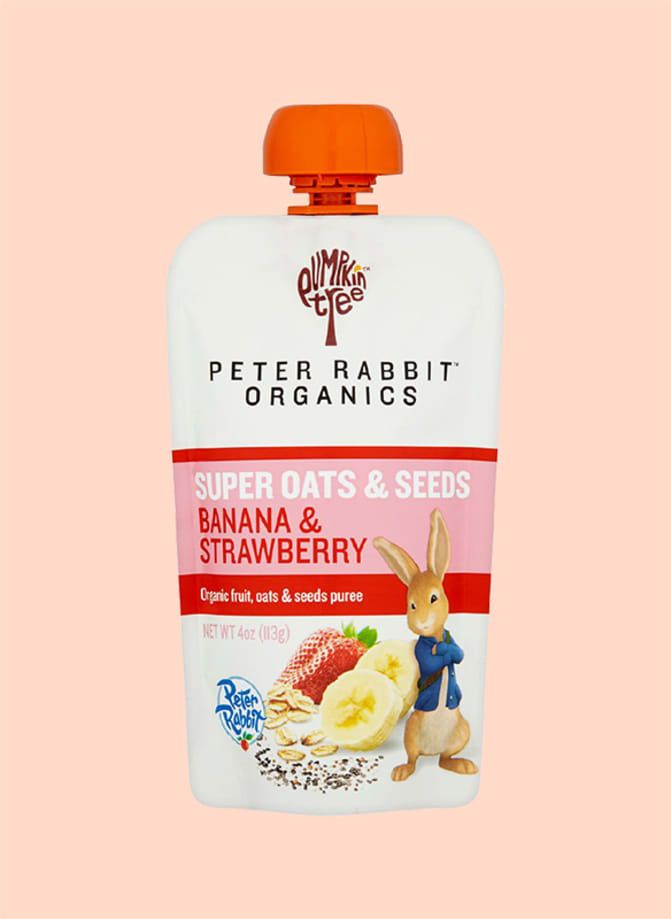 As a new mom to a 6-month-old baby girl, Stefani is personally invested in thoroughly vetting and testing baby food products for her family and yours.
Stefani Sassos, M.S., R.D.N., C.S.O., C.D.N., NASM-CPT Nutrition Lab Deputy Director Stefani (she/her) is a registered dietitian, a NASM-certified personal trainer and the deputy director of the Good Housekeeping Institute Nutrition Lab, where she handles all nutrition- and fitness-related content, testing and evaluation.
TOP-10 best baby food manufacturers
How to choose a baby food manufacturer
Quality nutrition is the key to your child's health and the formation of proper eating habits. Therefore, when choosing a manufacturer, pay attention to the following criteria:
Price category. In pursuit of quality, parents choose the most expensive products for their baby, forgetting that the demand for them will only grow every month. Therefore, it is important to choose the best price for you, which you are willing to pay daily.
Country of manufacture. The quality of the goods produced depends on the country in which the products for the preparation of baby food are grown. And also in different countries there are different quality control and acceptable standards for the content of a particular substance. Technical capabilities also play an important role in production, for example, not all domestic manufacturers are able to produce medical nutrition and formula.
Assortment. It is important that the brand's product line contains as many products as possible. Since the positive reaction of the child's body to a certain product indicates that it will be the same for all the others. And a large selection will not force you to look for another good manufacturer, because baby food is designed for children from birth to three years.
Foundation time. The duration of a company's existence on the market testifies to the quality of its products. Consumer loyalty is earned over the years. Therefore, brands with a worldwide reputation are more trusted.
In order to help you make the right choice, we have prepared for you a review of the best baby food brands, both foreign and domestic. And to make a comparison and choose the best one from them, everyone should be on their own.
Useful selections
Frequently Asked Questions
Is it obligatory to feed my baby with one brand of food?
No, not necessarily. But choosing products from the range of the same manufacturer, you reduce the risk of allergies and other side effects. If your baby has come up with the nutrition of a certain brand, then you should not experiment with others.
Why is industrial food better than homemade food?
The quality of the original products is strictly controlled in production, and you can be sure of the quality of homemade only if you have grown it yourself. Also, the production complies with the norms of the content of useful substances in the product.
For example, pure milk is not used, it is split into components, removing excess fat and some proteins.
Another advantage of factory-made products is that regardless of the time of year, your child's diet will be varied. And many of the goods that the baby needs cannot be prepared at home.
What raw materials do manufacturers use?
Most brands of baby food work with suppliers of various raw materials, and do not grow themselves. Some companies claim to control the process of planting and growing fruits and vegetables at suppliers. They also request a soil sample for self-checking.
But be that as it may, the products entering the production undergo a thorough control for GMOs, antibiotics and other impurities. The quality of products is monitored not only by the company itself, but also by Rospotrebnadzor. Goods entering Russia from abroad are also controlled for compliance with the standards for the content of individual components adopted in the country.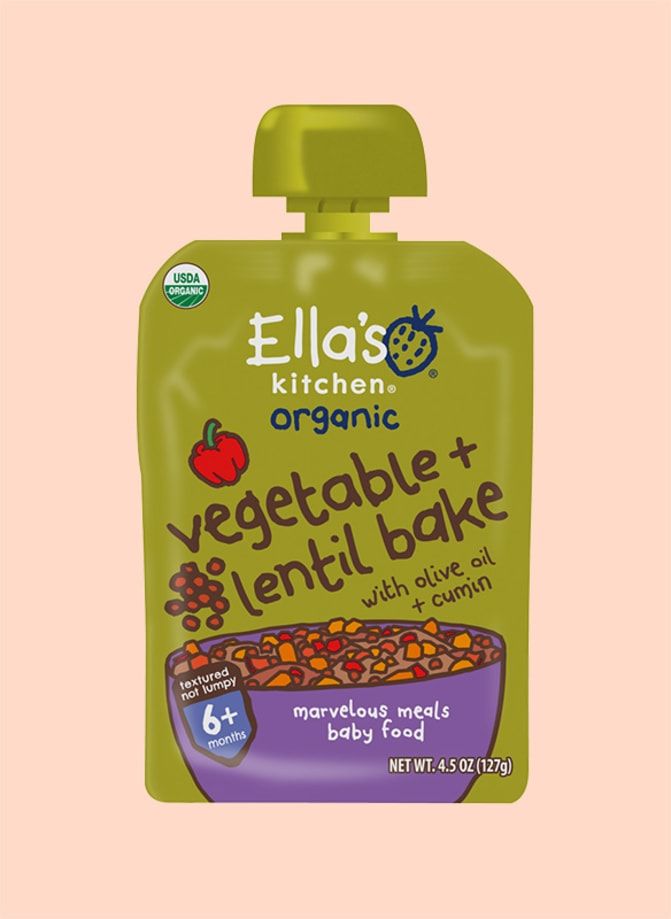 Ask your question
Rating of baby food manufacturers
10. Kabrita
Goat milk products
Country: Holland
Rating (2021): 8
Kabrita products belong to the premium segment. It appeared on the Russian market recently, only 8 years ago, but is already among the top brands. The range of the company is small. All products are made on the basis of an adapted milk formula from goat's milk and are presented in three categories: mixtures, cereals and purees. Suitable for children from birth, as well as for newborns allergic to cow's milk protein. Buyers note a soft creamy taste that kids really like.
Advantages

Goat milk
Natural ingredients
Hypoallergenic
Suitable for children from birth

Flaws

Price
Assortment
No fermented milk products
9.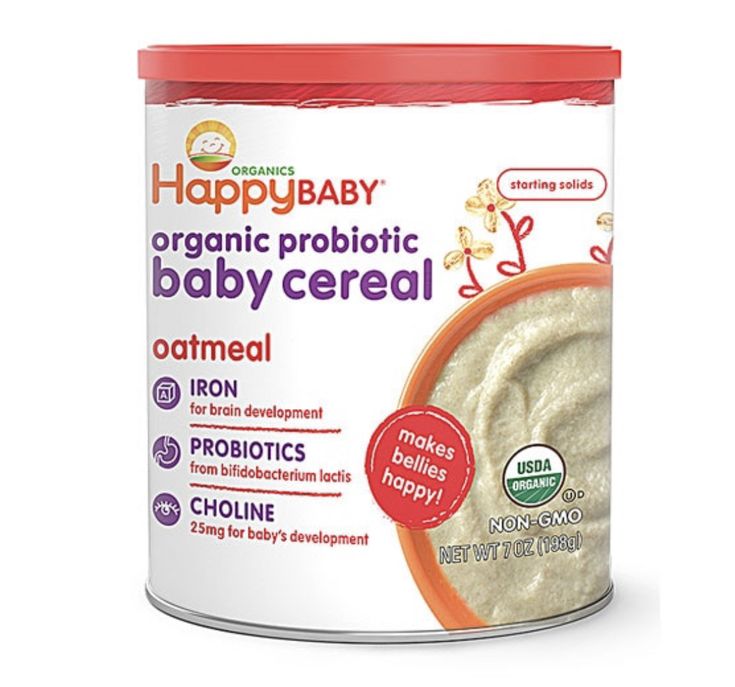 Gerber
Best snacks for kids (bars and snacks)
Country: USA
Ranking (2021): 8
American manufacturer, on the market for almost 100 years. Deservedly has good reviews from moms around the world. The company's products are represented on the Russian market by more than 80 items. These include cereals, various purees, juices, cookies, bars and snacks. The company does not produce mixtures, which means that the products are only suitable for children who are ready for the first feeding. The main assortment of this brand is canned mashed potatoes, there are no problems with the choice, but you will have to look for other products. This is especially true for wheat-oat snacks and rice-wheat stars, which are a feature of the brand.
Advantages

Snacks
"clean" composition
Vitamins and minerals in the composition
Hypoallergenic products

Flaws

Price
No fermented milk products and formula
Not always available in the store
8.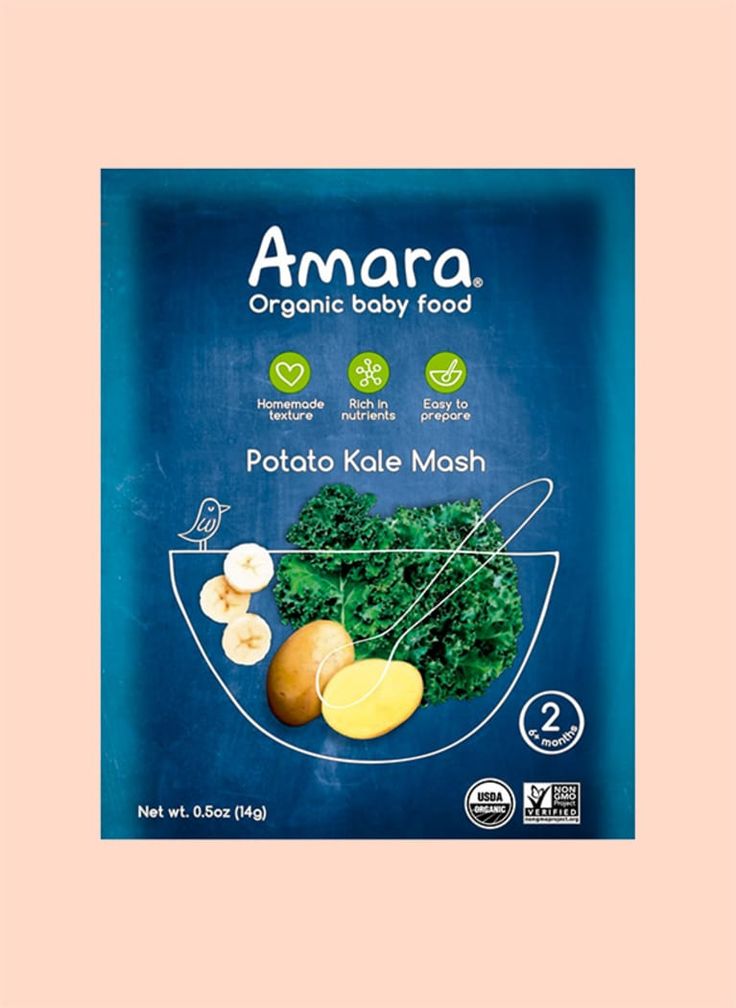 Tyoma
The best baby milk food manufacturer in Russia
Country: Russia
Rating (2021): 8.5
Since 1999, a Russian manufacturer that has been producing baby food for babies from six months. The main specialization of the company is dairy products: cottage cheese, biolact, milk porridge, baby milk and yogurt. The range also includes juices, fruit and vegetable purees, meat and vegetable purees. The company does not use glass jars. Meat purees are packed in cans, which extends their shelf life, and the rest of the purees are sold in pouches, which are convenient to take with you.
Advantages

Price
Assortment of fermented milk products
Packaging
Quality raw materials

Flaws

No formula and cereals
Small product line
Not suitable for children from birth
7. Heinz
The best assortment of cereals
Country: USA
Rating (2021): 8. 5
The Heinz brand is represented on the Russian market by the following products: cereals, puree, vermicelli, biscuits, tea, puddings. Among all manufacturers, the brand has the most diverse range of cereals: dairy, whole grain, low-allergenic, dairy-free, vegetable, drinkable, multicomponent and for grown-up children. The latter are distinguished by a larger grinding that needs to be boiled, which helps the child move from baby food to the general table. The product line also includes meat and fish dishes.
Advantages

Budget brand
Assortment
Ready meals
Products for older babies

Flaws

No mixture
No fermented milk products
Sugar often found in the composition
6. Nutricia
Best baby formula manufacturer
Country: Holland
Ranking (2021): 8.5
Multi-brand manufacturer includes such brands as: Nutrilon, Malyutka, Malysh and Nutricia.
The company specializes in the production of milk formulas in cans, various price categories and a variety of applications. For example, hypoallergenic, sour-milk, lactose-free, anti-reflux and many others. The company also produces cereals, vegetable and fruit purees.
Advantages

Variety
Assortment
Suitable for babies from birth
Hypoallergenic

Flaws

Small product line
No ready meals
No dairy products
5. Agusha
The widest range
Country: Russia
Rating (2021): 9
A Russian manufacturer that has been presenting its products on the market for almost 40 years. Under the Agusha brand, the widest range of baby food is produced, with the exception of powdered milk mixtures and ready meals. Not so long ago, mini breads and fruit bars appeared on the market, intended for a snack for children older than a year.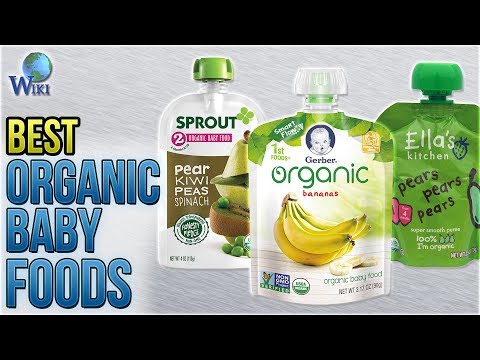 There is also a new triangular packaging with a tube for fruit and berry purees. Among fermented milk products, fermented baked milk can be distinguished, which is not available from other manufacturers.
Advantages

Inexpensive
Assortment
Baby products
Packaging

Flaws

No mix
No ready meals
Ingredients not always perfect
4. Frutonyanya
The best Russian manufacturer, price/quality ratio
Country: Russia
Rating (2021): 9
The company is the leader of the domestic baby food market. A wide range of products includes more than 250 items, with the exception of milk formula. All taste components included in the nutrition are familiar to the Russian consumer. From ready meals, the manufacturer offers soups and liquid cereals, and from fermented milk products - baby milk, biolact, cocktails, yogurt and cottage cheese.
Among the line of meat products stand out meat purees "Halal" that meet the standards of Islam. There is dry food, but not much, mostly porridge.
Advantages

Wide assortment
Price/quality ratio
Ready meals
Dairy products available

Flaws

No mix
Not always perfect composition
Not suitable for children from birth
3. Fleur Alpine
Producer of cereals based on goat and cow milk
Country: Germany
Rating (2021): 9.5
The company has been presenting its products on the market since 2008. The natural composition of products involves the preservation of the natural content of vitamins and trace elements in the product. The company's product selection, in addition to cereals and purees, includes cookies, bars, crackers, drinks, pasta and, notably, butter. I would also like to note that cereals are made on cow, goat and with no milk.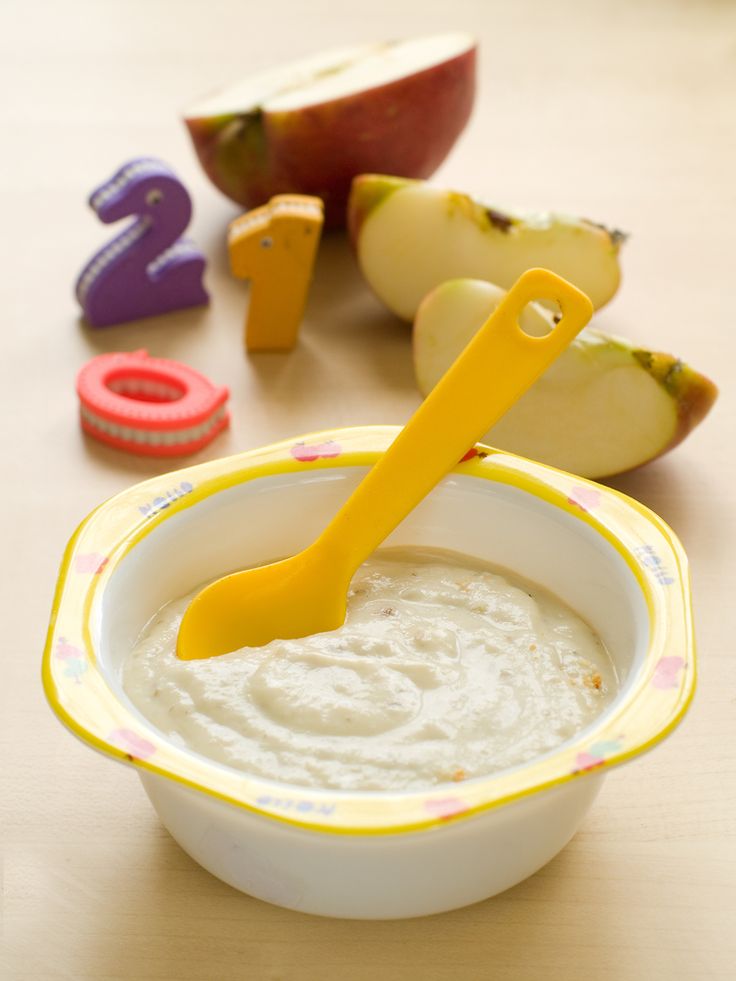 Many products are suitable for children only from the age of three, for example, pomegranate juice and chocolate chip cookies.
Advantages

Natural composition
Assortment
Producer of cereals based on goat and cow milk
Baby oil

Flaws

Price
No dairy products
No formulas
2. Semper
"Adult" dishes for baby food
Country: Sweden
Rating (2021): 10
The Swedish premium class manufacturer Semper has been present on the Russian market for 20 years. During this time, the brand has earned loyalty and trust from customers. The company is included in the list of the most popular manufacturers of baby food in the world. Products are presented for both newborns and older children. The manufacturer does not offer the most diverse menu that is familiar to the Russian consumer.
On the other hand, the assortment contains components and even individual dishes that you will not find in other companies.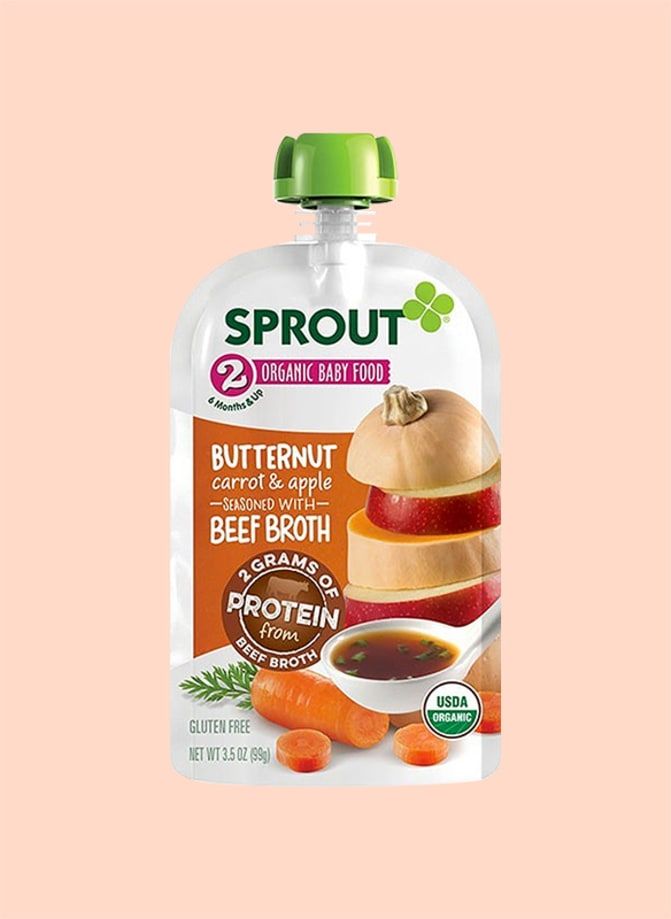 For example, among the individual components - orange, strawberry, mango, and among the dishes - spaghetti bolognese, Italian pasta with trout and all kinds of stews. Also presented is an exclusively Swedish product - walling.
Advantages

Ready Meals
Best Ingredients
Rare Ingredients
All Ages

Flaws

Price
There are no fermented milk products in the assortment
Not available everywhere
1. Hipp
Best foreign brand, strict quality control from soil to finished product
Country: Germany
Ranking (2021): 10
The German company, founded in 1899, first introduced the concept of "organic" in relation to baby food. Raw materials for production are grown on organic farms and plantations. Strict quality control starts with the soil and seeds. Among the ingredients that make up the products, white carrots, parsnips and tomatoes stand out.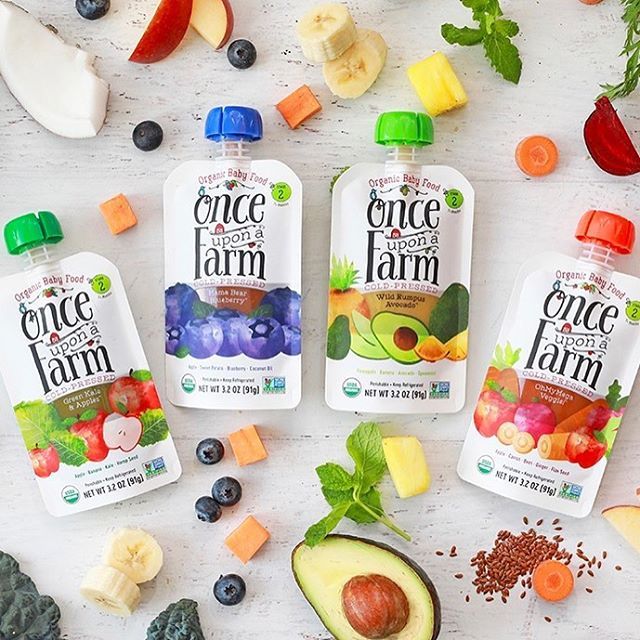 They are rarely seen from Russian manufacturers. The rich assortment of the company does not include fermented milk products. The finished menu is presented in the form of liquid cereals, soups, meat and fish dishes with the addition of vegetables and cereals or pasta.
Advantages

Quality organic ingredients
Ready meals
Assortment
Strict quality control

Flaws

Price
No fermented milk products
Not available everywhere
Baby food: the best foods for babies | Types of products for children
Not all mothers and fathers know what is meant by children's food and when they can be offered to the baby. In the practice of doctors, there are many cases when a baby of 3-4 months is already given cow's milk, and vice versa - at the age of 8-9months still do not introduce meat puree into the diet.
According to the WHO, it is recommended that complementary foods be introduced when the baby is 4-6 months old and should be done while breastfeeding continues.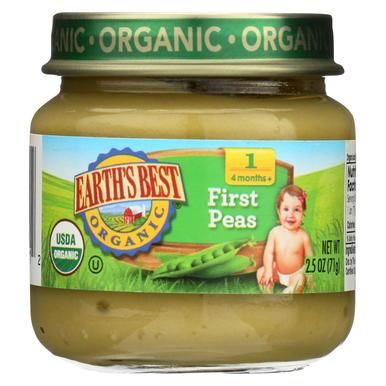 Complementary foods are understood to mean all liquid and solid foods that are offered to the baby - with the exception of breast milk itself and infant formula. In the Russian Federation, the introduction of complementary foods from 4-6 months is recommended.
In this article we will look at what kind of baby food is best for babies, what is recommended to use to expand the menu, how to choose and in what sequence to introduce foods into the diet of a child of the first year of life.
Choose foods for the first feeding
Kashi
Kashi is the best baby food for the first feeding of babies. They are made from cereals, contain a lot of carbohydrates, which give the baby energy for growth and development, and fiber, which contributes to comfortable digestion. This natural and healthy baby food is also a good source of vegetable proteins and fats. All Nestlé® baby cereals are additionally enriched with the Iron+ trace element complex, thanks to which the baby receives iron and other minerals from food.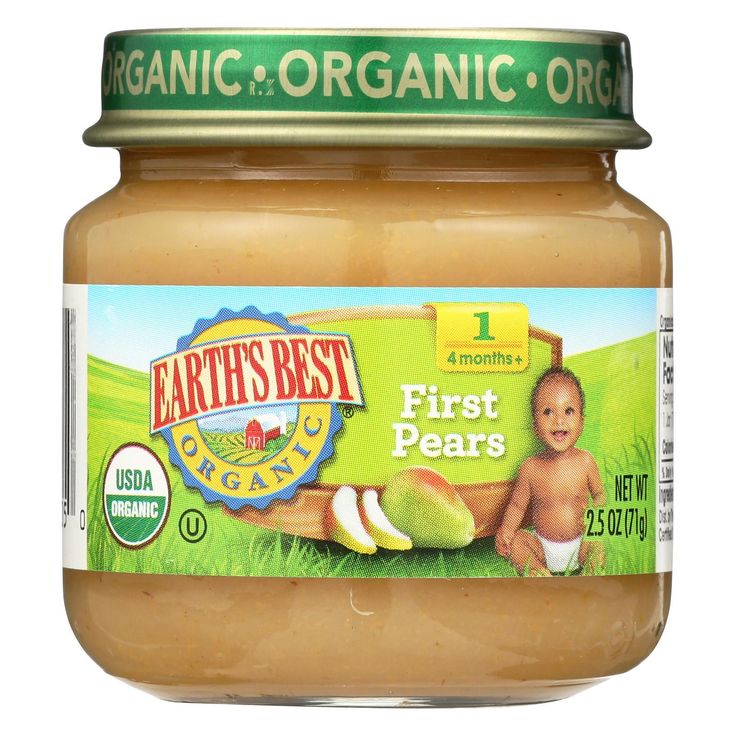 Dairy-free, gluten-free, hypoallergenic cereals - buckwheat, corn - should become the first cereal-based baby products. Then the baby's diet can be expanded and other cereals can be introduced:
Dairy cereals from gluten-free cereals - for example, buckwheat porridge with dried apricots, rice porridge with apple.
Cereals from cereals containing gluten - oatmeal, wheat.
Porridge from a mixture of cereals - multi-grain porridge with pear and peach, banana and strawberry pieces.
Nestle® Kashi is an easy-to-use dry baby food. Just take the right amount of porridge and dilute it with breast milk or water - it's very easy. You can prepare a very tiny portion, which is important when the baby first meets a new product.
Important!
Complementary foods always start with small portions. If your baby is trying porridge for the first time, offer him no more than one teaspoon. Watch out for reactions; if everything is in order - the next day increase the portion to two teaspoons.
With good tolerance, gradually, within 5-7 days, bring the serving volume to the age norm. If, in response to the introduction of porridge, the child develops a rash on the skin, the nature of the stool changes, he becomes restless - do not give this product yet. It will be possible to try again to introduce it into the diet in a month.
Meat
Meat purees occupy a special place among baby foods. They are rich in protein, contain B vitamins, zinc, magnesium, and, most importantly, a lot of well-absorbed heme iron. By six months, the baby's iron stores are depleted, and a reliable source of this element should appear in his diet.
Meat is introduced into the diet as homogenized baby food. It is recommended to start with mashed light white meat - rabbit or turkey - they have the highest iron content. Then the menu includes more nutrient-dense meats: veal and beef.
Vegetables
Vegetables contain carbohydrates, organic acids, fiber, pectin, various vitamins and minerals.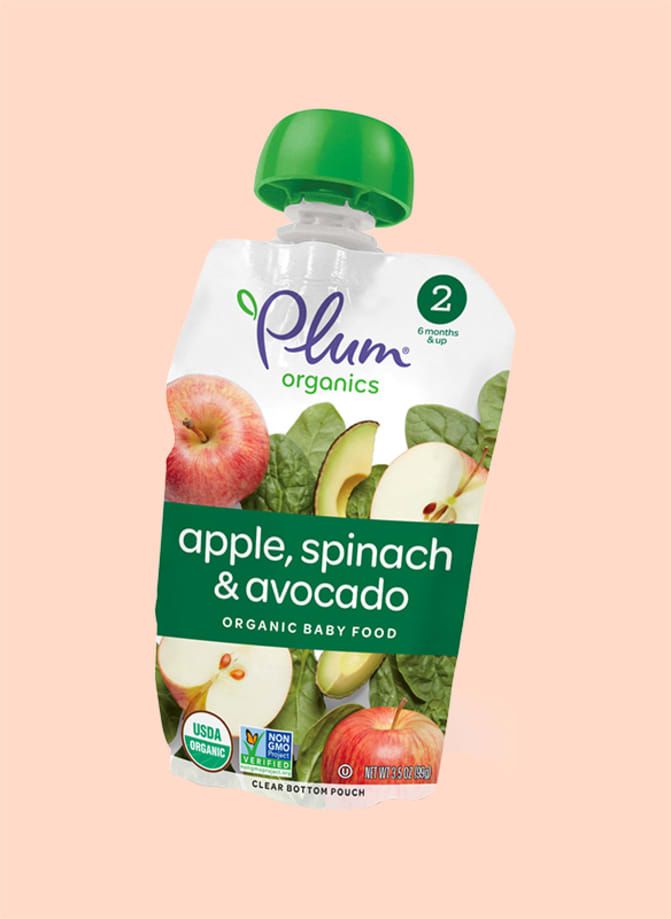 Some of them, such as carrots and pumpkins, literally scream with their orange color about a large amount of beta-carotene, a provitamin from which the body produces vitamin A.
Puree is the ideal consistency for introducing crumbs to vegetables. Therefore, for children aged 4-6 months, all baby food should be homogenized. Pieces of food appear on the menu of the child closer to the year - and then very small.
For the first vegetable weaning, mashed marrows, broccoli, cauliflower are recommended. As your baby becomes familiar with simple foods, you can move on to purees with sophisticated flavor combinations, such as cauliflower and potatoes.
Note
There is a rule: one day - one new product. If you introduced mashed broccoli into your child's diet today, do not offer other new dishes yet.
Egg
Egg is not a first food product. Egg yolk can be included in baby food immediately after the first cereals and mashed potatoes, from 7 months.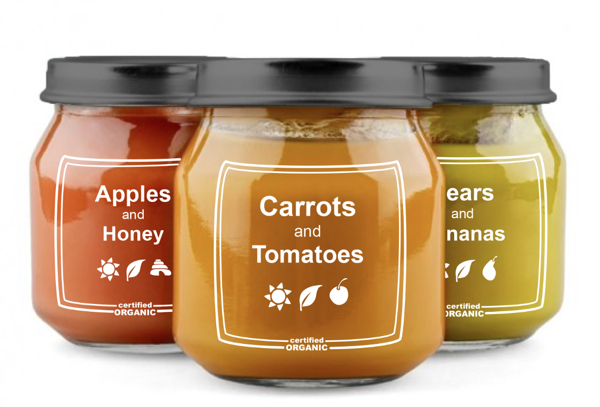 The yolks contain a lot of easily digestible proteins and fats, vitamin A and phosphorus. Choline is especially important - it favorably affects the development of the nervous system.
Fruits
Fruits are not only healthy, but also very tasty, because they contain a lot of natural sugars. They are also rich in vitamins and minerals, organic acids (citric, malic and others), fiber, which contributes to the comfortable functioning of the intestines. Baby fruit products are recommended to be introduced after the first feeding. It is better to start with fruits traditional for our country - apples or pears.
Some mothers think that natural baby food made from fruits can only be prepared at home. Actually it is not. Factory products - the best companies involved in the production of baby food, carefully test raw materials for the absence of heavy metals, traces of fertilizers and other harmful impurities, and are also responsible for the proportions of nutrients declared on the packaging.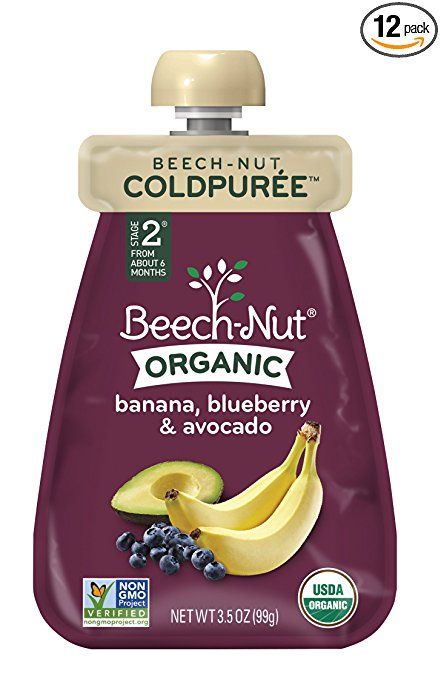 It is impossible to achieve this at home.
Fruit juices
Fruit juices are one of the popular liquid baby food options. They are similar in vitamin and mineral composition to fruit puree (especially juices with pulp) - they contain potassium, iron, vitamin C and many other useful substances. And, of course, juices are a pleasant delicacy that kids really like and greatly expands the palette of baby food flavors.
Juices are introduced into complementary foods simultaneously with fruit puree and according to the same scheme. It is advisable to start with simple drinks from one fruit - for example, an apple or a pear, and only then indulge the crumbs with complex cocktails - such as a mixture of apple, grape and rosehip juices.
Fish
Like meat, fish in baby food will become a source of protein, B vitamins and other trace elements. In addition, it contains polyunsaturated fatty acids that are important for growth and development, which the child's body is not able to synthesize on its own in the right amount.
Babies can be offered fish from 8–9 months, replacing meat with it 1–2 times a week. When introducing fish, you need to remember that children have intolerance to this product. If fish feeding has led to allergies or other undesirable consequences, temporarily exclude fish from the diet and be sure to consult a specialist. It will help you choose the right foods for your baby.
Dairy products
Many parents in Russia believe that cow's milk is the best baby food, and this misconception is actively supported by the older generation. Don't believe it: whole cow's milk does more harm than good to babies and can cause digestive problems. In addition, milk contributes to too rapid weight gain, which in the future increases the risk of obesity, diabetes and other diseases.
Instead of cow's milk, the following solid and liquid baby foods are recommended for babies under 3 years of age:
Baby products containing milk in small quantities, such as industrial milk porridges.
Special for children after one year.
Fermented milk products - special adapted drinks.
Low-fat cottage cheese.
Water
In the first months of life, the baby receives the necessary amount of water along with breast milk. However, as an independent product, water appears in the baby's diet almost simultaneously with the first complementary foods. It is used for breeding dry baby food - dairy-free and milk porridges, as well as just for drinking.
The choice of water must be approached responsibly. Pediatricians recommend buying a baby special bottled water for baby food. It is manufactured in compliance with strict bacteriological standards, does not contain radioactive and harmful chemical impurities, and is characterized by low mineralization. For parents, this water is convenient because it does not need to be boiled - but only if used within a day after opening the package.
Herbal teas
There are many herbal teas now available that are specifically designed for baby food.
They contain medicinal herbs and fruits - fennel, mint, anise, chamomile, rose hips, raspberries and others.
Sometimes berries, fruits, natural sugars are added to children's tea - this way the drink becomes more attractive for a little gourmet.
These children's products are a natural pharmacy that provides the baby with a complex of useful substances. However, some active components of herbal drinks can cause allergies, so tea should be introduced into the baby's diet with extreme caution.
Consult your paediatrician before starting complementary foods. A doctor who has been observing your child since birth will tell you what foods will benefit him, where to start getting acquainted with new dishes, and what points you should pay attention to.
1. National program for optimizing the feeding of children in the first year of life in the Russian Federation. Union of Pediatricians of Russia. Moscow 2019.
2. Feeding and nutrition of infants and young children.