Twin baby feeding station
Products | Twin Baby Feeding System
Roll over to zoom +
---
Choose a seat insert fabric below to view image.
PATTERNS
DESIGNER SOLIDS
BOY/GIRL
Table for Two
Price: $339.00
Quantity:
Seat Insert Fabric: Choose a fabric...Geo - Tan & WhiteGEO - Turquoise & WhiteGEO - Black & WhiteSeersucker PinkSeersucker - BlueArrows-GreyGotcha-PinkGotcha-NavyZig Zag-GreySolid-Baby PinkSolid-Baby BlueSeersucker - Blue & PinkSolid-Pink & BlueGotcha-Navy & Pink

Email to a friend
Close
Email this to a friend
Your Friend's Email AddressMessage
Your name:Your email:
Please enter the word you see below:
Description:
**DUE TO THE HIGH DEMAND WE ARE CURRENTLY ON A FOUR WEEK DELIVERY TIMEFRAME.
 WE PROMISE TABLE FOR TWO IS WELL WORTH THE WAIT AS IT IS TRULY A LIFESAVER FOR PARENTS OF TWINS AND WILL BE USED DAY IN AND DAY OUT FROM BIRTH TO APPROXIMATELY TWO YEARS OLD.

Table For Two is an innovative and patented product designed to easily bottle feed two infants at the same time. The main base is constructed of 100% high density polyeurethane foam, which is extremely sturdy and comfortable. There is a safety harness provided to securely buckle your infants in. The cover is made of 100% water resistant polyester so it can easily be wiped clean.
For added comfort and style, Table For Two comes with a set of decorative padded seat inserts and headrests with fabric of your choice. Simply velcro the inserts in and out, so you can easily toss them in the washing machine if they get dirty.
Table for Two also features a bottle holder on each side so you will never spill your milk or mix up your babies' bottles again! Table for Two also includes a convenient carrying handle, located on the back of the product--this is great for moving it around the house or taking it on road trips.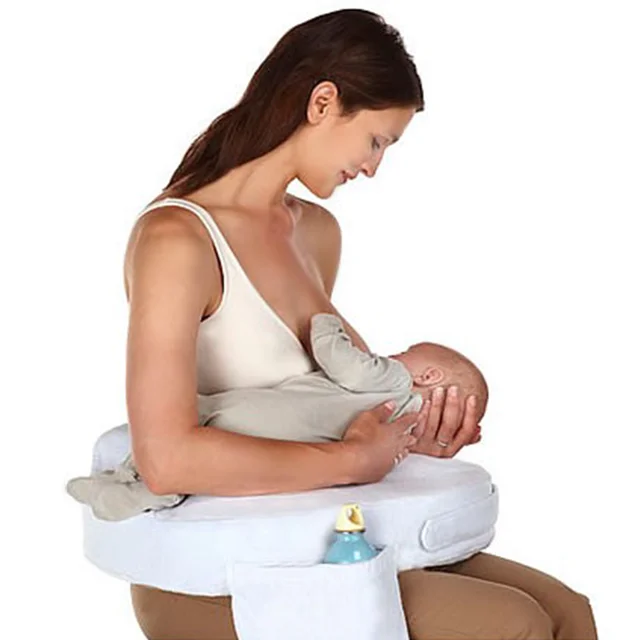 And one of the most favored features is the armrests for the feeder to rest their arms on which alleviates the strain from your neck, back, and arms! So not only do your twins dine comfortably, so do you!  

RECOMMENDED AGE 
Table for Two is truly a lifesaver for parents of twins and designed for the bottle-feeding (and spoon-feeding) stage which is birth to 12 months old.  We do offer a preemie/newborn insert that is listed under products that really helps to snuggle them in when they are preemies/newborns.
Table for Two makes the hardest part of twins (feeding times!) the easiest and most stress-free time of your day! You will get such great use out of it at every feeding (and lounging) time for the first year. However, you can definitely still use it past one year.  After the first year, Table for Two will become your toddlers' favorite double lounger! Great for watching cartoons, eating snacks, etc! 
Don't forget to check out our full line of accessories custom made for Table for Two!
Table for Two is a must-have product for all parents of twins!  
**Due to the high demand of our product, please allow 2 - 3 weeks for delivery.
If you need your order immediately, rush option is available at checkout. Replacement parts and  accessories (ie; reflux pillows, travel bags, snack trays, and extra seat inserts ordered separately) will be shipped out immediately. We promise you that Table for Two is well worth the wait as it is truly a lifesaver for parents of twins! We truly appreciate your patience and look forward to helping make you and your twins lives a million times easier!
Rush option is available at checkout. All orders are shipped UPS Ground. Shipping is only available in the continental U.S. Please email customer service at [email protected] for international shipping rates. 
Details:
The patented foam design features a perfected angle for bottle feeding, while the safety harness holds the babies securely in place.
Accessories: Table for Two offers a complete line of stylish and trendy fabrics to compliment your nursery or home
Measurements: Table for Two measures approximately 38" long, 22" wide, and 12" high
Weight: Weighing 13 pounds, Table for Two was designed for safety and sturdiness
Materials: The main base is constructed of 100% high density polyeurethane foam, the cover is made from 100% water resistant polyester, and the inserts are made from 100% cotton
My Cart
0 items in your cart.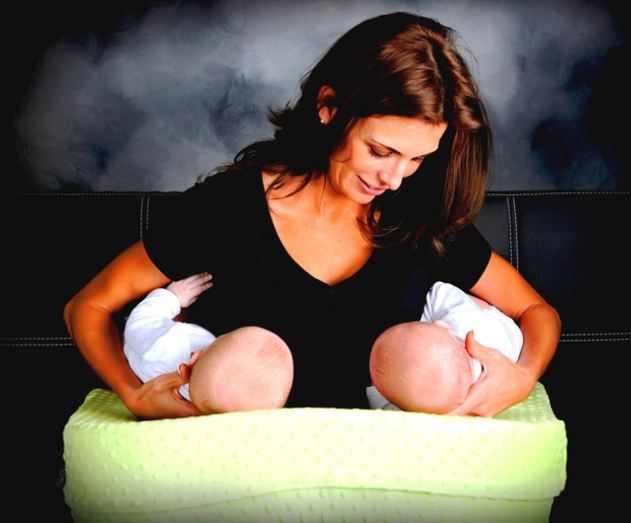 Total: $0.00
Table for Two Twins, Please! Why Do You Need One?
Synchronizing your babies' schedules has been the most optimal way of tackling tandem feeding until now. When Lindsey Sandefur invented the Table for Two Twins it completely revolutionized how we feed our twins.
If you haven't thought about getting one by now, this article will explain why you need to get one and how it will change your life. 
You might think that you already have enough twins furniture, but we urge you to think twice when considering buying a table for two twins.
The motto behind the Table for 2 product is "Life is better when twins dine together." This couldn't be truer. Perhaps the biggest struggle for parents of twins are feeding their babies at the same time. This task usually involves the help of the two parents, and if one is left on their own, it becomes a total disaster.
 With the Table for Two Twins, you don't need to be showcasing your juggling skills anymore.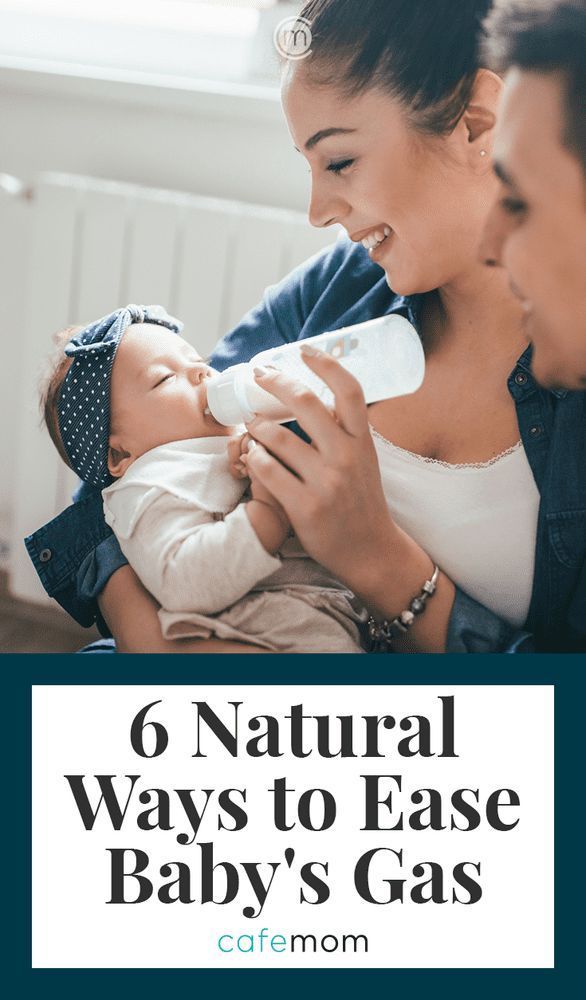 It's a lifesaver for all parents of twins. This secure, sturdy twin feeder saves time, energy, and sanity and makes mealtime more comfortable for you and your twins. Table for Two is a must-have product for all parents of twins! 
So what does the Table for 2 feature? First of all, it has a safety harness to ensure that your infants are being held securely in place to avoid things getting messy and so that your babies don't choke. You are sure to have your babies positioned in the perfect feeding posture to aid in digestion and help relieve the symptoms of reflux, colic, colds & breathing difficulties when you bottle feed them.
The founder of Table for Two Twins has definitely thought about the parents' needs, as well. The comfy armrest alleviates straining from your neck, back, and arms. Plus, only one parent is required during each feeding.
The Table for Two is a long-term investment because it can be used to bottle feed not only infants but also toddlers who consume solids.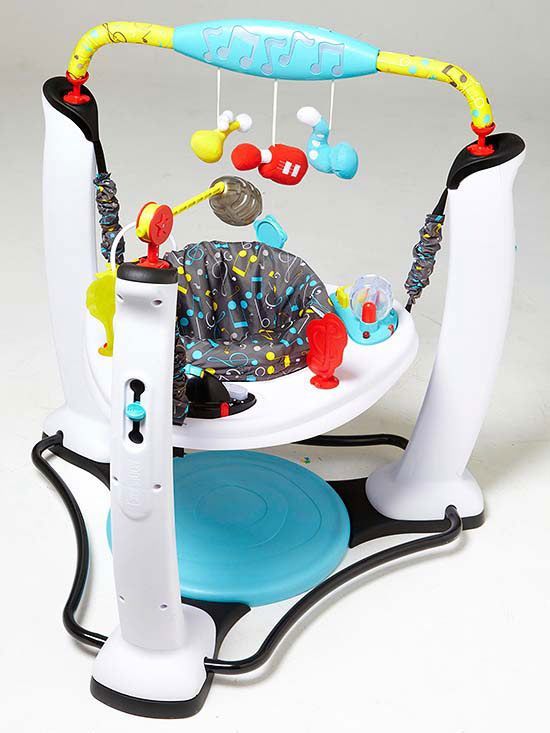 It easily becomes your toddler's favorite double recliner!
And that's not all. The Table for Two Twins also features convenient bottle holders to ensure no more spilled bottles. Plus, it has super stylish and comfy machine-washable seat inserts, guaranteeing a comfortable dining experience for your babies.
From Infant Feeding Table to Toddler High Chair
You're probably wondering how you will feed your twins once they become toddlers. Although Table for 2 is the ideal infant feeding table and suitable for young toddlers, you might want to look for an alternative once your babies grow significantly.
The most obvious choice is a high chair, a great convenient option for tandem feeding your toddler twins. We love the Baby Trend Sit Right High Chair because it's one of the safest, easy-to-use, most convenient options that support your twins in developing their tastes and flavors as they grow.
It features 6 heights and 3 recline adjustments to ensure that your toddlers are sitting in the best feeding position.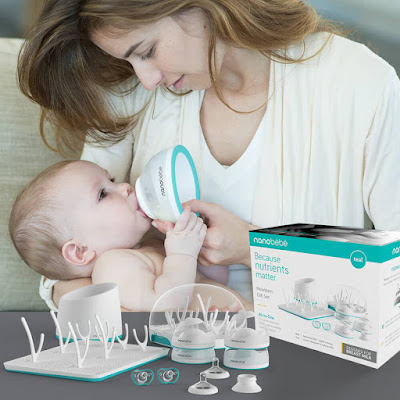 This Sit-Right High Chair is easy to clean, foldable, and has a dishwasher-safe tray insert.
Another great feeding twins furniture for toddlers is a portable, stable chair that you can bring to a day at the beach with your twins, camping, or a garden party. The hiccapop Omniboost Travel Booster Seat with Tray is ideal because it features a gentle restraint system ergonomically designed to keep even the most wiggly toddler in place and cozy. It's also made for ease of use because the buckles are easily released using only one hand. This is the perfect twin baby stuff item to have handy at home.
Useful Feeding Twin Baby Stuff
When it comes to feeding your babies, it's not all about the infant feeding table. There are quite a few other items involved in the perfect twins feeding. 
For example, you need the best bottles to bottle-feed your babies. We love the Comotomo Baby Bottle because it's designed to mimic breastfeeding closely to reduce bottle rejection and nipple confusion issues.
Moreover, the dual anti-colic vents prevent unwanted air intake and reduce colic. Choose between the Comotomo Baby Bottle in Pink for your twin baby girls and the Comotomo Baby Bottle in Green for your twin baby boys.
Another extremely useful baby feeding item that will make your life 10 times easier is a bib. Babies can get super messy when being bottle-fed, especially if they tend to be fussy eaters, and investing in a baby bib will save you lots of hassle.
The Womb Mates Matching Bibs by TwinStuff are ideal for that purpose. They are ultra-soft and breathable and made from 100% cotton. But most importantly, they are super funky and adorable – definite twin-baby stuff must-have.
Where to Find Cheap Twin Baby Stuff?
We understand that bringing up twins might not be the cheapest luxury in the world. It's not enough to buy baby gear for one baby, but now you have to invest in lots of twins' furniture, some of which can be pricey.
The twins' furniture options we give you are a mixture between the best quality and the most affordable price, so you can never go wrong with them.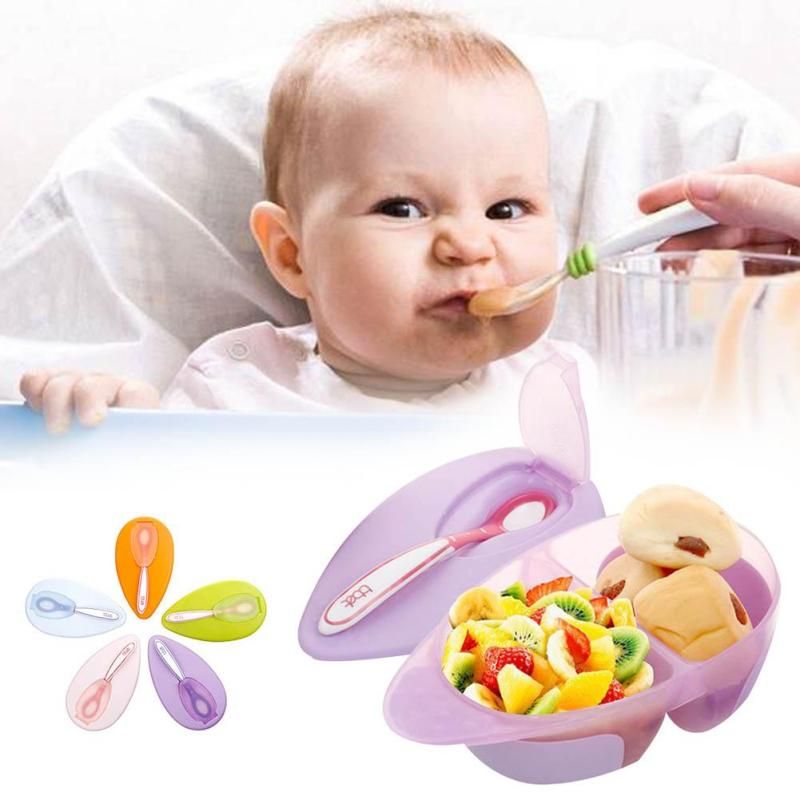 But if you want something extra affordable, we recommend you look for used twin baby items for sale.
Many websites offer top-notch second-hand baby gear at amazing prices, such as threadUP, Mercari, and Poshmark. It's also worth joining some of the many baby swap groups on Facebook and seeing what you can find there.
Table for Twins: Lifesaver
You do not need to spend endless hours trying to tandem feed your infant twins. The Table for Two Twins is a lifesaver for you and your babies. It's a unique long-term investment, and it comes with tons of useful features. Once your twins are grown-up toddlers, it's best to invest in a high chair and a portable baby chair for those memorable days at the beach.
But what makes the perfect twins' feeding experience isn't just a good infant feeding table. Rather, there are quite a few baby items that are worth getting to facilitate easy baby feeding. 
how to organize the process - GBUZ RK "SDP No. 3"
The birth of a child is both a joyful and exciting event.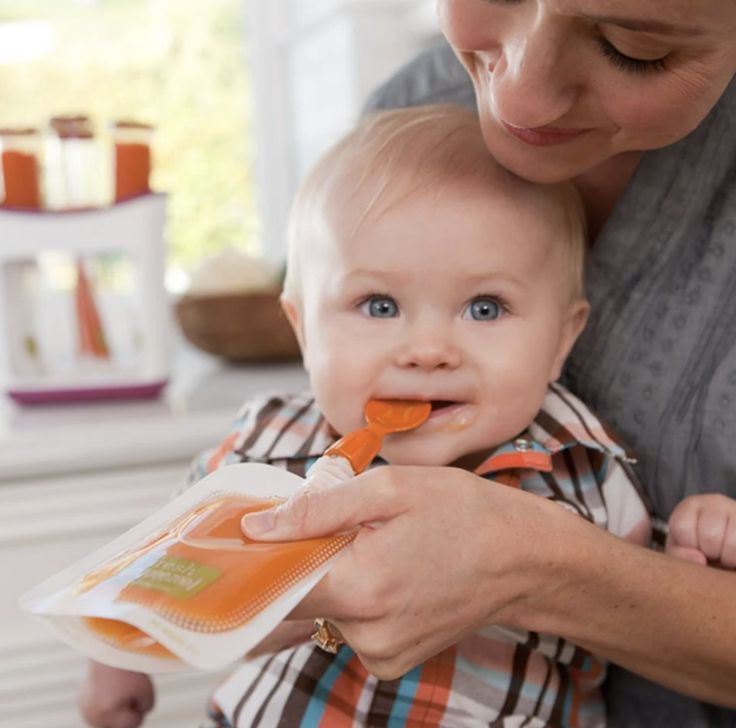 If young parents are planning the appearance of twins or triplets, then the scale of expectation grows many times. Quite often, future parents think that there is not enough breast milk for all the babies, and they begin to plan what mixture they will use after childbirth. Fortunately, such thoughts are erroneous, with the right approach and attitude, breastfeeding will be the key to good health for babies and peace of mind for mothers.
Will there be enough milk
Immediately after birth, the process of colostrum production occurs, it will be enough to feed two babies for 2-4 days. Further, the amount of milk will depend on the frequency of feeding babies. The more often you feed your babies, the more milk will be produced. At first, newborns need to be fed only on demand so that the mother's body understands how much milk is needed for children and can produce the right portions. If the children are not always with their mother, she will need to express milk all the time in order to establish the correct lactation process and not lose it.
Then it is better to switch to breastfeeding twins according to a certain regimen - this will help organize the daily routine and it will be much easier for mom.
Organization of the feeding process
Babies are not born with the ability to breastfeed, but they learn to do it correctly very quickly. It is important to start putting babies to the breast as early as possible, preferably from the first hours of life. At the hospital, nurses or breastfeeding consultants will help you breastfeed your babies. At home for the first time, until you get used to doing it yourself - you will need the help of a husband, relatives or girlfriends. You just need to remember that if one baby asks to eat, you need to attach both to the chest. First attach more impatient, and the second after him.
How do you add three?
When breastfeeding three, you will need a helper to help you with your third baby while you feed two. Attach two children for ten minutes to two breasts, and then the third to each for five minutes.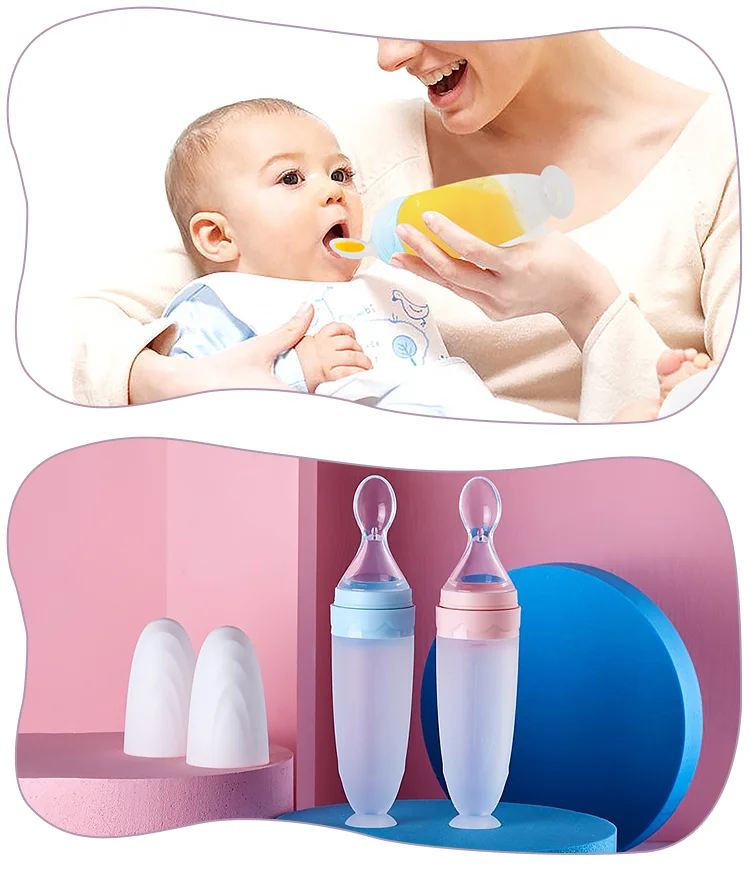 Change babies at the next feeding. If you are afraid of getting confused, keep a feeding diary. Write down who, when and how much ate. It is difficult for triplets to fully organize breastfeeding only, so they are most often on mixed feeding. However, if you want to maintain full lactation, you must not use bottles for supplementary feeding with formula - they spoil the attachment to the breast and lead to refusal of it.
Feeding positions
You can feed two babies at once sitting, lying down or on your stomach. One of the most comfortable postures is considered to be the "from under the arm" position. It is very good for her to use a donut pillow for feeding. The babies are located on the sides of the mother, turn their tummy to the sides, legs behind her back.
You can place one baby in the "cradle" position, and place the second to the other breast "from under the arm".
"Double cradle" - this is one baby lying in her arms, pressing her tummy against her mother's stomach, and the second is located behind him, nestling against his back, and is applied to the other breast.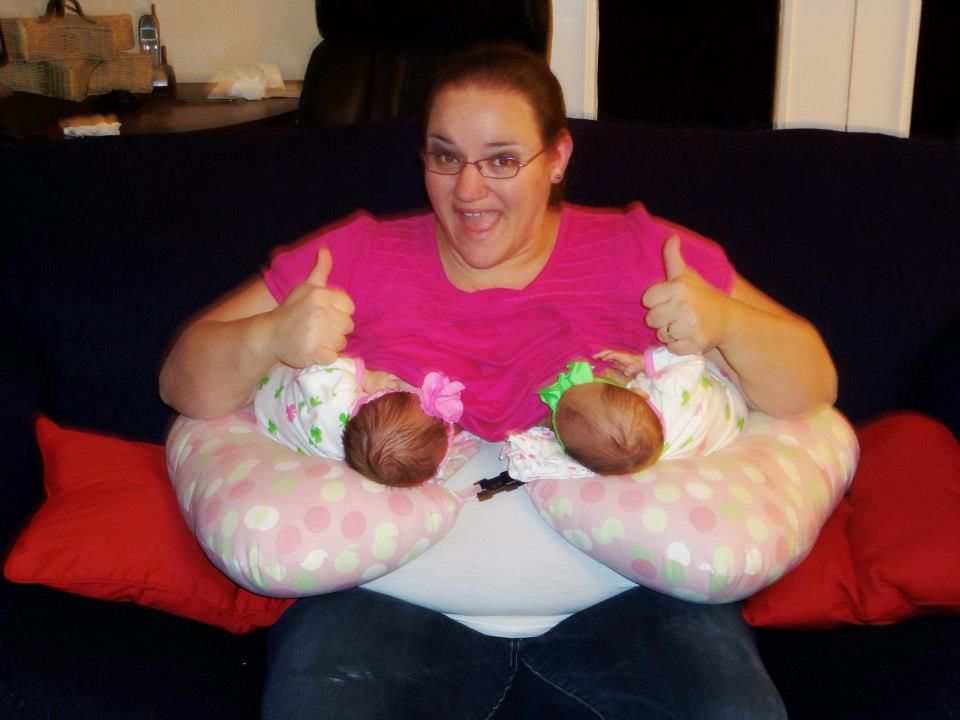 Most likely, mom will need pillows or rollers to support her arms and babies.
"Pose on the back" - this is the mother, leaning back on the pillows, reclining, and the babies are applied to the chest, located on the mother's shoulders, forearms and stomach in the shape of the Latin letter V. The mother holds them with her hands, leaning on the pillows to her side. So many mothers feed their children at night.
The "on the stomach" position is not very common, usually the mother is lying on her stomach (you can lie on a pillow), leaning on her elbows. And the kids lie under it on their backs. so hands can be quite tired. so many moms transform it. By placing the babies on the changing table and standing, and hanging over them.
November 7-13, 2022 Colon Cancer Prevention Week 09.11.2022
Capital Medical Insurance LLC informs 08.11.2022
SOGAZ — Compulsory health insurance 08.11.2022
Beware of scammers 08. 11.2022
Opening hours of the clinic on public holidays 03.11.2022
Prosecutor's Office Fraud Warning 02.11.2022
Transition to new software 02.11.2022
from October 31 to November 06, 2022 there is a week of reducing consumption of table salt 01.11.2022
Reception of a gastroenterologist in a consultative polyclinic 26.10.2022
Blood pressure week from 24 to 30 October 2022 24.10.2022
Doctor's appointments for exercise therapy and sports medicine O.P. Chicherova temporarily canceled 24.10.2022
Year of memory and glory
Various breastfeeding positions
Try different breastfeeding positions to find the one that works best for you and your baby. You can see the options in our selection of photos
Share this information
There is no right or wrong way to hold the baby while feeding
, and mom and baby are sure to find their favorite position.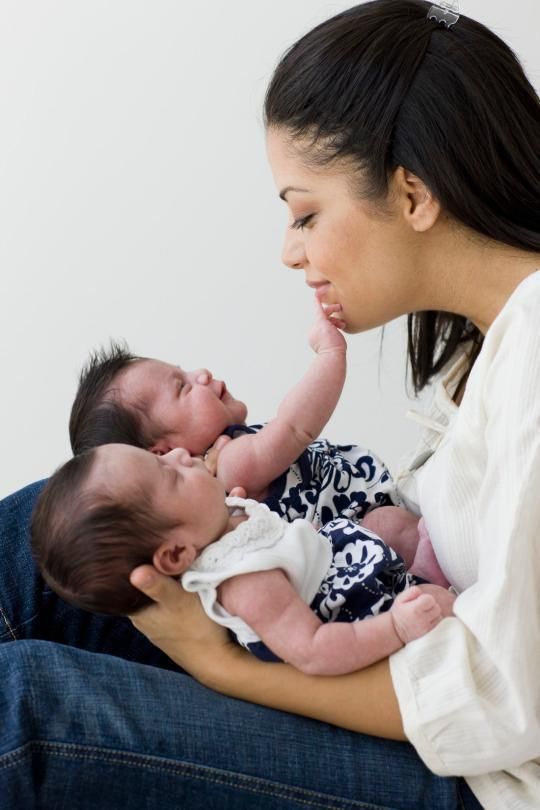 It is important that both you and your child feel comfortable. 1.2 It's good to learn a few different breastfeeding positions and techniques because life's circumstances often require us to be flexible, especially as your baby gets older and you start to leave the house more often.
Whatever position you choose to breastfeed your baby, remember a few simple rules.
Prepare everything you need before feeding, including drinks, food, mobile phone, TV remote control, book or magazine. And do not forget to go to the toilet - the feeding process can take a long time!
Make sure your baby is comfortable. Whichever position you choose, it's important to keep your baby strong, level, and provide good support for their head, neck, and spine.
You should also be comfortable. Don't stress. If necessary, use pillows of different sizes or rolls of towels to support your back or arms.
Make sure your baby is latching on correctly. Proper grip is the key to comfort when breastfeeding.
If your baby does not latch on well or you experience pain while feeding, contact a lactation consultant for help. The specialist will also be able to show you how to hold your baby more comfortably.
1. Relaxed feeding or reclining position
Relaxed feeding position, also known as biological feeding, 1 is often the first position for most mothers. If, immediately after birth, the baby is placed on the mother's chest or stomach, normally, he instinctively reaches for the breast and tries to grab the nipple. This phenomenon is known as the breast seeking reflex. Skin-to-skin contact stimulates the infant's feeding instinct, and gravity helps him to latch onto the breast and maintain balance.
But it's not just newborns that can be fed in the reclining position - this position is great for babies of all ages. It can be especially helpful if your baby does not latch well in other positions or does not like to be touched during feeding, and also if you have too much milk flow or too large breasts.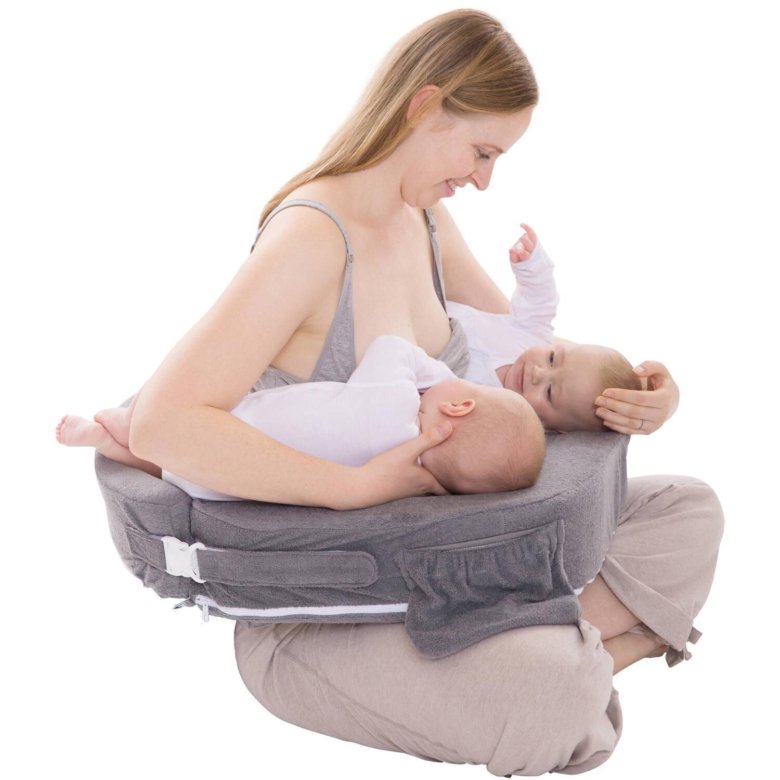 Isabelle, a mother from the UK, shares her experience: "I had large breasts, and the baby was born small - 2.7 kg, so it was not easy to find a comfortable position at first. After a few weeks, it became clear that there was no "correct" posture for me. As a result, I most often fed lying down, putting the baby on my chest. "
It is more convenient to feed not lying flat on your back, but half-sitting, leaning on pillows. So you will have a back support and you will be able to watch the baby during feeding.
2. Cradle position
This is the classic
position that comes to mind when breastfeeding a baby. Mom sits
straight, and the baby lies on her side on her arm, pressing her stomach against her stomach. 3 Although this is a very popular position, it is not always easy to master with newborns because it gives the baby less support. Try putting a pillow under your back, and put a special breastfeeding pillow on your knees and lean on it with your hands.
So you can more reliably support the child, without overstraining your back and shoulders. Just make sure that the baby does not lie too high on the pillow for feeding. The breast should remain at a natural level so that the baby can grab it without effort, otherwise sore nipples cannot be avoided.
"I breastfed in the cradle position because it suited me perfectly! It was comfortable and I loved just sitting and looking at my little one," recalls Rachel, a mother of two from Italy.
3. Cross Cradle
This breastfeeding position looks almost exactly like the cradle, but the baby is on the other arm. 3 This gives baby support around the neck and shoulders so he can tilt his head to latch on. This position is great for breastfeeding newborns and small babies, as well as for babies who do not latch well. Since the baby lies completely on the other hand, it becomes easier to control his position and you can adjust the chest with your free hand.
Julie, a mother of two from the UK, finds this position very practical: "I usually breastfeed my youngest in the cross cradle position.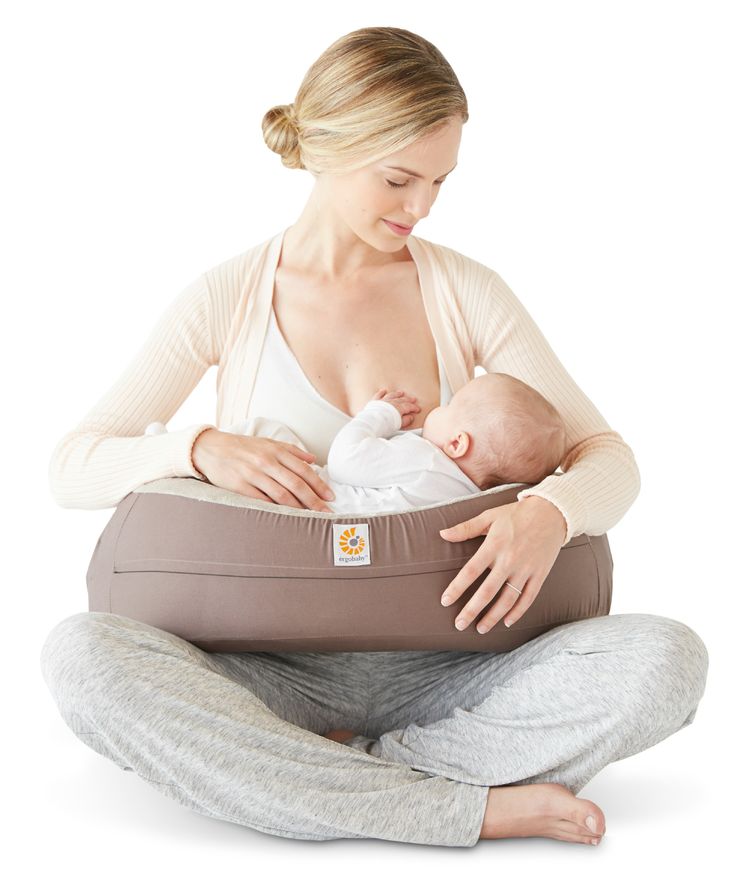 So I have a free second hand, and I can take care of an older baby at the same time. "
Don't hold your baby's head at first, otherwise you might inadvertently press his chin against his chest. Because of this, the child will not be able to take the breast deeply, because the nipple will rest against the base of the tongue, and not against the palate, which will lead to inflammation of the nipples. As the child grows, this position becomes more comfortable, and he can rest his head on your palm (as shown in the photo above).
4. Underarm breastfeeding
In this position, also known as the "ball grip", the mother sits with the baby lying along her arm at the side, legs towards the back of the chair (or any other seat). 3 This is another comfortable position for newborn breastfeeding, in which you can give your baby good support, full control of his position and a good view of his face. And the baby feels safe in close contact with the mother's body.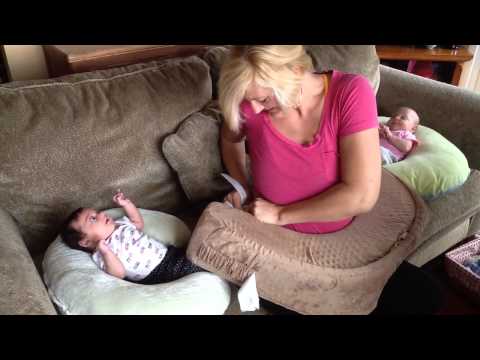 This position is especially good for those who have had a caesarean section or a premature birth, as well as mothers of twins and women with large breasts.
"When I breastfed my first daughter, I had very large K-sized breasts—twice the size of her head," recalls Amy, an Australian mother of two. - I put rolls of towels under each breast, because they were very heavy, and fed my daughter in a pose from under the arm, but only sitting straighter so as not to crush her. This position was also convenient because I had a caesarean section and could not put the baby on my stomach."
5. Side-lying position
The side-lying position is ideal for relaxed
feedings at night in bed or on the couch. If you had a
caesarean section or ruptures during childbirth, this position may be more comfortable than sitting down. 3 In this position, mother and baby lie side by side, tummy to tummy.
"It was difficult for me to sit during endless night feedings, firstly because of the caesarean section, and secondly because of lack of sleep," recalls Francesca, a mother from the UK.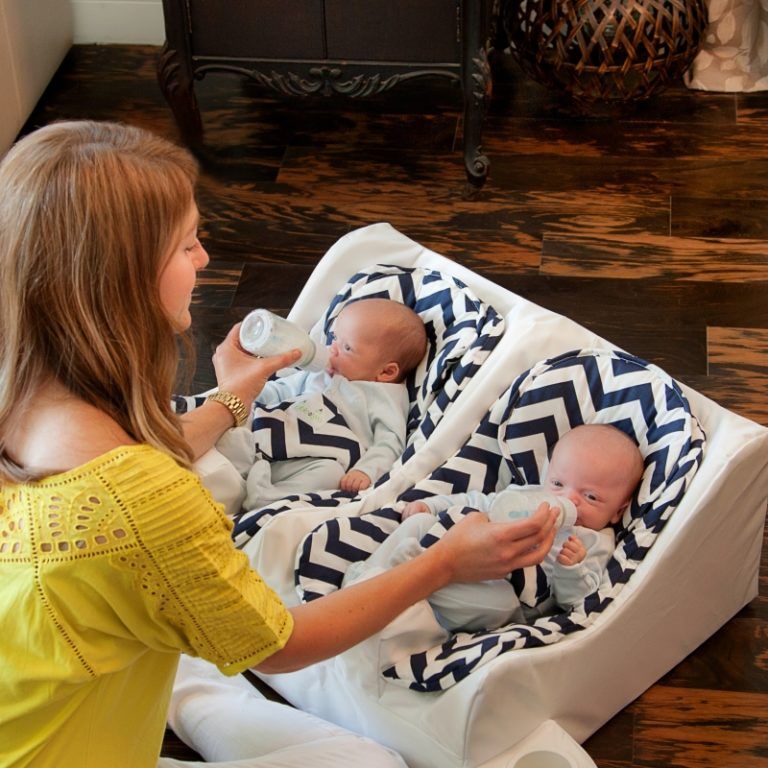 "And then I discovered that you can feed your baby lying on your side and rest at the same time."
"Because of the short tongue frenulum, Maisie could only properly latch on to her breasts while lying on her side. The lactation consultant showed me how it's done. In this position, the flow of milk was optimal for my daughter, and it was easier for her to keep the nipple in her mouth. As she got older, she became much better at grabbing her breasts in normal positions," says Sarah, mother of two from Australia.
6. Relaxed breastfeeding after caesarean section
If you can't find a comfortable position for breastfeeding after caesarean section, 3 try to hold the baby on the shoulder while reclining — this does not put pressure on the postoperative suture and allows you to breastfeed the baby comfortably. You can also try side feeding.
7. Upright breastfeeding or "koala pose"
When breastfeeding in an upright position or "koala pose", the baby sits with a straight back and head up on the mother's hip.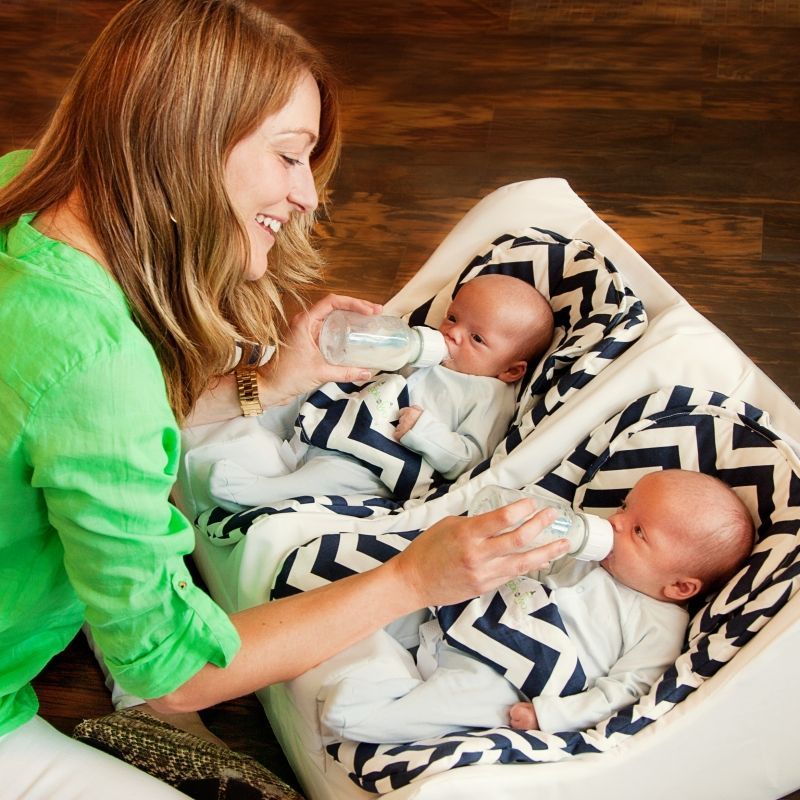 4 This position can be tried even with a newborn if it is well supported, but it is especially convenient for feeding an older child who can already sit up by himself. The upright sitting position, or "koala pose," is great for toddlers who suffer from reflux or ear infections and feel better sitting. In addition, this pose may be suitable for children with a shortened frenulum of the tongue or reduced muscle tone.
"When my daughter got a little older, I would often feed her in an upright position – it was more comfortable for both of us and I could still hold her close," recalls Peggy, a mother from Switzerland. "Besides, it was possible to discreetly breastfeed her in public places."
8. Overhanging position
In this position, the baby lies on his back, and the mother bends over him
on all fours so that the nipple falls directly into his mouth. 4 According to some mothers, this breastfeeding position is good to use from time to time for mastitis, when touching the breast is especially unpleasant.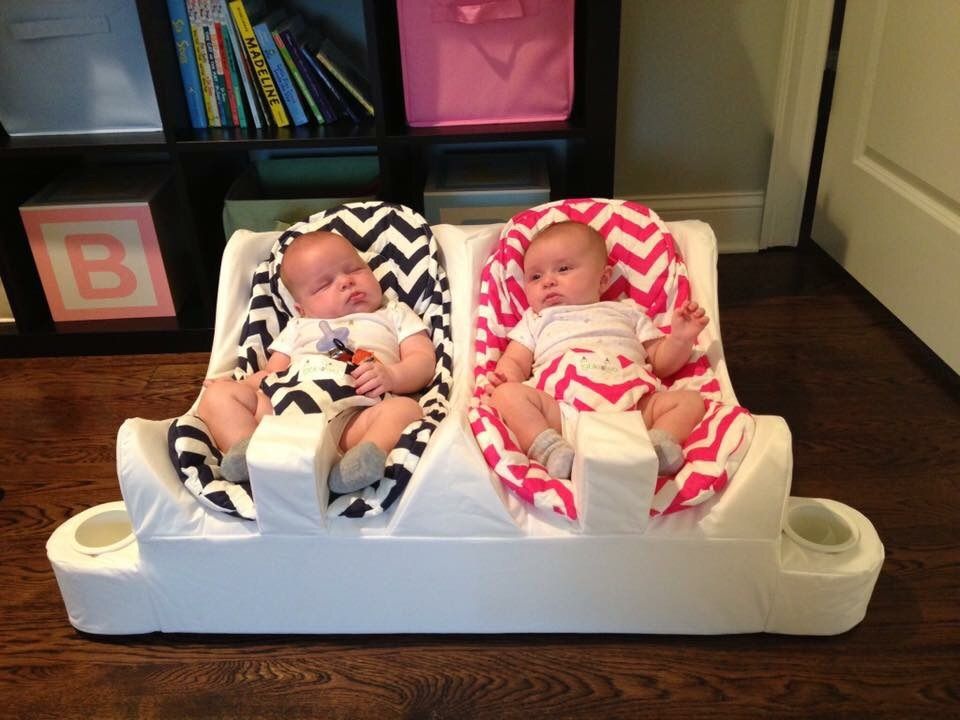 Some say that this breastfeeding position helps with blockage of the milk ducts, although there is no scientific evidence for this yet. You can also feed in the "overhanging" position while sitting, kneeling over the baby on a bed or sofa, as well as reclining on your stomach with support on your elbows. Pillows of various sizes that you can lean on will help you avoid back and shoulder strain.
"I have breastfed several times in the overhang position for clogged milk ducts when no other means of resolving the blockage worked. And this pose seems to have helped. I think it's because of gravity, and also because the breasts were at a completely different angle than with normal feeding, and my daughter sucked her differently, "says Ellie, a mother of two from the UK.
Feeding in the "overhanging" position is unlikely to be practiced regularly, but in some cases this position may be useful.
"I used to breastfeed in the overhang position when my baby was having trouble latch-on," says Lorna, mother of two in the UK.
- This, of course, is not the most convenient way, but then I was ready for anything, if only he could capture the chest. We succeeded and have been breastfeeding for eight months now!"
9. Feeding a baby in a sling or "on the fly"
Breastfeeding in a sling takes some practice, but it can be used to go out of the house, look after older children or even do a little household chores.
The sling is also useful if the baby does not like to lie down or is often attached to the breast. Lindsey, a mother of two in the US, notes: "I used the carrier frequently for both of my children. When we were out, I tied the sarong around my neck and covered the carrier with it. Under such a cape, the baby can eat as much as he wants until he falls asleep.
This breastfeeding position is best when the baby is already good at breastfeeding and can hold its head by itself. Any slings are suitable for breastfeeding, including elastic and rings, as well as carrying bags. Whatever option you choose, the main thing is that you can always see the face of the child, and his chin does not rest against his chest.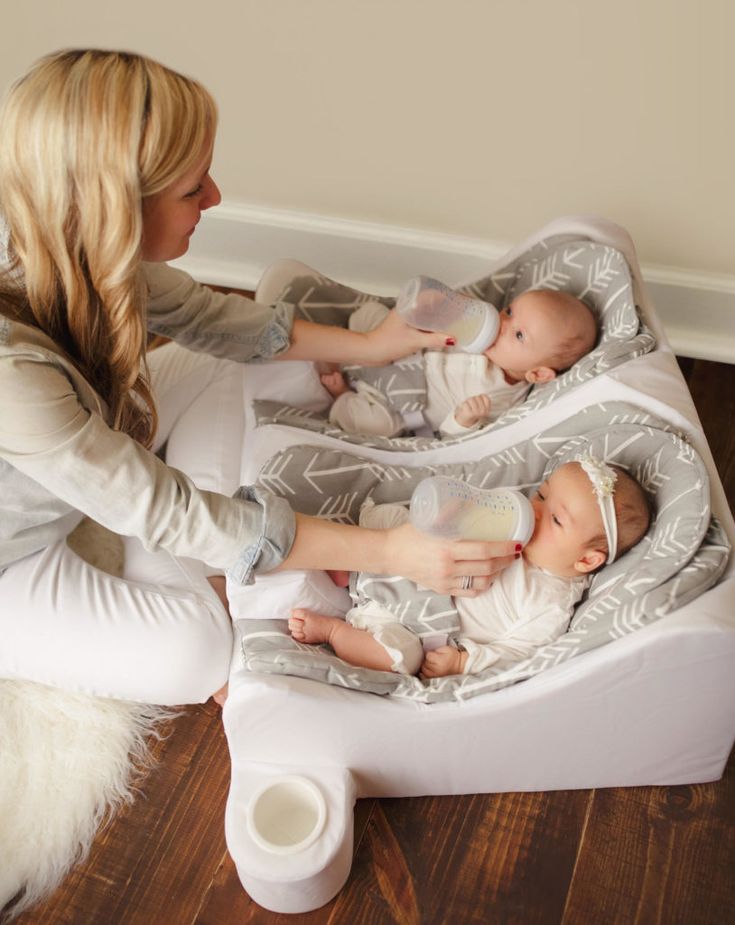 10. Double hand-held breastfeeding
Double hand-held breastfeeding (or "double-ball grab") is great for mothers of twins—you can breastfeed both at the same time, while keeping your arms relatively free. 4 When feeding in this position, it is advisable to use a special pillow for breastfeeding twins, especially at first. It will provide extra support and help keep both babies in the correct position, as well as reduce the burden on the abdomen if you had a caesarean section. In addition, the hands are freer, and if necessary, you can deal with one child without interfering with the second.
"My twins were born very tiny and had to be fed every two hours at any time of the day or night. Very soon it became clear: if I want to do anything besides feeding, I need to feed them both at the same time, - says Emma, ​​mother of two children from the UK. "I breastfed them two by hand using a breastfeeding pillow."
Other comfortable positions for breastfeeding twins are two criss-cross cradles, one baby in the cradle and the other close at hand, reclining feeding, or sitting upright (one baby on one side, the other on the other).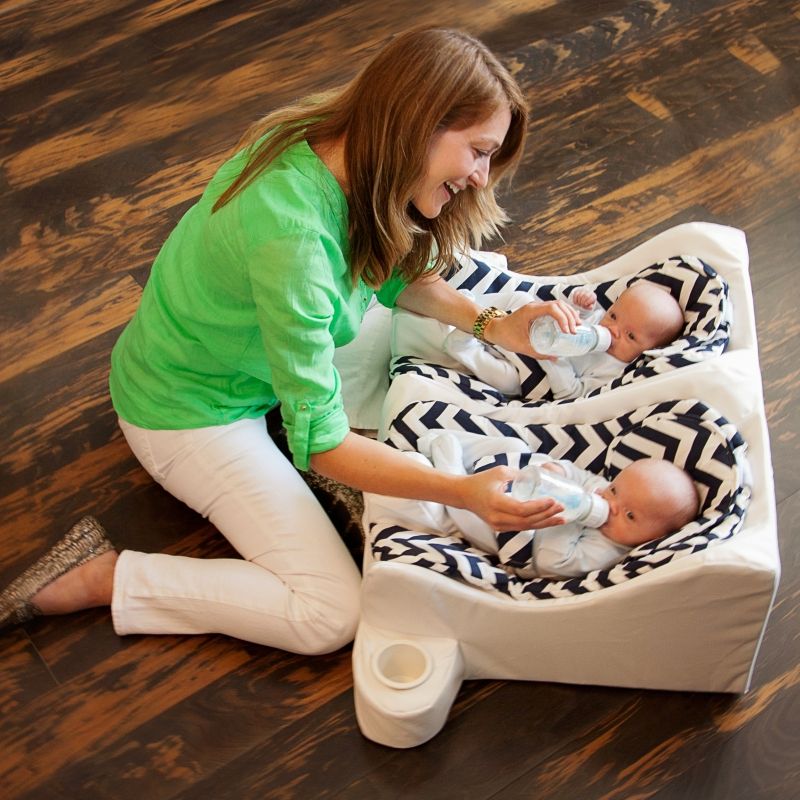 11. Feeding in the position "with breast support by hand" or "hand of the dancer"
If the baby does not hold the nipple well in the mouth or has a reduced muscle tone (which is typical for premature babies, children suffering from various diseases or Down syndrome), try supporting his head and your chest at the same time. 4 Grab your chest with your palm underneath so that your thumb is on one side and all the others are on the other. Move your hand slightly forward so that your thumb and forefinger form a "U" just in front of your chest. With the other three fingers, continue to support the chest. With your thumb and forefinger, hold the baby's head while feeding so that his chin rests on the part of the palm between them, your thumb gently holds the baby on one cheek, and your index finger on the other. So the baby gets excellent support, and you can control his position and see if he is holding his breast.
Literature
1 Colson SD et al.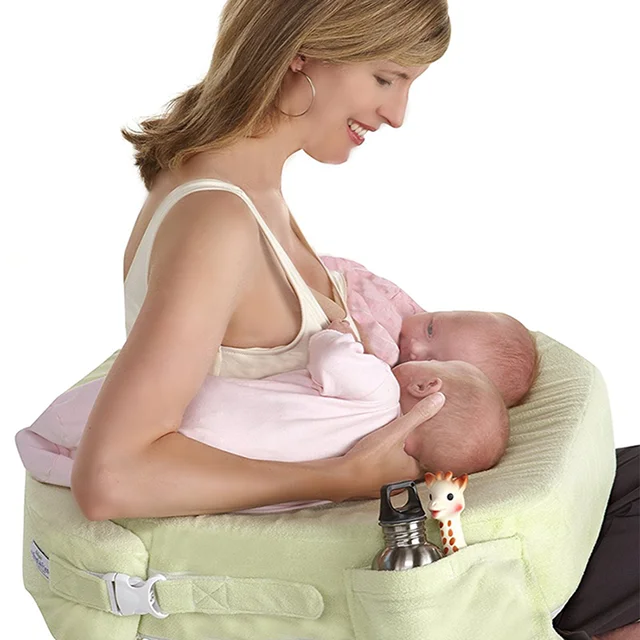 Optimal positions for the release of primitive neonatal reflexes stimulating breastfeeding. Early Hum Dev . 2008;84(7):441-449. - Colson S.D. et al., "Optimal Positions for Provoking Primitive Innate Reflexes to Induce Breastfeeding." Early Hume Dev. 2008;84(7):441-449.
2 UNICEF UK BFHI [ Internet ]. Off to the best start ; 2015 [ cited 2018 Feb ]. - UNICEF UK, Baby-Friendly Hospital Initiative, Start the Best You Can [Internet]. 2015 [cited February 2018].
3 Cadwell K. Latching - On and Suckling of the Healthy Term Neonate: Breastfeeding Assessment. J Midwifery & Women's Health. 2007;52(6):638-642. — Cadwell, K., "Latching and sucking in healthy newborns: evaluation of breastfeeding.