Which food increase weight for babies
7 tasty high calorie foods for baby weight gain
Weight gain is a vital part of a baby's development and many concerned parents want to incorporate the right types of food into their baby's diet to enable a healthy long-lasting life. An average full-term Indian baby weighs 2.8 kg. According to the baby weight gain chart, the optimal weight for a baby ranges from 2.4 to 4 kgs. A few months after birth, a baby must consume foods that contain a high-calorie count, so that rapid weight gain can take place. Babies who are 6 months and older should ideally consume around three meals per day along with two snacks each day. Baby food recipes to gain weight must include all three dietary categories: proteins, fats or lipids and carbohydrates. These components should be given in varying amounts; a meal should contain 15 percent protein, 30 percent fat and 55 percent carbohydrate. Also read Are Probiotics Safe for Babies? What to Know Before Feeding Them to Your Child.
Growth percentiles can be used to measure your baby's weight gain through each month. Baby weight gain can be measured using the growth percentile chart which will give a range of weight readings for each month of the baby's weight gain and development. The range can tell you if your baby is within the average weight of a baby their age. The type of food your baby will eat can affect the way they gain weight. You must pay careful attention to the food they consume. The following foods are wonderful additions to your baby's diet as they are packed with all the nutrients your growing baby needs to put on weight. So if you want to know how to make baby gain weight fast, use these baby food recipes to gain weight!
1. Breast Milk
From 1 month to 4 months, a baby is primarily breastfed milk. The calcium component in milk increases the bone density in the baby's limbs.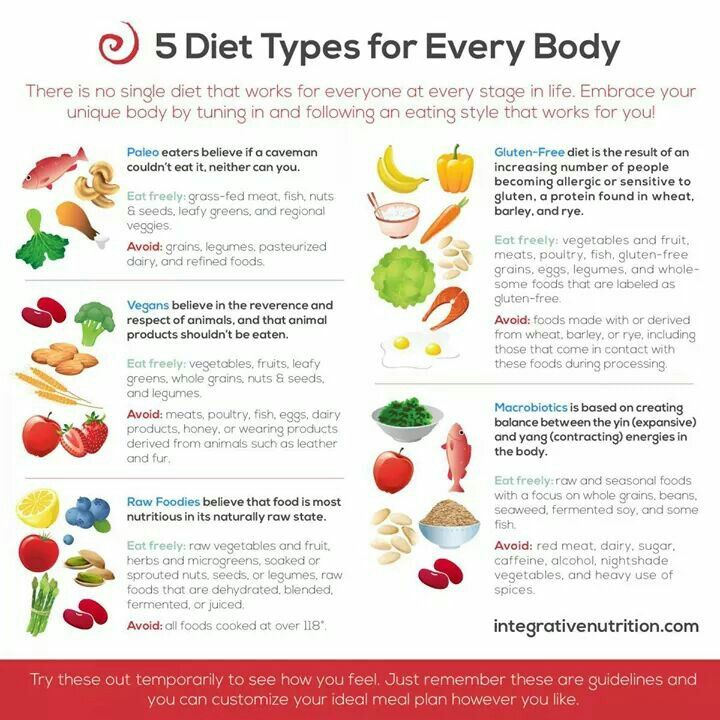 It is important to breastfeed your baby as it contains nutrients that can help a baby gain weight and meet their average growth requirement. Breast milk regularly changes its composition and consistency to meet the baby's needs. Babies who are regularly breastfed have shown a consistent growth pattern in the growth percentile chart, and are usually in the 90th percentile range. Also read our blog on How to Help Your Child Grow Taller Naturally?
2. Mashed Banana and Apple
After the 5th month, the baby will transition to semi liquid-based food, so you can start including baby food recipes to gain weight. The best food to give your baby at this age would ideally be mashed or pureed fruit. The fruit of choice would either be bananas or apples. Apple contains a significant amount of fiber which will prevent constipation. Applesauce provides Vitamin C which is required for immune sustenance and will help the baby absorb iron more efficiently.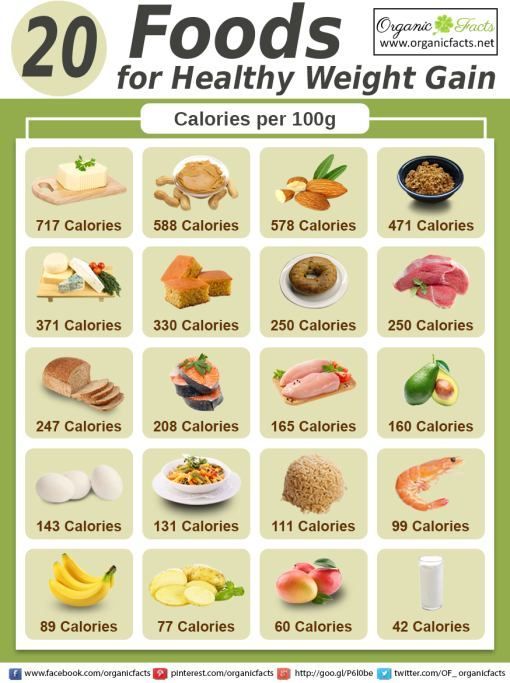 Iron is an element in the red blood cells which transports oxygen to cells. Mashed bananas contain large amounts of potassium, which can help normalise heart functions and muscle contractions. One small banana or apple contains 90 calories, making them one of the best high-calorie foods for baby weight gain. Babies can typically eat these soft fruits for breakfast or as a mid-morning snack. Following a comprehensive baby food chart can help you decide the right quantities of these fruits to feed your baby and at what time.
Download the mfine app and get your first consultation FREE*
With mfine, get Medical Care
that is quick, convenient and
accurate.
Get your first consultation for FREE
Android
iPhone
3. Mashed Lentils
Lentils like urad dhal or khichdi along with boiled carrot and potato is one of the baby food recipes to gain weight. It is essential that your baby eat the right proportion of vegetables to maintain a fully-functioning digestive system.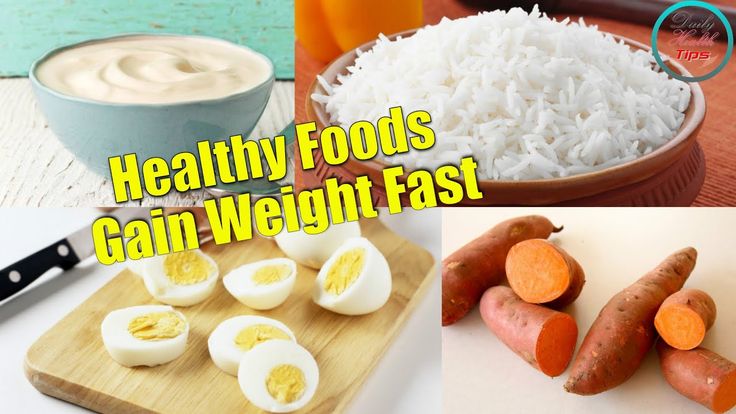 Lentils have a high protein content. They also include EFA (Essential Fatty Acids) which is a type of fatty acid that will improve brain development. They are known to strengthen teeth and bones as well. You can use our baby food recipes for 6 month olds to discover new ways to cook lentils for your baby. Also read our blog on How Can I Help My Baby Learn to Walk?
4. Egg Yolks
The yolk of a hard-boiled egg is an ideal way for a baby to gain weight. The yellow yolk contains high levels of cholesterol, which increases the calorie-building muscle. A higher number of calories per serving will drastically improve your baby's weight gain. It will also make the baby stronger and healthier. Egg yolks are rich in Vitamin D, B6, and B12. These vitamins will help the baby gain weight faster in a shorter period. In the first few months after birth, the baby will need to gain 1 ounce per day. The yolk has more beneficial fat building abilities as compared to the albumen.
It is also a great source of Omega-3 fatty acids as it includes multiple blood lipids and helps maintain higher cholesterol levels which will show a higher reading on the baby weight gain chart. In a nutshell, egg yolks are one of the top high-calorie foods for baby weight gain that will help boost your child's health. Our baby food recipes for 8 month olds includes easy ways to prepare eggs and help baby gain weight faster.
5. Fish
Fish is a great food for baby weight gain and can be included in your baby food recipes for 10 month olds. It is rich in Omega-3 fatty acids which increases the neural pathways in the brain and the blood lipid content. The fats from the fish get stored in the cells which increases weight. However, recent studies have shown an increased level of mercury production in fish, so pick varieties that are wild-caught or typically have lower mercury levels. Salmon is known to contain the lowest mercury content.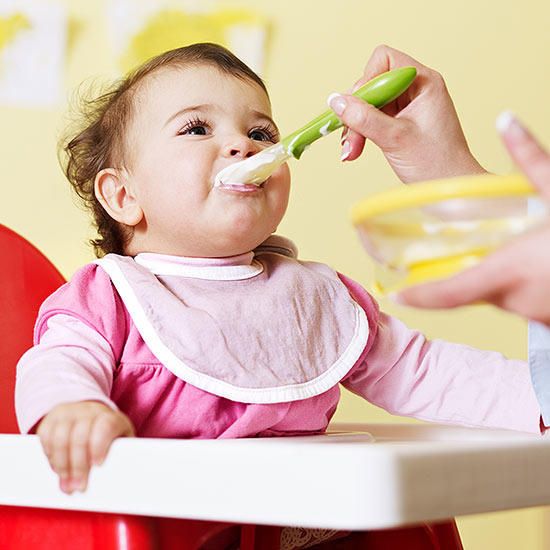 A small serving of fish once in a while is good for the baby's overall health and help baby gain weight faster.
6. Cheese or Paneer
Cheese or paneer can help baby gain weight faster. 50g of cheese is equal to two whole glasses of milk, making it one of the best high-calorie foods for baby weight gain. Babies above eight months old can digest solid and finger food, so you can start feeding them these foods when they reach this age. You can give cheese or paneer to your baby as a delicious snack at any time of the day or mix it with a leafy green salad. Paneer is rich in Vitamin A, Vitamin D, and Vitamin B12 and is also one of the best calcium-rich foods for babies. In paneer, the protein, casein, is broken down, so babies with lactose intolerance are able to digest it easily.
7. Butter or Ghee
Butter or ghee (clarified butter) is a central component in a high-fat diet for weight gain in babies.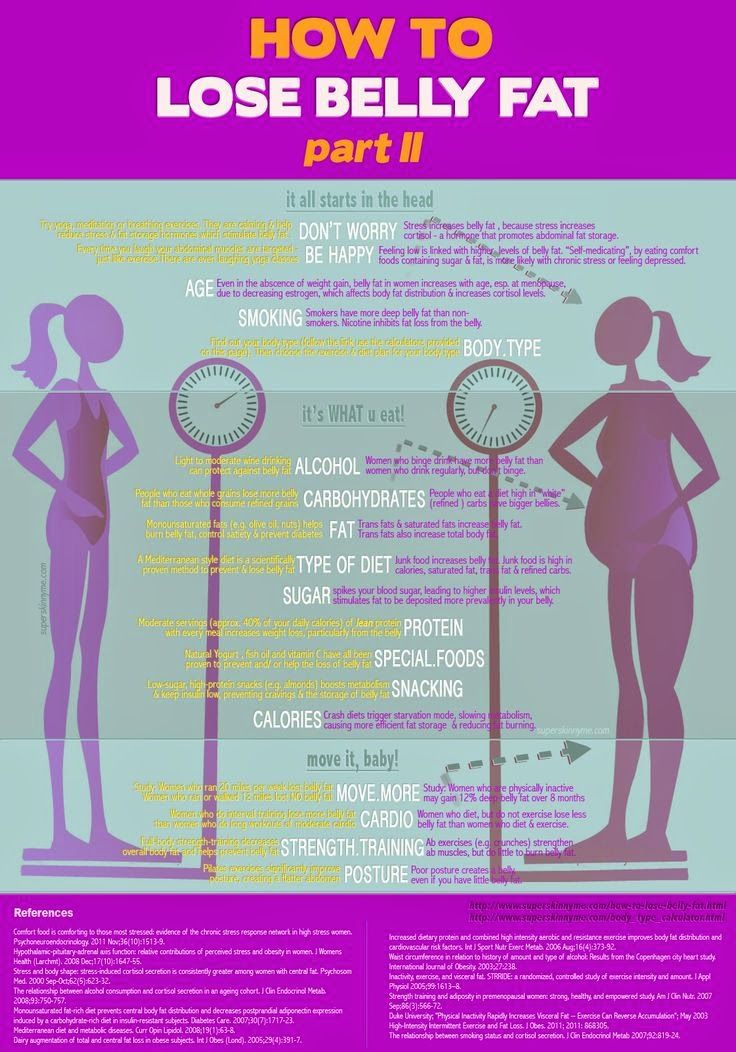 The butter must be unsalted because a high salt content could lead to high blood pressure. Since a baby's taste buds are still undeveloped at this stage, introducing salt to them until they are older is not advisable. Butter is the most abundant source of fat and has all the essential fatty acids. Babies that lie in the 25th percentile range in the growth percentile chart are required to eat more food with butter to increase their weight. The consumption of butter must be limited to one teaspoon to avoid abnormal baby weight gain. You can utilize different high-calorie foods for baby weight gain in different proportions to create a balanced diet. However, don't force your child to eat certain foods for the sole purpose of gaining weight. Weight is a variable factor and can differ from baby to baby. There are several environmental aspects that can also affect a baby's weight. Always check with your paediatrician before introducing new foods into your baby's diet.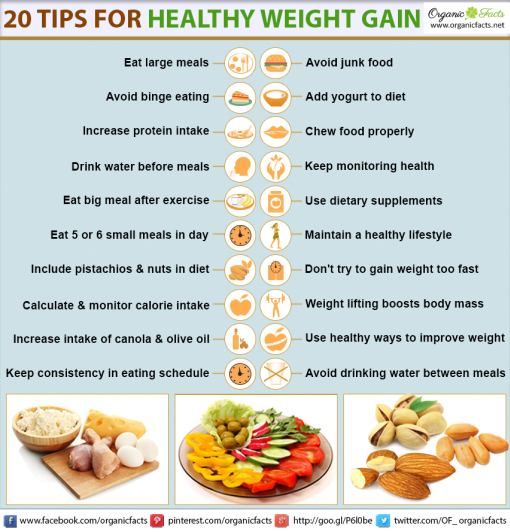 If you are still wondering how to make baby gain weight fast, don't hesitate to reach out to a pediatrician. Download the mfine app and book an instant consultation with your city's top pediatricians!
Best foods for weight gain in babies & toddlers (0 to 3 years)
This post has been updated with a new list of weight gaining recipes at the end of this post for toddlers – above 1 year old. Many readers have been asking for suggestions on best foods for weight gain in babies & toddlers. I have shared the tips that one can follow. If you are a new reader to this blog and have reached here looking for weight gaining foods or recipes for your little heart, please read this food chart for babies above 8 months.
I suggest following the recipes on the post as well for a good weight gain. I would also suggest to read the comments before posting your query here as similar queries may have been answered in the comment section below.
If you are looking for a food chart for baby around 6 months, you can refer this post on solids for 6 months baby.
Best foods for weight gain in babies & toddlers (0 months to 3 years)
1. Breast milk is one of the best foods for babies under 6 months to gain weight. Since mother's milk is more nutritious than any other foods, it is good to exclusively breastfeed babies for the first 6 months.
If a baby is breast fed, mum needs to eat more nutritious foods to have enough milk supply and to increase the quality of milk.
To increase the milk supply in lactating mothers' foods like milk, lentils (DAL), garlic, flax seeds (alasi in hindi or avise ginjalu in telugu), chickpeas (chana), almonds, whole grains, methi leaves, methi seeds, dill leaves (sabbasige soppu in kannada), fennel seeds (saunf), cumin (jeera) have been proved to be beneficial. One needs to include these in their diet moderately.
At least 2 protein rich meals and a breakfast should be included in the diet of a lactating mother.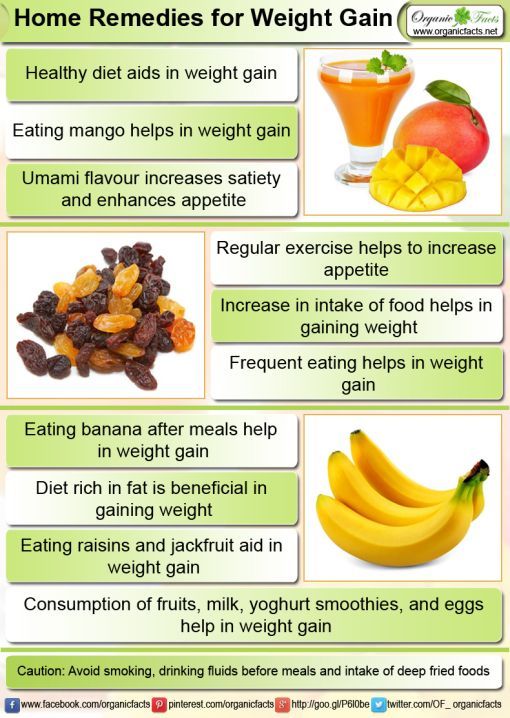 For vegetarians lentils / dal is a best protein rich food.
Chickpeas can be enjoyed by mums having babies older than 3 months. If using they need to be soaked overnight, soft cooked with turmeric and other Indian spices to prevent vata dosha.
Traditionally gond ke laddu, dry fruits ladoos and copra ladoos were eaten by lactating mothers to improve the quantity and quality of breast milk. Here are some protein rich ladoos which you can try after consulting your elders.
Gond ke laddu
Dry fruits ladoo
Copra ladoo (or dried coconut ladoo)
Here is a simple homemade powder for increasing milk supply in lactating mothers. Dry roast equal quantities of cumin and fennel seeds till they turn aromatic. Cool them and grind to powder.
Mix ½ tsp powder in ½ tsp warm ghee and consume 30 minutes before food 2 to 3 times a day. Desi ghee works best. This can be consumed for 2 weeks, followed by a break for 4 to 5 days and then repeat the cycle.
This also helps to reduce colic in breastfed babies. A small portion of ajwain/ carom seeds can also be included.
2. There is also a wide population of women who are unable to breast fed due to medical or professional reasons, yet their babies tend to grow well in terms of height and weight. For babies who are not breast fed, Formula milk has been proved to be of great help.
If your baby is over 6 months and you intend to stop breastfeeding, then choose a good formula milk with the help of your pediatrician. Formula milk is mostly balanced and has adequate nutrition which may not be available in dairy milk.
Formula milk helps to gain good weight in most babies, but one needs to be patient in trying out what works best for your baby. Many women express that formula milk is not good and hence should choose dairy milk.
Both have their own pros and cons. In the recent years, cows raised in farms are not grass-fed and are mostly on hormones either in their feed or injected to produce more milk.
So it may be more unsafe than the formula milk.
A thorough research is conducted before any formula milk is sold in the market. So as a mother, you are the right person to choose between cow's milk vs formula milk.
For babies above 12 months, fresh dairy milk can be used. Do not use milk that comes in tetra packs for babies and toddlers.
3. Foods like potato, pumpkin, sweet potato, dal, ghee, ragi, almonds, yogurt, eggs and milk help the baby to gain weight. Please take a pediatricians' suggestion before you start any of these foods. As always follow a 3 day test rule.
How to make mashed potato for baby ?
Always choose hard potatoes that do not have any sprouts grown over them. Sprouted or soft potatoes are not healthy to use.
Wash and peel off the skin of the potato. Cook potato in excess water either in pressure cooker or a rice cooker steam basket or in a pot. It should be soft cooked.
While it is still hot, take it to a feeding bowl and mash it to soft.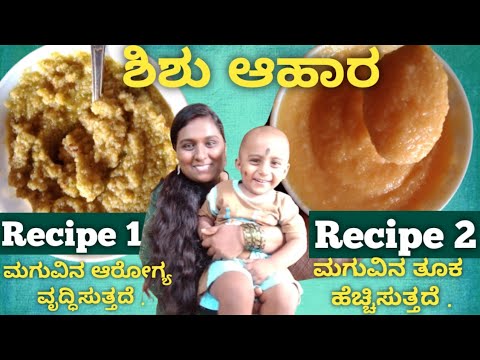 Add the potato stock that was left after cooking to make smooth puree. using a small steel glass you can easily mash it.
Add a pinch of ajwain and ghee and serve it warm. The same way you can also make mashed sweet potato for baby. Best time to serve these is for breakfast or lunch.
It can also be cooked along with rice to make a rice potato khichdi. You can find the recipe of sweet potato here (new post)
How much potato or sweet potato for baby?
7 months baby – 1 tbsp 2 to 3 times a week
8 to 10 months – 2 tbsp. 2 to 3 times a week
10 to 12 months – 3 to 4 tbsp. 2 to 3 times a week
toddlers- use your judgement . Can be served 5 times a week to daily.
Serve potato or sweet potato at least 2 to 3 times a week with little ajwain powder and ghee. Avoid when baby has tummy upset, colic or spit ups.
Moong dal and urad dal help a lot to gain weight in babies & toddlers. Urad dal is a power house of nutrients, high in calcium and protein and also EFA , essential fatty acids that help to develop the brain.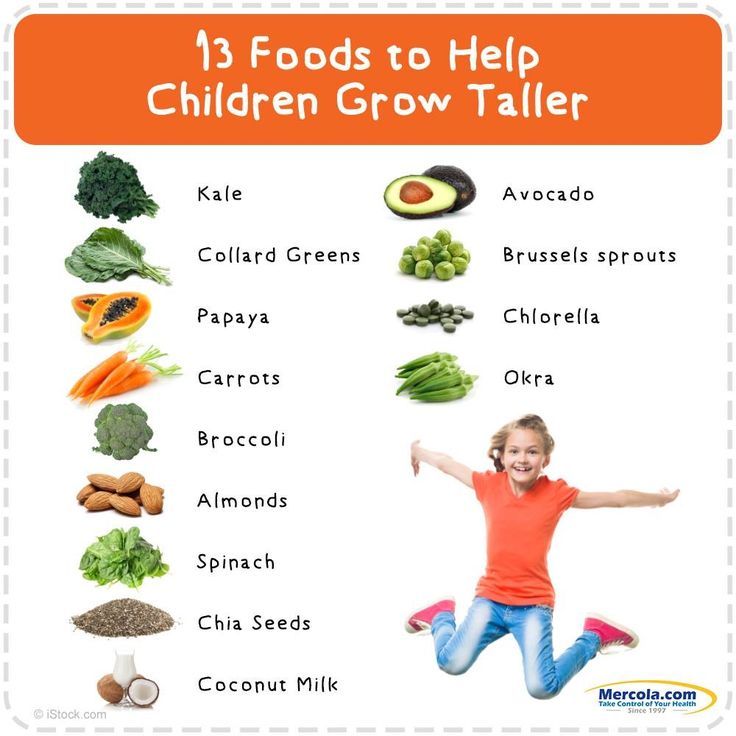 So Idli is a very healthy food for babies.
Using urad dal make idli and serve with mild rasam or dal ka pani and ghee.This can be fed daily. You can find the recipe of soft idli here and a rasam recipe for babies here.
Include dal preferably moong dal or tuvar dal in lunch or breakfast every day. Do not mix dal with yogurt or milk. Just a simple vegetable dal rice khichdi works great for babies in gaining weight.
If your baby tends to get bored, change the vegetables used in the khichdi to give a different taste. You can find the recipe of dal khichdi here
Ragi porridge also helps to gain weight, it also strengthens the bones, teeth and helps for the overall development. Here is a complete post on how to introduce ragi to babies and how to make sprouted ragi flour for babies.
Yogurt and homemade paneer are also a good choice for babies over 8 months to gain weight. Serve yogurt alone or with brown rice and white rice in equal quantities.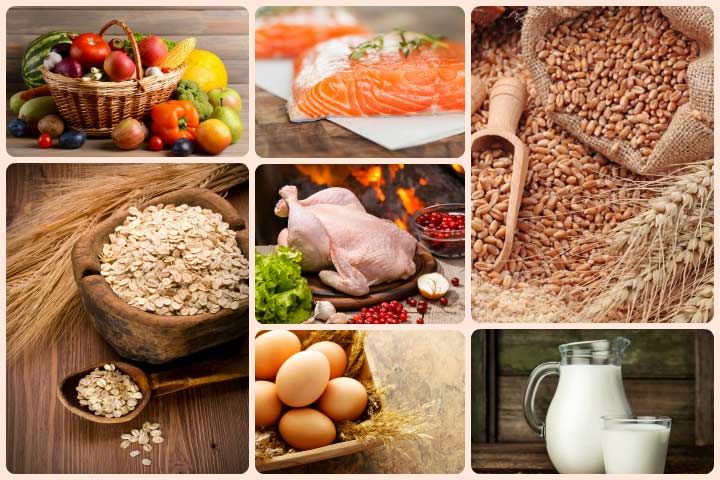 I always used to make one cup curd separately for both my babies since it is not recommended to serve cold yogurt from the refrigerator. Also avoid serving in the evening or night.
how much yogurt/ curd to serve for babies ?
2 tbsp homemade unsweetened yogurt/ curd can be fed to 8 to 10 months baby, 2 to 3 times a week (avoid during winters)
4 tbsp can be fed to a 10 to 12 months baby. 3 to 4 times a week (avoid during winters)
Eggs also help babies to gain weight. Prefer boiled eggs instead of scrambled eggs. There is a loss of nutrition in scrambled eggs especially the protein content.
you can find the recipe of homemade curd here.
How to feed egg to baby ?
Make a hard boiled egg. Remove the yolk and take small portion of it and mash it with a pinch of cumin powder, add very little water and mash the egg to blend it well with water. It should become a smooth paste.
how much egg for 7 months old baby ?
For a 7 months baby – Start feeding a tsp of the above said mashed egg yolk.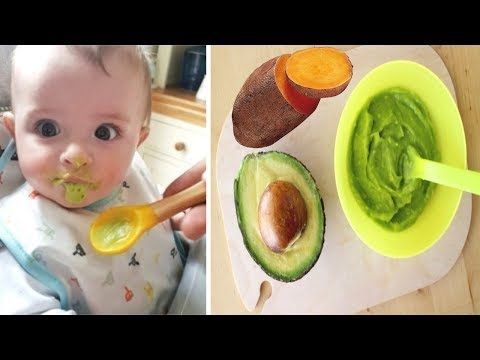 It can be served 2 times a week.
For 8 months baby – a tbsp and then increase the quantity.
For 10 months baby – by the end of 12 months a baby can eat the entire mashed yolk.
Include banana, papaya, apple, pear and chikoo (sapota). Serve banana at least 4 to 5 times a week. We give the small variety banana to babies. Avoid it when baby has cold and phlegm.
Serve a warm apple sauce or apple oats when the baby has cold and congestion. Banana helps to gain weight and most fruits helps to digest foods better since they contain natural digestive enzymes.
The nutrients from other foods are better absorbed by the body when a good amount of fruits are consumed (the right way).
Follow the rule, of feeding fruit alone without mixing with other foods at least once a day. Strictly do not serve fruits and milk together.
4. Ghee also helps to gain weight – How much ghee to serve for babies and toddlers ?
Start with only few drops a day when you introduce ghee to your baby.
Try using organic and grassfed or desi ghee. Desi ghee can be found in ayurvedic stores or can also be bought online.
If you notice symptoms like coughing, itchy eyes or rubbing eyes or rashes stop it. Try with a new brand or try with homemade ghee. If your baby or toddler do not like the flavour of ghee, I suggest making ghee at home.
Just add few curry leaves towards the end when you make ghee at home, it adds a good aroma.
Excess usage of ghee may suppress the baby's appetite, so use only as needed, a mother is the best judge. I followed the following measures for my babies and no cheese or butter was given to them.
If using butter then reduce the proportionate amount of ghee from the below mentioned quantity.
7 months ½ tsp ghee divided among 2 servings – start with only a few drops of melted ghee
8 months ¾ to 1 tsp ghee divided among 2 servings
10 months 1 to 1 ¼ tsp ghee divided among 3 servings
12 months on wards 1 to 1 ½ tsp ghee divided among 3 servings
Some babies may not digest fats in ghee well especially if formula milk, cheese, or butter are already a part of the diet.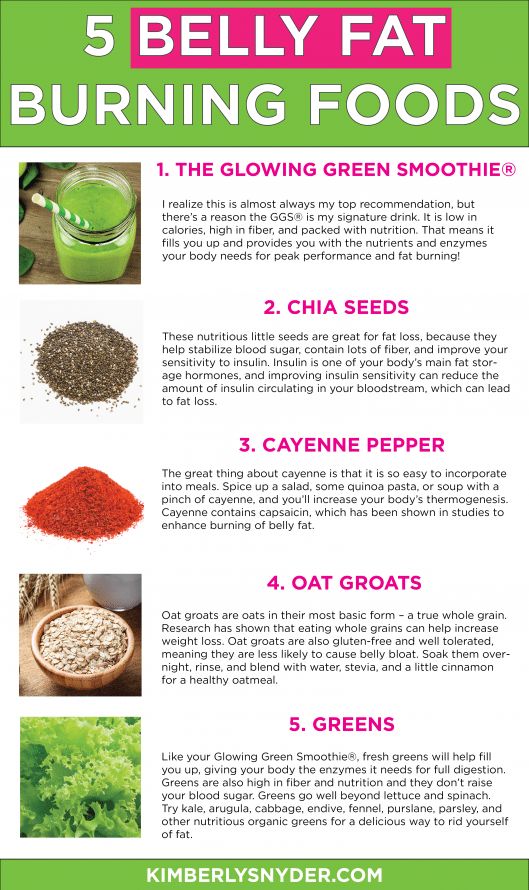 You can try with only half of the above quantity.
5. Can i use almonds / badam for my baby?
Experts advice not to introduce nuts to babies until 1 year as they may end up with severe allergies. So i would suggest waiting until your baby turns an year old especially if there is an history of allergy in your family.
However i have used almonds from 8 months for both my babies. Those who would like to try may start with almonds since these are the only kind of nuts that are slightly alkaline (apart from chestnuts).
Alkaline foods help us to keep our body healthy and energetic. Always try using soaked almonds. Soaking also increases the alkaline nature and hence digest well.
Soaking for about 5 to 6 hours also helps to peel the skin. They can be ground with little water and then used to cook baby foods like oats, ragi, rice etc.
6. Physical activity
Allow the baby to crawl freely, do not restrict your babies to prams or rocking chairs.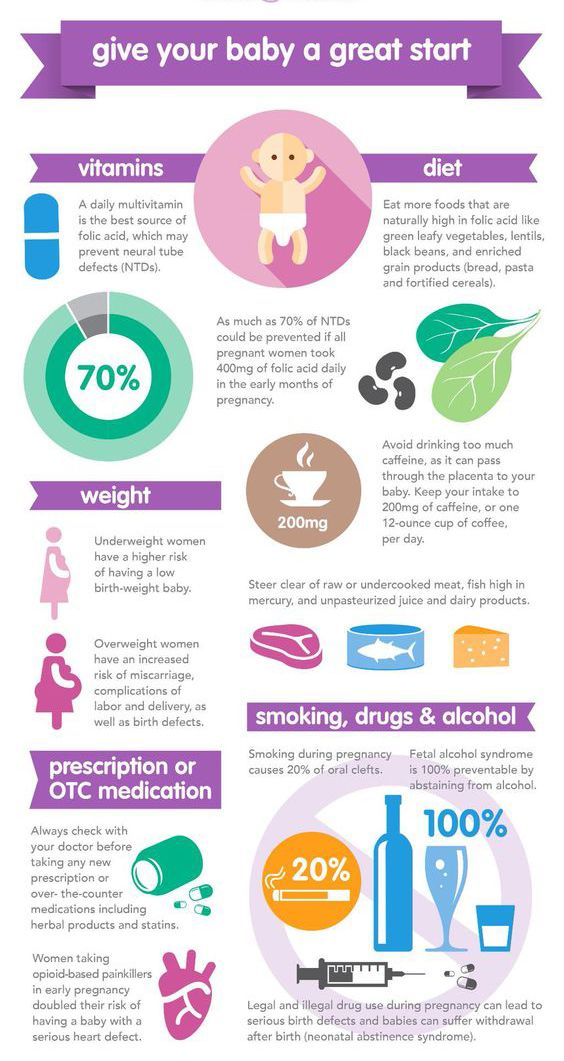 Being physically active helps babies feel hungry in time. They are less fussy and eat or drink well.
Burping is very important as it helps to relieve the babies from colic and they tend to drink better. Gently Burp before feeding, in between the feeds, Burp after the feed. Keep the baby in upright position for at least 15 minutes after a feed.
Foods for weight gain in toddlers (above 1 year)
Breakfast menu
Pesarattu with ghee
Idli with ghee (1:2 proportion) – use search box for idli recipe
Soft thick dosa with boiled mashed potato
Chick pea / chana soup
chana dosa (with steamed mashed carrots)
moong dal soup
carrot milkshake
oats uttapam (use carrot for topping, follow method 2)
jowar dosa: you can make uttapam with carrot topping. Jowar makes bones strong and helps to gain good weight.
ragi mudde with rasam or any soup.
paneer paratha – no stuffing, good finger food too for snack in the evening
Boiled egg – boiled eggs have more nutrition than scrambled eggs.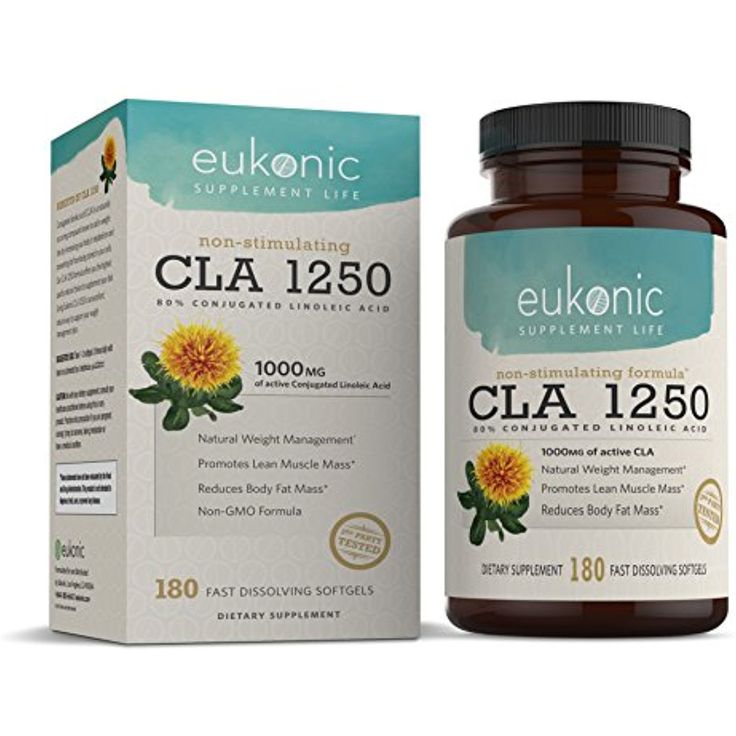 So try serving boiled egg with mild flavorings like pepper, cumin powder, ajwain and salt.
Suggestions from experienced mothers are welcome and highly appreciated to enhance this page.
 
Disclaimer: Please check with a pediatrician before you follow any of the tips or foods mentioned in this post.
My Heartfelt Thanks to all the Readers who have been consistently sharing with us their personal experiences with their babies, this has helped many new mothers to understand the baby food patterns and other food related issues.
 
Wishing a Wonderful Motherhood to all the MUMS
Eat in 2 Minutes, Best International, Arabic & Foreign Recipe Site
Eat in 2 Minutes, Best International, Arabic & Foreign Recipes Site
Latest Recipes
Recipes in 2 Minutes

Fatima 10 hours ago 9005

0 821

Two days ago

Two days ago

0005

← 4 يام

← 5 يام

← 5 slip

← 7 slip
How many calories?

Two Minute Meal25/08/2022

0 308

Diabetics should count the calories in a spoonful of sugar before eating it to avoid complications. Diabetics should…

Continue reading "

25/08/2022

25/08/2022

10/08/2022

10/08/2022

10/08/2022

09/08/ 2022

09/08/2022

03/08/2022

19/07/2022
Our last videos
1/7 video
9000
منذ 4 يام
← 5 يام
← 7 slip
xnumx weeks ago
3 weeks ago
3 weeks ago
4 weeks ago
4 weeks ago
4 weeks ago
Secrets
08/208/2022

472

Mango - Queen of Fruits, a very popular summer fruit, and mango - one of the reasons . ..

21/07/2022 9000 9000 74

There are many ways to soak fava beans, so anyone who has tasted Arabic beans knows full well that they are…

16/07/2022

5

The secrets of preparing a meat tenderizer in the oven, as well as in stores, since the meat tenderizer is one of the…

19/05/2022

48

Red meat contains many beneficial substances and minerals necessary for the human body ...

17/2022

29

is not at home, because they are not at home, because they are not at home One of the main ...

12/05/2022

1

Vinograms is one of the favorite types of fillings for many, and this is ...

09/05/2022

4,0005

Salad water - this a snack that is very important to eat with foods such as…

06/05/2022

4

After the Holy month of Ramadan people ate herring dishes and some . ..
Benefits of food
XNUMX weeks ago 9000

weeks ago

3 weeks ago

3 weeks ago

18/09/2022

0002 08/17/2022

17/08/2022
Tips for your health
XNUMX A week ago

213

No one argues that natural treatment and healthy alternatives are better resort to…

XNUMX a week ago

113

Hibiscus is considered one of the best natural drinks to treat stress, and some doctors prescribe it…

XNUMX weeks ago

116

Honey is one of the most important magical and natural ingredients, it is pure and does not contain bacteria.

weeks ago

128

House is one of the plants known from ancient times, it is a perennial tree containing…

weeks ago

133

and are looking for natural medical medicine…

19/07/2022

429

We all strive to lose weight and achieve the perfect weight . ..
Food at hand
Food at hand

Fatima asing 5 slip 9000 0 28 9000

Kurayshit cheese - one Kurayshit cheese - one of the best and lightest types of cheese, it is prepared in a healthy way and contains many nutrients, very useful for young people…0005

0 793

Do you like variety and offer something new and unusual? Today we offer you dishes without meat and chicken, fast food for working moms or…

Continue reading " minutes19/09/2022

0 3

We will introduce you a new way of making shakshuka that you should try as a serious fake lunch or dinner.0003 Newsletter

Subscribe now to our newsletter.

Overweight in children

Obesity in children is not only an aesthetic problem, but also a health disorder.

According to the World Health Organization, overweight and obesity is an abnormal or excessive accumulation of fat that can impair health.

Today, diseases associated with overweight in children are being diagnosed more and more often. They are more likely to become obese adults and develop diabetes and cardiovascular disease earlier than those who are at a normal weight.

There are many reasons for the development of obesity in children, the main ones are malnutrition and a sedentary lifestyle. Medical causes of excess weight in children are less common.

The main reason is the imbalance between consumed and expended calories.

Children, especially teenagers, are very fond of sweets, fast food, chips, pastries, sodas, juices and other sweetened foods.

Portion size also plays an important role in the development of obesity. Consuming large portions in addition to frequent snacking on high-calorie foods leads to excess calorie intake.

Another important reason for weight gain is reduced physical activity.

People of all ages tend to gain weight when they are less active.

Regular exercise burns calories and helps maintain a healthy weight. And prolonged use of gadgets and a computer, an increase in TV viewing time contribute to a sedentary lifestyle.

Psychological problems can also lead to obesity in some children. Children and teens who are bored, stressed, or depressed may eat more to cope with negative emotions.

Other reasons include hereditary predisposition, taking certain medications (eg hormones), diseases (eg hypothyroidism).

Consequences for the body of excess weight are serious. They may not appear immediately, even in adulthood.

Cardiovascular diseases

Wrong diet often leads to an increase in cholesterol levels, high blood pressure. These conditions can cause atherosclerotic plaques to form in the arteries, which is a risk factor for heart attack and stroke later in life.

Diabetes

Obesity and a sedentary lifestyle increase the risk of type 2 diabetes.

Diabetes is a chronic disease that occurs when blood glucose (blood sugar) levels are too high. Glucose is the main source of energy and comes from food. Insulin is a pancreatic hormone that helps glucose from food to enter the cells.

In diabetes, the body either does not produce enough insulin or cannot use it properly. When there is not enough insulin or cells stop responding to it, blood sugar levels rise. Over time, this can cause heart disease, vision loss, and kidney disease.

Diseases of the musculoskeletal system

Excess weight is an additional burden on the joints. This is pain, injury and even disability. One of the serious disabling diseases is osteoarthritis (children's arthritis), the joints in this disease can be irreversibly affected.

Respiratory disorders. Sleep disorders

Bronchial asthma is more common in overweight children. They are also more prone to obstructive sleep apnea, a condition in which breathing repeatedly stops and resumes during sleep.

People who are obese from childhood are more likely to have cancer, premature death, and disability in adulthood.

An overweight child may be laughed at by peers, which may lower their self-esteem and increase their risk of depression and anxiety.

How do I know if my child is obese?

The assessment of the presence or absence of obesity in children is determined using percentile tables or standard deviations of body mass index (BMI). They take into account not only the height, weight, but also the gender and age of the child. This method has become the preferred one. However, it should be borne in mind that only a doctor can reliably determine and diagnose the weight status of a child.

The doctor will evaluate the growth and weight gain, developmental dynamics, weight and height history of other family members.

Ways to treat obesity are still being studied. At the moment, the best method of combating excess weight was preventive measures.