4 month old baby feeding times
4 Month Old Feeding and Sleep Schedule
With over 10 years of experience as a sleep consultant, we share sample 4 month old sleep schedules with feedings. These sample schedules include milk feedings for breastfeeding and formula-feeding babies, solids, naps, and nighttime sleep.
4 Month Old Baby's Sleep and Development
Pediatricians disagree high and low about when a baby is capable of sleeping through the night and only a handful of parents who reach this page will have a 4 month old who sleeps all night without even a single feeding (those that do are LUCKY!).
Most 4-month-olds need 11-12 hours at night and 3-4 hours during the day. And, many 4-month-olds are still eating 1-2 times a night and some naps are just 30 minutes. In addition, most 4 month olds will take 4 naps a day. Consequently, short naps are normal development at this age as it's highly unusual for babies to take four 1-hour naps.
At this age, if you are not lucky enough to have a baby who sleeps through the night, many 4-month-olds are still waking 1-3 times to eat at night and many breastfeeding babies will continue to eat 1-2 times until 9+ months of age.
On the other hand, formula-fed babies will often be night-weaned by 6 months old. More night feedings than that and likely you have a sleep association problem.
How Many Naps for a 4 Month Old?
Most 4 month old babies take 4 naps each day totaling 3-4 hours of sleep. The reason for so many naps is primarily because babies this age can't stay awake longer than 1-2 hours at a time. They still have short wake windows so it's still common to spread out daytime sleep among multiple sleep periods. However, some babies this age can stay awake longer and drop the fourth nap transitioning to a 3-nap schedule early.
Wake Windows for 4 Month Olds
The typical wake windows for a 4-month-old are 1-2 hours with the first wake window being one of the shortest. Sometimes, that first wake window is just 75 to 90 minutes.
When Your 4 Month Old's Sleep Gets Worse
If your baby has recently started sleeping worse, you may want to read more about 4 month old baby sleep.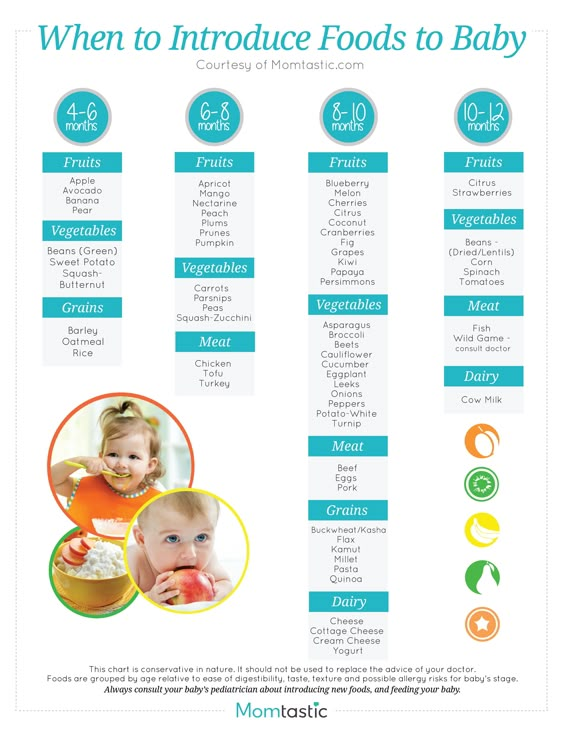 Keep in mind that one of the biggest sleep challenges families face around 4 months is the 4 month sleep regression. During this time period, babies change their sleep permanently and will wake up frequently at night and take shorter naps.
Obviously, all babies vary, but here are some sample (loose) schedules you can use to make your own for your unique baby. Most babies, at this age, can't be on a strict schedule because many babies are still taking shorter naps while their brain matures and they simply can not stay up very long to get to the next scheduled nap-time. So, at this age, it's likely naps are still on the short side, but come frequently and every day will still likely be different.
Don't worry, that will change!
Babies typically transition to just 3 naps around 6 months or 7 months.
If you're having trouble with naps, you might be interested in helping your baby nap better.
4 Month Old Feeding
Breast milk or formula should be the primary nutrition for the first year and solids come secondary.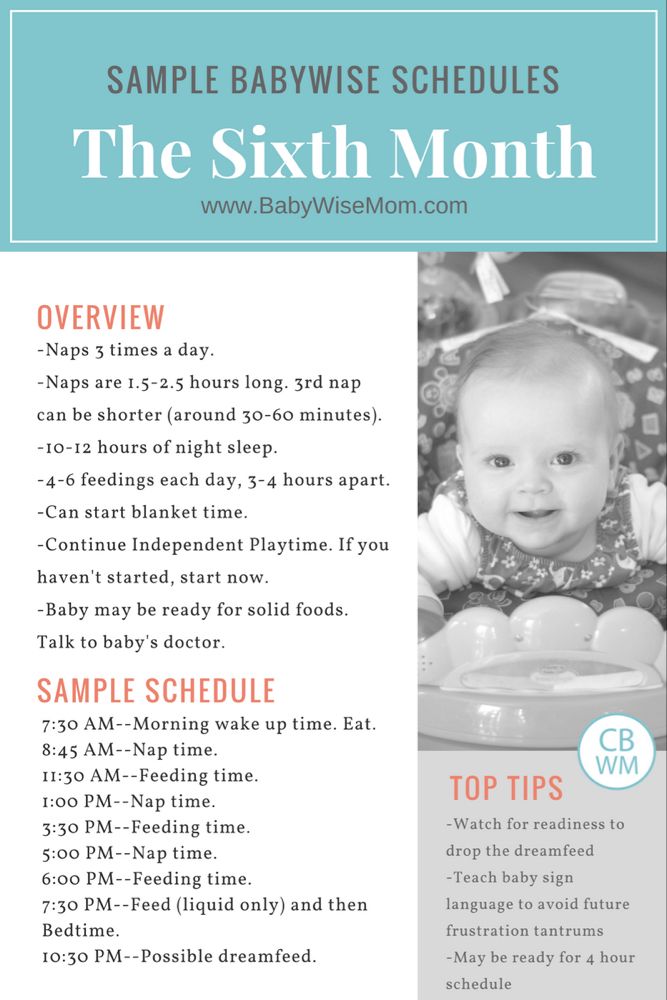 Below are the amounts we recommend if your pediatrician recommends solids before 6 months, the age at which most are recommending now. For more information on starting your baby on solid food, we have a series of blog posts dedicated to the subject. We include recommendations about how and when to start solids, as well as helpful information on food allergies, recommended products, baby-friendly recipes, and more.
Average amounts per day:
• At least 5-6 breastfeeding sessions per day or 2 1/2 ounces formula for each pound of weight (approx. 20-30 ounces) (decrease solids if your baby is not taking in at least this much)
• Water is unnecessary (breast milk and formula have plenty of water in them).
And, if your pediatrician recommends solids this young (it is now recommend at 6+ months):
• Up to 1-2 servings baby cereal (1 serving = 1-2 Tablespoons dry)
• Up to 1-2 servings fruit (1 serving = 1-2 Tablespoons)
• Up to 1-2 servings vegetable (1 serving = 1-2 Tablespoons)
Note: With your doctor's approval and guidance, you will start with just one teaspoon of solids (before mixing w/ breast milk or formula) and work your way up.
Don't forget to wait at least 3-4 days before introducing a new food for food allergy reasons.
"Thank you for your articles, they've shown me that my 4 month old baby is perfectly normal and I'm doing the right things in relation to his sleep. This is such a relief! So many sources just don't seem to give realistic information about baby sleep – not for myself or for any other mum I know.

Great care has obviously been taken by The Baby Sleep Site in reflecting a realistic and true picture of what a 'normal' baby is. Thank you."
-Sincerely, Elizabeth
This schedule assumes a baby can stay up 1 hour 15 minutes before needing to sleep again. At this age, wake-time should be 1-2 hours TOPS, to avoid baby getting overtired.
4-Month-Old Sleep Schedule
Time
Activity
6:30 AM
Wake and Breast milk or Formula
7:15 AM
Solids (Only if your pediatrician has recommended starting this early)
7:45
Nap
8:15-8:45
Breast milk or Formula
9:45-10:00
Nap
10:45-11:15
Breast milk or Formula
11:45-12:00
Nap
1:15-1:45
Breast milk or Formula
2:00
Nap
3:45-4:15
Breast milk or Formula
4:45
Nap
5:45
Begin bedtime routine
6:00
Breast milk or Formula
6:15
Bedtime (Goal to be asleep at this time)
+Plus probably 1-3 nighttime feedings
Note: This schedule follows the eat-play-sleep routine, however, it is sometimes hard to do at this age when the amount of time between naps is not long enough and your baby wakes too early from his nap because of a feeding.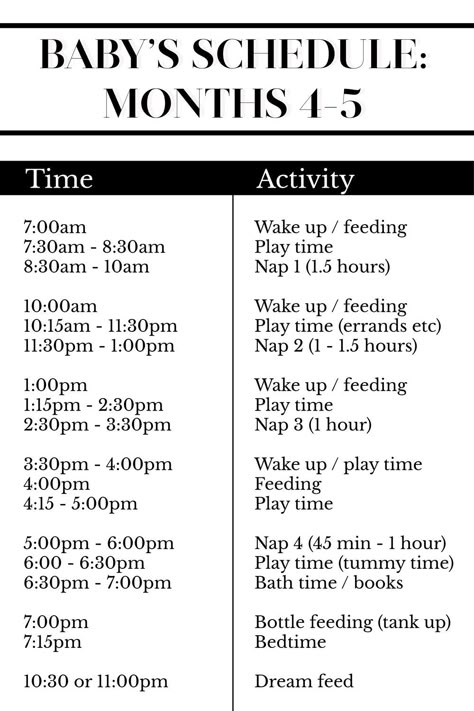 ---
Want more information about how to help your 4 month old sleep well? Check out our detailed case study about Nadia, Brad, and their 4 month old, Abigail.
Abigail's Story
Read how they helped Abigail learn to sleep longer stretches at night and take better naps – and how they helped to change those sleep associations that were keeping her awake! Just join our VIP Members Area, and access the case study instantly. And that's not all – our VIP Members Area is packed with additional premium content and resources: e-Books, assessments, more case studies, peer support, and more. It actually costs less to join than buying products separately! And best of all, members receive 20% of all consultation services – should you need more help!
---
Want FREE sleep help that you can put to use right away? Download a copy of our free guide, 5 Ways To Help Your Child Sleep Through The Night! The guide is available to download instantly, which means you can start using the techniques in it as early as tonight.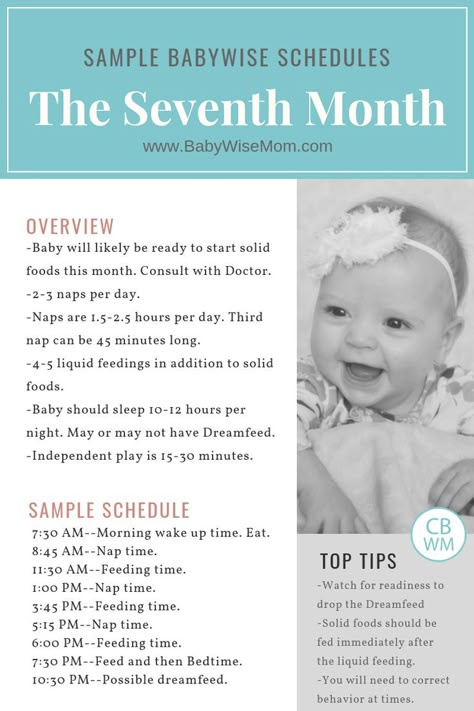 So download now, and learn why your baby is waking at night – and what you can do about it.
 
 
Click here to learn more about how to get your free guide.
A better night's sleep could be just a few clicks away. So don't wait – download now, and start your journey to better sleep tonight!
---
You May Also Be Interested In:
The 4 Month Sleep Regression: What It Is and How To Fix It
Which Sleep Coaching Method Fits? (Members Area quiz)
Abrupt Changes In Sleep Habits (Members Area article)
4 Month Sleep Regression Checklist
The Baby Sleep Site® is a participant in the Amazon Services LLC Associates Program and other product affiliate programs. If you click on a product link and make a purchase, The Baby Sleep Site® may (but not always) receive a small commission from the company selling the product, but will not affect your purchase price. We only recommend products that we believe are quality products and are good for our readers.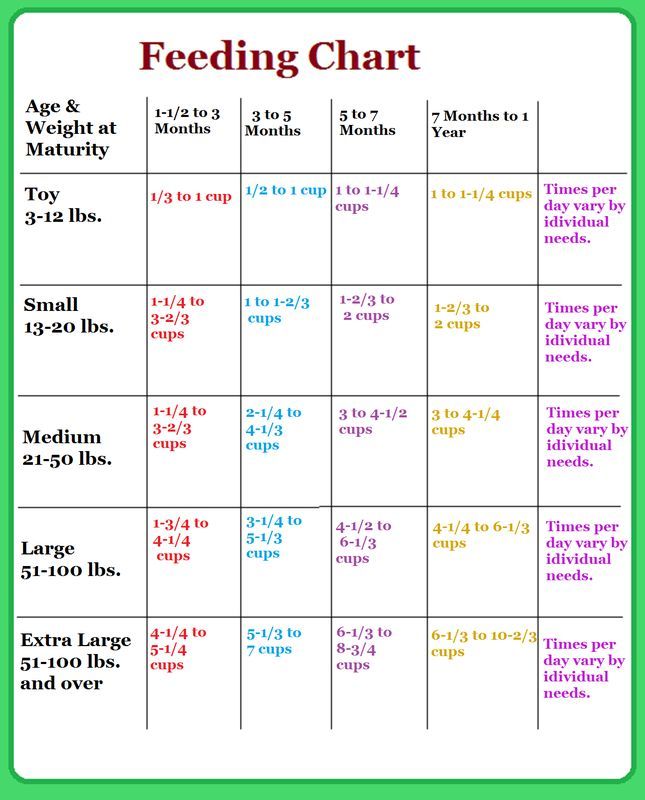 Struggling with your baby's sleep? We can help. Since 2008, we have helped thousands of families around the world with their babies' sleep problems, and we can help you, too! Tap into 10+ years of experience and take a look at our consultation packages to see which one looks like a good fit for you.
Click here to see all our personalized consultation packages.
Once you purchase, you will immediately receive access to the Helpdesk, and you can set up your account, fill out your family's sleep history survey, submit it to a sleep consultant, and get started on the journey to better sleep!
Want to read about other family's experiences? Read parent stories and reviews here.
Need Baby and Toddler Sleep Help? We Have the Resources You Need!
For those persistent nighttime struggles, check out The 3 Step System to Help Your Baby Sleep. Using the same unique approach and practical tools for success, this e-book helps you and your baby sleep through the night.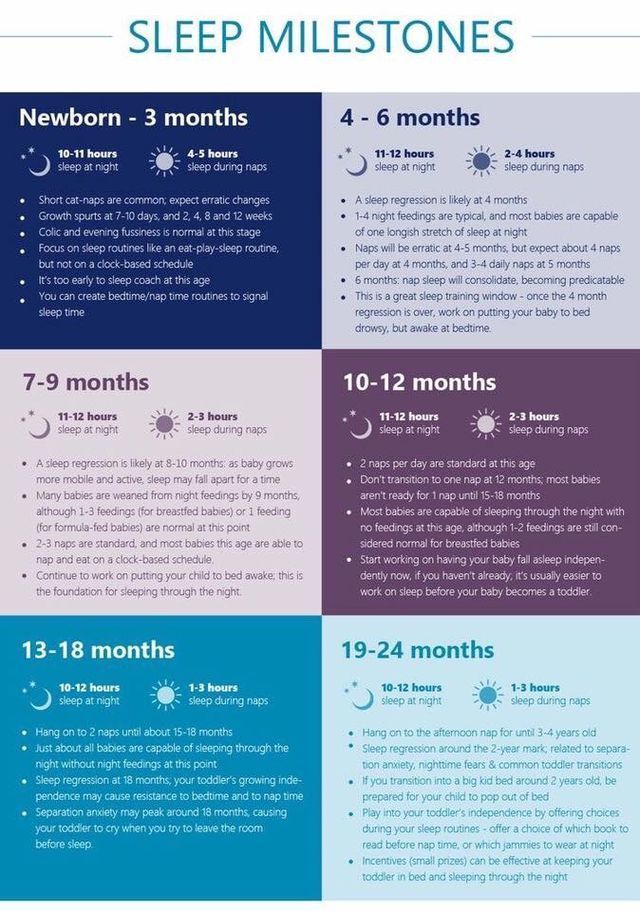 Or, join our VIP Members Area packed with exclusive content and resources: e-Books, assessments, detailed case studies, expert advice, peer support, and more. It actually costs less to join than buying products separately! As a VIP member, you'll also enjoy a weekly chat with an expert sleep consultant. And the best part – members receive 20% off all sleep consultation services!
3- and 4-month-old feeding schedules
At 3 and 4 months old, babies are still eating frequently throughout the day but are capable of going for longer stretches at night. Breastfeeding parents can expect their baby to continue to eat often, anywhere from eight to 12 times a day. If you're formula-feeding your little one, they'll be ready for 4- to 6-ounces bottles six to eight times a day. As your baby grows out of the newborn stage, you may notice them starting to develop a more predictable schedule for feeding, sleep, and play.
At 3 and 4 months old, your baby may be naturally falling into a schedule.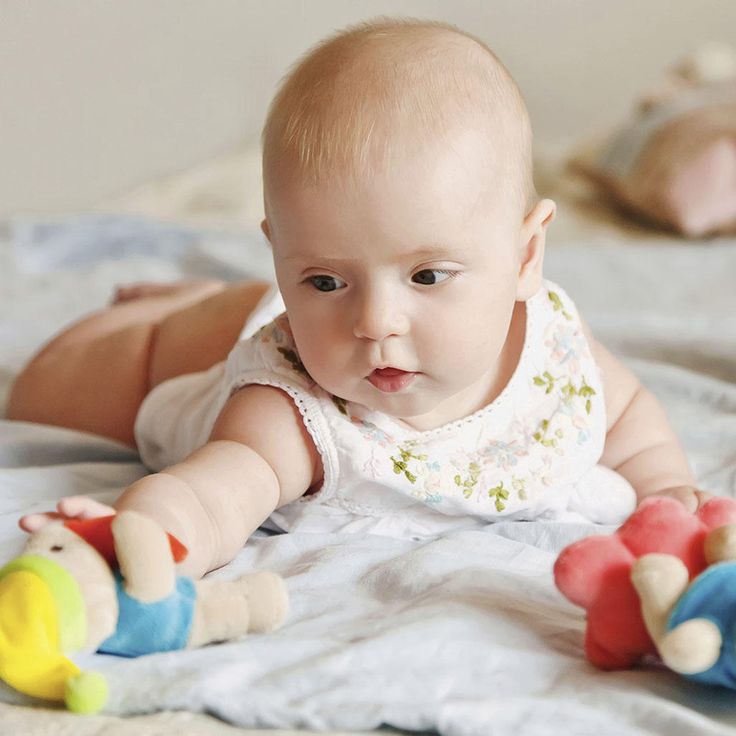 You can encourage them by adding more consistency to their days. Keep their naptimes, mealtimes, and bedtime routine about the same from day to day. Babies are awake and alert more now, making it a good time to start getting them on a more predictable schedule.
It can be a big help to see what other moms and dads are doing. Below, you'll find several sample schedules based on those of real parents and reviewed by a pediatrician on our Medical Advisory Board.
As you're creating a schedule for your baby, here are a few things to keep in mind:
The schedule for a formula-fed baby may look different than the schedule for a breastfed baby. At 3 to 4 months old, your formula-fed baby will have around 32 ounces of formula each day over five to eight feedings of 4 to 6 ounces each. (See whether your baby is getting enough formula.)
If you're breastfeeding, your baby will eat five to eight times a day, every two or three hours. (Here's how to tell whether your baby is getting enough breast milk. )
By focusing on longer feedings every three to four hours during the day, you can start encouraging your baby to sleep for longer stretches at night. Babies can go through the night without a feeding as early as 3 months, but it more commonly happens later, around 5 or 6 months
Sample 3-month-old feeding schedule
7 a.m.: Nurse.
8 a.m.: Daycare drop off; playtime.
9:45 a.m.: 4 ounces of expressed breast milk.
10 a.m.: Naptime. (Mom pumps at work.)
12 p.m.: Playtime.
12:45 p.m.: 4 ounces of expressed breast milk.
1:30 p.m.: Naptime. (Mom pumps again.)
2:30 p.m.: Playtime.
4 p.m.: 4 ounces of expressed breast milk. (Mom pumps again.)
4:30 p.m.: Naptime.
5:15 p.m.: Daycare pickup.
5:45 p.m.: Playtime.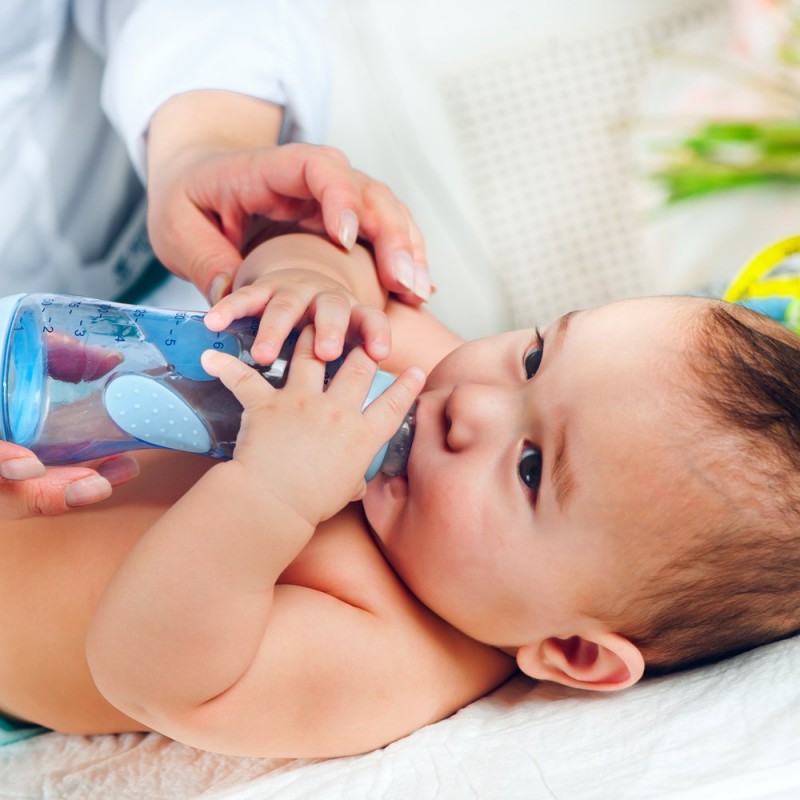 6:30 p.m.: Nurse.
6:45 p.m.: Playtime and tummy time.
7:30 p.m.: Nurse, then bedtime routine.
12 a.m.: Nurse.
4 a.m.: Nurse.
Sample 4-month-old feeding schedule
5 a.m.: Nurse, then back to sleep.
7 a.m.: Nurse and back to sleep again.
9 a.m.: Wake up.
10 a.m.: Nurse, then tummy time and playtime.
12 p.m.: Naptime.
2 p.m.: Nurse.
2:30 p.m.: A walk in the stroller.
3 p.m.: Short nap.
4 p.m.: Nurse.
5 p.m.: Playtime.
7 p.m.: Bedtime routine – bath, read a few books and sing a lullaby.
7:30 p.m.: Nurse and bedtime.
1 a.m.: Nurse, then back to bed.
Tips for feeding your 3- or 4-month-old
You may be breastfeeding exclusively, pumping and breastfeeding, exclusively pumping, formula-feeding, or supplementing with formula.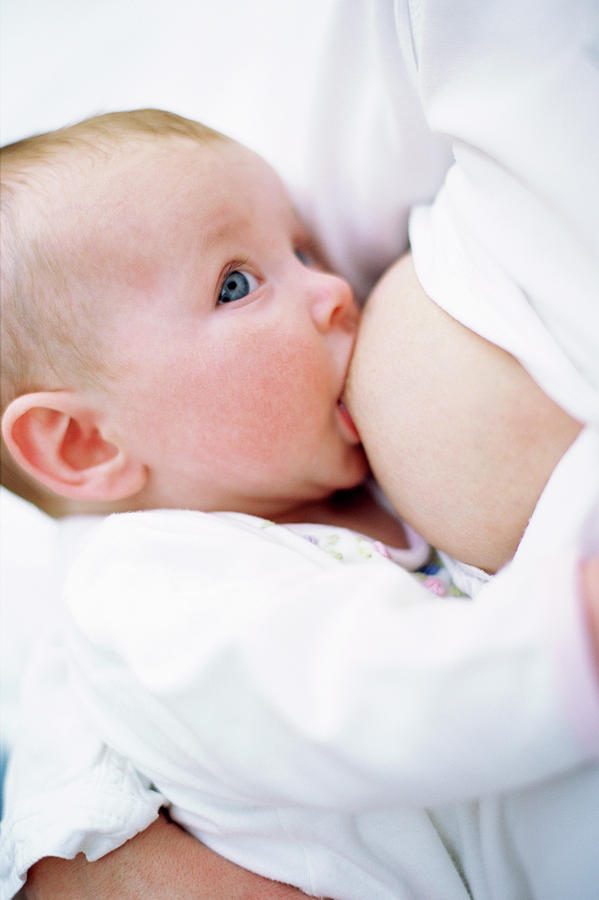 No matter how you're feeding your 3- to 4-month-old baby, here are some tips for helping it go smoothly.
If you're breastfeeding, continue to nurse or pump often to keep your milk supply up. Offer both breasts at each feeding to keep signaling to your body that it needs to make enough milk to keep up with your baby's hunger.
It's hard to overfeed a breastfeeding baby, but at 3 to 4 months it's also okay to encourage them to go for slightly longer stretches between meals. By focusing on longer feedings, you can fill their belly and try to avoid your baby "snacking" all day long.
Eat plenty of nutritious foods to keep yourself fueled for feeding your baby. Breastfeeding moms need more calories (450 to 500 extra calories each day), and dieting can decrease your milk supply.
If your baby is nursing exclusively but you're ready to introduce a bottle, it can sometimes be a challenge. Here are some tips for giving your breastfed baby a bottle.
If you're exclusively pumping and you notice a sudden drop in milk supply, try power pumping. The idea is to pump frequently over an hour to increase supply. One commonly suggested power pumping schedule is pump for 20 minutes, rest for 10 minutes, pump for 10 minutes, rest for 10 minutes, pump for 10 minutes. You can power pump once or twice a day.
Practice paced bottle feeding if your baby is drinking formula or breast milk from a bottle. By feeding your baby in a more upright position and taking regular breaks to burp them, you allow them more control over how quickly and how much milk or formula they drink.
Keep your bottle-fed baby safe from foodborne illness by practicing safe bottle feeding. Wash your bottles thoroughly between feedings and be sure you're storing formula safely. Expired or compromised formula can be dangerous for babies, so double-check the label before feeding your baby from a new container of formula.
Learn more:
Your 3-month-old baby's growth and development
Your 4-month-old baby's growth and development 
3-month-old sleep guide
4-month-old sleep guide
When can my baby start sleeping through the night?
sleep, feeding and development of the baby
04/11/2019
105
By 4 months, the biological rhythms of the child are finally formed, and the structure of his sleep becomes the same as in adults.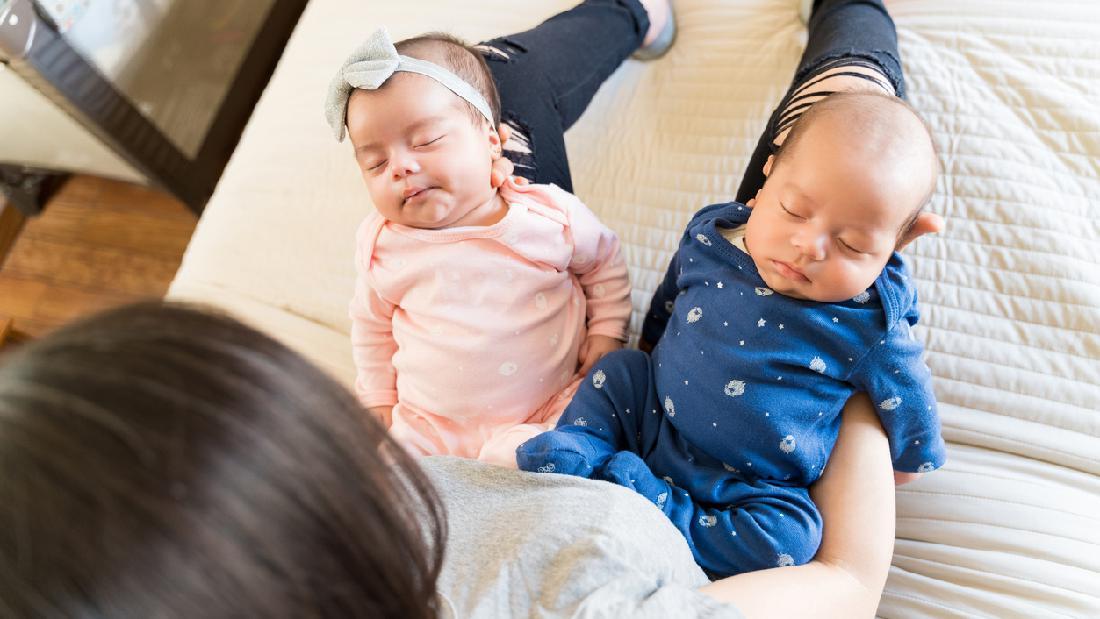 Therefore, the old ways of laying often stop working, the baby may fall asleep longer, wake up more often at night and constantly breastfeed, and the existing daily routine may no longer work. What to do in this case?
Use our tips to improve your child's routine!
4 months
At this age, children still cannot live according to a clear daily schedule, as they still sleep short dreams during the day and are not able to stay awake for a long time. Therefore, the daily routine of four months. is built based on the time of wakefulness, which is no more than 1.5-2 hours between sleeps. At the same time, an infant needs 9-10 hours of sleep per night with awakenings for feeding and 3-4 daytime sleeps with a total duration of about 4-5 hours. That is, the baby will sleep with this schedule 3-4 times a day. The time of evening bedtime will vary and depend on the end of the last day's sleep. To get your baby to bed on time, be alert for signs of fatigue and stay awake for more than 2 hours.
So you will prevent overworking the baby, which will improve the quality of his nightly sleep and reduce the number of night awakenings. Morning should start no later than 07:00-07:30 to form the physiological regime of the day.
What to do if a 4-month-old baby slept well but now has trouble getting to bed:
Enter a bedtime ritual if you haven't already done so. In the evening, this can be bathing, light massage, putting on a diaper and clothes for sleep, lullaby and feeding. During the day, the ritual can be left the same, only without hygiene procedures. The ritual should be repeated daily and consist of the same actions. It is carried out by one person - either mom or dad.

Check that the room has suitable sleeping conditions for a baby: the temperature is no more than 21-23 degrees in winter and no more than 25 degrees in summer, and the air humidity is approximately 40-60%. It is also important to darken the room for all dreams, including daytime, and use white noise.

Organize your baby's rest in the crib. The last daytime nap can be done outside in a stroller.

Prolong the child's sleep by any means, if the morning and afternoon sleep lasts no more than 30-40 minutes.

If nothing helps and the baby still constantly wakes up at night, neither motion sickness, nor the breast, nor the nipple work to prolong sleep, then it is worth teaching the child to fall asleep on his own.

Make sure your baby gets enough sleep. Otherwise, overwork will accumulate, which will manifest itself in frequent nocturnal awakenings. This is where following a routine can help.
Check our chart to see if your baby is getting enough sleep
How many feeds does a baby need at night?
At four months old, breast milk or formula is still the main food in his diet.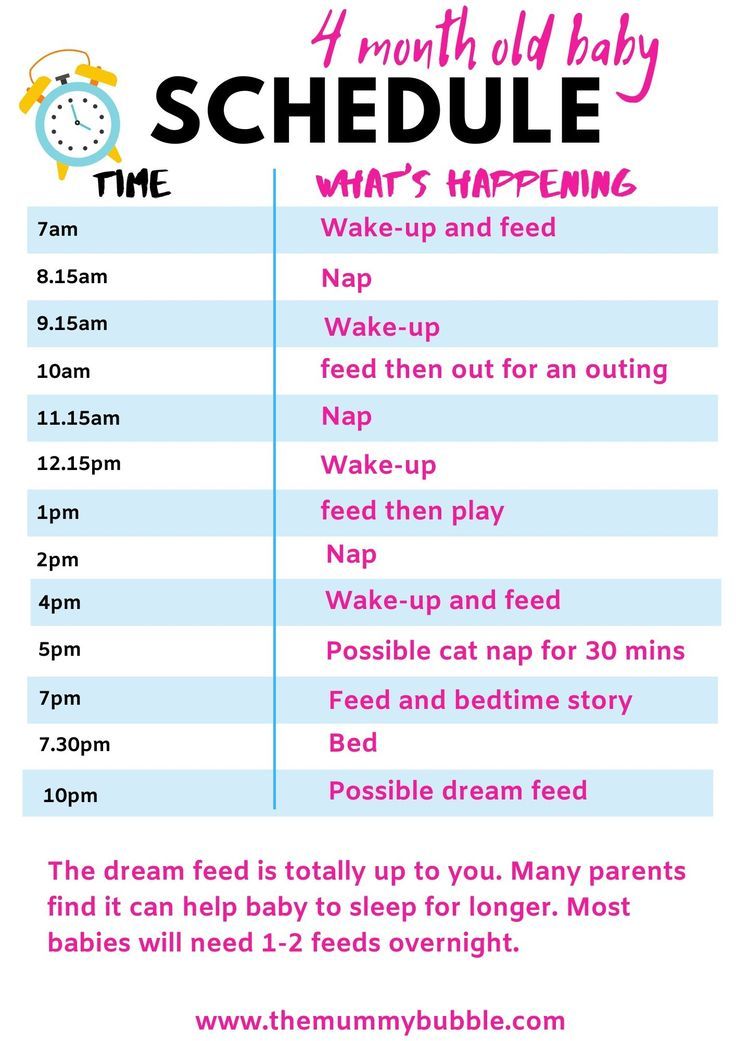 The diet of the breastfed baby this month will consist of feedings every 3-4 hours. The volume of breast milk drunk at a time will be about 118-210 ml. The duration of feeding may vary.
When formula-fed, the volume of the mixture should be calculated from the recommendations of the pediatrician. This is usually 1/6 of the child's actual body weight. At four months, the baby will eat 800-1000 ml. mixture per day every 3-4 hours during the day.
The baby is becoming more and more interested in the world around him and during feeding he can start to be distracted, not eat enough and make up for hunger at night. Therefore, it is better to feed the baby in a calm environment.
2-3 feedings are enough at night for a four-month-old baby.
Does the baby wake up at night shortly after feeding and start crying? Instead of refeeding him, try other ways to calm him down, such as petting his tummy and peeing.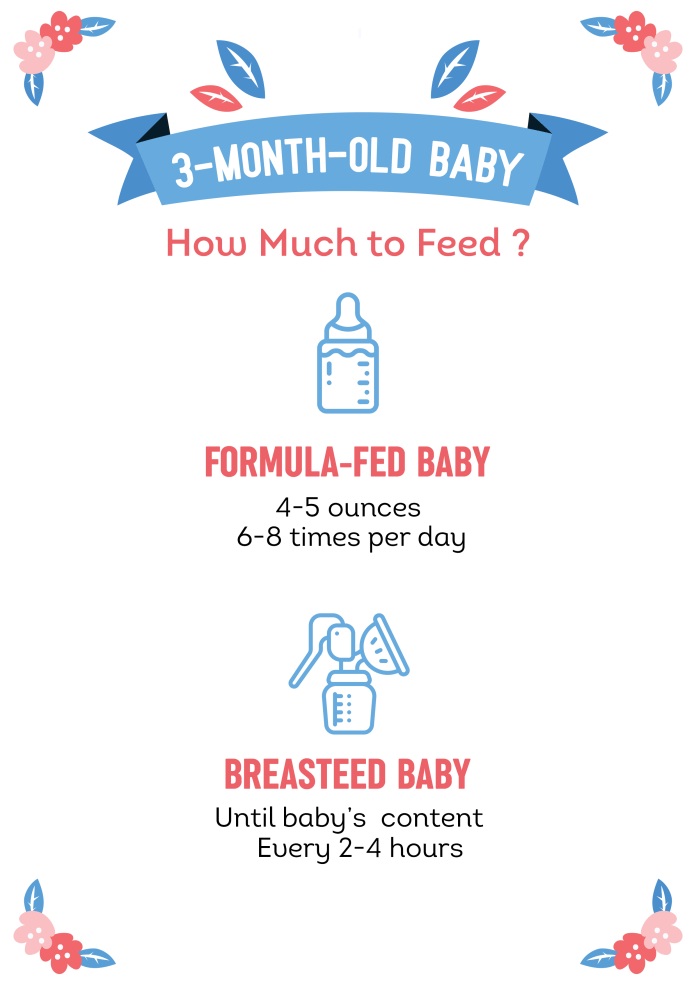 So the child will not form the habit of falling asleep only with the help of feeding.
Should we start complementary foods at 4 months? WHO (World Health Organization) recommends introducing complementary foods from 6 months. Therefore, before introducing adult food, it is worth consulting with a pediatrician.
Physical development of a 4-month-old baby
The fourth month is the age when a child already knows a lot and masters new skills.
He is already confidently using both hands at the same time and grasping toys, colorful and shiny objects near him. Soft books, teething rings are a good choice for this age.
For reading, choose large books with different textures inside to develop tactile sensations. Read and sing to your baby every day for a few minutes. This develops the attention and speech of the child. Take a closer look at children's bathing books - their puffy pages are easy to flip through.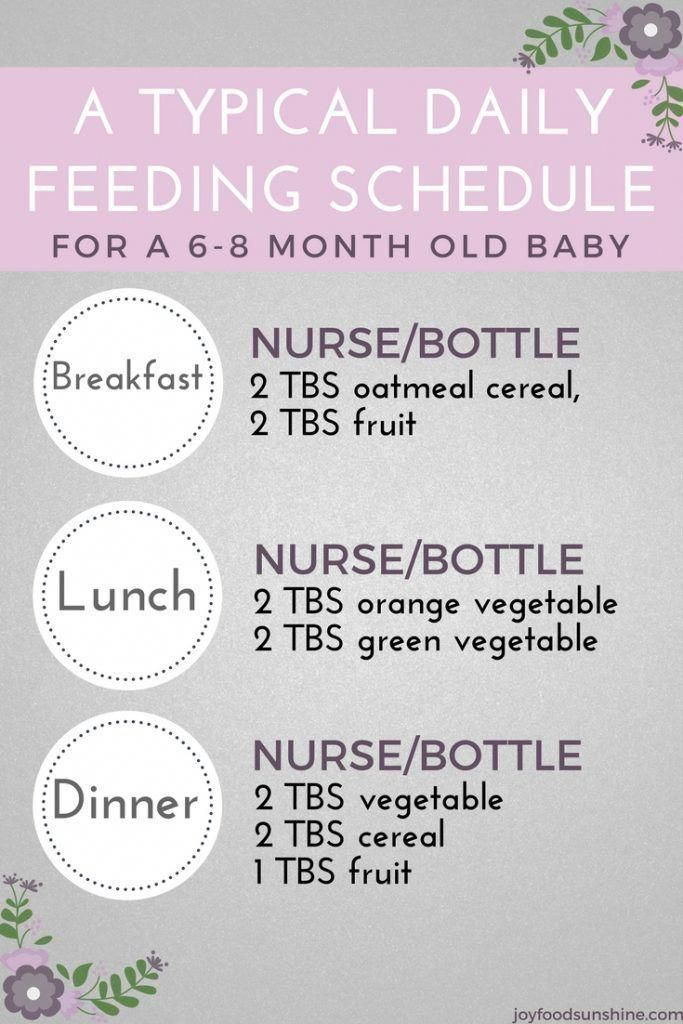 In addition, they still often squeak, and the pictures in them are bright.⠀
The baby is already holding his head and chest well, being on his stomach and pushing off the surface with his hands. Also, the child can already begin to roll over from his stomach to his back and push with his legs.
The baby sees better, begins to distinguish colors and notice objects in the distance, although he still prefers to look at faces and things near him. During walks in the fresh air, tell the baby about the surrounding objects, point to them and describe them.
From the age of 4 months, the first teeth erupt. If the baby's salivation increased, redness appeared around the mouth, he began to bite, refuse to eat, became moody, his night's sleep worsened, then most likely the child has a new tooth. In the acute period, teething rings, anesthetic gel recommended by the pediatrician, more attention and warmth from the mother's side will help.
Important changes occur in communication with the baby at 4 months. He realizes that his mother is coming to his crying, and begins to use different sounds when communicating with others: oooh .., aah .., aha ... Catch the moment when the child "talks" more than usual and play "echo" with him. He says - you repeat.
Such a game gives the child confidence that his mother listens to him and is happy to talk to him. And, of course, develops the speech of the child. Try it - you'll like it.
Also at this age, finger games will already be useful, for example, "Ladushki", "A horned goat is coming", "Magpie-crow" - they are aimed at developing the child's fine motor skills, which in turn is important for the formation of speech.
If your 4-month-old baby does not sleep well at night, we recommend that you watch the free master class "MY BABY SLEEPS BADLY at NIGHT: 3 SOLUTIONS"
What is the daily routine of your baby at 4 months old?
Like this article? Rate:
Votes: 773
4 month old baby mode
07/12/2022 2773
Article content
Sleep mode
Feeding schedule
Walk mode
How to keep a child busy while awake
At 4 months, the child actively learns the world around him and acquires more and more complex motor skills.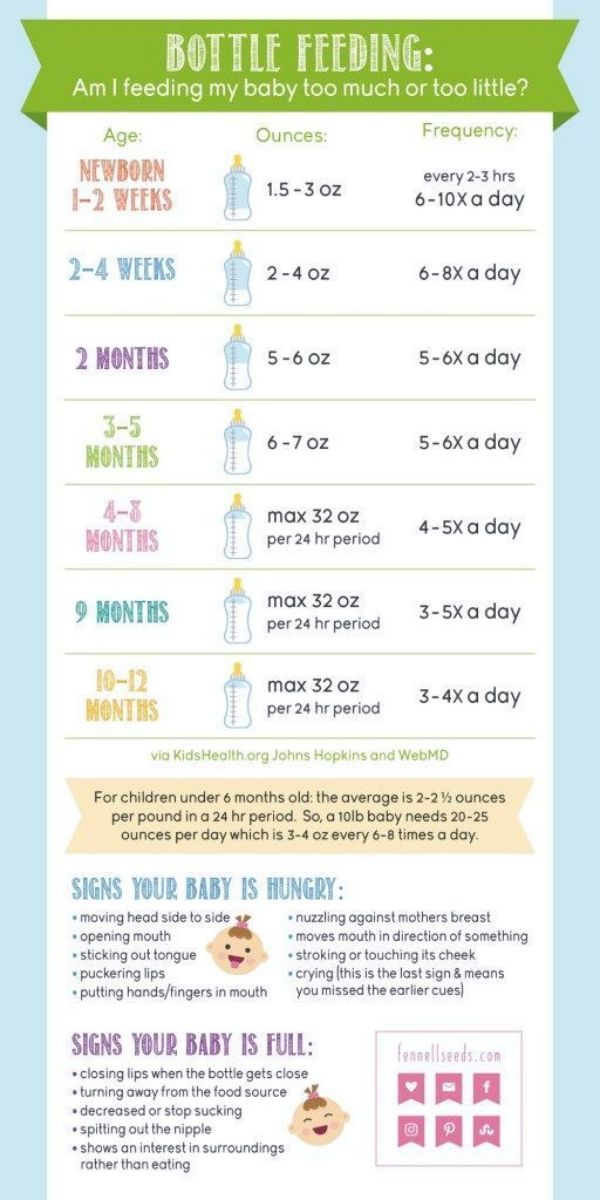 For some babies, it's time to get acquainted with a new food - complementary foods. The daily routine of a four-month-old child is already quite clear, the mother needs to adhere to it and revise it in time as the crumbs grow older.
Sleep mode
At 4 months, the baby can sleep from 14 to 17 hours a day. If it seems to you that this is quite a lot and you will have time to cope with all the affairs while the child is sleeping, then this is not entirely true. Most of this time is devoted to night sleep - 10-12 hours. Divide the remaining 4-5 hours into 3-4 short naps.

A baby at the age of four months can be awake for up to 2 hours, and during these 2 hours you can't take your eyes off him: he strives to roll off the bed or at least drop his head on something hard when his neck gets tired of holding it. And he tenaciously grabs objects and pulls everything he can reach into his mouth. In general, the baby will not be bored during periods of wakefulness.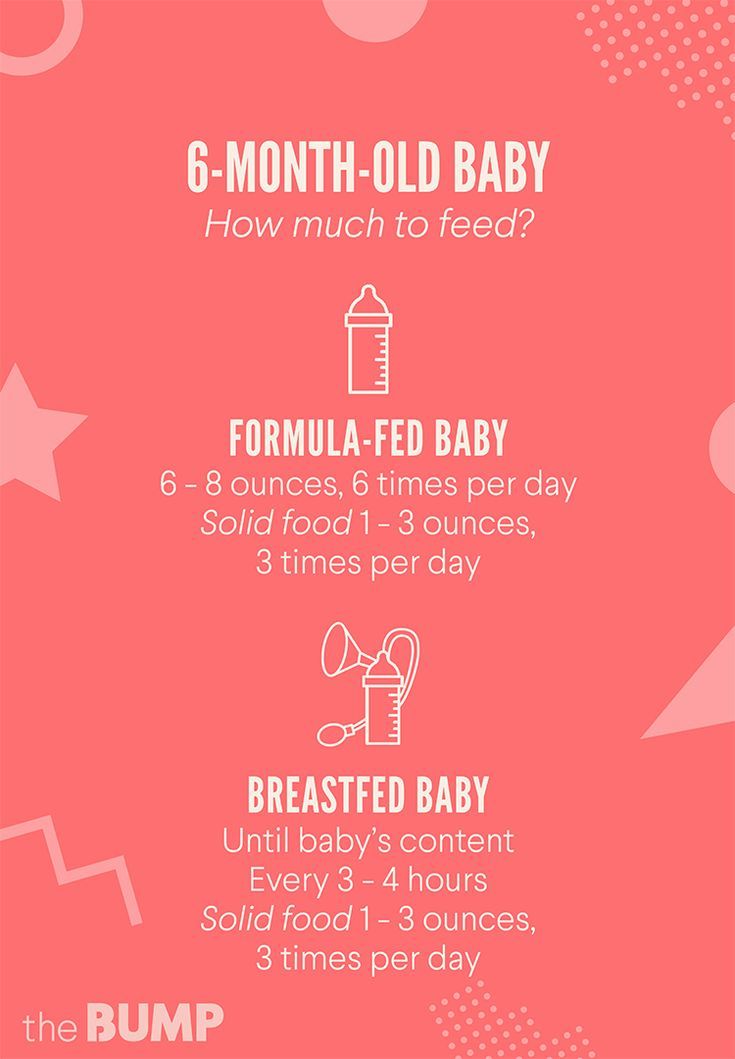 This is important!
Talk to your doctor if your child sleeps more than 18 hours and less than 10 hours per night. If he falls asleep for a long time in the evening or goes to sleep too late, analyze the daytime rest regimen, perhaps for your crumbs one of the dreams has already become superfluous or, conversely, there is not enough daytime sleep, and in the evening the baby is naughty from overwork.
Feeding schedule
The diet of the baby at four months remains practically unchanged. It's still 6-7 feedings every 3.5 hours.
Your pediatrician may advise you to start introducing complementary foods, that is, foods and meals other than breast milk or formula. Complementary foods, on the recommendation of WHO, are introduced in the period from 17 to 26 weeks. Previously, the baby will not be able to assimilate new foods, and later the risk of developing allergies increases when meeting foods. When and what kind of complementary foods to introduce to your child depends on his state of health and the pace of development, consult a pediatrician about this.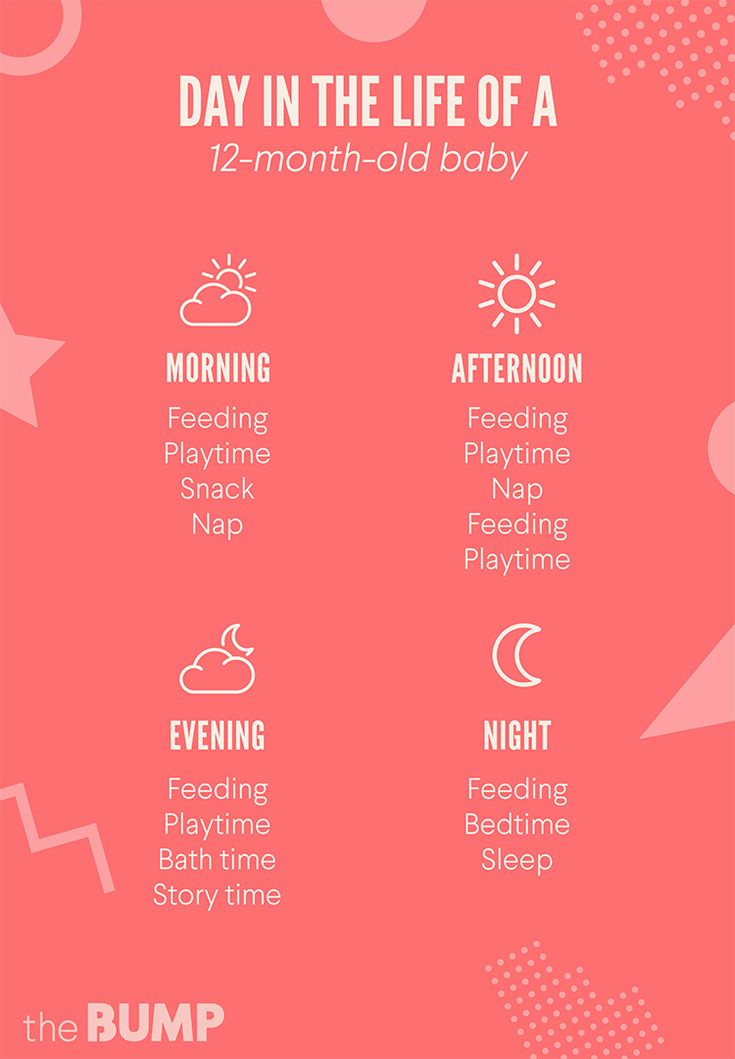 At 4 months, the breastfeeding pattern will be relatively stable, but variations are possible. For example, a baby may ask for a breast earlier or later than usual. On some days or nights, it can literally "hang on the chest" if it is unwell or worried about something.
The mode of a child at 4 months on artificial feeding excludes such liberties. The baby receives the mixture by the hour and in a volume that corresponds to his age and weight.
This is important!
At 4 months, a child can completely refuse night feedings, especially if he is bottle-fed. You don't need to wake him up to feed him. If the baby makes a row at night, demanding a snack, analyze whether he gets enough food during the day. If necessary, night feeding at this age can be saved.
Walk mode
The day regimen of a child of 4 months provides for 1-2 walks a day in cold weather and as much time as possible for being outdoors in the summer.
In winter, if the temperature is not lower than -10 degrees, there is no heavy snowfall and strong wind, you can take a walk with the baby after the first daytime sleep, around 10.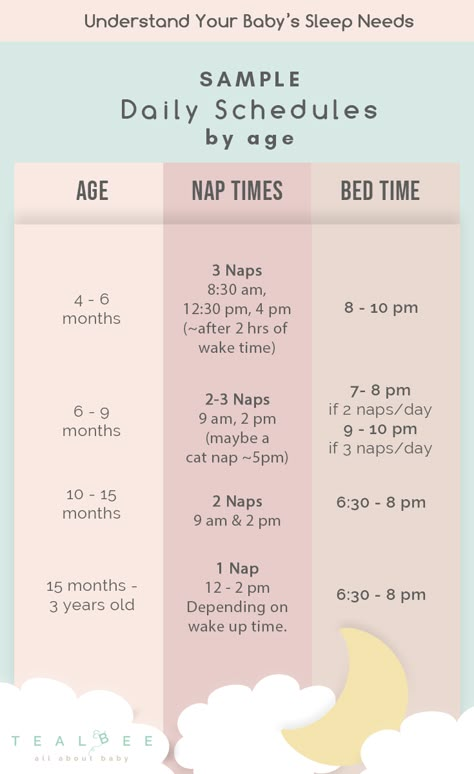 00 -12.00 hours, or, conversely, go for a walk after feeding, before the child falls asleep again . This will depend on the temperament of the crumbs and how he tolerates being in a stroller. If he falls asleep from her measured movement, count on the walk to coincide in time with sleep. If he is comfortable being awake on the street, take a walk after waking up. In this case, communicate while walking with the baby, recite poems, nursery rhymes to him, describe what is happening around you. Plan the second walk in the winter according to the same principle after lunch.
In summer, in addition to thunderstorms, hurricane winds and heavy rain, a high level of ultraviolet radiation can become an obstacle for walking. You can check the UV index value in the weather app on your smartphone. As a rule, it is highest in the period from 11.00 to 16-17.00. If you have to go outside at this time, do not forget to use sunscreen.
How to keep a child busy while awake
If at 4 months you still haven't moved your baby to the floor while awake, it's time to do it.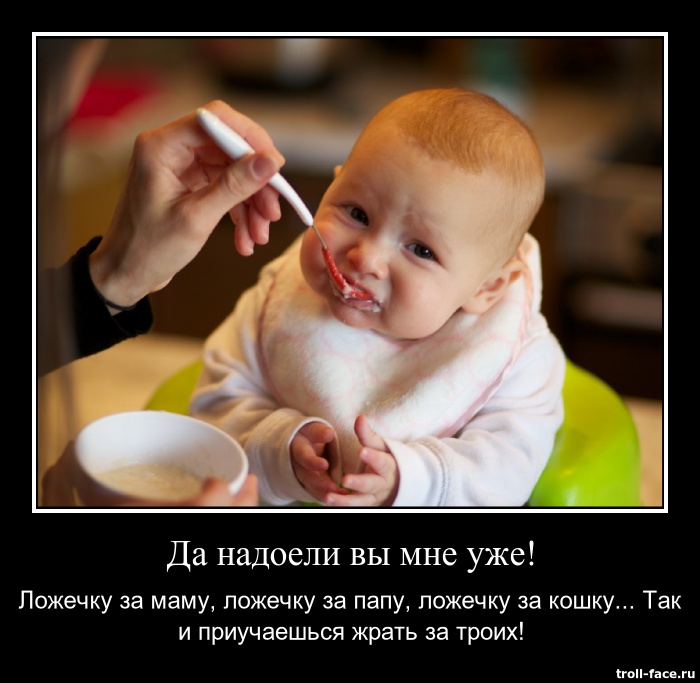 Spread out a thick blanket or buy a thick rug that will protect you from bruising if the baby turns awkwardly or shakes his head sharply. Place a toy in front of your child. He will try to get to a bright interesting object, pumping purposefulness and crawling skill. Both will be useful to him.
Let's touch, hold objects of different textures to the baby in order to develop his tactile sensations. Do not try to buy toys in bulk. Let them be few, but high-quality and different: for example, a wooden rattle, a silicone rodent, a plastic roly-poly, a comfortable textile splyushka.
At 4 months, the child will be delighted with the game of "cuckoo". Hide for a few moments behind a pillow, a diaper, a sofa corner, or just cover your face with your palms, and then show your baby by saying this code phrase. Success with a grateful young spectator is guaranteed to you, and his bursting laughter will be a reward. By the way, this entertainment is not empty at all. So the baby learns to calmly endure separation and gains confidence that mom always comes back.