Creative uses for baby food jars
50+ Fantastic Ways to Re-Use Baby Food Jars
Home » Crafts for kids » 50+ Creative Ways to Re-Use Baby Food Jars
Last updated on
22.6Kshares
50+ baby food jar crafts and creative ways to re-use baby food jars so you don't have to put throw them in the trash.
If you've had a baby in recent years, there's a good chance you've acquired quite a collection of baby food jars. Baby food jars ares so cute and chubby, and such a great size. If you're like me, you find it hard to thrown them away. If that's the case, your baby food jar collection could be growing at an alarming rate, and you're probably looking for things to make with all of those jars.
Well, you're in luck! One of my Facebook followers recently asked for ways that she could re-purpose her baby food jars, and the HH community responded with dozens of great crafts made with baby food jars along with practical ways to use baby food jars in and around the home.
I've gathered up their best suggestions and added a few of my own favourite uses for baby food jars, and I've come up with this long list of ideas for you.
From the craft room to the classroom to the bathroom and beyond, here are over 50 ways for you to use leftover baby food jars so you don't have to toss them out.
50+ Baby Food Jar Crafts
Click on the links below to see project details.
Ways to use baby food jars in the classroom or craft room:
Crayon Caddy: Paint several baby food jars and store co-ordinating, coloured crayons in them.
Fill baby food jars  with water, and set on the art table to rinse paint brushes in.
Give each student in the class a baby food jar filled with cream, and make homemade butter together.
Make a mini "ocean in a jar" in a baby food jar. Pretty on classroom window sill or fun to play with.
Soak dried out markers in baby food jars to make liquid watercolour paint.
Make and store homemade finger paint in baby food jars.
Baby food jars make great paint and glue pots at the easel. Lids keep them from drying out between uses.
Punch holes in the lids (with a nail) and use jars to store and dispense glitter.
Make I-Spy Jars in baby food jars.
Make  collection jars for the preschool classroom.
Fill with small amounts of water for syringe transfer work trays in preschool or kindergarten
Paint tall baby food jars with  food coloring, water and glue for a frosted look. Store pens, pencils and paintbrushes in them.
Things to make for kids with baby food jars:
Play dough jars:  fill several baby food jars with different colours of homemade play dough for a kids'  gift basket.
Set some baby food jars out in the rain and make this scented rain paint.
In the play kitchen: fill baby food jars with flour, rice, lentils etc. Glue the lids on, and kids can pretend-cook with them.
Bug Jars – wrap a pipe cleaner handle around the top, and go exploring in the yard.
Make these cute and quirky emoji jars for a kid's dresser or desk.
Glue painted toy animals on baby food jar lids, use as party favours.
Fill with homemade slime or silly putty to put in loot bags.
Make a tooth fairy jar.
Teach kids how to manage their allowance with 3 tall baby food jars labeled SPEND, SAVE, BANK.
Make an advent or countdown calendar.
Fill baby food jars with layers of "coloured sand" (ground sidewalk chalk mixed with salt).
Use baby food jars to make mini lava-lamps.
Ways to re-use baby food jars in the kitchen:
Make magnetic spice jars to store on the refrigerator door
Organize your spice drawer with baby food jars.
Make Smore's treats in baby food jars. Hand them out around the campfire or at a party.
Make a window-sill herb garden with baby food jars.
Fill baby food jars with condiments for camping or a bbq.
Sterilize jars and lids, and reuse baby food jars for homemade baby food. The serving sizes are perfect.
Gifts and party favours to make with baby food jars:
Baby food jars make great wedding favours. Decorate and place at each table setting.
These baby food jar lanterns were hung in a tree at an outdoor wedding.
Make Lego Head Jars as party favours for a Lego party.
Make mini calming jars for kids or co-workers
Make a wish jars or dream jars for your family and friends.
Give a gift of homemade bath salts or sugar scrub in a baby food jar.
Make these cupcakes in a jar to give to teachers, neighbours and friends.
Make a craft kit for a child by filling jars with pom poms, sequins, foam stickers, and beads.
Hot Cocoa in a baby food jar: layer hot chocolate, shaved chocolate and mini marshmallows in a jar. Cover the lid with a swatch of fabric tied with a ribbon.
Other ways to use baby food jars around the home and garden:
Store pony tail holders, Q-tips, and hair clips in baby food jars on the bathroom counter.
Make a spill proof nail-polish remover kit with a baby food jar.
Plant succulents in baby food jars to display on a porch or patio.
Hang these colourful baby food luminaries from a tree in your yard.
Baby food jars are great for storing seeds for the garden.
Make Photo Globes by placing your child's photo inside a baby food jar.
Organize your spare change: each jar holds a different type of coin.
Use baby food jars to hold paper clips, thumb tacks etc. on a desk or in a drawer in an office.
Travel jewelry keeper for earrings and rings.
A Mini sewing kit in a baby food jar is great for travel or the office.
Fill baby food jars with Puffs, fishy crackers, Cheerios, nuts etc. Keep in the diaper bag for the kids.
Nail the lids of baby food jars to the underside of a shelf to store screws, nails and craft supplies.
 Store several baby wipes in a baby food jar and keep in your purse or diaper bag.
Baby food jar Christmas crafts:
Turn a baby food jar into a snowman Christmas tree ornament.
Make festive holiday votive candle holders.
Make sparkly tea light luminaries in baby food jars.
Baby food jars make great miniature  snow globes.
Make Reindeer food for Christmas Eve.
What if you STILL have leftover baby food jars?
If you have more baby food jars than you could possibly ever use, even after reviewing all of the ideas, please consider giving your collection to a teacher, a crafter or a daycare provider. Most will be happy to put your little glass jars to good use.
Looking for more crafts to make with your recyclables? Check out:
Re-purposed Denim Craft Aprons 
Re-purposed Denim Bibs
25 Creative Ways to Re-use your Keurig's K-Cups
22 Ways to Re-Use Cardboard Tubes
Follow the Hooligans on Facebook!
Jackie Currie
Jackie is a mom, wife, home daycare provider, and the creative spirit behind Happy Hooligans.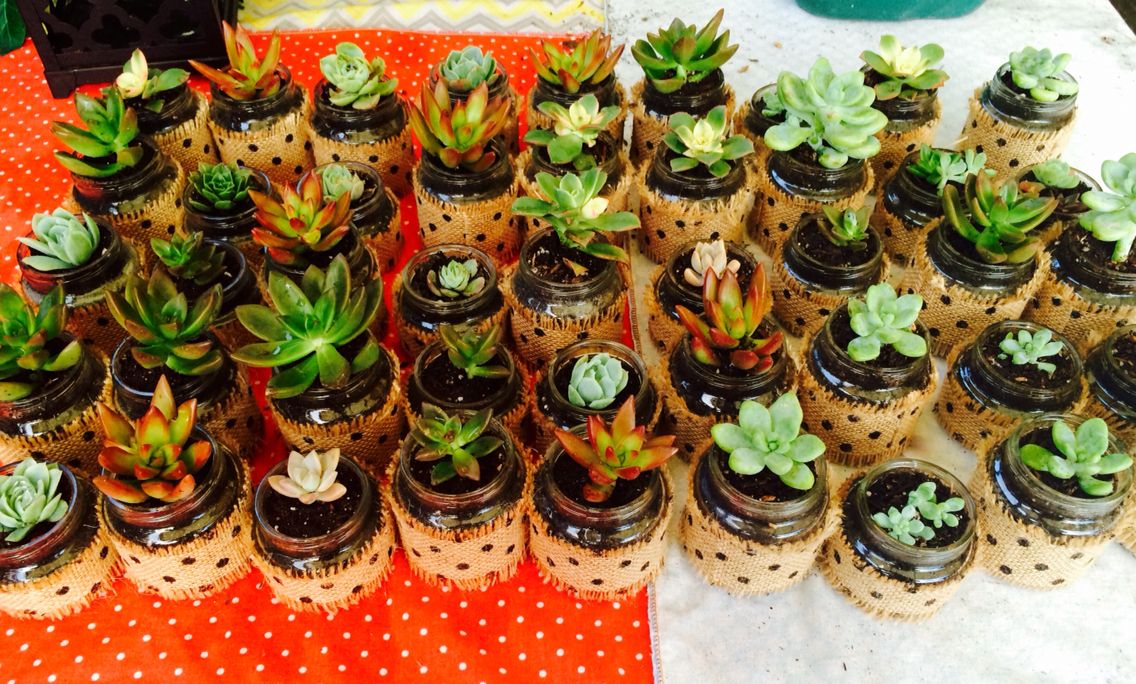 She specializes in kids' crafts and activities, easy recipes, and parenting. She began blogging in 2011, and today, Happy Hooligans inspires more than 2 million parents, caregivers and Early Years Professionals all over the globe.
22.6Kshares
Reader Interactions
24 Cleverly Creative Baby Food Jar Crafts – It's all about Repurposing!
I love glass jars of any kind because you can reuse and repurpose them in so many different ways, and they'll last forever. My friend is a new mother and she's been handing over all her empty baby food jars to me because they're just so small and cute and I love them! I knew I had to find something to do with them before my stockpile became unmanageable, so I thought I'd let you in on the wonderful ideas that I found.
Table of Contents
S'mores in a Jar
Everyone loves s'mores right? This cute and tasty craft makes excellent gifts – you can hand over a few for people to warm up and toast in their ovens at home.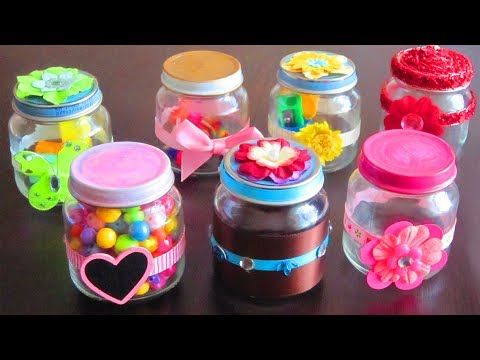 If you're a real fan of this classic campfire treat, then you may enjoy this incredible s'more dip too!
DIY Instructions and Project Credit – PharMa
Photo Globes
These are sort of like snow globes, except you actually put photos in the jars instead of snowmen or Santas. These would look so cute all resting on your mantelpiece, or they could make excellent Christmas gifts when the time finally comes around.
DIY Instructions and Project Credit – DesignMom
Storage Plaque
When laid on their sides, these jars make excellent little storage compartments, so all you need to do is attach them to a plaque which you can then mount on the wall. You can keep all your Q-tips, bobby pins, nail files etc. neat and tidy.
DIY Instructions and Project Credit – OhHowCrafty
Paint Dipped Vases
Instead of having one large vase full of flowers, why not take a more modern and minimalist approach with a series of small paint dipped vases? It's such a simple thing to do, yet it can make such a big impact.
DIY Instructions and Project Credit – Apples&Onions and OhHappyDay
Dyed Luminaries
How gorgeous are these multicolored luminaries? They'd really brighten up your garden in the summer, especially if you're having people over for a barbecue or just a nice evening out under the stars. There's just something so magical about lights in the trees.
DIY Instructions and Project Credit – InspiredByFamilia
Spice Jars
These small jars are just the right size to store spices and make your kitchen look a little prettier. You can either paint the jars and just stand them somewhere, or you can attach magnets to the lids and store them on the side of your fridge for easy access!
DIY Instructions and Project Credit – AtThePicketFence and Dav.I.Son
Mini Rainbow Cakes
I'm not quite sure why, but I just love eating treats out of jars.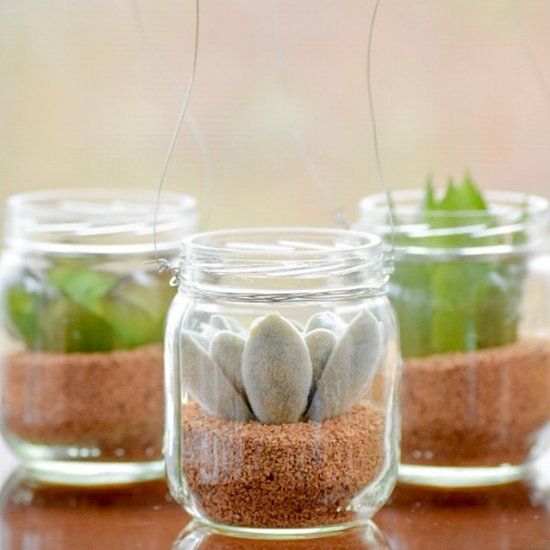 If you have a whole collection of these empty jars then you could use them to make these stunning little rainbow cakes – you'll be happy about the portion size! They're perfect for a kid's party or even a baby shower.
DIY Instructions and Project Credit – MakeLifeLovely
Hanging Planter
I am in love with this project! The planter looks so beautiful with the bursts of color from the flowers, and adding in some tea lights would create lovely lighting, too. It's such a great idea, and luckily it's not too difficult a task!
DIY Instructions and Project Credit – MakeLifeLovely
Under-the-Shelf Storage
Physical space is sometimes a bit of an issue when it comes to storage, which is why I am so in love with this idea! The handy jars can hold all your little bits and bobs, and since they're tucked away, hanging underneath the shelf, they won't get in the way.
DIY Instructions and Project Credit – CraftinessIsNotOptional
Topiary Treats
These jelly bean jars with charming little felt flowers are just so endearing! They make perfect little decorations for kitchen teas or parties, which double up to become party favors when the guests make their way home.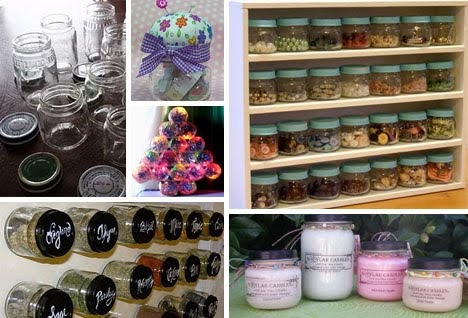 DIY Instructions and Project Credit – SugarTotDesigns
Small Storage
These glass jars really make fantastic little storage solutions for any small items you may have from coins to hair clips to little sewing kits. You can even use them to keep your jewelry safe when packing. All you need to do is make them look pretty and you're good to go!
DIY Instructions and Project Credit – LovelyEtc.
Lego Heads
I can't believe that I've never noticed that baby food jars have the exact same shape as Lego heads! What a revelation! I don't even care what I store in these; I'm climbing up the Lego fandom ladder and making myself a whole population of these!
DIY Instructions and Project Credit – HandmadeCharlotte and UniqueAndChicCreations
Mini Pincushion
A baby food jar is just the right size for an adorable mini pincushion like this with space for little buttons.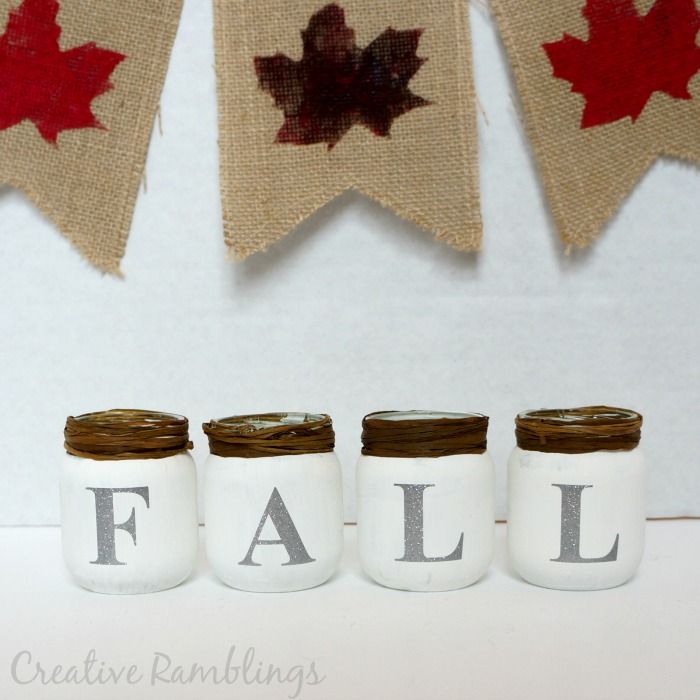 And it's such a quick, easy and cheap craft to make – you'll only need a couple of minutes. You can also make these with empty pill bottles.
DIY Instructions and Project Credit – CraftPudding
Nail Polish Remover Jar
This little homemade contraption is wonderful for getting your nail polish off in a hurry. It's really easy to make since all you need to do is shove some sponge into the jar and pour in the nail polish remover so that when the time comes, you can just rub each nail clean.
DIY Instructions and Project Credit – BellaShoot
Sugar Scrub
Sugar scrubs are fantastic because they help moisturize and soften your skin, and thanks to these little jars, you know have packaging for some soothing homemade body and lip sugar scrubs. Just make a nice label and you have the perfect gift!
DIY Instructions and Project Credit – CincyShopper and HonestlyWTF
Candles
Isn't this just so creative? Someone had the clever idea of making a collection of candles in these little baby jars and it's absolutely brilliant! You get to experiment with different scents, and you can play around with pretty decorations, too.
DIY Instructions and Project Credit – DearBeautifulYou
Chalkboard Paint Organizers
You can store a whole lot of hair accessories (and other small items like craft supplies) in these little jars for some organized storage. And the chalkboard lids are genius, since you can reuse and relabel them over and over again.
DIY Instructions and Project Credit – MapleMemories
Salt and Pepper Shakers
Don't these just look so much better than regular salt and pepper shakers? You can decorate them however you wish, and you can even make a whole collection of interesting flavored salts too!
DIY Instructions and Project Credit – DreamALittleBigger
Teacher's Gift
If your little one really appreciates his or her teacher and wants to express that, then get them to help you make these cute little gifts. We all know the custom of giving a teacher an apple, but I think they'd much prefer an apple-looking jar filled with treats!
DIY Instructions and Project Credit – The36thAvenue
Snow Globes
One thing I've learnt is that it's never too early to start thinking about Christmas decorations and presents.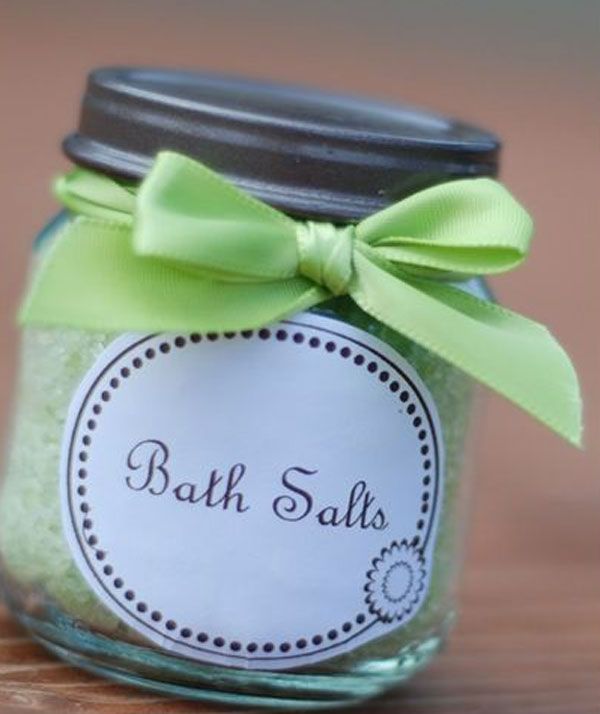 So you can get a head start and make these lovely little snow globes. I'd love a whole collection of different ones showcased on my windowsills.
DIY Instructions and Project Credit – CraftaholicsAnonymous
Kid's Crafts Organizer
Make sure that your little one keeps all their crayons, markers, pencils and other little crafts neat and tidy with this simple jar organizer. The color coding makes it easier to keep everything in its right place, and plus, it looks so cute!
DIY Instructions and Project Credit – MonkeySee,MonkeyDo
Snowman Ornaments
I love holidays and I love decorating for the holidays, but I much prefer making my own themed ornaments as opposed to purchasing. These happy little jars-turned-snowmen are perfect for Christmastime, and you can get the little ones involved in this too.
DIY Instructions and Project Credit – StareIfYouMust and CrazyLittleProjects
Nightlights
Here's another fun project that the kids can do – mini baby jar nightlights! The scraps of colored tissue paper give it a stained glass look actually; just imagine how gorgeous it would look to have a couple of these adding a soft, warm glow to your little one's room.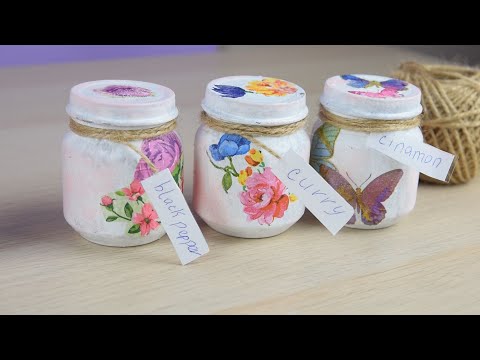 DIY Instructions and Project Credit – NothingButCountry
Hummingbird Feeder
Hummingbirds are so lovely to look at and have around, and luckily, they're quite easy to attract with just some sugar water. You can make your own homemade birdfeeder from some clay and a baby food jar, and you get to decorate it however you like.
DIY Instructions and Project Credit – BirdsAndBlooms
How to creatively use baby food jars
Home » How to make
How to make
Author julia-vm Reading 3 min. Views 27.3k. Posted by
In every family with small children, there are at least a few jars left after eating baby food. Don't rush to throw them away. With a little imagination, you can make a lot of interesting things out of this compact container.
Jars must be thoroughly washed and dried before use. After that, you can decorate them as you wish, using various materials.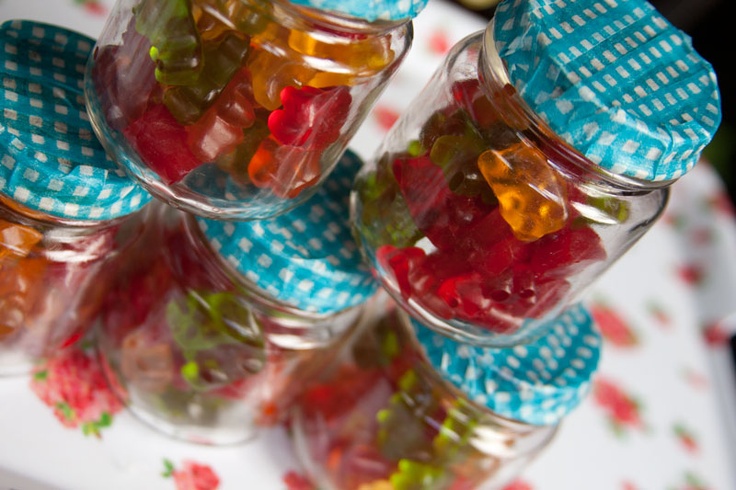 Here's a selection of creative baby food jar ideas that you can use to make unique, original and useful household items.
Handy spice jars.
Agree that storing spices in retail packaging is not the best solution. Making a convenient container for spices from jars is not difficult. Just peel off the labels and instead stick labels with the designation of the contents. You can go even simpler and sign the lids. Those who love creative solutions can decorate the jars to their taste with the help of ribbons, painting or decoupage.
Gift box for sweets.
Decorate the jars to your taste (eg coarse ropes and colored cloth) and get a beautiful gift box. Pour colored dragees or small sweets into the container - an unusual surprise for the sweet tooth is ready.
Jars can also be used for jam, honey or marmalade. A great way to beautifully present homemade sweets to friends and family.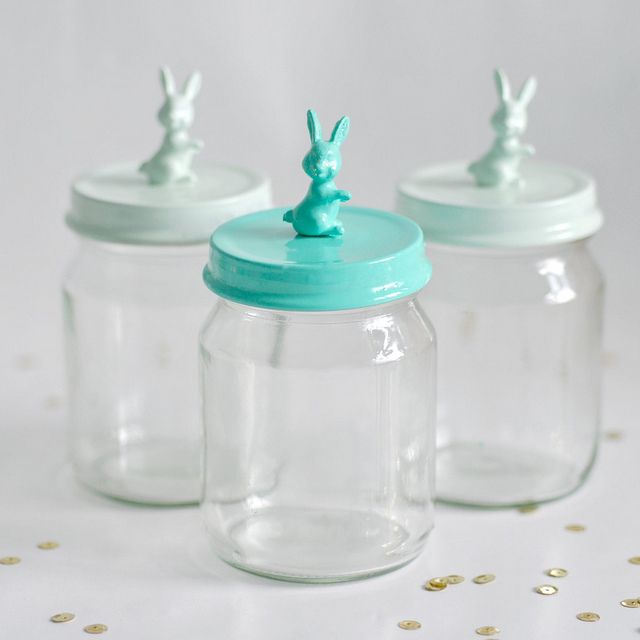 Attach small paper cards to the jars, on which you can write information about the contents or a sincere wish. Decorate mugs with beautiful napkins and ribbons.
Pencils.
Paint the jars in different colors and, when the paint dries well, place pencils and felt-tip pens in them.
Jars can also be used for other office supplies.
Needle beds.
Pour colored buttons into jars, and glue homemade pads made of foam rubber covered with colored fabric on the lids. The original needle case is sure to come in handy for those who are fond of needlework.
Christmas decorations.
To make an analogue of a snow globe, you need to fill the jar with small sparkles, beads, artificial snow or crushed foam and pour water. Add 1 tablespoon of glycerin to make our "snowflakes" swirl with movement. You can take more glycerin, then the particles will float in the water more slowly.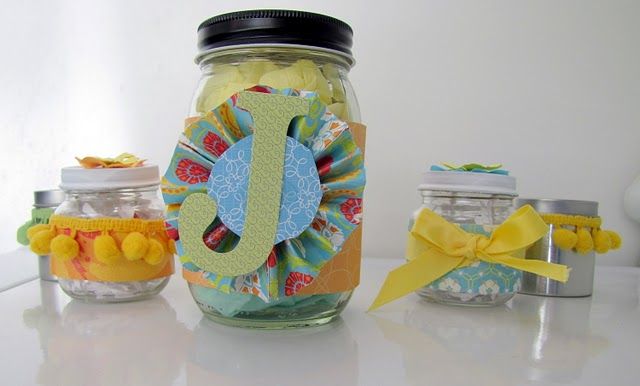 As a decor, use any New Year's toy - it must be glued to the lid.
Flower vases.
Wonderful vases for small short bouquets are obtained by simply placing flowers in jars. You can dream up a little and add decor compositions.
Candlesticks.
Beautifully decorated jars can be wonderful candle holders that will decorate any occasion. At the bottom of the jar you need to pour sand, and place a small tea candle on top. The design of a candlestick depends on your imagination and skills: it can be as simple as possible or more inventive.

Hairpins, buttons, sewing accessories, carnations and other household items are very conveniently stored in baby food jars. Jars can be glued with lids to the shelf - then they will definitely not be lost and will always be in sight.
Or use this handy cosmetic container.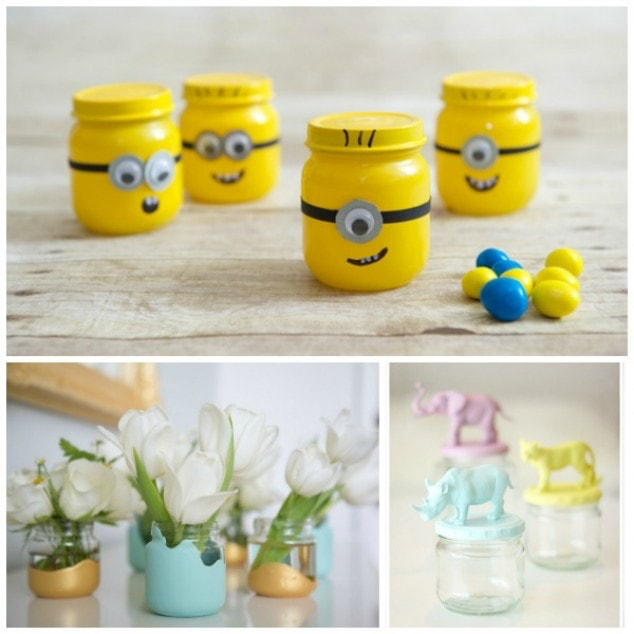 Seedling pots.
Seeds can be grown in jars. If the plants do not require special conditions and are small in size, then with the help of small jars you can build a kind of botanical garden in a mini version. Pour the earth into jars, plant seedlings and do not forget to water regularly.
Helpful ideas from baby food jars / Me
Baby food jars have a cute neat look that you always want to adapt to something useful. When a child has eaten mashed potatoes from a jar, do not throw away this useful item, but use it to create something useful and necessary in the house.
Five fun ideas on how to make homemade baby food jars
In order to do something creative with your own hands, you do not need to graduate from universities or take intensive courses. It is enough just to start wanting to create a beautiful and useful thing, and it will certainly be created.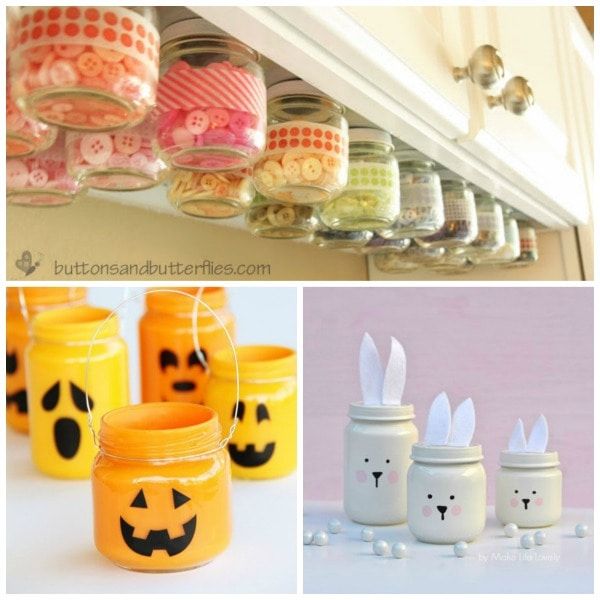 To do this, you need to turn to the hooves of people who have considerable experience in creating homemade products from various most accessible materials. Five of the most interesting ideas of how you can make something useful and necessary for the home from small baby food jars should be highlighted:
From jars you can make little men that could decorate the living room or nursery. To do this, you need to glue the necks of the jars to each other and decorate the resulting "little men" with the help of plasticine and stickers.
There is also an example of how a thread organizer is made from baby food jars - a simple, beautiful and effective thing that will allow you to decorate the room and store all the skeins of thread in one place at the same time.
Increasingly, designers are turning to new forms when decorating rooms and round shelves have already appeared. From jars you can make mini-shelves on the wall, which can be used to decorate walls, and to store some little things in them.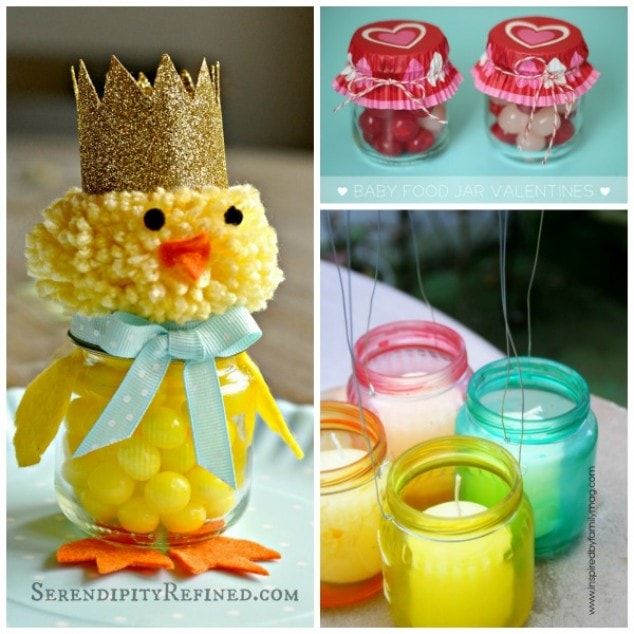 Turrets have also become actively used in modern interior design. And this trend will help "attach" the jars, making towers out of them, with which you can decorate the room.
Decorative lighting lamps based on alcohol-containing substances can also be made from baby food jars.
Thus, it can be confidently asserted that there is no limit to human thought and hundreds of items can be made from small jars that would fulfill their purpose successfully for a long time.
The nuances of creating homemade products from baby food jars It is worth noting that the ideas presented above do not end the endless list of ideas that can be done at home, just relaxing in the evening from a long day.
For example, making a kerosene lamp out of a miniature baby food jar is as easy as shelling pears. This will require alcohol or a special composition that can be purchased at the store, with which modern lamps are illuminated, and then it is easy to make a beautiful and functional mini-lamp.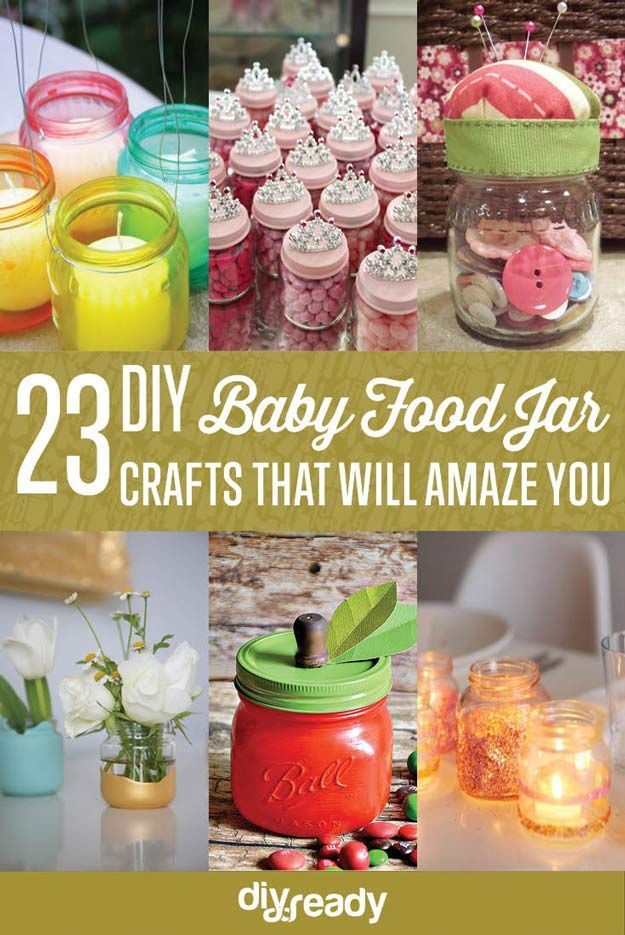 The advantages of this idea include the fact that mini kerosene lamps are not yet made, but they can shine brightly enough, and at the same time perform a significant decorating function. By making various parts for a lamp out of an aluminum can, you can create a truly functional thing that will last an extremely long time.
Important! A jar of baby food is not afraid of temperatures above a hundred degrees, so you can easily make a mini kerosene lamp out of it to decorate a room!
You can also note the possibility of creating a decorative tower of mini-jars. Turrets have become fashionable in our time. They are made most often from environmentally friendly material - wood. For some reason, modern designers figuratively linked environmental care, the use of wood and turrets into one whole. If there is a turret in the room, which performs a decorative role, then it should immediately be clear that the turret symbolizes the unity of the owner of the apartment and nature.