Feeding bibs for babies
Best baby bibs as tested by parents for 2022 UK
Below, we have pulled together a selection of different baby bibs suitable for various stages, including newborn and teething. Some bibs offer full coverage over clothing including sleeves, others are made from soft muslin or high-tech neoprene and some are more rigid, made with pockets to collect any spills.
We have included feedback from our parent testers along with MFM award winners, tested by our own judges and mums to help you find the best bib for your baby.
Best baby and toddler bibs at a glance
Best bib for a variety of sizes: Bibetta Wipeezee, from £5.99
Best bib for complete coverage: Bibado Coverall, £19.95
Best bib for a comfortable fit: Baby Boosa Leopard Print bib, £13.50
Best bib for teething: Babybibs Bandana Bibs, £4.50
Best bib for a secure fit: Tidy Tot Cover & Catch Bib, £15
Best bib for catching crumbs: BabyBjorn Soft Bibs, £18 for 2-pack
Best bib for milk feeds: Tommee Tippee Closer To Nature Milk Feeding Bibs, £7. 08 for a pack of 2
Best bib for softness and comfort: Yummyboo Feeding Bib, £14
Best value bib: Printed Dribble Bibs, £3.50 for a pack of 3
Best bib for a waterproof cover: Bumkins Waterproof Sleeved Bib, £10.50
Here's our pick of the best baby bibs and toddler bibs:
1. Bibetta Wipeezee, from £5.99
– Best for a variety of sizes
Suitable for: 6 months+
Made from an easy wipe-clean material, these eye-catching bibs come in 3 different sizes and designs to suit your feeding needs.
The weaning bib (£5.99) is great for feeding on the go with a pocket to catch stray bits of food, while the sleeved bib (£11.99) is perfect for baby-led weaning . We also love the sleeved coverall bib (£19.99) to help keep meal times as mess-free as possible, with its wide size that covers your child from their neck to the edge of the highchair tray.
Our parent testers liked how easy there were to clean including MFM tester Aysha, "Liquids do not soak into the material used and it looks the same after washing.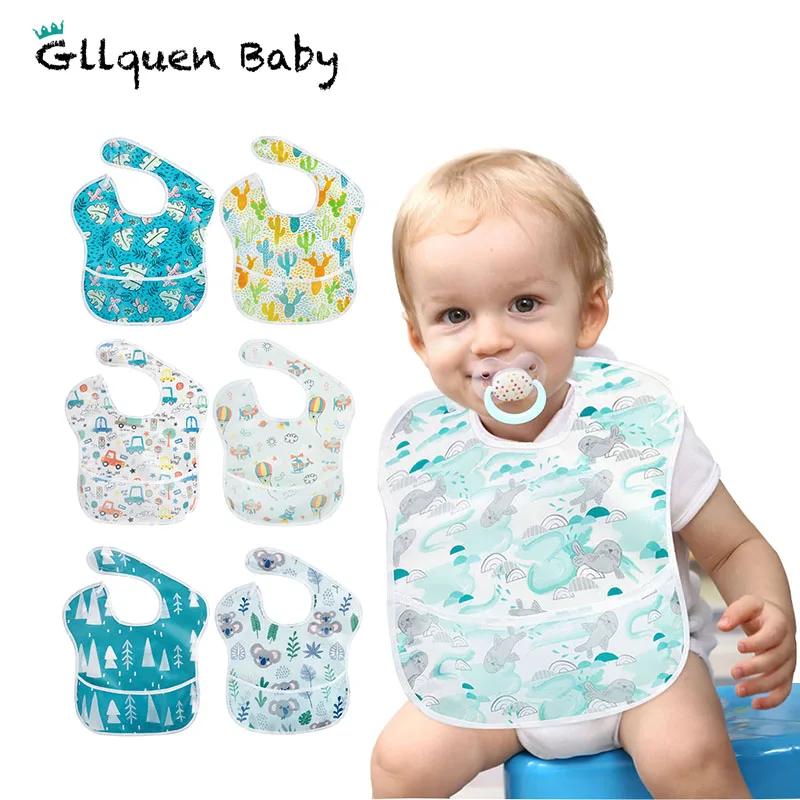 " Judge Tara agreed and added, "They're so much more practical than soft bibs which just get damp and soak through to your baby's clothes. I also love the fact they have 3 different options. You could get rid of all your other bibs and just have this set."
Available from: Bibetta and Amazon
2. Bibado Coverall, £19.95
– Best for complete coverage
Suitable for: 6 months+
This BPA, Phthalates and Azo-dyes free bib/coverall covers your baby and gap between the table, so it should limit the messiness at the dinner table. You simply put your baby in the bib and then fasten the bottom of the bib to the highchair with the velcro straps – it's genius!
The brand comes highly recommended by our MFM testers including mum Katie who said, "We have 4, used regularly over the past 18 months since we started BLW (baby led weaning). It's a definite time and sanity saver, especially in the early days as you can just throw it in the washing machine.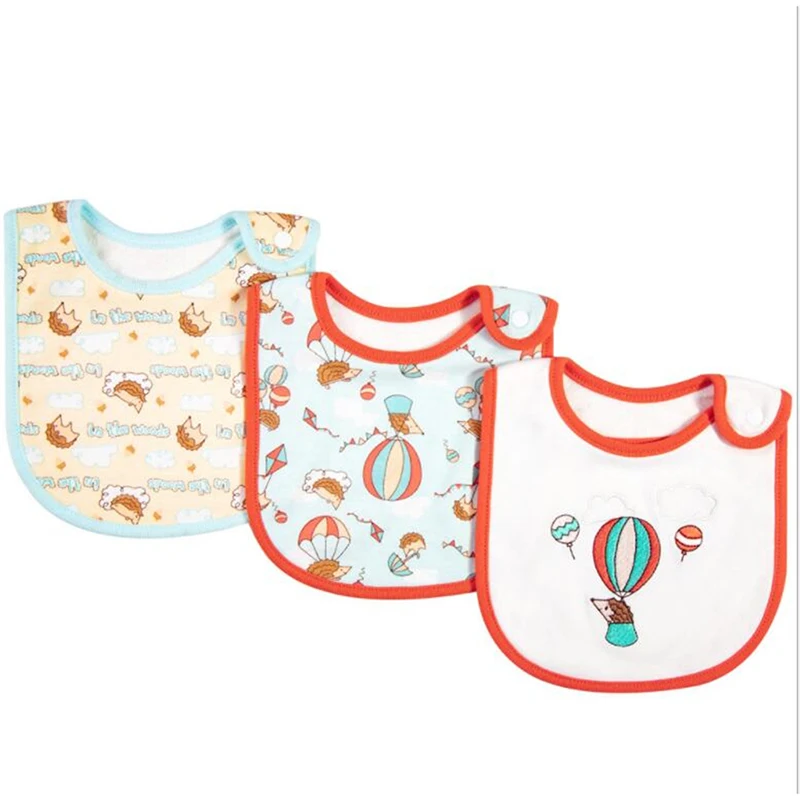 "
Available from: Bibado, Amazon and JoJo Maman Bebe
3. Baby Boosa Leopard Print Bib, £13.50
– Best for a comfortable fit
Suitable for: 6 months+ | Awards: Gold – Bibs, MadeForMums Awards 2021
Made from flexible, baby-safe silicone, Baby Boosa's bibs were rated highly by testers for their comfortable fit as well as their eye-catching prints. This is also helped by the 4 adjustable size settings and curved fit to sit comfortably over your baby's tummy. "I love how it's adjustable and will grow with my baby," said MFM tester Zartasha. "It's extremely soft and baby friendly."
More like this
The deep food catcher will make mealtimes (slightly) less mess-free, plus our testers found the non-toxic BPA free silicone material to be highly durable. "After washing the print stays on the bib and the material doesn't change," said MFM tester Chloe. "There's no scratches or changes at all since using it.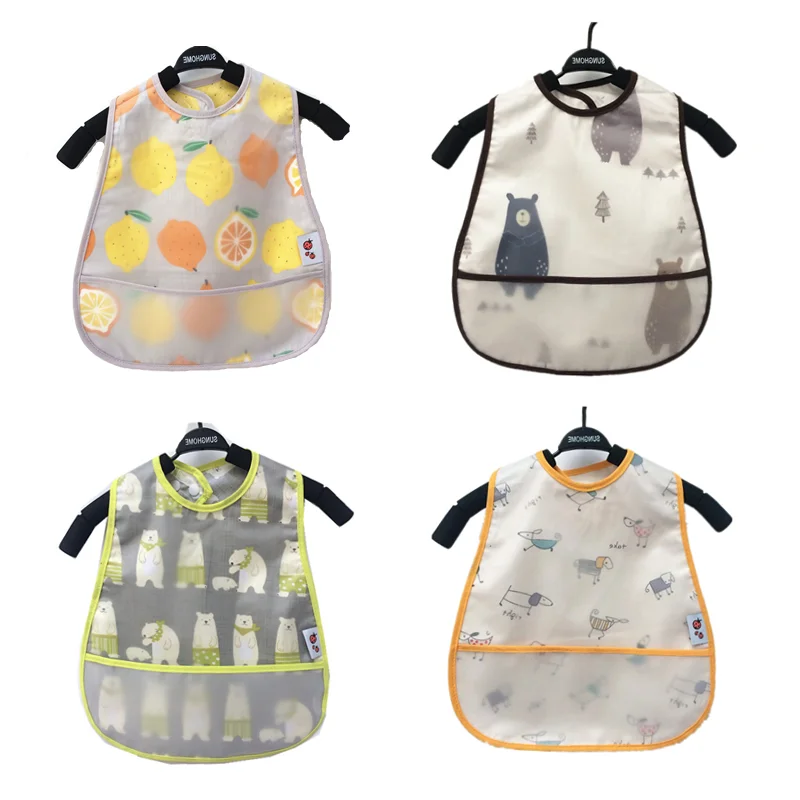 "
Available from: Baby Boosa
4. Babybibs Bandana Bibs, £4.50
– Best for teething
Suitable for: 0+ | Awards: Silver – Bibs, MadeForMums Awards 2021
If you have a teething baby, these Bandana Bibs from Babybibs are well-designed for catching dribble so their clothing and chest stays dry. This is thanks to the double layer design with a thick fleecy backing which our MFM testers loved. Tester Memoona commented, "They're thick enough to absorb moisture but soft at the same time."
The poppers around the neck make them easy to fasten on your baby, plus there's a whole range of cute and colourful prints to choose from. "I had loads of compliments and questions from friends," said MFM tester Louise. "Great value for money, I'm surprised they don't cost more – these will last years."
Available from: Babybibs
5. Tidy Tot Cover & Catch Bib, £15
– Best for a secure fit
Suitable for: 6 months to 2 years
This clever bib attaches to high chair trays or tables so it can catch food and spills before they hit the floor, keeping both baby and home clean.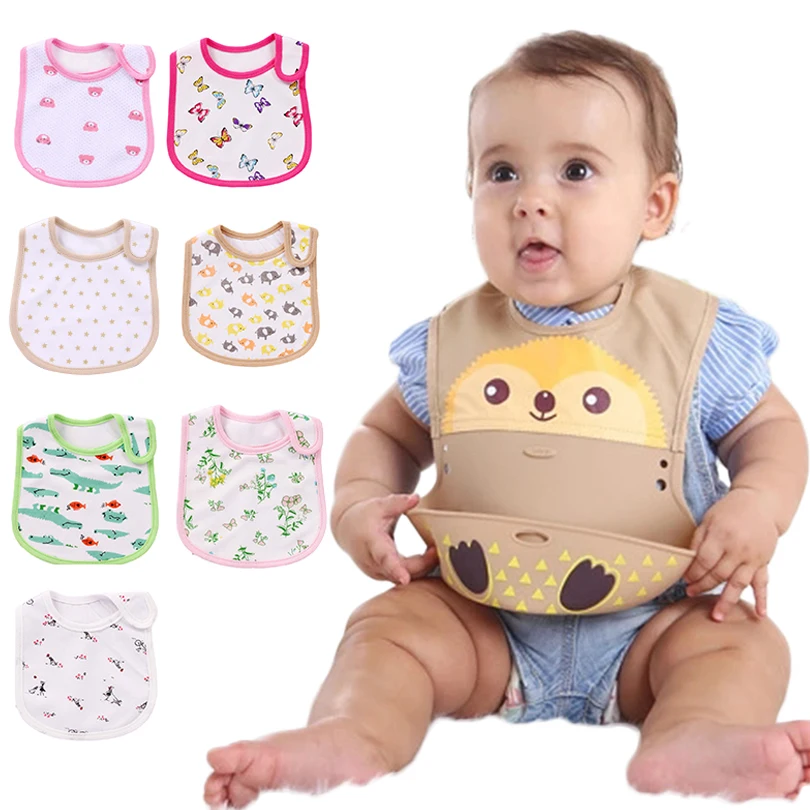 The bib is a one size fit, with an adjustable neck fastening to make sure it's secure. It's also machine washable and there is also a short-sleeved version available.
Mum tester Katie liked how straightforward the bib was to use with its suction cups. She commented, "The suckers are really handy, as the bib then creates a canopy to catch the food on."
Judge Christy was also impressed with how "lovely and soft" the bib was but added "wipe clean would be more practical."
Available from: TidyTot
6. BabyBjorn Soft Bibs, £18 for 2-pack
– Best for catching crumbs
Suitable for: 4 months+
Make sure more of your baby's food ends up in their mouth rather than on your floor with these moulded plastic bibs with a wide lip to catch crumbs and spills.
They are BPA-free so safe for your baby to chew and you can simply wipe or rinse clean – or even pop in the dishwasher. Available in a range of 6 cool colours, the necklace-style neckband has a wide adjustment range, so they will grow with your child.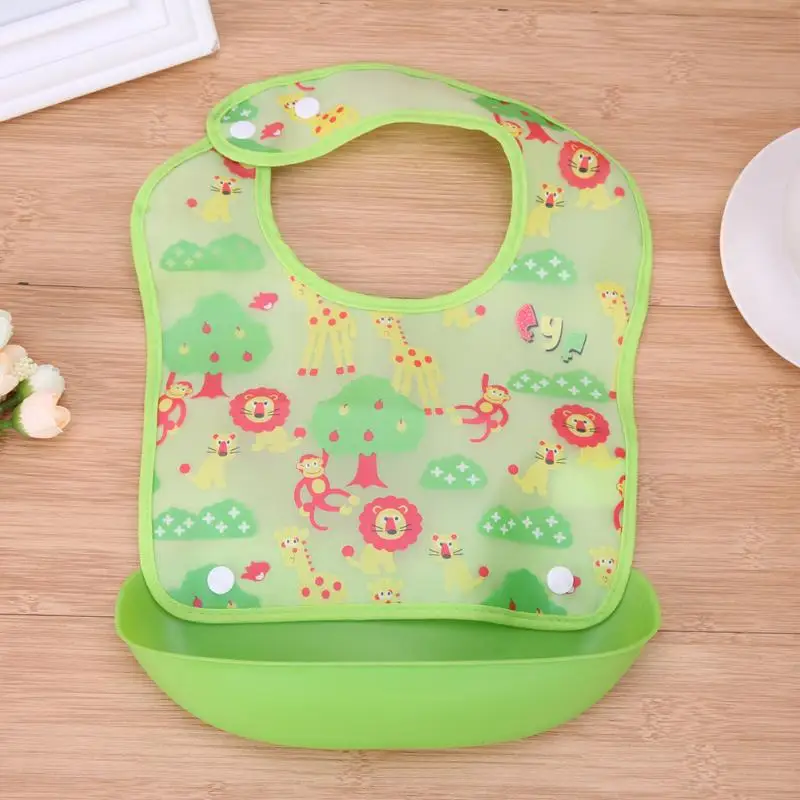 Plus you can stack them inside each other for easy storage.
Available from: BabyBjorn and Amazon
7. Tommee Tippee Closer To Nature Milk Feeding Bibs, £7.08 for a pack of 2
– Best for milk feeds
Suitable for: 0+
Catch milky drool and spills with these absorbent feeding bibs that have a soft dribble catcher around the neckline to stop rashes and soreness.
There is a popper catch to hold these reversible bibs in place and a choice of 3 classic colours – cream, pale blue and pale pink – with a contrasting patterned back. Though it's worth noting that some reviews mention the Velcro fastening could be stronger.
Available from: Amazon and Tesco
8. Yummyboo Feeding Bib, £14
– Best for softness and comfort
Suitable for: 6 months to 2 years
The Yummyboo bib by Babyboo features 3 layers, with the internal layer closest to your baby's skin being made from 100% cotton for extra comfort.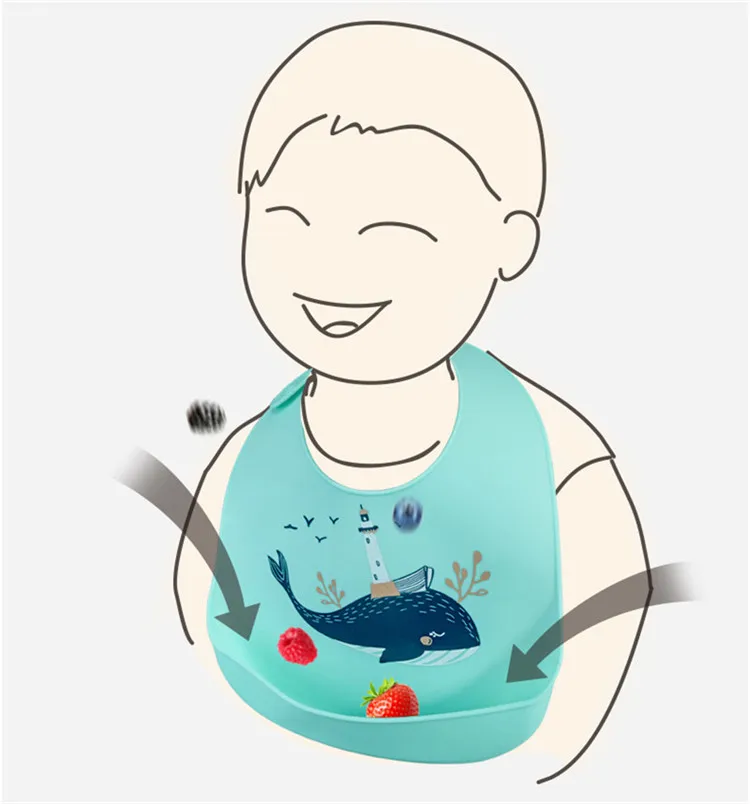 This bib is worn like a smock, including sleeves and a front pocket which catches food, and can be popped in and out for easy cleaning.
Our MFM testers and judges found that the bib was effective in keeping little ones' clothes clean. In particular, MFM tester Anne-Marie loved the length of that bib and said that it, "covered every part of my toddler and despite a messy feeding session her clothes were clean."
MFM tester Kayleigh who used the bib with her daughter was also impressed with the "easy to use and comfortable" bib. She found that it "minimises post dinner clean ups" though added that, "the sleeves did ride up a little bit when she was grabbing her food off of her high chair tray."
Available from: Babyboo
9. Printed Dribble Bibs, £3.50 for a pack of 3
– Best value bibs
Suitable for: 0+
These dribble bibs are made from 100% cotton for soft breathability and have a towelling reverse side, making them extra absorbent and kind to your baby's skin.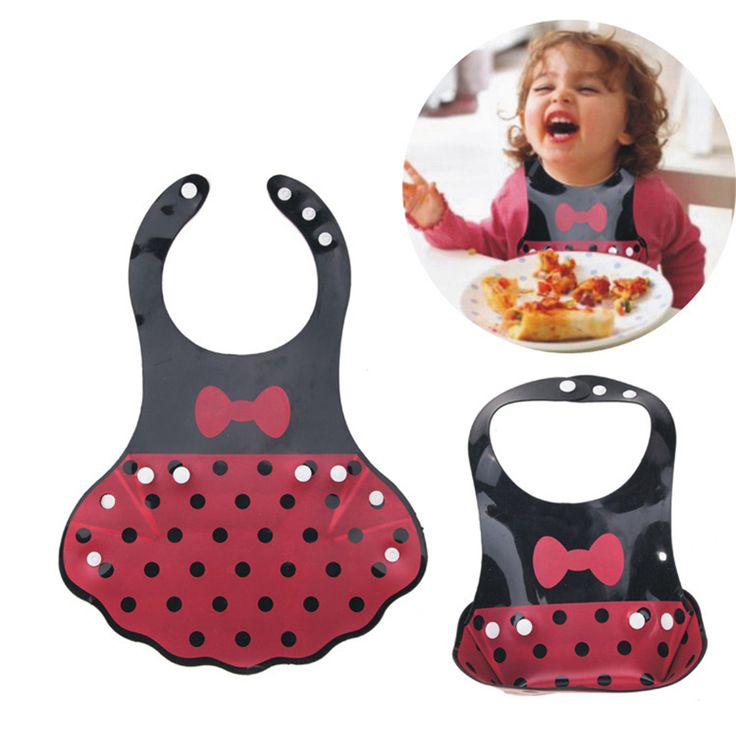 There is a simple press stud fastening which makes it easy to slip on and off and they can be thrown straight into the washing machine after use. The bibs come in an assortment of sweet, neutral designs.
The best part is that these bibs are some of the lowest price on the market and they come as a pack of 3 making them a double bargain you can afford to stock up on.
Available from: Asda
10. Bumkins Waterproof Sleeved Bib, £10.50
– Best for a waterproof cover
Suitable for: 6 months+ | Awards: Bronze – Bibs, MadeForMums Awards 2021
Protect almost every inch of your child's clothes from spills with these lightweight but durable long-sleeved bibs featuring a crumb catcher pocket.
They machine wash beautifully and the patterned fabrics (which are free from BPA, PVC, phthalates and lead) allow your child to move freely while eating. The tie back also gives plenty of room to grow and the cuffed wrists prevents food from going up their sleeves.
Available from: Amazon
About the author
Sabrina Sahota is MadeForMums' Digital Journalist working across product and reviews content, covering everything from the latest car seats to the hottest new toys.
Read more:
The best weaning and feeding products for babies and toddlers
Best baby food pouches for weaning - tried and tested by mums
The best baby and toddler cups
11 Best Baby Bibs (2022 Reviews)
I remember the first "baby photo shoot" I did with my son. I dressed him up in the most adorable angel outfit and booked a professional photographer to capture those precious memories of the first few weeks of his life.
I made a giant rookie mistake, though: I left the house with a clean baby in a pristine white shirt and no bib. As you can imagine, that pretty little costume didn't make it past the first flash of the camera. It was sopping wet before I could say "precious memories.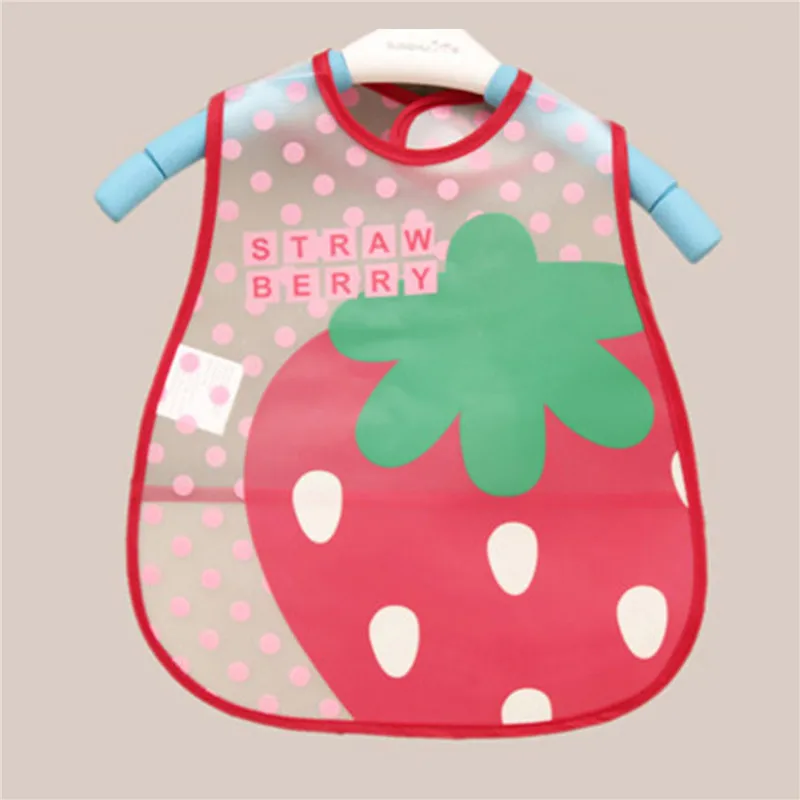 "
So, what I remember more than anything from that day is that bibs are non-negotiable. Babies are little mess-machines, but the best baby bibs can help you keep things drier. Don't make my mistake – let this guide help you choose a bib that works best for you and your baby, no matter what they spit up!
Our Top Picks
We love honesty! Mom Loves Best earns a commission through the following hand-picked links at no extra cost to you.
Image
Model
Product Comparison Table
Features
Best Bandana Bib
Parker Baby Bandana
Nickel-free snaps
Soft and comforting fabric
Super absorbent
Check Price
Best for Spit Up
Green Sprouts Stay Dry
Machine washable
Safe, azo-free dyes
Reversible
Check Price
Best Neutral Bandana Bibs
Egmao Bandana
Neutral designs
Highly absorbent organic cotton
Durable stitching
Check Price
Best for Full Coverage
Bumkins Sleeved
No food and spills on clothing
Covers down to elasticated cuff
Lap pouch catches fallen food
Check Price
Best Velcro Strap
Luvable Friends Value Pack
Easy to put on
Soft as a washcloth
Generously sized
Check Price
Best for Toddlers
BabyBjorn Soft Bib
Save pants from being stained
Adjustable neck width
BPA-free
Check Price
Best Floral Bandana Bibs
Upsimples Baby Bandana
Cute floral designs
Organic cotton
Adjustable
Check Price
Best 2-in-1
Aden + Anais Burpy
Classic, unisex prints
Contoured to fit neatly
Large, adjustable neck hole
Check Price
Easiest Bibs to Clean
Happy Healthy Parent Silicone Bibs
Wipe clean with soapy water
Catcher tray for dropped food
Dishwasher safe
Check Price
Best On a Budget
Neat Solutions Set
Drool-proof
Adorable designs
Isn't bulky when worn
Check Price
Table of Contents
Our Top Picks
The Best Baby Bibs of 2022
Do Babies Need Bibs?
Types of Baby Bibs
How to Choose Baby Bibs
Baby Bib FAQs
The Bottom Line
---
---
The Best Baby Bibs of 2022
Here are the best baby bibs currently on the market:
1.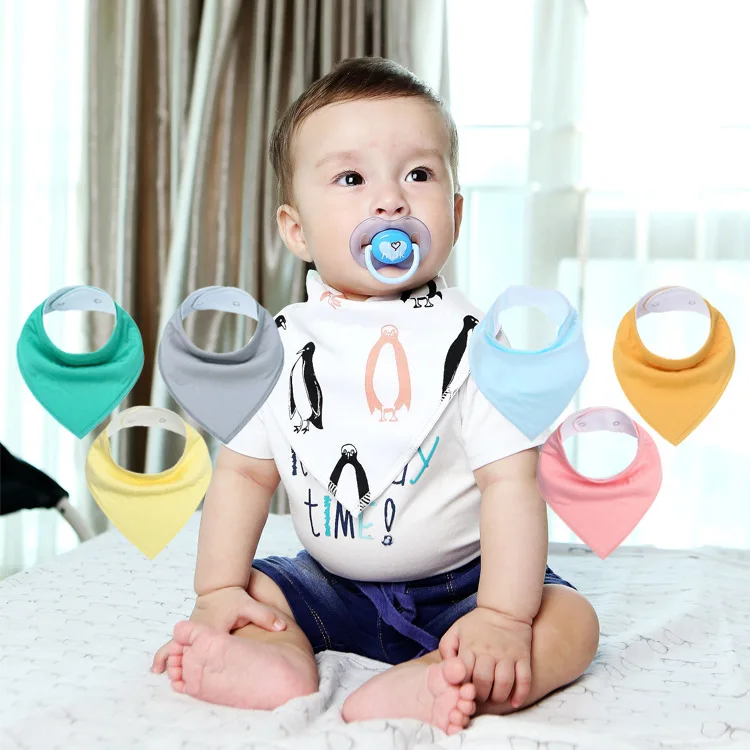 Parker Baby Bandana Bibs
Best Bandana Bibs
View on Amazon
View on Walmart
View on Parkerbaby
Fans of the bandana bib trend will likely think these Good Baby bibs are super adorable. They're made out of a soft, thick material that absorbs well. The front part of the bib is made from organic cotton, and the back is made of durable polyester.
They can fit many different sizes of children because they have two nickel-free snaps at the back that fit a range of ages from 3 months up to around 2 years. Always remember to never let your child chew on the snaps, these could be a choking hazard.
Pros
The nickel-free snaps may be less irritating and more secure than Velcro.
The fabric feels soft and comforting.
Super absorbent and no problem handling heavy droolers.
Cons
The washing instructions require you to lay the bib flat and avoid the dryer.
Doesn't hold up well when washed repeatedly, and may bunch up or warp.
---
2. Green Sprouts Stay-Dry Infant Bibs
Best Bibs for Spit Up
View on Amazon
View on Greensproutsbaby
The best thing about these Green Sprouts bibs is that they're made of ultra-absorbent cotton terry, which will protect your baby's tender skin from drool rash by soaking up the endless rivers of drool they seem to produce.
They have adjustable Velcro closures that make it a breeze to put on and whip off again. A bonus is that these come in a colorful ten pack with each bib priced at just more than $1.
These stay-dry infant bibs are made for babies from 3 months to 12 months old. They have a waterproof inner layer and two super absorbent outer layers. They come in a range of fun, solid colors so your adorable little monster can spit-up on the whole rainbow!
Pros
These are machine washable.
They use safe, azo-free dyes.
Reversible.
Cons
Some parents may find the material a bit rough and scratchy.
The stitching doesn't hold up well to heavy washing.
---
3. Egmao Baby Bandana Bib Set
Best Neutral Bandana Bibs
Check Price
These bandana bibs hold a lot of drool and feature adorable neutral designs that look good on both boys and girls.
Each set comes with 10 different bibs in a variety of white, blue, and grey colors with matching animal and linear designs. The front of the bibs are made of 100 percent soft organic cotton muslin. The back lining is polyester fleece for absorbency.
Instead of Velcro, which can come undone and scratch your baby's skin, these bibs have two nickel-free metal snaps. They stay in place and your baby won't be able to pull the bib off.
Most importantly, they're super absorbent. You don't have to worry about your child's clothes getting wet and you can even wipe their face with the front of the bib because it's so soft.
These make an especially great gift for expecting moms because you know they'll look great no matter what.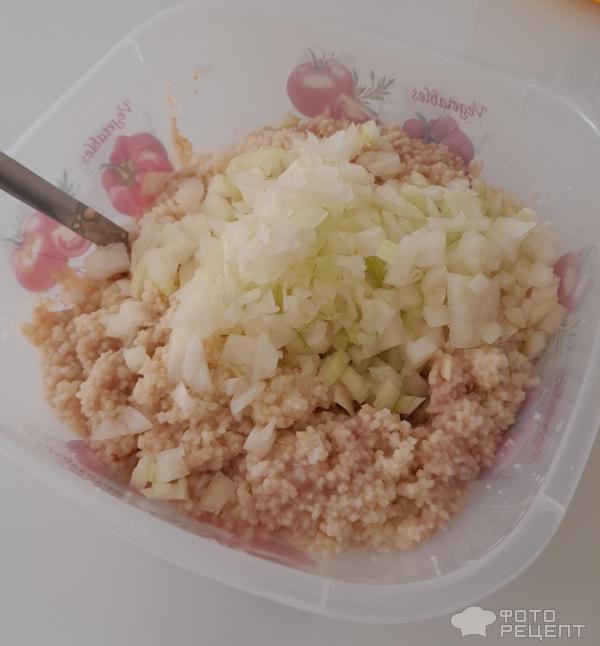 Pros
Neutral designs look great on both boys and girls.
Snap closures can't be pulled off by baby.
Organic cotton muslin front is super comfy while the polyester back is absorbent.
Cons
Needs to be ironed after washing since the edges tend to curl.
---
4. Bumkins Sleeved Toddler Bibs
Best Full Coverage Bibs
View on Amazon
View on Bumkins
Bumkins bibs are huge! Made of stain- and odor-resistant plastic that you can just wipe down, this means you can whip them off after meal times to reveal a perfectly clean, happy kid underneath.
Designed to cover the whole torso, lap, arms and right up to the neckline, this bib couldn't be fuller coverage. The material is free from PVC, vinyl, BPA, phthalate and lead, and comes in a wide range of unisex patterns that are pretty cute. Wipe with a damp cloth or throw in the washing machine when you're done.
Bring one of these if you're heading to a restaurant or friend's house, or use them for other messy moments like arts and crafts projects.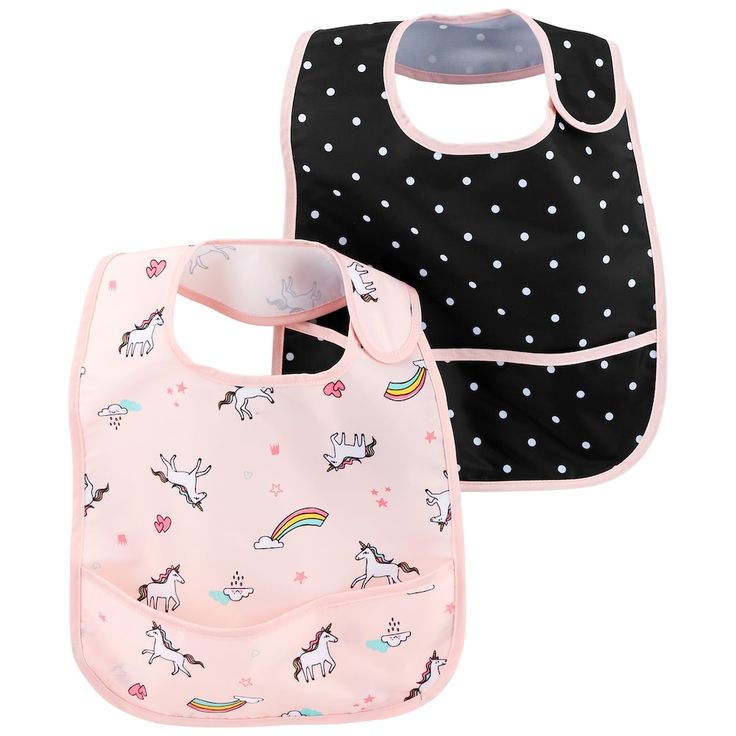 Your child might also like that these look a lot more like big-kid clothing than a baby bib.
Pros
Least chance of getting food and spills on clothing.
Covers right down to the elasticated cuff.
Has a lap pouch to catch fallen food.
Cons
The tie neck closure can take a while to fasten, and the entire bib is a bit tricky to get on and off.
Some parents have found the quality lacking.
---
5. Luvable Friends Baby Bibs
Best Velcro Strap Bibs
View on Walmart
View on Target
These come in assorted solid colors and are an excellent choice for parents trying to watch their budgets. Luvable Friends bibs are made with a Velcro fastener, easy to put on and made of soft fabric that won't have your baby screaming at the top of their lungs and trying to rip it off.
They hold up well with repeated trips through the washing machine and dryer. Your baby's entire torso will be protected, making it great for those parents trying to protect whole outfits.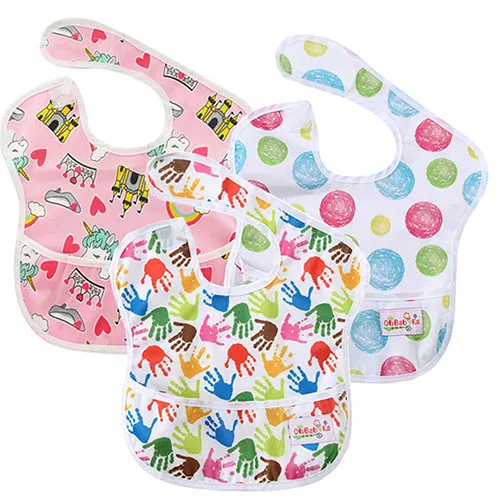 Pros
Not backed with any irritating plastic.
As soft as a washcloth.
Generously sized.
Cons
Made to handle a light drooler – not a baby who is teething.
Neck too big for newborns.
---
6. BabyBjorn Soft Bibs
Best Bibs for Toddlers
View on Amazon
View on Babybjorn
These BabyBjorn bibs are nothing like the ones your mother used on you when you were a toddler. You know, the ones that look like giant plastic nosebags you see on horses. Instead, they're made of nifty polypropylene and thermoplastic elastic rubber.
They're more comfortable than the cheap plastic bibs that babies usually find so irritating, but are not made of a soft fabric. This means they can go in the dishwasher for easy cleanup.
What sets these apart from the competition is the deep front spill pocket, which catches dropped food. And since toddlers seem to miss their mouths more than they find them, those pockets should get a workout.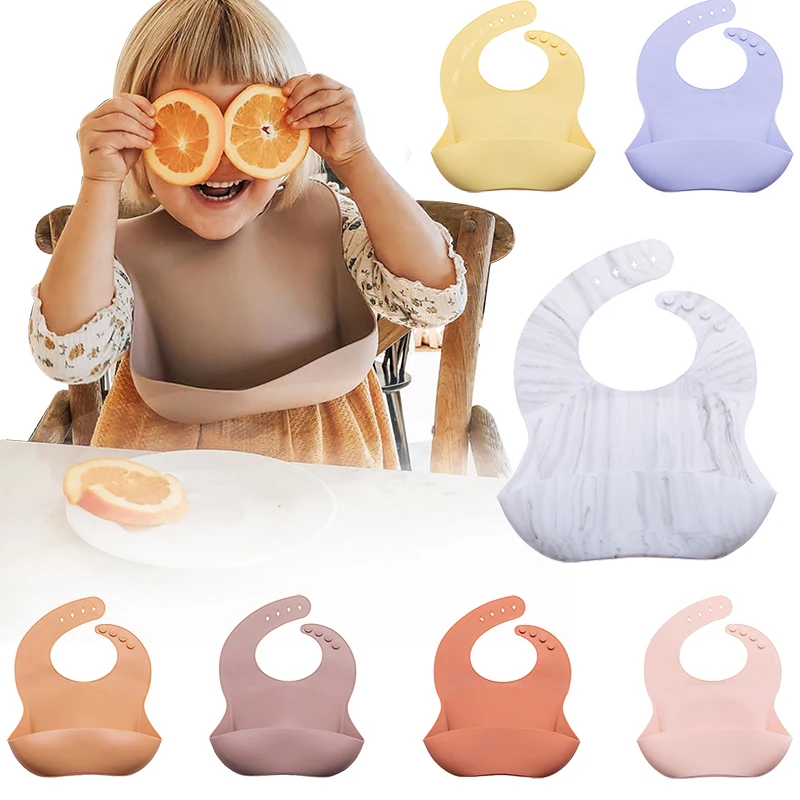 Pros
The deep front pockets will save pants from being stained during meals.
Easy to clean.
Adjustable neck width.
BPA free.
Cons
Pricier than other brands.
Wearing it may feel heavy to some children.
---
7. Upsimples Baby Bandana Drool Bibs
Best Floral Bandana Bibs
Check Price
If your little princess has trouble with drool, these floral bandana bibs will help keep it at bay. This pack includes ten precious bib designs, including bright floral colors perfect for outings or family photos.
Each bib is made of 100 percent organic cotton materials. They have a dual layer function so your baby stays warm while preventing drool and moisture from reaching clothes or skin. No matter which part of the bib touches your baby's skin, you don't have to worry about it causing rashes or irritation.
We also really like how they grow with your baby. The metal snaps closures can be adjusted to three sizes, so they'll fit both newborns and toddlers.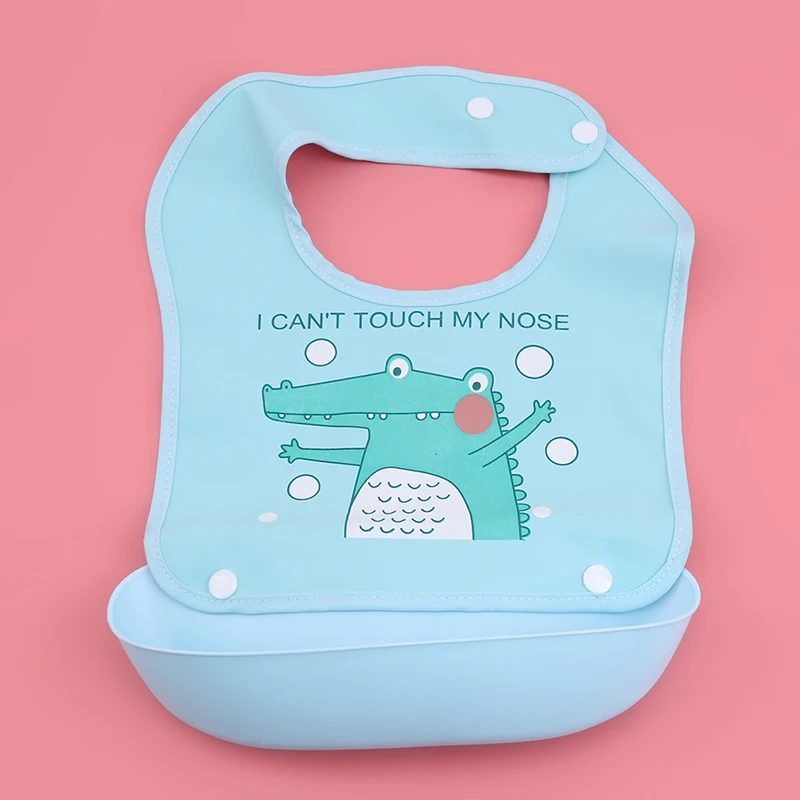 Parents can fasten and unfasten the bib easily, but little hands won't be able to take it off.
There's a lot of joy in dressing up your little girl and these adorable bibs make a cute and useful accessory.
Pros
Moms will love the cute floral designs.
Each layer is absorbent, crease-resistant, and comfortable.
Adjusts to fit your baby's neck size.
Cons
The fabric can stain fairly easily, especially during mealtime.
---
8. Aden + Anais Cotton Muslin Burpy Bibs
Best 2-in-1 Bib
View on Amazon
View on Adenandanais
This aden + anais bib is essentially a thick, durable burping cloth and bib in one, and its shape and size make it multipurpose. When draped over the shoulders and snapped closed at the back, it becomes a full-coverage bib for a smaller baby. When draped over your shoulder, it's an absorbent burping cloth.
They are made of a lightweight, 100 percent cotton muslin material that can be thrown in the wash afterward.
The pure cotton makes it suitable for even the most sensitive skins, and will get softer with each wash.
Because the kidney-shaped cloth fits right around your baby's neck and shoulders, you get fuller coverage than you would with a more traditional style. The arms and sides of your baby's neck are well covered.
Pros
Thick, 4 layer, quality cotton muslin feels soft.
Classic, unisex prints.
Contoured to fit neatly over your shoulder when burping.
Large, adjustable neck hole.
Cons
They are a little more expensive than the others on the list.
The cape design may hinder your baby's arm movements.
Some parents have complained that the material shrinks after washing.
---
9. Happy Healthy Parent Silicone Baby Bibs
Easiest Baby Bibs to Clean
Check Price
The Happy Healthy Silicone Baby Bibs are the best if you're looking for something that's easy to clean. The bibs are made of 100% food grade silicone.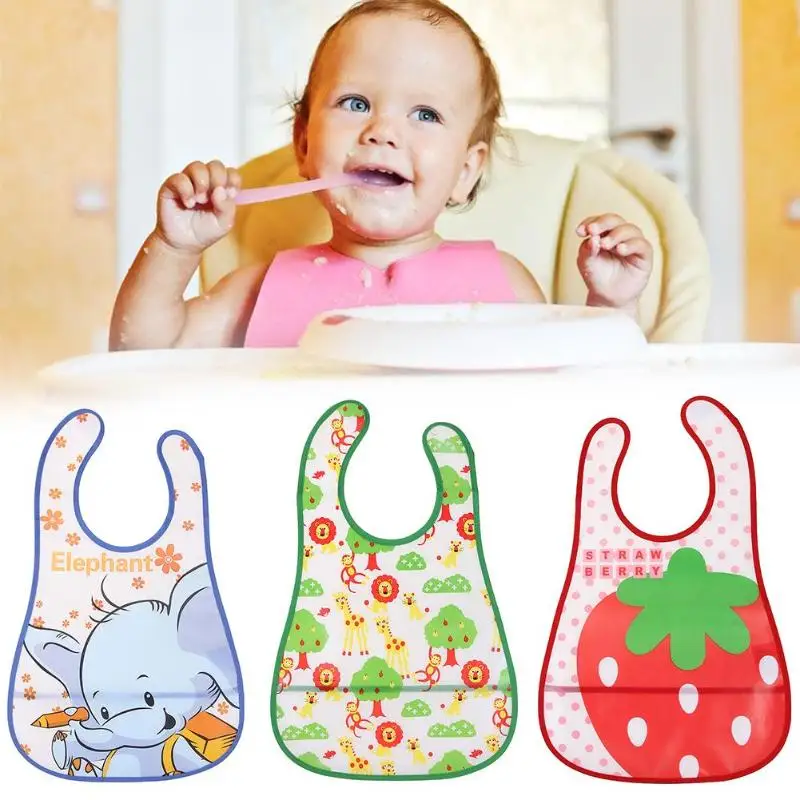 It doesn't absorb any water. When you need to clean the bibs, wipe a cloth soaked in soapy water across the bib. Viola! Job done.
These bibs don't need to be deep cleaned or go in the washing machine. So it saves you time, money and energy. It also means the bibs are always ready to use. When meal time comes around again, simply wipe the bibs clean and put them on your baby.
The bibs always have a handy catcher tray at the bottom. When your little one drops food, it doesn't land on their lap or the floor. It falls into the catcher. Simply empty it after meal time, and wipe clean.
Pros
Wipe clean with soapy water.
Catcher tray for dropped food.
Fit kids from six months to six years old.
Dishwasher safe.
Cons
Easy for toddlers to take off, which can end in breakage.
Some babies find the bib uncomfortable.
---
10. Neat Solutions Bib Set
Best Budget Bibs
Check Price
Neat Solutions bibs are just that – a neat solution.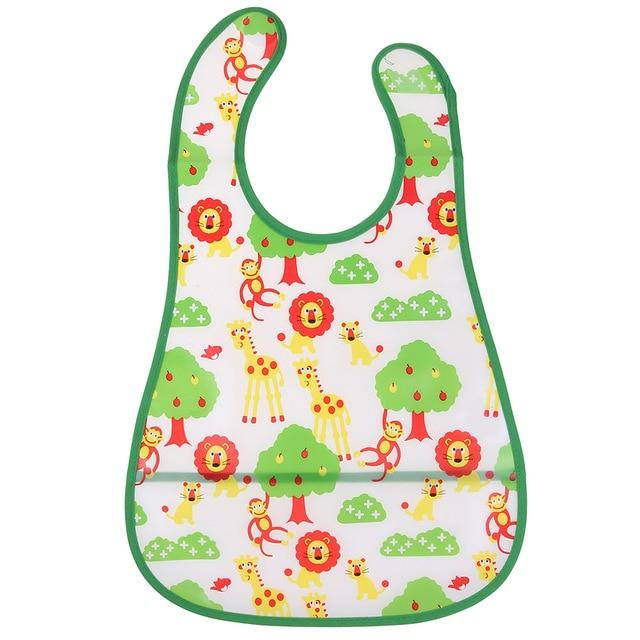 The most affordable option on the list, they come in a pack of 12 for a very reasonable price, meaning it won't exactly break your heart should one get so badly stained it needs to be tossed.
The back fastens with Velcro and each one has a super-sweet embroidery pattern on it. They're thin and lie flat against the torso, so they don't get in the way during dinner time.
The front is soft 75 percent cotton cloth and the back is BPA- and PVC-free plastic to stop any wetness soaking through. Even if you've splashed out on more expensive bibs, it won't hurt to keep a few of these on hand for travel or emergencies.
Pros
Ideal for sending to daycare, or keeping as a cheap backup.
The plastic backing is drool-proof and keeps the mess off your baby.
Adorable designs.
Thin, low profile construction that isn't bulky when wearing.
Cons
They are on the small side.
Might not be able to protect bigger babies or heavier droolers.
The plastic backing might irritate some children.
---
11. Skip Hop Owl Baby Bib
Cutest Bib
Check Price
Skip Hop Owl make bibs that will make you (and hopefully your toddler) smile. While they're perfectly charming, if your kid is like mine, you're also glad for the chance to make mealtime feel more like playtime and less like a chore.
There's the owl design, which is my favorite because of the sweet little eyes. Just because they are dead cute, doesn't mean they don't also do the job, though. There's a handy food pocket at the bottom that's incorporated into the design.
Since these are made of silicone, they are water-resistant which is always great for fussy toddlers. Another great feature is that they can be neatly folded up, so you can store soiled bibs easily with the wet parts tucked inside.
Pros
Coordinates with this brand's other themed products to up the cuteness factor.
Folds down for easy storage and travel.
Wipe clean or machine wash.
Cons
Not very affordable.
Some moms find the design washes off or fades with time.
Do Babies Need Bibs?
Babies make a mess whether they're newborns or 6 months old. They spit up, they dribble, they drool. Some babies seem to make an Olympic sport out of drooling.
I'd like to tell you children get less messy as they get older, but my son disproves that theory every day. So do yourself a favor – put a bib on your children for as long as they'll let you. It will save you a lot of aggravation and work in the long run.
In their early years, my children ruined a lot of perfectly good outfits because I used the wrong bibs. And their timing couldn't be worse. They always seemed to ruin precisely those outfits that were given to them by their grandparents.
Almost without fail, if one of them was in an outfit from grandma, it was only a matter of time before they'd regurgitate an entire bottle of milk on themselves right after their bib with the chintzy Velcro fastener fell off.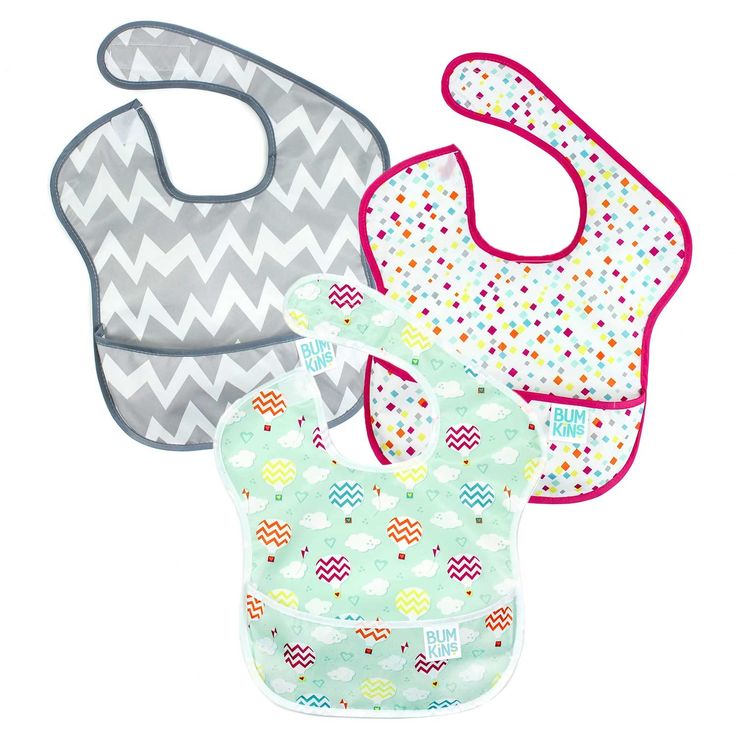 I quickly learned what to look for in a good bib, and I hope this knowledge will save you some irritation… and money.
Helps Prevent Drool Rash
Bibs aren't only about protecting the clothes – they also protect your baby's skin. If your baby regularly gets his shirt soaking wet with drool or spit up and you don't change him into a dry shirt, he can get an irritated rash on his chest where the wet clothes were (1).
Not every baby will get rashes, but sensitive skin is common in babies, and staying in wet clothes can trigger a monster of a rash.
My son got regular rashes in his first few weeks of producing swimming pool levels of drool. That was before I wised up and learned that wet shirts rubbing against sensitive baby skin could cause rashes. Like any new mother, when I saw a rash of any kind, I would worry myself sick until it went away.
The best way to prevent the dreaded drool rash on a baby's chest is to keep their shirt dry. And it's much easier and more practical to replace bibs than it is to change an entire outfit.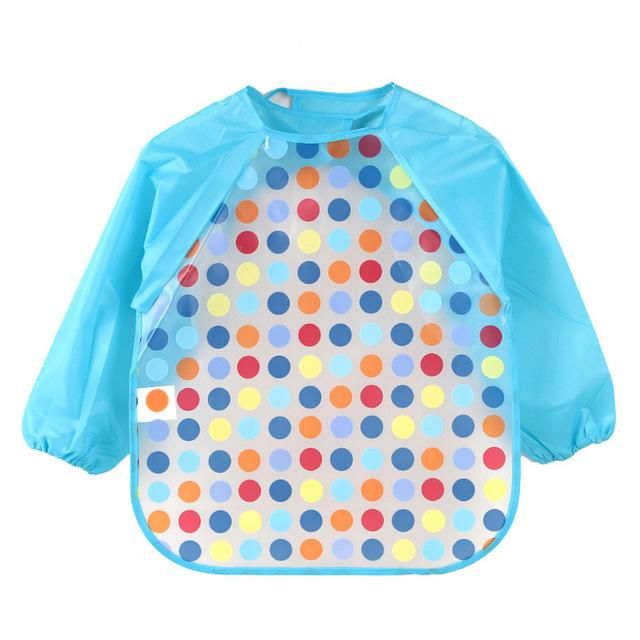 Types of Baby Bibs
Regular Bibs
The most common style is the classic bib shaped… well, like a bib. These are great for dealing with low to medium amounts of drool and are best for everyday use for kids 6 months to 2 years old. They're useful for feeding and may come with a little pocket at the bottom.
Bandana and Drool Bibs
This style is a triangle shape that clips or fastens at the back, forming a draped cowl in the front, a bit like a cowboy. These have less coverage but attach firmly and are super cute. They're better for drooling and teething than full-on feeds.
Silicone Baby Bibs
Some bibs are made from a stiff, food-grade silicone shaped into a cup at the end to catch spills. These are ideal for sloppy eaters and can be put in the dishwasher to clean immediately after a meal. You won't need such heavy-duty protection for drooling or teething.
Smock and Full Coverage Bibs
Choose a longer, wider bib with sleeves if you have a particularly messy child on your hands.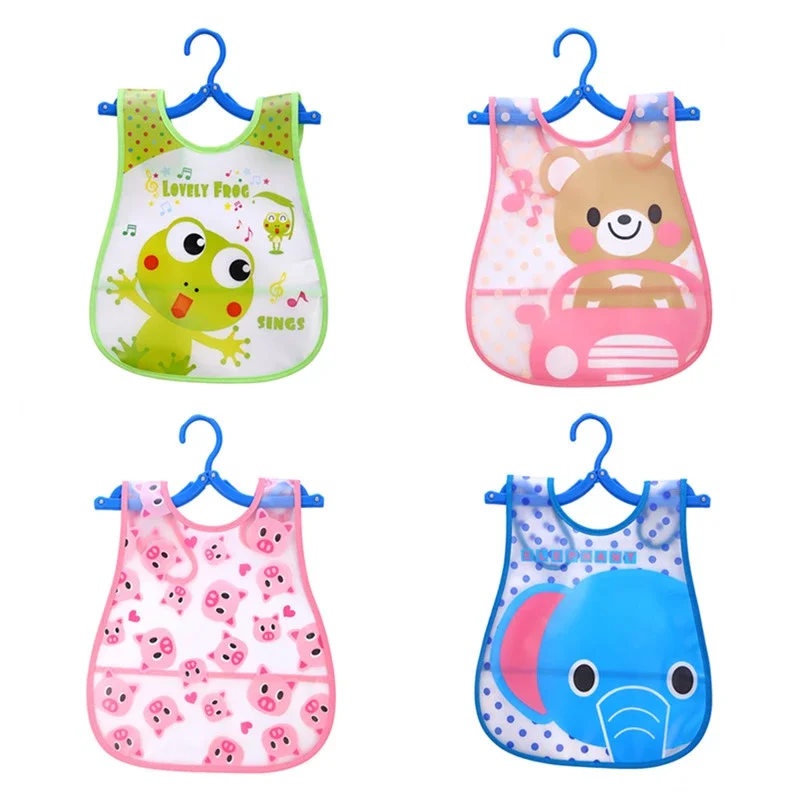 Typically made of wipe-down plastic materials, these are great for older kids who don't want to wear a baby bib but make a huge mess.
How to Choose Baby Bibs
These are some of the factors you'll want to think about before you buy your first bib for baby.
Neck Room
A good bib should fit closely under your baby's chin to cover their clothes, without being too tight.
Finding the right fit can be tricky, especially since babies often have multiple chins from all that adorable baby fat.
If your baby's birth weight was in the double digits, you might want to skip the newborn bibs for something a little bigger to make sure it fits comfortably.
The Size
Some are cute and tiny. Other bibs are so big they cover your baby's entire torso – it looks like they are wearing armor. In a way, they are.
Remember – it's is the only thing protecting your baby from drool rashes and more costume changes than you'll see during a Taylor Swift concert.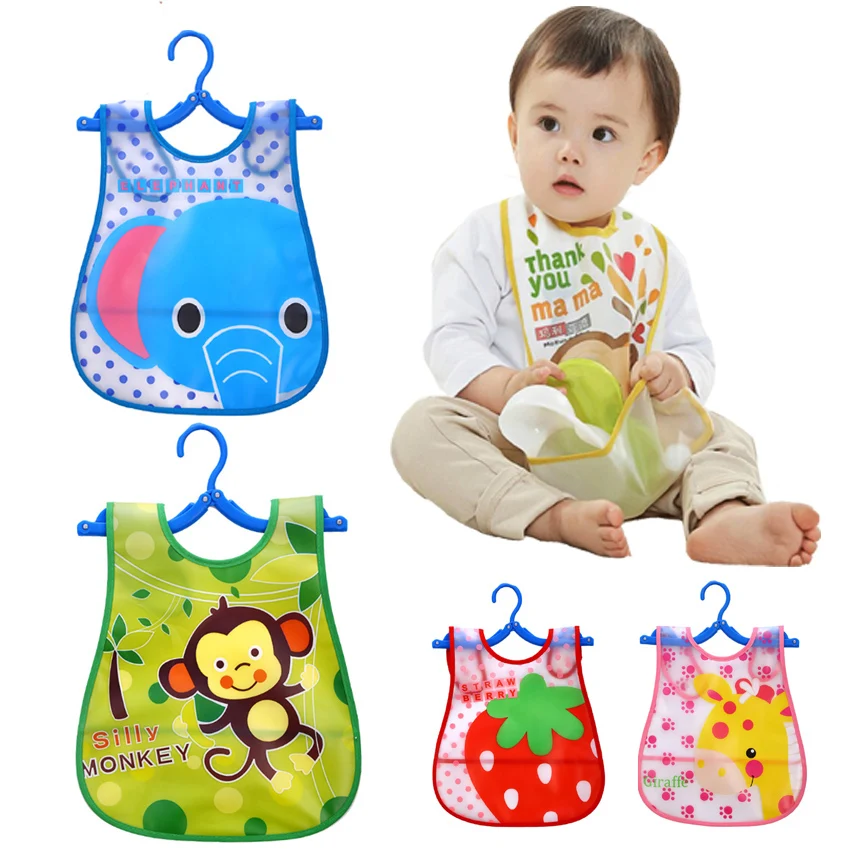 So you want it to be big enough.
The Price
I know budgets and babies don't always go together, but bibs are one of the cheapest things you can buy for your baby. If you can resist the lure of the super cute (i.e., expensive) designs out there, you can easily stock up without spending too much.
Bibs are a good investment when you crunch the numbers. It's cheaper to buy a few than to replace the constant parade of outfits that will be destroyed by massive amounts of spit up.
Keeping bibs around will also save you from having to wash load after load of laundry just so your baby will have some dry clothes to wear.
The Cuteness Factor
Even though bibs were invented for a practical reason, that doesn't mean they can't be fun and fashionable. They are cheap enough that if you really want the one that says, "I love my mommy," you can buy it.
Go ahead, have some fun with the cute baby fashions out there!
---
Baby Bib FAQs
When Can Babies Start Wearing Bibs?
Some people only have their babies wear bibs when they're eating or drinking.
Some parents have their babies wear them during all their waking hours, especially if they are really prolific in the drool department. Your baby should never sleep with a bib on due to suffocation and strangulation risks.
No one knows your baby better than you do – you'll be able to make a sound judgment just by gauging how dry their shirts stay when not wearing one.
How Many Bibs Do Babies Need?
Babies go through bibs like crazy. At my house they were like the hot-ticket items for sale on Black Friday – I had trouble keeping them in stock on my shelves. At every feeding, I strapped one on my baby, and when they're infants, that can be every two or three hours (2).
And when babies start teething, you'll want to keep extras on hand for that. If you don't, you'll be changing outfits at the speed of light. They'll get soggy in record time and if you let your baby continue wearing them, they'll get a rash around their neck and chest.
If you're breastfeeding, the milk will be coming out slower than it would if you were bottle feeding, so you can get by with fewer bibs.
If you're formula feeding, the milk flow from bottles is generally faster than with breastfeeding. Your baby may have more leak out from their mouths so you'll need a one at every feeding.
10 To 20 Works Best
To avoid doing laundry every day or two, you'll want at least 10 bibs if you are breastfeeding, unless you're convinced your baby will rarely need them because of your slow milk flow. With formula feeding, I'd recommend having 15 to 20.
What's the Best Fabric for Bibs?
Instead of trying to take the food or milk stains out of your baby's clothes, you'll remove them from your baby's bibs. Some fabrics are easier to clean than others – plastic cleans up in mere seconds.
Avoid Plastic Straps
Plastic bibs have straps that can irritate your baby's neck. That irritation can cause serious rage – if your baby is more worried about ripping off their bib than eating, it's time to find one that works better.
I've found it's best to stay away from cheap plastic bibs with irritating fasteners unless you happen to be serving a very messy meal to your baby.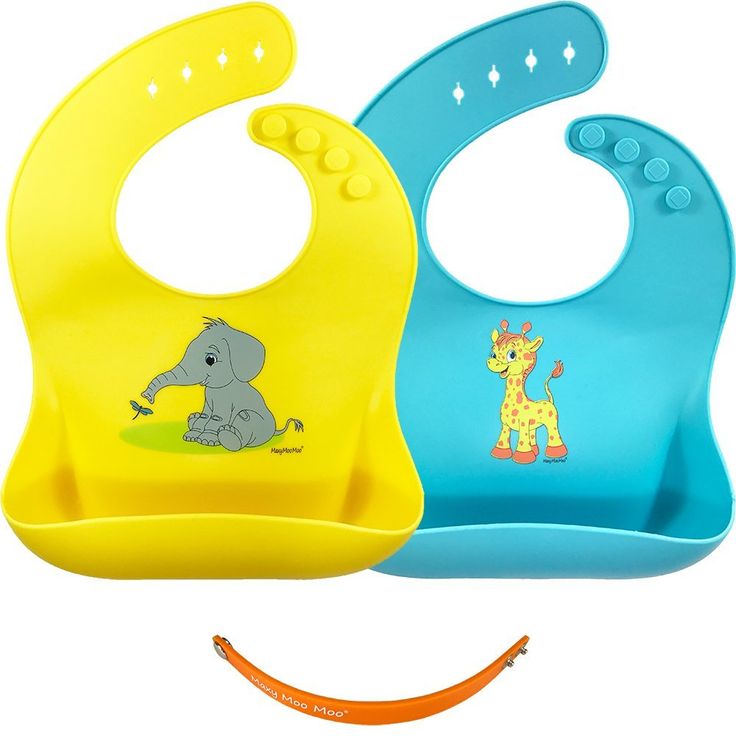 They're okay for occasional use, but it's not worth fighting an angry baby at every meal just to use an uncomfortable product. You'll want your baby's bibs to be a soft, non-scratchy material.
Can Baby Wear a Bib While Sleeping?
No. Though many babies nod off right after feeding time, they shouldn't be allowed to sleep in them. Bibs can be a choking hazard if they cover your baby's airways or pull too tightly on their necks.
Can You Bleach Baby Bibs?
Some can be bleached; some can't. Check the label carefully or read the manufacturer's cleaning instructions. Bleaching will damage any plastic layers in a bib, but if they're pure cotton (and white!) bleaching may be OK.
How Do You Fold and Store Bibs?
Regular and bandana styles can be laid flat, before tucking in the two arms and then folding again into halves or quarters. You could also fold all bibs in half lengthways and then roll them up. Store folded or rolled bibs in a pretty shoe box, or use a wardrobe organizer to keep them neat and in one place.
Smock or full coverage bibs can be folded as you would any other shirt or apron, but take care to make sure that plastic materials are completely dry before storing away. Mould can develop if plastic bibs are packed away before they're properly dry – yuck!
Can You Make Your Own Bibs?
Yes! DIY bibs can be cheaper and longer-lasting, plus you can make them to any size you want. Be careful with the material you choose, though – highest quality terry towel or thick organic cotton is best. If you like, you could wash and repurpose old blankets or burping cloths if they're still in good condition.
---
The Bottom Line
Considering both function and finances, Parker Baby Bandana Bibs are our top pick as the best baby bibs. They are durable, cute, cuddly, and organic. What more could you want?
New parents can underestimate just how much mess can come out of such a small person.
I love that these cover the entire torso because as adorable as children are when they're hungry, they just don't care how much milk or food they spill in an attempt to get some into their mouths.
They offer excellent protection, and they keep clothes dry and stain free. They are also comfortable enough that your baby won't try to rip them off, which they're going to try eventually.
Feedback: Was This Article Helpful?
Thank You For Your Feedback!
Thank You For Your Feedback!
What Did You Like?
What Went Wrong?
Bibs for feeding in Ukraine in the category "Products for children"
Bib (bib) for feeding - "Baby Bibs"
In stock
Delivery in Ukraine
for 135 UAH
from 2 sellers
3
3
Buy
Online store "GetStyle"
Bibs for feeding 2 pcs IKEA MATVRÅ IKEA MATVRÅ bibs
In stock
Delivery across Ukraine
499 UAH 3
9 UAH
Buy
Coos - A rich selection of popular premium quality products
Blory for feeding
Delivery from Kyiv
85 UAH
"KROKHIN MIR" INTERNENT -store of dietary goods
Silicone dishes for baby feeding on suction cup bib, non-spill cup, plate
In stock
Delivery across Ukraine
704 UAH
Buy
Online store "Natalex" 9Ol000 , plate
In stock
Delivery across Ukraine
704 UAH
Buy
Online store "Natalex"
Baby bib-bib CUMENSS "Cartoons" with a pocket for feeding babies Light Green9Ol000 silicone with a pocket for feeding babies
In stock
Delivery across Ukraine
for 136 UAH
from 2 sellers
204 UAH
136 UAH
Buy
Factory - Personal technique
Children's bib Cumens "Cartoon" Pink Slyunyavik Silicon with pocket for feeding babies
in warehouse
Delivery
to 136 UAH
204 GRN
136 UAH 9000 136 UAH 9000 136 UAH 9000 136
Buy
Factory - personal equipment
Silicone tableware for children bib with print, plate with lid + spoon
Delivery from Ternopil
from 180 UAH
Buy
INTERNENT MOBICASTM
Al Children's Bloze Cumens "Cartoon" Light Green Silicone with pocket for kids feeding
in Kyiv
Delivery in Ukraine
22 228
166 UAH
Buy
Online store AntiLoop
Silicone bib for feeding with a pocket Feathers with a pocket
Delivery from Odessa
210 UAH
Buy
Veronika Shop
Slunavik Silicone Bibslate Blockwoman with pocket cosmos
Delivery from Odessa
210 UAH
Buy
000 $ 9000
Delivery from Odessa
190 UAH
Buy
VeroNika shop
Silicone bib for feeding
Delivery across Ukraine
230 UAH
Buy
Grizunok__ukRaine
See also
Children's Bibs Highway Cumens "Cartoon" Light Green Silicone with pocket feeding
,
in a warehouse in Kyiv
General 9000 228 GRN
166 UAH
Buy
Online store GiftOne
Bib fabric cotton reusable two-layer for feeding babies, Frankincense
Delivery from Chervonograd
30 UAH
Buy
TM Ladan, Internet store of the Vobronika
Bibslate Bossa Tissue Rolling Two-layer for feeding babies, Ladan
Delivery from Chervonograd
Buy
TM Ladan, IInternet-store virobnik
Silicone utensils for feeding babies on a suction cup bib, drinking cup, non-spill, plate
Delivery from Odessa
795 UAH
Buy
Online store "NATALEX"
BASS for feeding children from food silicone on a suction cup with a lid and spoon and saliva
Delivery from Odessa
485 UAH
Buy
online store NATALEX
Bib-bib CUMENSS "Toons" Light Green silicone with a pocket for babies
In stock
Delivery across Ukraine
for 136 UAH
from 2 sellers
136 UAH
Buy
INTERNENT -store "InsPrice"
Children's bib IKEA KLADDIG 100% polyester saliva for feeding Ikea Kladdig
Delivery in Ukraine
9000 59000
499 UAH 9000 9000 9000 9000 9000 9000 9000 selection of popular premium quality goods
Baby bib for feeding, bibs for newborns
Delivery across Ukraine
40 UAH
Buy
Prom Mir Tekstilya - children's clothing in the online store from the knitting factory.
Wholesale, Ukraine
LB Children's Bibbed Cumens "Cartoon" Light Green Silicone with a pocket for kids feeding
in a warehouse in Kyiv
Delivery in Ukraine
228 UAH
UAH
Buy
online store LEVELBOX
Bib fabric cotton reusable two-layer for feeding babies, Frankincense
Delivery from Chervonograd
0003
Successor for a girlfriend for a girlfriend tissue tissue reusable two-layer for feeding babies, incense
Delivery from Chervonograd
30 UAH
Buy
TM Ladan, Internet store of the Vobronika
Bibsid Clairpin
Delivery from Chervonograd
UAH 30
Buy
TM Ladan, online store of virobnik
Plain knitted baby bibs for newborns, baby bib for feeding
Delivery across Ukraine
15 UAH
Buy
Children's clothing Turkey. Komsomol jersey, children's, women's, men's, Istanbul Market prom
Baby bibs for newborns on oilcloth, nursery bib for feeding
Delivery across Ukraine
53 UAH
Buy
Children's clothing Turkey.
Komsomol knitwear, children's, women's, men's, Istanbul Market prom
patterns with photo and video
and also eat right. A lot of money and time is spent on the baby. And to save money on laundry, children wear bibs that are much easier to wash than clothes, and do not have to be washed white. Every kid should have this item in their wardrobe. In addition, it is not necessary to spend money and time looking for the right thing, if it is possible to sew it yourself. Bibs for children are sewn easily and quickly, while the mother will be able to calmly spend her free time on it and create exactly what will suit the baby and the whole family will like it.
There are several types of such bibs, it depends only on mother's preferences which one to choose. It is best to choose bright colors, because the child likes everything colorful and colorful. We are all used to seeing such wardrobe items made of fabric, but some needlewomen have gone further and are already crocheting bibs.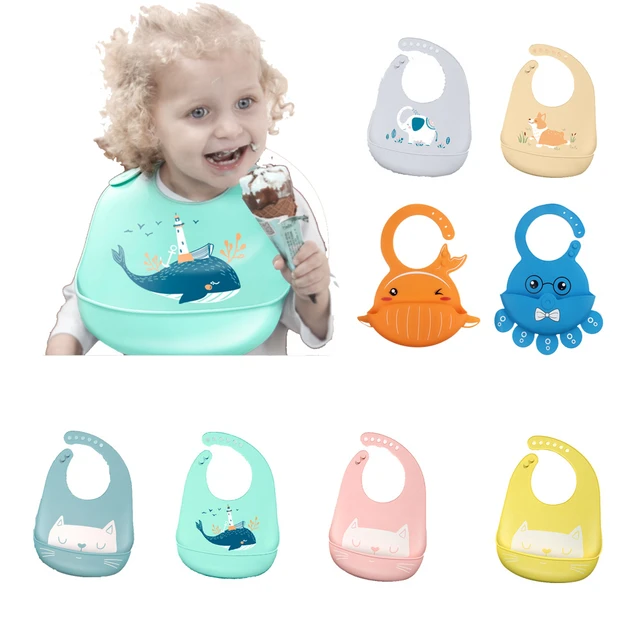 Such products turn out to be very openwork, but knitting can also be used for decoration - in the form of a frill.
Baby bib
Babies still don't know how to eat without getting their clothes dirty, so new mothers want to protect their clothes from stains. For this, bibs are used. After all, what mother has time to wash constantly, if there are still many things to do around the house and care for her baby. Therefore, such an element in the wardrobe is very important.
What is needed for the master class:
fabric from which we will sew a bib;
patterned fabric;
threads to match the main fabric;
scissors;
needle;
buttons;
oilcloth;
hole puncher;
machine for installing buttons, but this can be done in any salon.
Now we take and draw on a sheet of paper patterns of our product. Or you can just print the already provided template from the master class.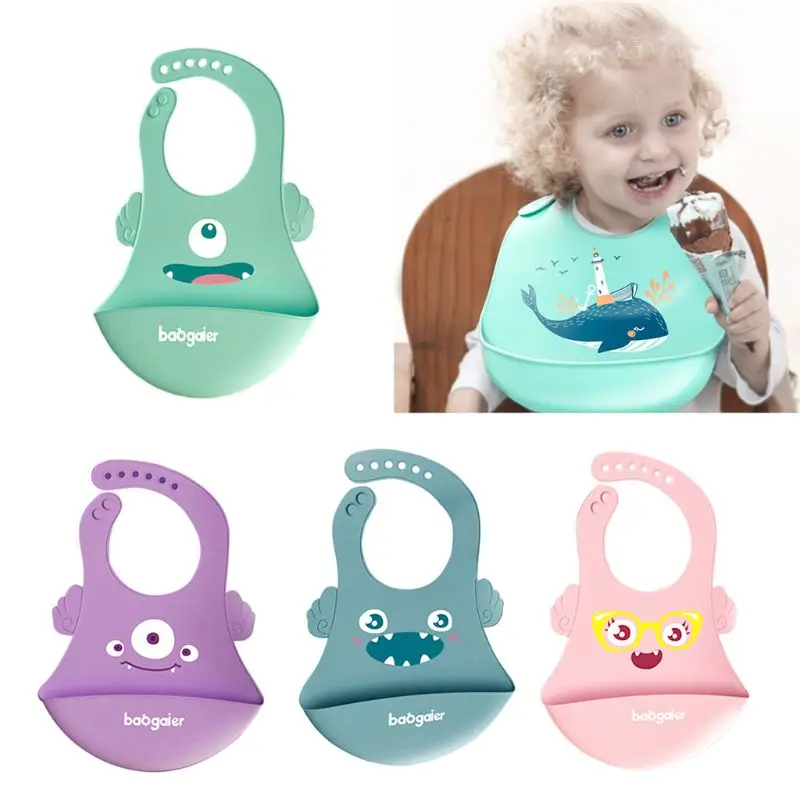 Place the resulting pattern on the oilcloth and cut out the part we need on it, this will help protect the child from getting wet liquid food. Now you need to attach our pattern to the main fabric using safety pins, it is best to use terry cloth. We transfer the template drawing to the material and then cut out two parts, do not forget to make small allowances. But before you start stitching the bib, you need to decorate it with appliqué.
The child will not particularly like such an accessory made of white fabric, and when some kind of drawing, sticker appears, then, accordingly, this will attract the attention of the baby.
You don't need to buy any stickers for this, but you can simply make everything from ordinary fabric, having previously printed out the template of the appliqué itself. In our case, it will be a strawberry. We take a red fabric with white polka dots, if there is one, but not, then any red one, and cut out strawberries from it according to the pattern.
And from a green ponytail with leaves. See the photo for how it should look. Now, on the front of our main product, we sew a strawberry with red threads in a zigzag seam using a sewing machine.
Now in this way we sew on top of our strawberries and tail. For those who cannot simply hold the details while working with the machine, it is best to sew on the pattern part itself using basting, so it will be fixed and will not go to the side while working with the sewing machine.
Next, we start assembling the product. We put one side on the other so that the pattern is inside the product, we work with the wrong side. Between the two parts we put a piece of cellophane, so you get three layers. Now sew along the contour of the product, but not to the very end, leave a small hole in order to turn it out later. When we turn it on the front side, the edges must be processed with a decorative stitch. And now our main part is ready. In the right place with the help of the machine we set the buttons.