Green beans first baby food
Green Bean Baby Food (Stage One)
Looking for the first puree to serve your baby? Try this Green Bean Baby Food recipe! Steamed until just tender, this nutritious and smooth puree features a mild taste for your baby's emerging palette. It's a great Stage 1 Baby Food for 4-6 months and up.
Medically reviewed and co-written by Jamie Johnson, Registered Dietitian Nutritionist (RDN), and Lauren Braaten, Pediatric Occupational Therapist (OT).
Green Bean Puree
Hold on 'cause I'm about to tell you something shocking. 😲
This homemade green bean puree is not only full of essential nutrients, but it is also delicious!
I know, this seems hard to believe because pureed green beans as baby food get a pretty bad rap.
But it's 💯 true! This green bean puree will knock your 🧦 off!
We start with fresh or frozen green beans that are gently steamed to bring out the freshness. Then, we blend them into a velvety and creamy puree for baby.
I add a pinch of cilantro, parsley, or basil to this puree to round out the flavor profile, but you can skip that step if you prefer. Because we are using this gentle way of cooking the green beans 💚, their taste doesn't get aggressive, making it the perfect light puree for your baby's first bite.
Is it your first time making homemade baby food? If you answered yes, then I suggest you start this journey by reading my in-depth Guide on How to Make Homemade Baby Food. The detailed article goes over all the essential information such as the best cooking tools to have on hand, safe storage, knowing when your baby is ready for solids, introducing purees, making the best first foods for baby, and more! You can also check out my best-selling cookbook for even more information and recipes.
Green Bean Baby Food Video
Watch this video to see how easy this Green Bean Puree recipe is to make!
Reasons to Love this Green Bean Puree
simple and easy to make
filled with nutrients for a growing baby
features a gentle taste
great for babies 4-6+ months
stage 1 baby food
freezer-friendly
smooth and creamy 
aids digestion
budget-friendly
Ingredients
Make sure to read the recipe card below for full ingredients and instructions!
Green Beans: You can use fresh or frozen green beans for this recipe.
Herbs: You can add a pinch of cilantro, basil, parsley, mint, or chives to this puree to enhance the flavor profile. While I love the boost of flavor that herbs add to the puree, putting in herbs is completely optional.
Health Benefits of Green Beans
Good source of fiber to help with any digestive issue.
A great source with vitamin C to help support your baby's immune system.
A good source of vitamin K to help strengthen bones.
Want to learn more about the benefits of Green Beans for your baby? Then read the entire Green Bean Profile here.
Green Bean Tip: You can use either fresh or frozen green beans for this recipe. If you want to use organic but are on a budget, try looking for frozen organic green beans in the freezer aisle, which are cheaper than fresh conventional green beans.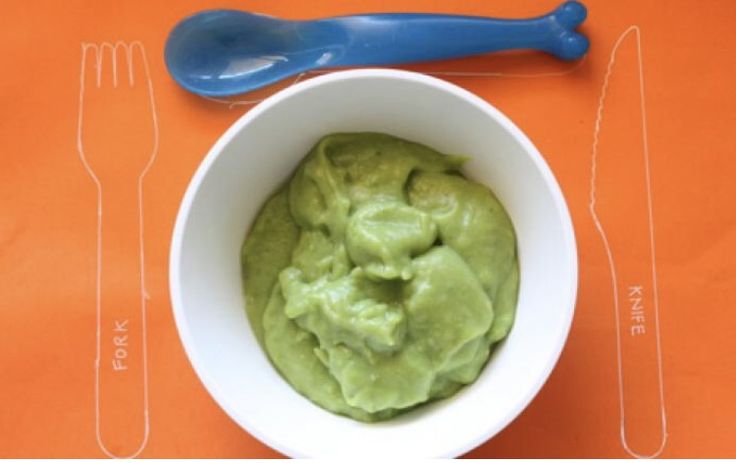 Step-by-Step Instructions
Trim: Roughly trim the green beans. If you'll be adding herbs, roughly chop them as well.
Steam: Fill a medium saucepan with 2" of water and bring to boil over medium heat. Place the green beans (fresh or frozen) into a steamer basket over the boiling water, cover, and cook for 10 minutes or until tender. Let it cool slightly — reserve the steamer water.
Puree: Transfer the green beans and herb to a blender or food processor and puree for 1-2 minutes or until smooth, adding liquid in 1/4 cup increments if needed until you reach your desired consistency.
Eat: Serve to your baby or freeze for later.
Tools Needed
These tools will make it a lot easier for you to make this healthy Green Bean Puree. For more of my favorite kitchen tools make sure to check out my shop.
Steamer insert with lid
Blender or Food Processor
Freezer Tray
Storage Containers for Fridge
Stasher Bag
Bib with catch pocket
Reusable pouches
Recipe Tips
Adding Healthy Fats: Adding a teaspoon of avocado, coconut oil, or olive oil wonderfully compliments this green bean puree. Not only will healthy fats bring out the natural nuttiness of green beans, but they also add healthy fats into your baby's diet.
Fresh or Frozen: Feel free to use fresh or frozen green beans for this recipe.
Other Cooking Method
s
While I love the crisp and fresh flavor of steamed green beans, there are several ways you can cook green beans for baby food. 
Skillet
Trim the green beans and then add them to a large skillet that has been preheated with 1 tablespoon of olive oil over medium heat. Cook for 5-7 minutes, add 2 tablespoons of water, cover, and cook for 2 more minutes. Puree in a blender as directed below. 
Roasted
If you want the baby puree to have a dense, earthy taste, then roast the green beans instead.
Trim the green beans and then toss with 1-2 tsp of olive or avocado oil on a baking sheet. Cook 425 degrees F for 18-20 minutes, tossing halfway through baking time or until tender when pricked with a fork.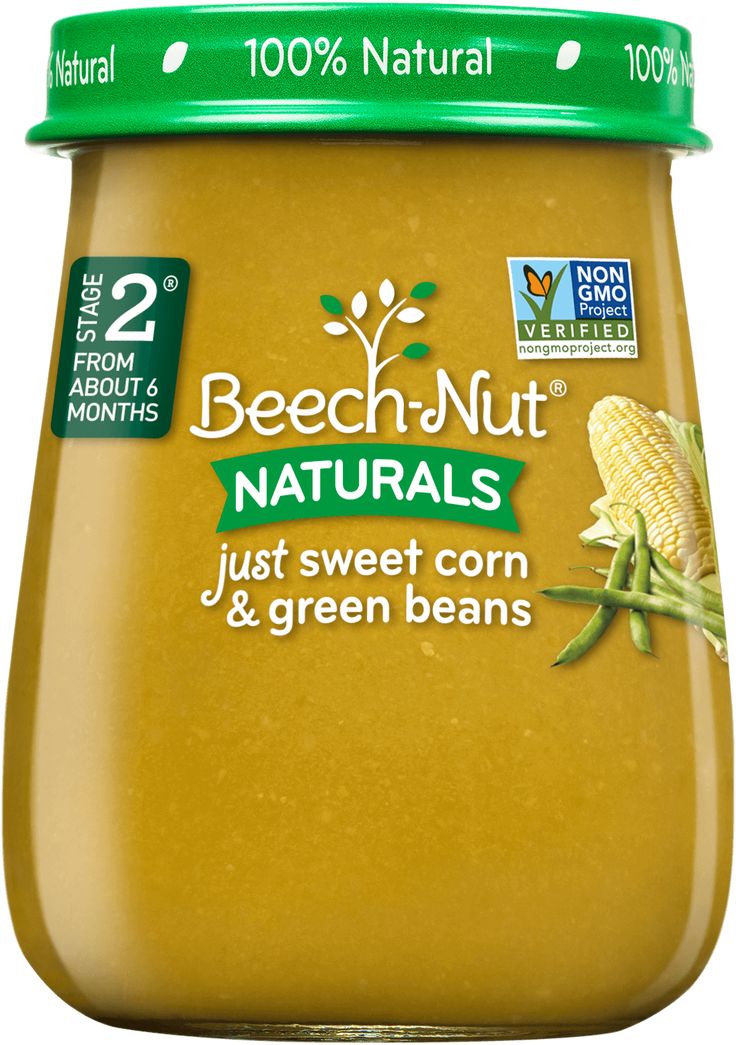 Puree in a blender as directed below.
Frequently Asked Questions
When can baby eat green beans?
Babies can have green beans as one of their first foods. When a baby can start on solids is determined by their own rate of development, which generally comes between 4-6 months of age. Some of the developmental milestones babies need to reach in order to start solids include: if your baby has solid control of their head and neck, if your baby has doubled in weight, and if your baby is reaching for or opening their mouth when you eat (see my guide here). Before you start baby on purees, you should consult with your pediatrician to make sure your child is developmentally ready.
Can green beans be baby's first food?
Green beans can 100% be your baby's first food if you want it to be. It is recommended to wait to introduce the top eight allergen foods to your baby once a few other well-tolerated foods have been introduced, but otherwise, foods can be introduced in any order so choose whatever you are most excited for your baby to have.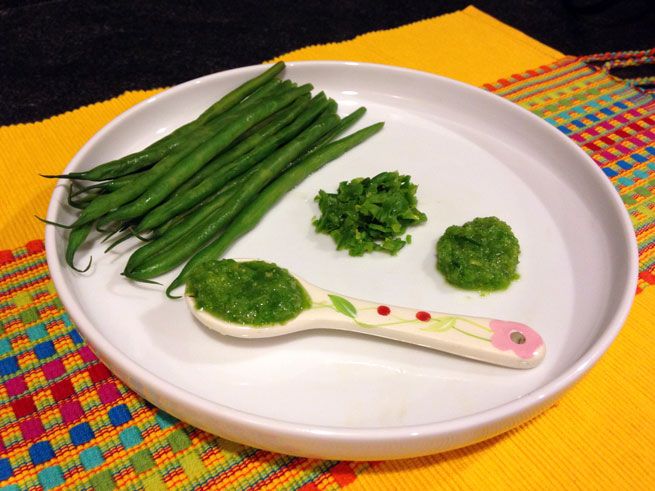 Are green beans a common allergen for baby?
No, green beans are not a common allergen, however, as with any food, start with a small portion and be aware of any signs that might be an allergic reaction after introducing it.
Do green beans cause constipation for babies?
Green beans do not usually cause constipation in babies, and may actually help alleviate constipation due to their high fiber content.
Adding Spices
Feel free to add a big pinch of roughly chopped basil, cilantro, mint, parsley, or chives to this puree before blending.
Coconut Oil: Another great addition to this puree is adding in 1-2 teaspoons of organic virgin coconut oil. Healthy fats, such as coconut oil, help aid your baby's brain development and function, repair torn or strained muscles (great for crawlers) and is great for digestion needs.
How to Store Green Bean PureeRefrigerator
You can store this puree in an airtight container in the fridge for up to 4 days.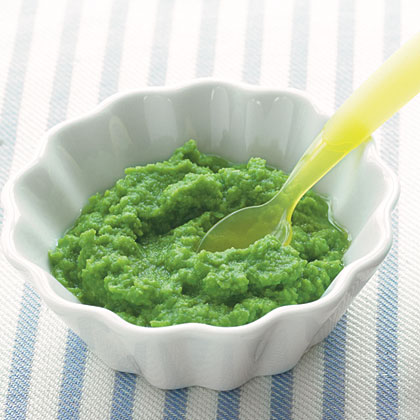 Freezer
This puree can be frozen for up to 4 months.
Spoon puree into a freezer storage container. Do not overfill. 
Place the lid on the storage container or cover with a piece of saran wrap — label with the date and recipe name. 
Place the tray into the freezer and let it freeze completely – preferably overnight. 
Pop-out the baby food cubes and place them in a zip-lock baggie or stasher bag. Don't forget to relabel the baggie or stager bag for future reference.
Need more information on how to store your baby foods? Head over to my Best Baby Food Storage Containers – Plus 6 Tips on Freezing and Thawing post!
Label Tip: Don't forget to label your purees before you place them in the fridge or freezer with the name of the puree and the date you made it. Take it from me; by the end of the week, you will completely forget what is in your freezer and how long it's been there… because you know… mommy brain.
😉
Green Bean Combination Purees
While Green Bean Baby Food is already tasty by itself, you can also easily mix and match it with other nutrient-dense baby food purees. For a Stage Two puree, give these fun flavor combos a try!
Apples
Broccoli
Quinoa Baby Cereal 
Chicken
Pea
Softened Tofu
Yogurt
Mango
Puree Feeding Tips
Follow your baby's lead – when feeding purees from a spoon, sometimes there's a tendency to keep offering bites past the point of your baby being full. Always follow your baby's cues for when they are done eating. Turning away from the spoon, closing her mouth, or pushing food away are all signs that your baby is finished with the meal.
Try adding a little seasoning or spice to purees – babies like flavor! Or consider changing the temperature of purees from time to time, to slightly warmed or slightly chilled. Varying these aspects adds to the sensory experience!
Throwing spoons is a common phase that all babies go through at one point or another. One of the best ways to handle spoon throwing is to ignore it and keep feeding your baby as usual (with an extra spoon you already have at the table). If your baby ends up also throwing back up spoons #2 AND #3, simply encourage your baby to eat with their hands until they appear to be finished with the meal. ***Give baby plenty of opportunities to practice putting items in and taking items out of containers outside of mealtimes.
Or watch a shortened version of this video here.
1 pound green beans, fresh or frozen
1 big pinch of fresh basil, cilantro or parsley, roughly chopped (optional)
Trim: roughly trim the green beans and roughly chop the herb (if using).

Steam: fill a medium saucepan with 2" of water and bring to boil over medium heat. Place the green beans (fresh or frozen) into a steamer basket over the boiling water, cover, and cook for 10 minutes or until tender. Let cool slightly. Reserve steamer water.

Puree: transfer the green beans and herb to a blender or food processor and puree for 1-2 minutes or until smooth, adding liquid in 1/4 cup increments if needed until you reach your desired consistency.

Eat: serve to baby or freeze for later.
Age: 4-6 months and up
Yield: 16 ounces
Storage: Fridge – store in an airtight container in the fridge for up to 4 days or in the freezer for up to 4 months.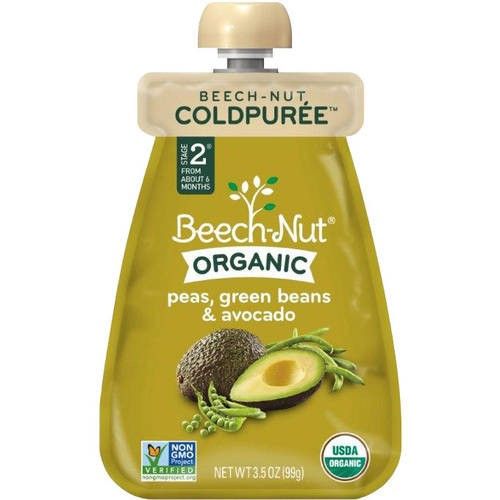 Adding Spices: you can add a big pinch of roughly chopped basil, cilantro, mint, parsley or chives to this puree before blending. 
Blender
Freezer Tray
Stasher Storage Bag
Bumkins Grip Plate
Did you make this recipe?
Tag @babyfoode on Instagram and hashtag it #babyfoode!
Pin Recipe Email a Friend
Green Beans for Babies - Can Babies Eat Green Beans? First Foods
When can babies eat green beans or string beans?
Green beans, sometimes known as string beans, may be introduced as soon as baby is ready to start solids, which is generally around 6 months of age.
Where do green beans come from?
Green beans are snap beans—a sprawling family of legumes whose tender pods are eaten before their tiny seeds mature and swell from soaking up sun and water. Snap beans go by different common names depending on the variety.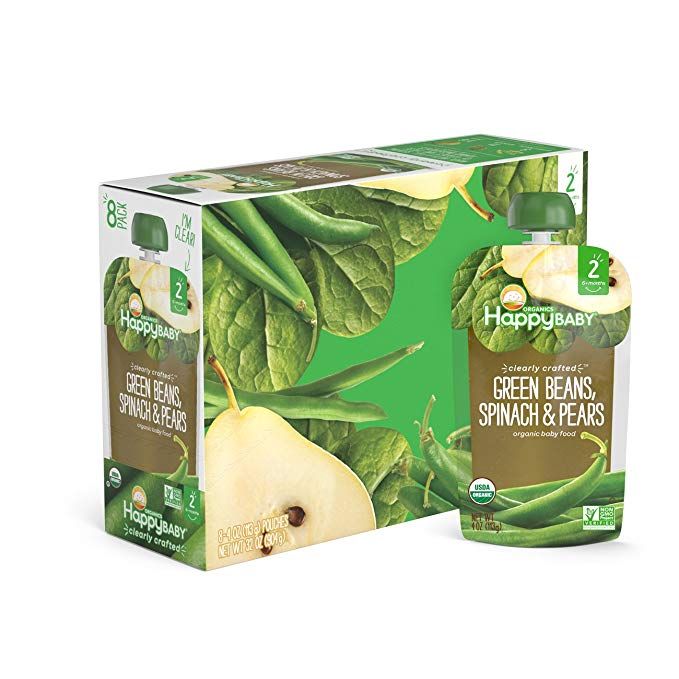 Aside from green beans, there are bush beans, pole beans, string beans, and wax beans, to name a few. While green beans might be the most widely recognized, snap beans actually range in color, from red to purple to yellow, even speckled and striated. All trace back to the common bean that was cultivated by Indigenous people of Central and South America for thousands of years before colonizers took the seeds to Europe. There, exotl (the Nahuatl name for the string-like beans) became ejote in Spanish, and domestication and global trade led to the many varieties eaten around the world today.
Are green beans healthy for babies?
Yes. Green beans are an excellent source of vitamin K—an essential nutrient that plays a key role in blood clotting. They also contain vitamin A (for healthy eyesight and immune systems) and vitamin C, a critical nutrient that helps our bodies absorb iron from plant-based foods, which is important for babies at this stage in their lives.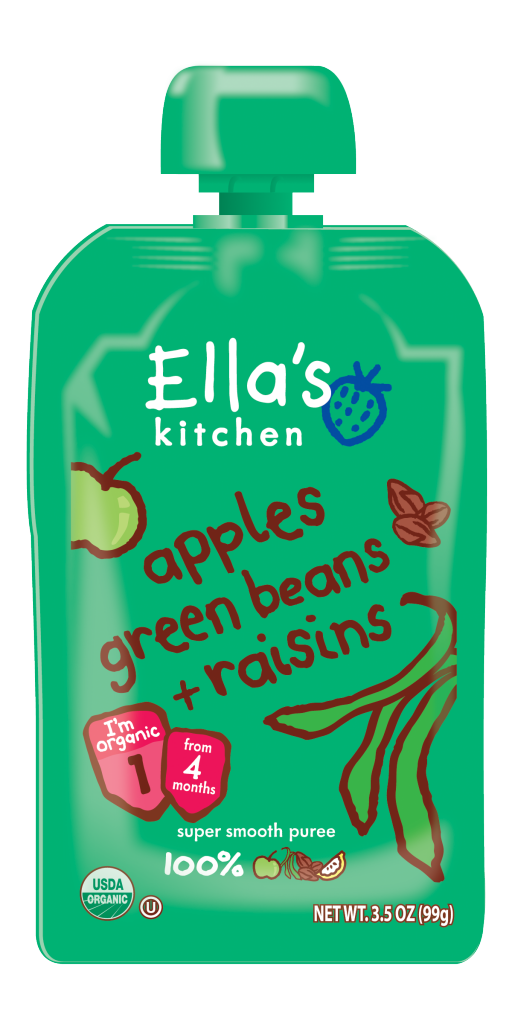 1 Lastly, green beans help fuel your baby's body with protein and move things along in the digestive tract thanks to plenty of fiber within the tender pods.
You may have heard that green beans and other edible plants (arugula, beets, carrots, lettuce, spinach, and squash to name a few) contain nitrates—naturally occurring chemicals which, if consumed in large amounts, can negatively affect oxygen levels in our blood.2  Babies—and particularly babies younger than 3 months of age—may be more susceptible to nitrates.3
So are green beans safe for babies starting solids? Yes. Both the American Academy of Pediatrics and the European Food Safety Authority has found that the level of nitrates in vegetables is not a concern for most children, and nitrates from vegetables appear to be less of a concern for babies older than 6 months of age.4 5 Therefore, we believe that the benefits of eating vegetables as part of a varied diet of fresh foods outweigh the risks of excess nitrate exposure from vegetables.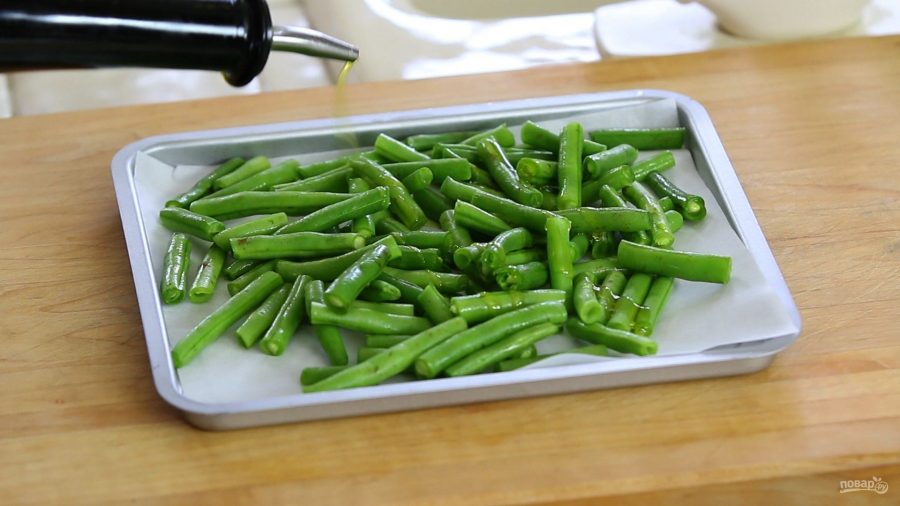 6 If you're worried, nitrate exposure can be reduced by avoiding deli meats (and other processed meats) and well water, which can be high in nitrates.7 8
Frozen and fresh green beans have similar nutritional content. If you're in a pinch, frozen green beans are a nutritious and economical option.
Are green beans a common choking hazard for babies?
Yes. Green beans are tough for babies to chew, plus pre-cut green beans and other cylindrical varieties of snap beans are very similar in diameter to the trachea at this early stage in life. To minimize the risk, cut lengthwise or offer your child a whole string bean to munch on. Bigger is often safer!
For more information, visit our section on gagging and choking and familiarize yourself with common choking hazards.
Are green beans a common allergen?
No. Green bean allergies are rare, though not unheard of and, in theory, an individual can be allergic to any food.9 As you would when introducing any new food, start by offering a small quantity on its own for the first couple of servings.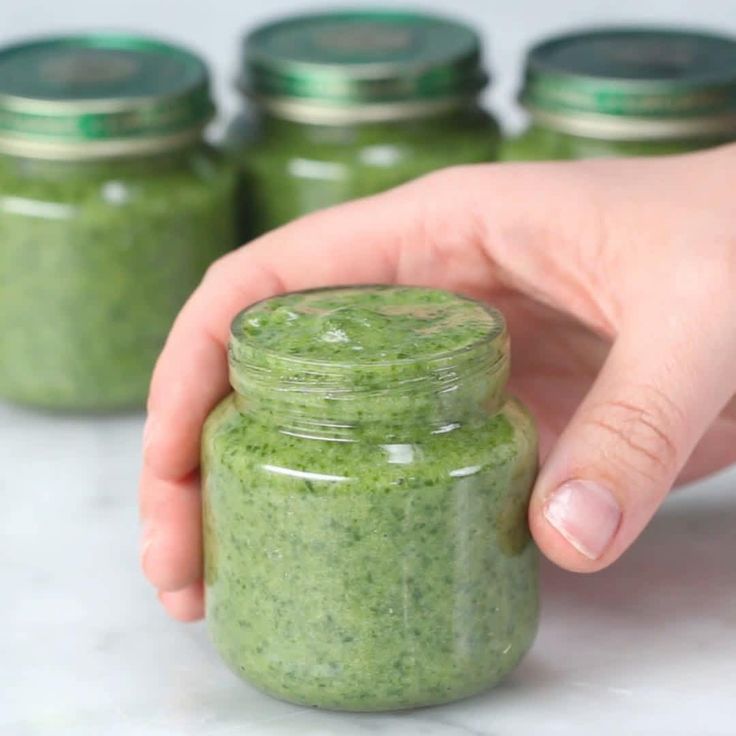 If there is no adverse reaction, gradually increase the quantity over future meals.
How do you prepare green beans for babies with baby-led weaning?
Every baby develops on their own timeline, and the suggestions on how to cut or prepare particular foods are generalizations for a broad audience. Your child is an individual and may have needs or considerations beyond generally accepted practices. In determining the recommendations for size and shape of foods, we use the best available scientific information regarding gross, fine, and oral motor development to minimize choking risk. The preparation suggestions we offer are for informational purposes only and are not a substitute for child-specific, one-on-one advice from your pediatric medical or health professional or provider. It is impossible to fully eliminate all risk of a baby or child choking on any liquid, puree, or food. We advise you to follow all safety protocols we suggest to create a safe eating environment and to make educated choices for your child regarding their specific needs.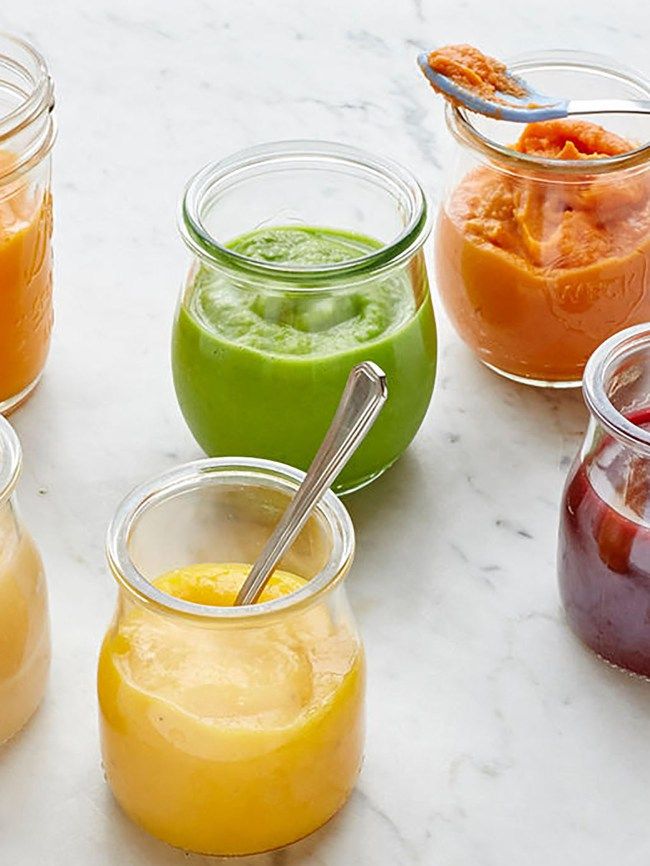 Never disregard professional medical advice or delay in seeking it because of something you have read or seen here.
6 to 12 months old: Offer cooked green beans in their whole form (a whole bean, uncut is best). At this age, whole bean pods may be safer for babies than pre-cut green beans. Whole bean pods are also easier for the baby to grasp. As they munch, their gums smash the pod and reduce its roundness, while small pieces of pre-cut green beans could be more likely to be accidentally swallowed whole. If you'd like to work the fine motor skills required for utensils, raw green beans can be excellent "spoons" or vehicles to practice self-feeding a pureed texture (like hummus). While your baby won't consume the green bean itself when used this way (as raw green beans require strong jaw control and for most babies, teeth, to break through the skin), they are fantastic for learning the skills of scooping.
12 to 18 months old: Offer bite-size pieces of cooked green beans.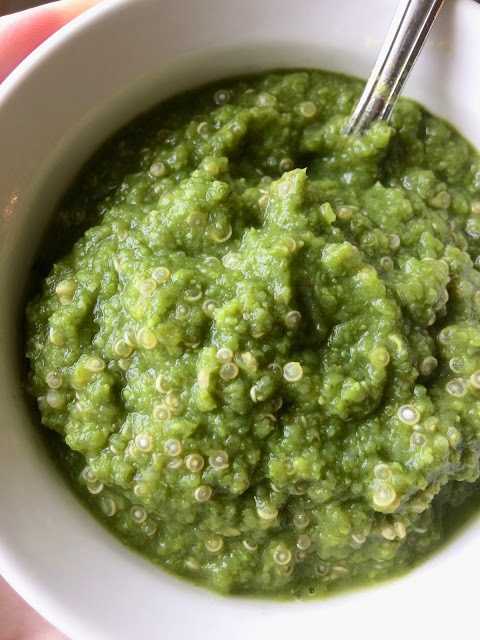 This is also a great time to practice with forks and green beans spear quite nicely!
18 to 24 months old: Continue to offer bite-size pieces of cooked green beans as finger food or serve with a fork but reduce the cooking time to acclimate your child to chewing tougher foods. You can also serve whole green beans with a dip—toddlers love to dip!
Whole, cooked green beans for babies 6 months+Cooked, bite-sized pieces of green bean for children 12 months+
For more information on how to cut food for babies, visit our page on Food Sizes & Shapes.
Recipe: Three Sisters Succotash
Serves 4
Ingredients
1 pound fresh or frozen green beans
1 medium zucchini
10 ounces fresh or frozen corn kernels
1 bunch chives
4 tablespoons unsalted butter
1 teaspoon ground pumpkin seeds (optional)
Directions
Wash the beans and defrost if frozen. Slice off any stems then cut the beans into age-appropriate sizes. Steam until soft, about 10 minutes. Remove from the heat. Set aside.
Wash and shred the zucchini with a box grater while the beans are cooking. Set aside.
Wash the corn kernels and defrost if frozen. Set aside.
Wash and mince the chives. Set aside.
Heat the butter in a large skillet set on moderate heat. When the butter is done foaming, add the corn kernels, then stir to coat. Cook until soft, about 4 minutes, then gently mash with the back of a wooden spoon to reduce the choking hazard.
Add the shredded zucchini and stir to coat in the corn mixture. Cook until soft and some of the liquid has evaporated, about 5 minutes.
Add the green beans and stir to coat in the corn-zucchini mixture. Cook until warmed through, about 2 more minutes. Remove from the heat and sprinkle with the minced chives.
Measure 1/2 cup into a bowl that suctions to the table for your baby and a generous portion for yourself. If you like, sprinkle the ground pumpkin seeds on top for extra flavor and nutrition. Store the rest of the succotash in an air-tight container in the fridge for future meals.
To serve, place a fork on the edge of your child's plate to encourage utensil practice, then eat your meal alongside your child to show how it's done!
Flavor Pairings
Green beans have a bright grassy flavor that pairs well with rich proteins like bacon, beef, and lamb; tart fruits like lemon, orange, and tomato; earthy foods like oyster mushrooms and purple potato; and creamy foods like avocado, ricotta cheese, and yogurt. Try seasoning green bean dishes with mint, savory, tarragon, or your family's favorite herb. And when in doubt, add butter!
Reviewed by
J. Truppi, MSN, CNS
V. Kalami, MNSP, RD
K. Rappaport, OTR/L, MS, SCFES, IBCLC
S. Bajowala, MD, FAAAAI. (allergy section)
R. Ruiz, MD Board-Certified General Pediatrician and Pediatric Gastroenterologist
Friel, J., Qasem, W. , & Cai, C. (2018). Iron and the Breastfed Infant. Antioxidants (Basel, Switzerland), 7(4), 54. DOI: 10.3390/antiox7040054. Retrieved September 9, 2020
Brkić, D., Bošnir, J., Bevardi, M., Bošković, A. G., Miloš, S., et al. (2017). Nitrate in Leafy Green Vegetables and Estimated Intake. African journal of traditional, complementary, and alternative medicines : AJTCAM, 14(3), 31–41. DOI:10.21010/ajtcam.v14i3.4. Retrieved September 9, 2020
Brkić, D., Bošnir, J., Bevardi, M., Bošković, A. G., Miloš, S., et al. (2017). Nitrate in Leafy Green Vegetables and Estimated Intake. African journal of traditional, complementary, and alternative medicines : AJTCAM, 14(3), 31–41. DOI:10.21010/ajtcam.v14i3.4. Retrieved September 9, 2020
Filer, L. J., Lowe, C. J., Barness, L. A., Goldbloom, R. B., Heald, F. P., et al. (1970). Infant Methemoglobinemia: The Role of Dietary Nitrate. Official Journal of The American Academy of Pediatrics, 46(3), 475-478. Retrieved September 9, 2020
European Food Safety Authority. (2017). EFSA Explains Risk Assessment: Nitrites and Nitrates Added in Food. Retrieved September 9, 2020
European Food Safety Authority. (2017, June 15). EFSA Confirms Safe Levels for Nitrites and Nitrates Added in Food [Press release]. Retrieved September 9, 2020
Hord, N. G., Tang, Y., Bryan, N. S. (2009). Food sources of nitrates and nitrites: the physiological context for potential health benefits. The American Journal of Clinical Nutrition, 90(1), 1-10. DOI: 10.3945/ajcn.2008.27131. Retrieved September 9, 2020
Ahluwalia, A., Gladwin, M., Coleman, G. D., Hord, N., Howard, G., et al. (2016). Dietary Nitrate and the Epidemiology of Cardiovascular Disease: Report from a National Heart, Lung, and Blood Institute Workshop. Journal of the American Heart Association, 5(7), e003402. DOI:10.1161/JAHA.116.003402. Retrieved September 9, 2020
Igea, J. M., Fernandez, M., Quirce, S., de la Hoz, B., Diez Gomez, M.L. (1994). Green bean hypersensitivity: an occupational allergy in a homemaker. Journal of Allergy and Clinical Immunology, 94(1),33-35. DOI:10.1016/0091-6749(94)90068-x. Retrieved September 9, 2020
health benefits and harms, composition, calories
Complain
Contents:
Useful composition
Benefits after processing
Main beneficial properties
Is there any harm?
Video
String beans were brought to Europe from America. At first, she decorated the facades of buildings and parks with her attractive climbing stems. Only a century and a half later, the Italians began to use them for cooking. Later, the French developed a softer and more delicate variety that we now eat, and they called it French. Nowadays, you can find green and yellow beans, occasionally purple.
Useful compound
100 g raw green beans:
31 calories;
1.83 g protein;
0.22 g fat;
6.97 g carbohydrates;
2.7 g fiber;
37 mg calcium;
1. 03 mg iron;
25 mg magnesium;
211 mg potassium;
12.2 mg vitamin C
and many other useful trace elements, including vitamins A, E, K, B vitamins, folic acid.
Benefit after treatment
Roasted. When frying the pods, 100 g of the product will have 175 kcal, and when stewing - 136. Considering that, in addition to the main ingredient, a number of others are included in the dishes, the total calorie content and benefits for the human body may vary.
Frozen. To extend the shelf life of the product, you can freeze the bean pods. They must be thoroughly washed, cut into small pieces, dried and placed in containers for freezing. The duration of storage in this case increases to six months. The freezing method does not affect the medicinal properties of legumes. In addition, cold processing destroys bacteria and dangerous toxins from the surface of the fruit.
Canned. Preservation preserves the key share of the vitamin-mineral complex. The nutritional value of the canned product is only 16 kcal per 100 g. After such processing, the product has a positive effect on the circulatory system due to the formation of red blood cells. Periodically eating canned beans also helps to reduce the amount of sugar in the body.
Boiled. Short-term boiling retains up to 80% of all bioactive components of beans. At the same time, due to the change in the properties of carbohydrates, the number of calories almost doubles. The main advantage of boiled beans is that even a short boil kills all microbes and cleans the surface of the legumes.
Boiling the shoots is the most common processing method. During the boiling process, toxic substances are eliminated, which makes it possible to safely consume the product.
Key Benefits
Improves the condition of the heart. Green beans are rich in flavonoids, which have anti-inflammatory properties and help regulate thrombotic activity in cells, preventing blood clots from forming in the arteries. Beans are also high in soluble fiber, which lowers bad cholesterol and boosts good cholesterol.
Helps prevent depression. Green beans are rich in folate (a derivative of folic acid or simply vitamin B9), which helps prevent depression because it prevents the release of homocysteine ​​into the body. Excess homocysteine ​​interferes with the flow of blood and nutrients to the brain, the production of serotonin or, as it is called, the "hormone of happiness", dopamine and norepinephrine, which regulate mood, sleep and appetite.
Improves bone health. Calcium contained in green beans helps maintain healthy bones, prevents their destruction and osteoporosis. Vitamin K and protein also support bone health. Green beans are an excellent source of silicon, which aids in bone regeneration.
Strengthens the immune system. Vitamin C, which is rich in green beans, supports the human immune system, and also fights free radicals that provoke chronic diseases, such as cardiovascular, autoimmune systems, eye diseases, inflammatory diseases and cancer.
Improves the condition of the gastrointestinal tract. The high fiber content of green beans helps to resolve some problems of the gastrointestinal tract, such as constipation.
Promotes healthy vision. Green beans contain carotenoids, which prevent age-related visual impairment. Good eyesight will also help maintain lutein, which is also found in a green vegetable.
Promotes fetal health during pregnancy. Folate, which is very rich in green beans, is useful for cell division and DNA synthesis.
Pregnant women should definitely include green beans in their diet to avoid neural tube defects in babies. Green beans also contain iron, which will also be useful for expectant mothers.
Is there any harm?
The plant is considered hypoallergenic, and it can be used by almost everyone. But there are a number of contraindications:
gastritis;
hyperacidity;
cholecystitis;
duodenal ulcer;
stomach ulcer;
gout.
Also remember that the product causes increased gas formation, so try to add spices to it that reduce gas formation, such as dill.
Video
Photo: © Depositphotos
HeadingFood
Calcium for pregnant women: what foods contain vitamins for expectant mothers
Burning natural pharmacy: how nettle is useful for adults and children
Everyone wants to make the world a better place, but why doesn't anyone want to help mom with cleaning?!
Comments
Learn and participate
Baby.ru clubs are a treasure trove of useful information
Asthma in children - what to look forEducation in Netology with a discount of up to 75% for mothers for mothers of frequently ill childrenWhy is the child often ill?Test the new ultrathin panty diapersCare for the baby and mother Test30 steps to strong immunity! Happiness is when everyone is healthy! Infectionist about vaccinationsGame: assemble a first aid kit for a childFirst aid for ARVIFirst first aid kit for a baby
Vegetable soup.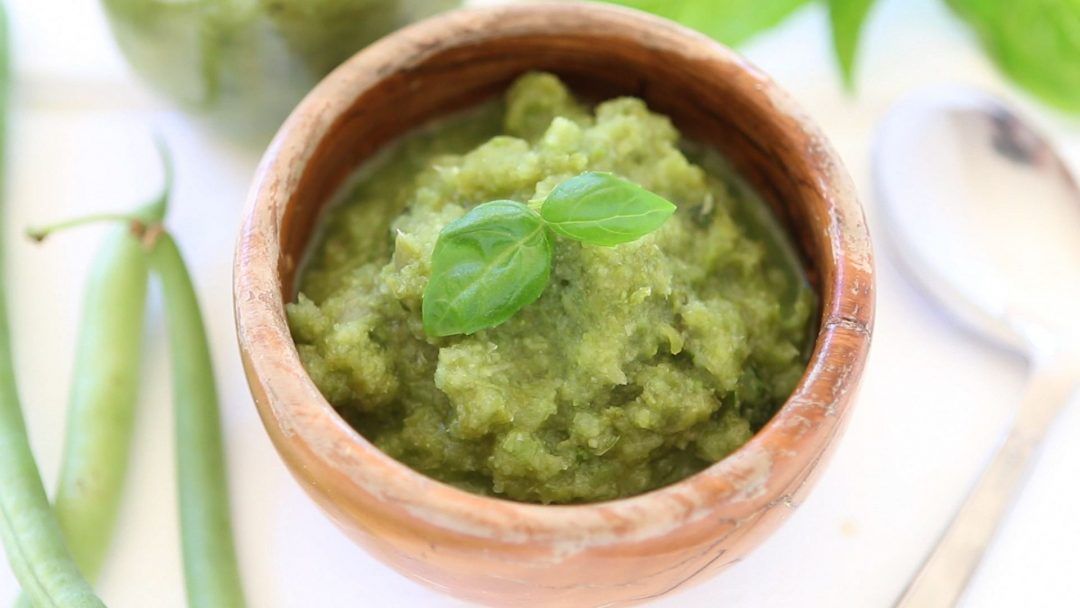 A step-by-step recipe for vegetable soup with patch beans and rice
UKREN
RUS
Hot Line phone
0 800 50 72
To be a partner
Creams with green peas and cream
Okroshka on yogurt 9000,000
ago
Description of the dish
Light vegetable soup with green beans is a tasty and fragrant first course for every day. They can be perfectly refreshed with benefits for the body and without harm to the figure.
Vitamin-rich green bean pods combined with corn, carrots and bell peppers add juiciness and a pleasant sweet taste to the dish. And the color scheme of this vegetable soup beckons rather to try it.
Nutritionists recommend eating green beans at least twice a week. So keep a simple recipe for a delicious soup, which is prepared quickly and easily thanks to ready-made vegetable mixtures of TM "Rud". Such a dish with green beans is not difficult, and even pleasant to repeat at least every day!
TM "Rud"
Vegetable soup with green beans, meat and rice
To improve the taste of the soup, green beans are often lightly fried in vegetable oil and only then added to the dish.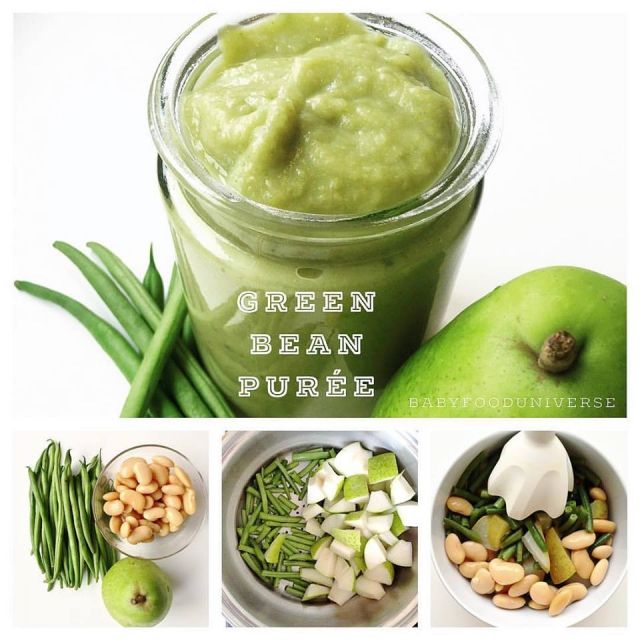 And if you cook vegetable soup in meat broth, add seafood or a few pieces of turkey, a hearty and healthy lunch is guaranteed. Enjoy with croutons or fresh homemade bread!
Vegetable soup with green beans First courses
Easily Lunch
Ingredients
Indian meat
150 g
ore ore ore
200 g
2 pits.
Hawaiian vegetable mix
200 g
Water
1.5–2 l
Carrot
1 pc.
Garlic
1-2 cloves
Vegeted oil
for need
fresh parsley, dill
Salt
to taste
Ground black pepper
to taste
Preparation
Step #1
Pour 1.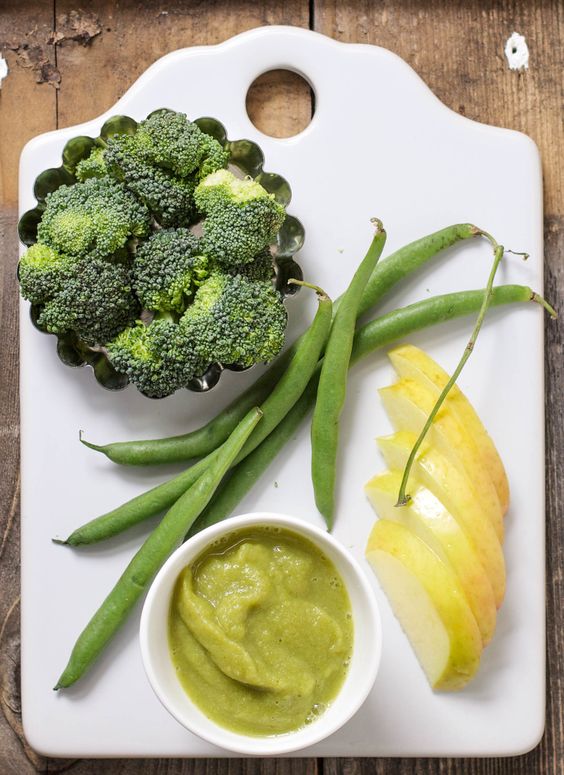 5 liters of water into a saucepan and set over medium heat. Throw the turkey pieces into boiling water and cook for three minutes. Change the water and boil the turkey until half cooked.
Step No. 2
Add frozen green beans and Hawaiian vegetable mixture of blanched rice, green peas, corn and bell pepper to the meat. Mix vegetables and cook for seven minutes.
Stage 3
Peel the potatoes, cut them into cubes, and throw them into the pot along with chopped garlic and bay leaf. Salt, pepper to taste and cook the soup for another 15 minutes.
Stage no. 4
In the meantime, finely chop the onion, grate the carrots on a coarse grater and fry the vegetables in a frying pan with the addition of vegetable oil. Transfer to a saucepan.
Stage 5
Finely chop the dill and parsley and add to the soup. The dish is ready - remove from the stove.
Let the soup rest for 10–15 minutes and serve warm.