Hand feeding baby guinea pigs
How & When to Do It
25/10/2020
Hand-raising baby guinea pigs can be quite tricky and demanding. This responsibility should never be taken on lightly, and some points should be considered before deciding to hand-raise guinea pigs.
Most importantly, you need to be 100% confident that the mother guinea pig isn't feeding her babies. Unless the mother guinea pig is known to be dead, there is a good chance that she is in fact feeding her babies. In general, mother guinea pigs do not constantly tend to their babies the way we might think.
Guinea pig mothers feed their babies only a few times per day and then leave them alone to their own devices. Guinea pigs are born being able to walk, see and hear, and most of them will start nibbling on solids within a few days, as well as drink milk from their mum.
Signs That Baby Guinea Pigs Have Been Neglected From Their Mother
If you think the mother guinea pig is "ignoring" her litter, have a look at the condition of the babies.
If the baby's tummies are round and full-looking, they are active and bright, warm and chatting away, making little noises, then the mother guinea pig is likely feeding them.
If the babies are cold, lethargic or have shrunken bellies, then you may have to intervene. It is a good idea to weigh the babies daily to make sure they are growing and gaining weight appropriately.
Handling Baby Guinea Pigs
Before handling the babies, wash your hands well. This not only helps to remove bacteria but also eliminates any smells from other objects or animals that can stress the babies. Once they're clean, rub your hands in some clean, fresh hay and on the mother guinea pig's fur to scent your hands.
Assisted Feeding
Before starting any syringe or bottle-feeding, it is worth trying to assist the babies with natural feeding.
If the mother guinea pig will tolerate it and isn't too stressed, you can try to gently, but firmly hold the mother guinea pig in your arms and gently try to put each baby onto one of her nipples to self-feed.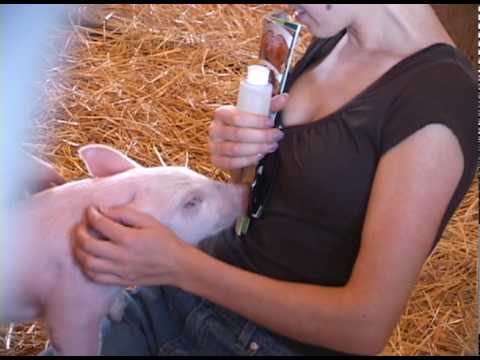 Sometimes it is helpful for the babies if a small amount of milk is expressed from the nipple to entice the baby to suckle. If you still don't have any luck, then you may need to start to assist feeding or hand-raising.
What Formula Should I Feed Baby Guinea Pigs?
We recommended the Wombaroo Guinea Pig Milk. It is a premium product that contains vitamin C (which is very important for young guinea pigs). It comes as a powder which can be mixed with warm water to make the milk for the babies. All the mixing instructions are on the box.
Wombaroo Guinea Pig Milk can be purchased from The Unusual Pet Vets. Alternatively, some other veterinary clinics and larger pet shops may also stock it.
Do I Need Additional Feeding Supplies?
In addition to the feeding formula, you will also need some small plastic syringes for feeding the milk to the babies. These can be purchased from our clinics or most pharmacies. You can also buy small plastic feeding bottles and plastic teats from large pet shops, but you will need to buy the smallest teat possible, as usually the puppy and kitten ones are generally too big.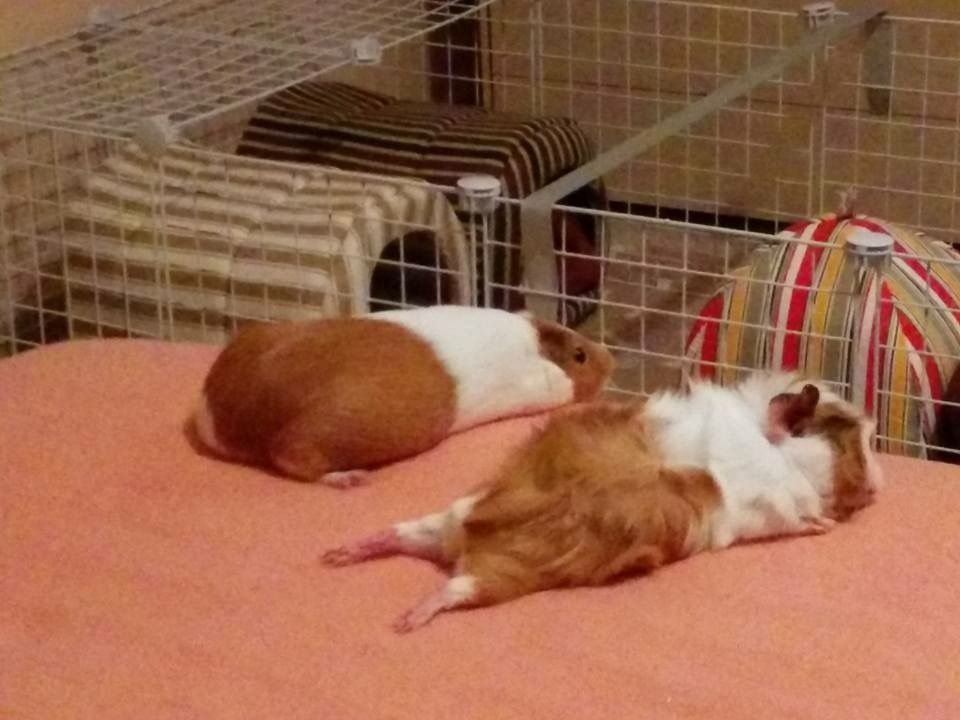 Most baby guinea pigs will feed from a syringe without a problem.
We recommend having a small scale to weigh the baby guinea pigs and for daily weight monitoring. The amount of milk to feed is dependent on the baby's weight.
On the Wombaroo Guinea Pig Milk box, there is a weight chart and the number of mls of milk to be fed over 24 hours. Depending on how much the baby guinea pig will take in one feeding session will depend on how frequently you have the feed them.
Feeding Procedure
Step 1
Make sure all your syringes and bottles have been thoroughly washed before use.
Step 2
Baby guinea pigs are wiggly and unpredictable. They jump suddenly and unexpectedly. A drop of only one or two feet can be fatal, so make sure they are being fed and kept in a safe environment.
Step 3
Hold the baby in its normal sitting position in one hand, and the bottle/syringe in the other. Otherwise, have the baby guinea pig sitting (safely) on the floor or a table and feed with the bottle/syringe slightly vertically in front.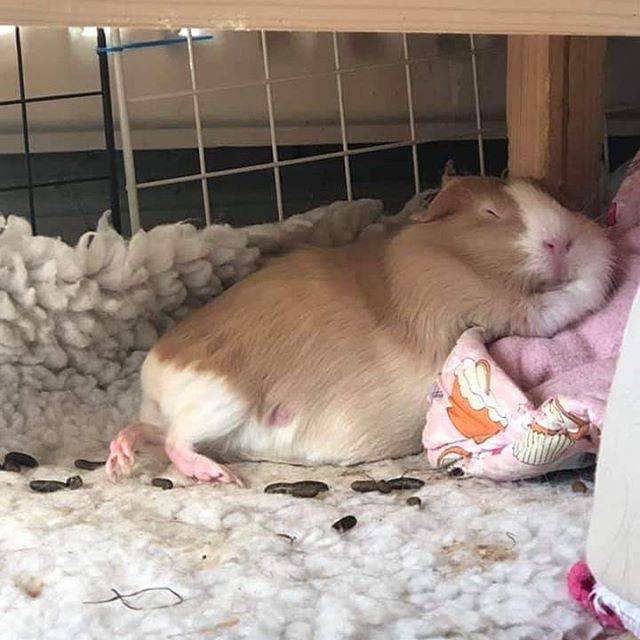 Step 4
Babies often resist feeding at first, and you must overcome the temptation to force-feed. If the baby doesn't accept the teat or syringe, then wet the baby's lips with a drop of warm formula so it licks it off. Once it has swallowed that, repeat the procedure over and over. Be persistent and gentle. The baby will soon learn about feeding time and will generally learn to take the formula willingly despite not doing this on the first feeding.
Step 5
Do not be too forceful and squeeze too much formula into the baby guinea pig's mouth. They can inhale milk quite easily, so drip the formula slowly for the baby to lick up.
Step 6
If the baby grabs the teat and begins suckling, allow him to do so without adding any pressure yourself. The baby should be able to suckle with enough strength to empty the bottle or syringe without any help from you. If you provide extra force, the baby may accidentally aspirate formula that's coming in too fast.
Step 7
If the babies do not suckle, it's not a significant problem.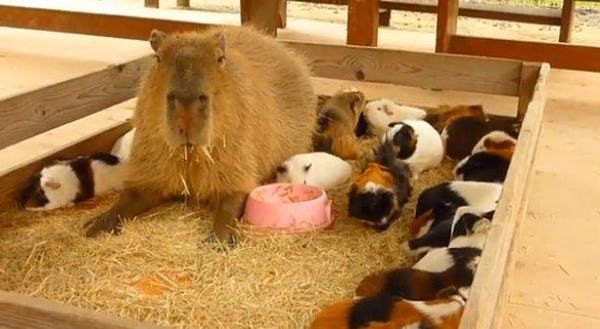 Most will learn to lap or sip from the tip of the teat, and this is safer, in reducing the risk of aspiration. Try to hold the teat or syringe tip sideways or down-pointed, relative to the mouth, to further reduce the risk of aspiration.
Do Baby Guinea Pigs Need to Be Kept Warm?
It is best to keep the babies in a warm, quiet place and in a small box or carry cage. For heating, two or more babies usually snuggle to keep each other warm. However, if there's only one baby, a warm water bottle or heat pack wrapped in a soft towel can provide an excellent heat source but be sure the guinea pig can crawl away from the heat if it gets too warm.
A Tip on Toileting
Many newborn mammals cannot urinate or defecate on their own. Most baby guinea pigs will require the stimulation of the mother's grooming tongue on their bellies and genital region to release a stream of urine and faeces.
To mimic this behaviour use a cotton ball moistened with warm water, and gently tap or rub the urogenital area until you feel the baby's abdominal muscles tense and a stream of urine is released.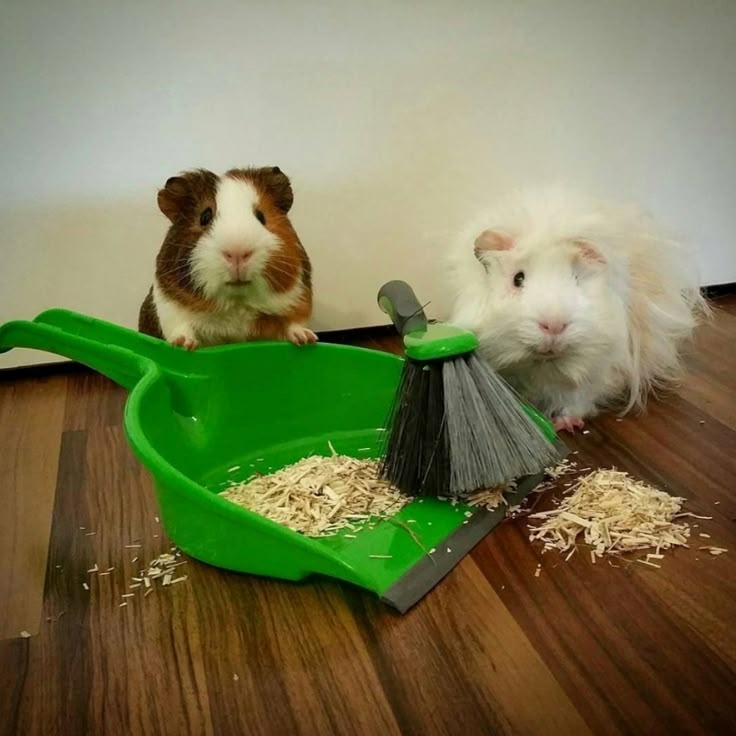 Getting a urination response may take 15-20 seconds of stimulation, or even more.
When Are Baby Guinea Pigs Weaned?
A mother guinea pig generally feeds her babies for about 3-4 weeks, gradually decreasing the frequency of feedings until they lose interest. Your baby guinea pigs will start to nibble solid food from only a few days old. You can start introducing them to timothy and oaten hay, pellets, as well as small amounts of green vegetables and water in a shallow dish from when they are born, but this does not mean they are ready to be weaned. Once they start to eat solid foods it is even more critical that you continue the feeding formula to help control the growth of potentially harmful pathogens as the babies introduce new bacteria into their systems.
If the babies still beg for nursing by the age of 5 – 6 weeks, you can begin to dilute the formula with clean drinking water. Start with 25% water to 75% formula, and gradually decrease the percentage of milk until the babies lose interest.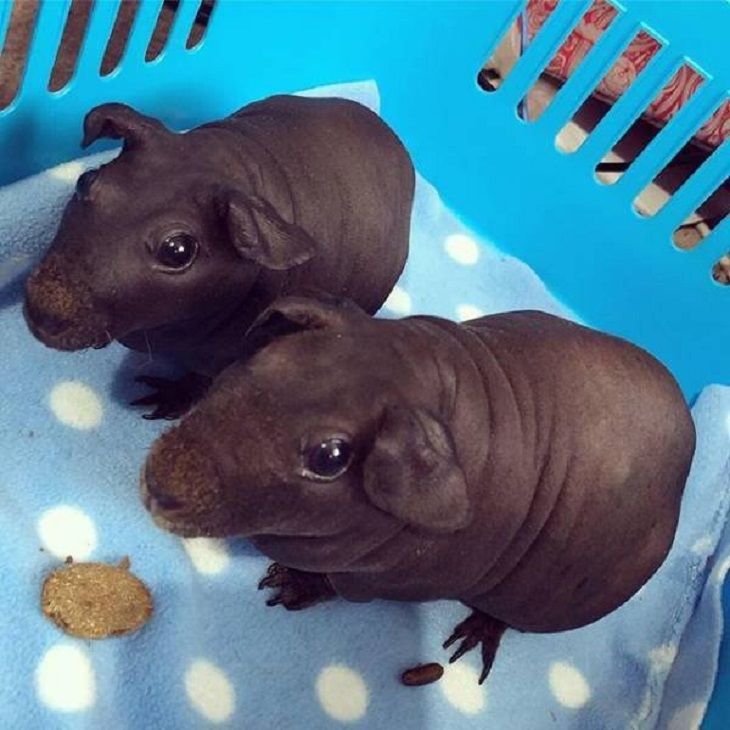 Should the Male and Female Baby Guinea Pigs Be Separated?
Male and female baby guinea pigs should be separated from each other at 3-4 weeks of age to prevent any early pregnancies. Guinea pigs can then be sterilised from 16 weeks.
At What Age Can Baby Guinea Pigs Be Re-homed?
Baby guinea pigs can then be rehomed to new families by eight weeks of age, as long as fully weaned and eating solids well on their own. It is a good idea to have the babies examined by a guinea pig vet prior to sending them off to their new forever home.
For more information on hand-raising baby guinea pigs, contact your local Unusual Pet Vets team.
Testimonials
Informative Service
Very nice and informative service. Lovely vet practice, will definitely recommend to others.
Joanne Marsden
Wonderful and Knowledgeable
Wonderful and knowledgable vet. Took time to thoroughly check over my rabbit and answer all the questions I had.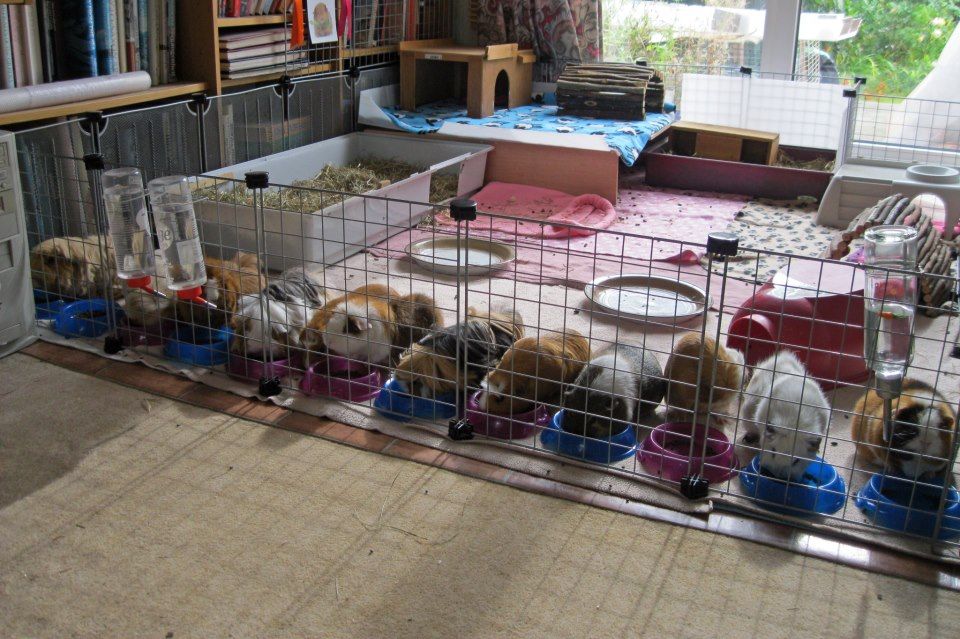 Would recommend to other rabbit owners.
Leona Hazel
Caring and Compassionate
Highly recommend, caring and compassionate no matter how small your pet. Thank you to the unusual pet vets for treating our very sick little mouse Moon, she came back to full health and is now enjoying life in a new home with new cage mates.
Kali and Co
Simply The Best
Cannot speak highly enough of the caring and lovely staff at UPV Osborne Park. Particularly to Dr Kelly for the wonderful treatment and compassion she displayed caring for my much loved
Bugz. Definitely recommend this practice. Simply the Best.
Stephen Waddell
A Great Vet For Exotic Pets
It's a great vet for exotic pets, we would like to thank Dr Kiara and the nurses for all the help they have done for the bunnies especially when they have been unwell.
Gretel – Thankyou for all the tips and advice on what and what not to do with the bunnies.
We will definitely be recommending to all our exotic animal friends.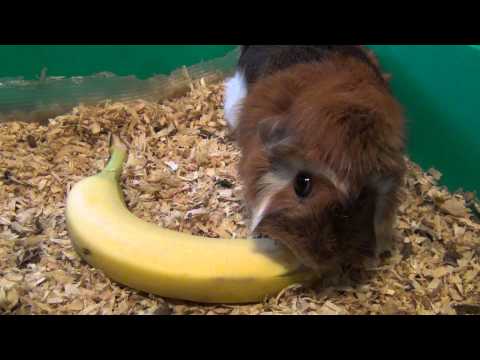 Jayde Darton
5 Stars All The Way!
Fantastic vets! Staff are so helpful and friendly. Vet's are brilliant, they show so much love and compassion to our animals. 5 stars all the way!!
Nayre Manookain
A Huge Thank you
I just want to say a huge THANK YOU to the gang at Murdoch who helped my family and stimmy Cindy. It was a very stressful time and they assisted us with ease! Pricing was also more than reasonable which we were very grateful for. Thank you guys again, my noodle is now on the mend all to you guys.
Brook Oliver
Excellent Service, Caring and Professional Advice
Excellent service, caring and professional advice, and very good handling for our pet bird, on our first visit today at The Unusual Pet Vets, Jindalee. Very helpful, and they also provided further reading for us via email after our appointment regarding a few things we asked about. All staff were lovely and friendly – from the initial phone booking (you can do internet bookings too) to and including the consult.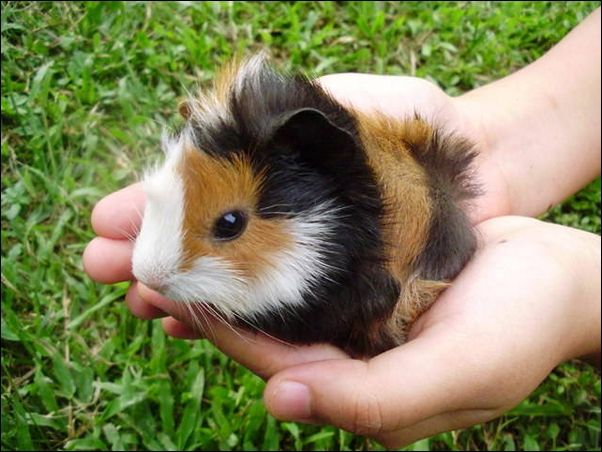 Thank you very much – we'll definitely be back! Highly recommend.
Lisa Hack
Received the Best Service
Received the best service from Dr Sasha at the Sunshine Coast clinic. She taught me so much in such a kind manner and was very gentle to my Guinea pig. She then followed up by emailing further information on Guinea pig general care. Highly recommend!
Kate Hunter
Amazing and Caring Staff
Amazing and caring staff at the Ferntree Gully Clinic. Our baby rat was not well, and they always made time to help and support her. Very knowledgeable and compassionate. Would highly recommend and absolutely will use again. Thank you to everyone at Ferntree Gully for being there for us and Tabby.
Vicki Freedman
See all reviews
Guinea Lynx :: Hand Feeding
Content
Hand Feeding
Home > Medical Guide > Hand Feeding
---
Hand Feeding Your Ill Guinea Pig
Hand feeding can save your guinea pig's life.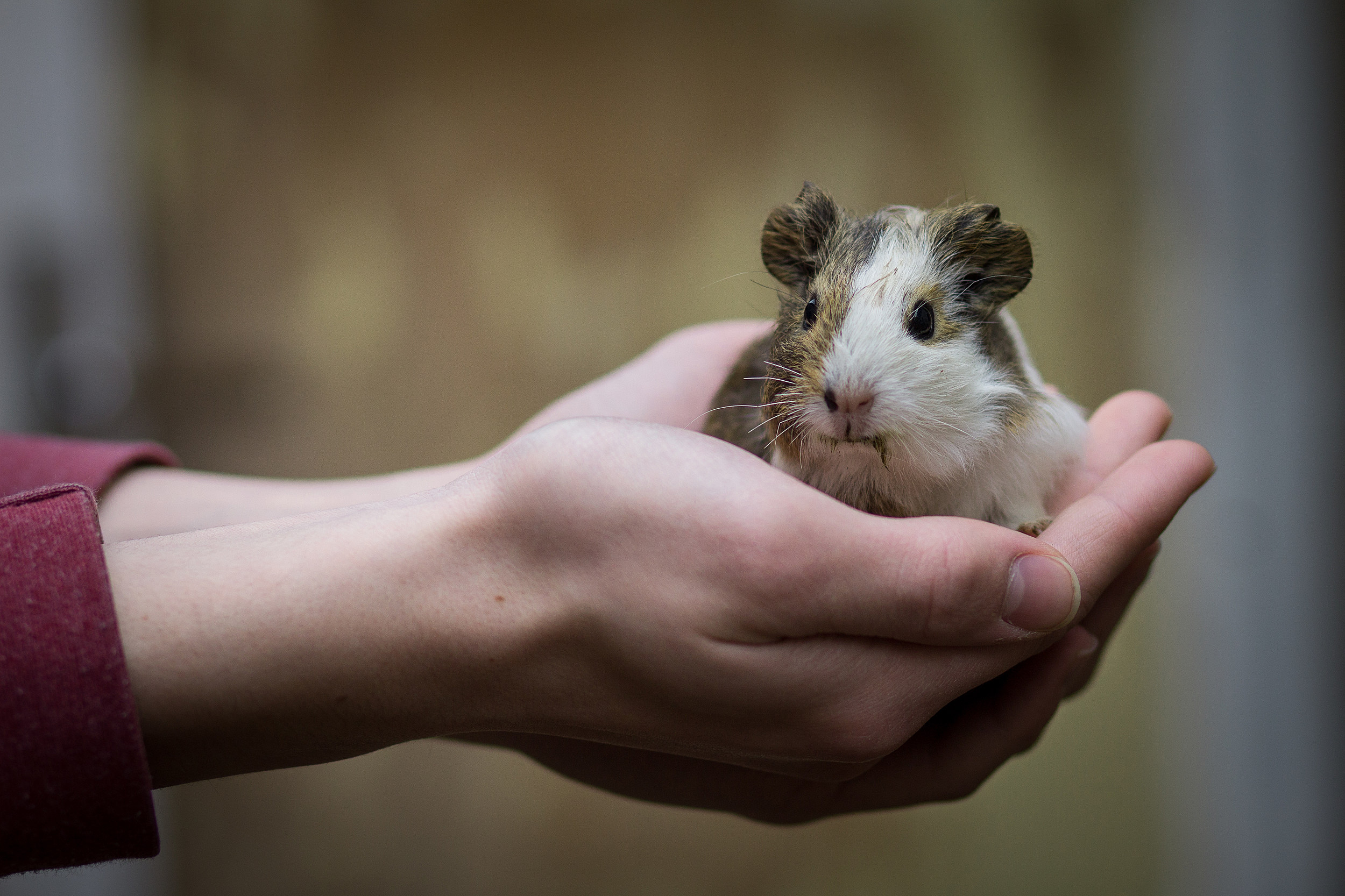 Sick guinea pigs very seldom get over an illness without help and can decline VERY QUICKLY. Do not hesitate to seek competent veterinary care if you suspect your pig is ill.
Hand Feeding
Hand Feeding Young Pups
Tips For The Ill Guinea Pig
Fiber In A Hand Fed Diet
Hand Feeding
    Quantity     Quality     Probiotics     Pellet Preparation     Feeding Techniques
If your guinea pig has stopped eating (shown little or no interest in food over a 6 to 12 hour period, with a drop in elimination and urine), it is imperative that you see a vet to treat the cause and start working immediately to get food moving through the system. Some conditions like torsion or blockage MUST be treated before feeding. (See Anorexia)
Remember:
Food is life.
Food, water, and a vitamin C supplement are essential to keep your guinea pig alive, to prevent dehydration, and to stimulate the digestive process.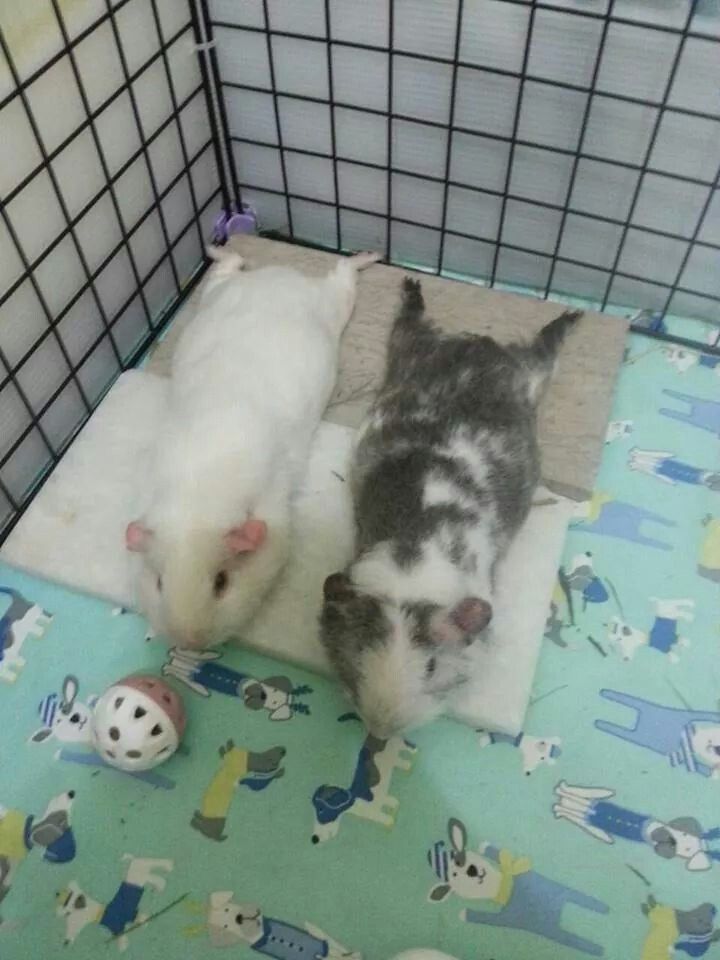 Quantity - How much does your pig need?
Your vet can advise you regarding the amount of food to provide. Harkness and Wagner note that in one day, adult guinea pigs eat approximately:
6 grams dry feed/100 grams of body weight
10 to 40 ml water per 100 grams of body weight ( will vary with temperature, humidity, etc.)
Weigh your pig to estimate dietary needs. A 1 kilo pig (2.2 pounds) might require 60 grams (2 1/10 oz.) dry food and 100 ml (6 2/3 Tablespoons) of water. Keep in mind many pigs have lost weight before the anorexia is noticed. If you have difficulty determining how much food your pet is consuming, weigh him/her before and after feeding. Caging an ill animal separately (but near companions if not infectious) will allow you to measure what your pig can consume on its own.
Note:
100grams = 3 1/2 oz
15ml = 1 Tablespoon
1cc = 1 ml
Quality - What are the best foods?
For the pet guinea pig, a pellet slurry or Critical Care are superior to baby food as they contain more fiber (read about the importance of fiber).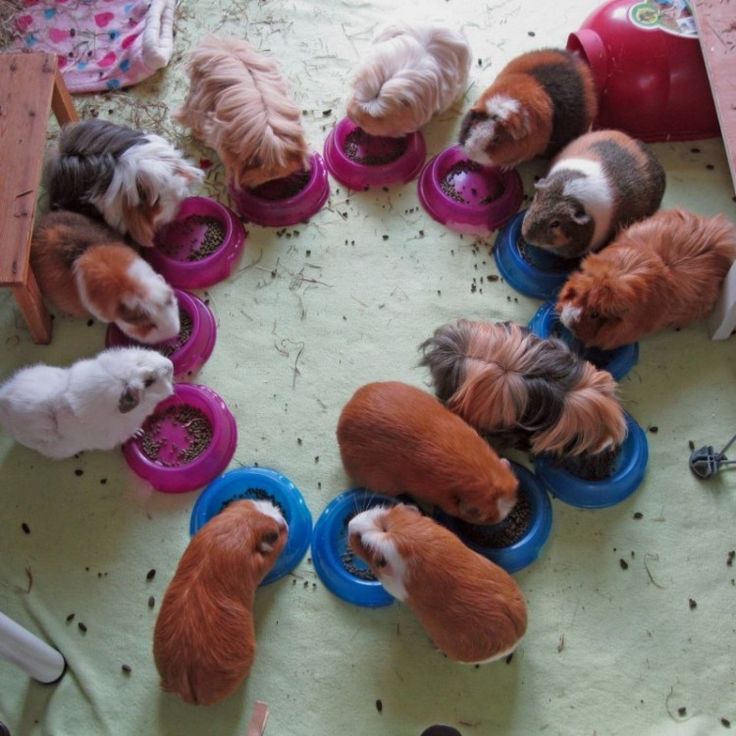 Critical Care has received high praise from those who have used it. Available online, the Oxbow Hay Company prefers that you contact your veterinarian (who should examine and diagnose your pet's illness) to order it. They provide a phone number for emergencies.
Some Critical Care users combine the product with Pedialyte, Odwalla juice, wheat grass juice, or natural cranberry juice (no added sugar or preservatives) instead of water to improve palatability and nutrition (see discussion).
Alternatively, one can use plain food pellets or combine pellets dissolved into water (or one of the above suggested alternatives) with minced parsley, vegetables, and carrots. Soften pellets in warm water. Pelleted feeds typically contain 18 to 20% crude protein and 10 to 16% fiber.
Sources in the UK: Check out JC's list of sources for hand feeding supplies in the UK.
Probiotics Your pet may have been prescribed antibiotics.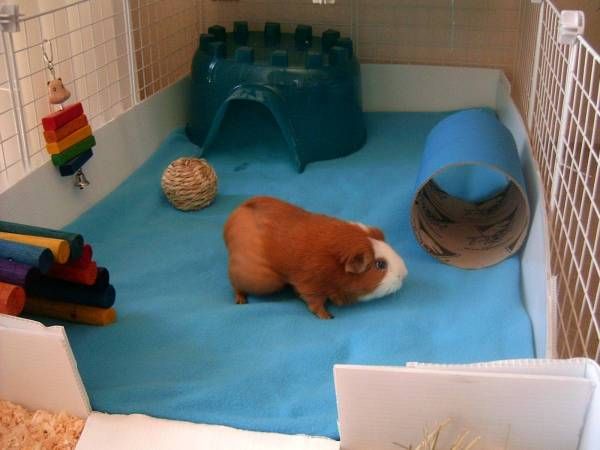 All antibiotics affect the normal gut flora to a greater or lesser extent. Dangerous antibiotics like penicillin are deadly because they affect the normal flora of the gut, causing a fatal and irreversible diarrhea. But even recommended antibiotics may cause problems like diarrhea (antibiotic advice).
A half of a dropping from a healthy guinea pig dissolved in a small amount of water and added to the food is reportedly the best way to re-inoculate the good bacteria and boost appetite, especially if your pet is on antibiotics. Other people feel the addition of a small amount of powder from an acidophilus gel tablet will help to restore gut flora. Yogurt has live acidophilus cultures but is not the best choice as it is a dairy product. Since guinea pigs are herbivores, milk products are not recommended. The probiotics would be given an hour or two after administering the antibiotic.
Pellet Preparation The day's ration of your guinea pig's usual food pellets can be crushed in a coffee grinder (or ground with a mortar and pestle) or soaked overnight in a refrigerator and crushed by spoon.
About 20 grams of powder and 5 mls of water will make a good paste (experiment). A stiffer paste reduces the danger of asphyxiation.
Some guinea pigs will appreciate the mash being warmed. Pellets work the teeth (especially a drier mash) and stimulate the digestive system more effectively than baby food, though prepared peas, mixed veggies, etc are much smoother than pellets. Check out Sef's simple recipe too.
Feeding Techniques Perhaps 20 to 25 grams of mash mixed with 15 ml water on the side will be all you will be able to do at one time. Several (4-6 or more) feeding sessions per day will be necessary, to keep things moving through your pet's system and provide adequate nutrition. A 1 cc. syringe with the restrictive tip cut off (to leave a tube of even diameter -- pictured below) and sanded smooth is useful for feeding. A spare 1 cc needleless syringe can be used to offer water (with vitamin C, if needed) in between bites and to administer medications.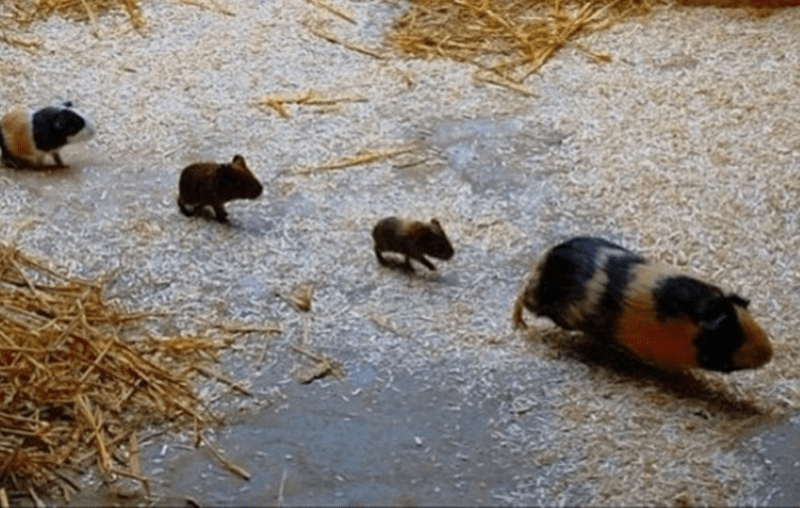 A straw can be used in a pinch, though it is tedious.
There are many techniques -- most basic is to feed slowly and do not rest your pig on its back ( a greater chance of aspiration). Some people find a vertical position works well.
Some people wrap their pet in a little "pouch". Others hold the guinea pig facing away from them. For the truly uncooperative pig, Pinta's technique of administering oral medications may help (see pic). Make sure the pig is swallowing. You do not want to get food into the lungs. A stiffer mix may help prevent aspiration.
stick the syringe into the side of the mouth directly behind the front teeth, and work it down to the back teeth until the pig starts grinding on the end of the syringe. Then ... slowly depress the syringe contents into the mouth, stopping if the pig stops chewing. As long as there is chewing motion - the pig is swallowing. A little wiggle of the syringe will often get the chewing motion to start up again if it's stopped.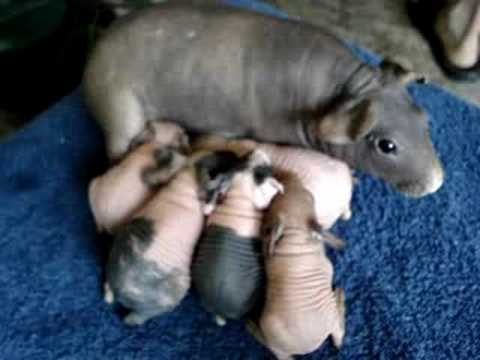 In Talishan's experience, their mouths will hold about 1/3 of a 1 cc syringe's worth of food at one time. She also suggests (using only a 1cc syringe with the tip cut off and the rough end smoothed) to go deep near the guinea pig's molars and depress the plunger VERY SLOWLY. Give no more than about 1/4 to 1/3 of the syringe at one time. Wiggle the syringe if needed a bit to get him to chew. Then, once the food has been chewed and swallowed, give another 1/4 to 1/3. Don't remove the syringe until it needs to be refilled. She feels that if a guinea pig is chewing, it is swallowing -- that if you watch a guinea pig drink, they actually chew their water! If guinea pigs aspirate, they will cough violently so you should know if that is what has happened.
Vicki of JPGPR finds pigs feel more secure when they have their feet on a hard surface. Place your pig on a towel on the counter, corralled in the crook of your arm. Experiment with gently holding your pet's chin.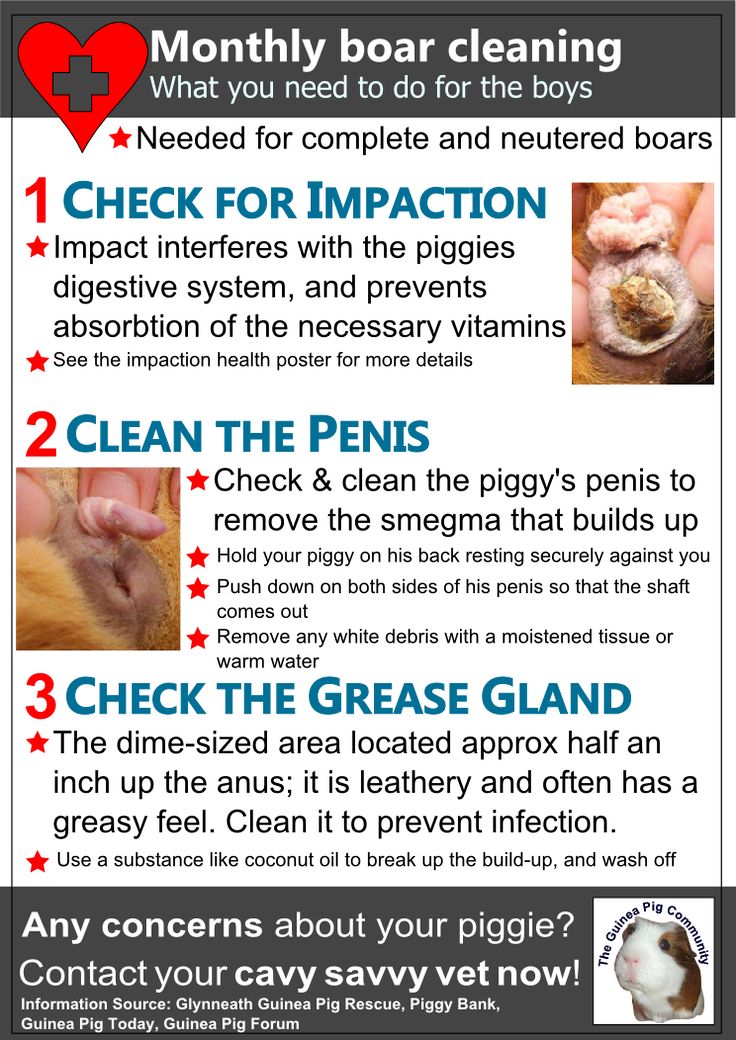 You can be firm if necessary.
Your goal is to get your guinea pig back to a normal eating routine, so offer food occasionally while you are hand-feeding and make sure there is food always available in their living quarters. Some people find their ill guinea pig responds enthusiastically to grass. If you have fresh, clean, pesticide-free grass available, be sure to offer it to your pet. Avoid areas next to busy roadsides or those frequented by dogs or livestock. Food intake can be monitored by weighing the guinea pig before and after feedings if you question how much is actually being eaten.
Check out Regiane's video for tips: Handfeeding your Guinea Pig
Young Pups
Some pups lose their mother to pregnancy related complications. Other pups do not thrive. Weigh your pups promptly after they are born and daily for at least a week to make sure they are getting the food they need. JHand notes that in 5 different litters, the pups all lost a small amount of weight for the first 2 days and then showed a gain on the 3rd.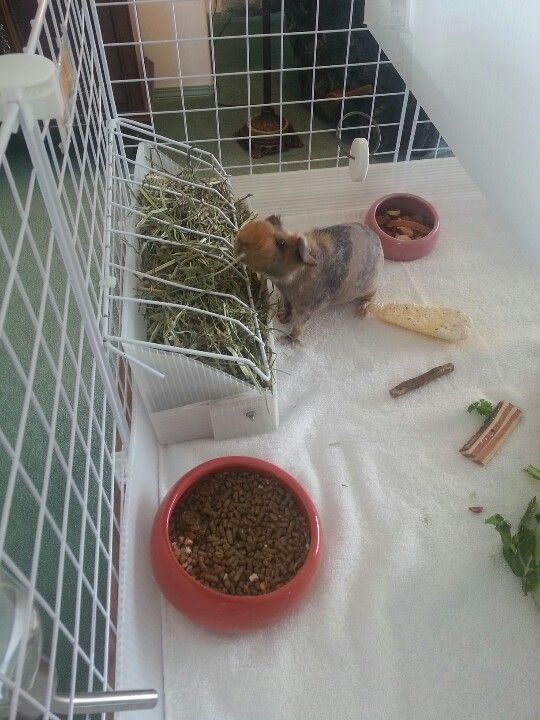 She emphasized observing how the pup is acting and being very careful with syringe feeding the pups as they can aspirate food. If one pup seems to be losing significantly more weight for the first 2 days than the other pups, be sure to hand feed.
I noticed that when they started gaining weight, it would be 1/8 of an oz a day for maybe the 1st week, then it would up to 1/4 oz a day, after about 3 weeks, it would go up to like a 1/2 oz a day. This was basic averages.
A couple pups failed to gain at the rate JHand observed but eventually began gaining. Check JHands chart to get an idea of what kind of weight gain you can expect in pups. Salana found that a later failure to gain weight at the same rate as littermates can be a sign of tooth problems: she noticed that in the second week her pup Einstein wasn't gaining as fast as her other pup. An examination revealed Einstein's tooth problems.
Tips for the weak and the young:
What to Feed: Critical Care (or a pellet mash if CC is not available) works best for babies. Try adding a bit of cooked pumpkin (or butternut squash baby food) to the primary food, either Critical Care or crushed pellets. Feed small amounts frequently during the day (the more frequent the better, perhaps every 1-2 hours, at least every 3 hours). At first you may only be able to feed 1 or 2 cc of pellet mash every hour or so. Carefully syringing water (or unsweetened pedialyte) can help keep the pup hydrated.
No Milk Products: Milk products and milk replacer products are not appropriate for guinea pigs (milk). None are formulated to replace a mother guinea pig's milk. Guinea pigs are quite mature when born (long gestation), so that while a guinea pig will benefit from its mother's milk, milk is not necessary to thrive and survive.
Technique: Some pups will eat from a spoon. Others need more aggressive hand feeding. Feed carefully to avoid aspiration (getting fluids into the lungs vs. the stomach -- may cause pneumonia).
Encourage Eating Standard Foods: Make sure pellets, hay, water, leafy green vegetables, and grass are always available so the guinea pig can begin eating on its own as soon as possible.
Elimination Tips: You will need to help orphans to pass waste during the first week or so of life. Normally a mother will do this by cleaning the pup's genitals. Wiping the genitals after feeding will help to stimulate elimination. Try a warm, wet washcloth, stroking several times.
Foster Mothers: A foster mother will often accept pups. Pairing a mother with few pups with one that has many gives the pups from the larger litter a better chance at survival.
Time Alone: Some runts can benefit from extra time with their mother. Remove the competing pups periodically for 15 minutes or so to give the runt more opportunity to feed.
See also Tracis links to hand feeding threads: Handfeeding Young Pups: Avoid Milk/Formula Products
Tips For The Ill Guinea Pig
Towels: You may wish to keep your pet on flat folded towels instead of loose bedding, as it is easier to walk on if he/she isn't feeling well, and you can keep better track of urine and stool output.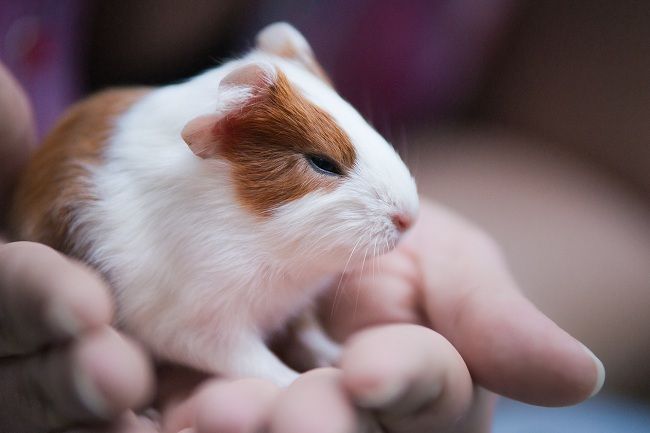 Warmth: A few pigs benefit greatly from extra warmth. Linda enthusiastically recommends Thermacare wraps -- designed to relieve sore muscles, they heat up when exposed to air and stay warm for up to 8 hours. She has used them with orphans and ill guinea pigs.They can be purchased in supermarkets and pharmacies. (See: www.thermacare.com) WARNING: Children and pets should not ingest this product as it may be poisonous when consumed.
Some people will use a wrapped water bottle or light (for its radiant warmth) at one end of a cage. Any heat source should be positioned so the guinea pig can move away from it if uncomfortable.
Pain Management: If your guinea pig is in pain, it may be reluctant to move or eat. When appropriate, be sure to get pain medication for your guinea pig. Do not give any pain medication unless it is under the supervision of your veterinarian. Meloxicam and rimadyl are both effective.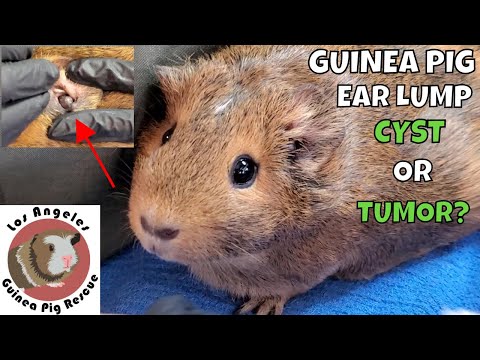 Read about post surgical pain.
WEIGH DAILY! While your guinea pig is ill, weigh it once or twice a day. This is especially important if your pet is not eating, in which case you should be monitoring to see if your hand feeding is able to maintain your pet.
Hand-feeding takes practice and patience by both of you, Try to make it fun and relaxing. Although it is a time consuming process, it will offer you the opportunity to bond more closely to your pet.
Feylin's sick pig tips:
Give the probiotics 3 or more times a day (keep them 2hrs away from ABs). Use several types, the stuff from your vet, a fresh poop from your healthy pig, human acidophilous capsules.
Vit B can make pigs perk up and want to eat. My pigs got a shot of Vit B from my vet, but you can order liquid Vit B for humans off the internet.
Sub Q fluids. The extra electrolytes and hydration can help pigs feel a bit better. The Vit B can be given with this. You can do them at home if you get the equipment, or have the vet do them.
My vet used to like to give antibiotics by injection to pigs who really didn't want to eat. You bypass the GI system entirely that way, but it is more expensive and you have to rotate injection sites. [Note: injections of enrofloxacin (Baytril) should be restricted to only the first one or two doses]
Try all types of juices and pure baby foods (carrot, berry, parsley) to see which type your pig likes mixed in the CC. Each pig is different and I usually go through several tries.
Mix pure canned pumpkin in with the CC. It is high in fiber, low in sugar, and tasty to many pigs.
Fiber In A Hand Fed Diet
Pinta feels:
If the food doesn't keep moving through their system, it will ferment causing gas and lead to bloat. Pigs are basically designed to keep grazing all day long.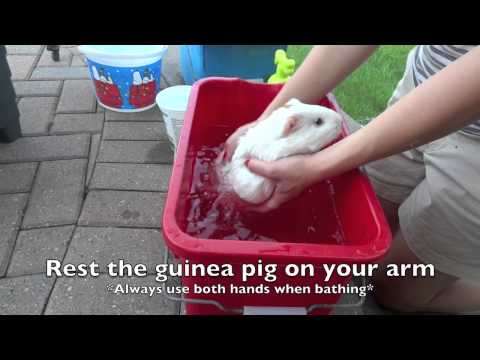 Proportionate to their size - they consume and process amazing amounts of food. They are essentially pooping machines.
I have a theory, backed up by absolutely nothing but observation, that it is extremely important to include fibre when hand feeding. I have noticed in a few cases of baby food feedings, that bloat has occurred, usually when it appeared the pig was out-of-the-woods. I think that the intestines become adjusted to the soft, effortless texture of the baby food and when fibre works it way back into the diet (in the form of hay and pellets) the intestines have difficulty moving the suddenly bulkier matter through. Clogs and blockages occur leading to bloat.
Through many years of hand feeding with a pellet slurry, we have never had bloat occur. (We have had one case of bloat due to surgical adhesions.) The 2 times we were forced to feed baby food (the only food that could be chewed) we lost both pigs to the underlying problem before fibre could be reintroduced.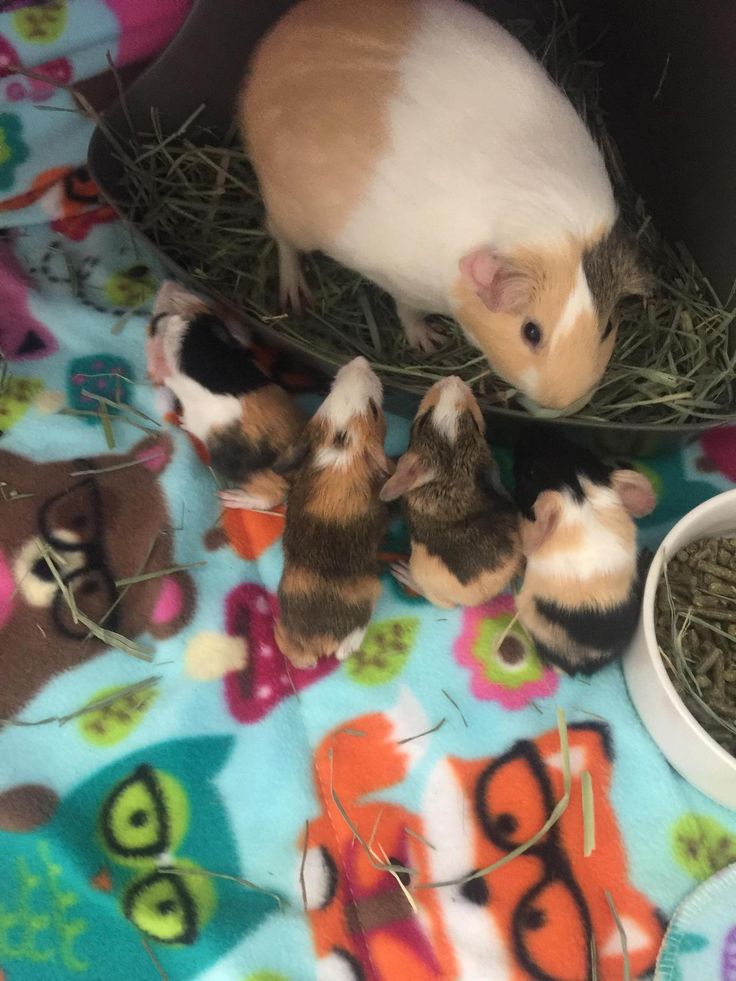 As I say, this is only a theory. Might be completely wrong.
Development and care of newborn guinea pigs
Newborn guinea pigs are fluffy, inquisitive creatures that quickly master new living conditions right from birth. Before deciding to breed fluffy rodents, the owner of the animal is advised to clarify all the possibilities for selling cubs, most often small animals are purchased to feed snakes or birds of prey.
The birth of guinea pigs can be planned when the owner decides to get offspring from a pet at home or unexpected due to careless keeping of heterosexual individuals, or the acquisition of a pregnant female. In any case, the care and maintenance of cute newborn guinea pigs and a nursing mother falls on the shoulders of the owner, who must be prepared for possible artificial feeding of babies and possible health problems of the female who has given birth and her children.
Contents
1 What newborn guinea pigs look like
2 What to do if a guinea pig has given birth
3 Video: newborn guinea pigs
4 Development of newborn guinea pigs by day
5 Video: how a guinea pig grows up to 1 month
6 When to take babies in your arms
7 When to give away guinea pigs after birth
8 Caring for newborn guinea pigs
9 What to feed a baby guinea pig
10 Video: newborn guinea pigs
What newborn guinea pigs look like
Unlike the hairless, blind and completely defenseless cubs of domestic rats and hamsters, small guinea pigs are born small copies of their parents.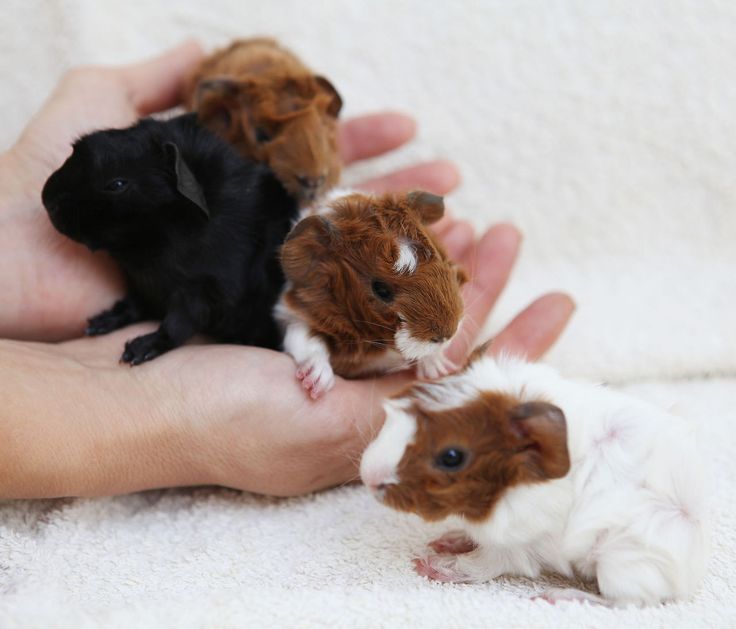 The body of the babies is covered with smooth soft fur. Cubs have cut incisors, open eyes, tiny claws and excellent hearing. Trusting and courageous children of guinea pigs actively move around the cage almost from birth. Despite the fact that small guinea pigs look like adults, babies are in great need of maternal care and breastfeeding. Babies should not be separated from their mother before they are a month old.
A newborn guinea pig is born with fur, teeth and open eyes
Guinea pig babies are born weighing 45-140 g, depending on breed and litter size. The weight of a newborn less than 40 g is considered critical, most often babies die. The female guinea pig does not care for or feed sick or weak children. It is not possible to save such a cub on its own.
Guinea pigs produce a litter of 1-5 babies. Primiparous females often give birth to only one cub with a sufficiently large weight.
A breastfeeding mother has only one pair of active teats, but guinea pig milk is rich in fat and nutrition.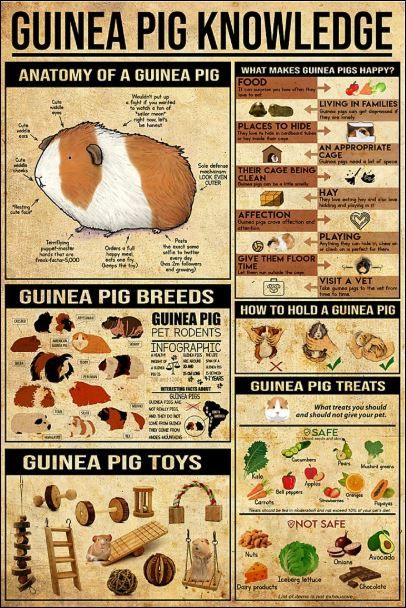 Therefore, in the absence of problems, the female manages to feed any number of newborns, the cubs suck milk in turn.
Babies suck milk from mother-pig
What to do if the guinea pig gave birth
One day after birth, it is necessary to examine the litter in the absence of the female and remove from the cage non-viable and inactive cubs with low weight, which are doomed to death.
This procedure must be carried out with clean hands, washed with laundry soap, without touching live piglets. Cleaning the cage in the first three days after birth is highly discouraged.
If before birth the male was in a cage with a pregnant female, it is urgent to move him to another dwelling. Males are capable of biting newborn cubs. A female who has just given birth within a day after giving birth can become pregnant again, which can cause the death of a newborn litter or female. Experts recommend mating guinea pigs for offspring no more than twice a year.
Quite often, females who have just given birth lack maternal instinct or experience postpartum shock.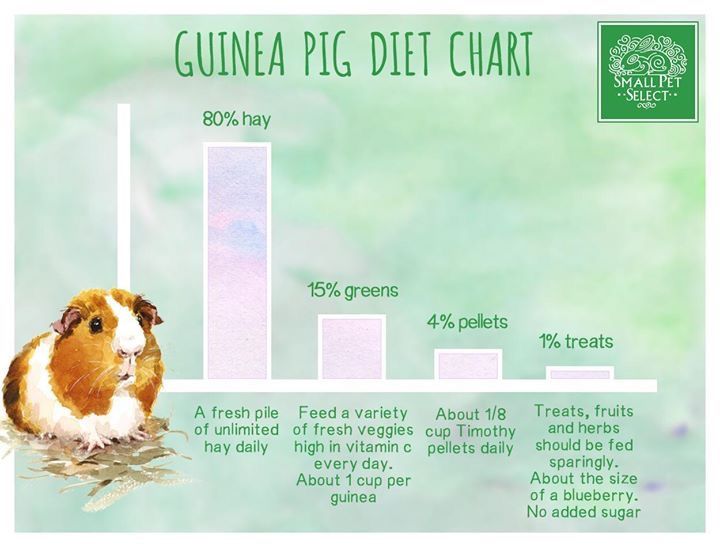 In which the mother tries to protect herself from the kids, hides in the corner, is in a depressed state.
To save newborns in such a situation, it is necessary to remove the adult from the cage and try to calm the frightened animal and offer favorite treats. During the absence of the mother, a heating pad must be placed in the cage with the cubs in order to avoid hypothermia and the death of small pigs. Most often, an adult comes to life and becomes a caring mother.
Guinea pigs have 1-5 pups
In case of multiple litters or insufficient production of breast milk, it is recommended to introduce cow, goat milk or cream into the diet of a nursing guinea pig to replenish the necessary nutrients in the body of the female.
Video: newborn guinea pigs
What to do if a guinea pig dies during childbirth
Sometimes a female guinea pig dies during childbirth. An ideal option for orphaned babies is considered to be a nursing guinea pig with cubs of the same age.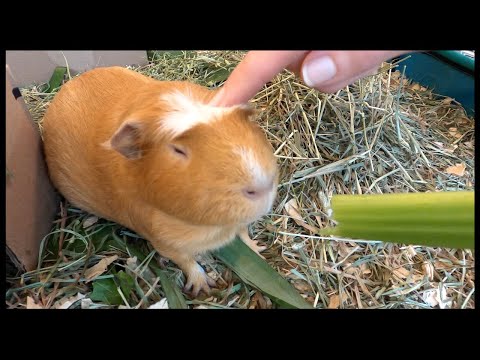 In order for an adult to accept babies into the family, it is necessary to remove the female from the cage, rub the wool of the newborn with sawdust from the cage and place it in the center of the brood. Sometimes all babies are treated with camphor oil so that the female cannot smell someone else's smell. After 20-30 minutes, you can put mommy back, who will be happy to feed new family members.
If it is not possible to find a lactating guinea pig, the responsibility for feeding the babies lies with the owner.
A newborn guinea pig is fed every 2 hours during the day and 3 hours at night.
Artificial rearing of pups is done by drip method with warm 10% cream with the addition of probiotics from an insulin syringe without a needle or with a squirrel brush. Cream can be replaced with powdered infant formula.
Babies feed milk every 2-3 hours
At the age of 7 days, milk-free baby porridge can be carefully introduced into the diet of piglets.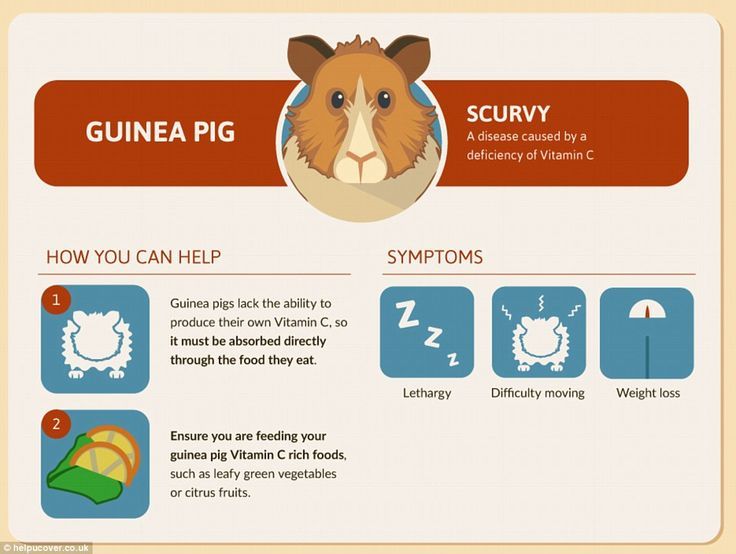 From birth, tiny animals in a cage should have a bowl of oatmeal flakes, pieces of apple and carrots, and hay so that the kids get used to adult nutrition.
Orphaned piglets are deprived of their mother's care, which consists in licking the abdomen and anus to stimulate the emptying of the bladder and intestines. In order to avoid the death of babies from peritonitis, due to rupture of the wall of the bladder or intestines, the owner of abandoned babies must, after each feeding, perform a very gentle massage of the tummy and anus with a wet swab dipped in boiled water or vegetable oil.
Development of newborn guinea pigs by day
Newborn guinea pigs grow quite quickly. Regardless of the initial weight at birth, a single litter calf can be born with a weight of about 100 g. On the first day, the body weight of a piglet remains unchanged. On the 2nd day after birth, the weight of the babies increases by 1 g. In the future, provided there is adequate nutrition and the absence of pathologies, the guinea pig cubs gain 3-4 g in weight daily.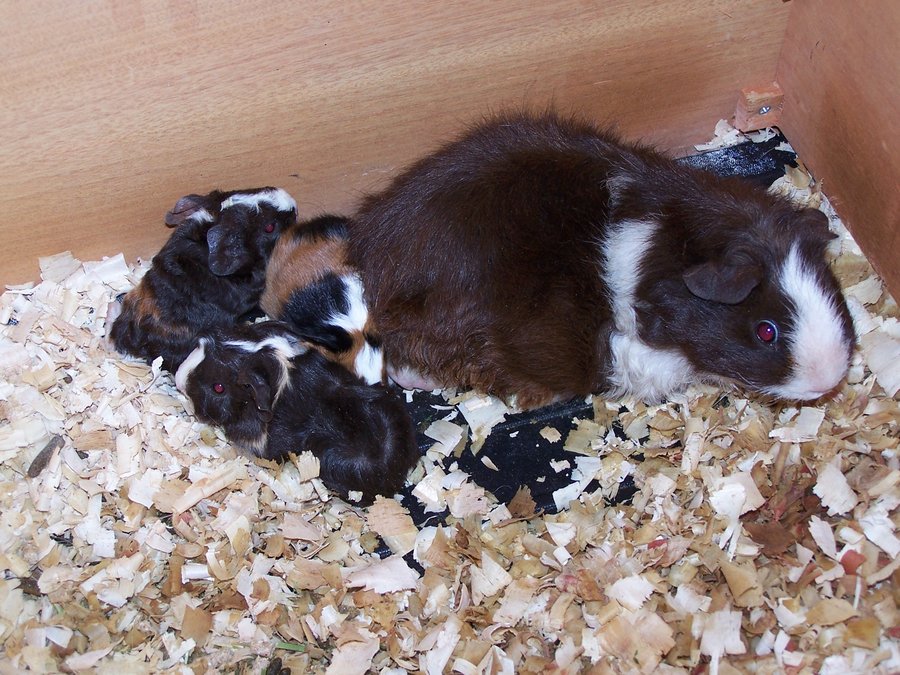 On the 5th day from the date of birth, weight gain is about 25-28 g, at the age of 2 weeks, body weight doubles relative to the value at birth.
Guinea pig 1 week old
At 8 weeks old, the young should weigh about 400 g, after which growth activity decreases.
A guinea pig cub becomes an adult at the age of 6 months, by which time the weight of males is 900-1200 g, females - 500-700 g. months.
Video: how a guinea pig grows from birth to 1 month
When to hold babies
It is not advisable to touch cute piglets before a week of age. A nursing female may refuse or kill a cub with a strange smell. There is also a high probability of damage to the thin bones or internal organs of the baby in case of an accidental fall from the hands.
The little guinea pig is a very trusting but shy creature. It is highly recommended not to make harsh sounds in the presence of tiny animals.
Frightened in childhood, animals remain shy or aggressive even into adulthood.
It is necessary to take babies in your arms very carefully and not earlier than a week old.
Week-old piglets should be regularly stroked on the back with a finger, fed with treats from hands, without taking them out of the cage. Such manipulations accustom piglets to the smell and voice of a person, forming a trusting relationship.
At the age of two weeks, you need to often take the babies in your arms, monitoring the reactions of the babies.
Small guinea pigs must not be handled by the back. To take a tiny baby, you must very carefully bring your fingers under the tummy of the animal. A brave young guinea pig can easily enter the palm of its owner on its own. It is recommended to carefully pull the baby out of the cage and play with it. Do not frighten the baby with sudden movements or sounds, try to catch a small rodent. If the animal meows or shakes, it is worth returning the baby to the cage until the next time.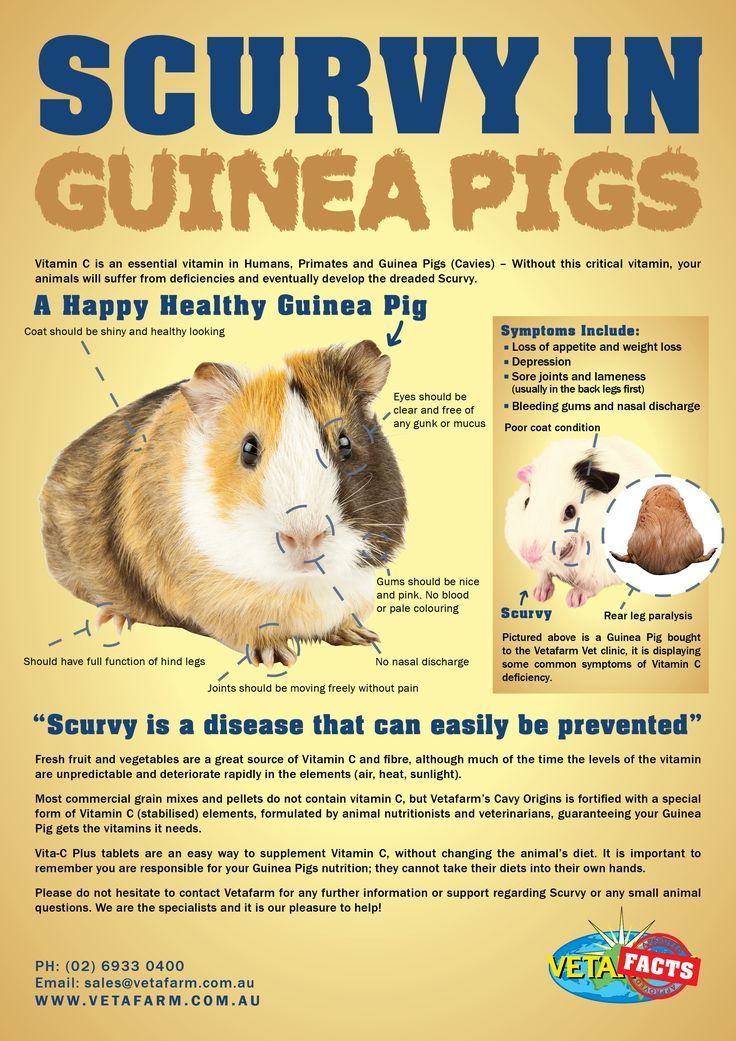 When can guinea pigs be given away after birth?
Lactation in guinea pig lasts 21 days
Early weaning of piglets from lactating pigs adversely affects the health and growth of small animals. Removing cubs older than 2 months negatively affects the health of the female, who is forced to feed her already grown babies with milk. It is recommended to remove the most well-fed babies from the brood first, immediately forming heterosexual groups of young animals. Young males are separated from their mother at the age of one month in order to avoid covering an adult female with them.
At the age of one month, small guinea pigs can be given to new owners. Until this age, it is vital for young rodents to be near their mother for the correct formation of all organ systems, immunity and necessary skills.
Caring for newborn guinea pigs
Guinea pigs are often good mothers who enjoy taking care of their newborn offspring. The owner of a fluffy brood needs to properly care for the female and her babies, creating optimal conditions for the growth and development of funny babies:
The mother and calf cage must be large enough with a minimum distance between the bars to avoid damage to the delicate legs of the babies;
it is recommended to remove all ladders, shelves and hammocks from the cage;
a few days after birth, it is necessary to wash the cage daily with a change of sawdust or hay. Disinfection of the cage and feeders is recommended once a week;
the temperature in the room with animals should be at least +18 degrees to avoid hypothermia for babies, who often have wet fur after being licked by their mother;
it is necessary to exclude direct sunlight and drafts on the cage with cubs;
the cage must be equipped with a sufficient number of drinkers with clean drinking water and new feeders with food designed for the lactating female and her offspring;
the atmosphere in a room with babies should be quiet and calm, newborn guinea pigs are very afraid of sudden sounds and movements.
What to feed your baby guinea pig
Newborn guinea pigs eat their mother's very fatty milk for the first three weeks of their lives. From the 3rd, inquisitive piglets are already eating adult solid food. Therefore, the cage should always have a bowl with cereal flakes, herbal granules, compound feed and nuts in sufficient quantities.
Babies need to be fed only fresh and carefully selected products. Remove uneaten food from the cage daily to avoid poisoning the cubs.
Adult food must be in the cage from birth
During feeding, guinea pig babies eat a small amount of adult litter, rich in B and K vitamins. These substances are necessary for the proper growth and development of young animals.
In a cage with a nursing mother and babies, there should always be special hay in sufficient quantities necessary for grinding the teeth and intestinal motility of the animals. Hay should be dry and smell good. Wet or rotten hay can kill the entire brood.
Young guinea pigs enjoy eating vegetables and fruits, which are given to funny rodents in limited quantities: cabbage, carrot, apple, lettuce, bell pepper, summer season cucumber.
Guinea pig cubs are touching and affectionate fluffy lumps, which, after getting used to a person, bring many joyful and cheerful minutes from communicating with trusting and nimble kids.
Video: newborn guinea pigs
how to care for and feed
L:.1 -->
We have already talked about the content of chinchillas and hamsters in our articles, today we will talk about another funny rodent - the guinea pig. These pets will easily get along in your home and become good friends.
Fluffy pets are as sociable as they are voracious. So that you can better understand your pet, let's talk about the habits and basic needs of guinea pigs.
Nuances of keeping guinea pigs
In nature, guinea pigs usually live in small groups of up to 15 individuals. In appearance, rather clumsy, these furry rodents are very active and prefer movement to rest. That is why, when thinking about arranging a home for your guinea pig, first of all, you need to look at a spacious cage.
When determining the dimensions, proceed from the calculation of 0.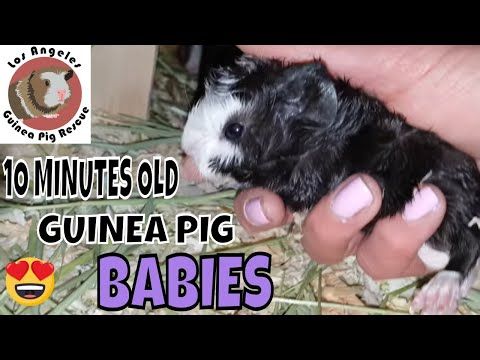 4 square meters per pet. Guinea pigs love company, but if you are not ready to start a family of pigs, then you will need to take care of your pet's leisure time. The cage should have a wheel and ladders. Take the pig in your arms more often, talk to it, train it so that your pet does not feel lonely.
Locate your pet's house away from possible drafts, in a well-lit area.
Guinea pigs are heat-loving pets, the temperature in the room should not fall below 18-20 degrees. At the same time, overheating should also not be allowed, his guinea pigs perneosat much worse than hypothermia.
In summer, guinea pigs can be let out for short walks in the garden, but in winter it is also allowed to let the animal out of the cage, but only under your strict supervision. These animals, like any other rodents, are very curious, they want to try everything by heart, and wires are no exception.
Caring for guinea pigs
Because of their build, guinea pigs are quite clumsy and need to empty their bladders frequently.

Of course, this leads to the appearance of a characteristic odor in the cage. Alas, even a frequent change of bedding will not be able to solve the problem. Experienced breeders recommend adding a small amount of granular cat litter to sawdust, which quickly absorbs liquid and does not allow an unpleasant odor to spread.
To care for your pet's coat, you will need to purchase special combs with wide teeth, as well as a miniature massage brush. Guinea pigs are quite clean, but, nevertheless, at least once every two weeks, you need to carefully comb the guinea pig's coat. If you meet small tangles or tangled hairs on a fur coat, it is recommended to cut them off with scissors.
Pigs do not require frequent bathing. But if necessary, the pet is washed in warm water using a special shampoo. After washing, the pig must be wrapped in a heated towel and wait until completely dry.
One thing you need to pay special attention to in terms of hygiene is the care of your guinea pig's claws.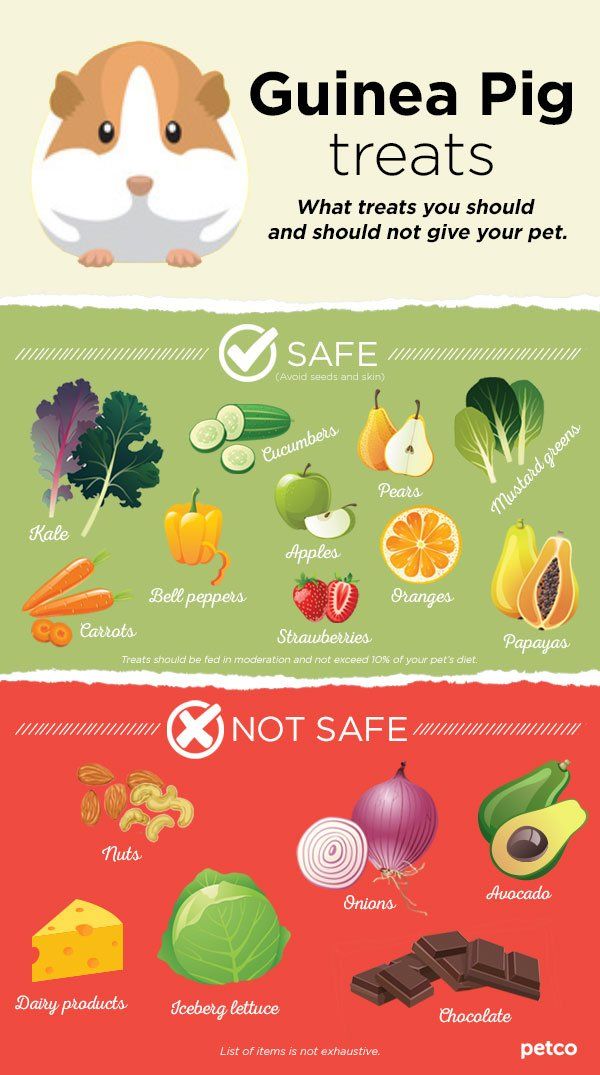 Overgrown nails must be trimmed with nail scissors or a special nail cutter.
Pay special attention to the care of the ears of the guinea pig. To do this, you will need a special cotton cloth or a regular napkin.
Feeding the guinea pig
The physiological characteristics of the animal require special attention to the nutrition of the guinea pig. The fact is that the fluffy rodent has a very long intestine. The process of digestion of food can take a very long time, up to a week. That is why the diet of guinea pigs must necessarily include fiber. Otherwise, your pet cannot avoid gastrointestinal diseases.
The guinea pig menu must include:
Grains (it is recommended to use ready-made grain mixtures that contain oats and wheat bran)
Vegetable food (cabbage, carrots, peas)
Hay (in the period from autumn to winter, it is offered to the pet in unlimited quantities)
Vitamin C (up to 16 mg per day is acceptable)
Branches of fruit trees for grinding teeth.