Homemade meat baby food
Basic Beef Baby Food Puree (6+ Months)
This homemade Basic Beef Baby Food is a great addition to your baby's favorite purees for extra protein and flavor! It's an incredibly simple recipe with big flavor and nutrition! It's perfect as a Stage One Baby Food – 4-6+ months.
Medically reviewed and co-written by Jamie Johnson, Registered Dietitian Nutritionist (RDN), and Lauren Braaten, Pediatric Occupational Therapist (OT).
Beef Baby Food
Beef, it's what's for baby's dinner! Beef puree, that is. 😉
This beef puree is loaded with so many great nutrients that your baby needs in order to thrive – protein, iron, calcium and folate.
And while it may seem counter-intuitive and perhaps weird (or at least it did to me), beef puree 🥩 is a great first food for your baby.
Just because it's a nutrient-dense puree doesn't mean your baby needs bowls upon bowls of it. Since beef puree has a somewhat intense flavor, a few spoonfuls added to your baby's favorite veggie or fruit puree should be enough.
Is it your first time making homemade baby food? If you answered yes, then I suggest you start this journey by reading my in-depth Guide on How to Make Homemade Baby Food. The detailed article goes over all the essential information such as the best cooking tools to have on hand, safe storage, knowing when your baby is ready for solids, introducing purees, making the best first foods for baby, and more! You can also check out my best-selling cookbook for even more information and recipes.
Beef Puree Video
Watch this video to see how easy it is to make your baby homemade Beef Puree!
Reasons to Love this Beef Puree
simple yet flavorful
packed with protein
great to add to any other fruit or veggie puree that baby loves
baby food for 4-6 months and up
stage 1 baby food
freezer-friendly 
homemade
Ingredients
Make sure to read the recipe card below for full ingredients and instructions!
Beef: Since beef is the star of the show in this puree, we are going to start with a good piece of meat. We are going to use 8oz of chuck stew meat or cubed sirloin beef. You can also easily scale up this recipe if you want more than 12 ounces of baby food.
Broth: To get that rich, deep beef flavor, we will cook our beef in beef broth. I recommend using a low-sodium, sodium-free, or free-range beef bone broth for this recipe. You can also use any of those variations above with a vegetable broth as well. If you don't have any of those on hand, you can use water. 
Oregano: We are adding dried oregano to give the puree a little more complex taste. This can easily be omitted if you prefer or you can substitute in dried parsley, basil, rosemary, thyme or cilantro.
Grass-Fed Beef: I recommend using grass-fed beef for this recipe, if possible. Grass-fed beef will have more healthy fats, more free Omega-3 fatty acids (healthy fats), vitamins A, E, and B as well as more antioxidants.
Health Benefits of Beef
Protein: Beef is an excellent source of protein, which is essential for proper growth and development of all organ systems and maintaining and repairing tissues. It is considered a complete protein, meaning it has all of the amino acids that are needed to make protein.
Iron: Beef is a good source of iron, needed for making red blood cells, neurodevelopment and preventing iron deficiency anemia, and zinc, needed for growth and development and supporting the immune system.
B12: Beef is also high in B12, which is essential for brain development and healthy red blood cells.
Choline: can also be found in beef, which is also important for brain growth and development.
Step-by-Step Instructions
Boil: In a medium saucepan, bring the cubed beef, broth, and oregano to a boil over medium heat. 
Simmer: Turn the heat down to low and cover the saucepan. Simmer for 15-20 minutes or until the beef is just cooked through. Let it cool slightly.
Puree: Using a slotted spoon, transfer the beef to a blender or food processor and puree until you reach your desired consistency, adding broth in 1/4 cup increments if needed.
Eat: Serve to your baby plain or added into another puree. 
Freeze: Store a small portion in the fridge and freeze the rest for another meal.
Tools Needed
These tools will make it a lot easier for you to make this healthy Beef Puree. For more of my favorite kitchen tools make sure to check out my shop.
Saucepans
Blender or Food Processor
Freezer Tray
Storage Containers for Fridge
Stasher Bag
bib with catch pocket
Saucepans
Frequently Asked Questions
When can baby eat beef puree?
Babies can have beef as one of their first foods. When a baby can start on solids is determined by their own rate of development, which generally comes between 4-6 months of age. Some of the developmental milestones babies need to reach in order to start solids include: if your baby has solid control of their head and neck, if your baby has doubled in weight, and if your baby is reaching for or opening their mouth when you eat (see my guide here).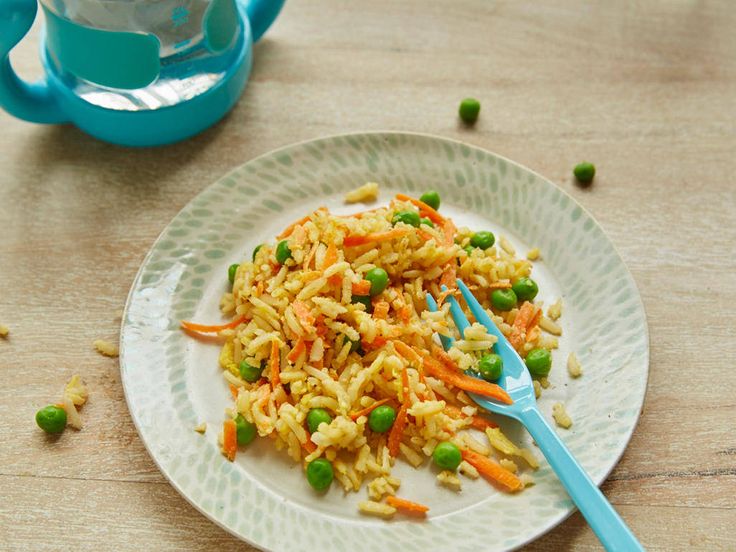 Before you start your baby on purees, you should consult with your pediatrician to make sure your child is developmentally ready.
Can beef be baby's first food?
Yes, beef can 100% be baby's first food if you want it to be. It is recommended to wait to introduce the top eight allergen foods to baby once a few other well tolerated foods have been introduced, but otherwise foods can be introduced in any order so choose whatever you are most excited for baby to have.
Is beef a common allergen for baby?
No, beef is not a common allergen, however, as with any food, start with a small portion and be aware of any signs that might be an allergic reaction after introducing it.
Does beef cause constipation for babies?
No, beef itself is not known to cause constipation in babies, however it won't really help with constipation either since it lacks fiber. If baby is eating too much meat, it could replace fiber-rich foods, which could cause constipation.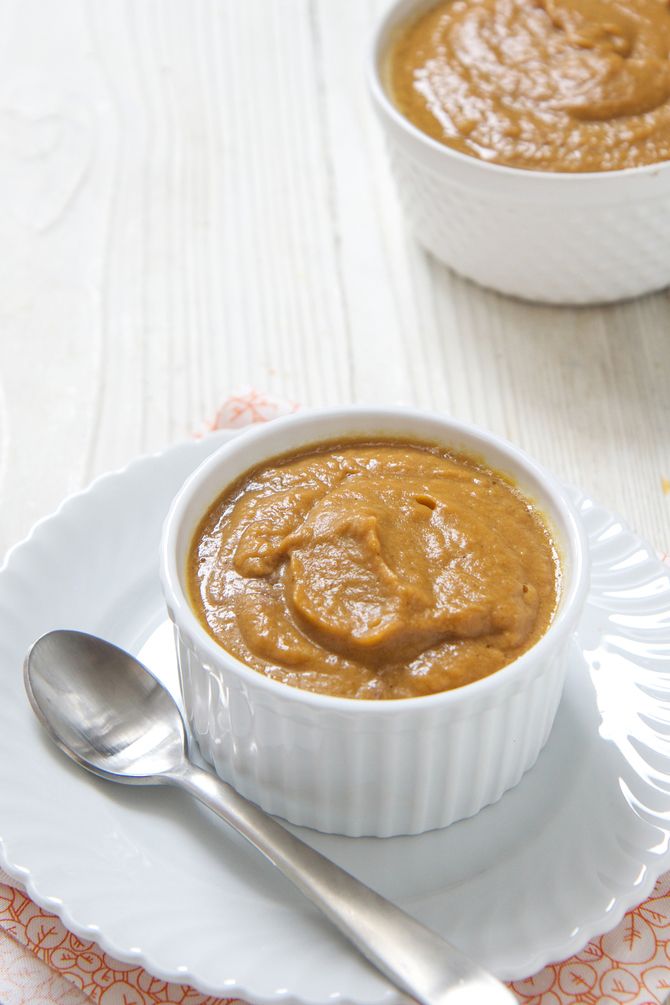 How to Store Beef PureeRefridgerator
You can store this puree in an airtight container in the fridge for up to 3 days. 
Freezer
This puree can be frozen for up to 2 months.
Spoon puree into a freezer storage container. Do not overfill. 
Place the lid on the storage container or cover with a piece of saran wrap, and label with the date and recipe name. 
Place the tray into the freezer and let it freeze completely — preferably overnight. 
Pop out the baby food cubes and place them in a ziplock baggie or stasher bag. Don't forget to relabel the baggie or stasher bag for future reference.
Need more information on how to store your baby foods? Head over to my Best Baby Food Storage Containers – Plus 6 Tips on Freezing and Thawing post!
Label Tip: Don't forget to label your purees before you place them in the fridge or freezer with the name of the puree and the date you made it.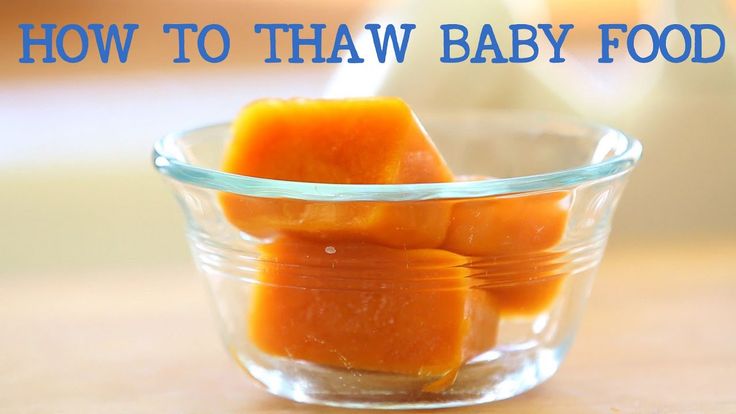 Take it from me; by the end of the week, you will completely forget what is in your freezer and how long it's been there. 😉
Great Beef Combination Purees
While this beef baby food is great by itself, it can be a little intense for some babies. I recommend mixing it into one of your baby's favorite purees as an introduction to the rich taste of beef. Here are some great purees to mix with the beef puree:
Apples
Sweet Potato
Pear
Carrot
Broccoli
Pea
Mango
PUREE FEEDING TIPS
Follow your baby's lead – when feeding purees from a spoon, sometimes there's a tendency to keep offering bites past the point of your baby being full. Always follow your baby's cues for when they are done eating. Turning away from the spoon, closing her mouth, or pushing food away are all signs that your baby is finished with the meal.
Try adding a little seasoning or spice to purees – babies like flavor! Or consider changing the temperature of purees from time to time, to slightly warmed or slightly chilled. Varying these aspects adds to the sensory experience!
Throwing spoons is a common phase that all babies go through at one point or another. One of the best ways to handle spoon throwing is to ignore it and keep feeding your baby as usual (with an extra spoon you already have at the table). If your baby ends up also throwing back up spoons #2 AND #3, simply encourage your baby to eat with their hands until they appear to be finished with the meal. ***Give baby plenty of opportunities to practice putting items in and taking items out of containers outside of mealtimes.
Recipe Tips
Use a Slotted Spoon: When transferring the cooked beef from the saucepan to the blender, make sure to use a slotted spoon so you don't add too much broth into the puree from the start. You only want to add broth if needed while blending. I had to add a 1/4 cup of broth to the blender while I was pureeing this beef. 
Reheat Gently: If you are freezing some of this beef puree, reheat it in 20-second intervals. You don't want to recook the beef.
Recipe
8 ounce beef chuck stew meat, or cubed sirloin beef
2 cups beef or vegetable broth, low or no sodium
1 tsp dried oregano
Boil: In a medium saucepan, bring beef, broth and oregano to a boil over medium heat. Turn to low and simmer for 15-20 minutes or until beef is cooked all the way through. Let cool slightly.

Transfer: Using a slotted spoon, transfer the beef to a blender or food processor, reserve broth.

Puree: starting on low and working your way up to high-speed, puree the beef until you reach your desired consistency, adding in broth in 1/4 cup increments if needed. I had to add in just 1/4 cup of broth to get the consistency seen in this photo.

Eat: serve to baby plain or added into another puree. 

Freeze: store a small portion in the fridge and freeze the rest for another meal. 
Age: 4-6 months and up
Yield: 12 ounces
Storage: Fridge – store in an airtight container in the fridge for up to 4 days or in the freezer for up to 4 months.
Saucepan
Blender
Bumkins Baby Bowl
Freezer Tray
Did you make this recipe?
Tag @babyfoode on Instagram and hashtag it #babyfoode!
Pin Recipe Email a Friend
Meat for Baby Food recipes, Puree Homemade Meats Baby Food, Puree Chicken, Pork, Beef Meats, Meat Recipe Purees
Homemade Meat Baby Food Recipes – Nutritious Homemade Meat Baby Foods Are Better than Jarred.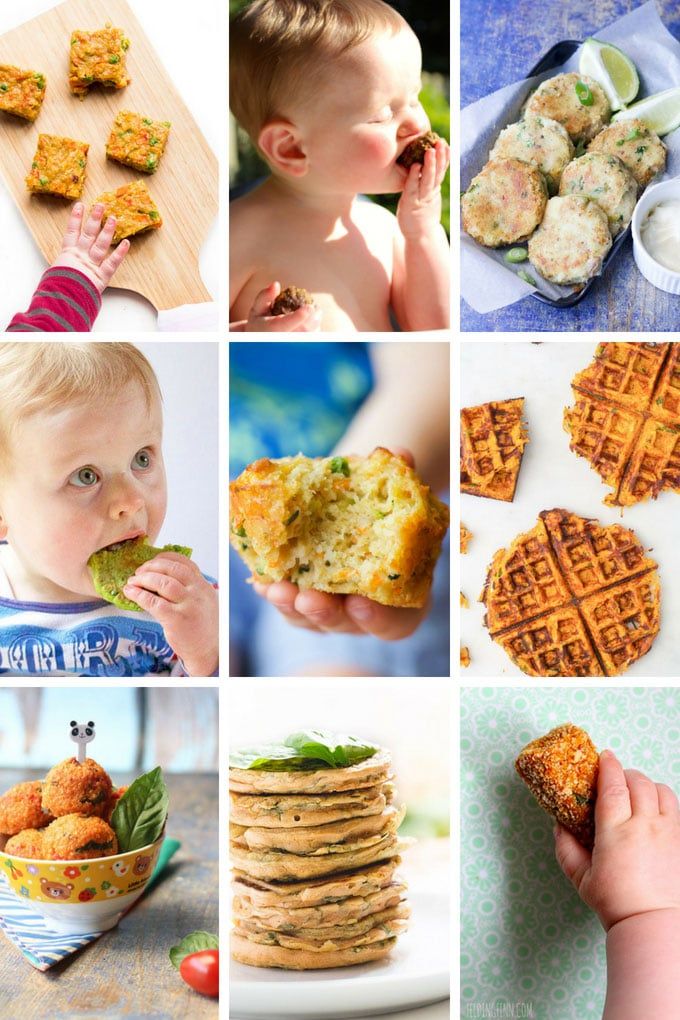 Please note: Meats may be introduced anytime between 7-8 months of age with the advice of your pediatrician. Many pediatric authorities, specifically in Canada, the EU and the U.K. recommend meat as one of baby's first solid foods but not as THE first food. In the U.S. the recommendation to start meats earlier than 8 months is also becoming more common.
Easy, Fresh & Nutritious Meat Baby Food Recipes that your baby will Love.
Try the Beef, Chicken & Vegetable Stock/ Broth recipes too.
 You may add veggies or fruits to any of the meat baby food puree recipes as you like. The additions of fruits and/or veggies may make the meats more palatable for baby's first introduction to meats.
Beef, Pork or Veal Purée
(Basic)
Ingredients:
1 cup cold and cooked boneless beef, pork or veal – chopped into chunks no bigger than 1 inch
1/4 c cooking juice (save the juices that you cooked the meat in) or plain water
Directions:
Step 1: Place meat chunks in blender or food processor and puree until a powdery mix is formed.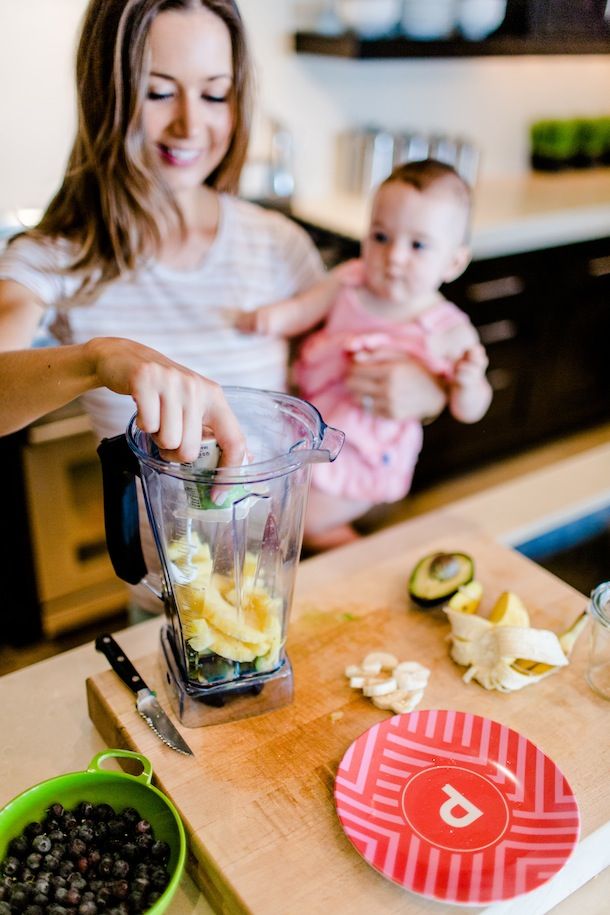 Slowly add water and puree further until a smooth consistency is created.
Step 2: Add as much liquid as needed to make a consistency appropriate for your baby. You may add veggies or fruits to this puree as you like.
---
Chicken Purée
(Basic)
Ingredients:
1 cup cold and cooked boneless chicken – chopped into no bigger than 1 inch pieces
1/4 c cooking juice (save the juices that you cooked the meat in) or plain water
Directions:
Step 1: Place chicken chunks in blender or food processor and puree until a powdery mix is formed. Slowly add water and puree further until a smooth consistency is created.
Step 2: Add as much liquid as needed to make a consistency appropriate for your baby. You may add veggies or fruits to this puree as you like.
---
Egg Yolks
Read the Egg Allergy Information page for more information about egg allergies and using eggs in baked or other foods.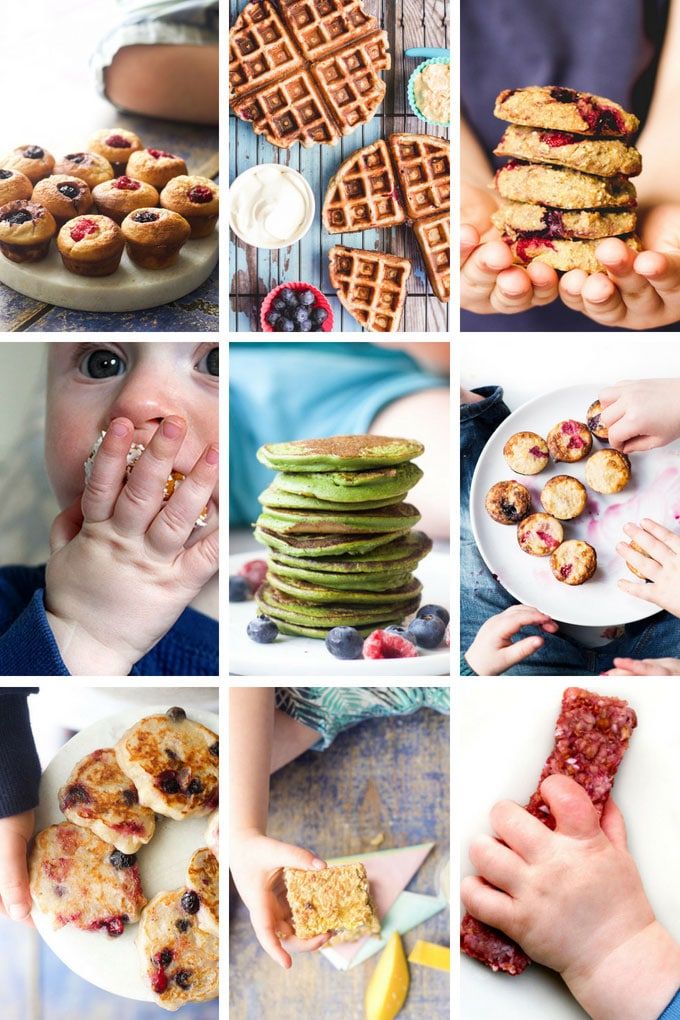 Ingredients:
Eggs – as many or as few as you like. Try to buy natural or organic eggs whenever possible.
Directions:
Step 1: Hard-boil an egg
Step 2: Peel shell away and cut in half
Step 3: Scrape or pop out the yolk
Step 4: Mash the yolk and mix in formula, breast milk, yogurt, applesauce or whatever you choose that is appropriate for your baby.
OR
Step 1: Crack an egg and separate the white from the yolk (you may use the shell for this or use an egg-separator)
Step 2: Warm olive oil or butter in a frying pan
Step 3: Scramble the yolk in a bowl with formula, breast milk, juice or whole milk and transfer to frying pan
Step 4: Cook over medium heat, scrambling constantly, until thoroughly cooked
** You may also add items such as pureed (or small diced & soft cooked) broccoli, carrots, peas etc… makes great finger food.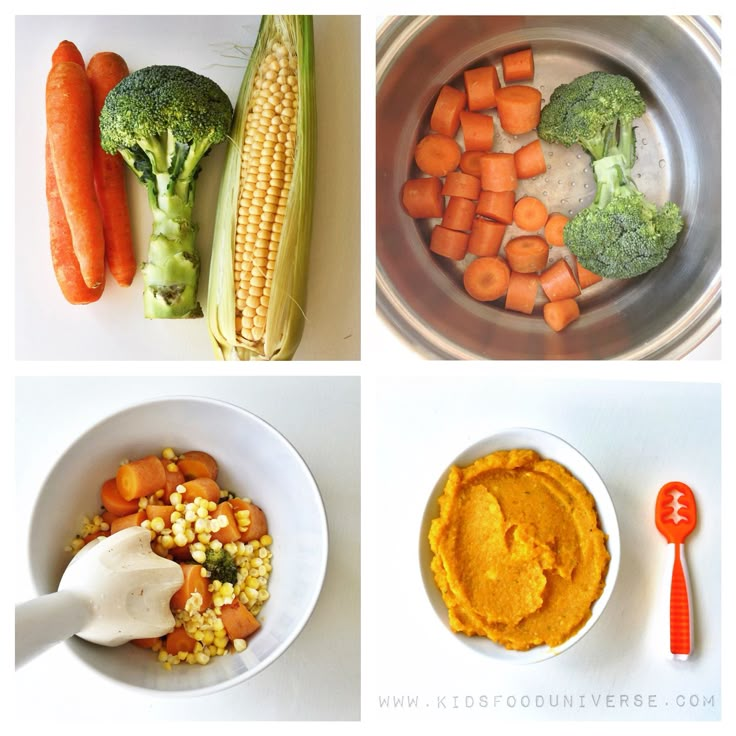 ---
Fish Purée (Basic)
Read the Introducing Fish article here
Ingredients:
1 cup cooked boneless white fish
1/4 c or plain water
Directions:
Step 1: Place fish in blender or food processor and slowly add liquid while puréeing until a smooth consistency is created.
Step 2: Add as much liquid as needed to make a consistency appropriate for your baby. Add in veggies or even fruits if you like!
---
Turkey Purée
(Basic)
Ingredients:
1 c cold and cooked boneless turkey – chopped into no bigger than 1 inch pieces
1/4 c cooking juice (save the juices that you cooked the meat in) or plain water
Directions:
Step 1: Place turkey chunks in blender or food processor and puree until a powdery mix is formed.
Step 2: Slowly add water and puree further until a smooth consistency is created.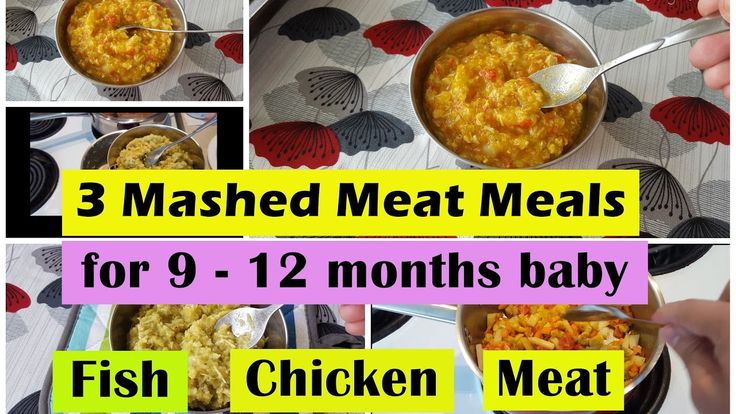 Step 3: Add as much liquid as needed to make a consistency appropriate for your baby.
---
Tofu 
Read Ideas and Information about Tofu and Feeding Babies Tofu
Selecting Meats for Baby Food Recipes – Prepared ANY meat by baking/roasting it. Some good cuts are:
Chicken – Breasts (higher in protein and lower in fat) and Thighs/legs (higher in iron and higher in fat)
Beef – Eye of Round roast, Top Sirloin, Lean Fresh Ground beef
Pork – Tenderloins, Pork Loin Roast (boneless – center cut), Center cut Pork Chops
Turkey – Breasts, Thighs, Legs, Ground Turkey (note the same rules applies for white/dark meat with turkey as chicken)
 Veal – any cut will suffice
Ham – while really pork, Ham is not the same as eating Pork Tenderloin for ex. A fresh home baked ham is the best.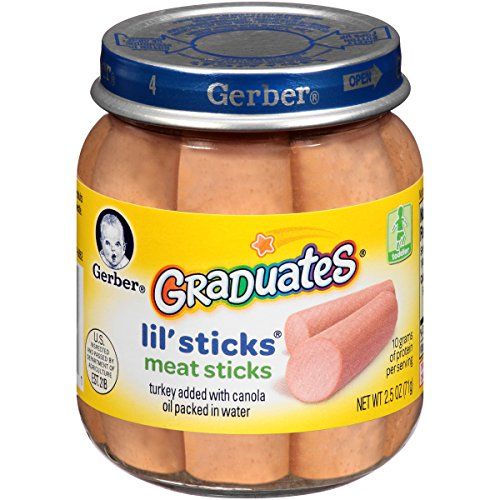 Check all labels for Sodium Nitrite and Salt content prior to purchasing.
EASY Meats and Protein "Dinners" and Combinations for Babies
Baby's First Omelet
Ingredients:
2 Egg Yolks
Milk or Formula
Puréed or Chunky Veggies
Cheese
Directions:
Step 1: Prepare a small frying pan with a pat of butter or a dab of olive oil and heat
Step 2: Scramble egg yolks & Milk or Formula in bowl then pour egg mixture into heated pan.
Step 3: Scramble egg mixture until almost cooked and add veggies.
Step 4: Cook until egg mixture is no longer runny.
Step 5: Add small bits of shredded cheese (Swiss, American, Cheddar or Parmesan)
Step 6: Scramble again when cheese has melted.
 Serve with Fruit Dices, Yogurt, and/or Petite Toast Points with Fruit Purée Spread.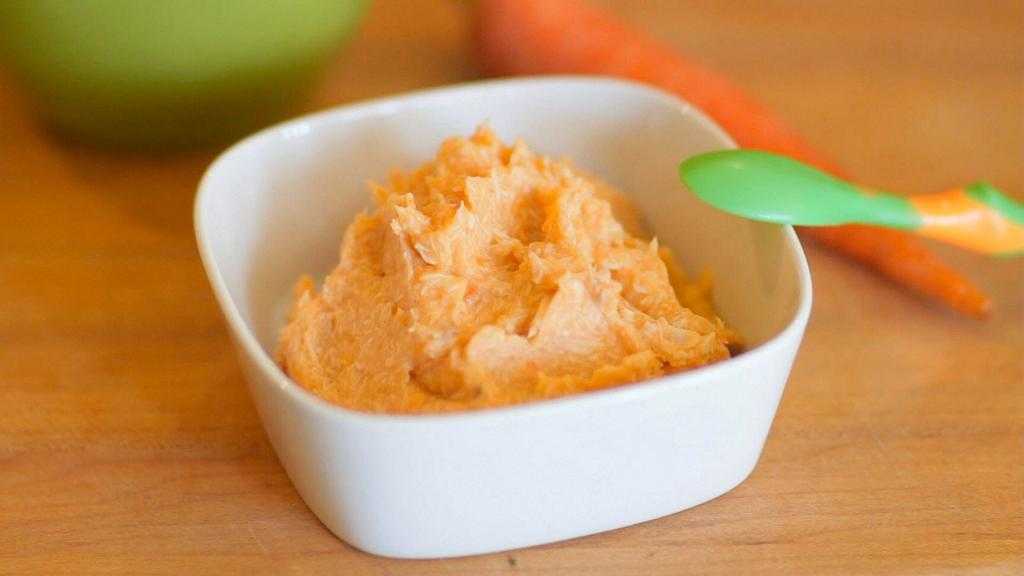 Great for Lunch or Dinner too. Ensure that the Baby Omelet has cooled enough for Baby to eat. (Please use only those ingredients that baby has eaten without any allergic reactions.)
---
Baby's First Beef Stew
Ingredients:
1/2 cup cubed cooked beef
1 peeled potato
¼ cup shelled fresh or frozen peas
1 peeled carrot
1 stalk of celery
1/4 cup uncooked pasta (try ditalini or other small pasta sizes)
4 cups of water
Directions:
Step 1: Wash vegetables thoroughly and chop very fine.
Step 2: Simmer the veggies for 20 minutes or until softened
Step 3: Add the macaroni and cook for 10 minutes longer or until very soft.
Step 4: Drain but save the water and use to mash into the stew
Step 5: Mash or puree the mix until it is of a consistency adequate for baby
---
Beef or Veal Dinner
Ingredients:
1 lb beef or veal, tender and lean, cut in 1″ pieces
1 celery stick, chopped
3 carrots peeled and diced
2 medium potatoes, peeled and cut in 1/4 inch dices
1 tablespoon minced onion
1 tablespoon minced garlic
Directions:
Step 1: Put the meat in about 1 cup of water in a saucepan and simmer for 45 minutes or until cooked
Step 2: Add celery, carrots, potato, garlic and onion.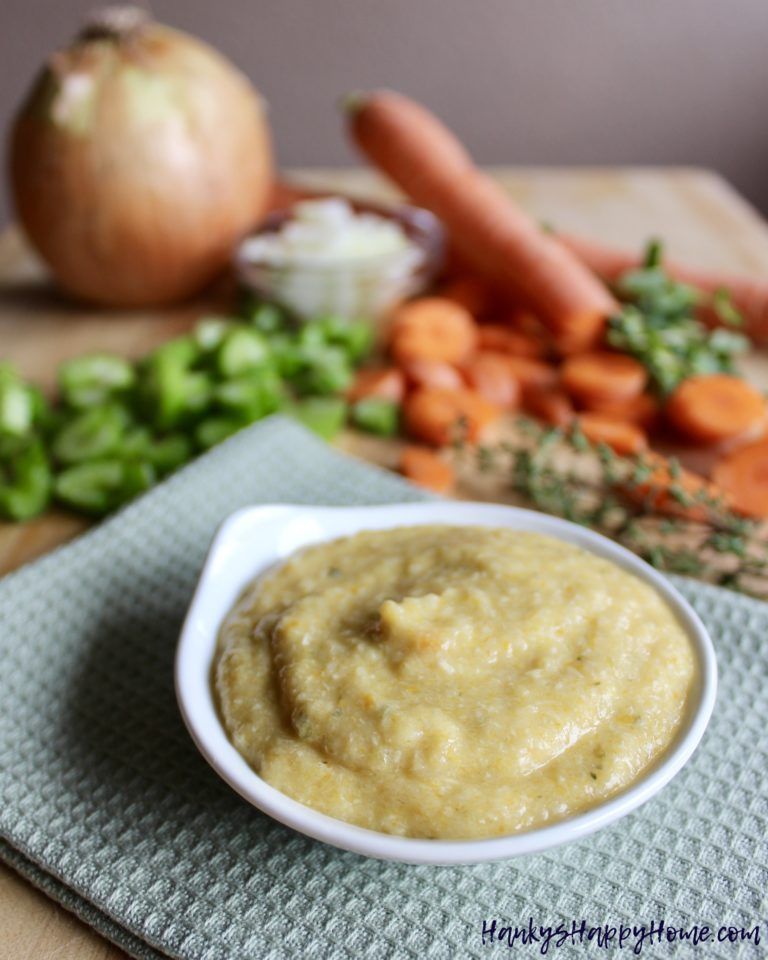 Step 3: Cook for 35 minutes or until veggies are tender.
Step 4: Take pot off the heat and let cool a few minutes. Discard vegetables and serve as a "side" or add to puree.
Step 5: Put about 3/4 cup of the meat in the blender with 1/3 cup of the cooking water. Puree until smooth. Add the reserved veggies. Repeat with the remainder of the meat
Back to Top
---
Apples & Chicken
Ingredients:
1/3 cup chopped & cooked boneless chicken*
1/4 cup cooked apple (no skin or seeds), very soft
You can also use a 1/4 cup of Natural applesauce
Directions:
Step 1: Puree chicken with cooked apple in a food processor or blender until desired consistency for baby is achieved.
---
Brown Rice Chicken & Peaches
Ingredients:
1/2 cup cooked boneless chicken – chopped
1/4 cup cooked brown rice
1 ripe peach
1 tb juice (white grape or apple juice may be used or use water)
1 tb milk and 2 ts wheat germ
Directions:
Step 1: Mix all ingredients together, transfer to blender/food processor and puree or chop to make textured for older babies
---
Creamed Chicken & Potato
adapted From "Baby's First Helpings" by Chris Casson Madden
Ingredients:
2 tsp Sweet butter or margarine
1 tsp Unbleached flour
1/4 c Low fat milk
1/4 c Chicken, cooked, boned and-shredded
1/4 Potato, baked and cubed (try using sweet potato. )
1 tbls Grated white cheddar cheese
Directions:
Step 1: Melt butter in small heavy pan over low heat.
Step 2: Stir in flour and blend well and then add milk and stir until smooth.
Step 3: Cook over low heat until mixture begins to thicken, then add chicken and potatoes. Stir for about 2 to 3 minutes more or until heated through. Feel free to add a few vegetables. Add cheddar and stir until melted.
---
Chicken Casserole adapted from First Meals by Annabel Karmel
Ingredients:
1 tbsp vegetable oil
2 chopped carrots
2 sliced leeks, white part only
1 chicken breasts, cut into chunks
2 potatoes, peeled and chopped
2 peeled, chopped parsnips
boiling water
Directions:
Step 1: Heat oil in pan, add carrots & leeks, & sauté until softened, (about 6 mins.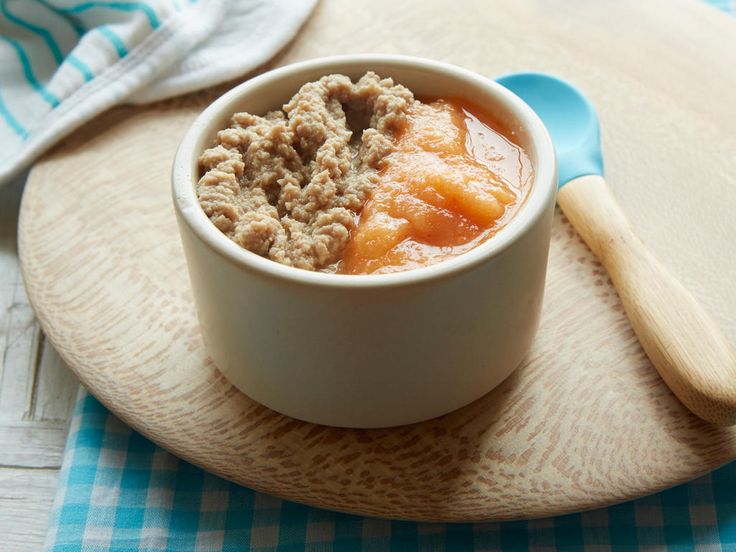 )
Step 2: Add chicken and sauté, turning occasionally, till seared, but not browned.
Step 3: Add potatoes & parsnips & just cover w/boiling water. Cover & simmer for 15 mins, or till everything is tender and cooked through. Blend to a puree, or leave chopped for older babies.
---
Baby's Yummy Fish Dinner
(consult a pediatrician regarding introducing fish and read the Introducing Fish to Babies page.)
Ingredients:
1 filet of any white fish such as cod, haddock etc. (unbreaded and cooked)
1/8 c or whole milk
1 tbsp melted butter
1/2 tsp salt
1/8 cup mashed peas
1/8 c mashed carrots
1/8 c mashed potatoes
Directions:
Step 1: Combine all ingredients and blend/puree until creamy – Serve warm
---
Tofu
Ingredients:
1 Package of Firm or Extra Firm Tofu
Directions:
Step 1: Cut tofu into small bite-sized cubes and dust it with crushed cheerios, wheat germ or crushed graham crackers
Step 2: Blend it up with a banana and wheat germ and serve by spoon.
You may blend it with any type of fruit(s) like apples, strawberries, blueberries or pears
Step 3: Cube it and toss it into (sodium free) soups or broth and give the cubes to baby
Step 4: Mash tofu with cottage cheese and seasoning to make a sandwich spread.
Step 5: Create your own tofu burgers with mashed tofu, bread crumbs, chopped onion and your favorite seasonings – according to baby's age and stage of course.
Use the silken tofu and add fruits and fruit juice to create a Fruit Smoothie
 Click here to print a No-ad version of the Meat Baby Food Recipes
 Remember, always consult with your pediatrician regarding introducing solid foods to your baby and specifically discuss any foods that may pose allergy risks for your baby.
---
Cooking & Puréeing Meats for BabyCooking Meats for Baby:
Baking meats for baby food is my preferred method and retains the most nutrients.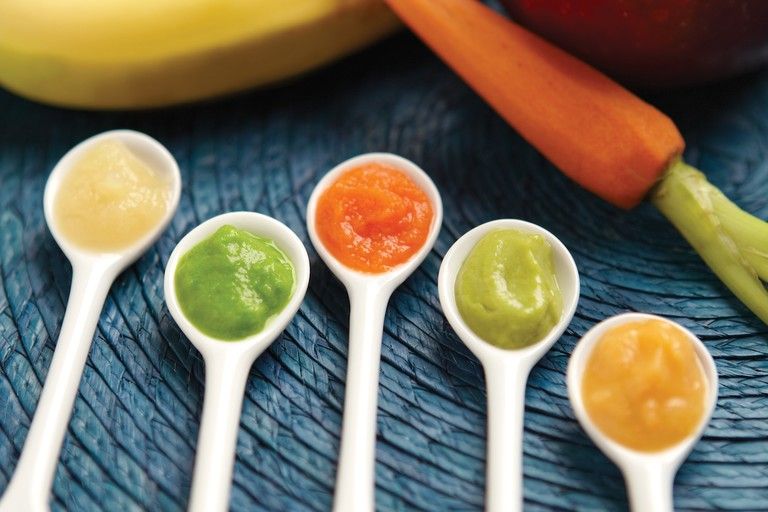 You can boil/poach or use a crock-pot but *be aware that when any food sits in water or its own juices, nutrients leach into the liquid. If you do not use the liquid, the nutrients along with the liquid will get tossed out down the drain.
Puréeing Meats for Baby: (most tried and true method for the least amount of "grittiness")
Make sure the cooked meat is COLD and is in no bigger than 1-2 inch chunks when you puree.
Grind up the meat first until it is almost like a clumpy powder.
Add water, formula, or breast milk or the natural cooking juices as the liquid and continue to puree.
Add fruits and veggies if you wish
SHARE ON FACEBOOK SHARE ON PINTEREST
How to cook meat puree for babies
About nutrition
Photo

Parents
Babies will not try baby meat puree until they are 7-8 months old.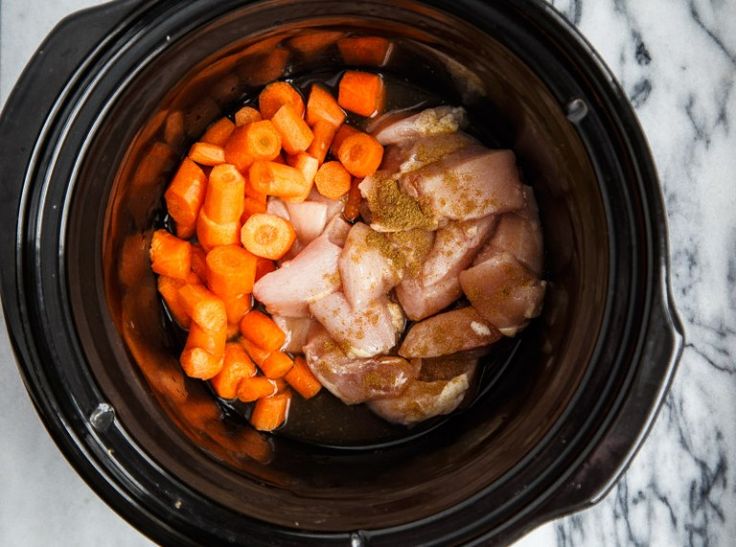 At this age, the child grows and develops intensively, and the iron reserves that he accumulated while he was in his mother's tummy and during breastfeeding are depleted in his body. It is during this period that it is recommended to introduce baby meat puree into his diet. Meat is the main source of complete animal protein, which is necessary for a growing man to protect against infections, normal development and formation of teeth and bones. Properly prepared meat puree for the first feeding contains easily digestible iron, phosphorus, potassium, magnesium, zinc, B vitamins. It also contains extractives that stimulate the production of digestive enzymes and the digestive system.
It is worth remembering the rules for the introduction of complementary foods. A new product is introduced gradually (over 5-7 days) starting with a small amount. It should be given in the morning to mark an unwanted reaction. Complementary foods are given from a spoon before breastfeeding or formula milk.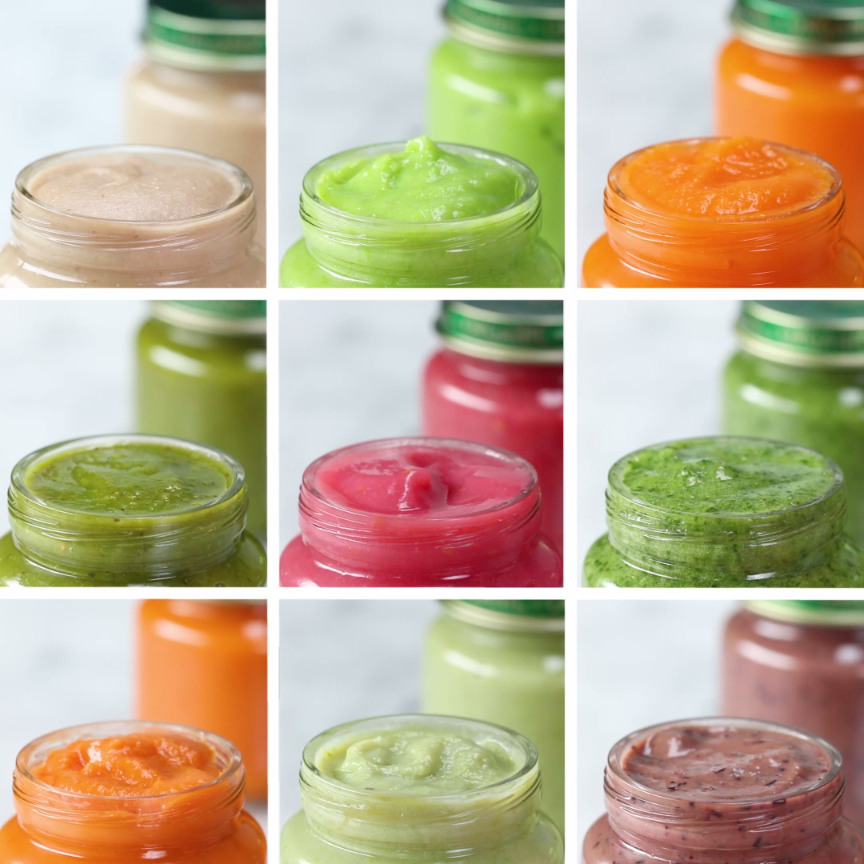 When feeding with mashed meat, start with a portion of 3–5 g (that's 1/2 teaspoon), so that, gradually increasing its size, reach 60–80 g by 1 year. you can buy in the store, ready-made. Is it worth it to "fool around" with home cooking? It's up to you. There is no single answer to the question of which meat purees are best for your baby. But we think you will agree that a homemade recipe guarantees confidence in every ingredient. Yes, and cooking mashed potatoes at home is not difficult. 9Ol000
plastic or metal spoon
meat cutter
plastic cutting board (more hygienic, wood is more difficult to clean and germs can accumulate on it)
blender
actual piece of meat
1. Choosing meat
For the first feeding, it is recommended to choose hypoallergenic rabbit or turkey meat, which are easy to digest and contain little fat. Lamb and lean veal and beef are also not forbidden. Pork for babies will be too fatty and can cause a malfunction in the digestive system, chicken quite often causes allergic reactions.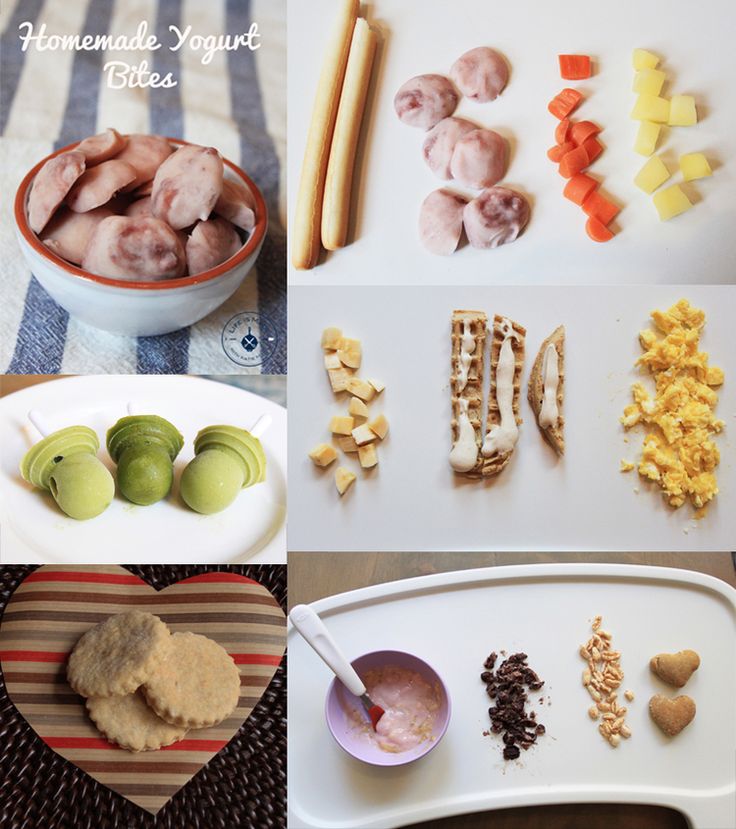 It is recommended to buy meat for baby meat puree in a trusted store. Since any meat must pass veterinary control, the seller must carry a certificate confirming this procedure. Give preference to whole cuts of meat (not in cubes), fresh and juicy in appearance, not weathered. The cut of a piece of meat should be even, pink. A dark red or whitish cut indicates that the meat was either stored incorrectly, or is far from the first freshness.
To help a mother who is worried about the question "what to feed her baby", we have prepared a material "What to feed a baby: a baby's nutrition diary from birth to a year"
Photo

Parents
2. Preparing meat
Before preparing the meat puree for the first feeding, it is necessary to thoroughly rinse the meat under running cold or warm water. Remove fat, veins, skin, films from it and free it from bones.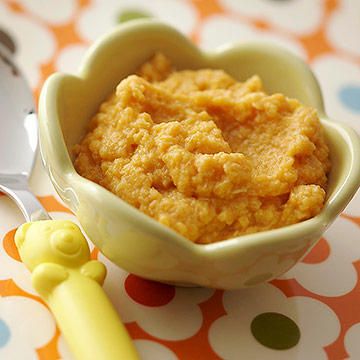 Then cut a piece of about 10 cm from the whole piece of meat. Meat puree, like other foods for babies, should not be stored. For this reason, at one time you will need a very small piece of meat. The remaining meat can be cut into larger pieces and put in the freezer. Just keep in mind that any food for babies can only be thawed once. A defrosted product cannot be re-frozen: temperature changes create a favorable environment for the reproduction of pathogens. So every time, intending to prepare meat puree for feeding, we take out 1 piece of meat from the freezer. For the first time, this amount is more than enough.
3. Rules for cooking meat for baby puree
Put the meat in a pot of cold water (remember, it must be filtered or bottled) and wait until it boils. After 5 minutes, drain the water (this is necessary to get rid of fat and extractives that make digestion difficult) and fill the meat with new water, it should cover it. Cook the meat until tender over low heat for about 2 hours (turkey, veal and lamb should be cooked until tender for 1-1.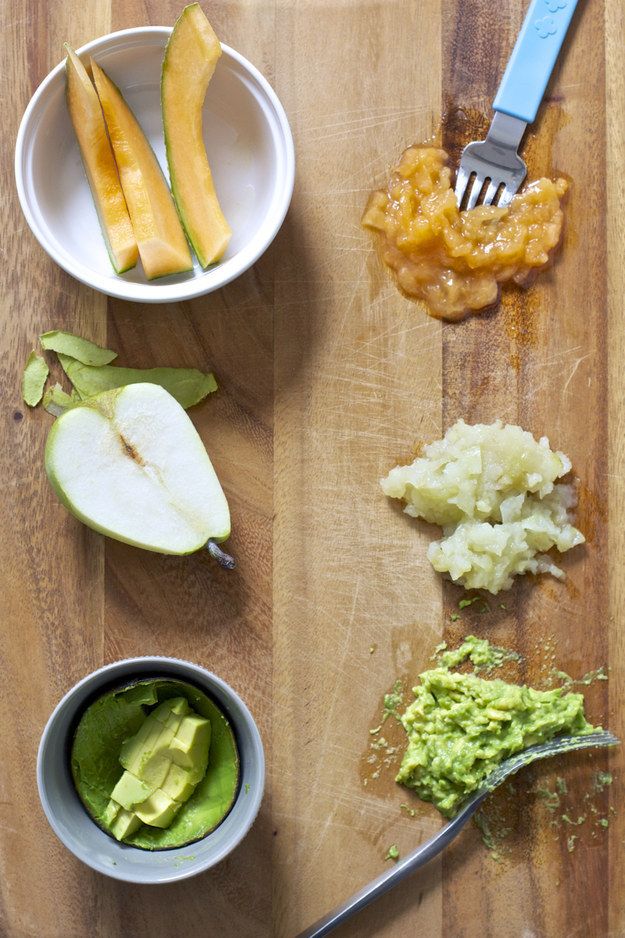 5 hours). If the water boils away, add it again. And remember that kids do not need to salt and add spices to the meat.
Find out how to make a menu for a one-year-old baby here: "Almost an adult menu: what to feed a child from one to two years old"
Photo

Parents
cut it into small pieces. Then grind the pieces in a blender.
To make puree a homogeneous consistency, similar to thick porridge, add a few tablespoons of mixture or vegetable broth to it (meat broth is not allowed for babies!).
Ready-made meat puree can be mixed with vegetable puree, which is already familiar to the baby. So the child will more easily accept the new product. You can also pour a few drops of vegetable oil into the meat puree (7-month-old children are entitled to 5 ml).
The first serving of meat puree should be 0.5 teaspoon.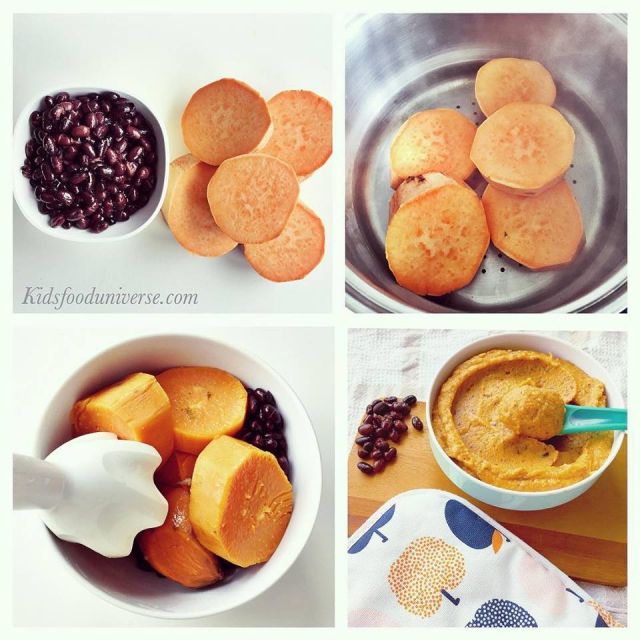 Pay close attention to your child's reaction. If everything is in order, after a week you can increase the portion. By the year the child should already consume portions of 60-80 g of meat. It is best to feed baby meat puree at lunchtime.
Read also: "When a child begins to chew and how to prepare for this"
photo

Parents
Parents
Each mother has his own recipe for making meat puree for infants . We will present some of them.
Homemade meat puree for babies with beef
Needed: 40 g beef, water, 1 teaspoon butter
Cleaned meat, free of bones, membranes and sinews, cut into small pieces. Stew the pieces in a small amount of water until fully cooked, about 2 hours.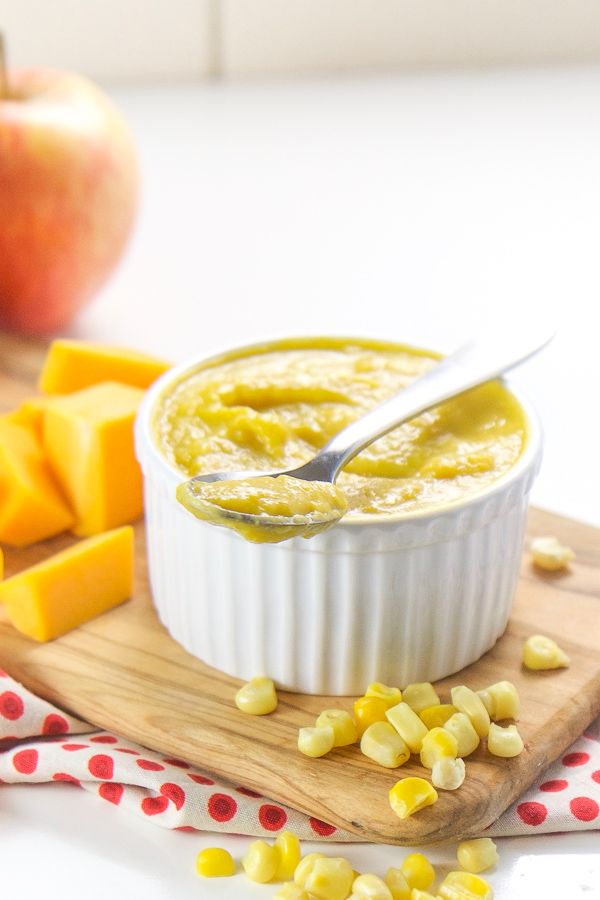 Cool the finished meat and scroll twice through a meat grinder, and then chop in a blender. This way you will achieve a uniform consistency. Add a little vegetable broth to the resulting puree and bring to a boil. Thoroughly mix everything, add butter.
You can also add some breast milk to the meat puree. But in this case, boiling mashed potatoes is no longer required.
Turkey meat puree recipe
You will need: 100 g turkey fillet, 0.5 cup of water.
Meat can be cooked on the multicooker rack, steamed or boiled in a pot of water on the stove. We cook in a slow cooker by setting the "steam" mode for 40 minutes. We cut the boiled meat into pieces, which we grind with a blender until a homogeneous consistency is obtained. Dilute with water. Since the turkey puree is a little dry, you can pour a few drops of vegetable oil into it. Ready-made meat puree can not be stored in the refrigerator for more than a day.
How to choose the right meat puree for babies in the store? We sorted out the issue together with a nutritionist: "Ready-made meat puree for a baby: analysis of the composition"
Svetlana Lyuboshits
Industrial baby food: can you trust?
Article author Khavkin Anatoly Ilyich
2042 views
December 27, 2021
Login or register to save articles and products as favorites
Dear moms and dads! A new tenant has recently settled in your house: restless and requiring special attention.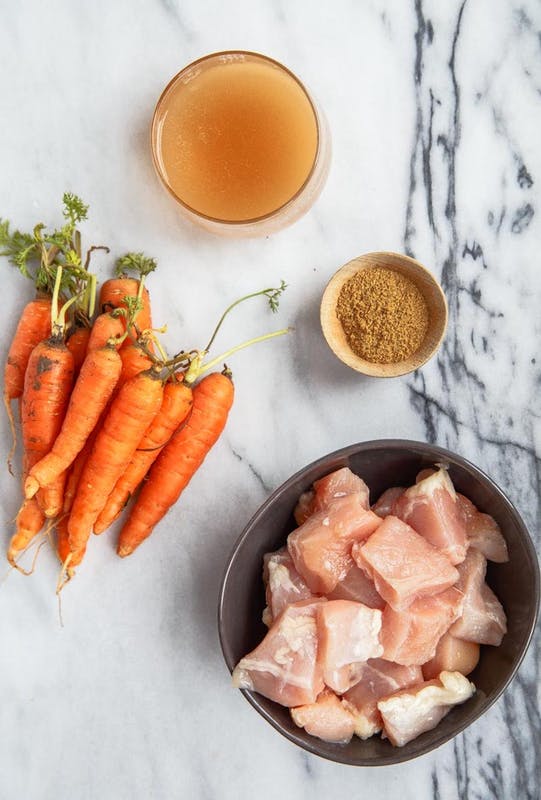 He is demanding in everything, including food. After all, it depends on nutrition how it will grow and develop.
What should be in a baby's diet
It is important to remember that, starting from 4-6 months of life, the child begins to need additional nutritional components that can only be obtained with the help of complementary foods. These are new products and dishes based on fruits, vegetables, cereals, cottage cheese, yolk, meat and vegetable-meat puree, fermented milk products, fish and vegetable-fish puree, and so on. Once again I want to emphasize that the intake of essential nutrients only with human milk or milk formula becomes insufficient by a certain age. In addition to vegetable proteins, minerals, trace elements and vitamins, the introduction of complementary foods contributes to the formation of the chewing apparatus, stimulation of intestinal motility.
By the 4th month of life, the baby's gastrointestinal tract becomes more mature: the increased permeability of the intestinal wall decreases, digestive enzymes mature, and local immunity is formed.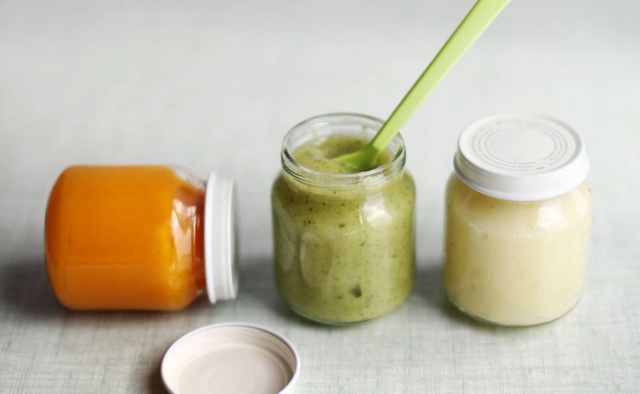 By this time, the child acquires the ability to swallow semi-liquid and thicker food, associated with the extinction of the "spoon ejection reflex".
When to introduce complementary foods?
Experts unanimously came to the conclusion that it is recommended to prescribe complementary foods for children who are exclusively breastfed from 6 months. In this case, the first type of complementary foods should be products with high energy density - cereals or vegetable purees of industrial production, enriched with micronutrients. Children with deviations in the state of health (hypotrophy, anemia, etc.), with malnutrition of nursing mothers, complementary foods are given at an earlier date. After the introduction of vegetable puree or porridge, cottage cheese into the diet, the yolk, meat and fish puree are sequentially introduced.
Homemade and ready?
In the nutrition of the baby, products prepared both at home and industrial products can be used.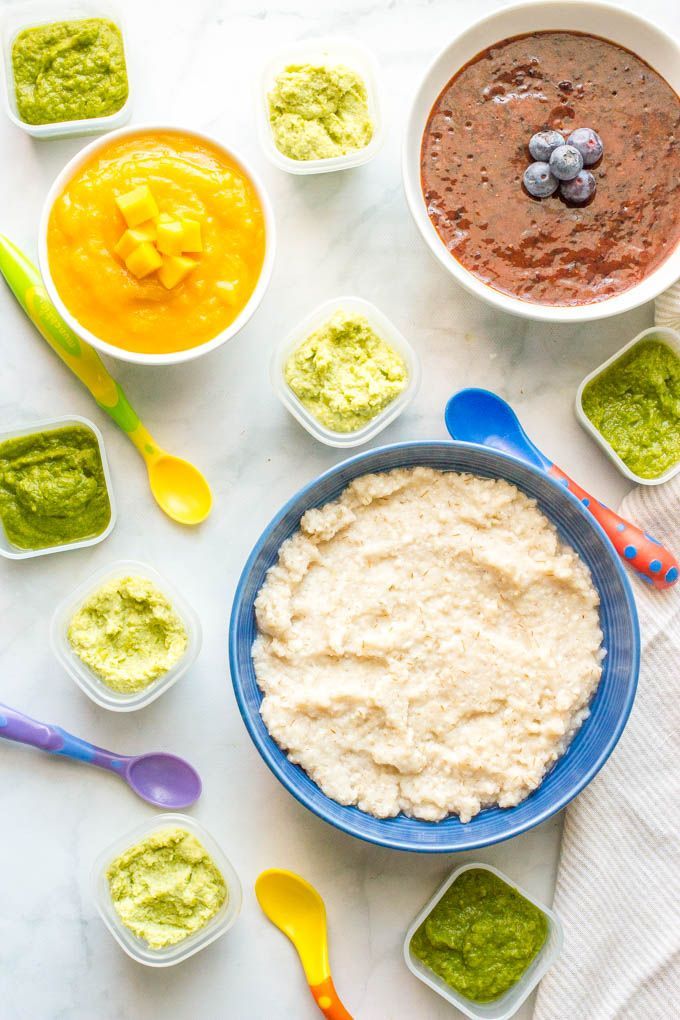 The latter have a number of undeniable advantages: they are prepared from raw materials that meet all the hygienic requirements in force in the Russian Federation for raw materials and the production of baby food, they have a guaranteed chemical composition, including vitamins, regardless of the season. And gradually, complementary foods are completely replaced by feeding with breast milk or its substitutes.
If there is a problem
Ready-made dairy-free cereals (buckwheat, rice) are the first to be introduced into the nutrition of a child with frequent stools, insufficient body weight (hypotrophy), food allergies. With excess body weight and constipation, preference is given to vegetable puree.
First food
Kashi
Porridge should start with gluten-free cereals (rice, buckwheat, and later corn and millet). They can be dairy or dairy-free. In the future, gluten-containing cereals (wheat, barley) and cereals from a mixture of cereals can be used.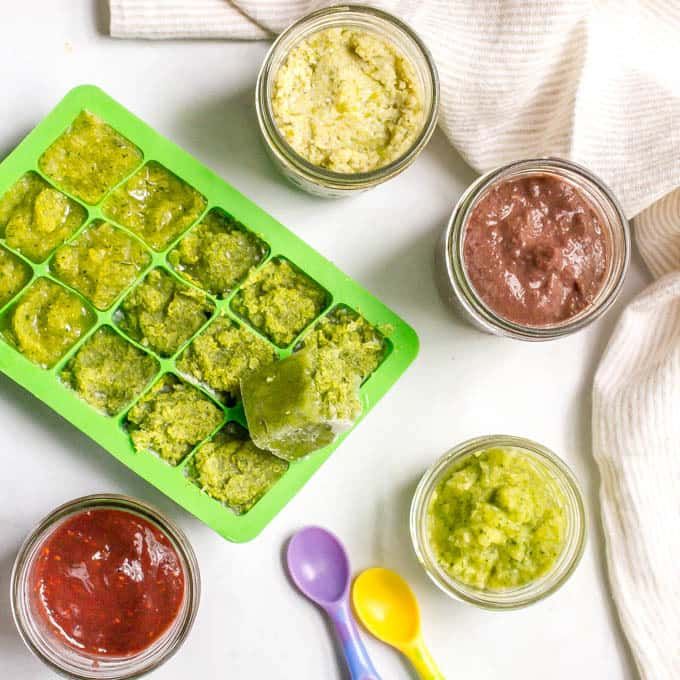 Vegetable purees
Vegetable purees are given initially from one type of vegetable with delicate fiber (for example, zucchini), followed by expansion by introducing other vegetables (cauliflower and white cabbage, broccoli, carrots, pumpkins, potatoes, etc.), paying attention to their tolerance. It should be noted once again that industrial mashed potatoes guarantee its quality and safety.
Cottage cheese, egg yolk, meat and fish
Cottage cheese, egg yolk, meat and fish are valuable sources of animal protein, a number of minerals (iron, calcium, phosphorus, etc.) and vitamins A, E, B1, B2, B6, B12, which make it possible to most fully meet the high needs of children in the second half of the year life in these nutrients.
As already noted, at the age not earlier than 8 months, it is possible to introduce specialized fermented milk products baby food into the child's diet, such as yogurts and biolacts .
Complementary feeding rules
When introducing complementary foods, the following rules should be followed.