Winnie the pooh baby shower food ideas
Winnie the Pooh Baby Shower Ideas
---
I hope you love the recommendations on this page. Just so you know, I may receive a small commission for any purchases through the links found on this page. I really appreciate your support.
---
If there's a rumbly in your tumbly, then this calls for a Winnie the Pooh baby shower!
Whether or not you know the gender, get carried away by Pooh and his friends with this beautiful, gender-neutral baby shower.
Winnie the Pooh Invitations
Aside from all of the characters from Winnie the Pooh, you need to have a guest list so that you can send out those Winnie the Pooh invitations!
Don't waste your money on invites at the store that everyone has already seen, though.  Go for something unique for such a special occasion.  By ordering the invites online from Etsy, you are supporting a small business while getting a product that's custom made!
These adorable ones are from Ashwood Ink, featuring Pooh and some of his friends from the Hundred Acre Wood, Piglet and Eeyore.
What I adore about this bundle is the "Please Bring a Book" note, asking guests to bring a book instead of a card. What a sweet way to build baby's library!
Winnie the Pooh Baby Shower Decorations
"Nobody can be uncheered with a balloon,"  and nobody says it quite like Winnie the Pooh!  There really is no theme-specific colors unless you choose your own, when when it comes to balloons and streamers, these colors are solely up to you.  A few other Winnie the Pooh baby shower decoration ideas:
Winnie the Pooh and Friends
This is a must.  Stuffed animals are also great for favors and prizes, or for the mama-to-be to save for the baby.  Make sure somewhere in the room, you have Pooh attached to a bundle of balloons and "drifting away."
Honey Pots
Paint flower pots to look like honey pots from Winnie the Pooh, plant flowers in them and viola!  You have beautiful room decorations or table centerpieces!
This is a great opportunity to pick out a special gift that Mama can keep for lasting memories of her adorable shower!
Hundred Acre Wood
The home of Winnie the Pooh.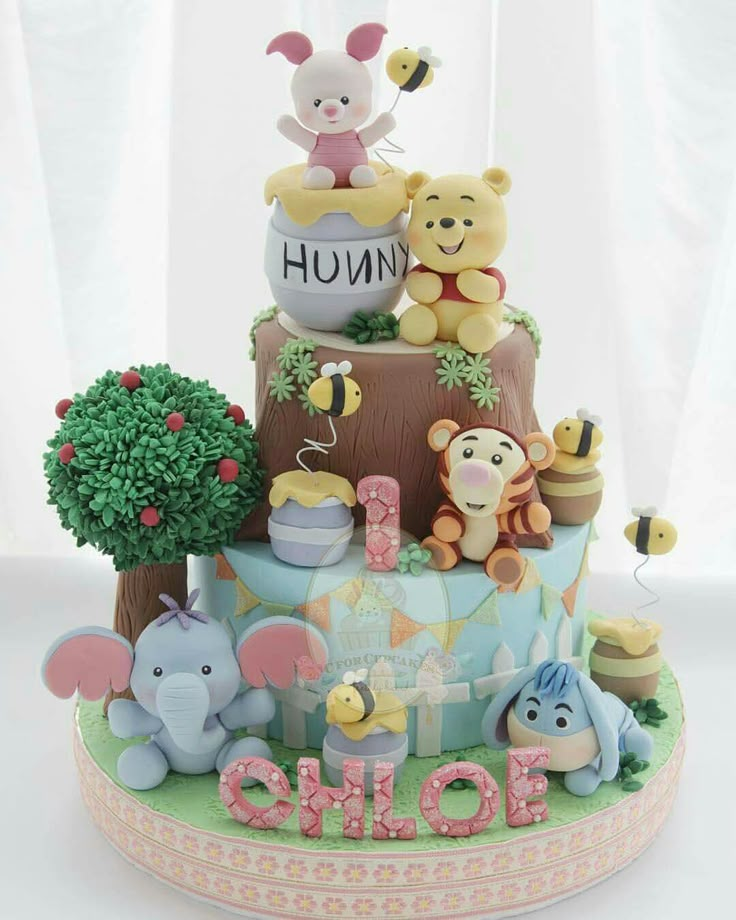 Decorate the main table, gift table, or whatever big table that will be used a lot as the Hundred Acre Wood by using tree stumps, branches, fake grass, and the characters.  You can get really creative with this one; it's a cute idea.
Special thanks to Lynlee's Petite Cakes for this adorable Winnie the Pooh Baby Shower design!
Winnie the Pooh Themed Food- And it's not just hunny!
Let's face it, one of the reasons why baby shower's are so enjoyable is because of the good food!  Food is essential for any shower, and can also really add to the shower's theme.  As far as Winnie the Pooh baby shower food ideas, I've made these picks:
Beehive Cupcakes
These are any flavor cupcake that you desire, with the frosting on top decorated to look like a beehive with bees on it.  Pooh loves honey and honey is stored in hives!
Tigger Tail Pasta Salad
This is pasta salad made with the twisted pasta so that the pasta noodles resemble tigger's tail.  You may choose to dye the pasta orange to give it more of a "Tigger-effect" or leave it as-is.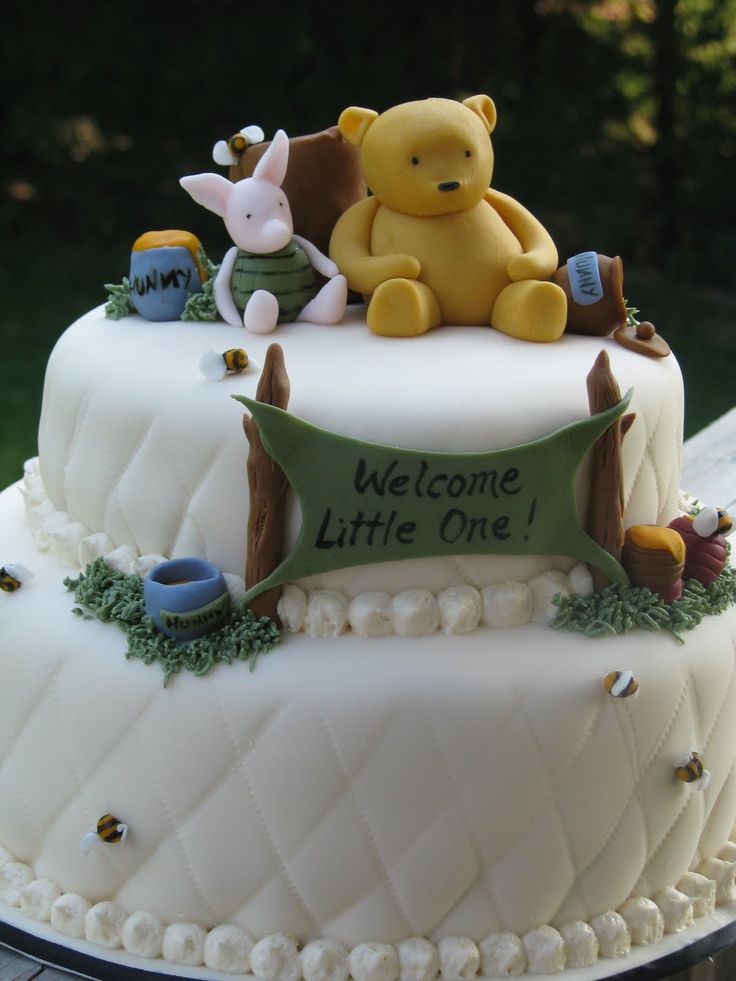 Piglets in Blankets
Just pigs in a blanket with a much cuter, pooh-ier name!  Nothing special is required for these, other than a cute sign by the plate.
Honey Lemonade
Every shower needs a themed drink, and this is it!  Serve up this delicious honey lemonade recipe on a warm afternoon for a refreshing beverage everyone at the shower will enjoy!
Winnie the Pooh Themed Baby Shower Games & Activities
When it comes to fun, the characters of Winnie the Pooh know how to do it best.  Skip the baby shower game basics and try these great ideas for a Winnie the Pooh baby shower!
Find and Pin the Tail on Eeyore
Poor Eeyore has lost his tail again!  Hide "Eeyore tails" in plain site around the room, each guest must find one, then get blindfolded and try to pin it in place on Eeyore, most likely sitting over there in the corner. For this printable game poster, head on over to the Etsy shop LaArtistaSamantha.
Tigger's Bouncy Race
This requires medium-sized yoga balls and willing participants.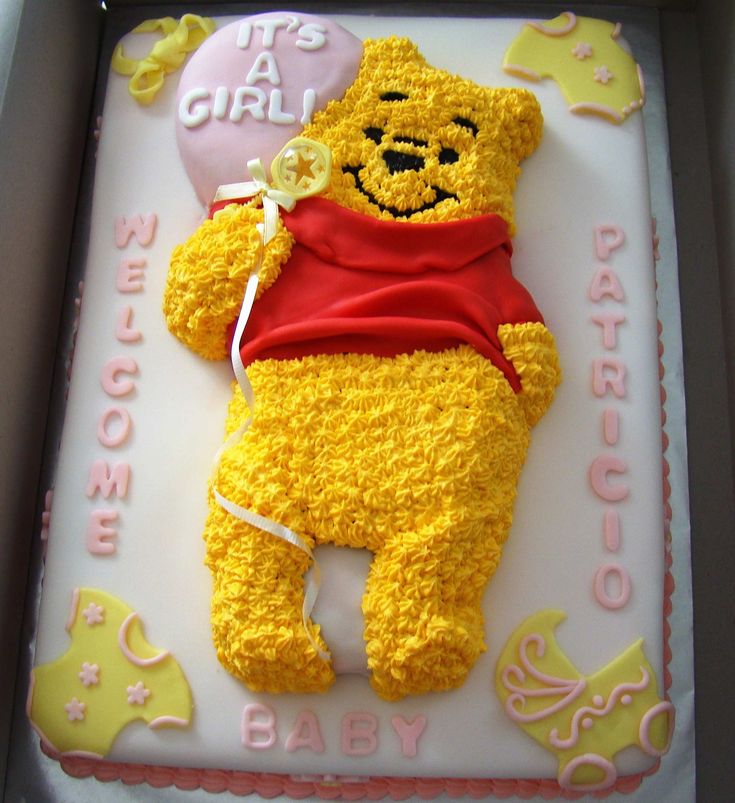 Basically, the contestants must compete in a bouncy race across the room!
Christopher Robin's Scavenger Hunt
This is a scavenger hunt through the Hundred Acre Wood!  Follow the clues given at each stop to the next, and whoever reaches the finish first is the grand prize winner!  (You choose the prize, of course!)
The Many Adventures of Winnie The Pooh
Whether you play the movie as a feature during the baby shower, or just in the background for added whimsy, the film "The Many Adventures of Winnie the Pooh" is almost a necessity for a Winnie the Pooh themed baby shower. Make sure you include some popcorn for your movie-watchers!
Winnie the Pooh Party Favors and Game Prizes
It was Winnie the Pooh who said "How lucky I am to have something that makes saying goodbye so hard." Make it memorable with party favors.
Honey Bears
Send your guests off with a sweet thank you and goodbye by giving away those bear-shaped bottles of honey, little jars of honey,  or even those wooden honey dippers!  It doesn't get much sweeter or more aPOOHpriate than honey!
Honey Candies
Another option is to give your guests a little sweet treat in the form of honey flavored candies! I bet Pooh would love these deliciously sticky drops! Put them in a glass jar with a string and tag for a quick and easy favor.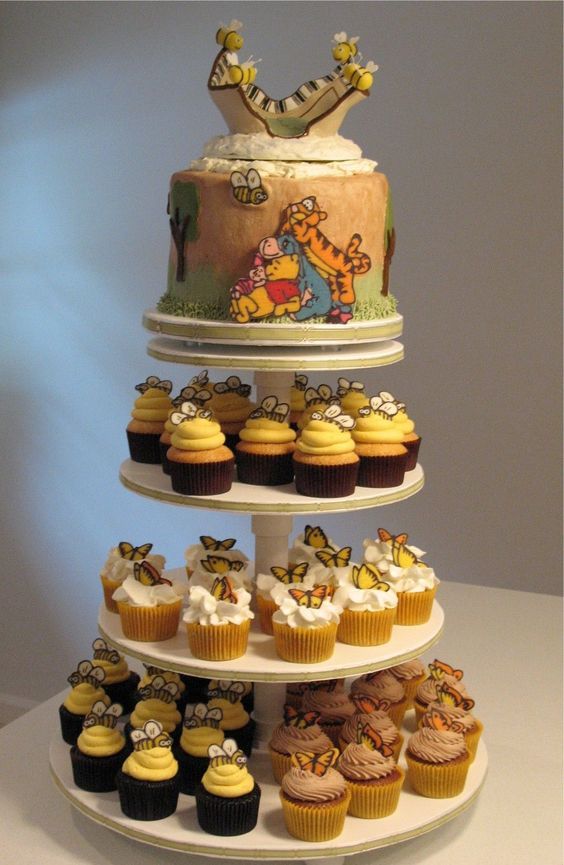 Bouquets of Flowers
Bees love flowers, bees make honey, Pooh loves honey… it just feels right! Put them in a cute keepsake vase for an even sweeter presentation
Burt's Bees Anything!
I am an avid believer in giving favors and baby shower prizes that people will actually want! These honey beeswax lip balms make awesome favors for your guests, while a gift set would make a great prize for winners of your baby shower games!
Share This Theme on Pinterest
Recreate This Classic Winnie the Pooh Baby Shower Right Now
This March, I threw a classic Winnie the Pooh baby shower for one of my best and oldest friends, and it was such a fun yet challenging theme to work with!
She isn't over-the-top girlie like I am, so right away I knew I wanted to do the Classic Winnie the Pooh theme and somehow create a dreamy little woodland.
My goal was to create something soft and neutral with a natural forest vibe, which is a lot harder than just an explosion of pink decor!
Turn on your JavaScript to view content
Classic Winnie the Pooh Baby Shower Details
Winnie the Pooh Art
Winnie the Pooh Art (map)
Wood stools
Frames
Winnie the Pooh games
Banner/Table tents: DIY
Bee cupcake topper
Cupcake stand
Honey combs
Greenery
Winnie the Pooh stuffed animal
Favor Jars
I spent time on Pinterest researching other Classic Winnie the Pooh Baby Shower ideas and bought and staged until I had just the right pieces.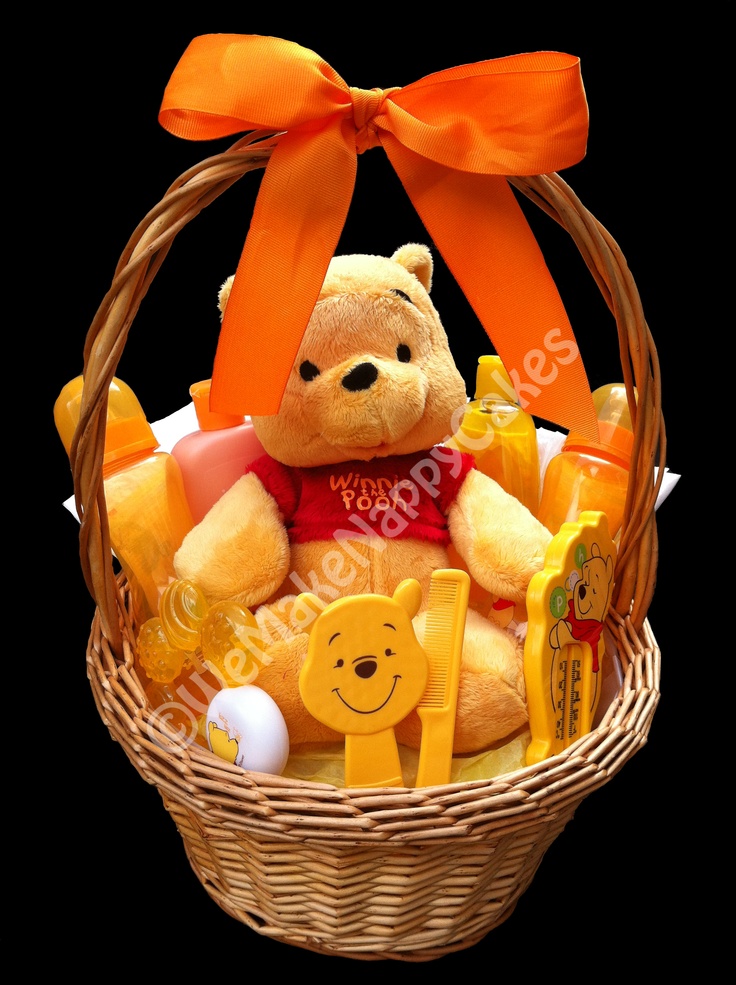 This is my preferred way of party planning so you know exactly what goes where and are never scrambling day-of.
---
RELATED POSTS YOU MAY LIKE
A Flamingo First Birthday Party That Wows
Pretty-in-Pink Tea Party Baby Shower
Rubber Ducky First Birthday Party
How to Throw a Diaper Party
---
Really, the key is just planning in advance and keeping things as simple as possible; that means food doubling as decor and not overextending yourself so you're prepping too many things last minute!
Classic Winnie the Pooh Baby Shower Decor Ideas
The key decor items were these Classic Winnie the Pooh art prints I framed at the table and this Winnie the Pooh map I framed and put at the bar with "Piglet's Punch" (i.e. the mimosas!).
I also got this cute Winnie the Pooh and set him up on this stool I found at Hobby Lobby.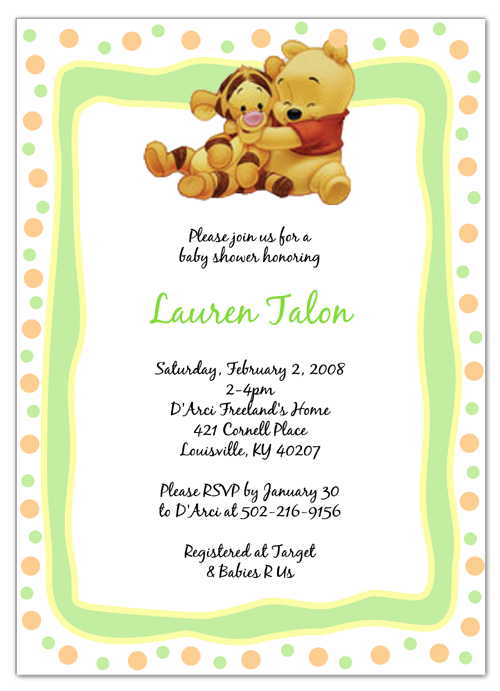 I always like to decorate with fresh flowers, so that was a no-brainer. But one of my favorite elements of the table are these green vines I picked up at Michael's; I intertwined fresh baby's breath the day of the party and it really brought the table setting to life.
Winnie the Pooh Food Signs
I hadn't planned on making the table tents or the banner myself, but after someone I was working with on Etsy completely vanished on me, I was in a total bind! I ended up creating these in Photoshop myself and it was way easier than I thought.
Classic Winnie the Pooh Baby Shower Menu
Rabbit's Garden (Veggies and dip!)
Fruit & Hunny 
Christopher Robin's Picnic (Postino's bruschetta!)
Tigger Tails (I made these the night before and they were quite tasty!)
And of course, cupcakes and mimosas and I had some pasta catered, too.
I am not very crafty so if I can pull off the Tigger Tails, anyone can! Here's how to do it:
Buy pretzel rods
Roll in Wilton candy melts which you can get at Michael's. Amazon also has them.
Drizzle the tails on after your first coat dries. That's it! Super easy and really tasty. 
I hope this Classic Winnie the Pooh Baby Shower inspires you for your own birthday or baby shower! I just love how neutral yet dreamy this theme is, don't you?
JavaScript is currently disabled in this browser. Reactivate it to view this content.
Winnie the Pooh Treat. A million dishes for family dinners. Best Recipes
Winnie the Pooh Delight. A million dishes for family dinners. Best Recipes
WikiReading
A million dishes for family dinners. Best recipes
Agapova O. Yu.
Contents
"Winnie the Pooh Treat"
Required: 2 eggs, 160 g flour, 250 ml milk, 1 tbsp. l. sugar, 250-300 g honey, 700 ml vegetable oil.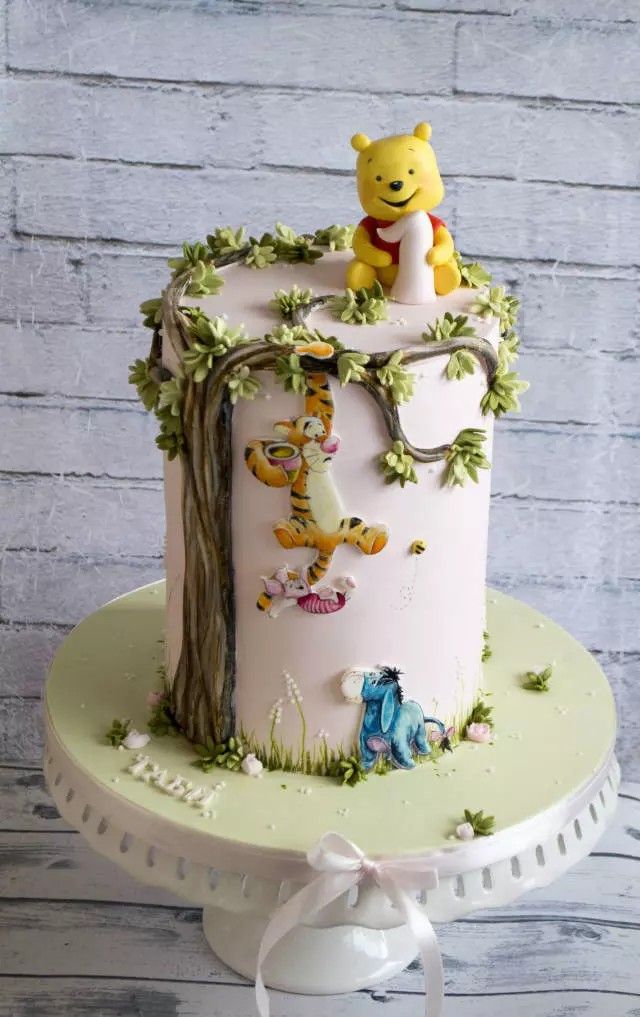 Preparation method. Pour the flour with milk and mix thoroughly. In the resulting mixture, add eggs, pounded with sugar. Knead the dough, in consistency it should resemble sour cream.
To make this recipe, you will need a special brush mold. Immediately before baking brushwood, heat the form in boiling fat and dip it into the dough. Then lower the mold into the hot fryer.
Put the finished brushwood on a sieve, dip the form into deep fat again, and then into the dough.
Coat finished products with honey and fold in pairs. Sprinkle with sugar or icing sugar before serving. The brushwood should be served hot.
This text is an introductory fragment.
Imperial Delight
Imperial delicacy 2 eggs, 175 g powdered sugar, 350 g ground almonds, 4 drops of vanilla essence, 1 tsp.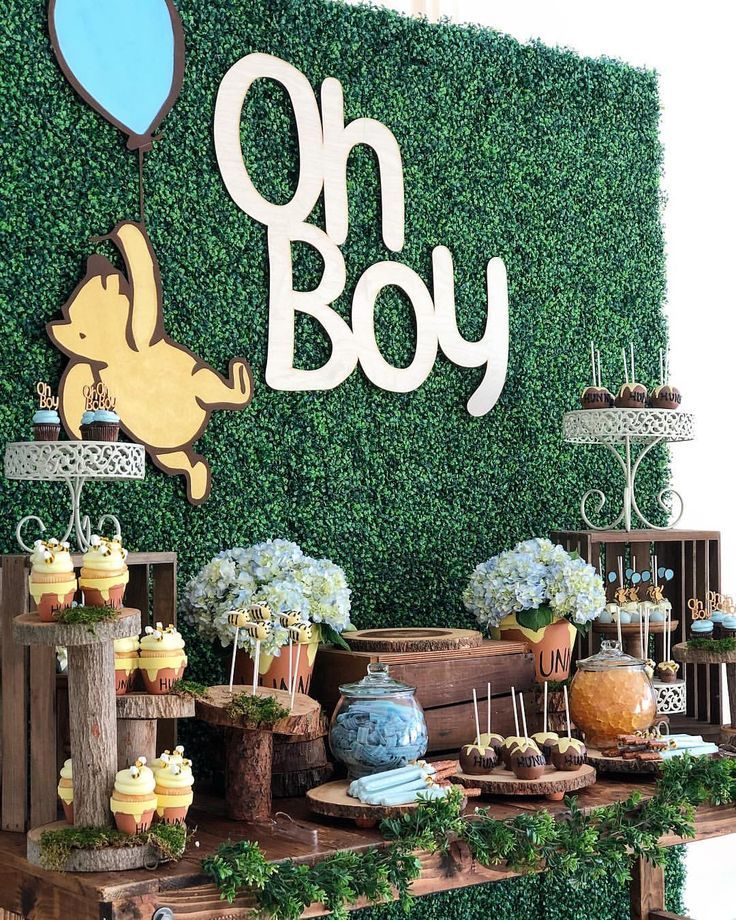 lemon juice. Marzipan is a stretchy mixture of powdered sugar and grated, powdered nuts, usually almonds. Lightly beat the eggs in a bowl. Mix sugar with
Squirrel Treat Biscuits
Biscuits "Squirrels delicacy" 100 g flour, 200 g hazelnuts, 50 g sunflower seeds, 150 g honey, 2 g vanillin, 90 g sour cream, 150 g sugar. Peel nuts, sunflower seeds, fry and pass through a meat grinder. Pour sugar into sour cream, beat well, add honey, vanillin,
Cheese with cranberry puree "Delicacy of Babylon"
Cheese with cranberry puree "Delicacy of Babylon" - 1 slice of any cheese 1.5 cm thick - 1 egg - vegetable oil, breadcrumbs and cranberry puree - to taste Dip a slice of cheese in a beaten egg and roll in breadcrumbs. Fry in a pan (better at
Pineapple Treat
"Pineapple Delight" We put 2 servings of different ice cream (50 g each) in a deep saucer, fill the gap between them with whipped cream.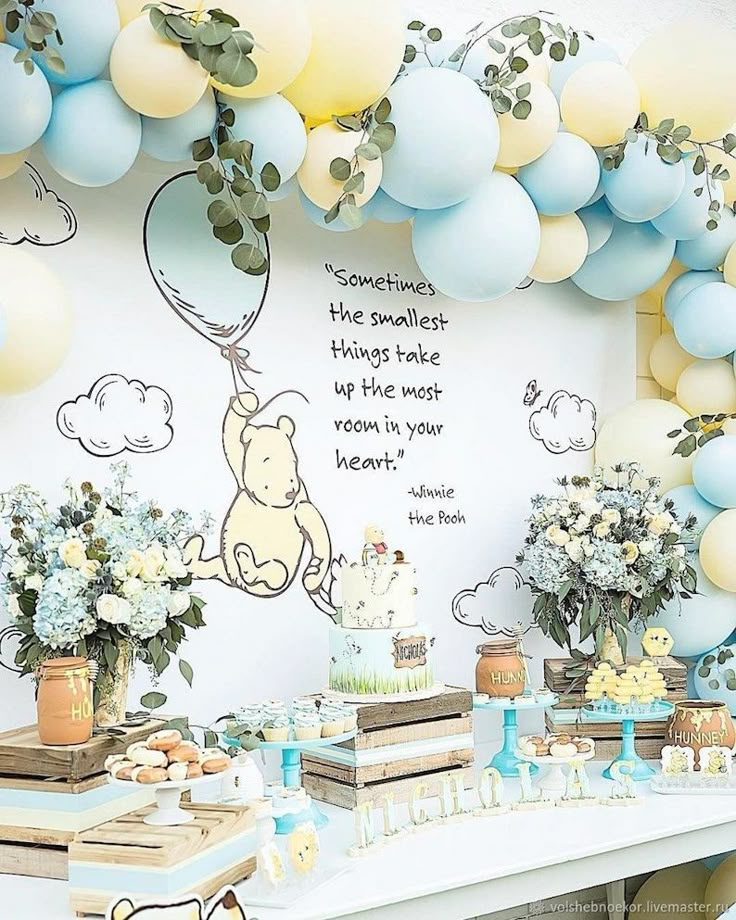 We cover all this with slices of pineapple and decorate each serving of ice cream with a rose of whipped cream and
Easter treat
Easter treat Put the freshest cottage cheese 2 kg under oppression, then rub it through a rare hair sieve. On a medium-sized form, put 4 whole eggs and 5 yolks, 4 tablespoons of non-acidic sour cream, 4 tablespoons of dissolved fresh butter and 10 pieces of sugar,
Liver stuffing with rice "Delicacy of the Argonauts"
Liver stuffing with rice "Delicacy of the Argonauts" Ingredients 500 g liver, 1 cup rice, 2 onions, 4 tablespoons lard or vegetable oil, 1/3 teaspoon pepper, salt. Chop onion and fry in lard or
ROYAL DELICIOUS SANDWICH
SANDWICH "Royal DEAL" Required: 5 slices of Borodino bread, 100 g of white wine, 100 g of butter, 100 g of cheese, pepper, 2 tbsp.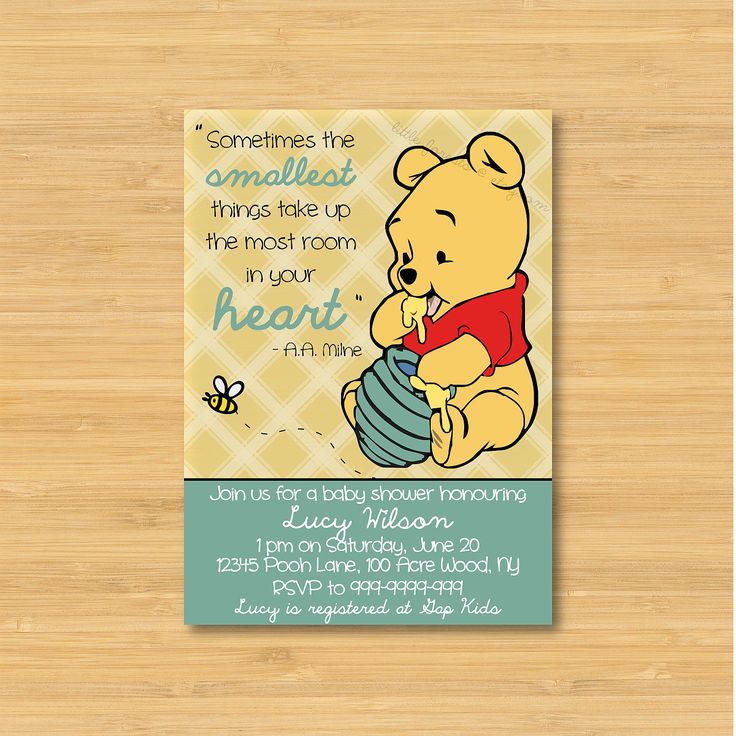 l. sour cream, salt, sugar. Cooking method. Soak the bread in wine, leave for 20 minutes, and then fry in oil. On cooled slices of bread
"DELICIOUS"
"DELICACY" Required: 300 g honey, 300 g sugar, 100 g almonds, 100 walnuts, 500 g flour, zest of one lemon, 1 tsp. cloves, 20 g of vodka. Method of preparation. Bring honey and sugar to a boil while stirring continuously. Mix nuts, lemon zest with flour, add all
Treats in a jar
Treats in the bank Place large tomatoes (in slices) in 3-liter jars and pour boiling water (not to the top), then put 200 g of finely chopped onion and 5 bay leaves, pour 2 tbsp. l. salt and pour 100 g of vegetable oil. Sterilize for 25 min. Roll up,
Hearty treat
heart treat Any doctor, even if he does not compose poetry in his spare time, will tell you: "The disease has two enemies - prunes and dried apricots.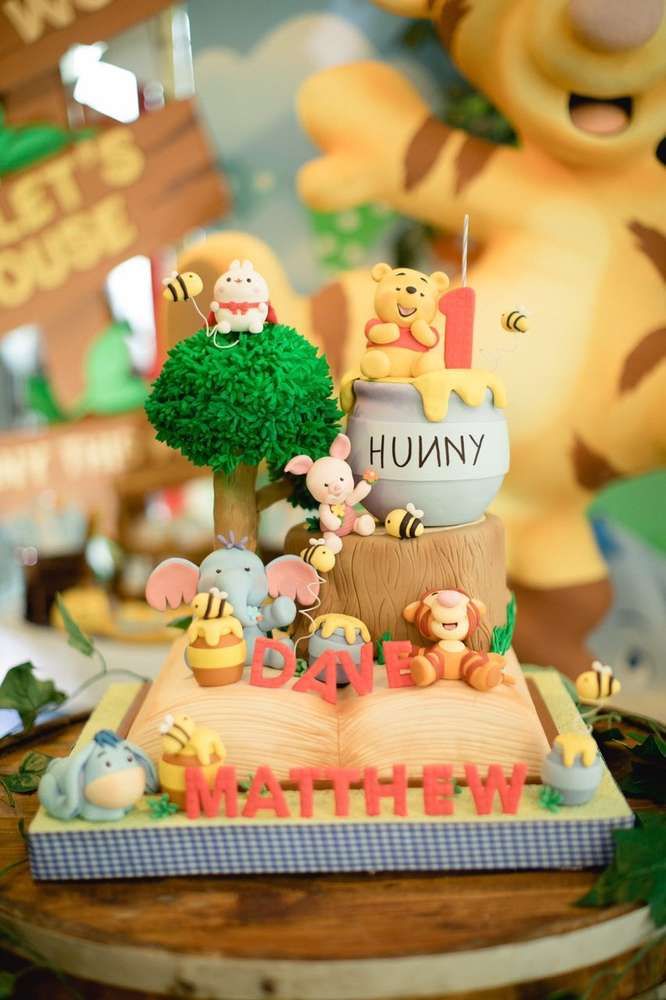 " We add: of course, there is a third enemy - raisins. This unique trinity resists many ailments, useful for saving
Canape "Winnie the Pooh"
Canape "Winnie the Pooh" Apple marshmallow - 50 g, marmalade - 100 g, banana - 100 g, chocolate sweets with dark filling - 100 g, coconut shavings - 20 g. Marshmallow, marmalade, banana are cut into circles. Candies are divided into 3 parts. They make canapes from the ingredients, pierce them with a skewer, decorate
Oriental Delight
"Oriental Delight" Ingredients 150 g rice, 150 g dried apricots, 50 g butter, 1/2 l fruit yogurt, 2 tablespoons sugar, cinnamon, 1 1/2 cups water. Method of preparation Rinse the rice well and boil in water until tender. Drain the remaining water and add to the rice
"Winnie the Pooh Treat"
"Winnie the Pooh Treats" Required: 2 eggs, 160 g flour, 250 ml milk, 1 tbsp.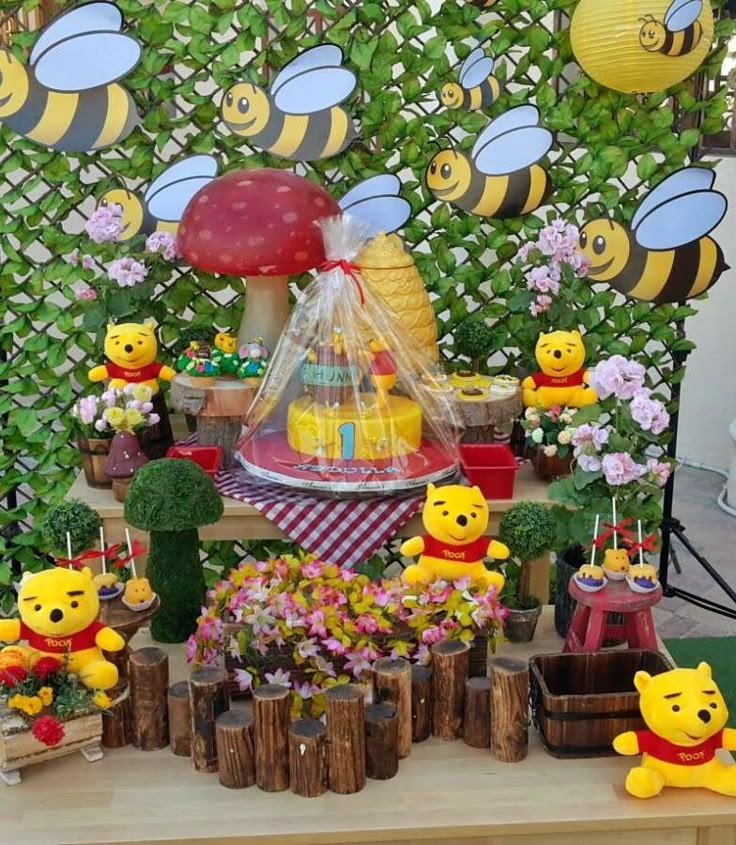 l. sugar, 250–300 g honey, 700 ml vegetable oil. Cooking method. Pour the flour with milk and mix thoroughly. In the resulting mixture, add eggs, pounded with sugar. Knead the dough, according to
Snow White's Treats
Pies "Snow White's Delicacy" Required: 3 cups flour, 350 g butter or margarine, 1 cup milk, 1 tsp. sugar, 1/3 tsp. salt. For the filling: 2 cups of cherries, 100 g of cottage cheese, 1 egg, 1 sachet of vanilla, 3 tbsp. l. sour cream, 1 tbsp. l. vegetable oil. Cooking method.
Magic Delight Salad
Salad "Magic delicacy" Required: 20 apricots, 200 g cottage cheese, 4 tbsp. l. chopped walnuts, 1 tbsp. l. honey, half a glass of cream. Cooking method. Cut the apricots in half and remove the pits. Take cottage cheese, rub it through a sieve, add nuts, honey, cream and
CARROT - GNOME TREATS
CARROT - A DELICITY OF GNOMS In the Middle Ages, carrots were considered a delicacy of gnomes - fabulous little forest men.
There was a belief: if in the evening you take a bowl of steamed carrots to the forest, then in the morning you will find a bar of gold instead of carrots. At night the gnomes will eat carrots and
Collection of children's poems about Winnie the Pooh
Bylina about how Winnie asked Rabbit for honey
From the village of Vinni-Pyatachkovo,
Yes from home, yes from small
Went out into the open field Winnie Pushenka,
Yes, he ran headlong to a friend, I will return the Rabbit
For honey for sweet, sticky, tasty,
To taste in the morning and early,
On an empty stomach, just eat before breakfast.
Here is Vinnyushka running across the open field,
Only green grass is crushed,
Our poor fellow stumbles over driftwood,
He runs into trees.
He finally got to Rabbit's friend
And let's ask without stopping:
"Rabbit, let the honey lick at least a drop:
After all, I didn't sleep all night, my stomach suffered
And I ran to you for honey, but for sweets.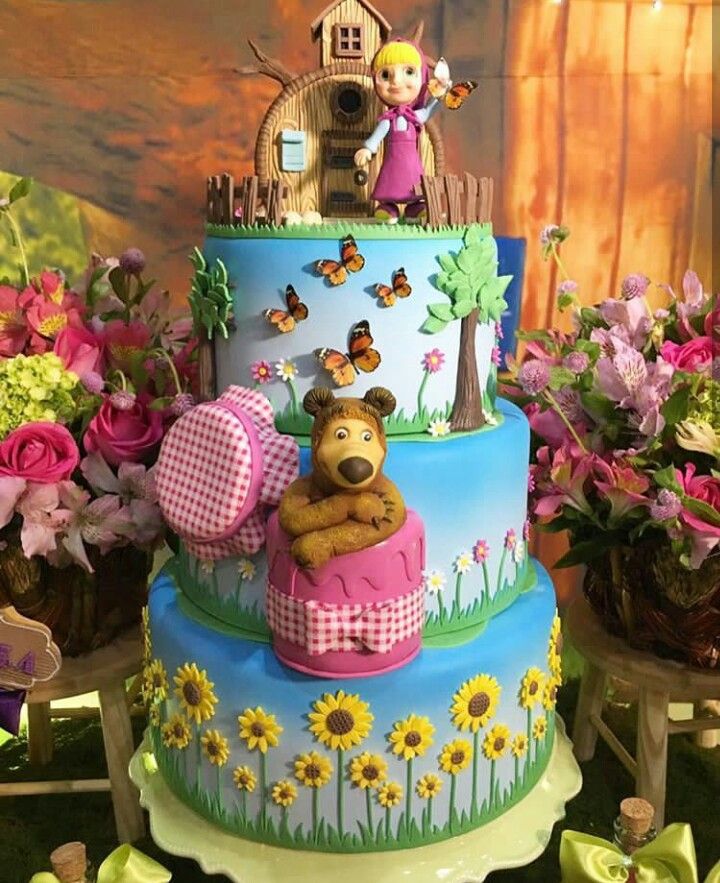 "
Here's the trouble! Rabbit Meat Cunning,
Prevents bear from licking honey,
He only mutters:
"Be economical, Vinnyushka."
"What are you, Rabbit, I'm economical:
I eat only half a bucket a day.
I used to eat a whole barrel."
"Think and forget you, Vinnyuk!
A piglet can feed you."
Yes, and then our plump friend ran to the little pig.
The name of that pig is Piglet.
Runs chubby across the clean field Vinnyushka.
He is on his way to Piglet, a faithful friend.
Piglet will never refuse him.
The poor fellow was emaciated, fell on the run.
But Winnin's request was small:
He asked for a jar of sweet honey.
Bear cub has no power,
There is no urine to rise, but on chubby paws.
So Vinnyushka lies in the open field.
And without honey, he can't get up.
Ulivanova Elena
In the head of my sawdust
There is sawdust in my head, no problem!
I'm a funny teddy bear, yes, yes, yes!
I am cheerful Winnie the Pooh,
I love to think out loud.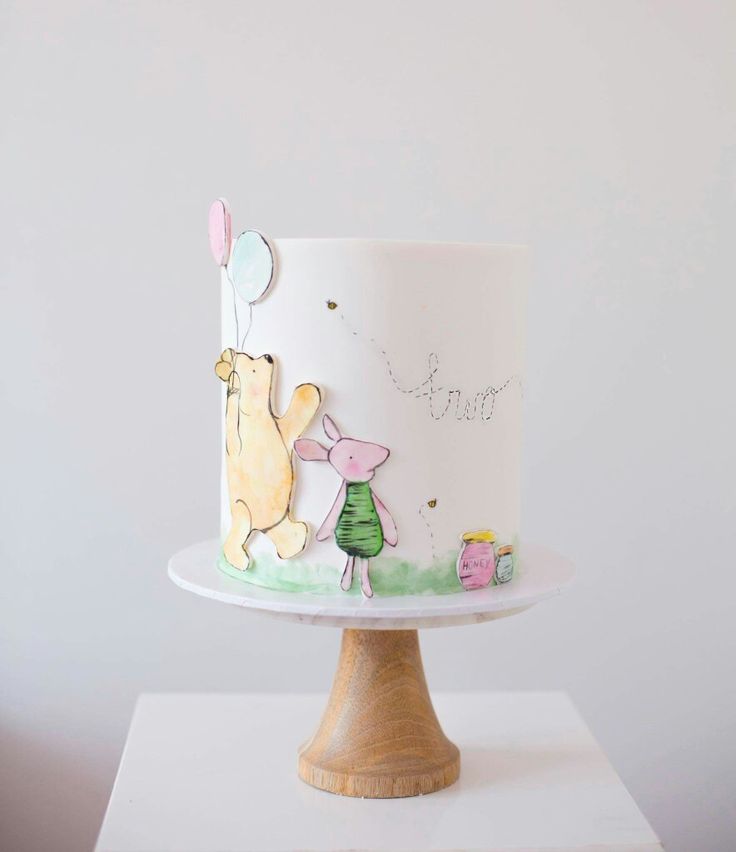 I'll count the pots,
I quickly eat honey.
(It is a pity that there is always little honey in pots)
Yes Yes Yes!
Winnie the Pooh and his friends
WINNIE THE POOH
I am a nice bear Winnie the Pooh!
Anyone will understand me:
So that my spirit is cheerful and cheerful,
I really need honey.
A pot of honey is a dream,
Alluring always.
Friends, go ahead, follow me, on a hike!
We will eat honey!
Piglet
How can I live, Piglet?
After all, everything in me trembles.
Behind me
My fear is always running.
Where should I go?
Where to hide in the forest?
After all, I'm always with me,
I carry it with me!
IA
I am a gray sad donkey.
My name is Ia.
I lost my ponytail.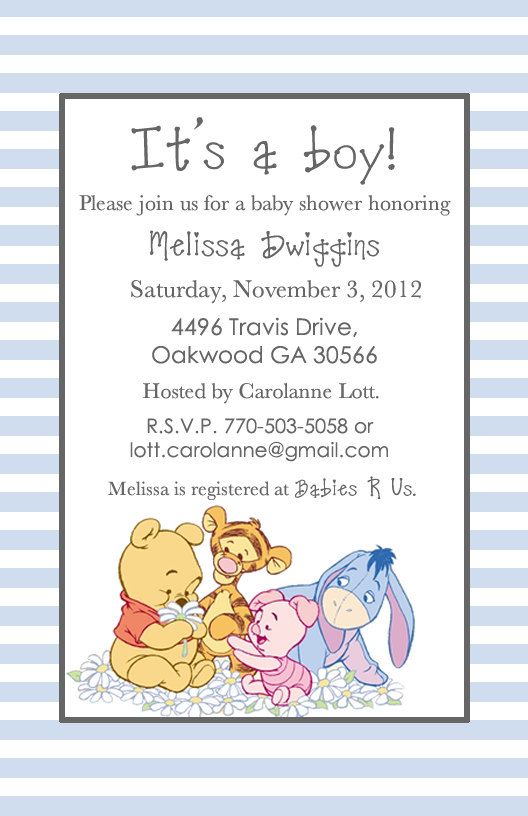 And barely alive.
Dejectedly I walk
Along the bank of the stream.
Nobody-nobody knows
Where do I put my tail.
RABBIT
I am the smartest Rabbit.
Envy, enemies:
Everyone in the forest has sawdust,
And I have brains.
I will educate you all,
I will teach everyone.
Why do I suffer myself,
I won't understand at all.
OWL
I am a very wise Owl:
I know all the letters.
Write messages and words
Friends call me.
I am always glad to help them:
I am writing diligently.
Well, the errors of the letter
Please do not notice.
TIGER A
Why are you sad, friends?
Let's jump together.
Laugh fun like me
Much more interesting.
Sad, gloomy day by day -
Unthinkable boredom!
Download fun like me
Life is a joyful thing!
KENGA AND RU
My mother and I are kangaroos together.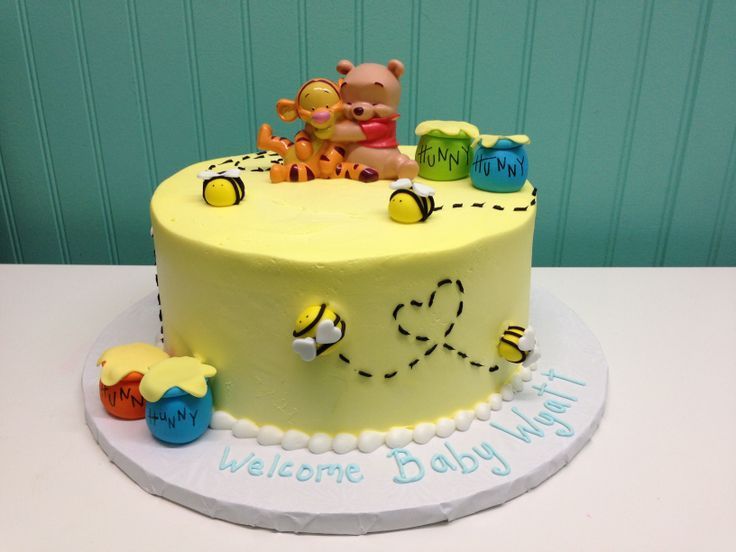 After all, Kang's mother,
And I'm Ru.
How glad we are that the kangaroo:
And Kang's mom,
And I am Ru.
CHRISTOPHER-ROBIN
I am passionate about my game.
My friends are with me.
In difficult moments sometimes
I help them.
They are naive and funny,
My friends.
But fairy tale world and dream world
Helped me find out.
Competent Noise Maker
It's good to be a bear, cheers!
It's good to be a bear, cheers!
I'll run...
(No, I will win!)
I will conquer both heat and frost,
If only the nose was smeared with honey!
I will win...
(No, I'll run!)
I will run any trouble,
If only all paws were in honey!..
Hooray, Winnie the Pooh!
Hooray, Winnie the Pooh!
An hour or two will fly by like a bird,
And it's time to refresh!
Snow Road Noise Maker
going forward
(Tirlim-bom-bom)
And it's snowing
(Tirlim-bom-bom)
Even though we really-
Not on the road at all!
But only here
(Tirlim-bom-bom)
Say, from-
(Tirlim-bom-bom)
Say, from-
Why are your feet so cold?
There lived a cheerful Winnie the Pooh!
There was a cheerful Winnie the Pooh!
Not burdock, not burdock,
Not a hare, not a calf,
Just a cute teddy bear!
Early in the morning in the morning
He always went to the pond,
Dressed, washed,
I brushed my teeth and took a bath.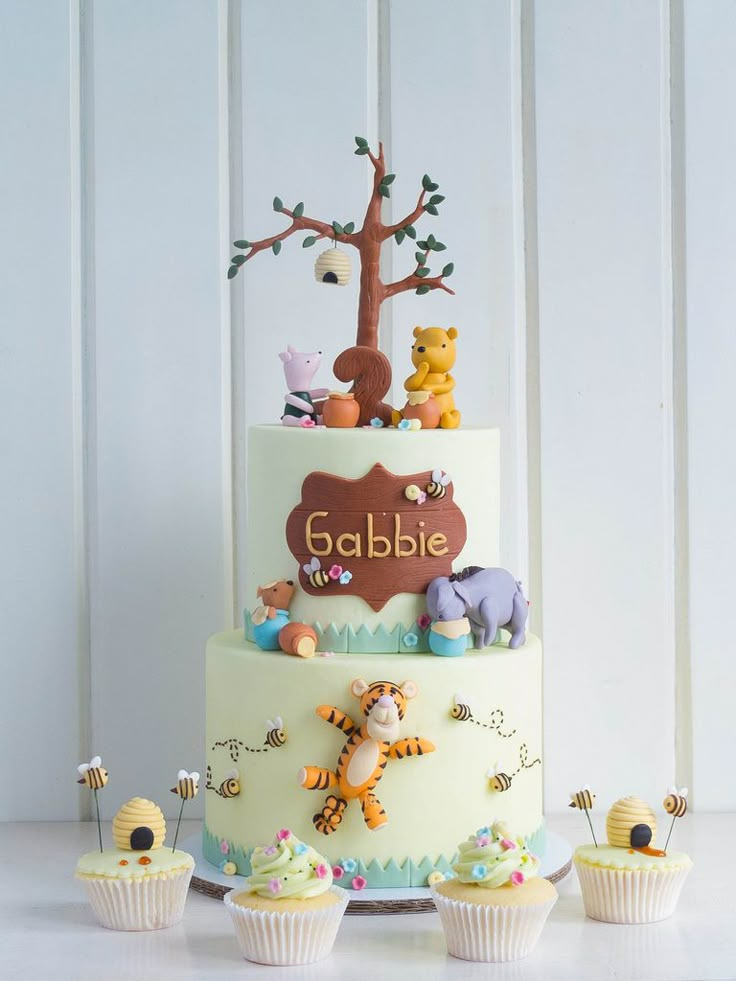 Ate very well,
Breakfast - honey, banana, egg,
For lunch - compote, cottage cheese.
Dinner is an apple pie.
He had friends -
Donkey, Rabbit and Owl,
Squirrel, Elephant and Raccoon
Kangaroo, Behemoth.
Winnie the Pooh loved friends,
Helped, pitied, reconciled,
If someone suddenly mope,
He treated them with tea with honey.
If a friend is in trouble,
Winnie the Pooh was the first to run,
Helped and rescued,
Defended from enemies!
He invents forever,
All sorts of funny meetings,
Composing as he goes,
And play with friends.
Here is such a Winnie the Pooh.
The best friend in the world!
He is going to bed now
Well, it's time for us to go to bed.
Mitrich
Mysterious Noise
Again I can't understand anything,
My sawdust is in disarray.
Everywhere and everywhere, again and again
Mysteries surround me.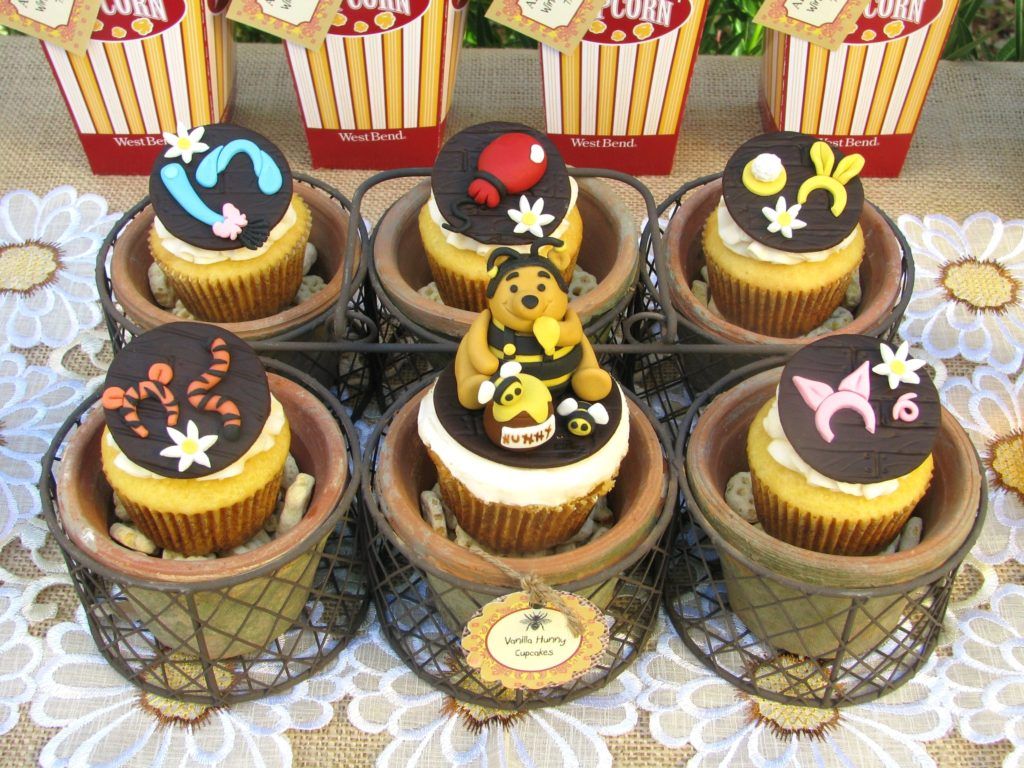 Let's take this very word "again".
Why do we pronounce it,
When we could calmly say
"Osix" and "eight" and "eight"?
The bookcase is silent, the ottoman is also silent -
You won't get an answer from them,
Why is this hta- necessarily that one,
And the zherka, as a rule, is this one!
"The dog bites"... Well, it doesn't matter.
Mysterious is that dog,
Although he bites, he never
However, he does not bite himself...
Oh, if only I could understand all this,
Sawdust would come in order!
And that is mysterious to me! - want to sleep
From all these Difficult Riddles!
Expeditionary
All went to EXPEDITION
(including me),
Owl and Roo and Rabbit,
And all his family!
All our ISKPEDITION
Wandered through the woods all day,
Looking for ISKPEDITION
Everywhere the road to the pole.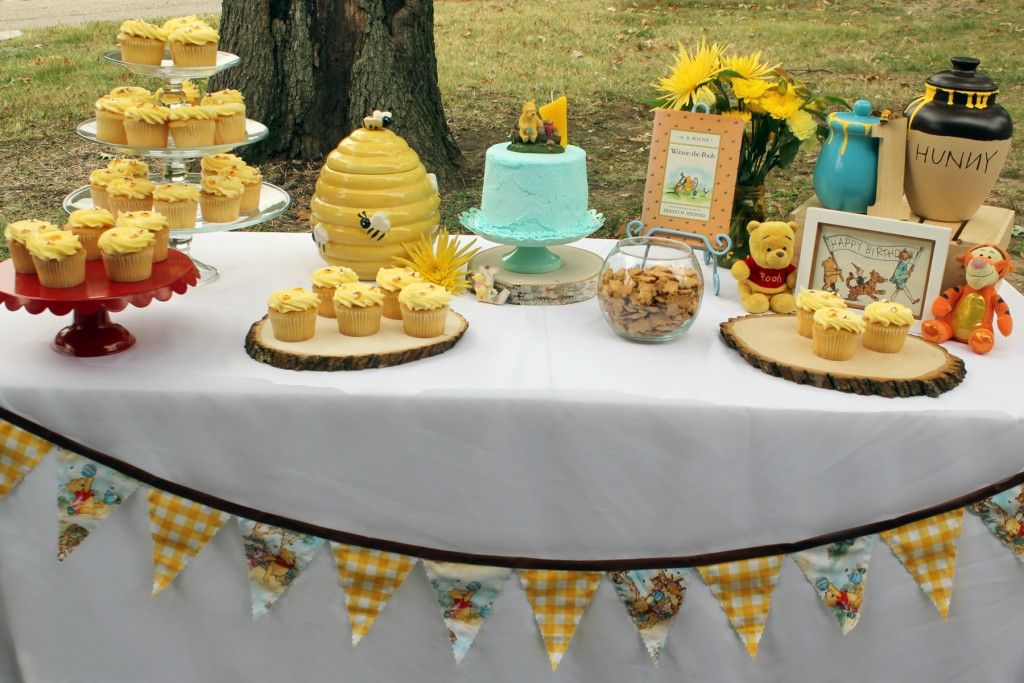 .