8 month baby weight gain foods
Best Weight Gain Foods for Babies and Toddlers
By Min On , Updated
This post may contain affiliate links. Please see our disclosure policy for more details.
Share or Save It for Later!
Here are the top foods to help your baby or toddler gain weight. All of these are high calorie whole foods that can be easily added to your child's food to make it more filling and delicious.
Jump to:
Does your child need to gain weight?
Best Solid Foods for Babies to Gain Weight (6 months and up)
Weight Gain Foods for one year old and beyond
Nutrition Supplement for Weight Gain
Tips for Adding High Calorie Foods
High Calorie Baby Food Recipes (and for toddlers)
Does your child need to gain weight?
First, it's important to determine if your child is indeed underweight and in need of intervention.
There are so many factors that influence how your child grows, such as genetics (that's a HUGE one), nutrition, environment, and activity.
So when you find yourself comparing your child with how other babies are growing, please remind yourself that every child is unique. Healthy babies come in all shapes and sizes.
If your child is in the 10th percentile, this doesn't mean they're doing better or worse than your friend's child who is in the 70th percentile. 
You can rest assured that your child is getting adequate nutrition and growing properly if they're maintaining a usual and predictable pattern of growth on the curve.
On the other hand, if you start to see flattening of the curve or dips, or your child seems to always be hungry, these high-calorie, high-fat foods will help them with healthy weight gain.
Top Foods for 8 Month Old
Best Solid Foods for Babies to Gain Weight (6 months and up)
Breast milk and/or Infant Formula
Avocado
Banana
Beans
Beef
Butter *
Chicken thighs or drumsticks
Coconut
Eggs *
Full-fat Dairy products * (whole milk, cheese, yogurt, cream cheese, sour cream, cottage cheese, etc. )
Lentils
Peanut Butter *
Nuts *
Nut or Seed Butter * (e.g. almond, cashew, pumpkin seed, sunflower seed)
Oils (avocado, olive oil, sesame oil *)
Potatoes (both white and sweet potato)
Whole grains, like Quinoa
Salmon *
Sardines *
Seeds (hemp, chia, sesame, pumpkin, or flax seeds *)
Note: Foods with * by them are one of the top allergens. When first introducing, be sure to serve a tiny amount.
Weight Gain Foods for one year old and beyond
Continue serving all of the foods listed above. However, you may find that it's becoming more challenging to feed your toddler who seems to be showing less interest in eating and displaying picky eating tendencies.
Be sure to read my top foods for 1 year old post to better understand and help navigate through this tricky feeding phase.
My top tips for feeding your underweight child is:
Make every effort to include high-calorie, high-fat foods as much as possible
You might be tempted to offer high calorie foods, like ice cream, soft drinks, juice, pizza, milkshakes, etc. And while it might add a few pounds to your child, those foods will not provide the nutrients they need for healthy growth.
Instead, focus on serving nutritious meals with essential nutrients. You want to add extra calories not empty calories.
Feed them every 2-3 hours.
If your child doesn't eat much during mealtimes, you may consider providing up to 3 snacks, including a bedtime snack for additional calories.
Consider snacks as mini-meals so your child gets up to 6 eating opportunities to consume adequate calories and nutrition.
Don't pressure them to eat - it will only backfire and can actually shut down their appetite.
Here are some specific tips on how to help your underweight child.
Nutrition Supplement for Weight Gain
Many families turn to these as they are a convenient way to boost calories and nutrients to support weight gain. My personal recommendation is to focus on food first.
However, if your child is really struggling, then talk to a dietitian or health care provider to find the type that is most appropriate for your child.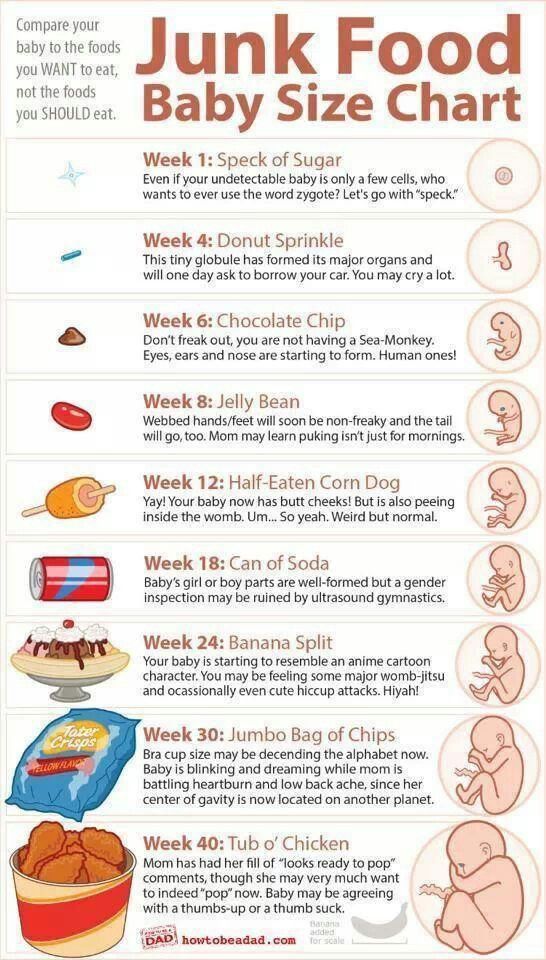 Tips for Adding High Calorie Foods
Babies and toddlers have small tummies so it's important to try to make every bite count with healthy fats and important nutrients.
But this doesn't mean you have to spend all of your hours and energy in the kitchen.
Here are some super easy ways to help your baby gain weight.
Yogurt with

hemp seeds and banana
mashed avocado and chia seeds
peanut butter and cooked quinoa
flaked salmon or sardines

Toast with

mashed beans and tahini
almond butter, banana, and unsweetened coconut flakes
mashed avocado and hemp seeds

Oatmeal or lentils with

hummus
mashed avocado and beans
eggs and sweet potatoes

Mashed potatoes or sweet potatoes

with butter and cheese
with minced chicken or beef and yogurt
added as a quesadilla filling with cheese

Eggs

fried in olive oil
scrambled in butter with quinoa
scrambled egg avocado sandwich

Smoothies with avocado, peanut/nut butter, seeds, milk, or yogurt
Cook vegetables in extra oil, butter, tahini, etc. You can also serve them with high-calorie dips like nut butters, yogurt, guacamole, bean dips, etc.
High Calorie Baby Food Recipes (and for toddlers)
In addition to the simple ideas above, here are some actual recipes that can help your child gain weight while learning to enjoy a wide variety of flavors and textures.
Breakfast
Single Serve Chia Puddings for Babies and Kids
Single serve chia seed pudding for babies 6 months and up is the perfect make ahead breakfast or snack that you can whip up in under 5 minutes!
Get the recipe
Healthy Sweet Potato Cookies
These super moist sweet potato cakes made with just 5 simple ingredients, including chickpeas, oats, and chia seeds, are perfect for babies and toddlers.
Get the recipe
Peach Banana Smoothie
Creamy and perfectly sweet, this 5-minute, high-protein peach banana smoothie is the perfect breakfast or snack for the whole family!
Get the recipe
Banana Overnight Oats
These banana overnight oats are a perfect make ahead breakfast or snack option for babies, kids, and adults alike!
Get the recipe
Peanut Butter Chickpea Cookies
Made without flour and sugar, these peanut butter chickpea cookies are so easy to make with just 5 ingredients.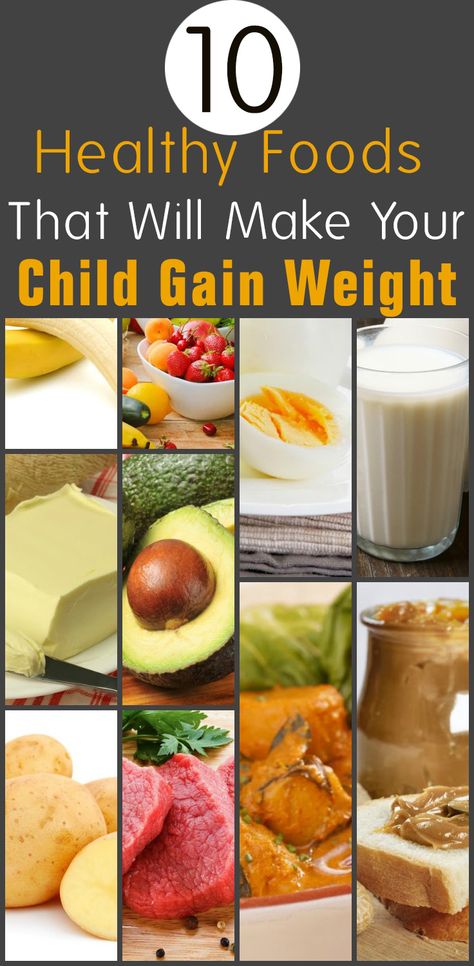 Get the recipe
Healthy Yogurt Muffins
Light, fluffy, and incredibly moist, these whole wheat greek yogurt muffins are made with just a handful of ingredients and can be flavored in so many ways!
Get the recipe
Banana Peanut Butter Sandwich
Invite fun and variety into the classic banana peanut butter sandwich by grilling and adding unexpected but delicious ingredients that kids and adults will enjoy!
Get the recipe
Green Smoothies for kids
These healthy green smoothies for toddlers and kids are super easy to make and can be enjoyed as a quick breakfast or snack.
Get the recipe
Peanut Butter Cheerio Cereal Bars
These no-bake peanut butter cheerio bars are so easy to make with pantry ingredients! They are the perfect breakfast or snack for kids.
Get the recipe
Vegetable Omelette
Nutritious and easy to make, this baby-friendly omelette made with whatever veggies you have on hand is the perfect breakfast/snack for babies and toddlers!
Get the recipe
Healthy Banana Recipes for Babies and Kids
Transform plain ol' banana with these super fun and easy breakfast or snack ideas that you can make with your child!
Get the recipe
Healthy Zucchini Oatmeal Breakfast Cookies
These zucchini oatmeal cookies are so easy to make with wholesome, minimal ingredients and no added sugar!
Get the recipe
Carrot Cake Oatmeal Smoothie Bowl
Loaded with nutrition, this carrot oatmeal smoothie bowl is the perfect veggie smoothie (but thicker!) for babies, kids, and adults!
Get the recipe
Vegetable Waffles with Peanut Butter
EASY to make, healthy peanut butter vegetable waffles for babies and kids! A great way to enjoy more protein, fat, and veggies for breakfast.
Get the recipe
Lunch
Vegan vegetable quinoa muffins
Made with healthy ingredients like broccoli, carrots, and quinoa, these egg and dairy-free vegetable muffins with quinoa are perfect for baby led weaning and school lunchboxes.
Get the recipe
Chickpea Patties (gluten free)
These flavorful chickpea patties with quinoa are easy to make with simple pantry staples. Shape them into patties or even nuggets
Get the recipe
Scrambled Egg Sandwich
Making a scrambled egg sandwich isn't hard. But here are some simple tips to take this iconic breakfast to the next level!
Get the recipe
Chicken pesto flatbread pizza
This pesto flatbread pizza is the perfect busy weekday meal! It can be on the table in under 20 minutes with minimal effort and ingredients.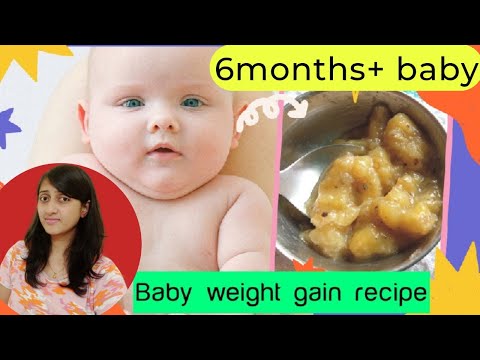 Get the recipe
Omelette Pizza
Pizza eggs - your favorite pizza toppings, flavorful sauce, protein-rich eggs, and cheese all cooked to perfection in one pan. Enjoy for breakfast or any time of the day!
Get the recipe
Hummus Grilled Cheese
10 minutes is all you need to whip up this exciting twist on a kid favorite lunch - grilled cheese. The simple addition of hummus will amp up flavor and nutrition.
Get the recipe
Easy Salmon Bean Salad
This mayo-free, refreshing yet hearty salmon bean salad couldn't be easier to make! You can serve with crackers, vegetables, bread, salad, cheese, or whatever you fancy!
Get the recipe
Curry Chicken Avocado Salad
EASY, healthy curry chicken salad with avocado and vegetables for babies, kids, and adults! It's high in protein and perfect for a quick lunch at home and school lunchboxes.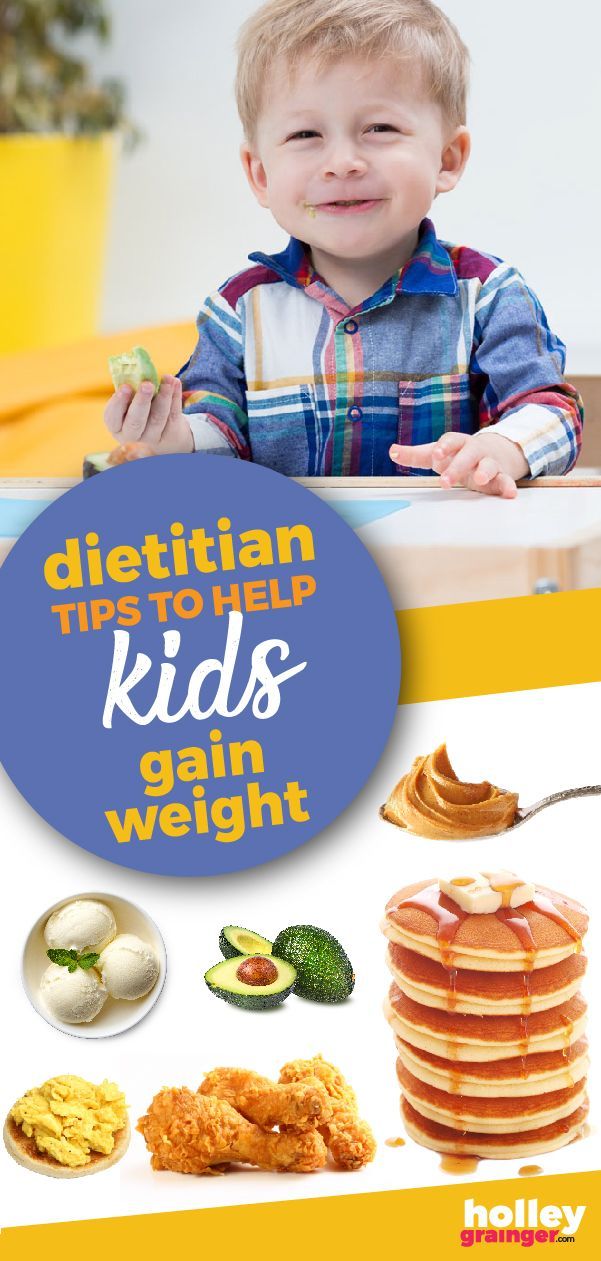 Get the recipe
Healthy Beef Meatballs
These healthy beef meatballs are made with just 5 simple ingredients and are egg free and dairy free. Tender and flavorful, these are perfect for babies and kids of all ages!
Get the recipe
Mini Shepherd's Pie Muffins
A quick and easy, baby and kid-friendly twist on an Irish classic comfort food, these mini shepherd pie muffins are filled with beef, vegetables and topped with creamy mashed potatoes
Get the recipe
Dips
Zucchini Pesto with Almonds
Upgrade pasta with this simple and healthy zucchini pesto. It is light and creamy and can be ready in 15 minutes!
Get the recipe
Beetroot Pesto Pasta Sauce
Made with simple, wholesome ingredients, this beetroot pesto comes together in minutes and makes for the perfect pasta sauce for babies, kids, and adults!
Get the recipe
Broccoli Hummus Dip
If your child won't eat broccoli or you've been looking for different ways to serve it, give this hummus a try! It's also a great way to pack in a lot of nutrition for babies and kids.

Get the recipe
Pumpkin Seed Spinach Hummus
this spinach hummus with pumpkin seeds instead of tahini is a healthy snack or meal for babies and toddlers. It is so versatile and here are some ways to serve it to your family.
Get the recipe
3 Ingredient Thai Peanut Coconut Sauce
Made with just 3 ingredients, this Thai peanut sauce with curry paste and coconut milk is a great way to introduce spicy flavor to babies and kids.
Get the recipe
Creamy Roasted Cauliflower Dip
This creamy roasted cauliflower dip made with an ENTIRE head of cauliflower, tahini, and milk is super simple to make, delicious, and versatile. It will be an AWESOME way to make veggies exciting for kids!
Get the recipe
Beetroot Dip with chickpeas
4 nutritious ingredients, a food processor/blender, and dippers are all you need for this smooth, creamy, and vibrant beetroot dip for babies and toddlers!
Get the recipe
Diner
Easy Bolognese with Vegetables
This kid-friendly veggie-loaded meat sauce with ground beef and medley of vegetables is hearty, filling, and nutritious! 
Get the recipe
Instant Pot Peanut Chicken and Broccoli
Another EASY, 30 minute weeknight meal you can enjoy with your baby and kids! This Instant pot chicken and broccoli is also a great way to continue exposing your child to one of the top food allergens, peanuts.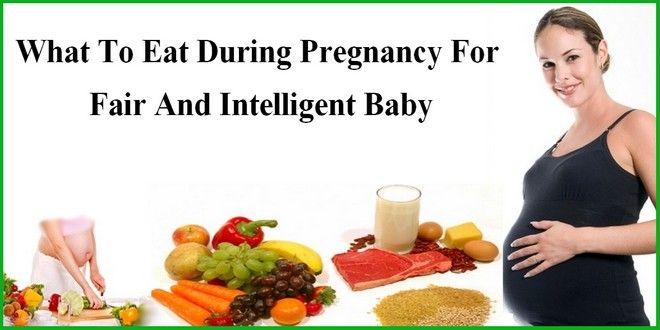 Get the recipe
One Pot Creamy Broccoli Pasta
In need of an easy weeknight dinner? 15 minutes is all it takes to make this healthy one pot creamy broccoli pasta
Get the recipe
No stir Quinoa Risotto with Mushrooms
This 30 minute mushroom quinotto or quinoa risotto is much easier to make compared to traditional risotto and requires zero stirring!
Get the recipe
Vegetarian Sweet Potato Lasagna with Quinoa
This vegetarian sweet potato lasagna with quinoa requires no boiling of noodles and assembly couldn't be easier!
Get the recipe
Thai Red Curry Pasta
20 minutes and a handful of pantry items are all you need to whip up this super easy vegetarian Thai red curry pasta with vegetables.
Get the recipe
Pizza Casserole with Couscous
this pizza casserole is not only quick and easy to make but also nutritious, with ingredients like chicken, whole wheat couscous, and spinach!
Get the recipe
Beef Stuffed Shells with Veggies
These stuffed shells with ground beef and vegetables are a hearty make ahead dinner or freezer meal for the whole family to enjoy!
Get the recipe
Vegan African Peanut Stew
This vegan African peanut stew is rich and flavorful and uses staple pantry ingredients. Made in one pot, requires minimal prep work, loaded with nutrition - It's an easy family meal! 
Get the recipe
Chicken Spinach Quinoa Casserole
A baby and kid-friendly comfort meal you don't want to miss! This chicken spinach quinoa casserole with black beans is super easy to make and loaded with iron and protein.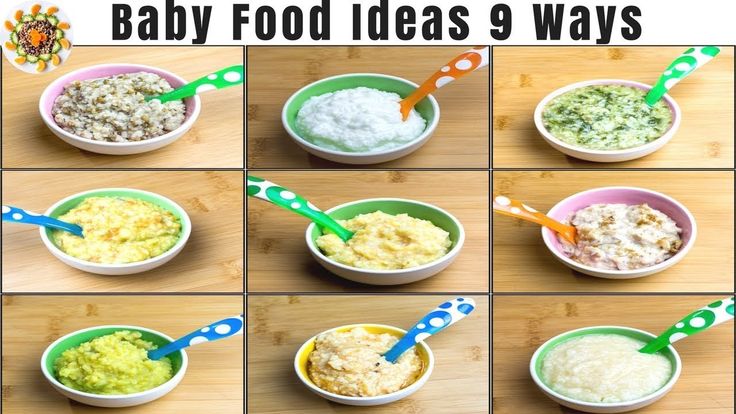 Get the recipe
Low Sodium Baked Spaghetti Pie
Baked spaghetti pie with ricotta that's healthy and easy to whip up. It's the perfect comfort food recipe for the entire family!
Get the recipe
Instant Pot Korean Chicken and Potatoes
If you're in need of a quick and easy weeknight family meal, here's an Instant Pot Korean chicken and potatoes recipe that everyone, including babies, will enjoy!
Get the recipe
Do you want to minimize picky eating and set a solid foundation for a lifetime of healthy eating habits?
Check out this 3 month mastering self-feeding program! It's the closest thing to me being in your kitchen
Share or Save It for Later!
Share: [addtoany]
About Min
Thank you so much for stopping by! I am Min, a Registered Dietitian, a Christ follower, a wife, and a mom to our two miracle babies! Currently, I'm having a ton of fun feeding their tummies and sharing our baby led weaning journey! Follow me on Instagram if interested in seeing daily menu as well as tips and tricks.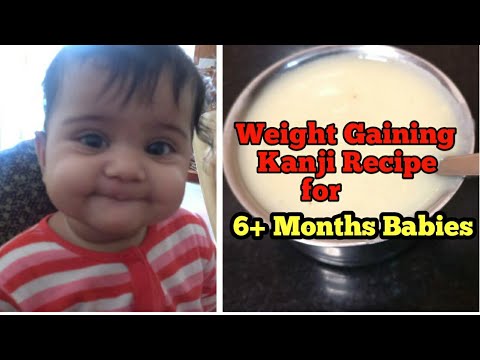 Reader Interactions
The Best Foods for Your Baby to Gain Weight
It's hard to imagine that your little one could be any cuter — but you might be wondering whether they're growing as fast as they should.
If you're worried that your baby might weigh too little, bear in mind that newborns normally lose 3–7% (and up to 10%) of their birth weight in their first few days of life, which they regain by about the end of their second week (1, 2, 3).
Until they reach the 6-month mark, infants should gain about 1 pound (0.45 kg) or more each month. They should weigh about triple their birth weight around the end of their first year (1, 2, 3).
Keep in mind that these numbers are averages, and a healthy baby may have different weight gain numbers depending on their birth weight, rate of linear growth, and other factors.
You can ask your baby's pediatrician about weight gain at any time, such as at their well-baby exam.
If you and your healthcare practitioner have ruled out medical reasons for your baby's slow weight gain, such as heart or digestive issues, consider feeding them calorie-dense whole foods.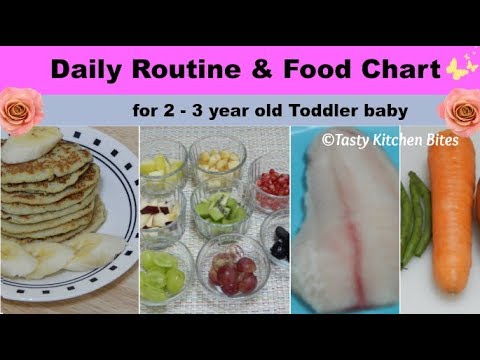 These may encourage healthy weight gain (4).
Here are the 7 of the best foods to help your baby gain weight. We've grouped them below by age group.
A baby under 6 months that's putting on less weight than average can be troubling. Since all or most of their calories at this point come from breastmilk, formula, or both, what you can control right now is how often they feed and whether they're getting enough (4).
1. Breastmilk or infant formula — often and enough
Breastfed newborns will feed every 2–3 hours, so account for 8–12 or more feedings per day for the first 4 months.
Be sure to let your infant fully empty your breast. One reason this is recommended is because hindmilk, which comes out last during a feeding, may be richer than foremilk, which comes out first.
Let your baby feed fully, until your breast feels very soft. This will ensure they're getting all the milk available, and it sends your body a message to make more.
You can try consuming foods that are thought to increase breastmilk production.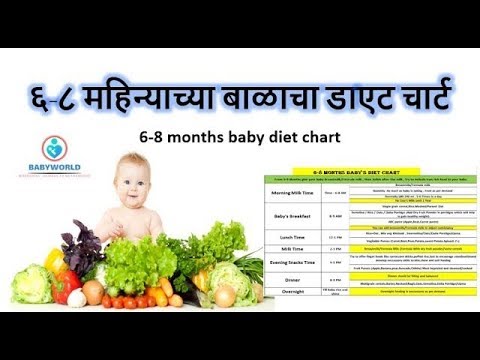 These include lactation teas or bars with fenugreek, blessed thistle, or fennel. Oatmeal and dark beer may also help. Still, more research on these solutions is needed (5).
Additionally, avoid wearing tight-fitting bras or tops.
Until your baby begins solid foods, they will not need to drink water. Offer them breastmilk or formula instead to maximize the number of calories you're getting into their tiny tummies.
Your doctor may also ask about any latching issues and investigate any underlying medical issues that may affect your baby's nutrient absorption or metabolism at this age.
Speak with a pediatrician for guidance if you're considering whether to supplement breastfeeding with formula or wondering which formula to choose.
These choices are complicated and depend on many personal factors, and a doctor can help you make informed decisions. You may also consider talking with a lactation consultant.
Most babies will start to show readiness to eat solid foods around the 6-month mark.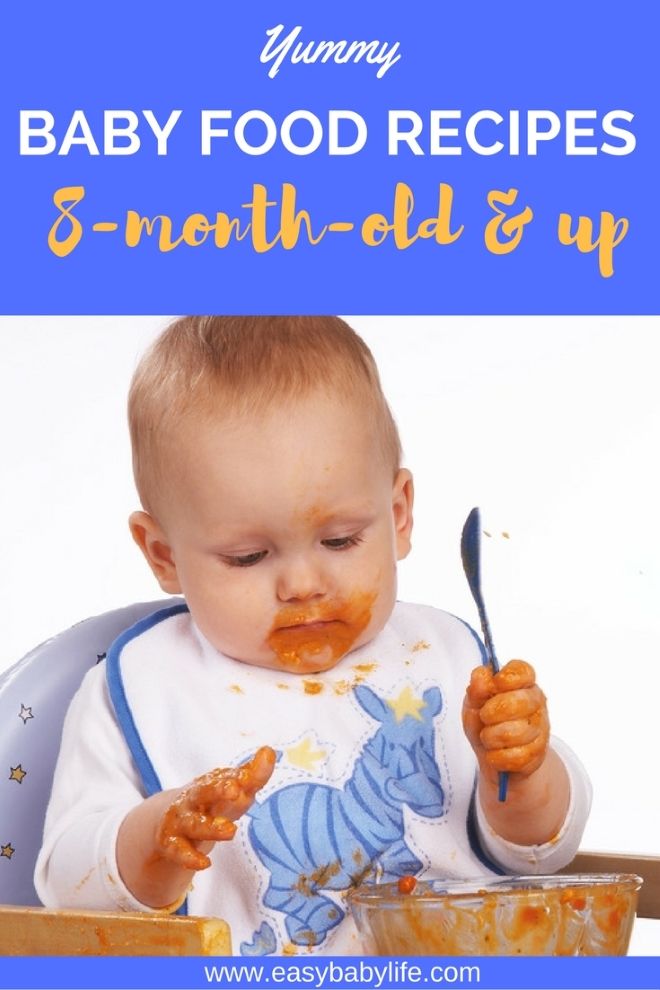 Speak with your healthcare professional about when to start your baby on complementary solid foods.
2. Avocado
Whether you're taking a baby-led weaning approach, a more traditional puréed foods style, or a combination of the two — avocado is a great transitional food for babies starting on solids.
What's more, avocado's healthy fats and relatively mild taste make this a great food for when you're trying to get your baby to gain weight (6, 7).
Mash it up or serve it in thick spears. You can also add it to other foods, such as rice cereal or another fruit.
It's a good idea to introduce new foods one at a time. This way, if your child has any sort of allergic reaction, you have a better sense of what might have caused it.
3. Oatmeal
Oatmeal cereal is another wonderfully rich food that's easy to add to your baby's diet.
To make it, blend plain oats cooked in water, adding water as needed to achieve a soupy texture. To make it heartier, cook and thin out the oatmeal with formula or breastmilk instead.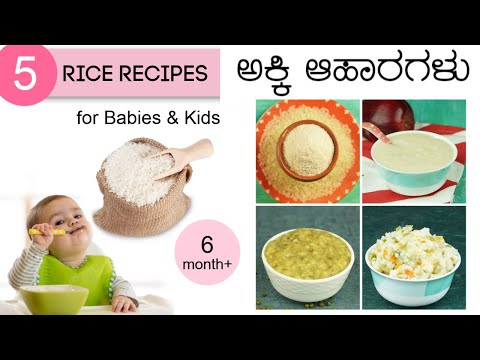 Gradually thicken it as your baby gets more comfortable.
Oatmeal packs lots of fiber, including beta glucan, which is one form of soluble dietary fiber. It promotes the growth of your baby's beneficial gut bacteria and may encourage bacterial diversity in the gut (8).
What's more, oatmeal is fairly neutral in taste, which makes it easy to combine with other hearty, healthy foods. For instance, you can spoon in puréed fruit and cinnamon for more flavor.
Avoid honey
Be sure to never feed a baby under 1-year-old honey, as doing so can put them at risk of botulism and pose a choking hazard (9).
4. Peanut butter
Peanut butter packs protein and fats — both of which can encourage weight gain in your baby.
Keep in mind that peanuts are one of the 8 allergens that can cause the most serious allergic reactions in the United States (10).
The latest evidence supports feeding infants as young as 6 months foods that commonly cause allergies. This includes peanuts.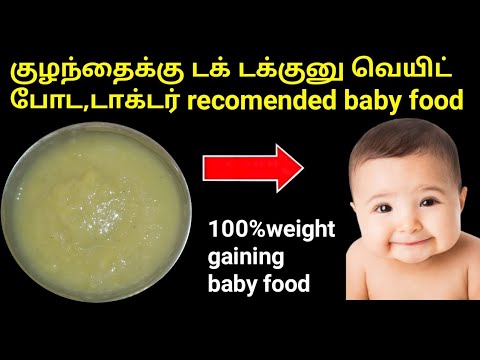 Research suggests this approach may actually help prevent allergies from developing (11, 12).
You'll want to introduce allergenic foods methodically, always one at a time and introducing new, higher-risk foods at least a week apart.
It's important to feed these to your baby on a regular basis — always watching for signs of allergies, including hives, redness around the mouth, or wheezing. If this occurs, seek medical help immediately (11, 12).
Never feed your baby peanut butter straight from the jar, as doing so may pose a choking hazard.
The best way to feed them natural peanut butter, or any other type of nut butter, is to blend them with either warm water, applesauce, breast milk or formula, or — if you've already introduced dairy — yogurt.
You can add it to oatmeal for added richness.
If your child is at a higher risk of allergies or has had eczema, speak with a healthcare professional before feeding them any nut butters or higher-risk foods.
They may advise waiting until they're older and then want to supervise this in their office or suggest an allergy test first (13).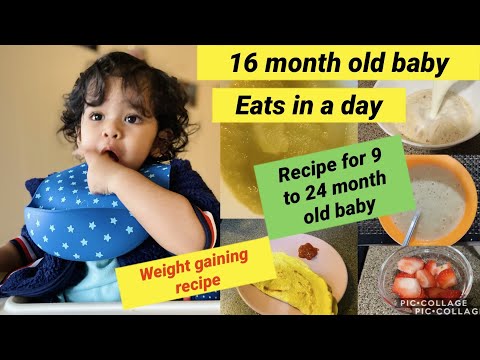 8 most common food allergies
cow's milk
eggs
fish
crustacean shellfish, like shrimp
wheat
soy
peanuts
tree nuts
Learn more about food allergies here.
5. Eggs
Eggs are another powerhouse food that's great for infants and adults alike. They provide a filling combination of fats and protein. They're often gentle on the stomach, versatile, and easy to prepare (14,15).
Be mindful because this is another common allergenic food that you'll want to introduce slowly and methodically. Keep an eye open for an allergic reaction. Seek immediate emergency care if your baby is wheezing or having trouble breathing (11, 12).
Once eggs are a mainstay in your baby's diet, you could try scrambling them and sprinkling in some cheese and veggies for added nutrients.
You can also use eggs in other dishes. For example, try adding them to rice with cheese and veggies for some quick rice patties, then cut these into strips to serve.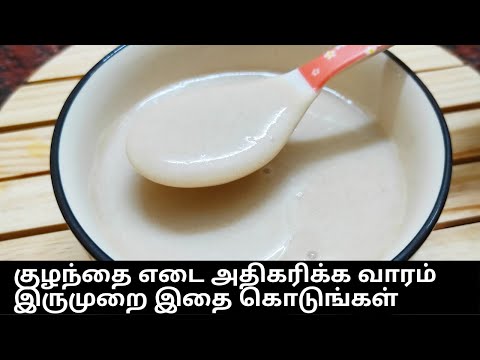 You certainly don't have to hold off until the 9-month mark to introduce fish, but it might be easier for babies to handle the texture at this age than earlier in life.
6. Fish
Fish delivers protein and healthy fats that are vital to your little one's growth. Do be mindful to seek out low mercury fish, like salmon, herring, and trout (16).
Furthermore, these and other fish contain brain-nourishing docosahexaenoic acid (DHA), a type of omega-3 fatty acid that's essential for proper brain development in early childhood (17).
Pair fish with a rich lemon full fat yogurt dip or marinara sauce for added nutrients.
It seems counterintuitive, but when babies hit their 12-month milestone, you may find they're eating less.
This is because their growth rate slows. In fact, most toddlers will only put on about 5 pounds between their first and second birthday (18).
Of course, they're still growing and needing lots of nourishment — they are simply not growing quite as rapidly as they were in those first 12 months of life.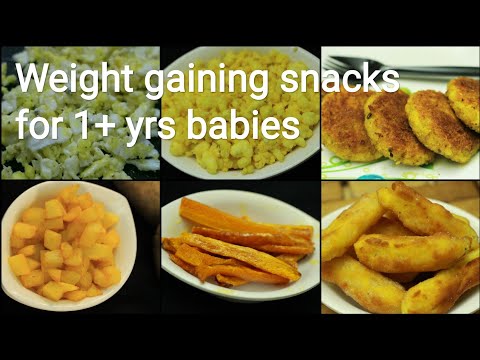 So, don't be worried if your champion eater suddenly slows down or plateaus at this phase. If they still have the energy to play and seem alert, they're probably doing just fine.
7. Olive or avocado oils
Your toddler should get a fair amount of healthy fats. In fact, 30–40% of your toddler's calories should come from fats (19).
They need roughly 1,000-1400 calories each day at this age, so that translates to about 30–50 grams of fat per day (19).
If your toddler needs a bit more support, consider adding a splash of olive oil or avocado oil to their food, about 1/4–1/2 tablespoon (4–7 mL) to start. You can add it into a bowl of soup or hummus or sop some whole grain bread into it.
Take care not to feed your baby too much oil, as doing so could cause gastric upset or diarrhea.
If your baby has energy to play and is tracking along with developmental milestones, they're probably growing just fine.
Unless a healthcare professional has identified an issue with your baby's weight, you probably don't need to worry.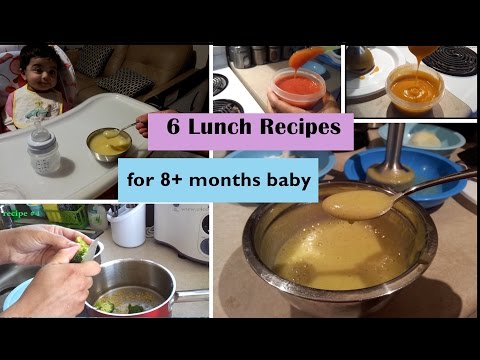 Keep in mind that babies born prematurely and those with special health needs may not track along with general growth charts.
That said, parental instinct is real. Always voice any concerns with your child's healthcare professional. Take note of what exactly you observe that troubles you, in as much detail as possible.
For example, you could record the times, dates, and amounts and types of food your child has eaten.
If your baby seems lethargic, is refusing to feed, or isn't meeting developmental milestones, you should make an appointment to speak with a healthcare professional, such as a pediatrician.
In addition to a medical evaluation, they may refer you to another specialist, lactation consultant, occupational therapist, or dietitian.
Your little one's early nutrition can have lifelong impacts. Making sure they're getting enough to eat — and growing enough — is a concern for many parents.
If your child is not tracking along or suddenly not feeding as well as they used to, speak with a healthcare professional to rule out any underlying causes.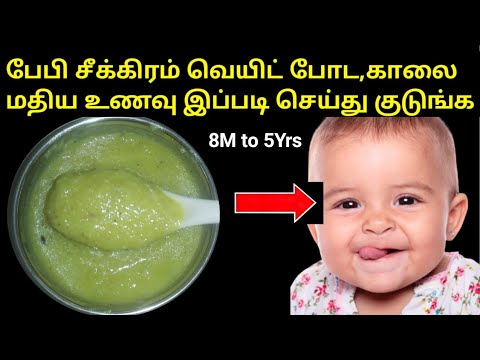 Do keep in mind that babies' food intake normally slows at around the 12-month mark.
There are many wonderful, nourishing foods to help support your baby's growth — including eggs, avocados, and peanut butter.
If they're younger, or under 6 months, try to provide enough opportunities for them to breastfeed or drink enough formula according to their hunger cues.
All that said, if your little one seems alert, is meeting the developmental milestones for their age, and has enough energy to play, they're probably getting enough to eat.
Just one thing
Try this today: The article 21 Homemade Baby Food Recipes is a great resource with tips on how to make a variety of tasty, nutritious meals for your baby once they start eating solid foods.
Diet for an 8-month-old baby
In the ninth month, fish can be introduced into the diet of children. Along with animal meat, fish is a source of complete protein with a well-balanced composition of amino acids, fat, vitamins B2, B12 and minerals.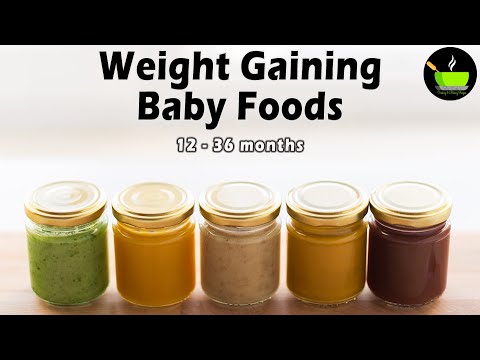 Compared to meat, fish contains 5 times less connective tissue, due to which it is quickly boiled soft, has a delicate texture after heat treatment and is easier to digest. Fish oil is characterized by a high content of polyunsaturated fatty acids, including the ω-3 class. These substances are necessary for the child to mature the brain, retina, strengthen the cardiovascular and immune systems. Sea fish contains such important trace elements for the child's body as iodine and fluorine. The child should be given 1-2 times a week instead of meat, be sure to monitor how the child tolerates fish in general and its individual varieties. Preference should be given to oceanic fish, preferably white (cod, hake, pollock), red salmon can be recommended, river pike perch, carp.
Self-cooked fish is given to a child with boiled and mashed vegetables. You can also offer your baby fish and vegetable canned food, but they contain only 10 - 20% of fish.
At this age, when all the main food groups have already been introduced, special attention should be paid to the diversity of the composition of dishes.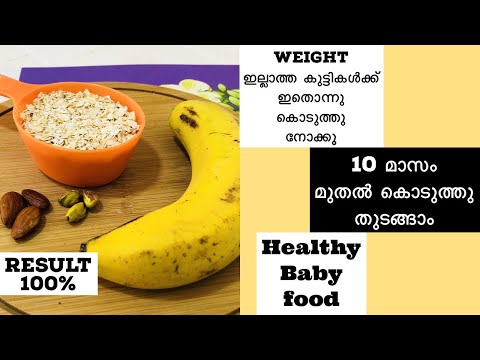 New, possibly combined products are introduced, for example, not only purees from various fruits and berries, but also their combinations with cottage cheese, cream, cereals, etc.
From the age of 8 months, the child's diet can be expanded to include fermented milk products (baby kefir, biokefir, bifidokefir, yogurt, bioyogurt, biolact). Fermented milk products are prepared using a special starter culture that breaks down milk protein, so that the baby can get an indispensable set of amino acids in a well-available form. Fermented milk products improve the composition of the intestinal microflora of the child, are rich in B vitamins and calcium. Their regular use favorably affects the functioning of the intestines, stimulates appetite, and increases the absorption of micronutrients. Children's dairy products are introduced into the baby's diet gradually, starting with 1 tsp. and with good tolerance increase their volume to 150-200 ml per day.
Sample menu for a healthy baby 8 months
I feeding
6 hours
Breast milk or infant formula
200 ml
II feeding
10 hours
Dairy-free* or milk porridge
Butter
Boiled egg yolk
Fruit puree
Fruit juice

180 g
½ tsp
1/2 pcs.
20 g
30 ml

III feeding
14 hours
Vegetable puree
Vegetable oil
Meat puree
Fruit juice
170 g
1/2 tsp
50 g
50 ml
IV feeding
18 hours
Cottage cheese
Baby biscuits
Fruit puree
Supplementation with breast milk or baby kefir/yogurt

40 g
1 - 2 pcs.
40 g
100 ml

V feeding
22 hours
Breast milk or
infant formula
200 ml
* - diluted with breast milk, infant formula or water
Approximate daily ration for an 8 month old baby allergic to cow's milk proteins
I feeding
6 hours
Breast milk or formula for children allergic to cow's milk proteins
200 ml
II feeding
10 o'clock
Dairy-free* porridge
Vegetable oil
Fruit puree
(apple, pear)
120 g
1 tsp
80 g
III feeding
14 hours
Vegetable puree
Vegetable oil
Meat puree
170 g
1 tsp
40 g
IV feeding
18 hours
Vegetable puree or porridge
Vegetable oil
Meat puree
170 g
1 tsp
30 g
V feeding
22 hours
Breast milk or formula for children allergic to cow's milk proteins
200 ml
* - diluted with breast milk or a therapeutic formula for children with allergies to cow's milk proteins
optimal menu for an eight-month-old baby
01.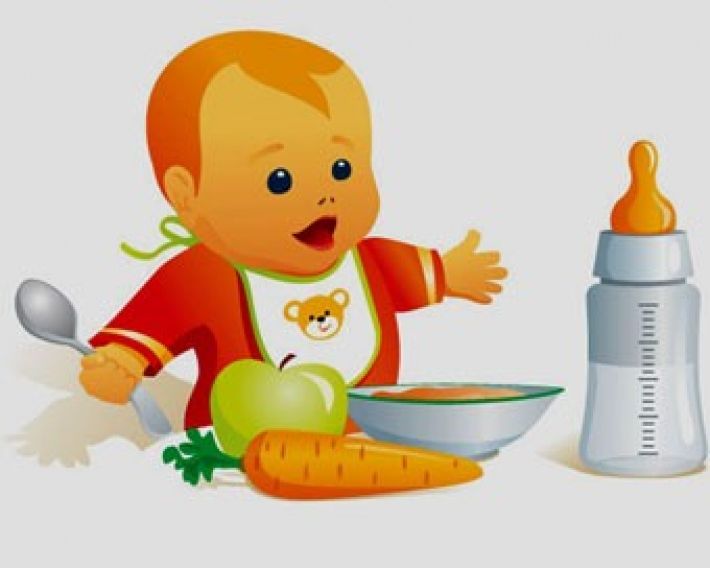 29.2019 diet of adult food and reduce the number of feedings. But I decided to study the issue and share with you. Let's find out how the eating behavior of an 8-month-old baby changes.
Important foods for an eight-month-old baby
At this age, breast milk or formula is still the main food for a baby. Their volume will reach up to 700-900 milliliters per day. But adult food is still in second place, although the composition of complementary foods is already expanding. The child becomes more and more familiar with new tastes, he develops food interest.
Let's see what can be added to the diet:
Cereals:
In addition to buckwheat, rice and corn, add oatmeal. Also, a child can already try pasta and vermicelli for soups. But it is better to introduce bread not earlier than a year.
Vegetables:
Broccoli and cauliflower, spinach, green beans are added in addition.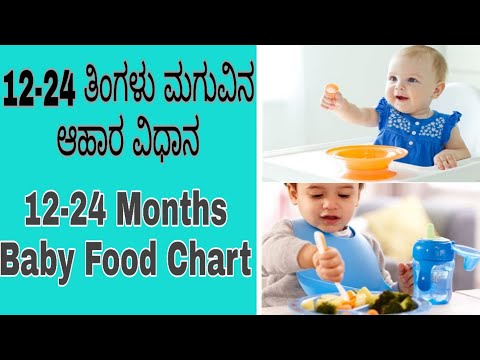 Fruit
The child can already taste bananas, prunes, plums, peaches, nectarines and apricots.
Meat
Add turkey, rabbit, chicken and veal to your menu. But soups with meat broth should be avoided for the time being.
Eggs
Since eggs can cause allergies, the hard-boiled yolk is given a taste first. A whole egg can be given after a year.
Fish
This is a new food item. For an eight-month-old baby to get acquainted with fish, cod is suitable.
Butter
Prefer butter, olive and sunflower oils.
Dairy products
Many mothers introduce them as early as possible to provide the baby with calcium. You can give pureed cottage cheese and yogurt.
Biscuits
Baby biscuits should be added in small portions if the child already chews well.
Drinks
In addition to breast milk or formula, offer your baby other liquids such as water, juice or compote.
How to cook and serve food
Cooked fruits and vegetables can be given to your child. We cook food mostly still in a soft and puree form. It is better to make porridge boiled to feed the baby.
At this age, the child begins to take food by himself and is already better able to chew. To practice these skills, offer food in the form of pieces so that he can take them by hand. For example, bananas, pasta, meat and vegetables. Never leave your baby unattended while feeding. Do not give grapes, raw carrots, raisins, as they are easy to choke on.
Offer new food in the morning. And in the evening you can have the dishes familiar to the child.
A table with an example of what a daily menu for an 8-month-old baby might look like (suitable for both breastfeeding and IV):
Remember that this is just one example of nutrition at this age.
When introducing new products and monitoring the nutrition of an eight-month-old baby, be guided by the baby and his taste preferences.