Self feeding bottles for babies
SELF-FEEDING BABY BOTTLE HANDS-FREE | Baby's Lane
Imagine … Baby is hungry and crying while you are busy, walking down the street or at the store or even driving your car … In a time when you don't have time to stop or that you are unable to feed baby…
It could be a very stressful situation for you and baby, but not with our revolutionary and innovative Self-Feeding Hand Free Baby Bottle.
Because this bottle allows you to always be able to feed your child as soon as he requests it while having your hands completely free. All you have to do is give the nipple part detached from the bottle so that baby can feed himself and completely independently. This way you can continue your tasks and occupations while satisfying the needs of your little one.
When traveling, on a walk or in the car, you no longer need to take a break to feed baby with our  Autonomous Hand-Free Baby bottle.
Easy to get started
The design of the pacifier tip is totally designed to adapt perfectly to baby's small hands and to be able to put it on without soiling the pacifier.
It is the ideal bottle for all parents who want to give the best to their baby. Because whether you are busy, overwhelmed or tired, you can bottle feed your baby when he is hungry and in all circumstances without delaying his meal.
Our bottle can be used anywhere: at home, in the baby carrier, in the car seat and even in the stroller during your walk, your shopping and on public transport.
Anti-Collic and anti-gas
In addition to its super practicality and essential for everyday life as well as during your trips and outings, our bottle is equipped with AirProof © technology which prevents air from entering the tank, which helps your child to ingest 99.8% of the nutrients of milk, while eliminating gas and avoiding collic.
Baby feeds at his own pace and according to his needs to avoid reflux
Let baby feed at his own pace with the bottle, this way your child ingests the amount of liquid he wants, without drinking too much.
This results in less stomach pain because according to some studies the majority of digestive problems in infants are due to overfeeding or underfeeding.
Designed to mimic breastfeeding and ease the transition from breast to bottle
The pacifier design is designed to mimic natural breastfeeding, which reassures and comforts baby. It is perfect for mothers who want to bottle feed their infants or for babies making the transition from breastfeeding to bottle feeding. The soft nipple mimics mom's breast promotes comfort while bottle-feeding and reduces splashing while breastfeeding.
Pediatrician Approved
The self-feeding bottle design has been recommended by top pediatricians around the world! So find out now why parents love it so much, pediatricians recommend it and kids love it so much.
Warning: Never leave baby alone. He must always be under the supervision of an adult when picking up his bottle to avoid any accidents.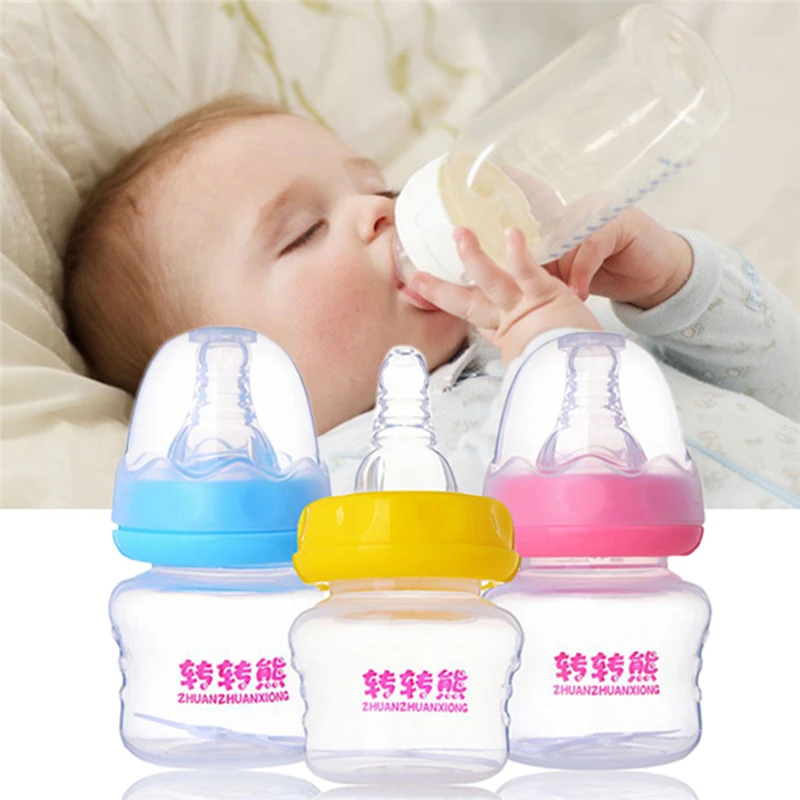 Washing instructions
Children tend to have weak immune systems, so it is essential to disinfect any objects they come in contact with.
Here is our recommendation on how to clean not only our bottle, but also any other bottle you use:
Step 1) Start by cleaning all parts by hand with soap and water. Make sure to rinse well so that all of the soap is gone.
Step 2) To start the sterilization process, place all the rinsed parts in a saucepan.
Step 3) Cover everything with water making sure there are no air bubbles.
Step 4) Bring the water to a boil for 5-7 minutes.
Step 5) Wait for the pieces to cool and remove them using a clean utensil.
Step 6) Allow to air dry completely before use.
Characteristics:
Caliber specification : 5 cm                                                                                                                                                 Material: 100% BPA FREE silicon
Colors: green or pink
Size: 300 ml
Gender: unisex
Washable: Yes
Microwave: Yes
Box contents: 1x baby bottle.
Best Baby Bottles In 2022
The choice of baby bottles on the market right now is huge and can make parents feel overwhelmed. There are glass, plastic and silicone ones, for colic and for gas, for upright feeding, for formula, and for breastfed babies. How to pick the right one? In this article I'll share with you my list of the best baby bottles, which moms most often add to their registry.
This article contains affiliate links.
As mothers, we strive to give our babies everything they need, especially with nourishment. From the newborn phase and well into toddlerhood, we dedicated ourselves to breastfeeding. The experience can be beautiful, but also filled with challenges.
More often than not, we might realize it is time to switch to bottle feeding.
Bottle feeding presents its advantages, but it will require some time to get used to it. The baby might refuse to take the bottle, he/she might suffer from gassiness and fussiness, or the milk might flow too fast or too slow making your baby fussy.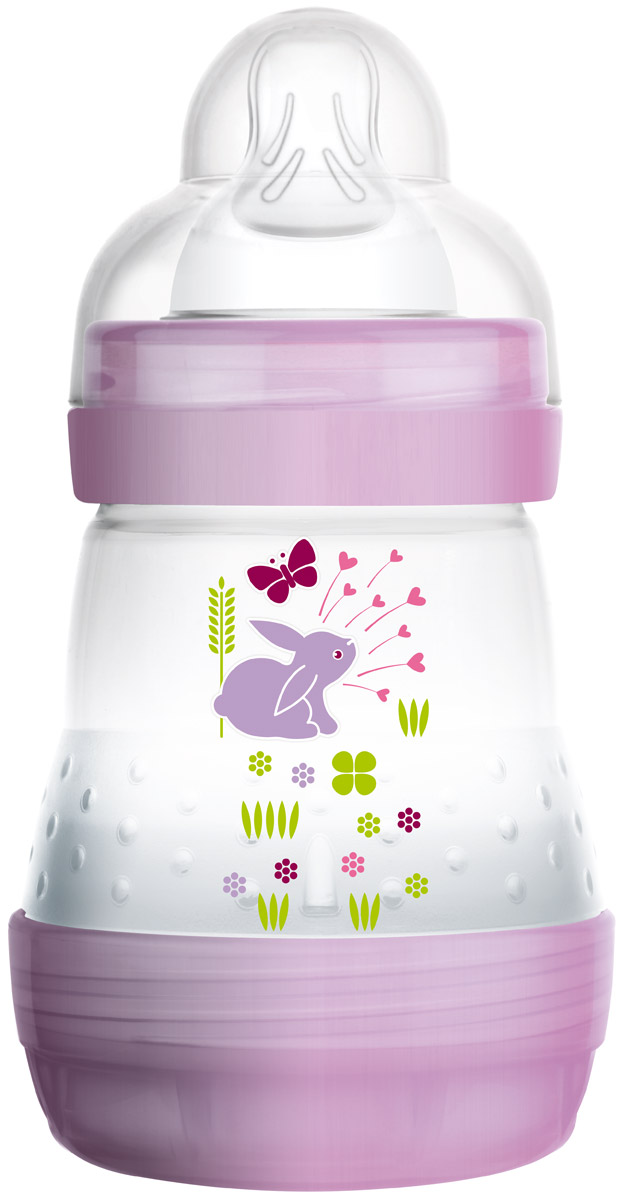 You can prevent these issues by choosing the best bottle for your baby.
As you will realize all baby bottles have their benefits and limitations – there is no such thing as one perfect bottle that will suit each child. Bottle-feeding requires some experiments and error and trail, and lots of patience!
Whether you're pumping exclusively and bottle-feeding, mixing breastfeeding and bottle-feeding, or your infant is exclusively formula-fed, or you just want to introduce a bottle to your breastfed baby "just in case", here are the most recommendable baby bottles that worth trying.
Best Baby Bottles – Mom's Favorites (full ranking below)
9 Best Bottles For Every Baby Feeding Need
The multitude of baby bottles available on the market can make you feel overwhelmed. However, be perseverant and choose one that will be the right fit for your baby. This will guarantee your little one benefits from adequate nutrition, growing into a healthy child, while enjoying the bottle-feeding itself.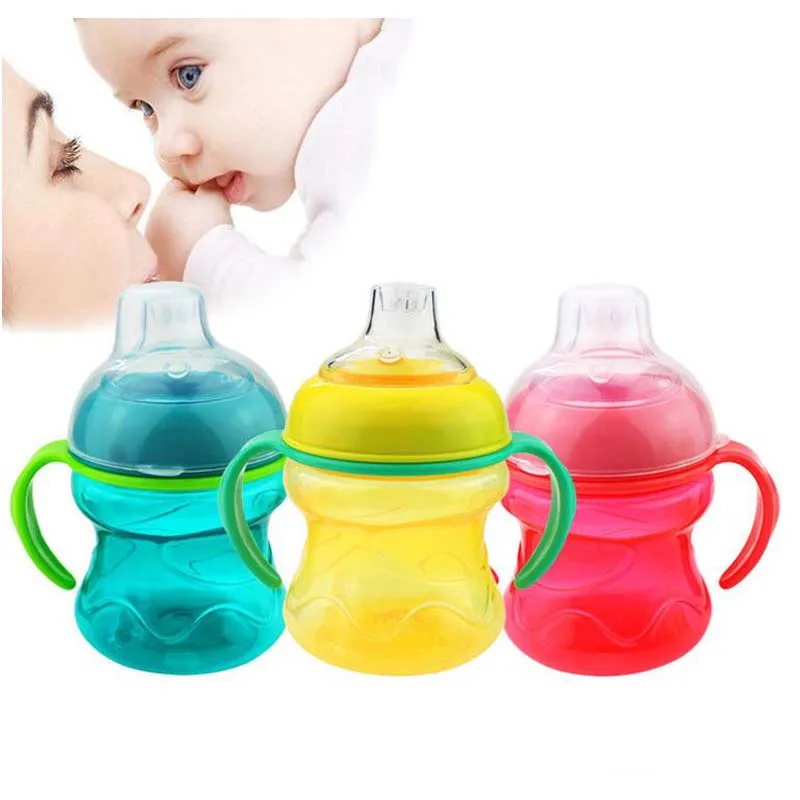 1. Tommee Tippee Closer To Nature – Best Bottle For Newborns
Which baby bottles are the best for newborns and will ease the transition from the breast to the bottle and back? Tommee Tippee bottles seem to be a wonderful choice. I especially like their motto: "A Latch Made In Heaven".

Check price & available sizes
Here you have a bottle that promises an easy-to-latch-on nipple that is flexible and stretchy, just like mom's breast. It has a wide base to encourage natural latch. This helps newborn babies to accept the bottle.
Moms like that it stretches as the breast, with the nipple releasing just as much milk as the baby needs. The anti-colic valve is also an advantage, as it reduces the airflow and decreases risk of gassiness. I've seen lots of moms praising this bottle for helping their gassy babies, as well as for relieving acid reflux.
5oz bottles come with a newborn nipple which has an extra slow flow but, as the baby grows, you can change the bottle to 9oz which has a slow flow nipple (3m+) or 11oz bottle with Y-cut (6m+) for bigger appetite.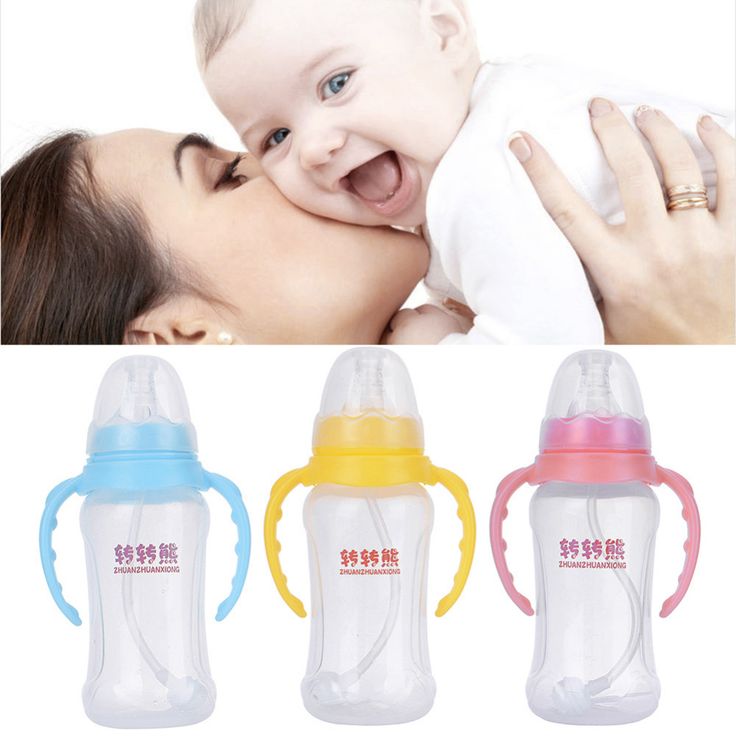 It's important to notice that at any time you can just get the nipples separately – and choose the flow rate accordingly to your baby's abilities and preferences.
Last, but not least, you can use a pump adapter and connect it to breast pumps for immediate use. Tommee Tippee adapter works with standard neck breast pumps from brands: Ameda, Philips Avent, Evenflo, Lansing, Medela and Spectra.
As you can see all the popular breast pumps are compatible with it, to allow moms to pump and feed the baby right away, which saves time and hassle as you don't have to pour the milk from milk container to the bottle. Plus, it's less items to clean!
Whether you're pumping exclusively, mixing breast- and bottle-feeding or supplementing with formula – this bottle is definitely worth trying with a newborn baby. For many infants it was a great solution and helped them to avoid nipple confusion.
2. Nanobebe – Best Bottle For Breastfed Babies
I recommend the Nanobebe bottle for breastfed babies.
It has a unique shape that resembles the breast and has two main advantages. It allows to warm and cool down the bottle faster, preserving breastmilk valuable nutrients. Moreover, it works perfect for breastfed babies, and infants who refuse bottles!

Check price & current discounts
If you are wondering which baby bottles are the best, you may add this one to your list. Why? It has a unique shape designed to allow babies enjoy breastmilk nutrients, unaffected by heating.
Thanks to its dome shape, Nanobebe spreads milk into a thin layer allowing you to warm or cool it down at least 2 times faster than other bottles! This means the breastmilk is less prone to harmful effect of high temperature and its nutritional value is well preserved.
What's more, you can use it not only for warming up and feeding breastmilk but also for pumping and storing. Moms have found it a significant advantage that they can connect this bottle to a pump, thanks to the breast pump adaptor.
It's compatible with many popular breast pump brands like Spectra, Ameda, Lansinoh, Medela and many more.
If you get this Newborn Set or Started Set adapter will be included in the package. If you buy just the bottle, you can get the adapter separately too.
Another interesting feature, which parent like, is the two-vent anti-colic system. This reduces the risk of colic, as it prevents swallowing air.
Stackable design of this bottle allows to save space in the fridge.
Nanobebe 5oz bottle is perfect for newborns and young infants. There is also Nanobebe Stage 2 Transition Bottle which is bigger (8oz). There are 5 nipple flow rates to choose from, including flow for preemies and newborns.
>>In-depth review of Nanobebe Bottles
>>Check out more fantastic bottles for breastfed babies & how to avoid bottle refusal
3. Dr. Brown's Natural Flow Options+ Anti-Colic Bottle – Best Bottle For Colic
Dr.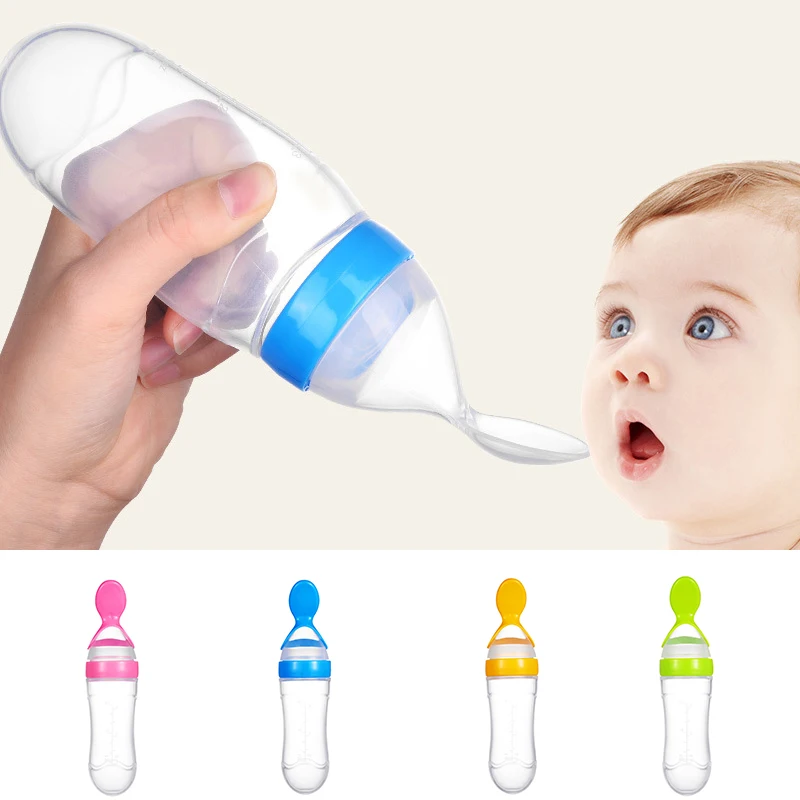 Brown is a name every mother is familiar with. Their bottles are available in both borosilicate glass and BPA-free plastic, being well known for their unique anti-colic system. Dr. Brown's bottles are probably the best choice for colicky and fussy infants.

Check price & available sizes
In case you are wondering which Dr. Brown's bottles are the best, in my opinion, the Natural Flow Options+ stand at the top of the list.
The anti-colic glass baby bottle is durable and it can withstand high temperatures. You can get a silicone sleeve for it (available on Amazon) to prevent it from breaking in case it falls down.
It comes with a soft silicone nipple for comfortable feeding – you can choose wide or narrow neck, depending on your baby's age and preferences.
This is a baby bottle for both breast milk and formula. It has a specially designed anti-colic vent system that reduces gas build-up. Lots of parents raves about Dr.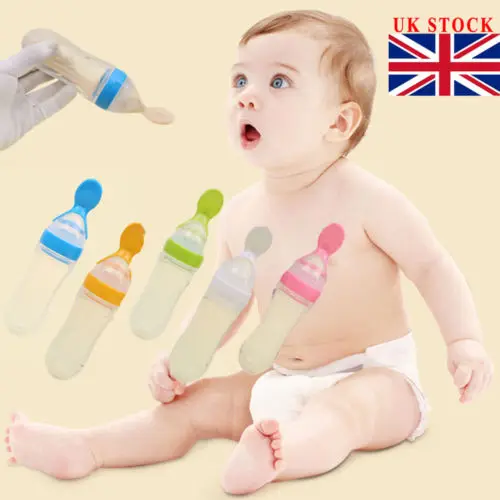 Brown's bottles for helping their babies' fussy tummies, by reducing colic, winds and spit-ups. The result? Better digestion and more good sleep at night.
It's noteworthy that you can remove the vent system (the green straw) as the baby grown and you feel it's the right time. You don't have to get different bottle for older baby!
For easy cleaning, Dr. Brown's bottles are dishwasher and sterilizer safe.
The bottle made from BPA-free plastic offers similar benefits, reducing the risk of nipple confusion. Just keep in mind that in contrast to glass, plastic bottles need to be changed every few weeks/months.
>>See the best & tested bottles for colic and gas
4. Playtex Baby VentAire – Best Bottle For Semi-Upright Feeding To Prevent Gas & Reflux
Babies are prone to gas and reflux, especially in the first stage of their lives. Parents often ask themselves: what is the best baby bottle for acid reflux? Playtex Baby VentAire may just fit the description.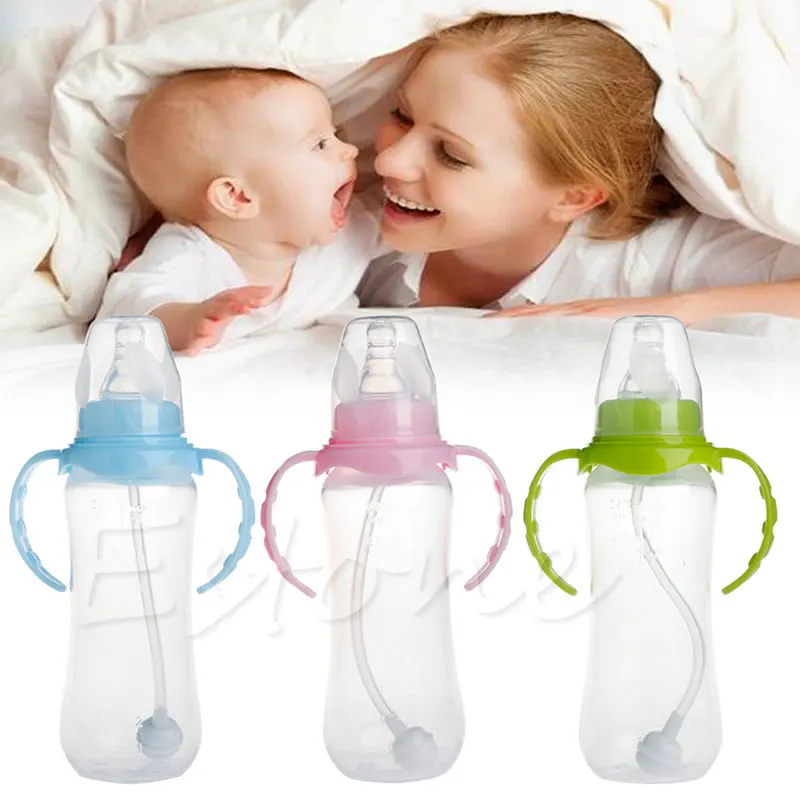 Check price & available packages
Specially designed to prevent accumulation of air in baby's belly (which often leads to painful colic and winds). It has a patented anti-colic bottom vent that ensures the air doesn't get into the milk.
The angled design allows parents to feed their babies in a comfortable position, reducing the risk of both air ingestion and ear infections.
Many experts recommend more upright position for bottle-feeding to prevent spitting up and reflux. With standard bottles it's not always easy to feed the baby in semi-upright position because it's harder to get that last bit of milk out of it.
The angled Playtex Baby bottle makes semi-upright feeding much easier. As a mom myself, I really like that it promotes healthy feeding.
Besides, this bottle is really convenient for the baby to hold in their little hands.
The silicone nipple with wide shape resembles the breast and babies can easily latch on. It facilitates switching between breast and bottle.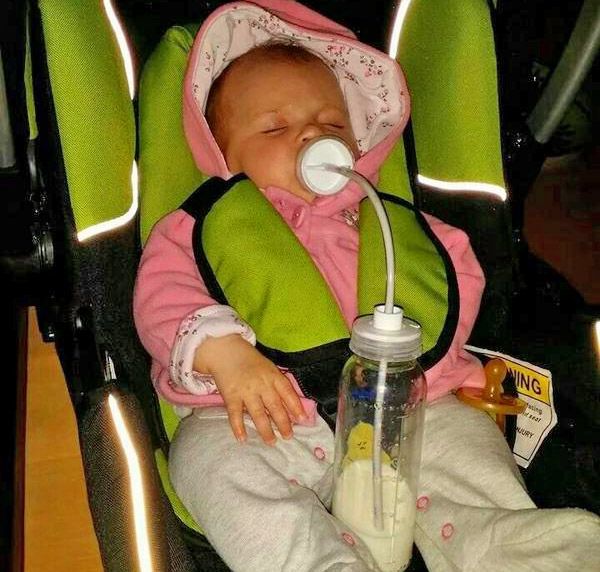 It's important to note that Playtex Baby VentAire comes in two sizes: 6oz and 9oz which are a bit bigger than majority of baby bottles. Moreover, each bottle has 6 parts which makes cleaning a bit harder.
5. Olababy GentleBottle – Best Silicone Bottle
Here we have another baby bottle made of non toxic silicone. It's 100% BPA-free, PVC-free, and Phthalate-free. Babies seem to like its unique shape and its cute colors! What's more, it's been recommended by hundreds of parents!

Check price & available designs
According to Olababy the GentleBottle attractive colors and shape allow for visual stimulation, as well as encourage baby's development through touch – all of that while feeding!
We all know that infants are active explorers and gain new skills everyday. Why not use the feeding for stimulating their development? The texture and colors are appealing for the baby and engage their senses.
Besides – to be perfectly honest, I love these cute mint and coral colors too!
There is an off-centered soft nipple with wide base – that mimics the breast which helps baby adapt to bottle-feeding and reduces the risk of bottle refusal and nipple confusion.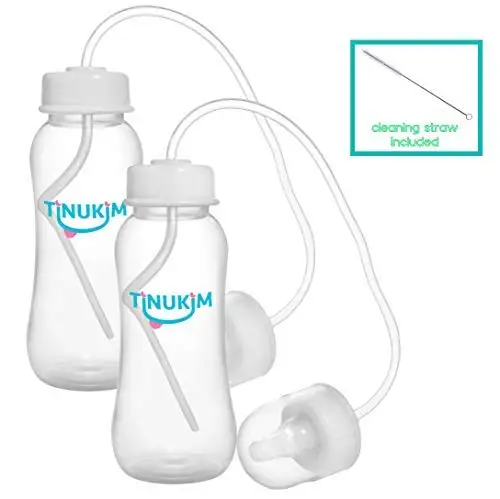 According to many parents the design of the nipple is very practical – the placement is more realistic. It seems to work wonderful for breastfed babies. Besides, the nipple placement makes the bottle more convenient for semi-upright feeding than standard bottles. Dozens of parents praise the Olababy bottle nipple design.
There is also dual vent system that prevents air bubbles from getting into baby's mouth and tummy – as a protection from colic.
Wide neck makes cleaning very easy. Just like other bottles, this one is available in small and big size: 4oz and 8oz, and with 5 different nipple flow rates.
6. Philips Avent BPA-Free – Best Glass Baby Bottle
Glass bottles have a lot of advantages to offer and it's really great that such a reputable company as Philips has some in their offer. Their bottles are BPA-free, and equipped with a soft nipple that mimics the breast.

Check price & available sizes
An interesting feature is the spiral nipple design, combined with comfort petals, which prevents the nipple from collapsing.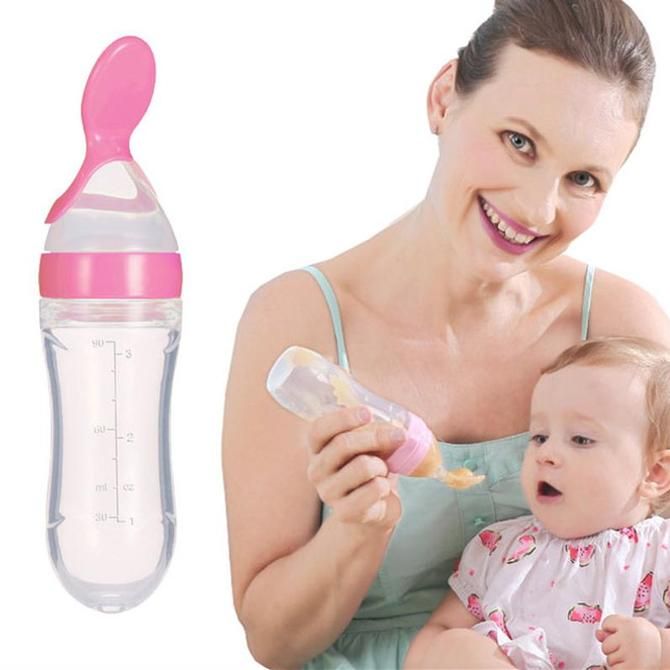 Moreover, it makes the nipple more flexible (just like mom's nipple) and allows the baby to latch on easily.
If you're mixing breastfeeding and bottle-feeding this feature will make switching easier for the baby.
Glass bottles are resistant to high temperature changes, so you can store them in the fridge and then warm them up without worrying about breakage. Don't forget to get bottle sleeve for better protection in case it falls to the floor (you can find it on Amazon).
These bottles are equipped with an anti-colic valve technology that releases the air from the bottle, without getting into baby's belly. This of course reduces the discomfort during feeding. Philips Avent Natural bottles are compatible with breast pumps from the same brand.
What parents also like about this bottle is its simple design – there are not many parts to clean and assemble.
Last thing worth mentioning is that it comes in two sizes: 4oz and 8 oz and there are 6 nipple flow rates to choose from accordingly to your baby's developmental stage and preferences.
7. Comotomo – Easiest To Clean Bottle
The best part of Comotomo bottle is that it's made of a soft squeezy silicone, it has a wide neck and just a few pieces that are super easy to clean. Judging from parents opinions, this is probably the easiest to clean baby bottle.

Check price & available discounts
The motto of Comotomo, "breastfeeding in a bottle", shows that this is one of the bottles designed for breastfed babies.
Interestingly, the bottle boasts a unique, soft silicone material. It mimics the breast, and it allows babies to transition to bottle feeding, reducing the risk of bottle refusal.
There is no surprise so many babies like holding and squeezing these bottles – just like they do with mom's breasts!
I love that it's made of silicone – which is still pretty rare among baby bottles. It's lightweight just like plastic, but safer, while being also more durable (and unbreakable) in contrast to glass bottles.
Besides, you can clean it in a dishwasher or microwave steam sterilizer.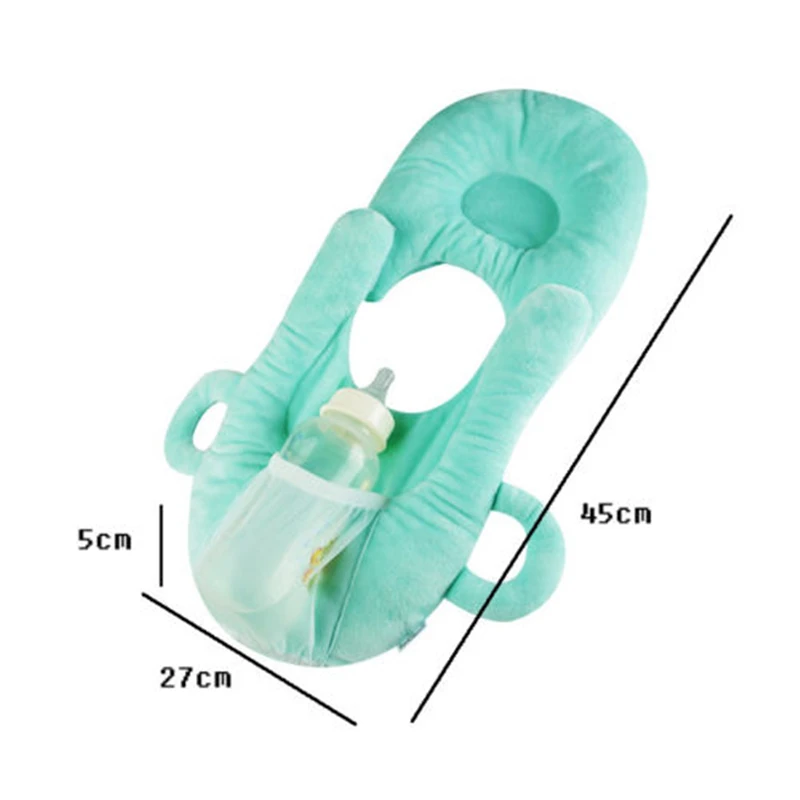 It's also safe to sanitize it in a boiling water (bottle and nipple – max. temperature 180℃, cap and outer ring – max. temperature 120℃).
The baby bottle from Comotomo comes with non-leaking dual air vents to prevent swallowing air bubbles. Lots of parents praise this bottle for helping their colicky and fussy babies.
A slow flow nipple is available for newborns, while 3 other faster flow rates are for older babies. There are 2 bottle sizes: 5oz and 8 oz.
8. NUK Simply Natural Baby Bottle – Best Cheap Bottle For Baby
NUK bottle has a simple design, and a unique nipple with multiple tiny holes, instead of just one. Destined to mimic the flow of milk from the breast, it offers the natural feeding experience. The best part is that NUK Simply Natural bottles are inexpensive, and if you decide to get them as a bulk, the price will be even more pocket-friendly.

Check price & available sizes
The nipple is soft and flexes just like mom's breast – majority of babies find it simple to adapt, with the risk of nipple confusion being minimized.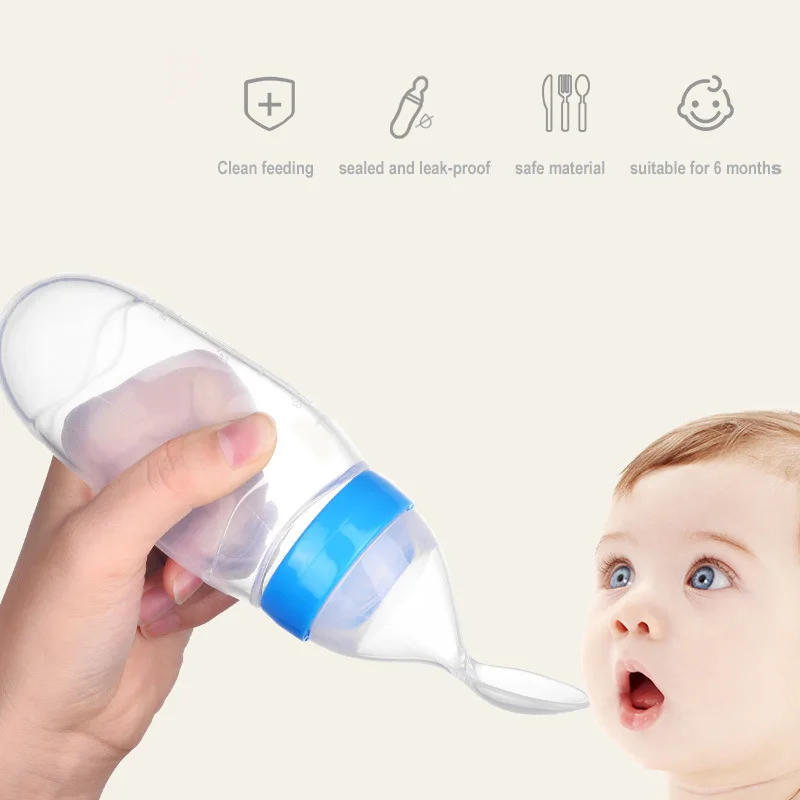 The flexible nipple helps the baby latch on easily, not to mention the tongue can move as it would do at the breast. There is a slow flow nipple with three holes, recommended for newborns. For older babies, there are other nipples available, with six and nine holes.
The advanced anti-colic air vent protects against air ingestion. This baby bottles works great for both formula and breast milk.
NUK bottle and its nipple are also easy to clean. It's made of BPA-free plastic, and according to many parents it feels very durable, thick and sturdy – not cheap at all!
Make sure to get the right nipple flow – some parents say the slow flow with 3 holes may be too fast for a newborn baby.
9. PopYum Bottle – Best Bottle For Formula
The PopYum bottle impresses with its unique design, having separate compartments for the formula and water. It is one of the best bottles for babies fed with formula, allowing parents to quickly prepare a fresh bottle. They work wonderful for making bottles on the go.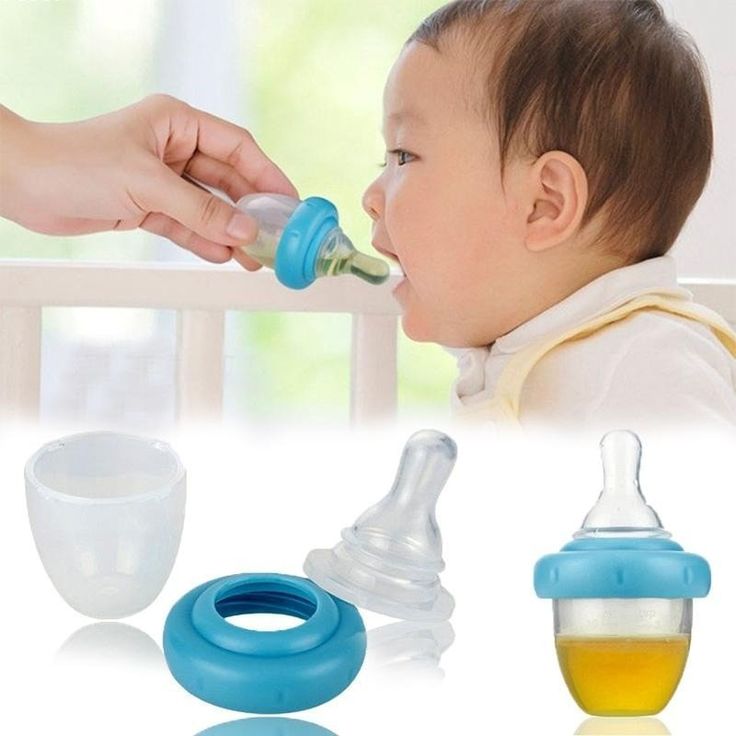 Check price & available sizes
PopYum bottle keeps the formula in separate container above the water. All you have to do is press a button on the side and the powder releases into the water. Mix it well and feed your baby.
All can be done with one hand – while holding the baby in other arm.
Importantly, there is also a funnel that protects from contamination.
PopYum stands out as a bottle for formula, because it allows you to prepare the bottle when you actually need it. Before that – water and formula are separated.
It's very convenient when you're traveling or out and about with your baby. Standard bottles are less convenient for formula-feeding on-the-go.
I also like the wide nipple which allowed for a natural latch, and the anti-colic vent, to protect against air ingestion.
As it contains only five parts, the bottle from PopYum is easy to assemble and clean. This can be a timesaving feature.
Choosing The Right Bottle For Your Baby – Important Tips
Trying to decide on the right bottle for your baby? Here are a few tips that might help you:
Choose the bottle size in accordance to the baby's age: start with the ones recommended for newborns and move up as time passes.
Consider the nipple flow: a newborn will probably prefer a slower flow, while an older baby will need a medium or high flow. There are also nipples especially made for premature babies.
Silicone is one of the best materials for the actual bottle and nipple. If you prefer a glass bottle, be extra careful when handling it. If you're not sure which type of a bottle to choose and how many baby bottles you will need – read this article.
The shape of the bottle matters more than you think. Choose one that is ergonomic, as this will allow the baby to self-feed.
Consider the accessories that might go with the respective bottle. For instance, a pump adaptor if you plan on expressing breast milk; portable bottle warmer if you travel frequently, and a set of cleaning brushes for bottles and nipples.
As a parent, you will always know what your baby needs. If you are shopping for baby bottles, I recommend you to try several and see which one fits your little one the most.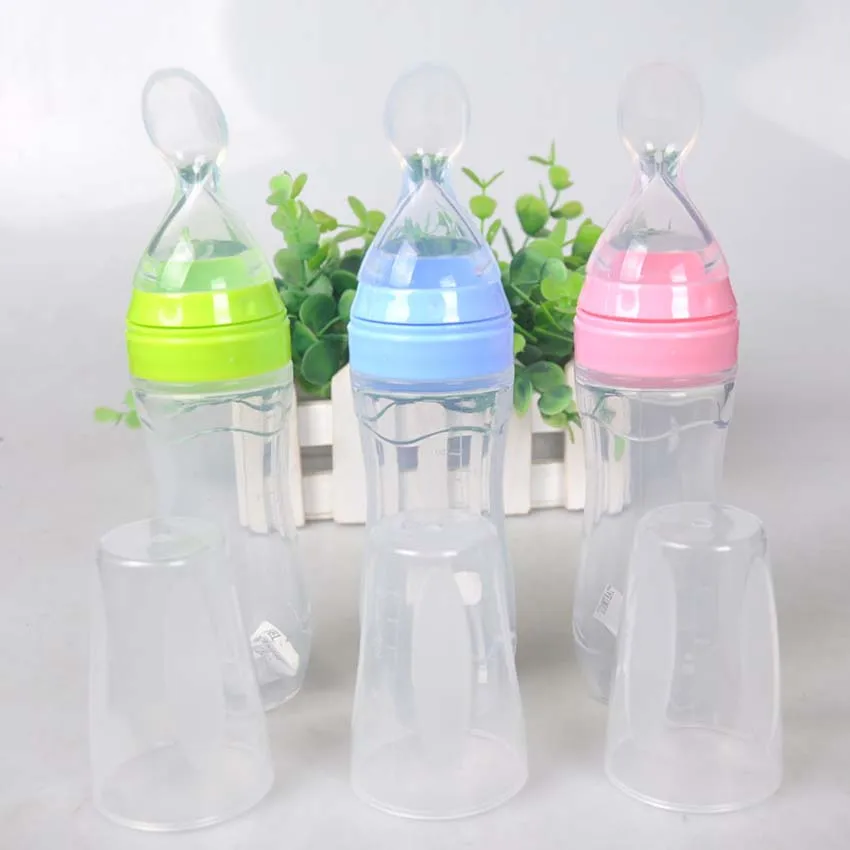 Good luck!
---
Source of pictures:
Pictures of baby bottles belong to specific brands. Sources: Nuk, Philips Avent, Nanobebe, Comotomo, Dr. Brown's, PopYum, Playtex Baby, Tommee Tippee, Olababy.
The purpose of this article is informative. It's not a substitute for medical consultation or medical care. Remember: safety first! Consult your doctor/pediatrician in case of any doubts. The author of this article does not accept any responsibility for any liability, loss or risk, personal or otherwise, incurred as a consequence, directly or indirectly, from any information or advice contained here. This article contains affiliate links – your support helps us run this blog. Thank you!
Hello Moms! I am Zooey. I am a wife and a mother of three amazing kids: almost 5-year-old Haley and 2-year-old twins Jesse and Matthew. I am a jogger, cooker and blogger.
If you have a question or a comment, do not hesitate to write to me! 🙂
Choosing baby bottles for feeding: Photo review
Every mother knows that breast milk is the best food for her baby , so she tries to continue breastfeeding as long as possible.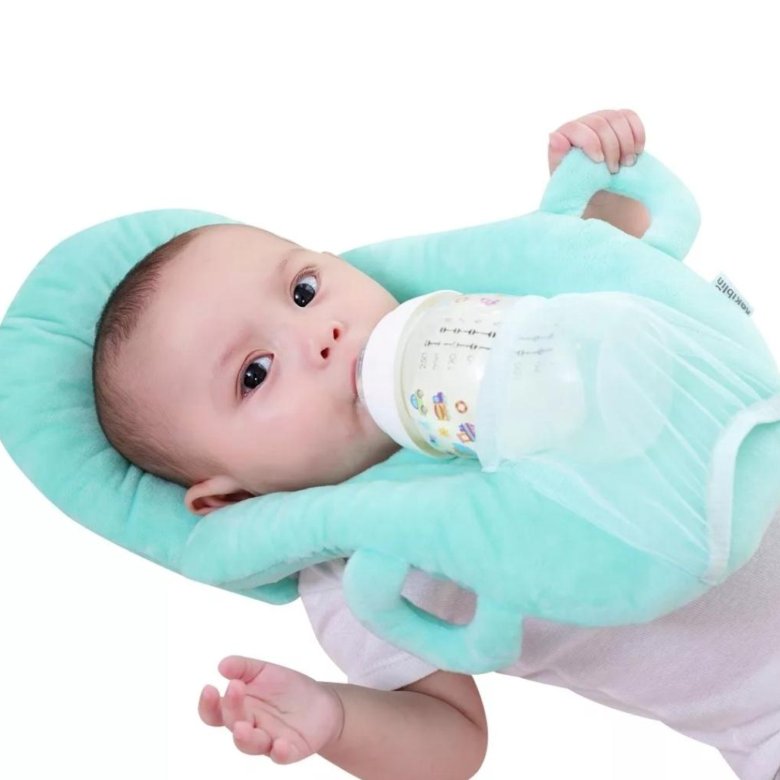 But there are situations when a mother cannot be with the baby all the time due to circumstances, or cannot breastfeed for medical reasons , or is forced to switch to mixed or artificial feeding. From time to time, all mothers express breast milk so that during their absence the baby will be fed by a nanny or one of the family members. Therefore Feeding bottle is not just an important, but a necessary item for baby care. Even if the baby only eats mother's milk, bottles may be needed for water or baby tea. Modern mothers have the opportunity to use bottles that are perfect in shape and quality. Feeding bottle in the 21st century is no longer just a vessel for pouring liquid. This is an ultra-modern device - anatomical, orthodontic, equipped with the latest know-how.
A bit of history
The first devices for feeding babies began to appear in the Middle Ages. They were a cow horn with a strip of soft skin at the end as a nipple.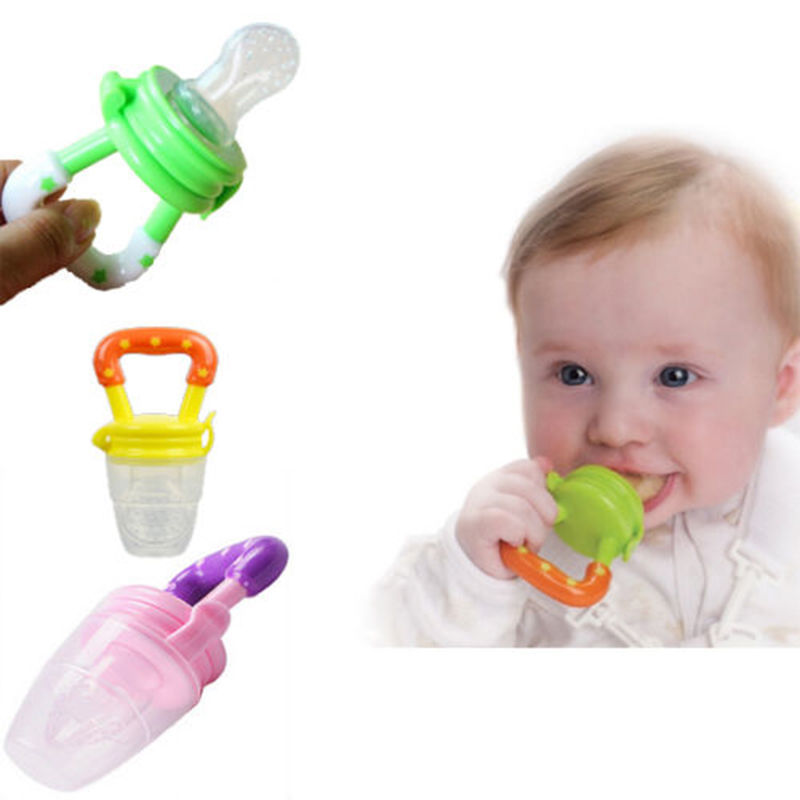 In Russia for artificial feeding also a cow horn was used, on which a cow's udder nipple was put on. In the 17th century, vessels made of wood and skin of domestic animals were used in Europe , then pewter bottles and children's drinkers appeared. Most drinkers were flask-shaped and had a hard nipple, and a hole for pouring milk was located on top. At the beginning of the 19th century, drinkers and bottles were made in pottery workshops from ceramics , the surface was decorated with faience glaze, a little later glass drinkers appeared. The big breakthrough in bottle production came in the 1840s with vulcanized rubber, which was used to make nipples. Around the same time, mass production of baby bottles began. Feeding bottles continued to evolve , the shape and material changed, but one thing remained the same - baby feeding devices were completely unhygienic and difficult to clean, therefore they posed a great threat to children's health.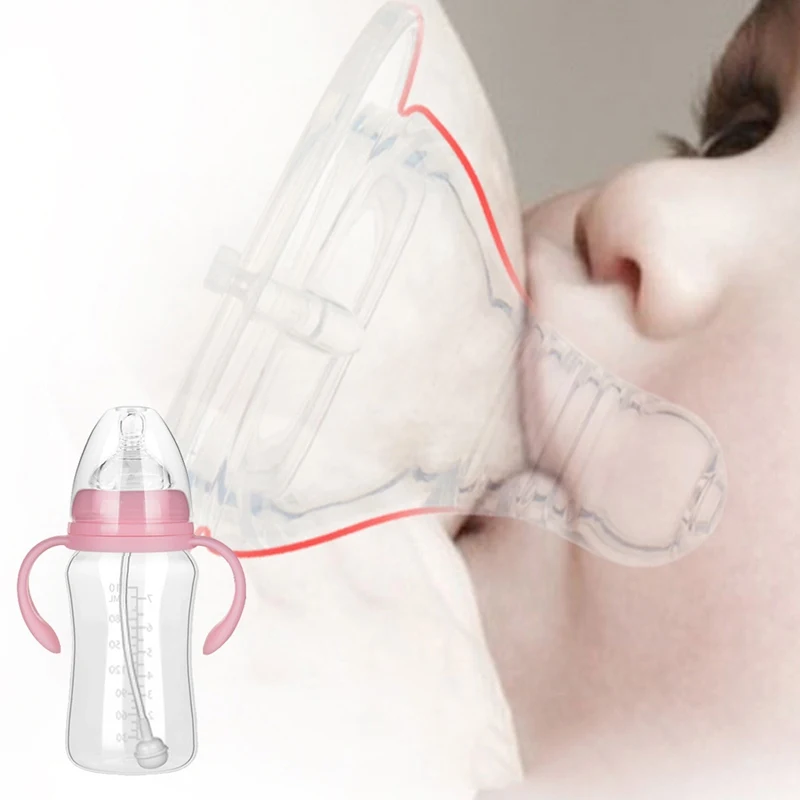 Popular for a long time narrow-necked glass bottle, only introduced in the 1950s . Over time, traditional bottles have been replaced by products made from high-quality materials. For many parents, the 's combination of ease of use and the benefits of is the main selection criterion for the baby bottle.
Bottle material
Food grade plastic bottles have gradually replaced glass bottles: they are lighter in weight and safer to use.
Most manufacturers choose as material:
polypropylene (NUK, AVENT, World of Childhood, Nuby, bibi, Medela)
or
are types of damage-resistant plastic that will not chemically react with milk or release Bisphenol-A when sterilized. Polyethersulfone is highly durable - it is resistant to stains and scratches. Polyethersulfone bottles look like new even after prolonged use.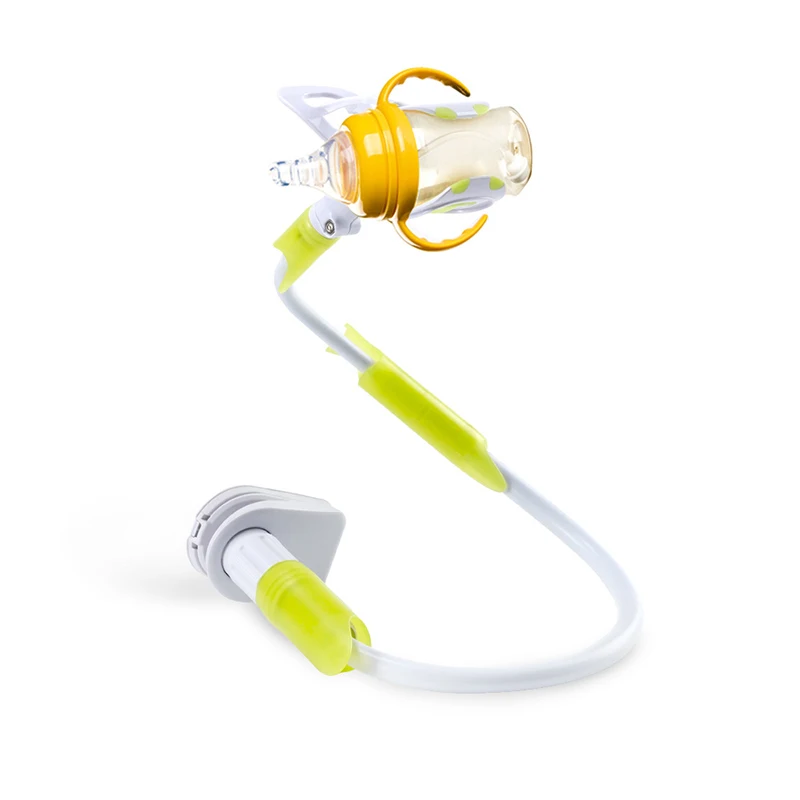 Canpol Babies makes some of the bottles using the latest Tritan material, which is safe and hygienic. Such bottles do not need to be sterilized and boiled before each use (Canpol Babies Africa, Canpol Babies LOVI). Heat-resistant medical glass bottles are available from Chicco and CanpolBabies.
Teat
Bottle teats are made of latex or silicone. Silicone nipples are softer, not subject to deformation and tolerate sterilization well. Pacifier shape can be simple or orthodontic . Orthodontic teats contribute to the proper development of the child's oral cavity and help to bring the feeding process as close as possible to the natural one. The NUK teats have an asymmetrical shape that mimics the shape of a mother's nipple during breastfeeding. Orthodontic nipples for their bottles are produced by World of Childhood, Canpol Babies, bibi. The MedelaCalma nipple allows the baby to maintain a natural sucking pattern - breast milk flows only when the baby creates a vacuum with the movement of the tongue and jaws.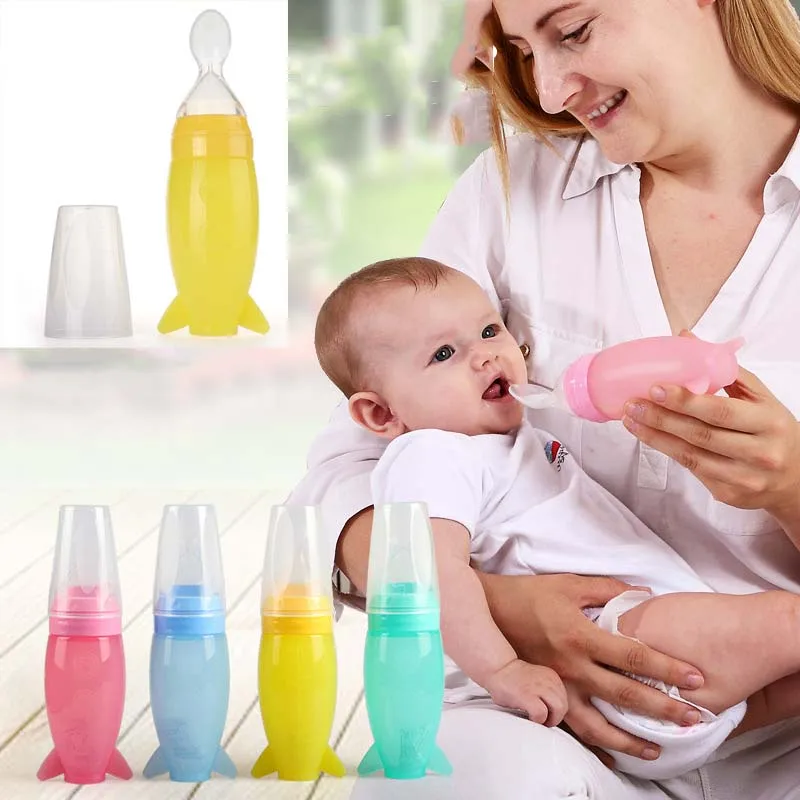 Avent teats work on the same principle. Avent nipples from the new Natural series are wide, follow the shape of the breast and have petals on the inside to prevent sticking.
Each bottle has a handy cap to keep the teat clean.
Feeding bottle shape
Most bottles have a narrower "waist" to make them more stable and easier to use. Compared to straight-shaped bottles, ergonomically shaped bottles are anatomically adapted to both the adult hand and the not-so-skillful children's fingers. Growing up, the baby tries to independently support the bottle during feeding - this gives him great interest and special pleasure. Older kids will like donut-shaped bottles with a hole in the middle - it is very convenient to grab it with both hands (Easy gripper bottle from Canpol Babies). Modern bottles, compared to their predecessors, have a wider mouth than - this makes it easier to prepare baby food and wash the bottle (Canpol Babies Easy Start, NUK First Choice, World of Childhood).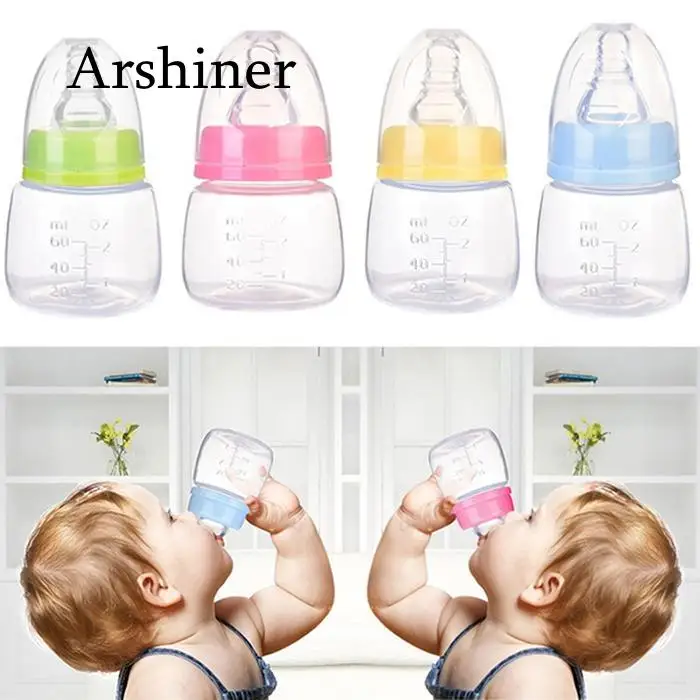 Breast bottle is shaped like a mother's breasts and is made from high purity medical grade silicone. The anatomically shaped bottle provides the same type of sucking as with natural feeding.
Volume scale on baby bottles
Feeding bottle must have volume scale applied on the outside with environmentally friendly paint. A clear scale will allow to prepare the milk formula correctly and track the amount of milk drunk by the child . It is important that the scale be in milliliters - this will avoid mistakes when preparing infant formula.
Anti-colic feeding bottles: operating system
Modern manufacturers have developed bottle models with an anti-colic system that makes feeding the baby natural and reduces the risk of colic . For NUK, AVENT, Chicco, Nuby baby bottles, the nipple skirt has a reliable air valve that regulates airflow and reduces the risk of colic.
Air during sucking enters the bottle, and not in the baby's tummy. Patented Dr. Brown's has a unique ventilation system consisting of a valve and a special tunnel. This system helps to reduce colic, gas and regurgitation, as well as eliminates the occurrence of a vacuum in the bottle, thereby reducing the likelihood of inflammation of the middle ear. The Tommee Tippee Closer to Nature Anti Colic Plus bottle has a complete valve system for optimal ventilation and a heat sensitive tube to keep the milk at the right temperature.
For older children
In the process of natural development, children learn independence. When your baby can grasp and hold objects, you can offer him a drink from the Anti-Spill Cup. Non-spill mugs (AVENT, Canpol Babies) have a special design valve that facilitates the process of drinking and prevents the liquid from pouring out if the baby suddenly drops the mug. Non-spillers have removable handles and spout .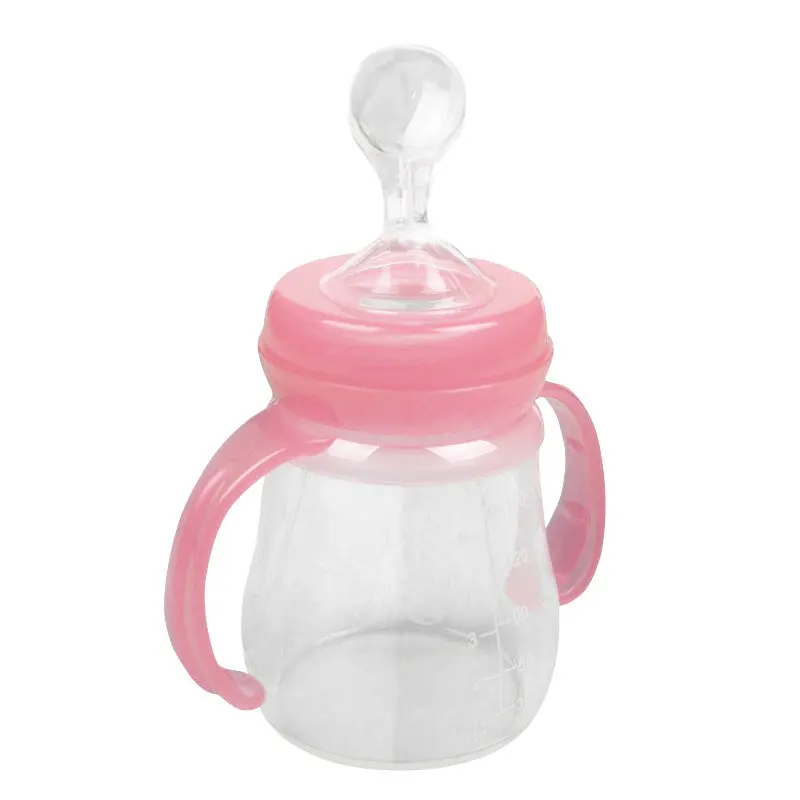 For babies from 6 months the drinking spout is made of silicone to make a smooth transition from teat to cup. For older children a hard spout with faster flow is used. For learning to drink independently, you can also use regular bottles with anatomically shaped handles , which are specially designed for small hands and do not slip (Nuby, NUK, Canpol Babies).
Some babies get used to the bottle right away, while others take a long time to get used to. If the nipple is brought closer to the mouth, the baby begins to reflexively open his mouth and try to suck.
But when he feels a foreign object that does not look like his mother's breast, he will spit out the pacifier. You will have to try more than once until the child gets used to it and begins to calmly suck from the bottle. Parents can buy the most expensive and technically perfect bottle, and the baby may not like it . The variety of feeding bottles and different types of nipples makes it possible to experiment until the baby chooses the right one for himself.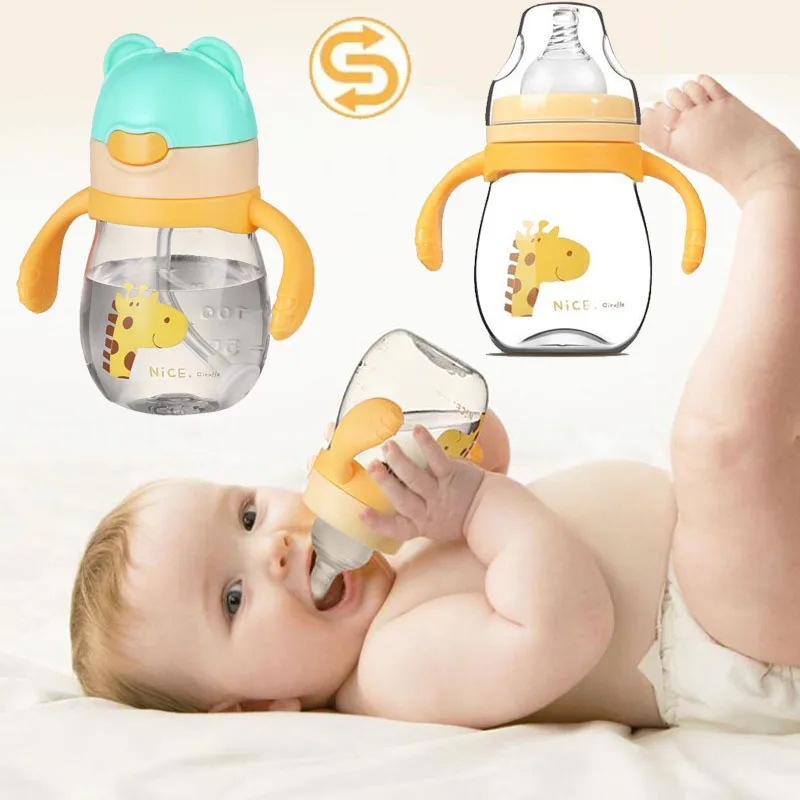 Formula-fed baby requires 5 large bottles (for milk formula) and 2 small bottles (for water). baby needs 2 small water bottles.
Photo gallery of types and brands of baby feeding bottles:
colorful bottles with orthopedic nipples
Avent baby bottles
Avent feeding bottle
Chicco feeding bottle baby bottle. Brown's
donut-shaped Canpol Babies
Tommee Tippee bottles with unique ventilation system
removable handle bottles
glass bottle
Dr. Brown's
NUK Orthopedic Bottles
Bright Animal Bottles
Chicco Porridge Bottle
Mommy Breast Shaped Bottle
Baby Bottle Scale
Nuby Bottle Curved 0013

next generation baby bottles
KP top 10 rating, reviews, expert advice
Feeding bottle is the essential item you need whether your baby is breastfeeding or formula fed. In the second case, it is clear - this is number one in your everyday life.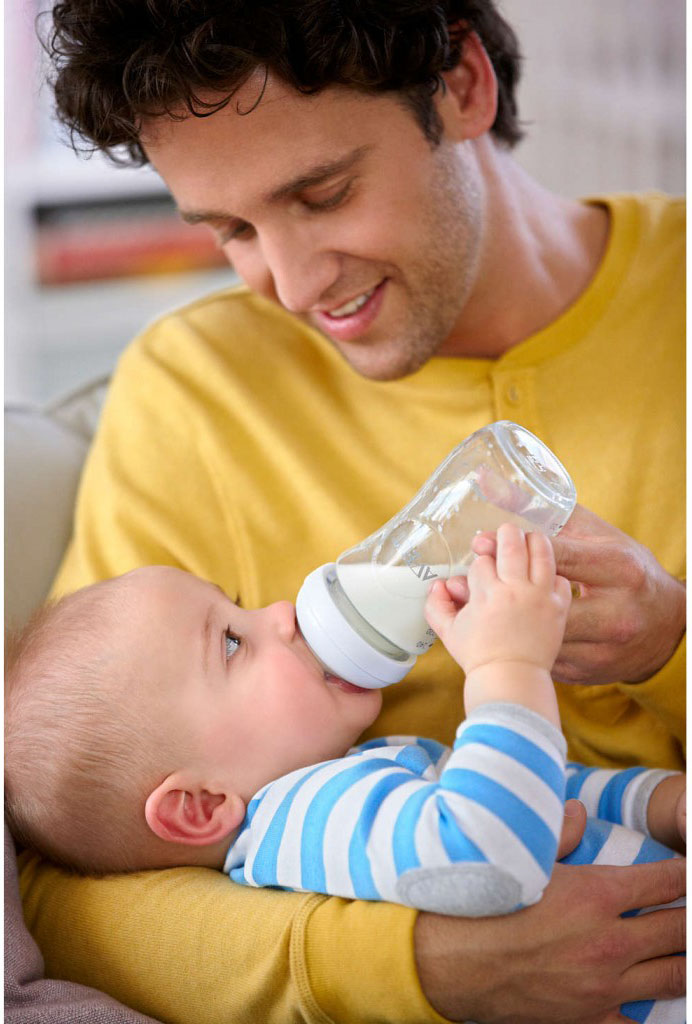 And in the case of breastfeeding, a bottle may be needed when the mother needs to go away on business and leave expressed milk for the baby, or if there are problems with lactation and the child needs supplementary feeding.

Your task is to choose a quality and safe product for your newborn. Today, a huge number of bottles for newborns and children of the first year of life are presented on the market for children's goods. There are many manufacturers, among the most famous and well-established ones are Philips Avent, Dr. Brown's, Medela, Pigeon, Сhicco, Munchkin, Nuk and some others.

There are many nuances when choosing a bottle, but one of the most important criteria to consider is the presence of a physiological nipple.
The advantages of the physiological teat
Its use is especially important when the newborn is on mixed feeding or parents sometimes resort to feeding with expressed milk. In order for the baby not to abandon his mother's breast in favor of a bottle, according to its characteristics, it should be as close as possible to imitation of breast sucking.

— At the initial stage, when lactation is just being established, it is generally better to stop using a bottle and give the baby only the breast, says lactation consultant Anastasia Kulikova . - Sucking a bottle is much easier, the newborn is still quite weak and can simply refuse his mother's breast. But if for some reason it is necessary to use a bottle, then choose options with a physiological nipple. It is most reminiscent of the shape of the nipple of the breast, in addition, please note that it should have one small hole. This means that the milk or formula from the bottle will flow slowly and the baby will have to make an effort to suckle the bottle, just like when sucking on the mother's breast.
As a rule, such nipples have a fairly wide base, which contributes to the wide grip of the nipple by the baby, as well as when sucking on the mother's breast.
CP top 10 rating
1. Medela Calma bottle with smart nipple, 150 ml
Medela Calma bottle with smart nipple, 150 ml. Photo: yandex.market.ru

The Swiss company has been producing products for newborns and their mothers for many years, the main feature of which is the support and preservation of breastfeeding. The Medela Calma Feeding Bottle with Smart Teat is designed specifically for mothers who want to establish and maintain breastfeeding, but for one reason or another have to use a bottle as well. The peculiarity of the bottle is in its nipple, a unique development of the company, which reproduces the vacuum sucking of the baby and prevents the swallowing of air. At the same time, the nipple has one size for the entire period of feeding, as well as in natural conditions. This version of the bottle allows the baby to retain the skills learned when sucking on the mother's breast, and easily move from breast to nipple and back when necessary.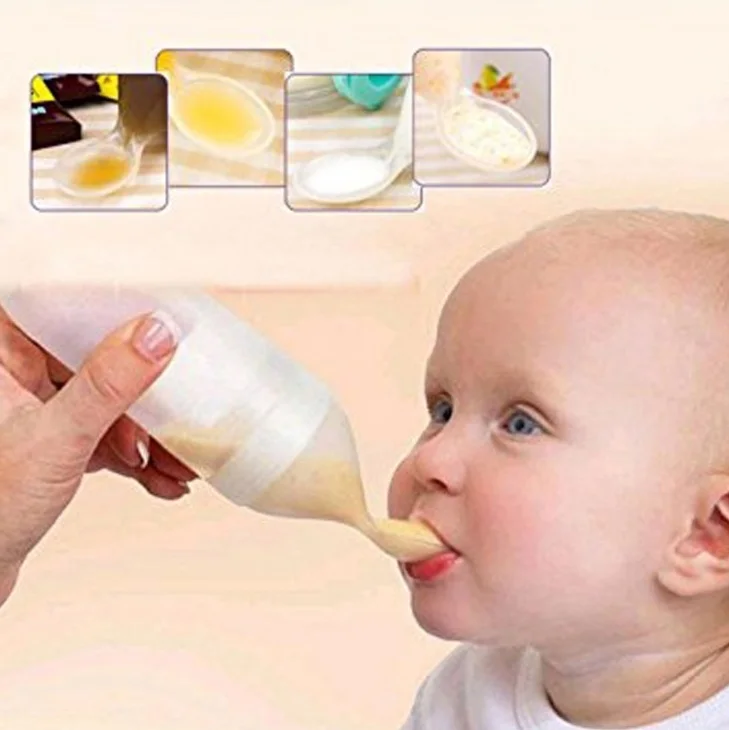 The disadvantages of this option include a rather high cost. Also, some parents note that not all babies like the specific structure of the nipple.

There is an anti-colic valve in the bottom of the bottle that prevents air bubbles from entering the mixture. Many parents also like the sleek, stylish design of the bottle. Of the shortcomings, it is worth noting the rather high cost of the product. Also in the reviews, some mothers note that sometimes the bottle can leak.
| | |
| --- | --- |
| Manufacturer | USA |
| Bottle Material | Polypropylene |
| Teat Material | Silicone |
5. Twistshake bottle with container, 180 ml
Twistshake bottle with container, 180 ml. Photo: yandex.market.ru

This option is more focused on children who are bottle-fed, although for a mother who is breastfeeding, but who resorts to supplementing her baby with a mixture, it will become an excellent lifesaver.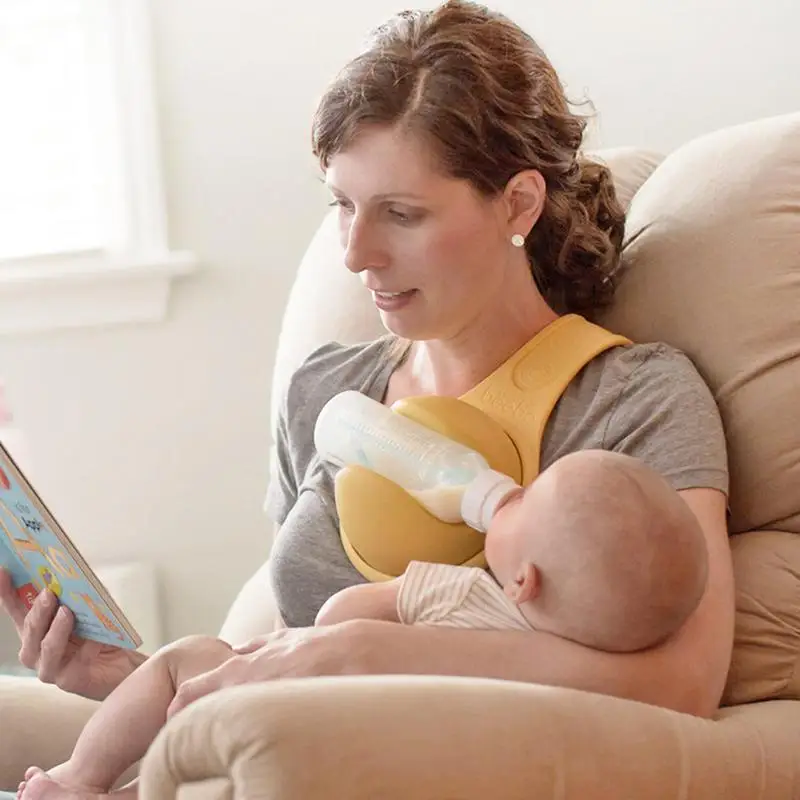 The peculiarity of the bottle is that it comes with a container for storing the mixture and a shaker for whipping it. It is important that it be homogeneous, without lumps. The bottle itself is made of safe plastic, the silicone nipple has a special valve that prevents excess air from entering the baby, which means it reduces the risk of colic.

In addition, the product looks stylish, a wide range of colors is available: from neutral whites, blues and pinks to purples, bright yellows and even blacks. Of the shortcomings in the reviews, they note that the white scale is not very visible on light bottles. Also, the lid is a little tight, which can create some difficulties when opening.
| | |
| --- | --- |
| Manufacturer | Sweden |
| Bottle material | Polypropylene |
| Teat material | Silicone |
Photo: yandex.market.ru
Many parents who used a bottle of this American brand noted that the so-called anti-colic system really works.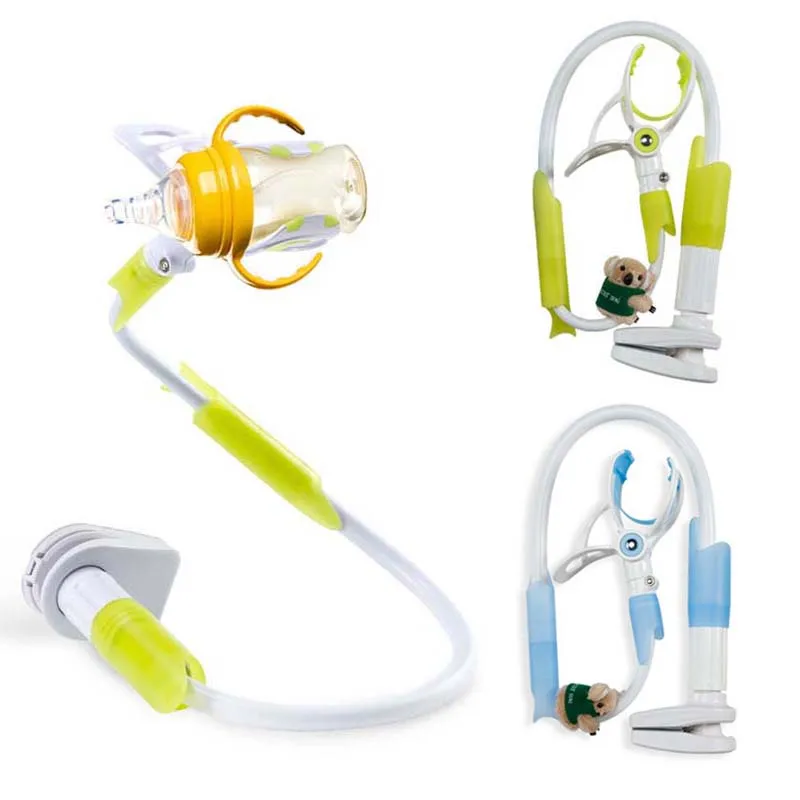 The bottle is equipped with a special ventilation system (a technology patented by the company), and when sucking, the baby does not swallow air, as happens during feeding with the help of some analogues. This means that the period of colic, which is already difficult for the baby, is not complicated. A nice bonus: the kit includes a small brush for cleaning the pacifier and ventilation system.

Chicco Natural Feeling bottle silicone, tilt and flexors, 150 ml. Photo: yandex.market.ru
Italian brand, one of the oldest in the production of goods for children and their mothers. The quality of products has long been trusted by many Russian parents. Chicco's line of feeding bottles is pretty well presented, most of them have a lot of positive reviews. In our rating, let's pay attention to the bottle of Chicco Natural Feeling.
According to the manufacturer, the use of bottles in this series brings the process of feeding closer to natural. The nipple imitates mother's breasts: it has a special velvety mum effect texture, reminiscent of a woman's breasts.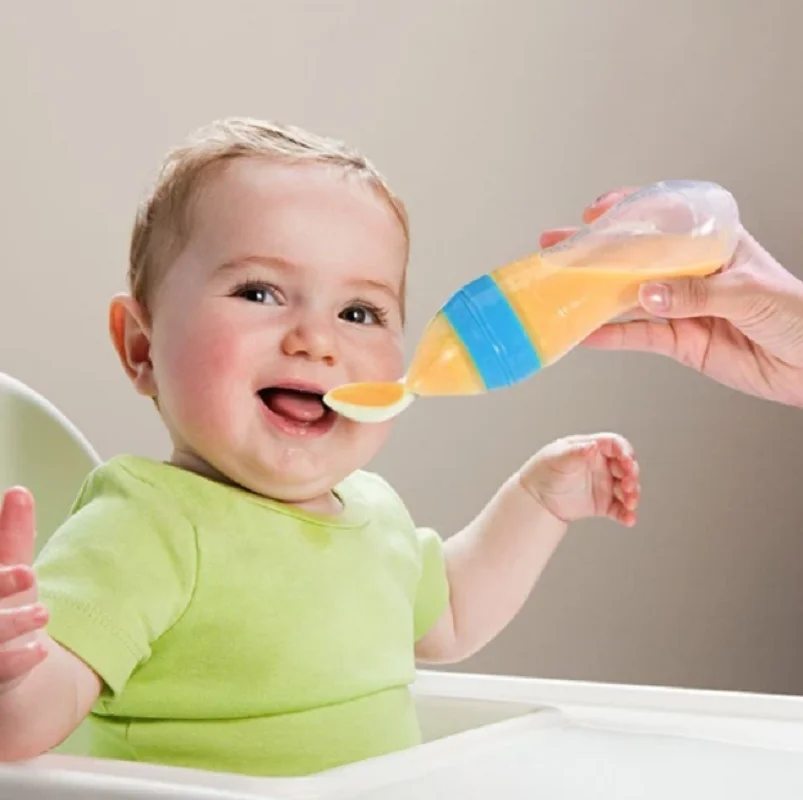 A special ultra-soft silicone is used for the pacifier, which means that it is more comfortable for the child, while being durable. The design allows for a proper wide grip, so the bottle should be suitable for breastfeeding. The double anti-colic valve reduces the chance of air getting in while the baby is feeding and the risk of colic. Among the shortcomings: some parents in the reviews note that the flow for the newborn may be stronger than necessary, and in this case it is better to use the bottle not from birth, but a little later.
An anti-colic system is provided: a special valve prevents the child from swallowing excess air. Parents who use the mixture like the wide neck, as it is convenient to pour it into the bottle. Then it is easy to wash.
Manufacturer
Poland
BUSIC Material
Polypropylene
100199 Lubby feeding bottle with milk teat Babies and Babies, 120 ml.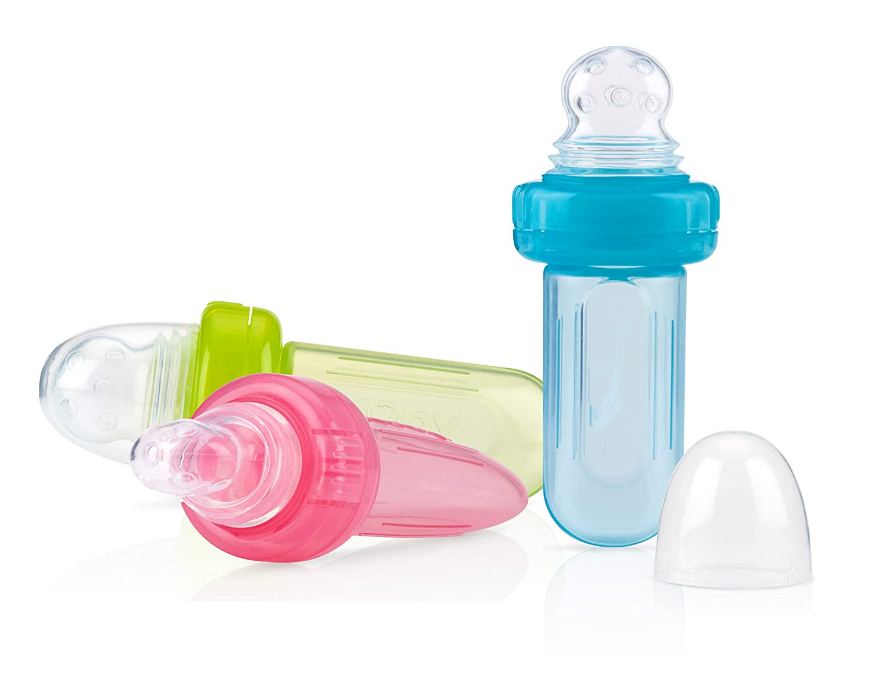 Photo: yandex.market.ru
Another glass and at the same time budget bottle in our rating. It has a small volume, it is convenient to use in the first months of a baby's life. The milk nipple that comes with the bottle has a slow flow and an anatomically correct shape. There is a valve that traps air. The bottle closes with a special rather large cap, which can also be used as a glass.
Bottle material
Most parents today prefer plastic bottles. Their advantages are that they are light, do not break, many are shaped with recesses to make it more comfortable to hold in your hand. The main thing here is the quality of the plastic from which the bottle is made. It should be polypropylene, which does not contain Bisphenol A, does not emit harmful substances during sterilization and is safe for the newborn. Pay attention to the corresponding markings on the label.
As for bottles made of glass, this is a more environmentally friendly material, glass does not react during sterilization, does not absorb odors, which can be seen with some plastic bottles.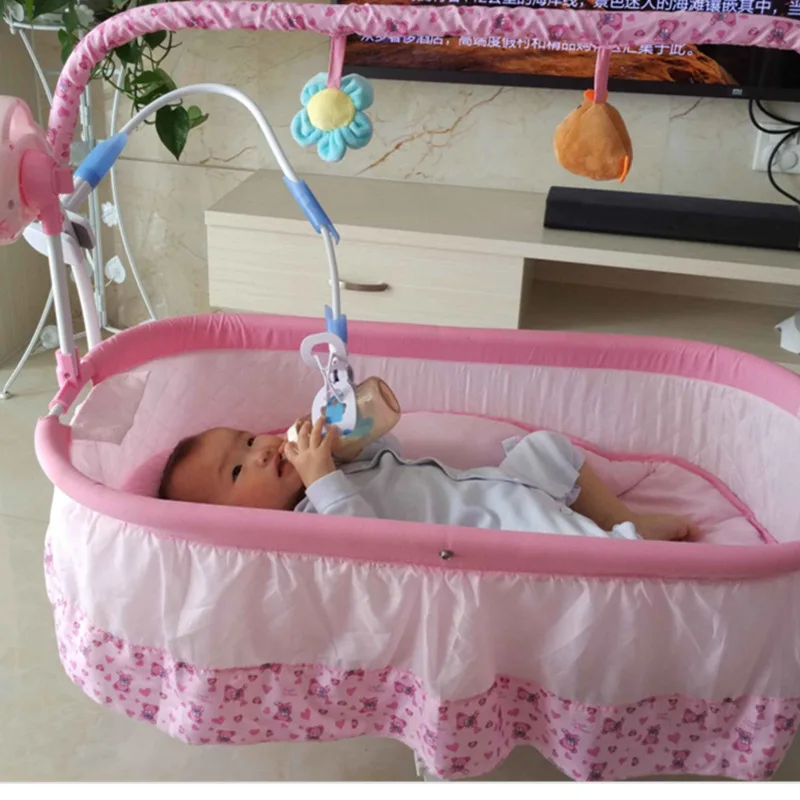 But they are heavier than plastic ones, they break easily. Although there are a lot of adherents of glass bottles among parents, and most manufacturers necessarily have such options in their lines.
Size and shape of the bottle
Newborns eat small amounts of food, so small bottles of up to 140ml are a good idea to start with. They are more compact and easy to use. A bottle with a larger volume will be less convenient, but it will last longer. A wide bottle is usually more comfortable to hold in your hand. A plus will be a wide neck - it is convenient to pour the mixture into this and wash it.
Teat material
There are two options here: silicone or latex. Latex nipples are brown in color, softer and often more appealing to babies. But they are short-lived and often require replacement. The silicone nipple is harder, which can make it difficult for weak premature babies to feed. But it keeps its shape better and lasts longer. Focus on the tasks that you set for yourself when using the bottle.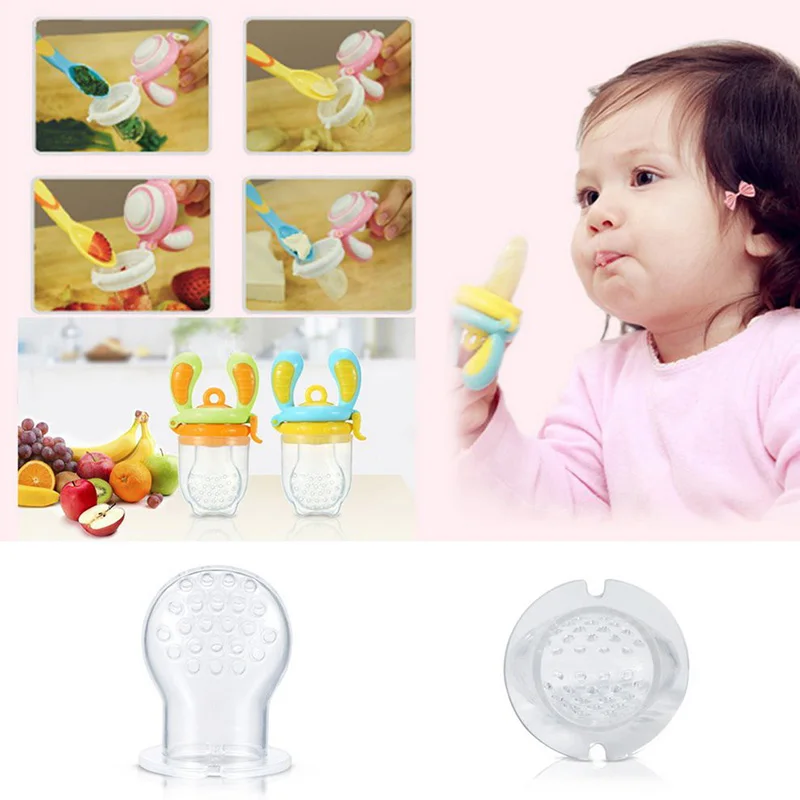 If you want to maintain lactation and use an exclusively physiological nipple, it is better to choose silicone. For premature babies, latex may be better suited. In addition, the baby himself can declare his preferences and refuse one option in favor of another.
Shape of the nipple
The best option would be a physiological nipple, as close as possible to the mother's nipple, with a wide latch, which promotes the development of the same skills in the baby as when breastfeeding. There are also orthodontic nipples with beveled nipples, it is believed that they favorably affect the proper development of the jaw system.
Flow rate and nipple size
Depending on the age of the baby, teats differ in the size and flow rate of the liquid coming from the bottle. For a newborn, a size 1 or 0 nipple is suitable (may vary depending on the manufacturer). It is also important to use a slow-flow nipple for the first month so that the milk or formula does not flow quickly, and the baby makes an effort to suckle the bottle, as well as suckling at the breast.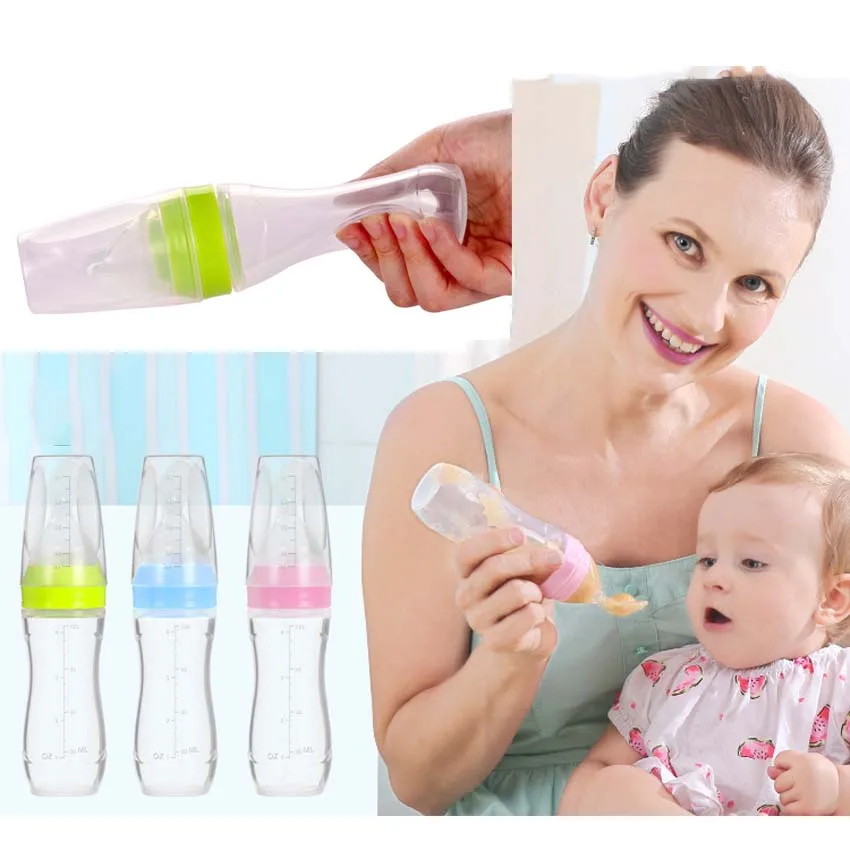 The slowest flow is one small hole in the nipple. The more holes, the faster the liquid will flow to the baby. For example, a pacifier with two holes is best used after a month. All these characteristics are indicated on the instructions for the product, pay attention to this when choosing.
Anti-colic system available
More and more manufacturers now offer so-called anti-colic bottles. They suggest the presence of a nipple with a special valve that does not allow air to enter the baby when feeding. There are also options when the "anti-colic" mechanism is placed in the bottle itself. This is a good option. But it should be borne in mind that these mechanisms do not always work one hundred percent, and it is not possible to completely avoid air ingress during feeding. In addition, colic is a natural physiological process, in some babies they are more pronounced, in others less. And the air that enters the baby's stomach during feeding is just one of the factors that can increase the manifestation of colic.